Disclosure:
Our editors handpick top-rated brands, vetted through our strict ratings. Purchases via our links may earn us a commission.
Learn more
Presenting Temu vs Alibaba! The battle between two leading e-commerce companies that are bringing in fierce strategies and cutthroat marketing tactics to dominate global online markets. While Temu is gaining overnight popularity among US shoppers with its lightning deals, Alibaba owns the reputation of being one of the world's largest e-commerce companies. But which one's better for us and for the planet?
In today's digital commerce scenario and US's inflation economy, Temu feels like a fresh breeze to budget-conscious consumers who are always on the lookout for unique finds. But while the famous Superbowl campaign shopping app is giving established players like Alibaba a run for their money, will it be able to take down Alibaba? Is Temu going to strike out long-standing competitors and rule the online shopping industry? Let's find out in this head-to-head clash of Alibaba vs Temu!
In 2023, e-marketers are doing everything they can to reach their target audiences, with demand for innovative, dynamic content at an all-time high. Check out Temu vs Amazon, Temu vs Shein, Temu vs Aliexpress, and Temu vs Wish to understand what games are being played in the digital e-commerce playground.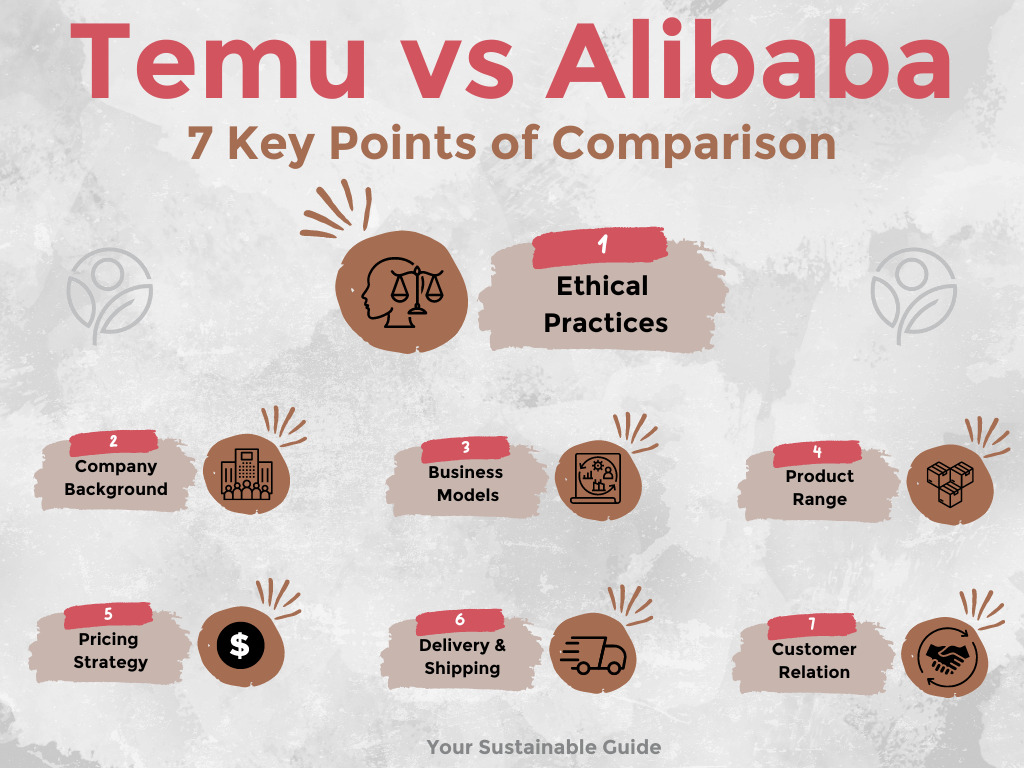 Temu vs Alibaba: Who is More Ethical?
Ethical Practices of Temu
Temu proudly portrays its commitment to ethical practices throughout its supply chain. It has formulated a clear set of guidelines in its Third Party Code of Conduct, which sellers must abide by. These regulations cover ethics, anti-corruption, human rights, workplace discrimination and harassment, and more.
Temu insists that vendors must comply with these rules if they want to collaborate with the shopping app. Sellers should also be ready to expect surprise visits and audits, which is to verify that every operation is being conducted following ethical and legal standards.
The irony is, despite these strong claims, it's uncertain if all the vendors truly observe these rules. The sole reason for this doubt is Temu's supply chain is entirely located in China, where labor exploitation risks are high and human rights are violated in broad daylight.
As a matter of fact, in July 2023, a U.S. Congressional report uncovered disturbing details about Temu's engagement in forced labor. Allegedly, Uyghur laborers are forced to work in several of its partner factories. Another Temu controversy includes reports that the online platform is stealing consumers' personal information. These actions pose a serious question: Is Temu ethical? The answer seems to lean towards 'No'!
Ethical Practices of Alibaba
The Alibaba Group has mapped out a formal Code of Ethics that covers a set of guidelines regarding employee privacy, non-discrimination, workplace safety, and so on. Every seller who wants to work under the e-commerce platform is bound to comply with these regulations. But while the company claims to pay close attention to social responsibility and acknowledge the importance of maintaining ethical standards, it has been booked several times for exploiting its workers and traders.
One such instant was when a female employee charged the company with rape accusations. In a detailed 11-page document first posted on the corporation's internal site, the employee described an incident where her male supervisor pressured her into drinking alcohol at a client event. She went on to explain that she was then groped by the client and later faced another assault from her boss.
A notable point here is, no matter how much Alibaba declares itself to follow a transparent and fair trade supply chain, the reality is totally different. Countless vendors conduct business on this platform, and with the sheer volume of products and sellers, ensuring ethical practices across the board remains a tuff task.
In another case, the Alibaba Group was accused of violating antitrust regulations after it forced merchants and manufacturers into signing exclusive agreements that stopped them from selling products on competing platforms. The Chinese online giant was instructed to pay a substantial fine of $2.8 billion as compensation by the China Government.
Temu vs Alibaba: Who is More Ethical?
Temu and Alibaba have come under the radar for concerns regarding supply chain transparency and instances of labor rights violations. Both companies have faced accusations of either engaging in unfair trade practices and harassment of workers, or issues related to anti-trust rules and lawsuits. So, for now, none of them are 100% clean.
Temu, a new face in the e-commerce sector, has been flagged for benefitting from forced labor in its supply chain, particularly given its base in China, where labor risks are higher. Its ethical practices have been questioned due to limited transparency and uncertainties regarding the compliance of its sellers to its Code of Conduct. Plus, its response to these concerns and controversies is still unfolding as the company navigates its way into the Western market.
Comparatively, Alibaba's extensive experience and market presence may give it an edge in handling these ethical issues more effectively. Of course, it has faced controversies, including accusations of counterfeits, allegations of monopolistic behavior, and ethical questions surrounding its supply chain. But, Alibaba's longer track record might have enabled it to address some of these issues more effectively. And its declarations on prioritization of social responsibility and sustainability seem to be relatively better than Temu's.
Considering all factors, while neither company appears to be ethical, they can work diligently to improve their ethical standards to be truly considered as Fair Trade leaders.
Temu vs Alibaba: A Reality Check
Company Background
Temu
Launched in September 2022, Temu likes to call itself a Boston-born business, but in every sense, it's deeply rooted in China, with just some American offices. Temu is owned by the parent company, PDD Holdings, which is the third-largest e-commerce entity in China. Temu's ultimate goal is to conquer the US market share and then the world. Their strategy? Offering a wide range of merchandise at astonishingly low prices. The brand's tagline, 'Shop like a billionaire without being one,' captures this vision perfectly.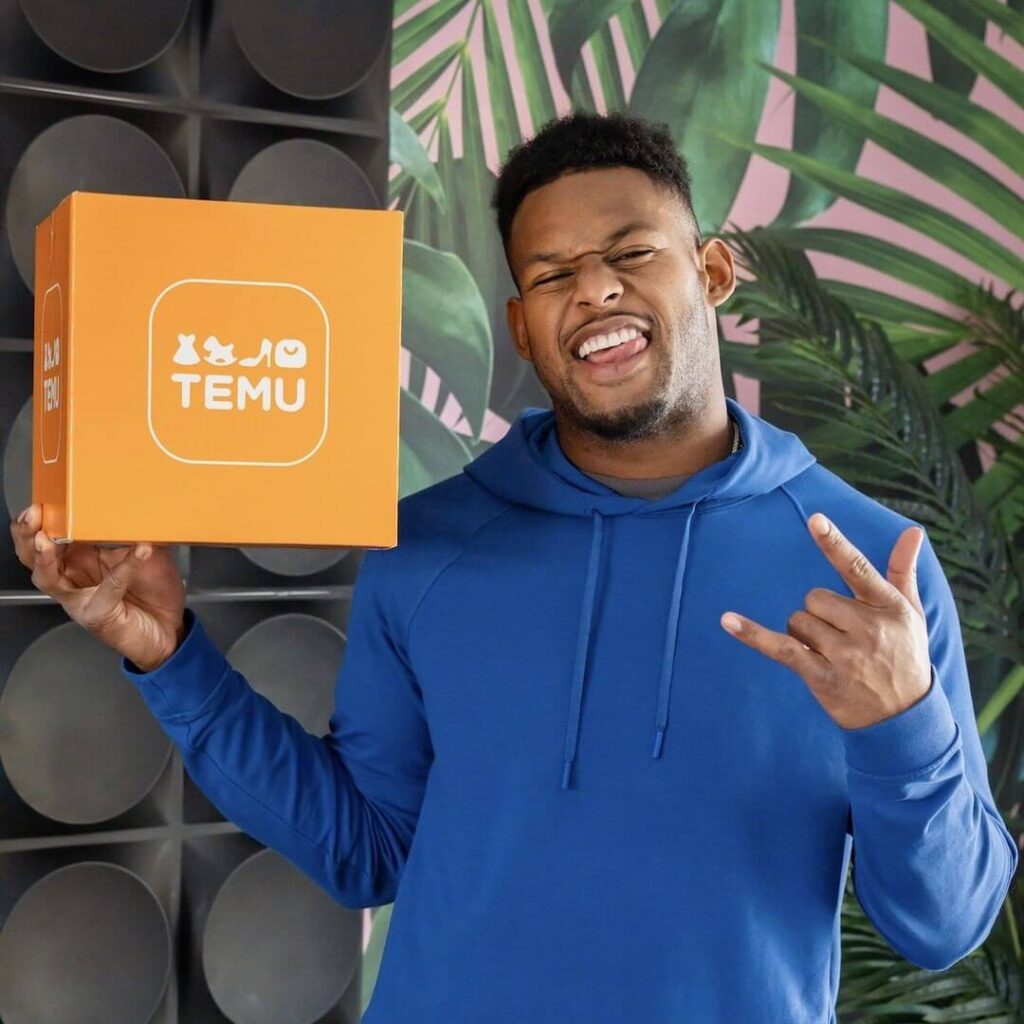 With a whirlwind of crazy promotional activities at its launch, Temu has swiftly gathered over 900 million users in just under 8 months. Today, it owns the status of the most downloaded shopping app in the United States in both Google Playstore and iOS. Temu operates as a direct-to-consumer platform, and 95% of its sellers are Chinese. This totally justifies the jaw-dropping prices of their China-made products. Despite being the new kid in the e-commerce scene, Temu's savvy marketing propels it to instant stardom, promising shopping experiences like you've never seen.
Alibaba
Alibaba is a part of the Alibaba Group Holding Limited, founded in 1999 by Jack Ma and 17 of his friends, as an e-commerce marketplace for Chinese businesses. The company's goal was to help these sellers take their dealings anywhere on this planet, connecting buyers and sellers worldwide. At its core, Alibaba's vision is to build the future infrastructure of e-commerce with a focus on promoting inclusivity and innovation. Over the years, its market presence has grown exponentially, and it has become an integral part of the global e-marketing landscape. Its geographical reach extends across continents, with a strategic focus on responsible expansion.
Alibaba recognizes the importance of adapting its operations to local cultures and regulations, ensuring that its expansion aligns positively with the regions it serves. That's why, while the majority of its sellers are based in China, it has partnered with several local businesses to promote economic growth. With its three main shopping sites — Taobao, Tmall, and Alibaba.com, the Alibaba Group is China's largest e-commerce giant.
Business Models
Temu
Temu serves as a connection that joins buyers and sellers together. It achieves this by employing an innovative Next-Gen Manufacturing (NGM) technique, allowing buyers and sellers to communicate directly. This approach helps reduce expenses that are otherwise impossible to avoid in typical business operations. Plus, it lets Temu offer unbeatable prices that are hard to match. With Temu's help, vendors from China can reach millions of customers all over the world, which was tough for them before. Temu handles all the critical stuff like payments, seller sign-ups, and delivering goods. But what makes this site extra special is its business model can even make prices drop by a freaking 80%.
Most things in Temu are from small independent brands. If you come across some famous names, be sure that they are counterfeits— that's why they are available at such affordable prices. While Temu doesn't reveal much about how they earn from sellers, it's definitely less than other online platforms. But here's the catch: Not all manufacturers might be ethical or eco-friendly. And the e-commerce platform doesn't seem to bother. Because right now, Temu is all about getting shoppers on board, spreading the word through aggressive marketing, and aiming to be the most successful shopping app around.
Alibaba
Alibaba's business model is designed for dealings across consumer-to-consumer, business-to-consumer, and business-to-business basis. Its primary revenue streams are electronic payment services, marketplace operations, and data-driven cloud computing. While the corporation acts as a shopping app for individuals, its chief emphasis lies in facilitating B2B trade, where suppliers can sell goods in bulk at wholesale rates to small or medium-sized biz worldwide. These businesses then resell the products domestically for a margin of profit. The vendors typically include wholesalers, retailers, trade agents, manufacturers, and SMEs involved in the buying and selling of goods across international borders. In exchange, Alibaba earns commission from the businesses, but that's not the only way it makes money.
Alibaba Group's business structure comprises three main online platforms: Alibaba.com, Taobao, and Tmall. Each of these platforms functions to link different types of buyers and sellers. Taobao serves as a space for consumer trading, while Tmall caters to China's emerging middle class by offering branded products. Additionally, Alibaba has numerous other affiliated ventures that contribute to its revenue streams.
Products Range and Variety
Temu
Temu is like a big treasure chest online, with more than 29 categories and even more choices in 250 subcategories. It has everything from cutesy and quirky home decorations to stylish clothes, pantry items to furniture, pet supplies, beauty products to hardware tools— the list goes on. New things keep popping up all the time, so it's quite appreciated by people who love staying trendy.
Temu is good for folks who want lots of options and don't want to spend too much. But a good number of shoppers have complained that its merchandise isn't always the best quality, which is common with cheap "Made In China" things. Most things are really affordable, often under $15. Since everything comes from China, you won't find famous labels, indigenous designs, or artworks related to specific regions. So, even though there's a wide range of products, it might not cover everything you're after.
Alibaba
Alibaba houses a huge variety of products. From household items, personal care, stationaries, and clothing for your entire family to consumer electronics, vehicle accessories, sports gear, and even secondhand merchandise— you name it, and it has got it all! Every day, fresh items are introduced, creating a sea of choices for consumers who are quite selective. What's more, it doesn't just cater to individuals but also businesses with services like bulk purchasing, OEM manufacturing, and customized solutions.
When it comes to ethical considerations, the platform's expansive selection includes products from various sources. Now, Alibaba claims to have implemented measures to combat counterfeit goods, but verifying the ethical sourcing of all products remains a challenge.
Pricing Strategy
Temu
Temu knows how to win when it comes to prices. Everything on their website is as cheap as can be. After all, the app got famous for having prices that beat others. Plus, its marketing efforts are next-level, swarming the internet with advertisements about the unique-est products at the lowest costs ever seen. Temu connects shoppers straight to Chinese manufacturers and sellers, which explains the discounted pricing. It claims that all its efforts are oriented towards helping consumers save money. You can save 50% to 60% even if you buy a single item! And that's exactly what sets it apart!
At Temu, you can shop for any amount you want, with no minimum orders needed. But with Alibaba, most sellers ask for a certain minimum order quantity. So, if you're looking to buy a little or a lot, Temu is better. Alibaba is more for retailers and drop shippers who buy in big amounts.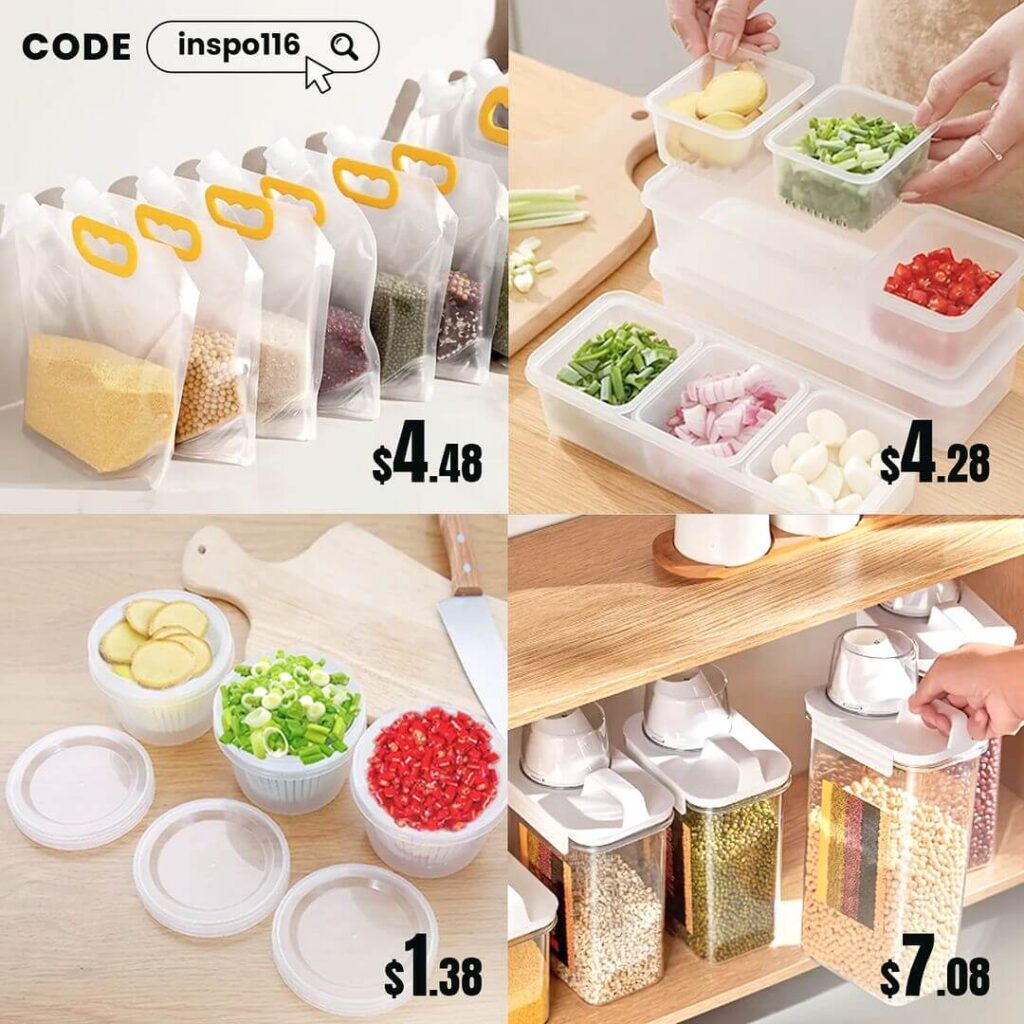 Temu also offers special deals through its Campus Ambassadors and Influencers programs to people who share it with their friends and promote the app on social media. They can earn rewards and cool bonuses, like getting things for free. So, the more you tell others about the shopping site, the more great stuff you can earn.
At present, Temu's main focus is on getting lots of active users registered on its app, especially in the US. That's why they give such big discounts and flash sales. Making profit pools isn't the shopping site's main goal right now because its parent company(PDD Holdings) is backing it with plenty of funds to create a strong base.
Alibaba
Alibaba stands out for offering a multitude of products at highly competitive prices. For smaller items, rates can match or even dip below Temu's prices, particularly for bulk orders, as many Alibaba sellers cater to large orders. However, since the ecommerce platform's product range includes larger items like machinery and auto parts, the price range on the site is also more extensive. Some items, such as agricultural equipment and industrial machines, can carry price tags of several hundred dollars or more.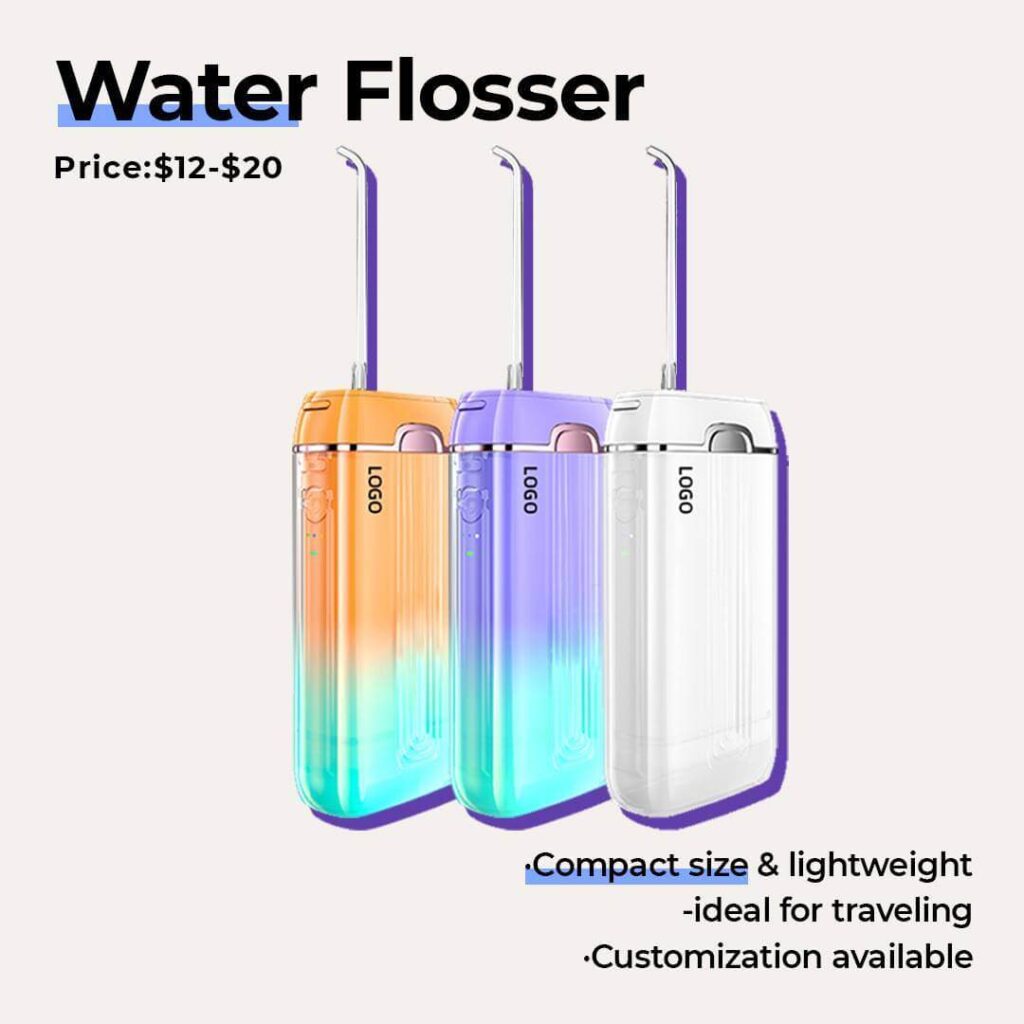 Nevertheless, Alibaba remains highly affordable when compared to the prices of similar products on other online or offline platforms. Flash sales are not very common though, as the company believes that it gives consumers the best discounted prices. But it does air seasonal sales and limited-time deals.
In addition to these periodic promotions, Alibaba also provides loyalty programs that reward frequent shoppers and bulk buyers. These programs may offer exclusive perks such as early access to sales, additional discounts, or even personalized recommendations based on a customer's purchase history.
Delivery and Shipping
Temu
Temu caters to customers in the United States, Australia, New Zealand, Canada, and select regions in Europe. It gives you two shipping options: Standard shipping and Express shipping. Standard is free but might take up to 14 days. If you choose Express, it's about $13 but offers faster shipping times. If you spend over $129, they'll send your things for free. Temu doesn't have its own delivery service, so they send things straight to the US. Companies like FedEx and UPS do the delivery. Because most things come from China, it can take a while, usually between 8 to 25 business days from the date when the order was placed. For returns, consumers have a 90 days window to do it.
Temu doesn't talk about using eco-friendly ways to dispatch stuff, mainly because they're really focused on getting lots of people to use its online shopping app.
Alibaba
Alibaba offers international shipping. It has Express and Ocean shipping options for a particular fee. Suppliers who handle bulk orders have significant experience coordinating global shipments with air and freight carriers. They can opt for shipping through well-known carriers like DHL, UPS, and DPD, among others. When examining a product, you'll find details about the anticipated delivery window (or a guaranteed delivery date, if applicable) and the designated shipping carrier. The cost is also provided. Consumers can click on "Change" to explore alternative shipping methods. Orders are eligible for refunds under a 30-day return policy from the delivery date.
Alibaba's collaboration with various air and freight companies ensures streamlined logistics by delivering products from Chinese warehouses directly to customers' doorsteps in specific countries. While Alibaba mentions that sustainability is its top priority, and it has taken up initiatives to minimize its environmental impact in the delivery process. But with a lack of concrete progress reports and the increasing scale of deliveries across the world, it doesn't seem like the company is doing much about it apart from just talking.
Customer Relations
Temu
Temu lets its online shoppers talk directly to sellers if they want to know about certain things. And if consumers need help regarding information on refund policy, buyer protection, and so on, then they can call the toll-free number or send an email to the customer support team.
Consumers have given Temu a 3.5-star rating on Trustpilot. Some people are really happy about its wider range of products, cheap prices, and fast deliveries. But others aren't so satisfied, mentioning that the stuff received by them is of poor quality, orders going missing, and unresponsive customer service team. Some shoppers even complained at the Better Business Bureau about undelivered packages, wrong orders shipped, damaged goods, and similar issues.
Alibaba
Alibaba has a 4.3-star rating on Trustpilot. Consumers who have shopped from the website have reviewed the service to be satisfactory, good product quality at great pricing, verified sellers are trustworthy and stay in communication throughout the buying process, and so on. Of course, there are some negative reviews, but that's the case with all businesses.
To Sum it Up…
In the face-off between Temu vs Alibaba, it's clear that neither has achieved a flawless ethical record. Both have faced controversies and challenges, revealing weaknesses in their supply chain. However, it's important to recognize that ethical excellence isn't an overnight achievement; rather, it's a continuous journey of improvement. While the scales may not definitively tip in favor of either company, the potential for both Temu and Alibaba to evolve into more ethical e-commerce platforms exists. By addressing their weaknesses, enhancing transparency, prioritizing labor rights, and incorporating fair trade practices, these companies can gradually earn a reputation for ethical excellence. And as consumers, we need to be more responsible with our shopping decisions, because, ultimately, it's us who can create a demand for sustainable and ethically-made products.
FAQs
Is Temu by Alibaba?
No, Temu is not by Alibaba. It is an e-commerce platform that was launched by Chinese e-commerce retailer PDD Holdings in 2022 with the mission to cater to the US audience and later expand operations internationally.
Who is Alibaba's biggest competitor?
JD.com stands as the chief rival to Alibaba. Additionally, Alibaba contends with smaller domestic challengers and local newcomers throughout the Chinese market, including shopping apps such as Temu, which is backed by PDD Holdings.