Disclosure:
Your Sustainable Guide is supported by our readers. We might receive an affiliate commission if you make a purchase using links on our website, at no cost to you.
Learn more
Veganism? Funny Vegan Quotes? What's this all about? Let's check….
And so the hen in a conversation with her peers said, "oh no no no, my food is grown, not born… " But little did she know that all those household and diner kitchens with their "feel good" vibes have her sumptuous and crispy soma to thank! 
What Does It Mean To Be Vegan?
In a world brimming with animal rights fighters and vegetarians along with their moral and pious tribute (traced back to Ali Ibn Abi Talib, the brother of Prophet Muhammad) against the cold-hearted slaughter of animals just for food, they said: "be a Vegan". The world has had carnivores (who eat meat), herbivores (who eat plants), omnivores (consumers of both meat and plants), and whatnot kinds of animals with inbuilt eating traits as must suit their habitat conditions.
But in the year 1944, there came to light the term "Vegan", coined by a British woodworker called Donald Watson who simply had in mind to distinguish the two groups of people: Vegetarians who dont eat eggs and milk in a parallel to consumers of the same!
Does Veganism only mean changing Food Habits?
Over the years the phenomenon has bent a bit to accommodate new notions and new theories. While there has always been an ongoing debate betwixt the veggie eaters and meat eaters about which diet can ultimately make the humans feel good, the debate has moved to animal rights justice standing up against the ill-slaughter of animals for products like gelatin, oils, and even honey! In fact, a vegan diet seems to be just high on plant based gluten free products and not simply staying away from milk and eggs at this point! 
How popular is Veganism?
It is no secret that Veganism gained momentum in the last decade with celebs like actress Alicia Silverstone, actor Alec Baldwin, and Beatle Sir Paul McCartney turning vegan for health as well as moral reasons. In truth, even scientists and philosophers from early centuries had opinions in favor of Veganism. One might or might not know that Albert Einstein and Anthony Douglas Williams supported vegetarianism as being the true diet for the survival of life! I won't be lying when I say Anthony Douglas Williams shares the sentiments of all the vegans in today's age and time as he said and I quote, "All life deserves respect, dignity, and compassion. All Life."
But as the world goes grim dishing out into non-vegetarians, vegetarians, and then those who dont eat eggs or drink milk to prevent the exploitation of chickens and cows (although did you know we get machine made eggs these days!),  here are some vegan quotes for those distressing times when you go all Alicia Silverstone Vegan on yourself and check the fridge for 3487th time to find a plant based gluten free snack with tears on the brim!
Humorous and Funny Vegan Quotes that give you the tickles, or the chills!
1. I am a social vegan, I avoid meet
2. I love being a vegan from head tomatoes
3. The most difficult part of the day is waking up at 5 am to milk the almonds. 


4. "I care about animals"- that's what they said. 


Image Source: Pinterest
5. When you are shopping for Vegan Food-
Ingredients: Brocolli, Milk Powder (11%) *Ж-D*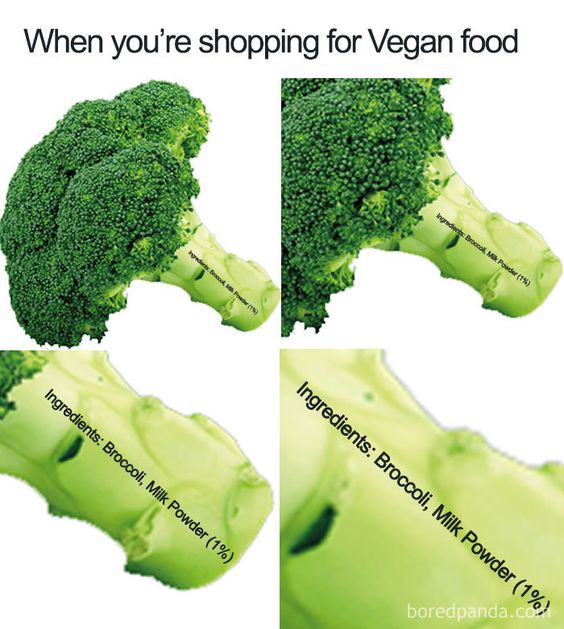 6. Fries: a friend to starving vegans in restaurants everywhere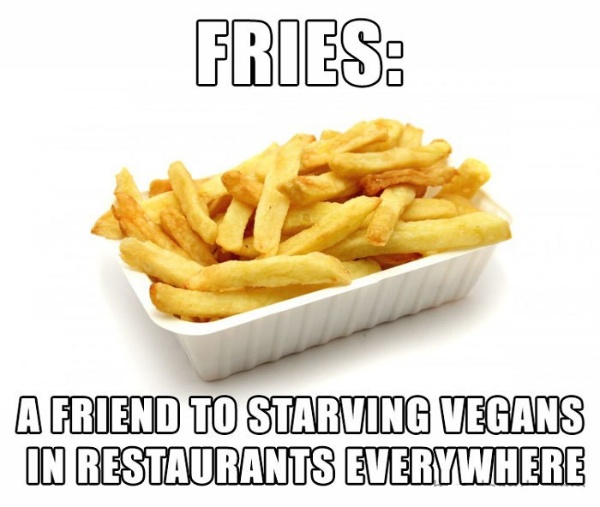 7. "My body will not be a tomb to other creatures" – Leonardo Vinci
8. Hey, where do you get your protein? Vegan: Not this idiot again (◉̃_᷅◉)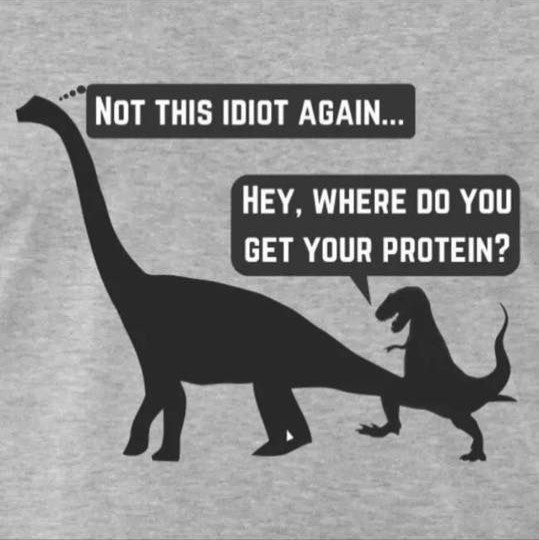 9. I don't think Vegans should use dating apps, because it's a meat market. 
10. All we are saying is, give peas a chance!
11. You eat meat but you're against murder? So you only eat animals that have committed suicide?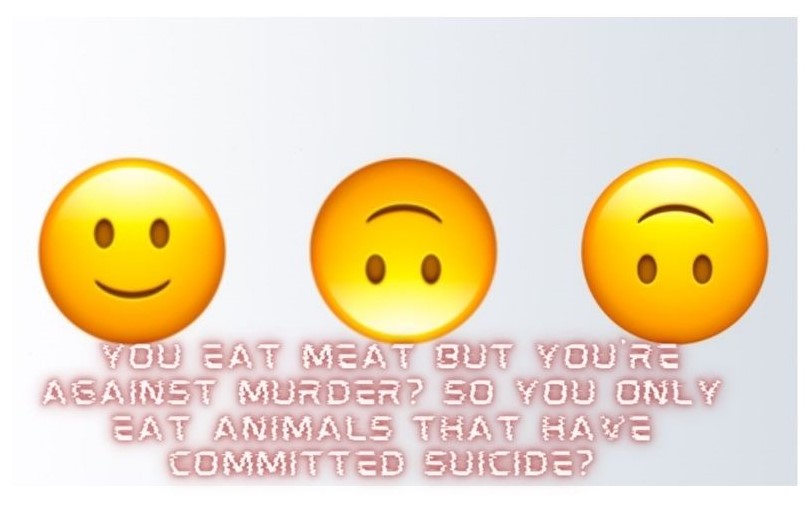 12. I was thinking of going vegan… but then a vegan was rude to me so I have no choice but to continue abusing terrified animals!
13. I don't want any beef with you I am vegan.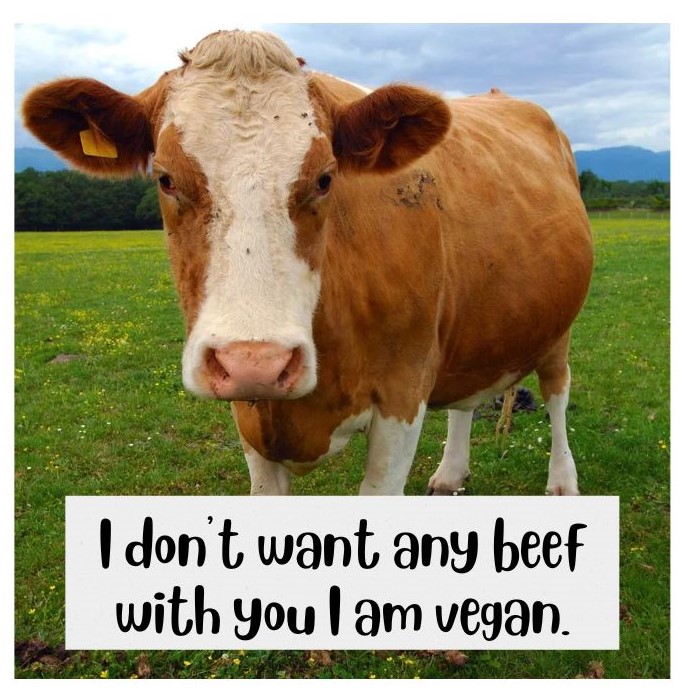 14. We don't have any vegetable jokes yet, so if you do lettuce know.
15. I did not become a vegan for my own health, I did it for the chickens!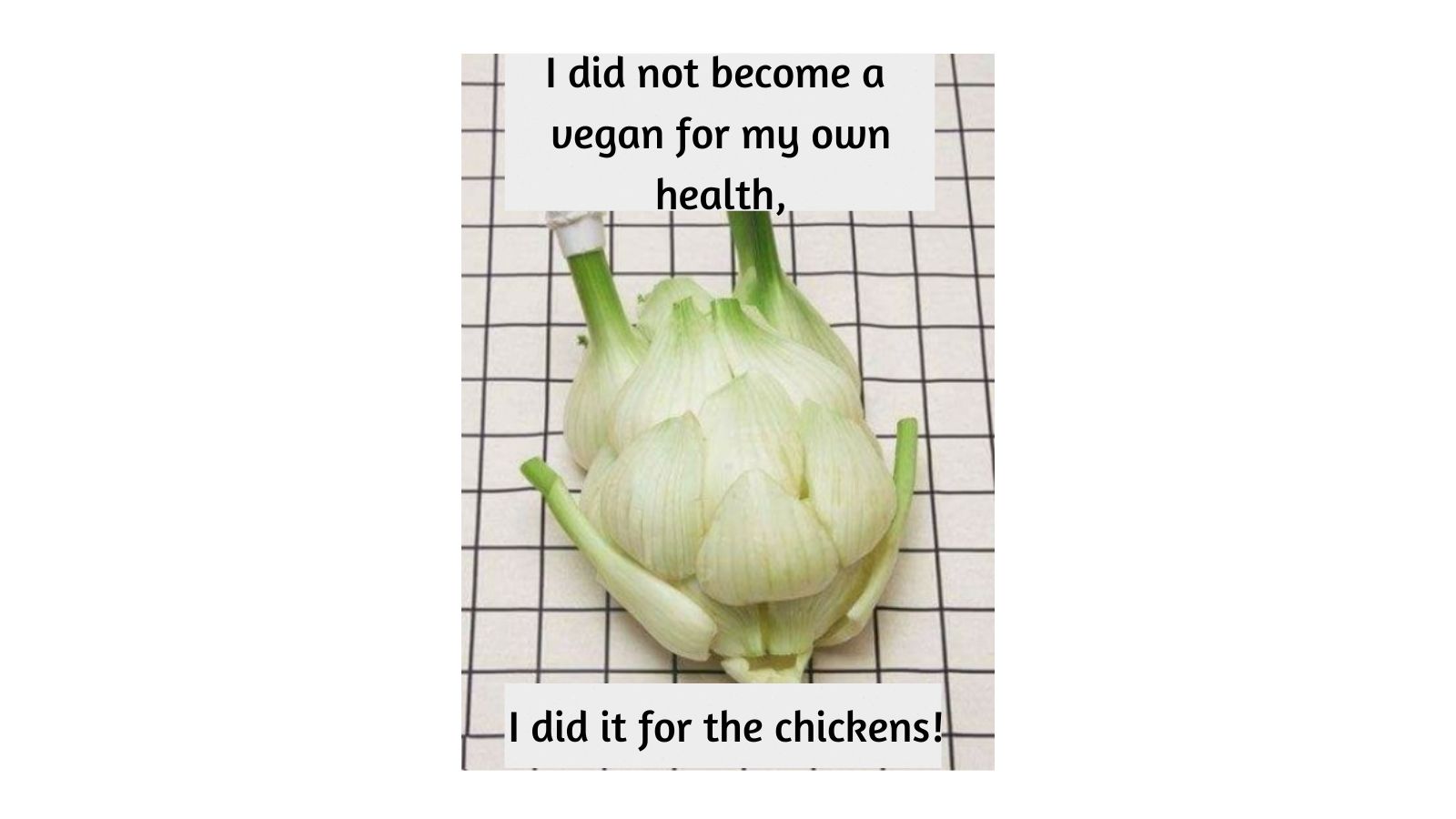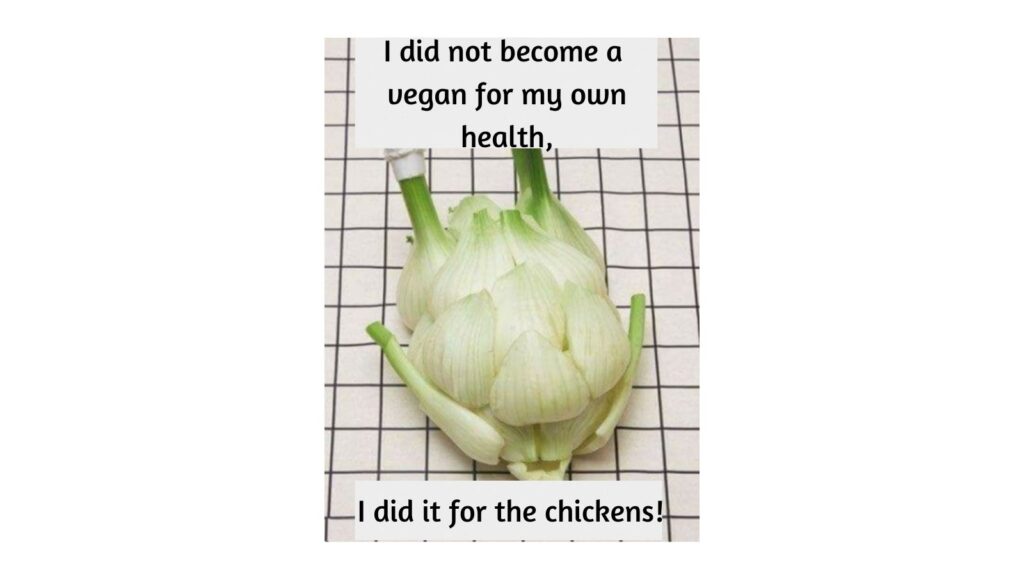 16. Cows are for mooing, not BBQing!
17. This potato died just so you could be a vegetarian -have a heart, eat a rock
Image Source: HubPages
18. "Does anybody have anything to say?" Them: I am vegan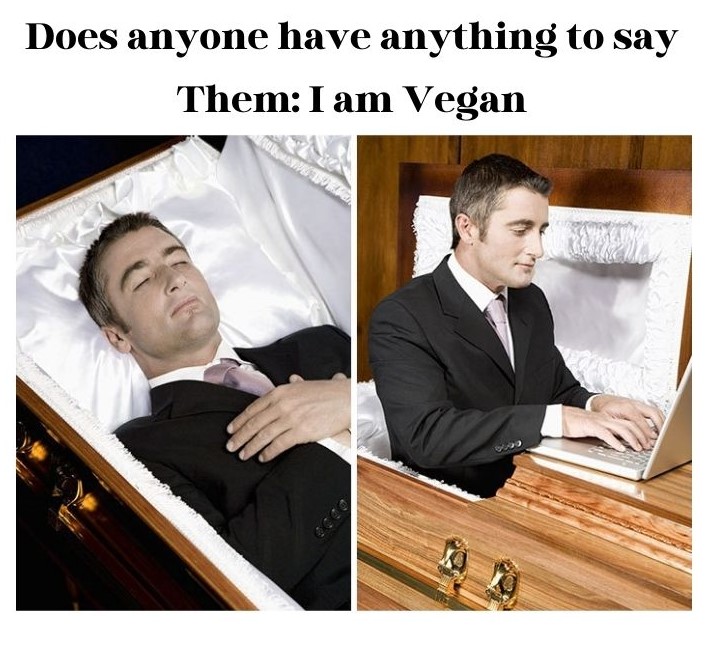 19. How can you tell if someone is vegan? Don't worry they'll tell you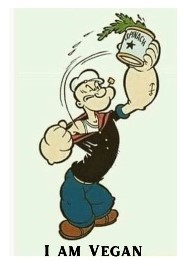 20. Them after knowing I cooked all the burgers exactly the same!
---
Now that you are half-way through, take a moment to debunk the rumor about That Vegan Teacher's death and enjoy some of the positive and famous vegan quotes as well.
---
21. Life is too short to make others shorter. 
22.  I don't see why someone should their life just so you can have a snack.
23. An atheist and a vegan walked into a bar. I only know because they told everyone within two minutes.
24. "I said you are the good kind of fat!" – avocado
25. Tofu Never Screams
25. I will find the ingredients in your non-vegan dish and I will veganize it. 
26. Being vegan only takes three things- a brain, a heart, and the willingness to use them both.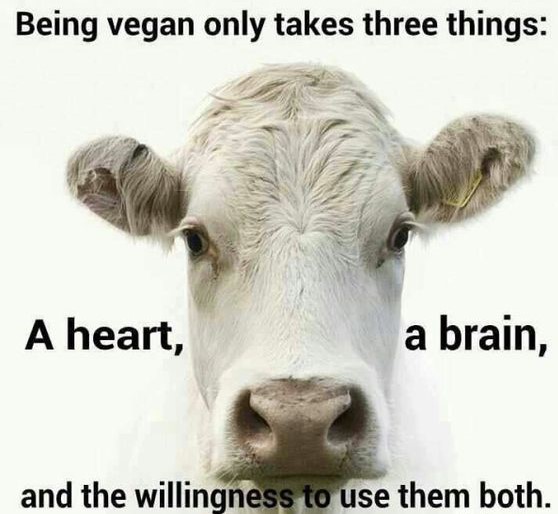 Image Source: Pinterest
27. An argument between two vegans is not called a beef, it's called tempehs.
28. Boomer Humor: I hate my wife
      Millennial Humor: I hate my life
      Gen Z Humor: vegans walking away with the grass and cows screaming*
29. Ha! Just commented bacon on a vegan post. 
30. Spread Hummus, not hate. 
31. I bet the reason it's called almond milk is that no one could ever nut juice and keep a straight face. 
32. This jerk says. "everything is better with bacon on it". So I sat on him. 
33. Milk is for weirdos! 
34. Saying shark-infested waters is like saying human-infested houses. They live there man that's just rude. 
35. Then please answer true or false- if I were a chicken, I would gladly die and become a nugget. 
36. I'm just saying perhaps it's the nudity that keeps them from respecting us as individuals!
37.  Well now that you feel pretty, our souls can rest in peace!

Image source: Pinterest
38. If slaughterhouses had glass walls, we'd all be vegetarians. 
39. I am a level 5 vegan, I don't eat anything that casts a shadow. 
40. The truth is revealed- How fries are made!

Image source: Pinterest
We had one too many laughs looking at some of these vegan shots and ones that definitely do pick on both vegans and non-vegans for their beliefs and rivalry hitting the top note! We hope you get inspired and develop your own thoughts and quotes and even jokes surrounding vegan food and vegan products. 
In the meanwhile, these living creatures say,