Disclosure:
Our editors handpick top-rated brands, vetted through our strict ratings. Purchases via our links may earn us a commission.
Learn more
As warmer days set in, cotton clothes are the first thing we grab to stay breathable, fresh, and relaxed. However, I'm sure you're aware of the catastrophic conditions that conventional cotton production is causing to our planet. And as sustainable consumers, we can't be a part of it. So what do we do? Disown this beautiful natural fabric?
No! Instead, switch to organic cotton grown from Non-GMO seeds without toxic chemicals that harm neither the environment nor the farmers or the consumers. Because believe it or not, traditional cotton clothes can trigger a range of health issues like headaches, nausea, allergy, and endocrine disruption for being exposed to a high level of toxins. So, to help you with easy-peasy eco-conscious shopping, we have curated a list of the best organic cotton clothing brands that give your entire family fashionable and timeless cottony edits. Stay tuned!
Best Organic Cotton Clothing Brands
1. MATE The Label
2. Colorful Standard
3. Mightly
4. Pact
5. CHNGE
6. KOTN
7. Beaumont Organic
8. WVN
9. Organic Basics
10. Fair Indigo
11. Harvest & Mill
12. For Days
13. Indigenous
14. Kind Humans
15. Nudie Jeans
What is Organic Cotton?
Organic cotton is a variety of cotton that is naturally cultivated without the use of synthetic chemicals like harmful fertilizers, pesticides, growth promoters, or other toxic substances. This cotton is usually harvested in subtropical regions where both the climate and the soil support the crop's growth without causing any environmental impact.
The harvesting process of this natural crop must follow internationally recognized organic cotton standards to maintain soil fertility and have a low impact on the surroundings. In addition, organic cotton producers should also adhere to strict rules regarding proper farming methods and materials to grow cotton crops that can be certified by third-party organizations.
Organic cotton farming consumes about 91% less water compared to conventional cotton because organic cotton is cultivated in rainfed regions that are apt for its natural growth. Plus, it is hypoallergenic, stronger, and uses 62% less energy than regular cotton. So from every sense, organic cotton is one of the most sustainable natural materials.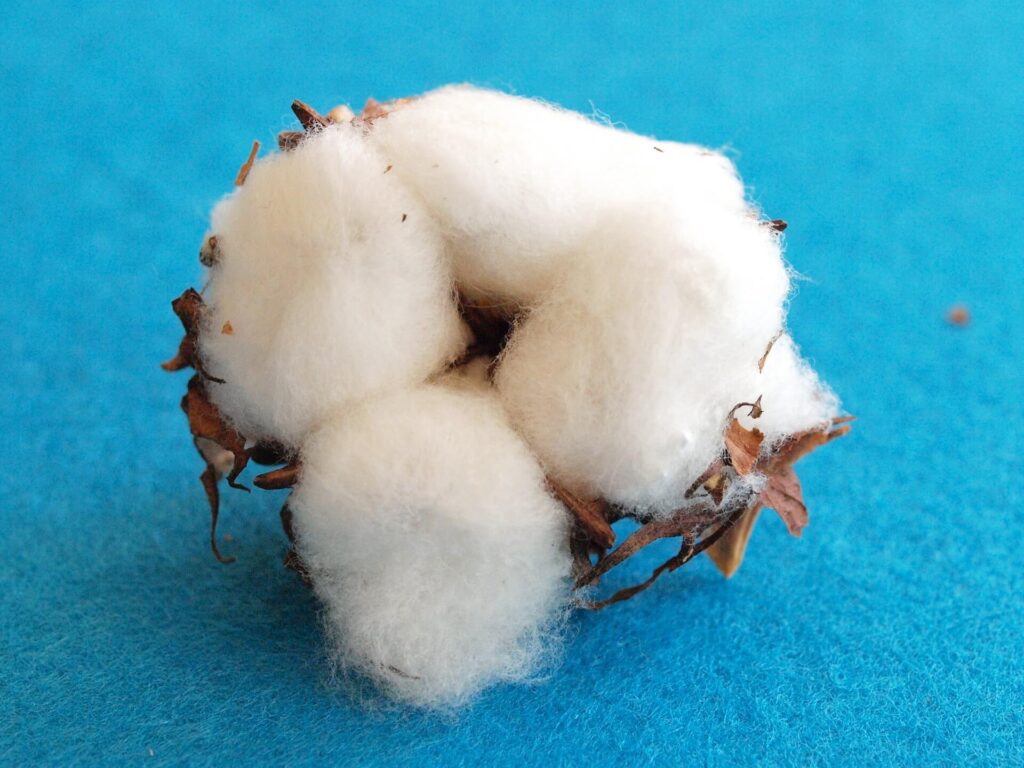 15 Best Organic Cotton Clothing Brands That the Whole Family Can Enjoy
Brands like MATE The Label, Colorful Standard, Mightly, Pact, CHNGE, KOTN, Beaumont Organic, WVN, Organic Basics, Harvest & Mill, For Days, Indigenous, Fair Indigo, Kind Humans, and Nudie Jeans deal in GOTS or OCS certified organic cotton products. Hence, you know your investments are going in the right direction.
1. MATE The Label
Place of origin: Los Angeles, California
Founder: Kayti O'Connell Carr
For: Women, Men & Children
Price Range: $48-$268
Shipping: Worldwide
MATE The Label is a female-owned clothing brand that covers all your everyday essentials, including tees and tanks, shorts and sweatshirts, and everything in between. The brand is here to help you "Dress Clean" with their clothing collection entirely made from non-toxic materials like certified organic cotton, Tencel, and low-impact dyes. Different types of organic cotton fabrics, like terry, jersey, and stretch, are used in MATE's products to prove functionality and longevity for various activities and climates.
The Climate Neutral label is also a proud member of the 1% for the Planet initiative and uses plastic-free packaging. Furthermore, to support the local economy and reduce transportation emissions, all of MATE's products are knitted, cut, and sewn in fair trade LA factories, located within 15 miles of the main office.
2. Colorful Standard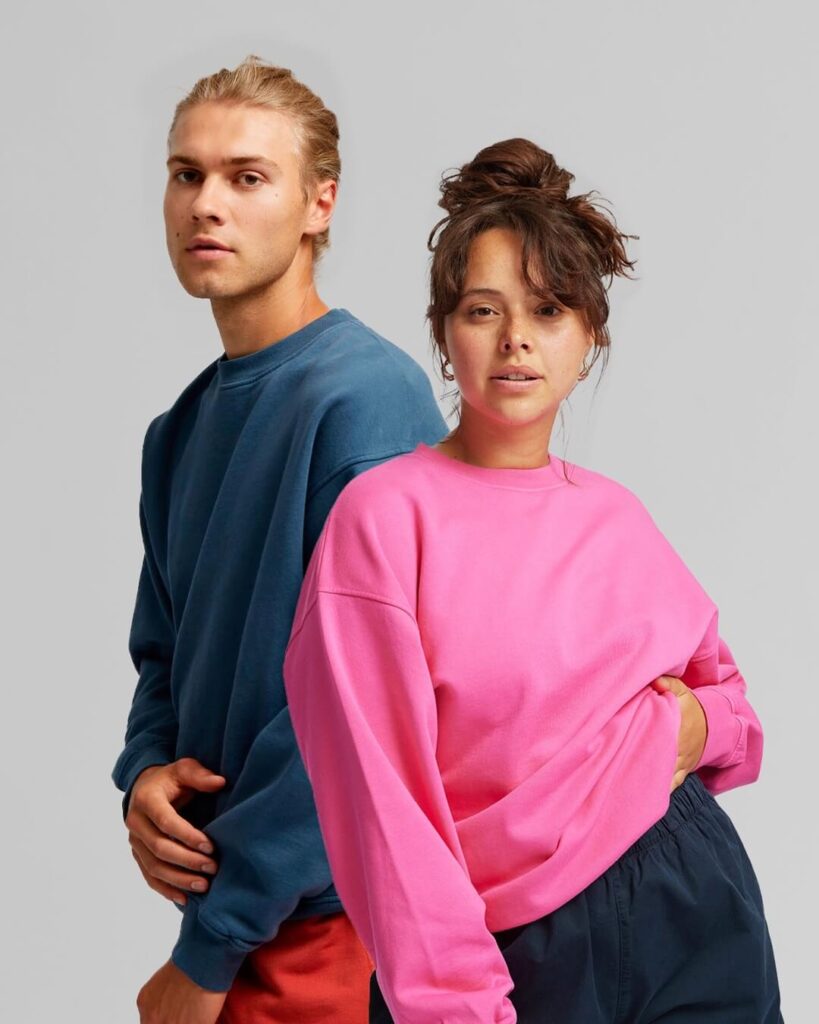 Place of origin: Copenhagen, Denmark
Founder: Tue Deleuran
For: Men & Women
Price Range: $37-$85
Shipping: Worldwide
Colorful Standard believes in keeping things clean and natural. It brings to you the best organic fashion essentials, ethically made in its manufacturing unit in Portugal, where fairness and transparency are the key goals. For the love of the immense benefits of organically grown cotton, most of Colorful Standard's collections are categorized under everything "Organic Cotton." We're talking Organic T-shirts, Organic Crewnecks, Organic Hoodies, Organic Shorts, and so much more.
Expect nothing but high-quality, comfort, and timeless styles from Colorful Standard's range designed for both him and her. With 41 stunning environmentally-friendly colors to choose from, there's a shade for everyone. And the best thing! Their clothing is PETA-approved, and Oeko-Tex® certified. So wear playful colors without worrying about their impact on the planet.
3. Mightly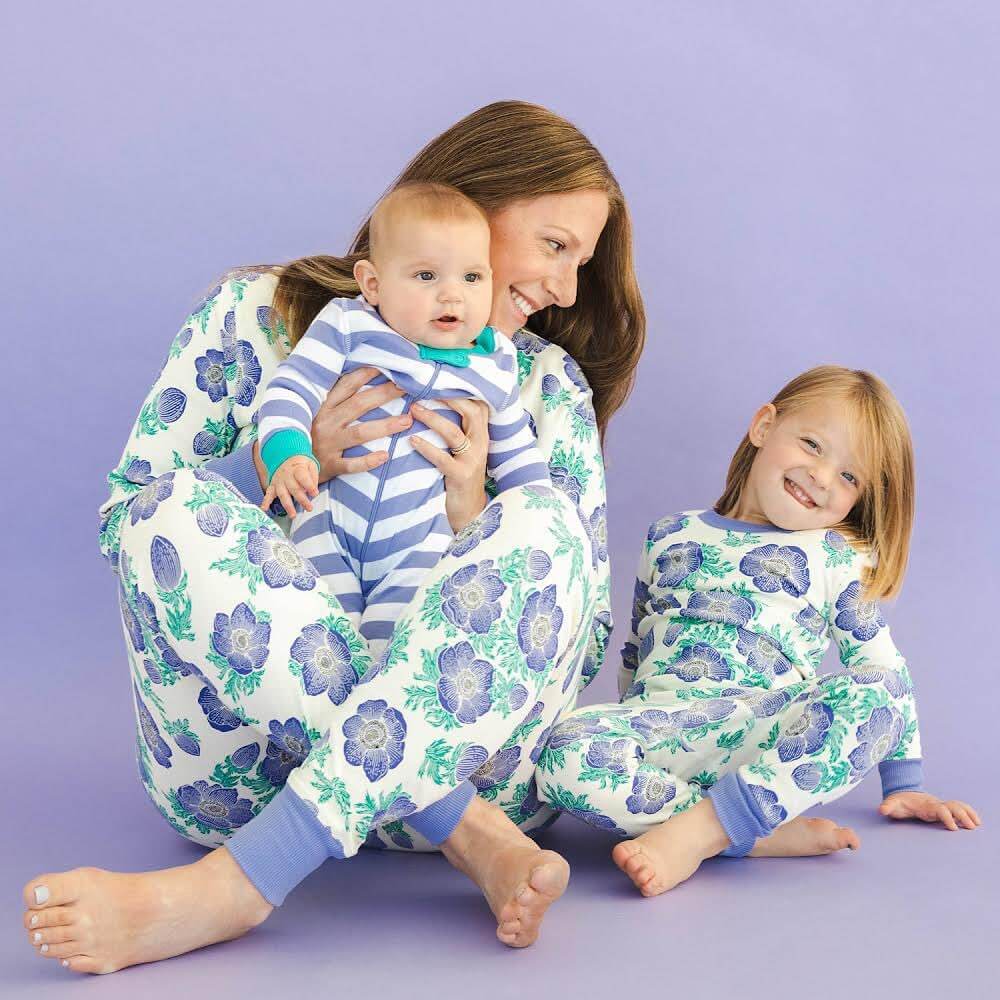 Place of origin: Oakland, California
Founders: Tierra Forte, Barrie Brouse & Anya Marie
For: Kids
Price Range: $25-$40
Shipping: Worldwide
Kids deserve the world and what better way to raise them into conscious humans other than incorporating sustainability since childhood? The kidswear organic clothing brand Mightly comes from three mommies with over forty years of experience in the apparel industry. So, we know it's goood! Made out of GOTS certified organic cotton and non-toxic dyes, Mightly's collection includes super cute tees, bottoms, dresses, pajamas, and even rain boots.
Most of their clothes are designed to be gender-neutral, so you can easily work them out between your kids. And what we really adore is you can shop from different themes! Whether it is rainbows, fairies or animals, a new category is introduced from time to time to keep the fun going. The brand responsibly sources its cotton from a farmer-owned nonprofit in India that works with small farming families. All of Mightly's production also occurs in certified Fair Trade Indian factories where workers' development is taken care of.
4. Pact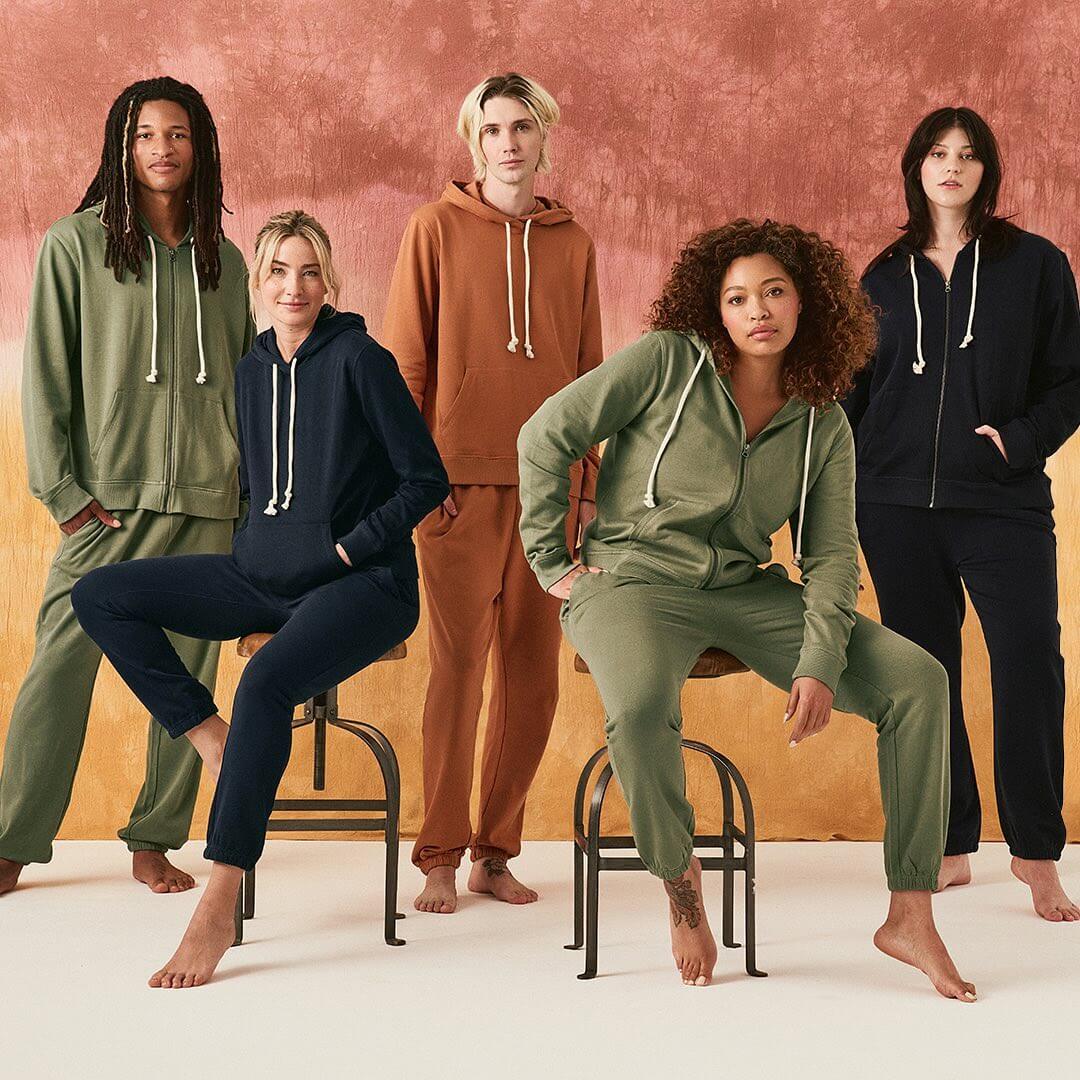 Place of origin: Boulder, Colorado, United States
Founder: Brendan Synnott
For: Men, Women & Kids
Price Range: $36-$94
Shipping: Worldwide
Every piece of clothing from Pact is made from GOTS certified organic cotton. The "Earth's Favorite" clothing company is committed to creating fashion by keeping the people and the planet first. Whether it is dresses and skirts for women, T-shirts, and sweatshirts for men, clothes for your little ones, or bedding to adorn your home— Name a clothing item, and Pact has it all.
This conscious brand has partnered with SimpliZero to offset carbon emissions from its supply chain and goes to great lengths to maintain transparency. From sustainably harvesting organic cotton to the finishing of garments in Fair Trade certified factories— Every step is responsibly handled. To hold circularity, Pact also encourages you to donate your gently used clothes through their Give Back Box program instead of discarding them.
5. CHNGE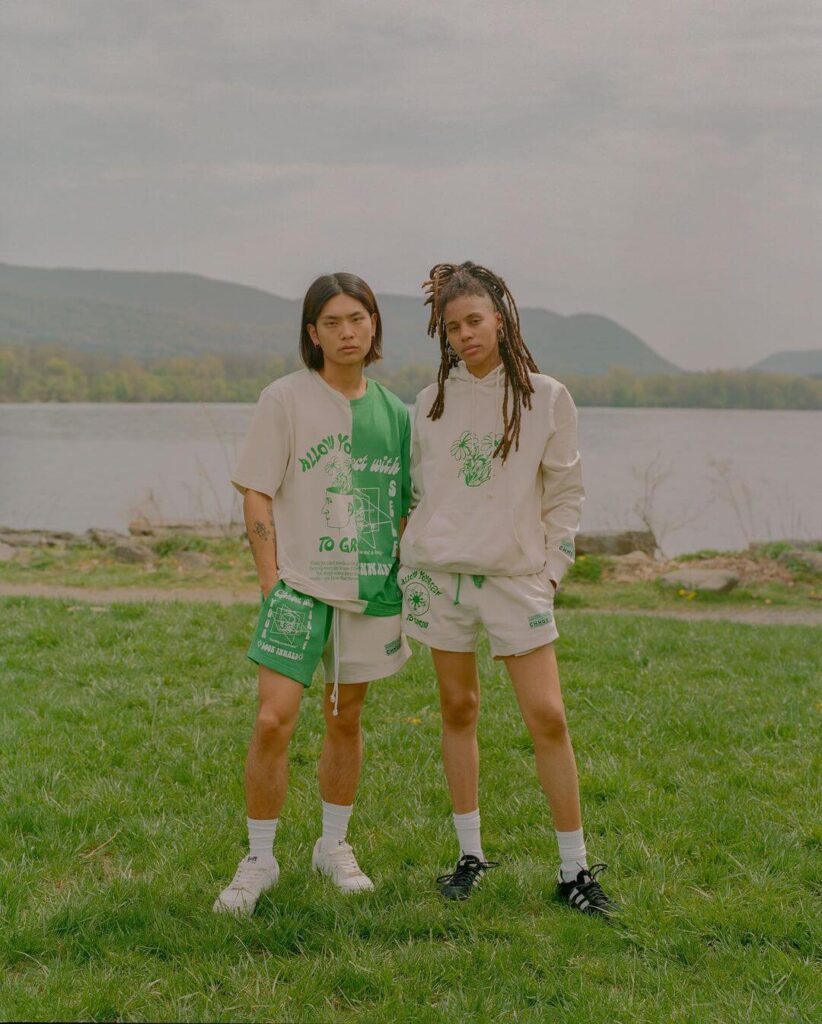 Place of origin: Massachusetts, United States
Founder: Jacob Castaldi
For: Men & Women
Price Range: $39-$89
Shipping: Worldwide
CHNGE is another gem of an organic clothing brand offering graphic tees, classic sweats, t-shirt dresses, and much more, made from GOTS certified organic cotton only. Its clothes are designed with the purpose of bringing change in the world and have the power to speak volumes. Look at the collections— Say No To War, Reproductive Rights, Trans Joy, and so on— CHNGE is trying to create a better, more conscious world.
The Climate Neutral brand works with fair trade certified facilities with a strong base in environmental awareness, sustainability, and ethical practices for their workforce and, definitely, for the Planet. Plus, 98% of the water used during the dying process is recycled to the extent that you can even drink it! CHNGE strongly promotes "Consume Consciously, Consume Responsibly, Consume Differently"— and we're all in for it.
6. KOTN
Place of origin: Toronto, Canada
Founders: Benjamin Sehl Mackenzie Yeates Rami Helali
Product Range: Men, Women & Home textiles
Price Range: $38-$225
Shipping: Worldwide
Up for some world-famous exotic Egyptian cotton? Well, KOTN has got you covered! Made from supreme quality organic cotton, KOTN's products include tees, bottoms, sweaters, loungewear, bedding, blankets, and towels. It directly sources its core material from 2,390 smallholder farmer families in Egypt's Nile Delta and Faiyum regions. The Toronto-based sustainable fashion brand creates timeless designs that honor the people behind making them and the places where they're made.
The eco-conscious brand started in 2015 with a simple objective— To create the perfect t-shirt without compromising on quality, price or the people who create them. Today, it is a certified B Corporation that was voted Best for the World™, with the fourth-highest B Impact Score of clothing brands across North America. KOTN also works towards the welfare of rural Egypt by creating educational opportunities for underprivileged children. So far, it has built ten schools and funded fifteen, where 88% of girls are enrolled for a better tomorrow.
7. Beaumont Organic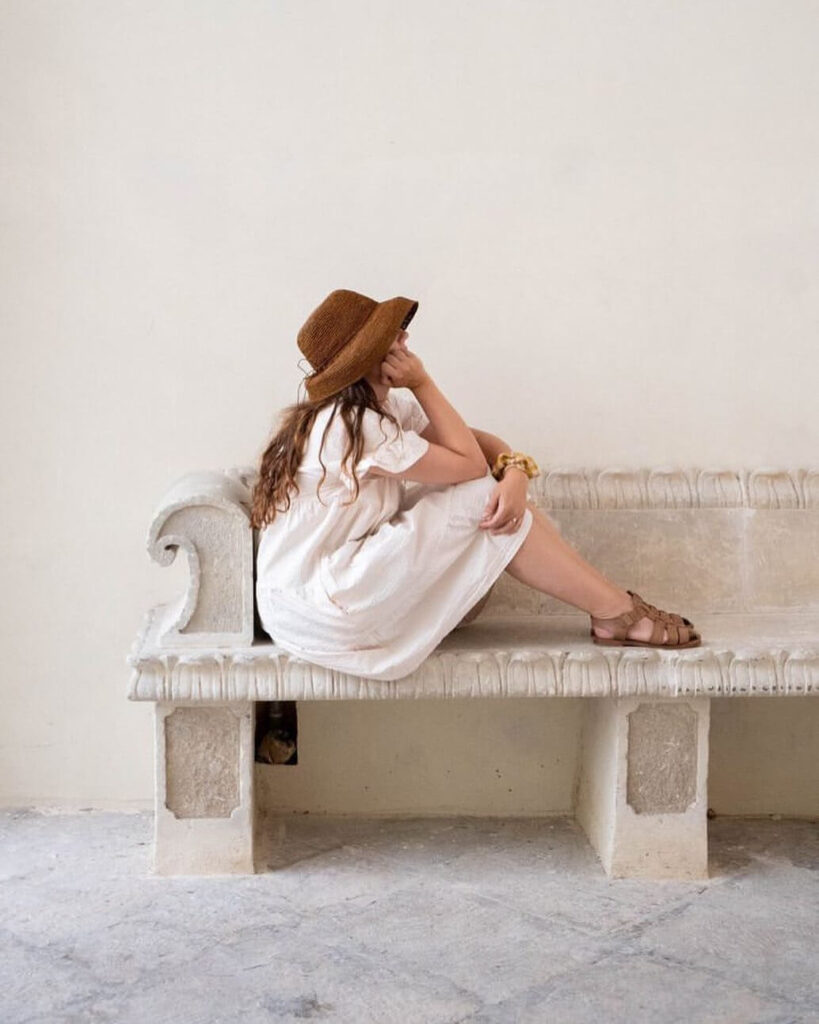 Place of origin: Manchester, United Kingdom
Founder: Hannah Beaumont-Laurencia
For: Womenswear, Kidswear, Accessories & Homewares.
Price Range: $107-$399
Shipping: Worldwide
Beaumont Organic is a planet-friendly premium fashion brand hailing from the British soil. Launched in 2008, this brand combines modern classics and unique silhouettes to create a "Contemporary Conscious Clothing" line. Beaumont Organic believes in mastering clean looks, and to champion sustainable fashion, it introduces only two collections a year, along with an accessories line. Beautiful non-toxic fabrics, including GOTS certified organic cotton, are used in the brand's casual luxury pieces.
Transparency has always been Beaumont Organic's priority, where each piece is designed in the UK, and 97% of end-to-end production takes place in ethical factories in Portugal. Furthermore, 87% of its garments are spun, woven, dyed, sewn, and finished using suppliers within 300 miles of Braga, Portugal, to minimize its carbon footprint.
8. WVN
Place of origin: Santa Cruz, California
Founder: Kate Fisher
For: Women
Price Range: $58-$284
Shipping: Worldwide
Initially known as Synergy Organic Clothing, WVN was founded in 1993 by the eco-fashion visionary Kate Fisher. The socially conscious brand is committed to using certified organic cotton to create covetable pieces for modern women who want to feel and look great while caring for Mother Earth. WVN's collection includes heritage art forms like block printing from India, which are hand-made by artisans using traditional techniques and practices.
The veteran B Corp certified label aims to inspire consumers and the fashion industry to be more thoughtful and responsible about their choices. Their commitment towards an ethical approach goes up to the supply chain, where farmers, weavers, tailors, and even the people who package the garments work in a safe, healthy, and fair trade environment.
9. Organic Basics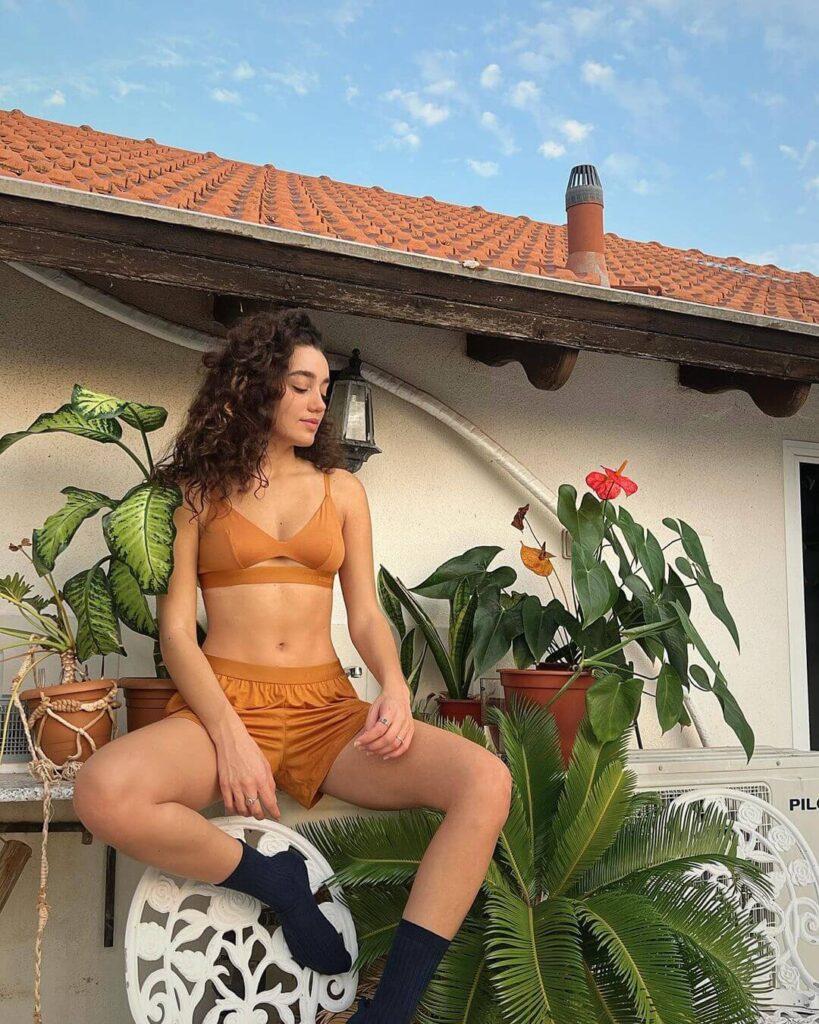 Place of origin: Copenhagen, Denmark
Founders: Christoffer Immanuel, Mads Fibiger, & Alexander Christiansen
For: Men & Women
Price Range: $45-$138
Shipping: Worldwide
Organic Basics originally started in 2015 as an intimate wear subscription service. However, it quickly expanded its business into making underwear for all bodies, regardless of size. And now, its product line has branched out to swimwear, activewear, basic layers, and even circular denim for men and women. Sustainability and comfort are at the core of everything that this brand does.
Each piece is designed in Denmark and made to last— ethically produced in European facilities that share the brand's values and transparency model. Organic Basics is a certified B Corp and an active member of the 1% for the Planet initiative, where it donates 1% of annual sales to various environmental groups and grassroots activists.
10. Fair Indigo
Place of origin: Madison, United States
Founder: Bill Bass
For: Menswear, Womenswear & Kids Toys
Price Range: $34-$94
Shipping: Currently ships to the 50 United States and its territories
Fair Indigo is one of the most popular eco-friendly brands in the United States. The label offers super-comfy and luxurious essentials for your entire family, made using Peruvian Pima cotton. This rare organic cotton is native to Peru and is considered to be the world's finest. Prized for its extraordinary benefits, Pima cotton is recognized for its high-end look, buttery soft feel, and low impact on the environment.
For production, Fair Indigo has partnered with a small family business that grows their own Pima cotton and runs small-batch sewing workshops that provides work to dozens of tiny knitting and sewing cooperatives. Garment workers are treated with fair compensation and provided with a safe space for growth and overall well-being. Fair Indigo is "Sustainable. Fairly Made. Forever In Fashion". Undoubtedly, a treat for organic cotton lovers!
11. Harvest & Mill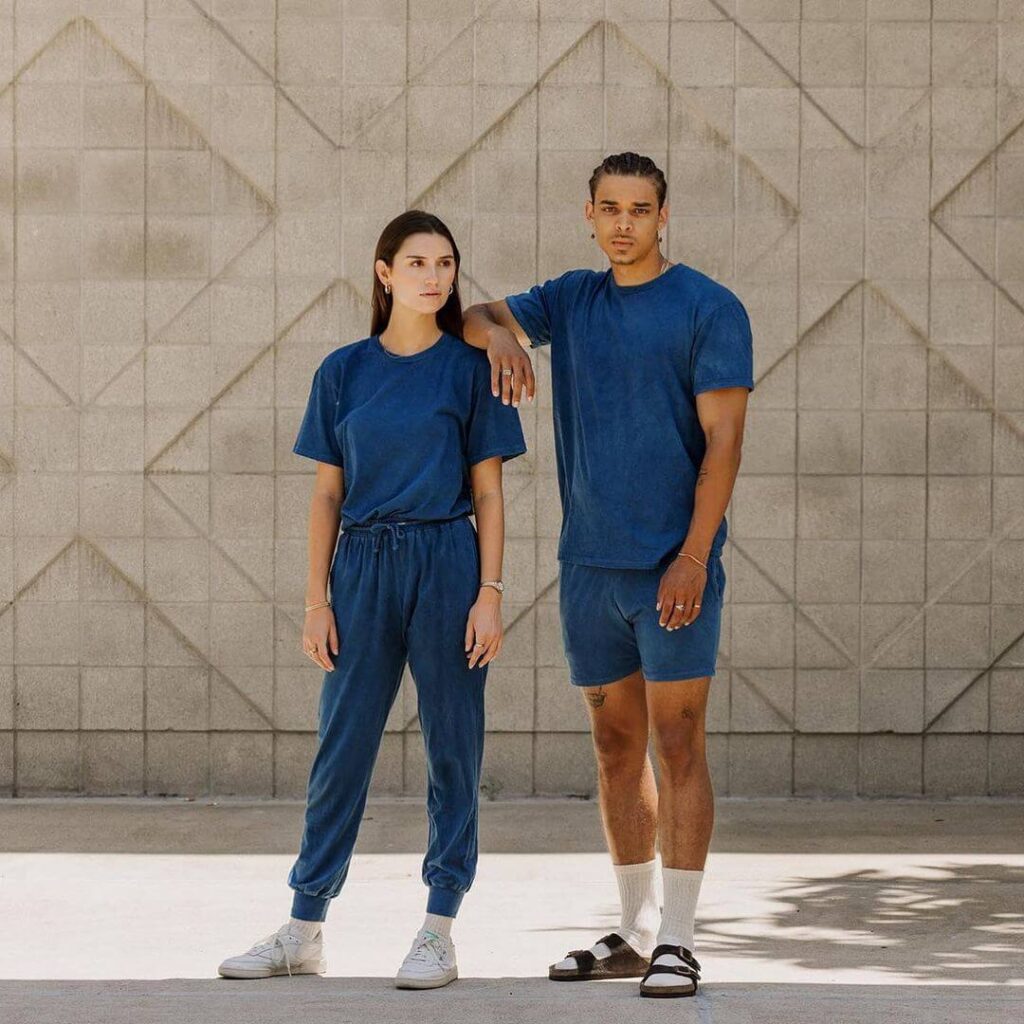 Place of origin: Berkeley, California
Founder: Natalie Patricia
For: Men & Women
Price Range: $45-$185
Shipping: Worldwide
Looking for essential casual wear, perfect for lazing around during weekends or productive WFH days? Well, Harvest & Mill has got you sorted! Its collection includes comfy joggers and t-shirts for your desk and cozy socks to snuggle up on the couch. Every piece is hand-dyed with plant-based dyes to be gentle on the skin, using traditional techniques by artists who have mastered the art of dyeing clothes sustainably.
Harvest & Mill came to life with the idea to uplift America's local organic cotton farmers, heritage mills, and sewing communities. With the mission to create clothing in a better way, this brand is rebuilding supply chains across the US to support the domestic economy based on ethical principles. From harvesting to sewing, every step of production takes place locally. This ultimately results in significantly lower carbon emissions, less energy and water consumption, and a more transparent supply chain. Plus, let's not forget about its 100% recyclable packaging.
12. For Days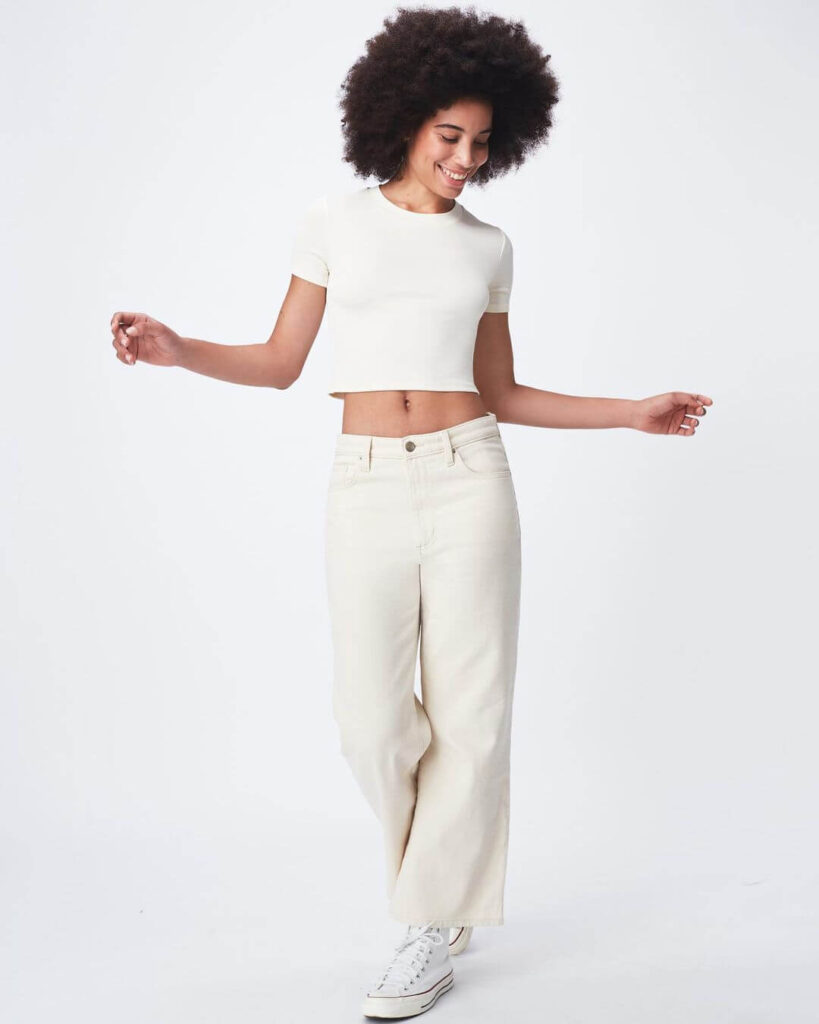 Place of origin: Los Angeles, California
Founder: Kristy Caylor & Mary Saunders
For: Men & Women
Price Range: $32-$168
Shipping: Currently shipping across the United States
"Your Fashion Future Is Here"— Because For Days makes clothes that are 100% recyclable, which means they will never end up in landfills. How cool is that! Claiming to be the first closed-loop brand, For Days is striving to create circular fashion by going zero-waste. Organic cotton and other recycled materials are used to make its clothing, which are not only minimalist but also pretty affordable.
From ribbed crops and classic v-neck tees to fleece sweatshirts and quilted sweatpants— everything is designed and produced with end-of-life in mind. Through For Days' "Take Back Bag," you can send them your used clothes (no matter the condition), and the brand will happily recycle them into insulation, rugs, and cleaning materials. Plus, when you buy a Take Back Bag, you instantly earn $20 closet cash to spend on circular clothing items!
13. Indigenous
Place of origin: Sebastopol, California
Founders: Matt Reynolds & Scott Leonard
For: Women
Price Range: $37-$278
Shipping: Currently ships across the United States
Organic clothing label Indigenous offers a variety of womenswear, including essentials like tops and bottoms, layerings, dresses, jumpsuits, and artisan-made knitwear. Everything is designed in classic silhouettes and neutral tones to last season after season. High-quality Pima cotton is one of the brand's core fabrics, which is 45% stronger than conventional cotton, further adding to the longevity of clothes.
Indigenous is more than an apparel brand— It not only uses sustainable materials but also works with native indigenous communities in Peru to improve their lives. With about three decades of creating eco-friendly fashion, this brand takes fair trade to the next level by crafting a supply chain that prioritizes the needs of the artisans above everything. Empowering women and indigenous communities have been in the brand's DNA since its very start. A thousand Andean indigenous female artisans are earning a dignified livelihood with the help of this brand while preserving their traditional handicrafts.
14. Kind Humans
Place of origin: Los Angeles, California
Founders: Suzi and Justin Wilkenfeld
For: Men, Women & Kids
Price Range: $18-$98
Shipping: Currently ships across the United States
Kind Humans is a global ethical online marketplace that houses a TON of planet-friendly products to sort out your entire 'home' needs. Their diverse product range includes basic organic tees, shoes, kids' clothing, toys and books, beauty and care items, kitchen and laundry essentials, and books on wellness— Whoa! the list goes on and on! Most of their clothing items are made in 100% certified GOTS organic cotton. These "seed-to-shirt" apparel are free from toxic chemicals and dyes and give you the coziest feel.
Everything is designed in LA and ethically manufactured in fair trade facilities that guarantee fair wages and a positive working environment. Kind Humans' philosophy is— "Making it easier to do good." And with that, the e-commerce retailer has simplified sustainable shopping by bringing together the best products that are kind to our whole ecosystem. The cruelty-free company is a certified B Corp, Climate Neutral, and a proud member of the 1% for the Planet initiative. All the more reason to check it out!
15. Nudie Jeans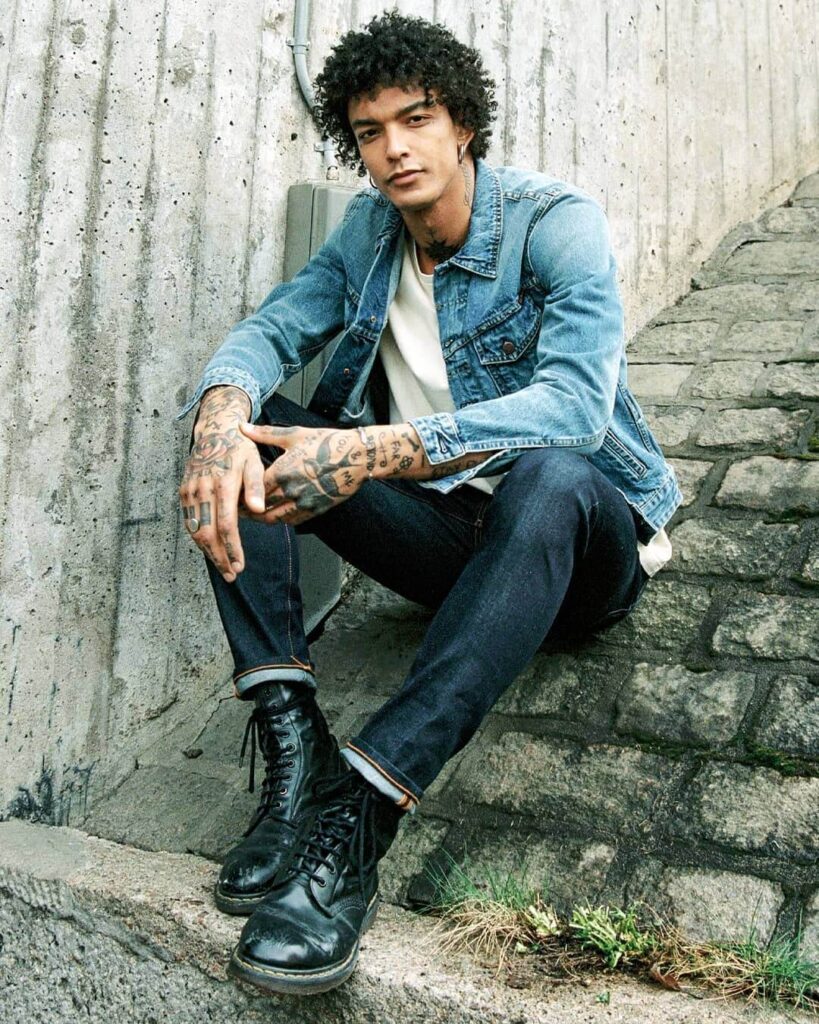 Place of origin: Gothenburg, Sweden
Founder: Maria Erixon Levin
For: Men & Women
Price Range: $185-$400
Shipping: Currently ships to 50 countries worldwide
No wardrobe is complete without a pair of well-fitted jeans. And the deal gets so much better when we're talking sustainably made denim. Organic clothing brand Nudie Jeans is the best place to start your eco-friendly and chic denim shopping. Made from 100% GOTS or OCS certified organic cotton, their pieces come in six different classic fits and a variety of colors and washes that will never go out of style.
Nudie Jeans takes responsibility for the entire lifecycle of its denim— from the raw material source to the end-of-life of the product. And the best thing? They offer free repairs forever. The label is a member of the Fair Wear Foundation, ensuring every worker across the supply chain works under satisfactory conditions. Because sustainability is also about social standards along with environmental issues.
A Final Word…
There you go! With such an extensive list of organic cotton clothing brands to choose from, I hope your sustainable shopping woes for the entire family just got resolved. These brands are not only raising the bar for organic and seasonless clothing but also helping many farming communities thrive. Organic cotton is undeniably one of the strongest and most durable natural fabrics. With the level of comfort and breathability this fabric brings in, it feels nothing but a Godsend. However, always make sure to check for certifications. Thank you for choosing wisely. Happy Fluffy Shopping!