Disclosure:
Our editors handpick top-rated brands, vetted through our strict ratings. Purchases via our links may earn us a commission.
Learn more
Conscious shopping holds a different meaning to different shoppers. But the only thing that connects us all is that we always opt for eco-friendly fabrics that do not harm the planet's well-being. As mindful shoppers searching for sustainable textiles, you probably come across mainstream 'green' fabrics like organic cotton, hemp, recycled polyester, and linen often. But it's time to open your heart (and your wardrobe) to other innovative fabrics in sustainable fashion that deserve all the appreciation.
So tell me, how many times did you stumble upon clothes made from pineapple leaves or cacti or apples, for that matter? Curious? I bet you are! But let me tell you, these fabrics exist! And not only are they incredible alternatives for cruel materials like leather, silk, and wool, but they are also unique enough to be regarded as some of the most innovative fabrics.
These fabrics are a result of countless experiments and intensive research by some compassionate sustainability enthusiasts who share our common vision— Saving Mother Nature! Let's explore the most innovative sustainable fabrics in 2023.
Most Innoative Fabrics in Sustainable Fashion
What Makes the Fabrics Innovative?
The fabrics we choose play a significant role of influence in the textile and fashion industry. And all the materials mentioned in this feature are fascinating discoveries developed to solve concerns regarding water conservation, reduction of waste, and a minimal carbon footprint.
Many of these fabrics are incredible innovations made from utilizing by-products of the agriculture, textile, food, and wine industries. By-products are basically waste generated by particular sectors that are unfit for human use; hence get discarded in massive volumes. But with amazing engineering tactics, this garbage is transformed into brand-new fabrics. That too sustainably, without incorporating numerous chemical processing or heavy water usage!
These innovative textiles not only help reduce waste but also decreases the demand for new resources because the raw materials for these fibers already exist. Like, we are talking mushrooms, mangoes, grape waste, and apple peels; who would have thought!
While some of these fabrics are recycled textiles, others are artificially created in labs. And although few of them are semi-synthetic, they're recyclable and a lot more planet-friendly than virgin synthetic textiles like polyester, nylon, acrylic, etc.
So, whichever fabric you choose from this list, you will always contribute to sustainable fashion!
Go Green with These Innovative Fabrics in Sustainable Fashion
Presenting super-cool fabric technologies that are taking the fashion industry by storm. Get ready to be amazed by— Lyocell, Modal, ECONYL®, Recycled Polyester, EcoVero, Cupro, Piñatex, Apple leather, Mushroom leather, Cactus leather, Parblex, Mango leather, Leaf leather, Woocoa, Vegea, Orange Fiber, SPINNOVA®, and S. Café®
1. Piñatex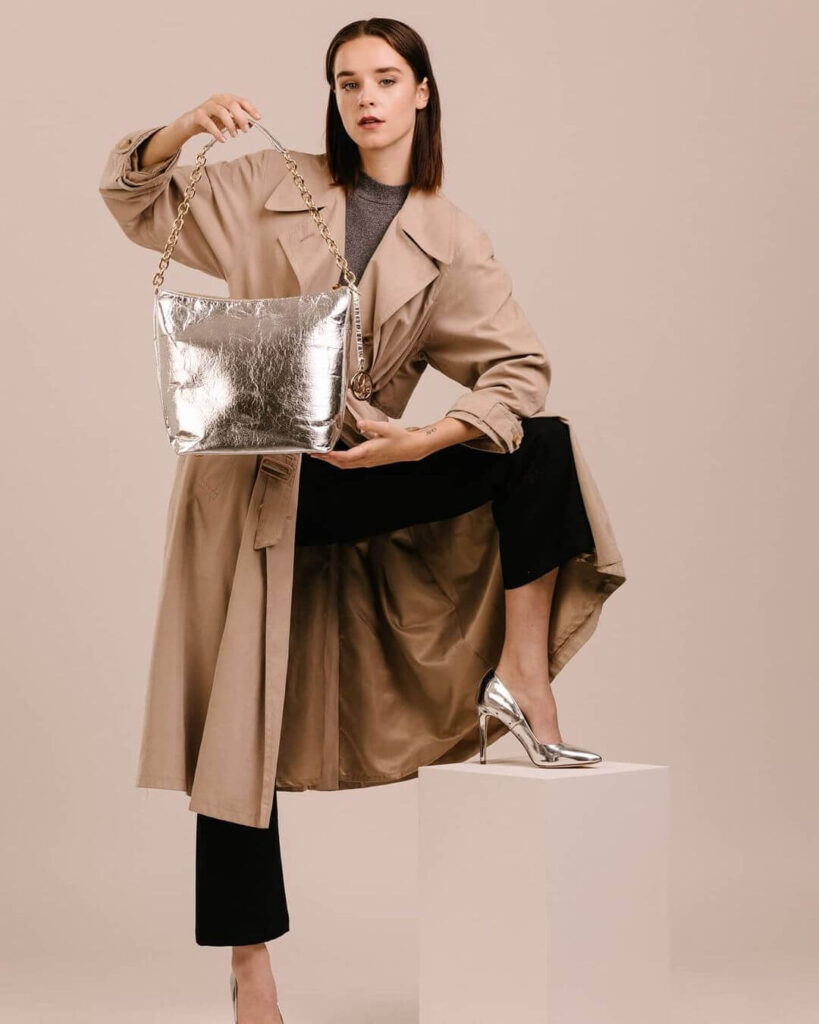 Piñatex or Pineapple leather is a type of vegan leather made from repurposing pineapple plant leaves, which is considered as agricultural waste. Dr. Carmen Hijosa invented the fabric after years of research, and currently, the rights of Piñatex are owned by her company Ananas Anam, which is a certified B Corp.
The only source of this plant-based leather is the long pineapple planet leaves which are left behind after pineapples are harvested. With the help of special machines, long fibers are extracted from these leaves, which are then washed, dried, and purified to remove impurities.
The fluff-like fibers are then blended with a corn-based polylactic acid to achieve a non-woven mesh known as Piñafelt. Rolls of these Piñafelt are then colored using GOTS certified pigments, followed by a resin coating to make the textile strong and durable.
Piñatex is embraced by a lot of thoughtful brands offering cruelty-free leather. It is used in making apparel, and accessories like bags, shoes, hand gloves, belts, and wallets, along with interior furnishings like couches, bean bags, headboards, and so on. Some of these brands are NAE Vegan, Svala, Baula, and Altiir.
2. Apple Leather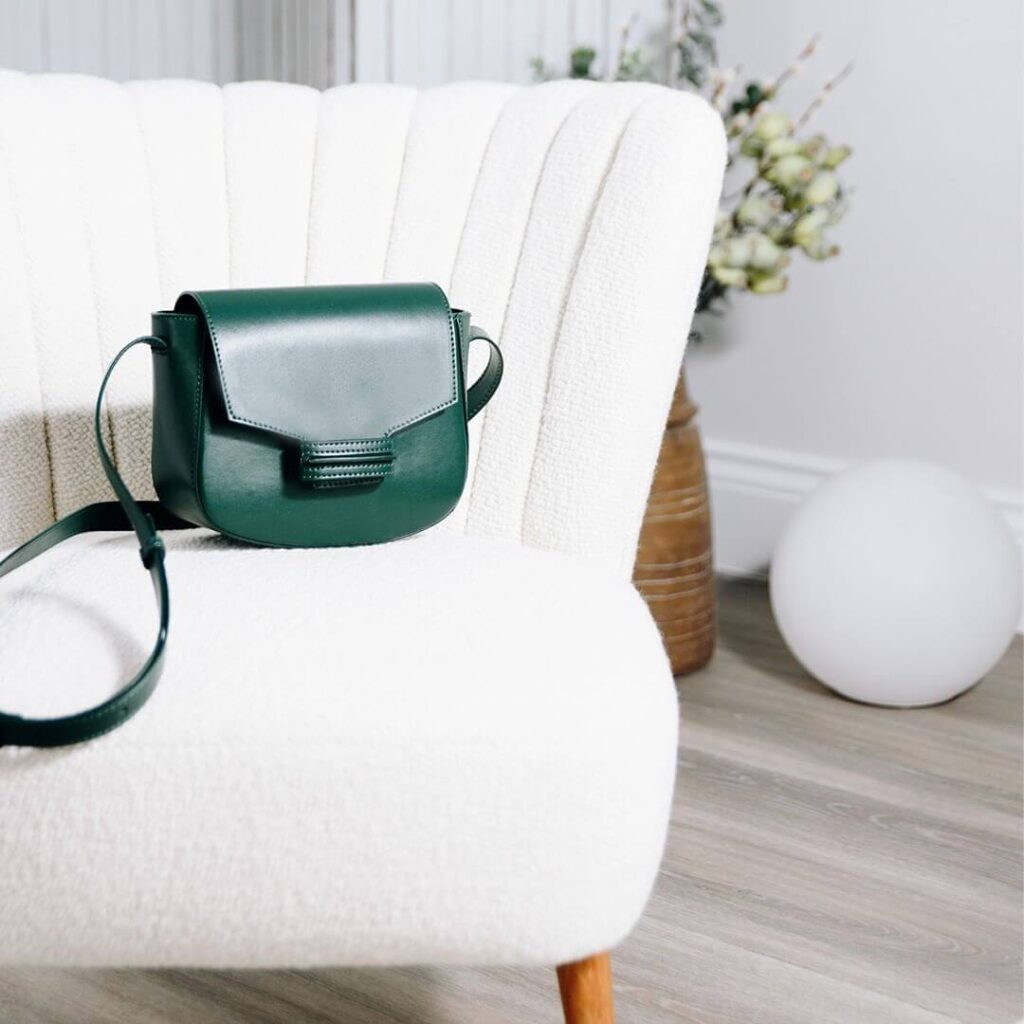 Apple leather or Apple Skin is a bio-based textile made from the leftover cores and peels from the fruit juice and jam industry.
Originated in Northern Italy by Frumat, the production process of this vegan leather starts by collecting apple by-products, which contain a good amount of cellulose. The scraps are then crushed, dried, and reduced to a fine powder. After processing, the powder is combined with polyurethane (a synthetic resin) to make the textile strong and waterproof, giving a leather-like feel. And the final result is apple leather.
About 50% of the core material in apple leather is a synthetic resin that is petroleum-based, and the remaining half is apple scraps. So while apple leather is not incredibly eco-friendly, it has a much lower environmental impact compared to cowhide leather, which is the direct competitor of all kinds of vegan leather.
Apple leather is soft, flexible, UV resistant, and durable. Sustainable brands like Dooeys, Veerah, Luxtra, Allégorie, and Samara are helping reduce food waste and creating cruelty-free products by using apple leather n their shoes and accessories collections.
3. Mushroom Leather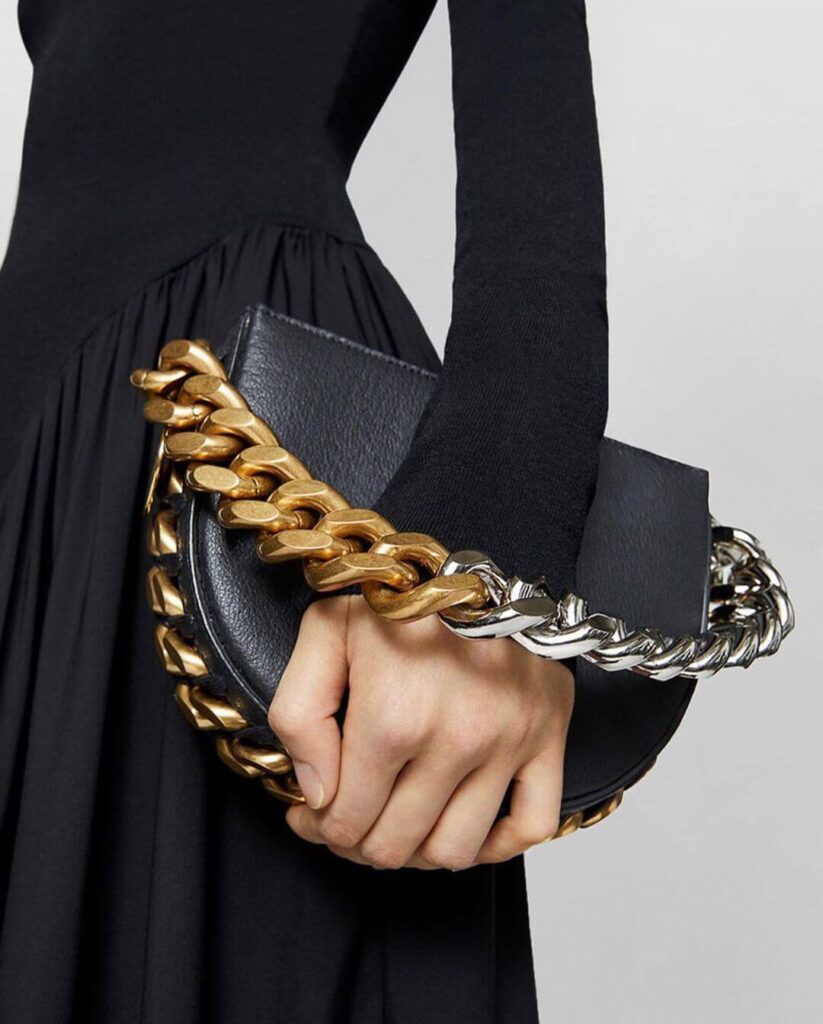 Mushroom leather, or Mylo, is another eco-friendly vegan alternative to traditional animal leather. While many textile companies are producing mushroom leather, Bolt Threads is the primary developer of this innovative fabric. Designed to be carbon-neutral with a minimal environmental footprint, this bio-based leather is made from mycelium, an underground network of root systems for mushrooms.
To make this leather, beds of organic matter are grown by using mycelium cells. Together the cells connect with each other forming a root-like structure made of fuzzy threads. This material is extracted upon reaching maturity and is tanned and dyed to be transformed into a leather-like material.
Mushroom leather is known to be soft and supple yet strong and durable and is used in making garments, accessories, and upholsteries. Stella McCartney is one such sustainability pioneer offering products in mushroom leather.
4. Cactus Leather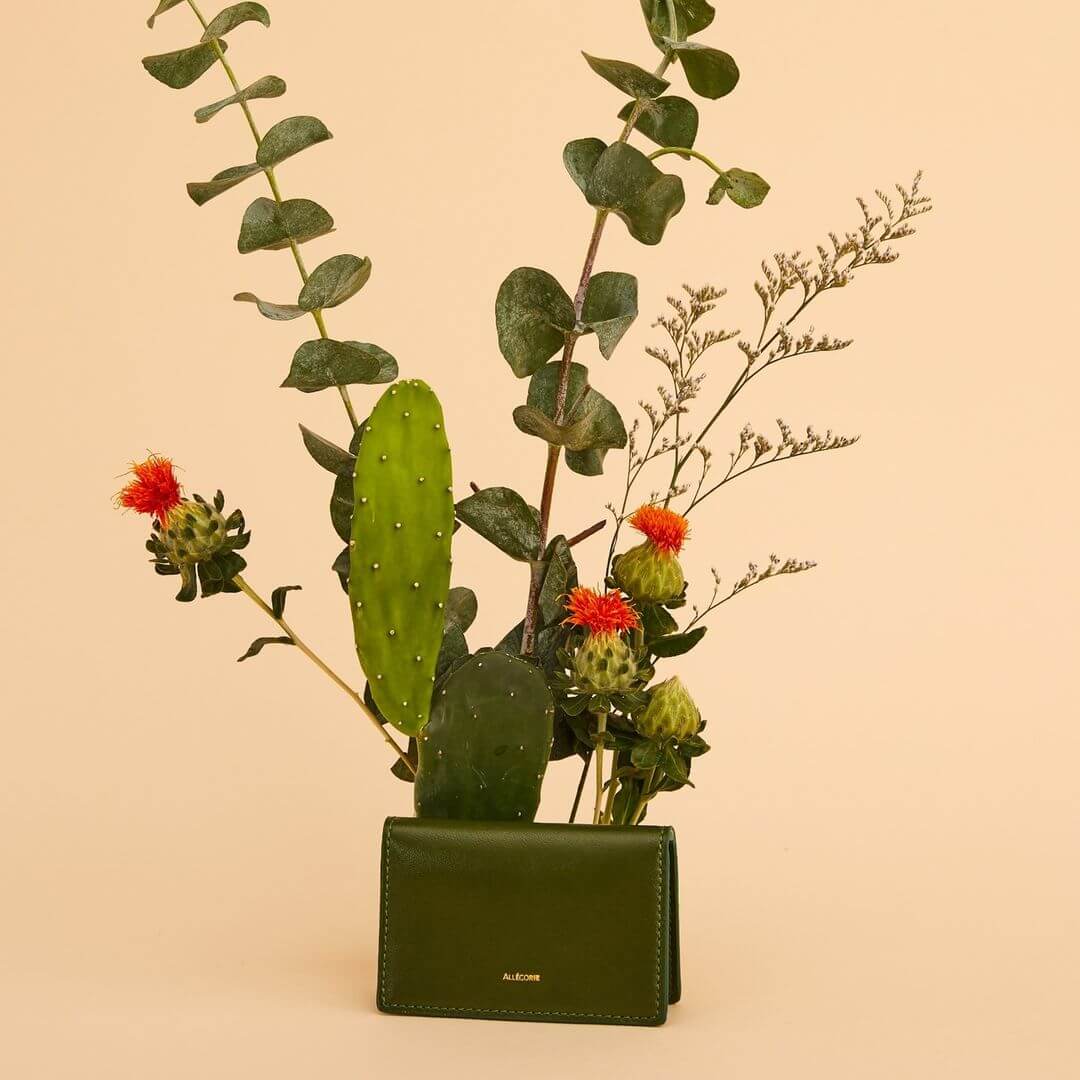 Cactus leather is a cruelty-free plant-based leather made from the Nopal cactus plant. It is exceptionally breathable and flexible, and water-resistant, giving in all the leathery feels!
Cacti are an excellent plant species. They not only thrive in harsh conditions but also restore soil health naturally by helping prevent erosion and desertification. Plus, they don't need specific care, pesticides, or huge amounts of water to grow.
For making cactus leather, the matured leaves of the Nopal cactus plant are harvested. And harvesting occurs every 6 to 8 months. Next, they are mashed to a pulp and left to dry under the sun for a few days. Finally, they're processed with a mix of low-impact chemicals. Voilà! Cactus leather is ready!
A lot of brands are designing their products in cacti leather. Some of them are Allégorie, Frida Rome, Miomojo
5. Parblex®
Parblex® is a bioplastic developed using potato waste from the food industry. This innovative material was introduced by the company Chip[s] Board®, with the vision to create a true circular and self-sustainable economy using food waste as the raw material.
While the UK-based company does not disclose much information about the step-by-step production process of Parblex®, it does involve various steps of fermentation, purification, and polymerization, done in a closed-loop process. Chip[s] Board® uses a single origin waste and is currently producing biocompatible plastics using McCain UK's potato waste stream.
The discarded potato peels are mixed with agricultural wastes like walnut shells or wood flour to transform into a strong fiber with a specific texture and color. No oil-based chemicals or toxic resins are used in the production of Parblex®, making it a completely biodegradable and recyclable material.
Parblex® makes a range of materials for eyewear, buttons, fastenings, and so on. Brands using this material are Cubitts, Isabel Fletcher, etc.
6. Mango Leather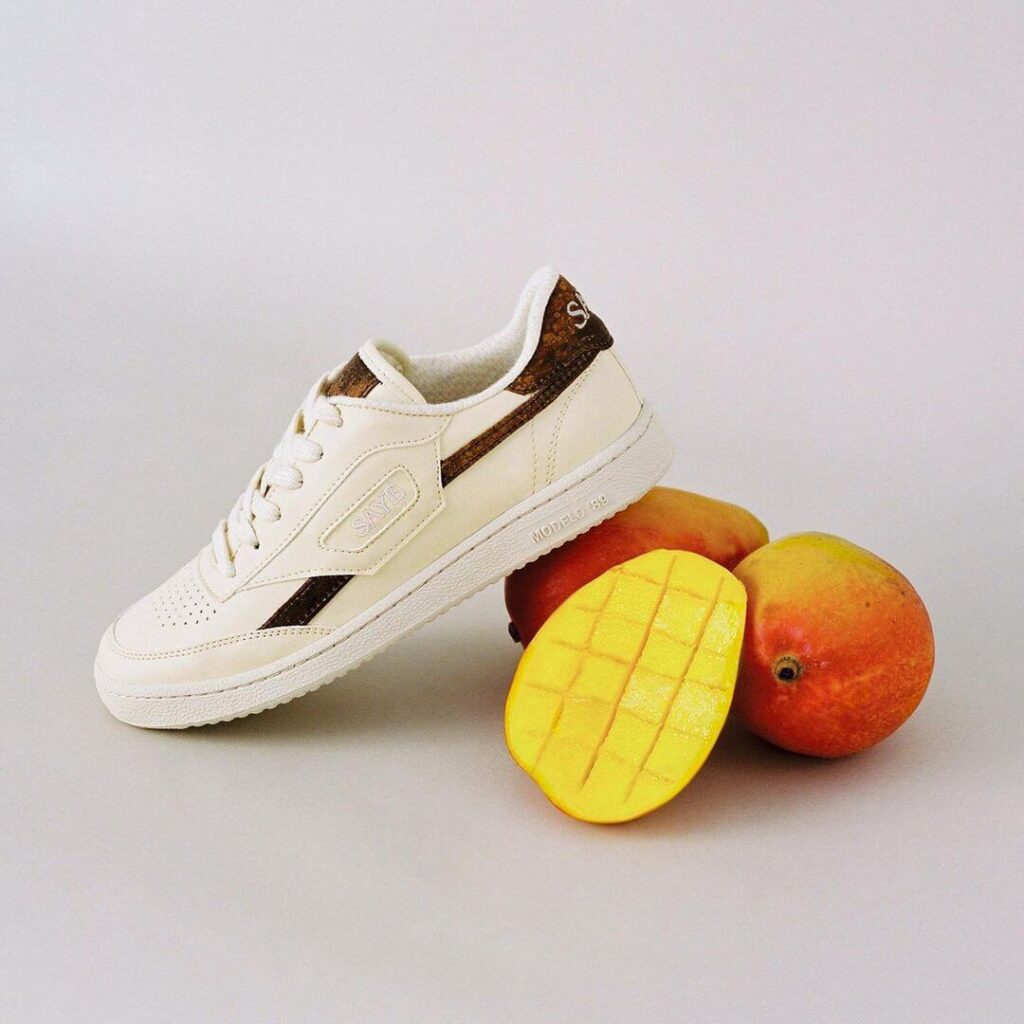 Mango leather is another plant-based alternative to leather and is a great option for vegans. Originated in the Netherlands by the Dutch company Fruit Leather Rotterdam, this material is made from discarded mangoes unsuitable for human consumption.
The production process begins with collecting huge quantities of wasted mangoes from market stands, followed by de-seeding and pulping the fruits. The pulp is then boiled down to eliminate bacteria, ensuring it doesn't rot. Next, water-based polyurethane is combined with the mushy substance, spread into sheets, and dried. Finally, the material gets colored, and there you go! Mango leather is ready.
But Fruit Leather Rotterdam isn't the only one nailing the mango leather game. Recently, scientists at India's Central Leather Research Institute (CLRI) have developed their version of mango pulp leather in a similar way. The government organization has patented the technology and gave the license to manufacture it to Aamati Green Pvt Ltd, which helped in the entire innovation process. The animal-free leather is created by mixing 50% mango pulp and biopolymer, making it an eco-friendly textile.
It is estimated that India is the world's largest producer of mangoes, cultivating up to 20 million tonnes annually. But farmers end up discarding about 40% of the mango harvest in the fields as these pieces do not meet the accepted supermarket standards. So collecting and recycling these fruits ultimately contributes to less food waste, making a better environmental impact.
Mango leather is durable and versatile. It is not widely available as its production is yet to be commercialized. Mango leather can be used in making handbags, shoes, wallets, belts, etc. Allégorie, Saye, and Luxtra are three such cruelty-free brands that offer products made of mango leather.
7. Leaf Leather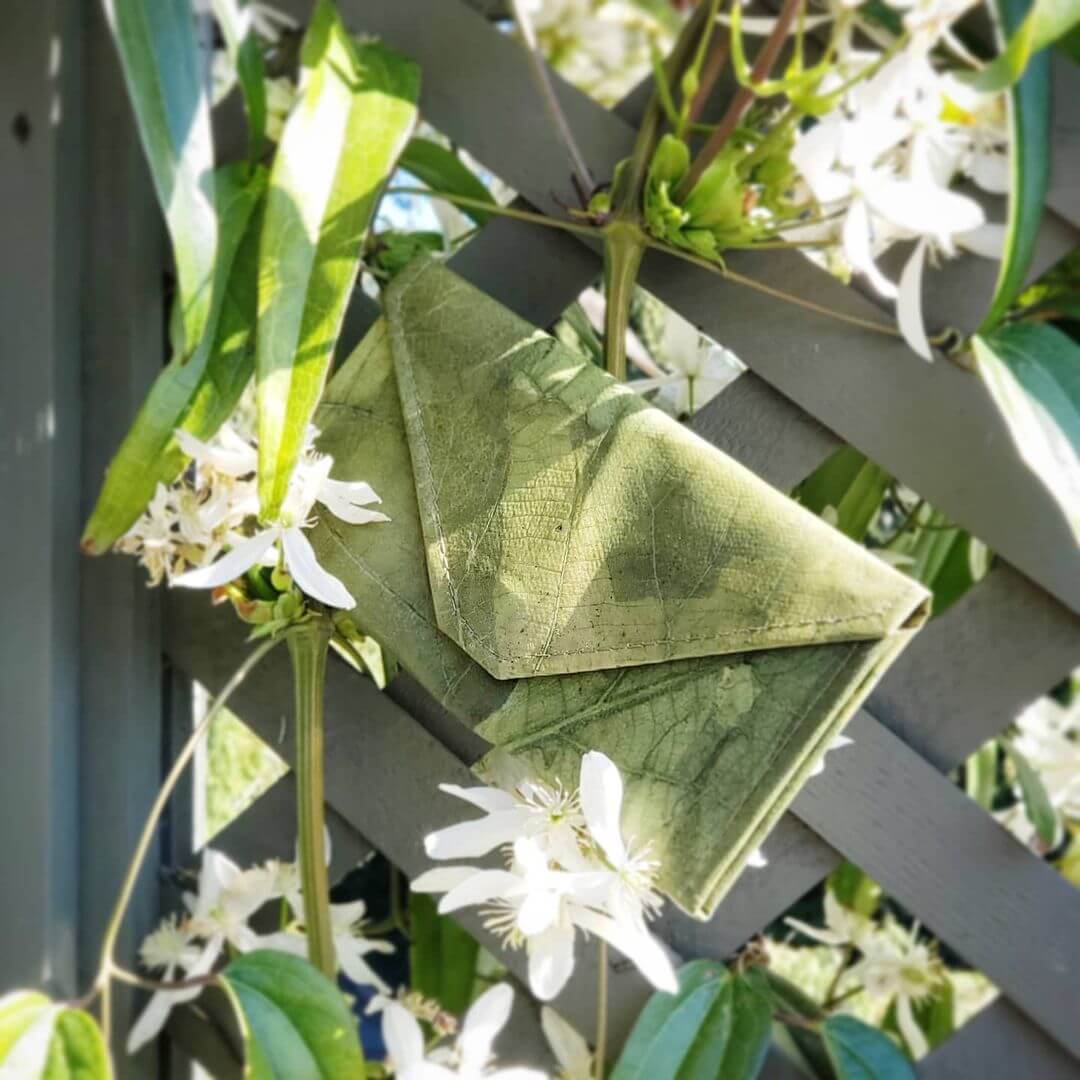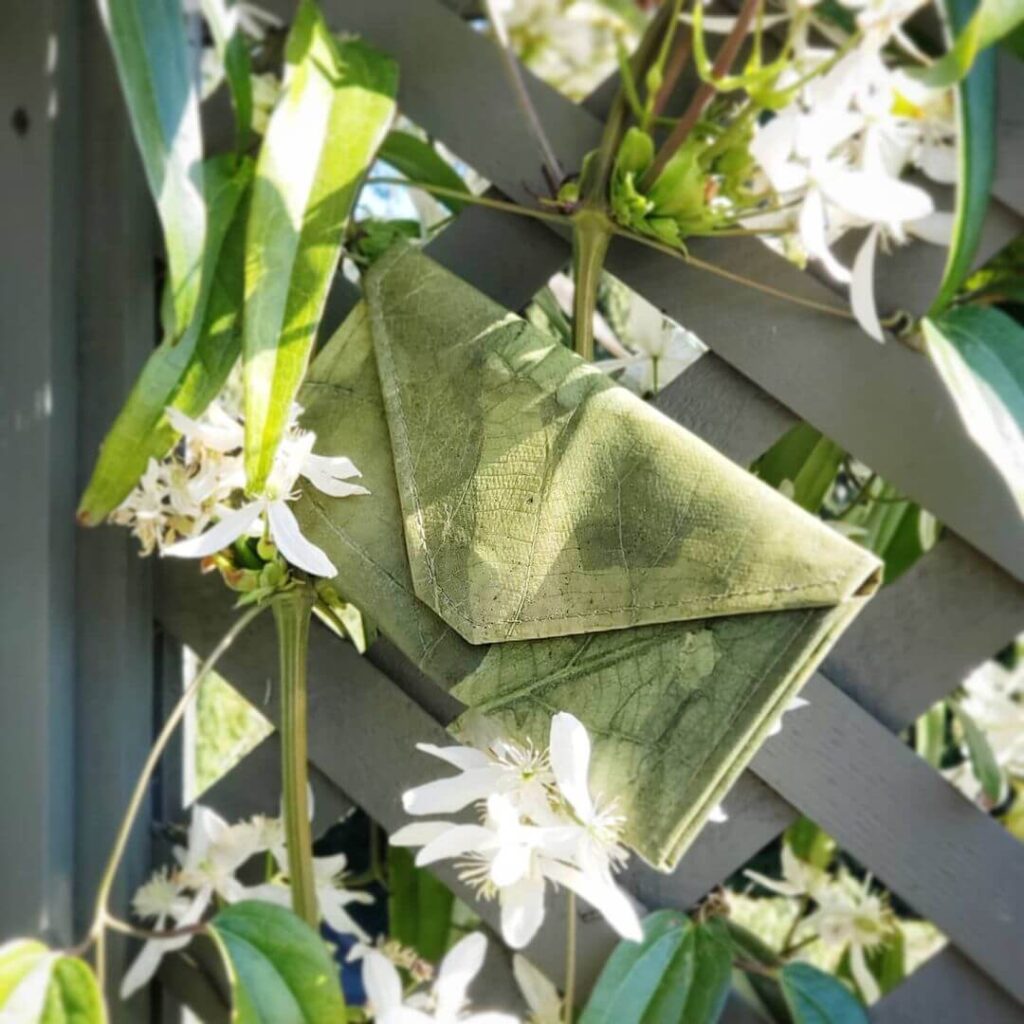 Leaf leather is another biobased leather alternative made using teak leaves. This variety of vegan leather is strong, flexible, and water-repellant and features the natural design of teak leaves, making it unique and gorgeous.
To produce leaf leather, fallen teak leaves are responsibly collected without harming any tree. These leaves are then soaked in water, dyed, and laid flat all together to dry. The drying process binds the leaves, creating large sheets of a leafy material that is further stitched with cotton fabric to provide structure and a soft interior. Finally, a thin BOPP film is applied to make the material waterproof and durable, and leaf leather is ready to be sewn into various accessories.
Tree Tribe is one such thoughtful brand that has an amazing collection of bags, wallets, and journals made out of leaf leather.
8. Woocoa
Ever heard of plant-based wool? Meet Woocoa— a vegan wool developed by a group of design students from the Universidad de Los Andes in Bogotá, Colombia. This biofabricated material is made from hemp and coconut fibers and treated with oyster mushroom enzymes in a controlled environment.
Woocoa is produced in a closed-loop cycle where the mushroom enzymes are used to degrade lignin, the organic polymers that make plant cells rough and tough. This step softens the coconut and hemp fibers, leaving a softer and woolly texture. It also removes their natural colors, preparing the material for dying in low-impact pigments. All this without shoring a single sheep! Impressive!
Compared to leather and fur, wool was considerably less cruel to animals. But, the commercialization of this fiber has led to multiple cases of animal abuse by the wool industry, including mutilations and death-like living conditions. As a result, cruelty-free woocoa is soon gaining popularity as one of the most innovative fabrics in sustainable fashion.
Woocoa is a soft, high-quality textile that is breathable in summer and keeps you cozy in winter. It has also won the PETA Prize for Animal-Free Wool in the 2018 Biodesign Challenge. Stella McCartney has incorporated this potential fiber in some of her products.
9. Vegea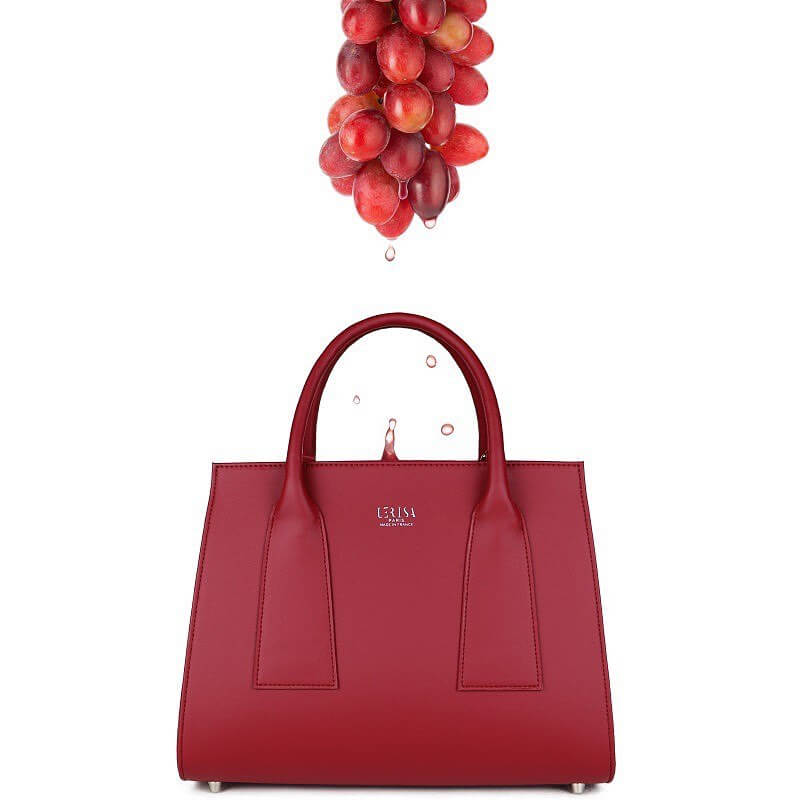 Vegea, also known as grape leather or wine leather, is another vegan leather developed using the wine industry's leftover grape peels and seeds. This material was innovated by its namesake company Vegea, founded in 2016 in Milan. The idea of the founders was to add value to agro-industry biomass and residues of grapes by transforming them into new materials fit to be used in fashion, furniture, automotive, and so on.
Grape marc consists of grape skins and seeds that are rich in soluble carbohydrates. To produce vegea, this grape waste is first dried and then mixed with vegetable oil and water-based polyurethane. The mixture creates a bio-based material that is coated onto a fabric. This production process does not involve the use of toxic solvents and heavy metals.
Approximately for every 10 liters of wine produced, 2.5 liters of grape waste are generated. However, thanks to brands like Vegea, this waste can now be recycled into wine leather with good flexibility and strength and can be easily used to create a pool of products.
Some amazing vegan brands that use Vegea are Lérisa Paris, Ganni, Diadora, and Pangaia.
10. Orange Fiber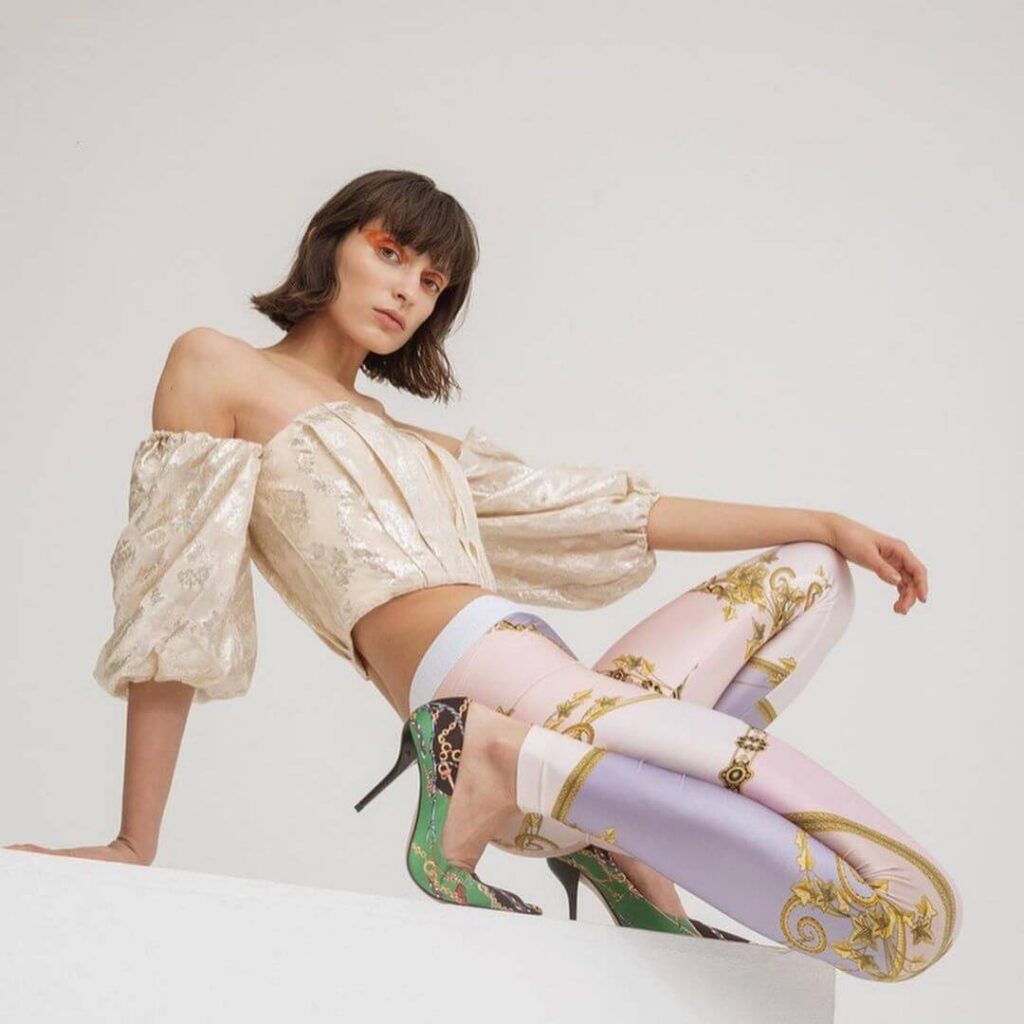 Orange fiber is an innovative sustainable fabric made from citrus juice by-products of the food industry. The biobased material was introduced by its namesake Italian company, Orange Fiber, which has patented this fabric since 2014.
The production process of orange fiber starts with collecting hundreds of thousands of tons of orange juice waste, called the 'pastazzo'. In the next step, cellulose is extracted from the peels following the company's patented process. Finally, the fiber obtained is spun into yarn and weaved into fabric.
Orange fiber fabric can be a perfect vegan alternative to silk, as it is made from a silk-like cellulose yarn that is easily blendable with other materials. It is soft to the touch and lightweight and has been used by many prominent brands like Salvatore Ferragamo.
11. SPINNOVA®
The Finnish company Spinnova developed its namesake fiber which is entirely made from wood and agricultural and textile waste.
The production process is inspired by spider webs. It starts with extracting and refining cellulose made of wood. The pulpy substance is then pushed through a unique nozzle at high pressure. The right kind of ejection causes the fibrils to rotate and align in a specific flow to create a natural textile fiber. At last, this fiber is dried and collected, ready to be spun into yarn.
SPINNOVA® fabric is a climate-positive textile that consumes 99% less water than cotton production and is 100% biodegradable and recyclable. Its production emits minimal greenhouse gas emissions, as it does not go through any toxic chemical processing.
The North Face, Halti, Bergans, and Marimekko have collaborated with Spinnova to launch editions made in this fabric.
12. S.Café®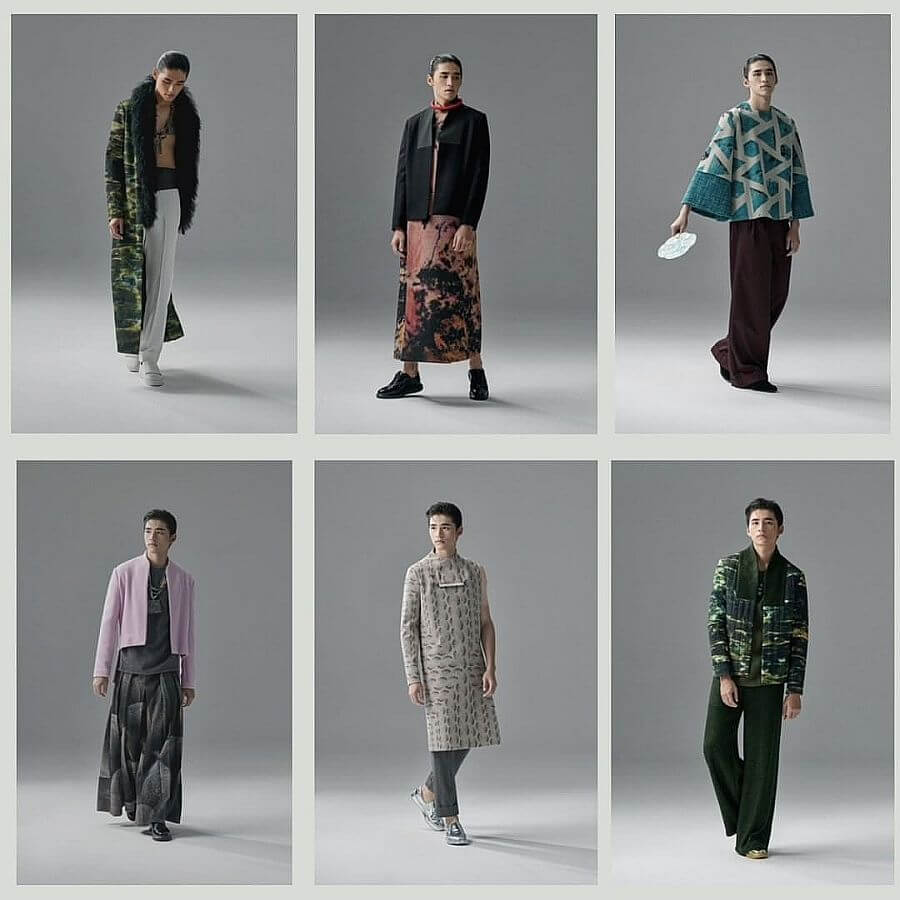 A cup of coffee goes a long way, and S. Café® is definitely proving that! I'm sure not even in your wildest imagination, you thought of wearing clothes made out of ground coffee beans. But trust me, it's happening! And the mastermind behind this fabric is SINGTEX.
To make S. Café®, ground coffee beans are transformed into sustainable yarn through a closed-loop patented process which is a low-temperature and energy-saving method that reduces C02 emissions.
After being woven into a fabric, S. Café® results in a fast-drying, sweat-wicking, and de-odorizing high-performance material, perfect for a bevy of different apparel, especially activewear and outerwear. The North Face and Patagonia are some favorite brands that are using this fabric.
13. Lyocell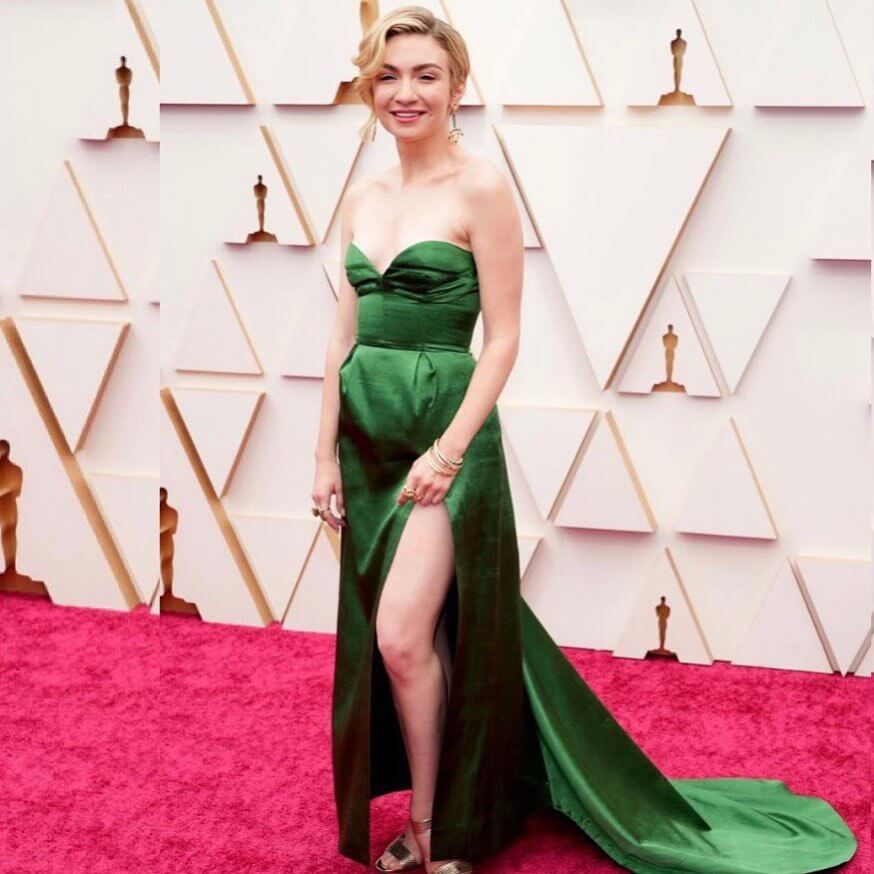 Lyocell (also known as TENCEL™) is a semi-synthetic fabric that is an upgraded version of rayon. It is an extremely breathable, lightweight, and hypoallergenic material that resembles high-quality cotton and silk.
Lyocell is made of cellulose from hardwood trees like eucalyptus, bamboo, birch, and oak. These trees are fast-growing and don't require heavy pesticides, making lyocell one of the most innovative fabrics in sustainable fashion.
The production process involves breaking down wood from matured trees into small chips and loading them in non-toxic chemical tanks to soften until pulpy. The pulpy solution is then bathed, sanitized, and dried to form sheets, which are again broken and soaked in NMMO, a low-impact amine oxide. Now, the clear liquid obtained is pushed through spinnerets to form long fibers, which undergo various stages of washing to achieve the final product.
Lyocell is produced in a "closed-loop process" where about 99.5% of the dissolving agents are recycled and reused. This material was initially developed in 1972 by American Enka. Later it was acquired by the Austrian textile giant Lenzing AG, who trademarked the fabric as TENCEL™ Lyocell.
Lyocell is used to make garments, home textiles, and also medical dressings. It is a hot favorite of many sustainable fashion brands, including Amour Vert, Thought, Eileen Fisher, and Tamga Designs.
14. Modal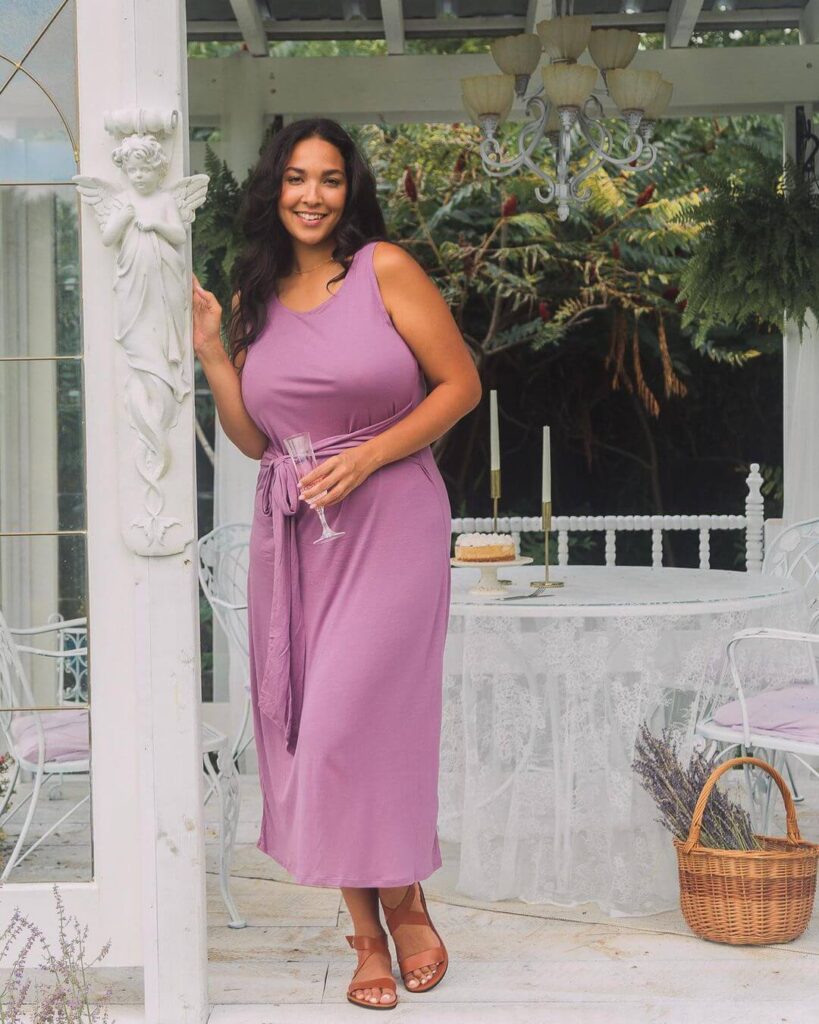 Modal is a semi-synthetic fabric made of cellulose obtained from beech trees. It is highly regarded for its breathability, stretchability, softness, and moisture-absorbent abilities.
Modal is an improved version of viscose rayon, so the manufacturing process remains to be similar. Production takes place in a "closed-loop system," with up to 99% of solvents being recycled.
The process starts with breaking down matured beech trees into chips that undergo purification to extract a woody pulp, also known as cellulose. Next, this pulp is soaked in tanks of low-impact chemicals, which are then spread into sheets and dried up. These sheets are further smashed to be immersed into different types of non-toxic chemicals at various stages to receive the finished material— modal yarn, which is then woven into fabric.
The Austrian textile tycoon Lenzing AG is the chief producer of modal and has trademarked the fabric as TENCEL™ Modal. It has also introduced lighter versions of this sustainable fabric, like MicroModal, Modal Air, and many others.
Modal is used to make casual wear, activewear, and home textiles. Brands that are incorporating modal in their collections are Tentree, Amour Vert, Tamga Designs, The R Collective, and many others.
15. ECONYL®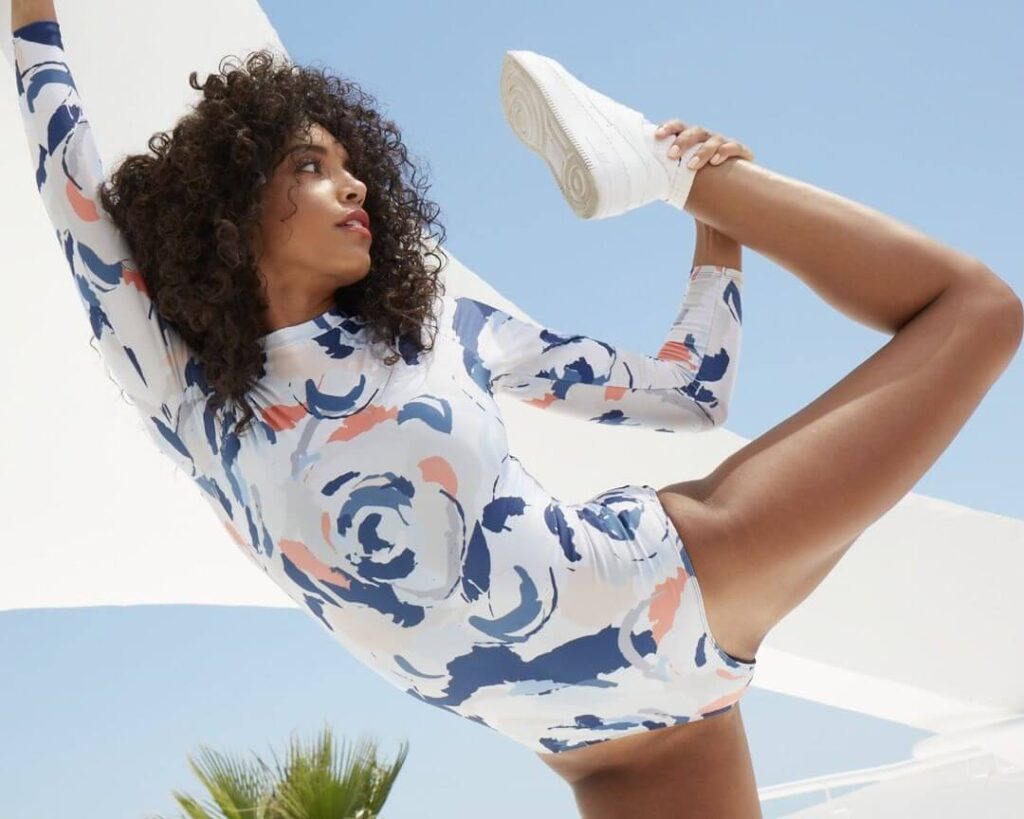 ECONYL® is the trademarked name for recycled nylon, which is known for being lightweight, durable, and wrinkle-resistant. It is made from synthetic waste materials like abandoned fishing nets, industrial plastic waste, and fabric scraps rescued from the oceans.
The fabric is produced in a "closed loop process" where volumes of discarded nylon wastes are depolymerized to eliminate impurities and redeveloped into nylon yarn. Being regenerative version of nylon, ECONYL® doesn't require the consumption of fossil fuels or water. The fabric feels exactly like virgin nylon and also has the same properties. And while ECONYL® is non-biodegradable, it is much more sustainable as it gives a second life to synthetics that will otherwise clog the planet.
The Italian textile company Aquafil first created ECONYL® in 2011 and currently is the only producer as it owns the trademark of this fabric.
ECONYL® is widely used in making eco-friendly swimwear and activewear for its elastic nature, along with industrial applications like ropes, carpets, etc. Brands that use Econyl include Finisterre, Girlfriend Collective, and Kowtow.
16. Recycled Polyester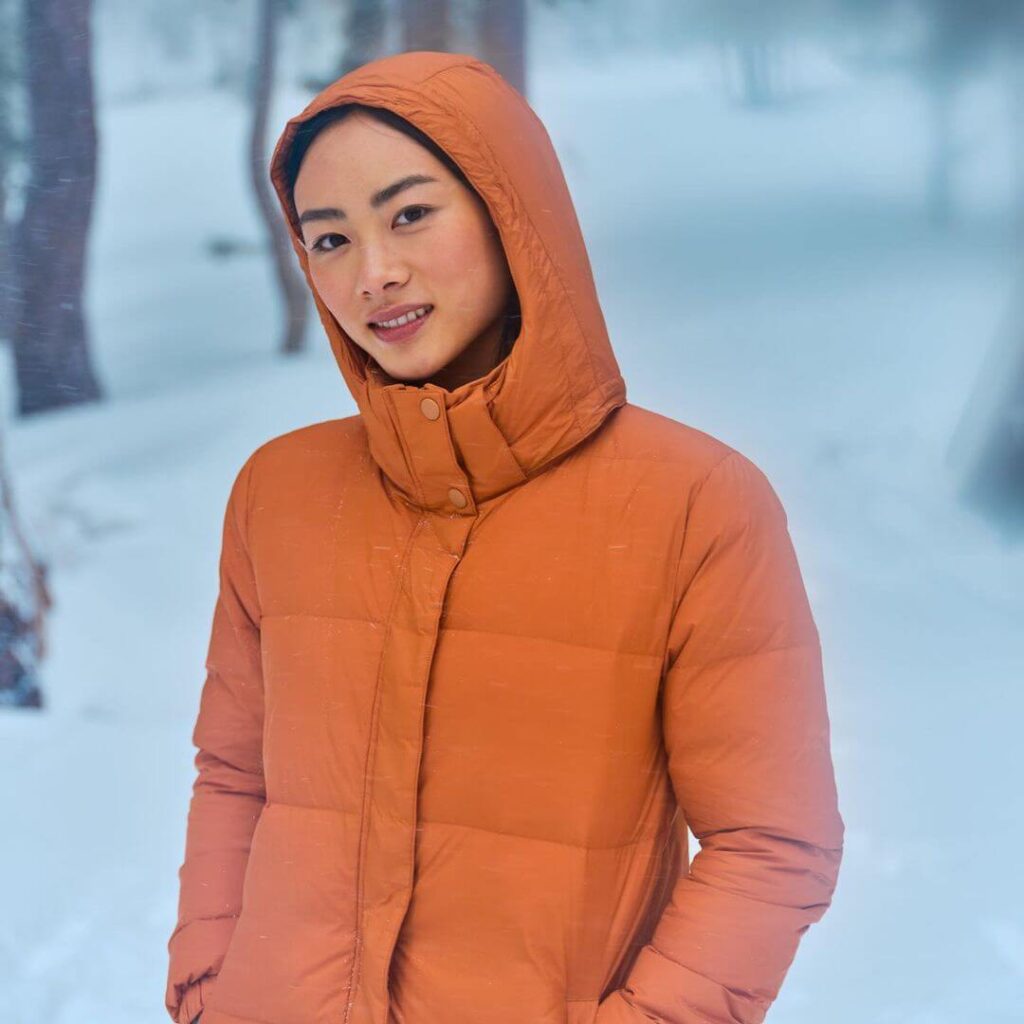 Recycled polyester, or rPET, is a synthetic material made from regenerating single-use plastic bottles and containers. Polyester or PET, which stands for Polyethylene Terephthalate, is the base for recycled polyester, which is quite popular for its strength and durability.
While polyester is considered as one of the worst materials, rPET is way more sustainable as it diverts plastic waste from landfills and oceans and converts them into something new and useful.
Recycled polyester production starts with collecting, sorting, and cleaning post-consumer plastic waste, which is then broken into chips and melted down using industrial heat. Next, the melted solution is pushed through spinnerets to form thin fibers, which are spun into spools to achieve recycled polyester yarn.
This fabric is extremely versatile and is specially used in activewear, swimwear, and outdoor gear. In addition, many accessories like bags, shoes, backpacks, and industrial products like car tires, ropes, etc., are also made from rPET.
Eco-friendly brands using recycled polyester for many years now include Patagonia, Finisterre, prAna, and Veja.
17. EcoVero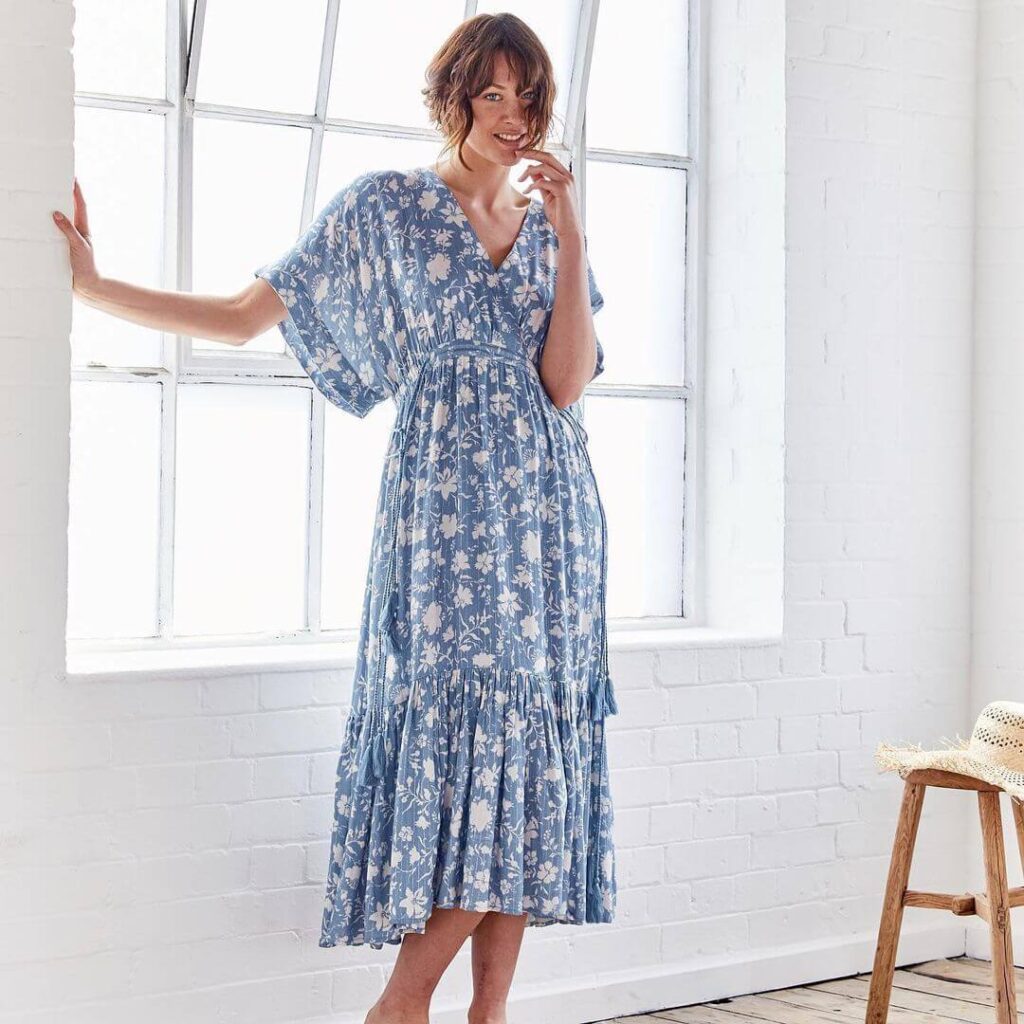 EcoVero is an elevated and eco-friendly version of viscose rayon which was innovated in 2017 by Lenzing AG. It is very much similar to lyocell and modal, as EcoVero too is made from cellulosic fibers obtained from sustainably harvested trees.
EcoVero production emits 50% fewer carbon emissions than regular viscose, and its water consumption is considerably low compared to natural fibers like conventional cotton. The production process involves converting renewable wood chips into a pulpy substance with the help of low-impact chemicals, followed by a set of eco-responsible steps with lower environmental impact.
Lenzing™ is one such company that has raised the bar high with its sustainable innovations. So whenever you see a fabric associated with this name, just go for it without second thoughts. EcoVero is quickly gaining popularity for its ultimate comfort and soft luxurious feel and is considered as one of the most innovative fabrics in sustainable fashion.
Some planet-friendly brands that have understood the potential of EcoVero and use it in their offerings are Armed Angels, LANIUS, Baukjen, and Whimsy + Row.
18. Cupro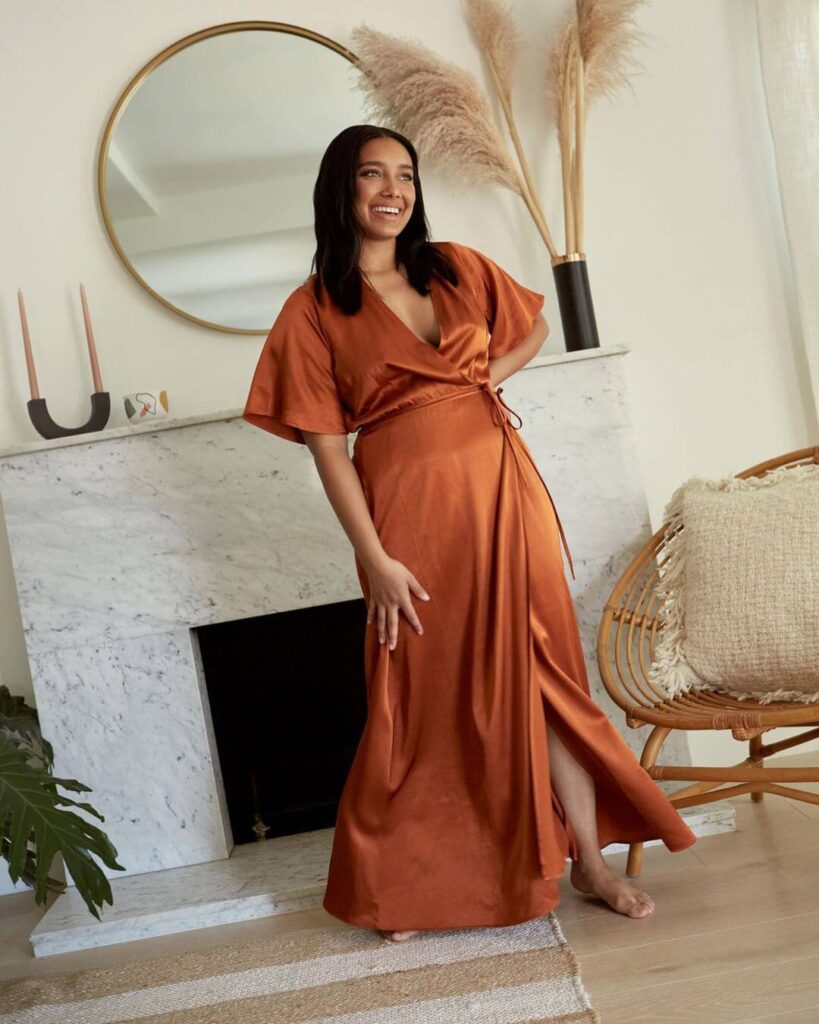 Cupro or Cuprammonium rayon is a semi-synthetic fabric that works great as a vegan alternative to silk. Its primary source is cotton linter, which is considered as a by-product of the cotton industry. However, cupro can also be made from recycled cotton garments. Cupro is softer than conventional cotton and has a sheen similar to silk. It is also affordable and a favorite of many brands.
Cotton linter is the fuzz that sticks around cotton seeds after being harvested. These fluffy fibers are too tiny to be spun with cotton and are discarded as textile waste. Cupro producers soak these fibers in chemical cocktails at multiple stages to turn the linter into soft yarn. Later, the threads undergo various hardening baths to eliminate harmful chemicals and are woven into the fabric.
While cupro is a good way of utilizing textile waste, it is subjected to a lot of chemical processing. Asahi Kasei Corporation is the chief manufacturer of cupro that produces the fabric in a "closed-loop" system. China is another major cupro producer, but this country is known for its greenwashing tactics. So keeping a check on the producers is important to ensure you're investing in sustainable cupro.
Some eco-friendly brands that love this fabric are Whimsy + Row, Amour Vert, and Altar.
To Wrap it Up…
The fashion industry has become more hazardous because of poor fabric choice that harms the entire ecosystem. And while until a decade back, eco-friendly fabrics were limited, currently, the slow sustainable fashion is undergoing exciting times! The door to a plethora of eco-friendly textiles is opening up, and they are made to be so unique that you'll never have to compromise on high quality. These funky futuristic fibers are ready to be a part of your closet. All you have to do is incorporate them into your conscious lifestyle to make a strong stand towards creating a better world.