Disclosure:
Our editors handpick top-rated brands, vetted through our strict ratings. Purchases via our links may earn us a commission.
Learn more
Global warming is a huge concern for environmental enthusiasts worldwide. "Sustainability" is the only answer that can help us save our beloved planet. As a result, mindful labels have emerged in every corner of the world, including a whole set of ethical New Zealand clothing brands. After all, the 'Kiwis' deeply love their lush, beautiful terrains and reducing the fashion industry's environmental impact is the only way of saving Mother Nature.
Today, with the growing need for ethical clothing labels, more and more NZ fashion brands are coming up with affordable sustainable clothing produced in a traceable supply chain, by ethical means, and eco-friendly fabrics. So if you are looking for ethical clothing brands in New Zealand to plan your next shopping trip, then look no more! Because we have curated a list of vetted fair trade brands that are deeply committed to sustainability. Let's check them out!
10 Ethical Clothing Brands in New Zealand
Not from New Zealand?
Check out our favorite lists of:
Our Top Picks of Ethical Clothing Brands in New Zealand 2023
Following is a curated list of some in-demand ethical clothing brands in New Zealand selling ethical fashion worth spending your money on! Brands include Outland Denim, Joyya Apparel, ReCreate Clothing, Kowtow, Kathmandu, Untouched World, Maggie Marilyn, Nisa, Ovna Ovich and Twenty Seven Names.
1. Outland Denim
Founder(s): James Bartle
Values: Human Empowerment, Zero Waste, Zero Exploitation, Carbon Footprint Reduction, Social Sustainability, Vegan Friendly, Circularity, Freedom, Humanity.
Raw Materials used: Organic Cotton, Better Cotton Initiative Cotton, Certified Organic Dyes, Recycled Cotton, Lyocell, Lenzing Tencel, Linen, Recycled Polyester, Virgin Polyester, etc.
Awards: Stop Slavery Award, 2018 Global SDG Award Winner For SDGs 1 & 8, CO Leadership Award Winner 2019, Mr Awards winner, Best For The World 2019 by B Corporation, Anti Slavery Australia Award, United Nations Global Impact Awards, Rivet 50.
Certifications: Eco-Age Brandmark, B Corp Certified, Graded A+ by Baptist World Aid Australia, and also in Tearfund's 2021 Ethical Fashion Report.
Price Range: $22-$300 (NZD)
Outland Denim originated from a sheer will to provide jobs to young women who desperately needed them. The brand's birth was on ethical grounds and its rise has also seen the same ethics only more refined as the years go by. The brand specializes in denim and produces them ethically.
2. Joyya Apparel
Values: Living wage provider, respectful working hours, Professional development opportunities, Access to retirement and health plans, 100% certified organic cotton, fair trade, Transparency in the Supply chain, Made to order, Handmade by Craftswomen, Eco-Friendly Dyes and Inks, High production quality
Awards: A+ grade in Tearfund's 2021 Ethical Fashion Report and in Baptist World Aid Australia's Ethical Fashion Guide
Certifications: GOTS certified organic cotton, sustainable jute, and water-based inks; Fair-Trade Certified; World Fair Trade Organisation Member; OEKO-TEX Standard 100, etc. Click here to sift through their numerous certifications.
Price Range: $25-$45 (NZD)
Founded through the merger of three companies, Joyya has one goal: to end "the horrors of extreme poverty and human trafficking" by creating opportunities.
The brand sells basic t-shirts, hoodies, and accessories for daily use for men, women, and kids. One can also avail of their custom products through their made-to-order facility.
Joyya is good to the earth, good to the workers, and good to the fashion industry.
3. ReCreate Clothing
Founder(s): Erica Gadsby as founder, Marielle van de Ven as creative director
Values: Ethically Made, Circlular Design, Workers' Empowerment, fair employment, Employee training, Sustainable Sourcing, 100% Profits are donated, organic and natural fabrics, ReLove, RePair, and ReCycle, climate neutral shipping service, plant-based courier bags, recycled reusable cotton bags packaging, recycled eco buttons, nickel-free trims, Zero Waste, additional employee training in areas such as literacy and money management
Certifications: Partnership with Circular Cotton, FSC Certified Paper and Cardboard, OKEO-TEX Standard 100 trims, GOTS certified organic cotton jersey and sweatshirts, GOTS certified organic cotton poplin, works with certified Fair Trade Enterprise, 100% Better Cotton Initiative (BCI) Denim
Price Range: $45-$270
Born for the purpose of providing fair employment to women in the marginalized community of Dey Tmey, Cambodia, ReCreate Clothing was never meant to be a clothing brand but has turned into one to bring about change in the fashion industry. Today the brand creates ethical fashion that is sustainably crafted and has the power to transform lives.
4. Untouched World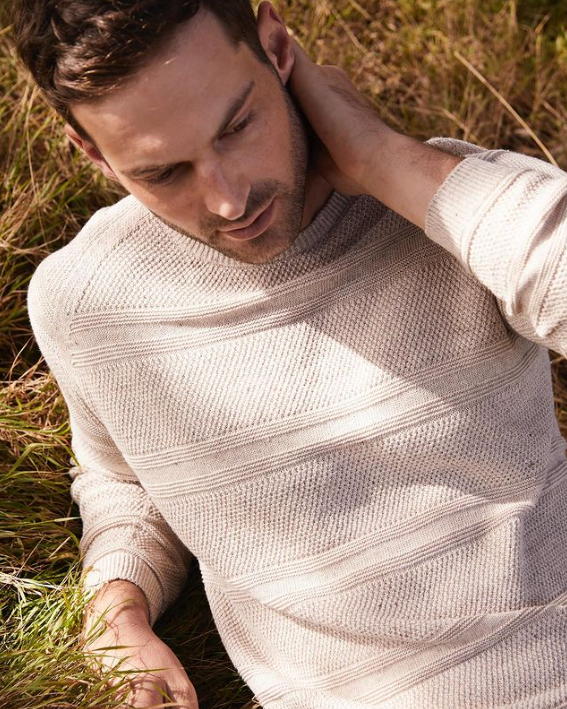 Founder: Peri Drysdale
Values: Sustainable Design, Zero waste, Supportive working environment, Long Lasting Garments, sustainably sourced fabrics, 96% New Zealand made, Transparent Supply Chain, partnership with B1G1, Plant-based fibers like linen, soybean, aloe vera, TENCEL, Bemberg, etc.
Awards: First fashion company in the world to be recognized by the United Nations for sustainability, CO10 Award Winner 2022
Certifications: B Corp Certified, Uses fabrics like ZQ™ certified merino, organic cotton, and Ecopossum™, 100% Fairtrade Organic Cotton, ISKO sourced denim fabric, BCI cotton
Price Range: $29-$800
Untouched World fuses together luxury, great design, and planet-friendly methods to create a label designed for comfort and effortless style while also going easy on the earth. The brand sells ethically made clothing and accessories to men, women, and children.
Each piece is designed for maximal use and for minimal waste with a holistic approach to creating sustainable designs. Untouched World is the only fashion company recognized for its efforts in sustainability by the United Nations.
5. Kathmandu
Founder: Jan Cameron
Values: Durable and long-lasting quality, Responsible and Innovative fabrics, Less Energy Consumption, Zero Waste approach, Fair labor practices, Transparent supply chain, Regular audits, and Partnership with Fair Labor Association
Certifications: B Corporation, Better Cotton Partnership, Bluesign Partnership, Responsible Down Standard Certification (RDS), and Responsible Wool Standard Certification (RWS)
Price Range: $39-$400
Based in Christchurch, Kathmandu is a leading retailer specializing in a premium outdoor clothing and gear range. They have everything from sturdy jackets and vests to tents, durable shoes, and backpacks for your whole family. So if you love exploring the adventurous outdoors of New Zealand, then this label has got you sorted.
As a certified B Corporation, Kathmandu strongly promotes sustainability, fair trade practices and product innovation. To keep a check on its environmental footprint, it uses a pool of sustainable materials, like recycled polyester, organic cotton, lyocell, and hemp, to reduce its impact on the planet.
6. Kowtow
Founder: Gosia Piatek
Values: Circular Fashion, Size inclusivity, Take Back Programme, Repair Programme, FSC Certified Recyclable Packaging, Responsibly sourced trims, and Ethical Production
Certifications: Certified garments by Fairtrade Labelling Organizations International (FLO), SA8000 Factories, and 100% Fair trade Certified Cotton
Price Range: $119-$399
Kowtow is one of the most ethical clothing brands in NZ that offers a good selection of sustainable and timeless clothes at affordable pricing. From workwear-inspired silhouettes in beautiful shades and textures to creative prints, Kowtow has an elevated take on fair trade mens clothing and womenswear.
Pioneering circularity, everything is responsibly designed in-house and produced using non-toxic and organic materials in a traceable supply chain. To further close the loop, Kowtow promises free repair on minor repairs of every garment, to extend their life.
7. Maggie Marilyn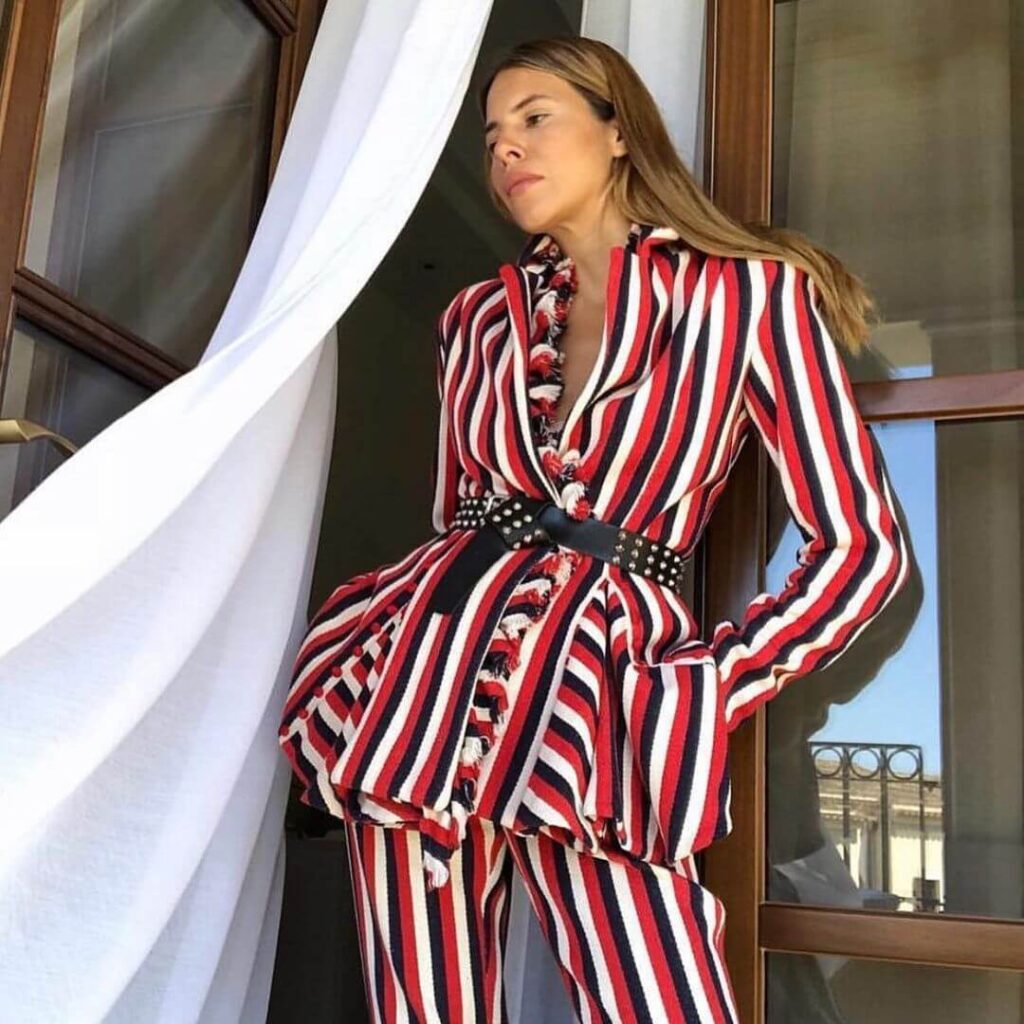 Founder: Maggie Marilyn
Values: Circularity, Traceable 'Farm to Finished' garments, Regenerative supply chain, Prioritizing worker's well-being, Stronghold of Supplier's Code Of Conduct, Carbon Positive, Mindful materials including Deadstock fabrics, Linen, Non-mulesed wool, Post-consumer waste recycled polyester, etc.
Certifications: B Corporation, OEKO-TEX® or Bluesign certified fabrics, Responsible Wool Standard certified Wool, and Global Organic Textile Standard (GOTS) Organic Cotton
Price Range: $75-$650 (NZD)
Ethical fashion label Maggie Marilyn is driven by three core values— People, Planet and Prosperity. Launched by its namesake designer, this brand crafts clothes that focus on enriching garment makers' lives in fashion supply chains while honoring Mother Nature. From a stunning range of shirts, blouses and bottoms to coats, sleepwear and accessories, its merchandise is going to lift your spirits. I promise! And let's not forget its consciously-designed fair trade mens clothing!
As a certified B Corporation, Maggie Marilyn is a brand with a climate-positive status, committed to a circular business model. The designer is on a mission to decarbonize the fashion industry and create a regenerative supply chain.
8. twenty-seven names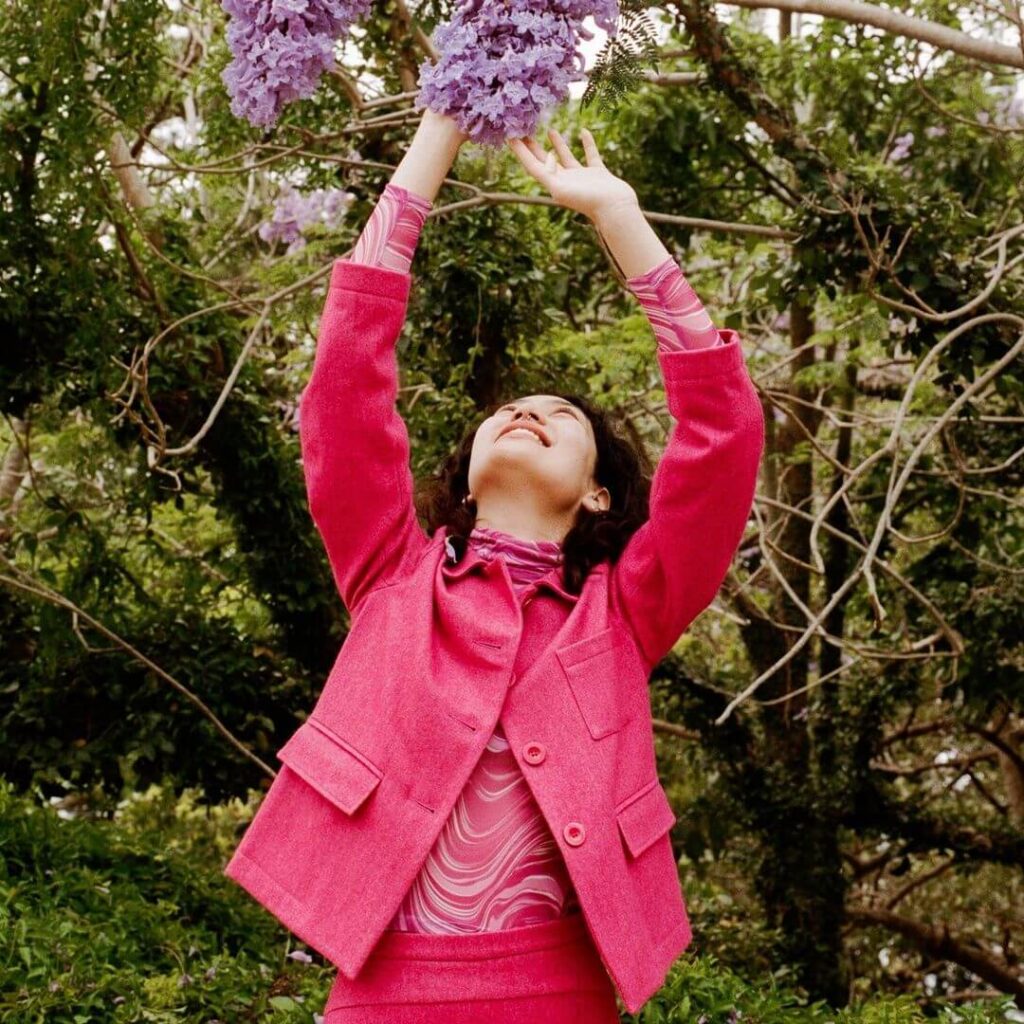 Founders: Rachel Easting and Anjali Burnett
Values: Locally designed and 'Made in New Zealand,' A detailed 'Take Care' guide to extend the life of your clothes, Ethical and Timeless fashion, Organic materials, Transparent supply chain, and Fair trade practices
Price Range: $220-$650
Twenty-Seven Names creates beautiful womenswear, proudly made in New Zealand. Its collection consists of tops, dresses, skirts, knitwear and accessories in elegant silhouettes that will undoubtedly accentuate your feminine self. As one of the most ethical clothing brands in NZ, Twenty-Seven Names is motivated by its values on sustainability, ethics and local production to support the domestic industry.
With responsibly sourced eco-friendly fabrics, linings and trims, Twenty-Seven Names helps you make better fashion choices. And if you're wondering— "What's with that name?" Well, the name acknowledges the 27 people, who helped build the label.
9. Ovna Ovich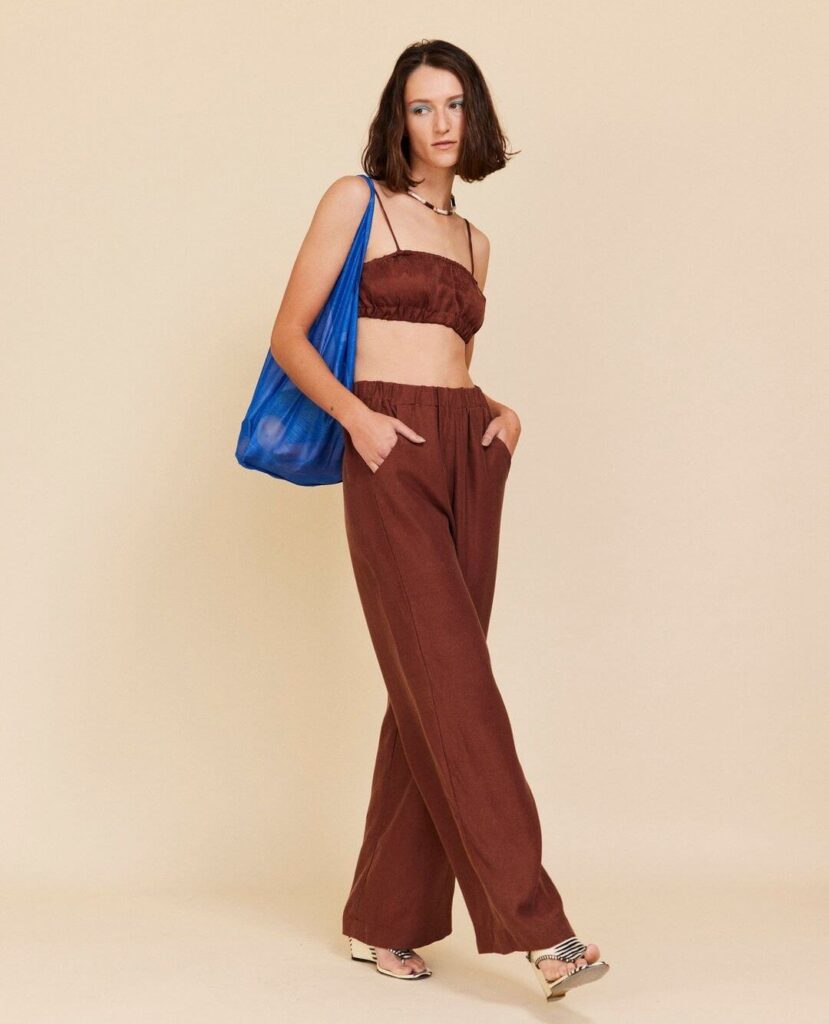 Founder: Marina Davis
Values: Slow fashion, Small batches, Local production, Fair trade practices, Transparency, Sustainable materials, and Valuing an artistic approach
Price Range: $120-$320
Translated as "Feminine-Masculine" in Russian, OVNA OVICH is a sustainable fashion house dedicated to making socially and environmentally-conscious womenswear. Its collections are designed in small batches and launched as 'Chapters' featuring the work of artists/designers. These Chapters are steadily released throughout the year and consist of slow fashion pieces that will stay with you forever.
Everything is produced locally in Aotearoa, New Zealand, using natural materials that are biodegradable in nature. In addition, they directly work with fabric mills and factories, which allows visibility of their working conditions, environmental claims and overall ethical practices.
10. Nisa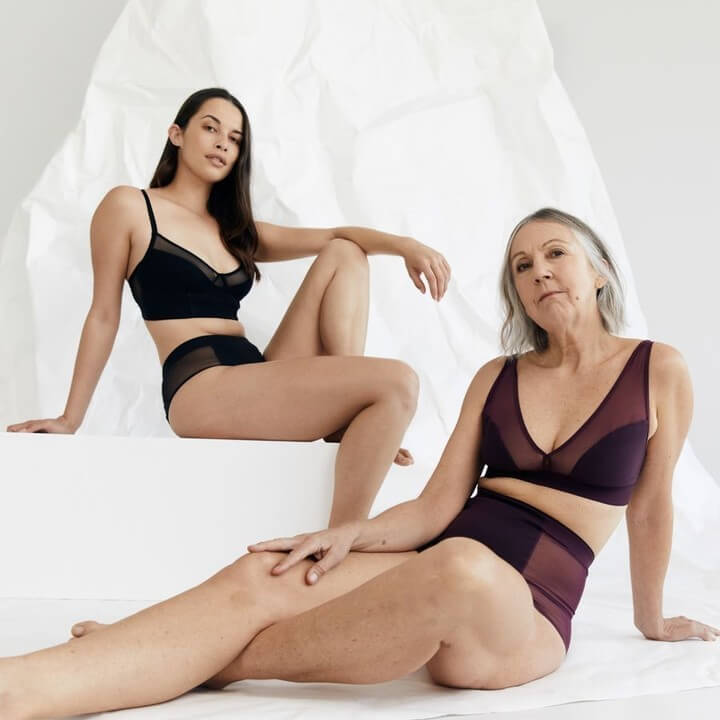 Founder: Elisha Watson
Values: Slow fashion, Size inclusivity, Sustainable fabrics, Women empowerment by employment opportunities, Helping migrant women with a chance to a decent life, Ethical production, Transparency, 'Donate a brief' initiative
Price Range: $35-$99
The Arabic word for "Women," Nisa is an intimate wear label with a compassionate heart! Its line of organic cotton briefs, bralettes, socks, swimwear and other essential clothing items are incredibly comfortable and breathable.
Every piece is designed and produced in its in-house studio in Wellington. What's best is— Nisa aims to provide employment opportunities to underprivileged refugee women to help them build a life every human deserves. So far, the label has empowered 19 women from migrant backgrounds with stable jobs and settled lives in Aotearoa. I assure you, their garments are worth a try because they are high-quality and made with love using sustainable materials.
Final Thoughts…
The Fashion Industry contributes massively to global carbon emissions, destroying our environment like a slow poison. At this point, we, as consumers, face a huge challenge— How to overthrow the fast fashion concept that has stuck like lice. For NZ peeps, the answer is simple! A shift to affordable sustainable clothing brands in New Zealand. Let's take the responsibility for saving the planet while we still can.