Disclosure:
Our editors handpick top-rated brands, vetted through our strict ratings. Purchases via our links may earn us a commission.
Learn more
Fast fashion is killing Mother Earth! According to McKinsey, the number of apparel manufactured annually has doubled since 2000 and surpassed 100 billion in 2014. Production and consumption at this level is alarming, and the effects are already seen. However, there's a solution! Slow Fashion! So, what is slow fashion? And how is it different from fast fashion?
Well, the briefest answer would be— Slow fashion is the exact opposite of fast fashion. It is more holistic, conscious and mindful! It teaches us that "We are more than our clothes." The slow fashion movement advocates thoughtful shopping and that no one needs to empty their pockets chasing fleeting trends.
Fast fashion brands that use sweatshops should be avoided at all costs. Reports like H&M burning $4 Billion worth of unsold inventory, causing massive carbon emissions, and Zara whipping up $840 million in garments annually at the cost of underpaid workers are hard to overlook. Therefore, compassionate consumers worldwide are turning towards slow fashion— which is currently all the vibe you need!
Intrigued about how it all started? Only one way to find out!
What is Slow Fashion?
Slow fashion is embracing a holistic approach to making conscious and intentional purchase decisions based on our clothing needs. It is a revolution that questions fashion companies' complicated chain of operations like excessive production, faulty supply chains, and customer manipulation to overconsume.
Slow fashion advocates investing in superior-quality, well-made garments designed in seasonless styles that are built to last. It values fair and humane treatment of people, animals, and the entire ecosystem. Slow fashion is a guide to building a curated wardrobe of classic pieces that will forever remain in style and make us feel confident in our skin, reflecting our true personalities.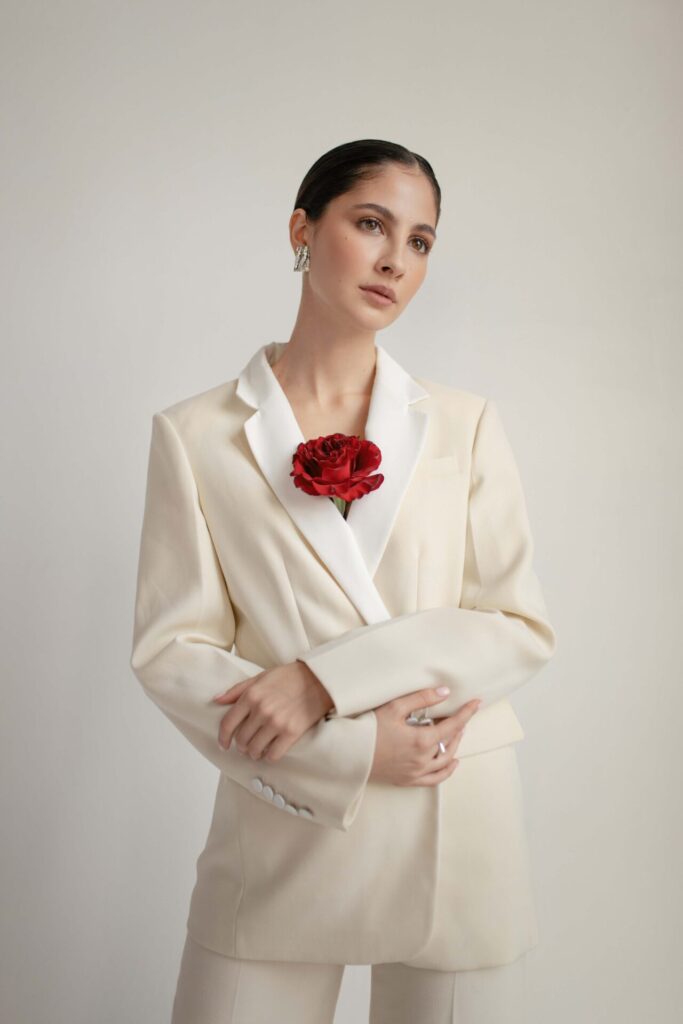 History of Slow Fashion
Earlier, before the 19th century, there was no such thing as slow fashion or fast fashion! Clothing was an essential need, and people used to source fabrics native to their region to create garments inspired by their culture and climatic conditions. Stitching apparel was more of an involved communication between the dressmaker and the wearer.
Later in the 1960s, the concept of cheap fast fashion was introduced, and since then, it has been causing immeasurable havoc. High-street fast fashion retailers like Zara, Shein, H&M, etc., disrupted the apparel industry by bringing forward trendy clothes at super-affordable pricing. And suddenly consuming fast fashion became the way of life.
The 'slow fashion' movement emerged in 2007, when the activist, designer, and sustainability professor Kate Fletcher coined this concept as a counterpart of fast fashion. She defined slow fashion to be "quality-based instead of time-based." This led conscious clothing brands to follow suit and create clothes that are wardrobe staples. However, the slow fashion movement still lacked pace.
Things changed drastically only after the 2013 disaster of Rana Plaza in Dhaka, Bangladesh. The incident shed light on the sufferings of the underpaid sweatshop workers employed by fast fashion brands. The horrific unethical practices and environmental hazards in these dingy factories were revealed as well. For these reasons, many compassionate consumers transitioned to slow fashion and sustainable shopping habits.Present-day slow fashion is a re-emergence of those good old simple ways. To start with, it asks us to consider if we really need to buy something new. Because let's be honest, our closets have forgotten pieces that need some minor adjustments, and voilà, they are good to go! So ultimately, slow fashion encourages us to be happy with fewer garments and opt for second-hand pieces from trusted online thrift stores whenever possible.
Why You Should Adopt Slow Fashion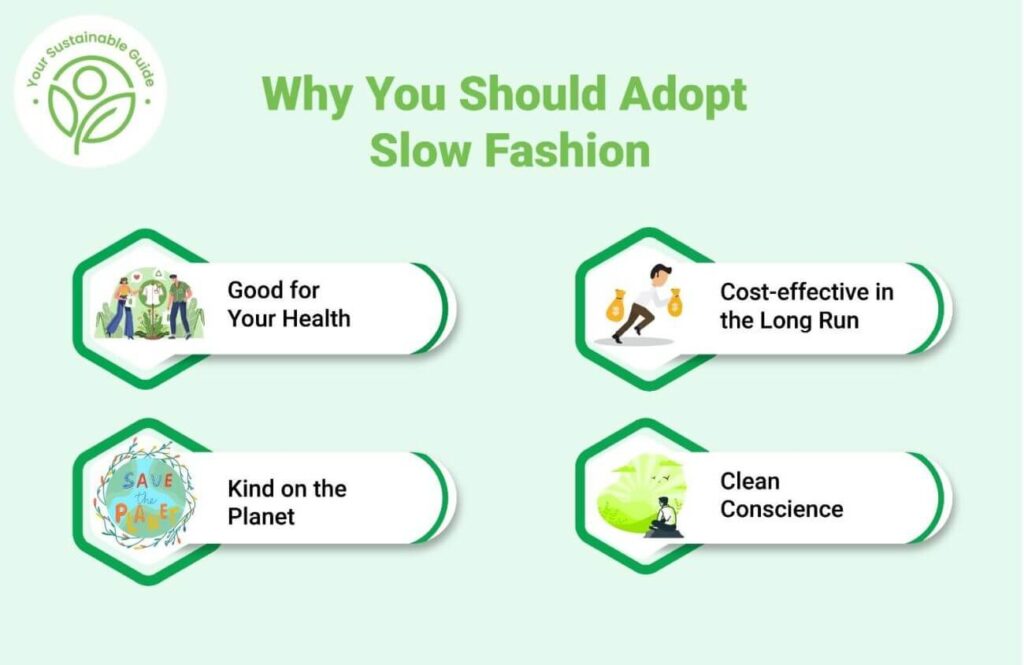 Good for Your Health
Clothes made by slow fashion brands are created from superior quality strong fabrics that are not exposed to high levels of toxic chemical processing. These brands use sustainable materials like organic cotton, linen, hemp, modal, etc., which are incredibly breathable, hypoallergenic, and gentle on the skin. Scientific research has proven that many people with sensitive skin or respiratory issues have suffered from wearing cheap synthetic clothes, which are the core fabrics of fast fashion brands.
Cost-effective in the Long Run
Agreed! Quality clothes in classic designs are expensive. But that's because a lot goes into making ethical fashion untainted and fair. Farmers are not exploited, garment workers are paid honest wages, and the environment is not harmed while creating these clothes. Slow fashion circles around the concept of "quality over quantity." Hence, purchasing these clothes might pinch your pocket at a time, but these are investment pieces that can be worn over and over and yet will never go out of style.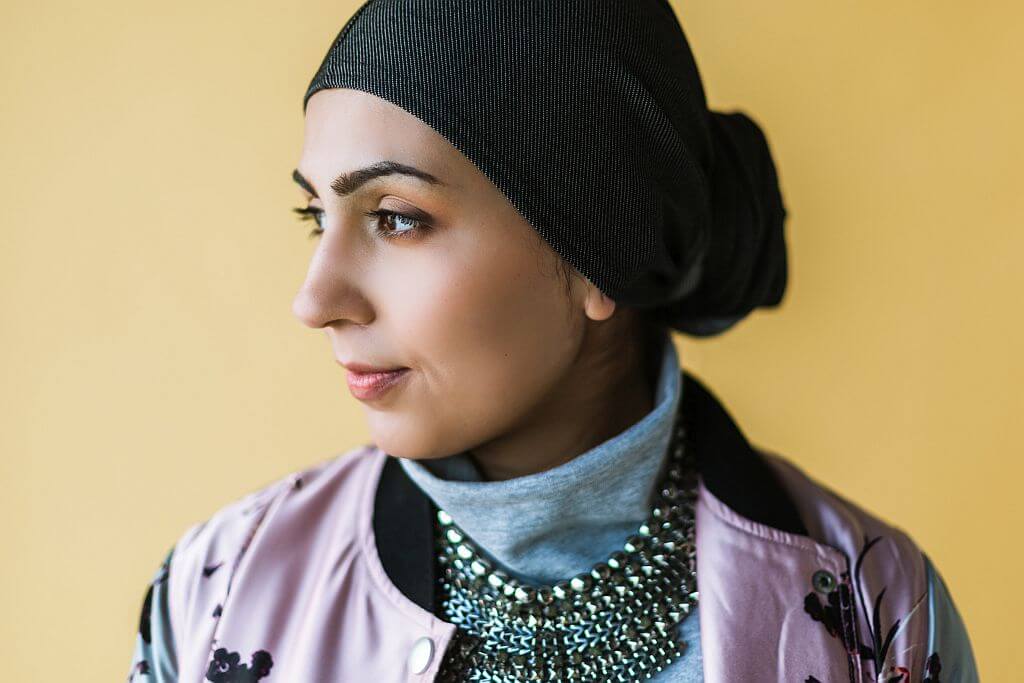 Kind on the Planet
Do you know the textile industry is the second largest polluter of water? And the fashion industry produces about 10% of global carbon emissions. The fast fashion industry thrives on producing cheap clothes using cheaper fabrics. These synthetic fabrics undergo excessive chemical processing, generate wastewater, and release a massive amount of greenhouse gas emissions, directly impacting the environment. However, slow fashion brands use durable fabrics that consume less water and are dyed in natural dyes. These labels also recycle wastewater generated by them, ensuring the planet's well-being.
Clean Conscience
Not only the planet but people associated with the fast fashion industry too suffer. Fast fashion engages with sweatshops to produce affordable garments. While consumers feel happy paying a low price, garment makers are those who are actually paying a much higher price for those trendy clothes. On the other hand, slow fashion brands work closely with fair trade factories or small co-operatives. They guarantee fair wages, good working conditions and also help in the overall development of these underprivileged workers. So when you invest in slow fashion brands, you know your money is going to a good cause.
How to Detect a Slow Fashion Brand?
Clothes are made from high-quality and sustainable materials that are biodegradable and don't undergo extensive chemical processing. For example, Linen, hemp, lyocell, etc.
Garments are crafted in timeless and versatile designs that you can wear season after season.
Typically, the sourcing and production of garments happen locally. In case of overseas raw material sourcing and manufacturing— a transparent supply chain is maintained end-to-end.
Small batches are produced to eliminate waste and ensure quality.
The brand has a permanent seasonless clothing line. Or, sometimes collections are introduced on a regular four seasons drop to help you stay comfortable as the weather changes.
Often takes pre-orders to create clothing on a customized, made-to-order basis.
High on sustainability and ethical practices, which are mapped on the brand's website to clear your doubts.
Have a Take-Back, Repair, or Pre-loved section to help clothes stay out of landfills and create a more circular system.
Engages in fair trade where each and every employee receives fair wages, works for reasonable hours, and are provided support to live a better life.
Usually, prices are between reasonable to premium costs.
How Can YOU Contribute to the Slow Fashion Movement?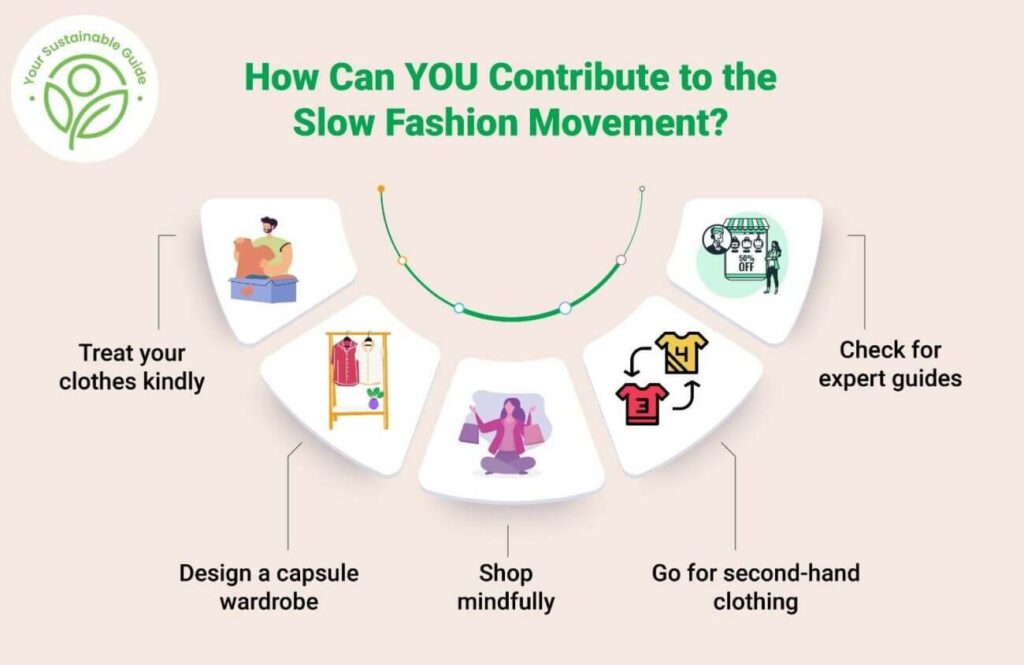 With time, there has been an increase in awareness about the fashion industry's issues. While it is difficult to completely flip the status quo, consumers are shifting towards informed shopping habits. And many are joining the slow fashion movement by demanding transparency, higher sustainability, and ethical standards from brands.
Here's how you can join in the slow fashion movement too—
Treat your clothes kindly- Extend your garments' life by following the label's wash and care instructions. Always machine wash or handwash using mild detergents and an appropriate wash cycle. Try to wash clothes only when they need it. Otherwise, air-dry them after every wear. It is a good practice to remove stains as soon as possible. Also, basic sewing knowledge comes in handy to fix minor rips and holes.
Design a capsule wardrobe- A capsule wardrobe is a curated selection of clothes that makes sense to YOU! These garments suit your lifestyle, make you feel comfortable and confident, and reflect your one true personality. You already know which pieces help you feel and look your best. All you got to do is build a wardrobe with those clothing items as your base, so no clothes remain untouched.
Shop mindfully- Trust me, impulse shopping is your greatest enemy! Yes, flash sales are tempting. But before you purchase, ask yourself, do you really need this? Is it even your style? Are you comfortable wearing the fabrics used in that dress? Does that shape flatter your body type? Think and think before you shop because mindless shopping means money wasted and a cluttered closet. Definitely, a big no-no!
Go for second-hand clothing- If you really need to add a few pieces to your collection, opt for second-hand shopping. This is a great way of giving second life to pre-loved clothes and advocating circularity. Plus, thrift stores are a great place to unearth vintage, one-of-a-kind pieces that are no longer in production.
Check for expert guides- If you're confused, look for expert opinions on websites that focus on educating the masses about sustainable and ethical fashion and slow fashion.
Some of the Best Ethical and Sustainable Slow Fashion Brands
KOTN, Reformation, LANIUS, Whimsy + Row, Unspun, Eileen Fisher, Sézane, Quince, ABLE, Baukjen, OhSevenDays, and Pact are some of the best fair trade slow fashion brands that have an incredible collection of versatile pieces to 'UP' your slow fashion game. Let's take a look!
1. Able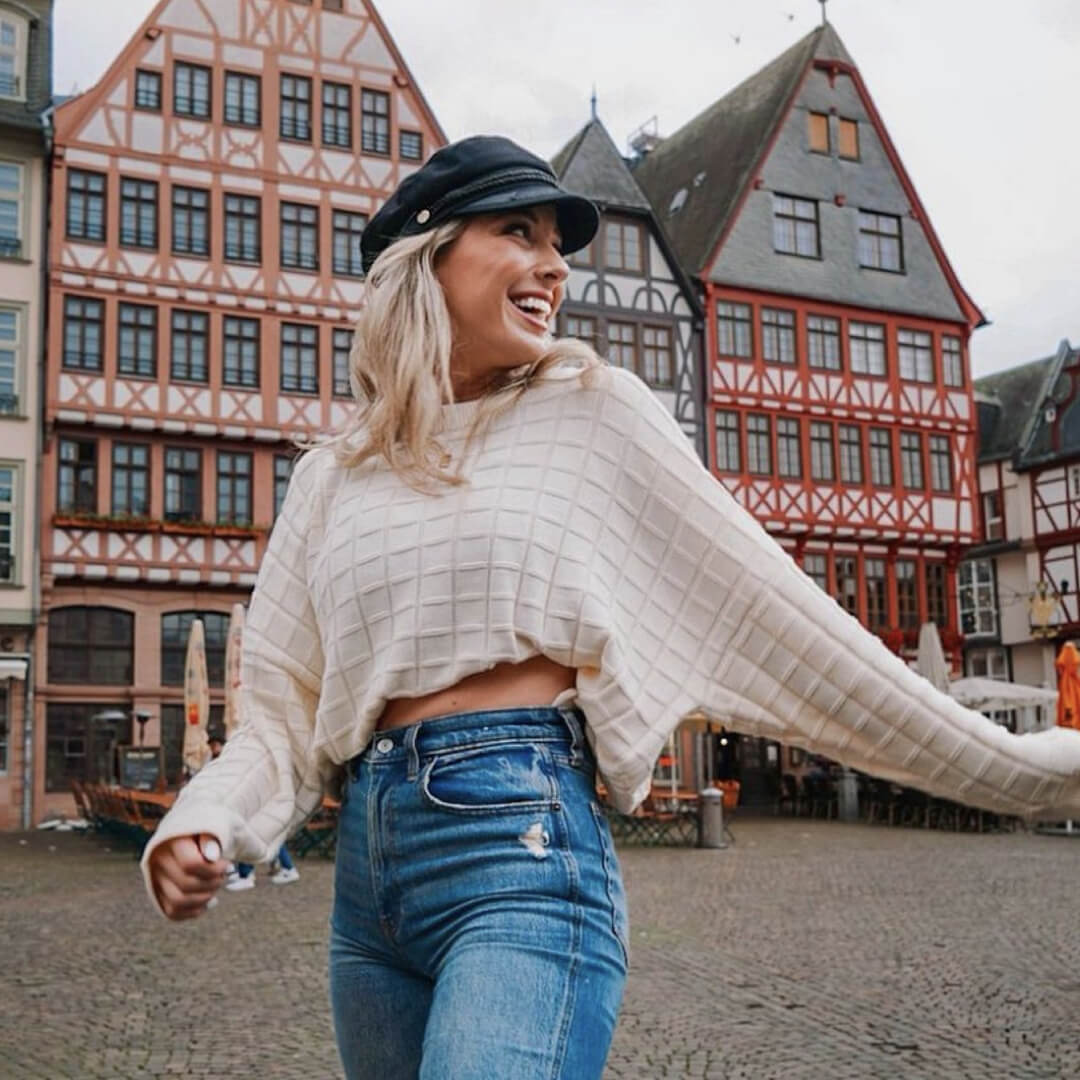 Slow sustainable fashion brand ABLE aims to dress women from head to toe in clothes that empower both the women wearing them and the women who create them. Its clothes are size-inclusive, modern, and investment pieces that will happily be part of your wardrobe for years. ABLE was born to help underserved women with a decent, sustainable livelihood. As a result, 90% of its staff consists of females coming from all walks of life. What's more impressive is that its products are made with responsible materials and come with a lifetime guarantee. If you still face trouble with your ABLE pieces, the label will happily replace or repair the items for you.
2. KOTN
The Canadian sustainable fashion brand KOTN, is heaven for organic cotton lovers. Certified as a B Corp, this label is a world of timeless designs where everything is made using luxurious Egyptian cotton. It has a sizeable collection of fashion staples for men and women, which are made in fair trade facilities. With every purchase you make, they invest in providing education, building infrastructure, and creating employment opportunities for the underprivileged communities of Egypt. KOTN has long-standing partnerships with 2390 cotton farms located in the Nile Delta and has impacted about 107,888 lives with their actions.
3. Reformation
Reformation's clothes are 'love at first sight!' This brand has an incredible collection of clothing and accessories that you would love to repeat and still never tire of. Certified as a B Corp, this label prides on its sustainability efforts and uses headstock fabrics, among other eco-friendly materials, in its entire collection. Undoubtedly, one of the most stylish and best affordable ethical clothing brands, Reformation is committed to ensuring fair trade practices. As a result, everything is produced in its own LA factory, which adheres to the guidelines of the Fair Labor Association and undergoes regular audits. The Climate Neutral brand is a must-stop for women looking for feminine silhouettes sustainably made.
4. Whimsy + Row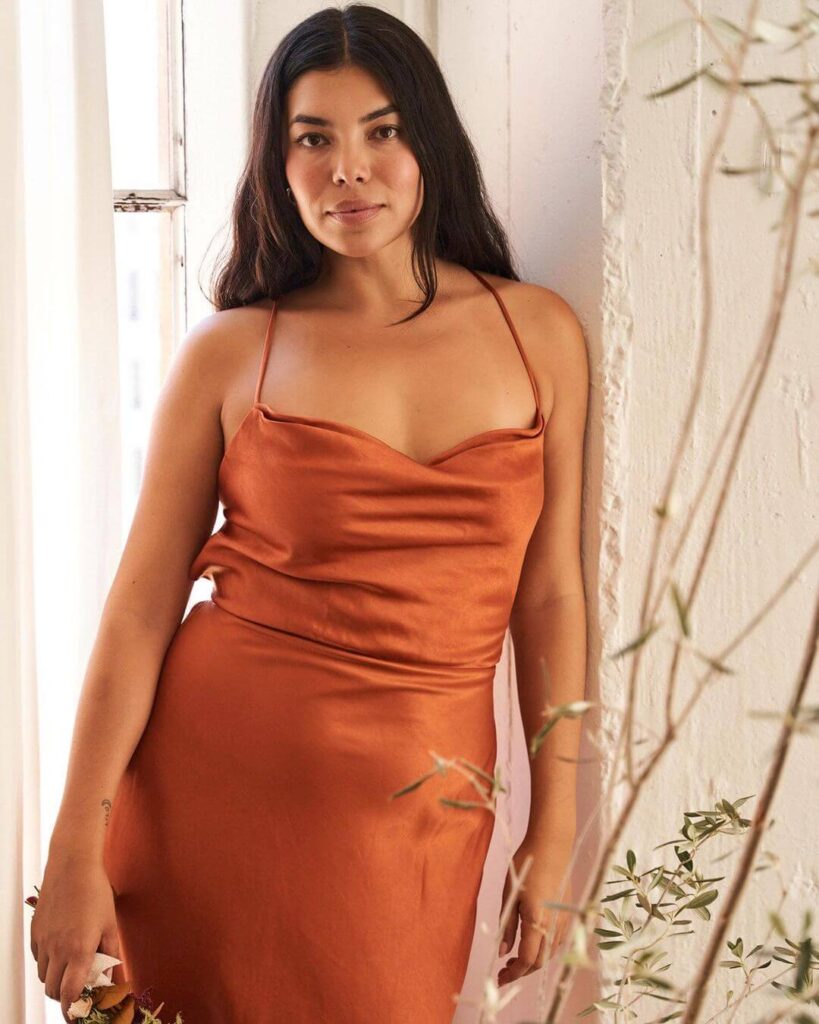 Whimsy + Row is a slow fashion eco-conscious brand that started out with the goal of offering quality goods made under sustainable circumstances. Its clothes are a limited collection of womenswear designed in contemporary and beautiful feminine silhouettes that will last you for years to come. Every collection is produced in small batches to ensure uniqueness along with cutting on overproduction. Whimsy + Row handcrafts its clothes under ethical conditions in a small factory located within a few miles from its office. Plus, they only use locally sourced, upcycled, and eco-friendly materials.
5. LANIUS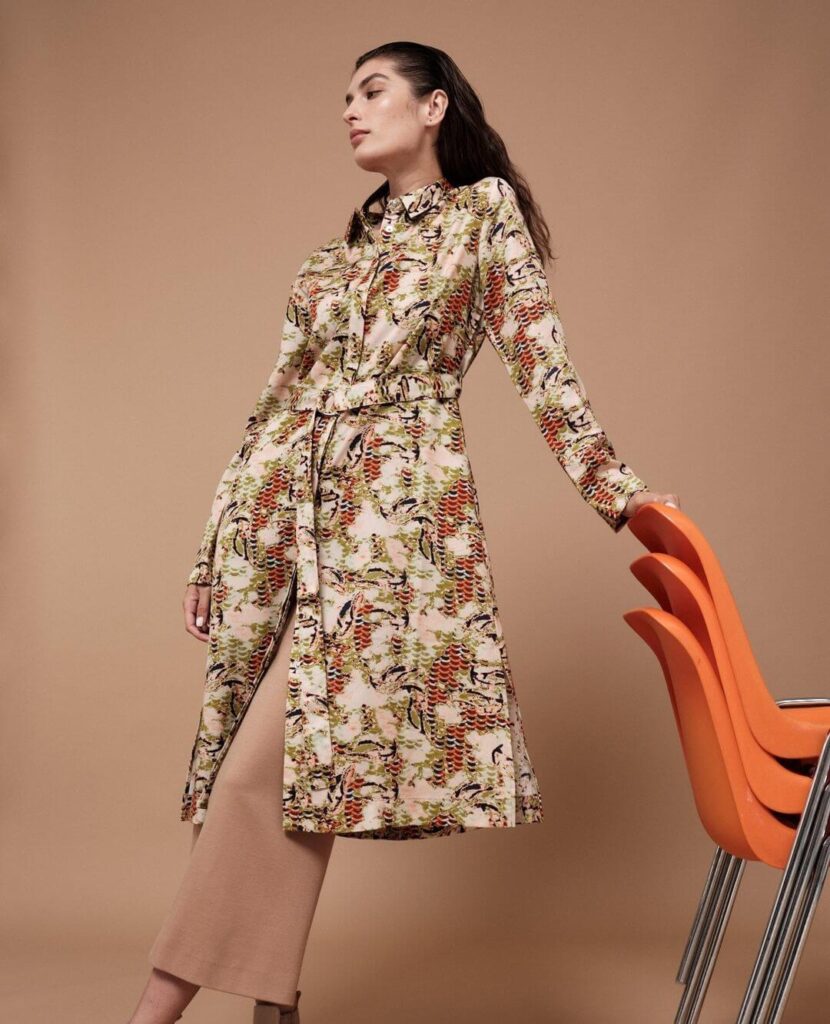 Launched in 1999, LANIUS is a fair and sustainable fashion brand that creates slow fashion wardrobe staples in sophisticated cuts and minimalist designs that are made to last. The German brand swears by its maxims "Love Fashion, Think Organic, Be Responsible." And with ethical practices at its core, every piece is made in SA8000 certified fair trade facilities using certified low-impact fabrics like GOTS certified cotton, hemp, and so on. LANIUS is also a Fair Wear Foundation member and also has a Care-Repair-Resell-Rent section dedicated to helping you extend your clothes' life.
6. Sézane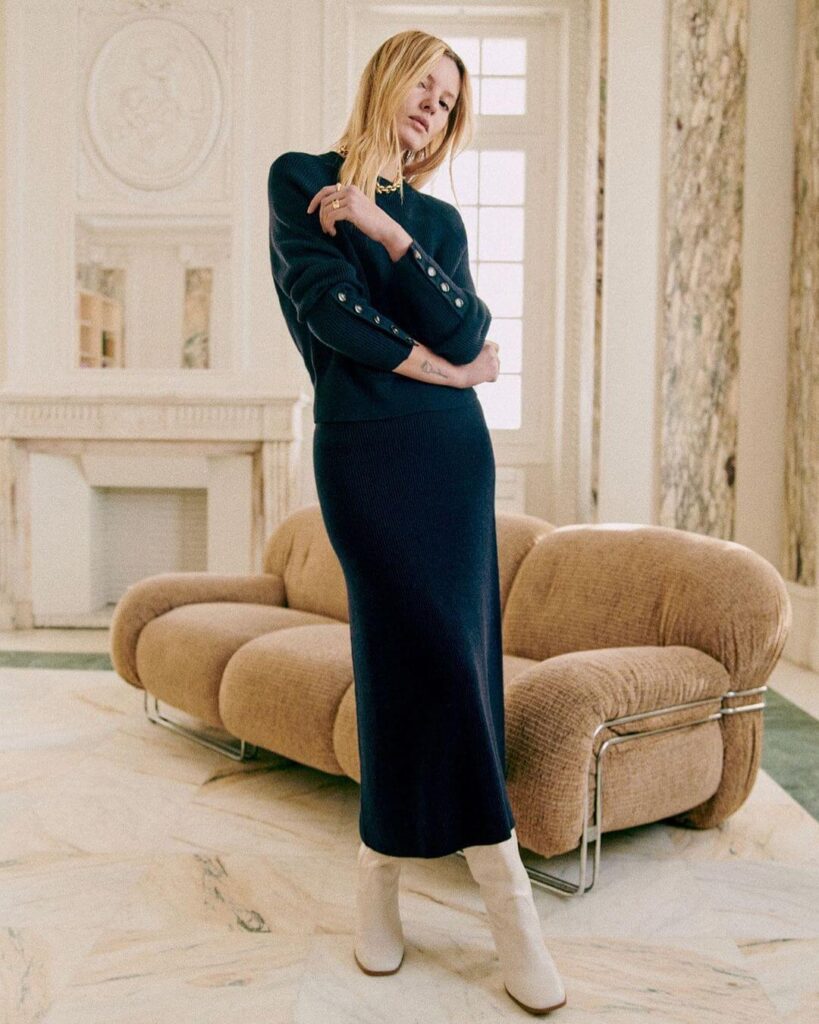 Are you up for some extremely feminine and delicately designed clothes that elevate your looks to the next level? I'm sure you are! And Sézane is going to help you with that! The slow sustainable fashion brand from Paris offers a dreamy collection of blouses, dresses, bottoms, knitwear, outerwear, and so much more, to help you style like a Parisian. Certified as a B Corporation, Sézane is mindful of its production processes and working conditions. In addition, it has partnered with some of the best ateliers worldwide to expertly craft its affordable ethical clothing line. Plus, its pieces are certified for ecofriendliness by the most recognized certifications like GOTS, OEKO-TEX, RWS, etc. What more can you ask for?
7. Quince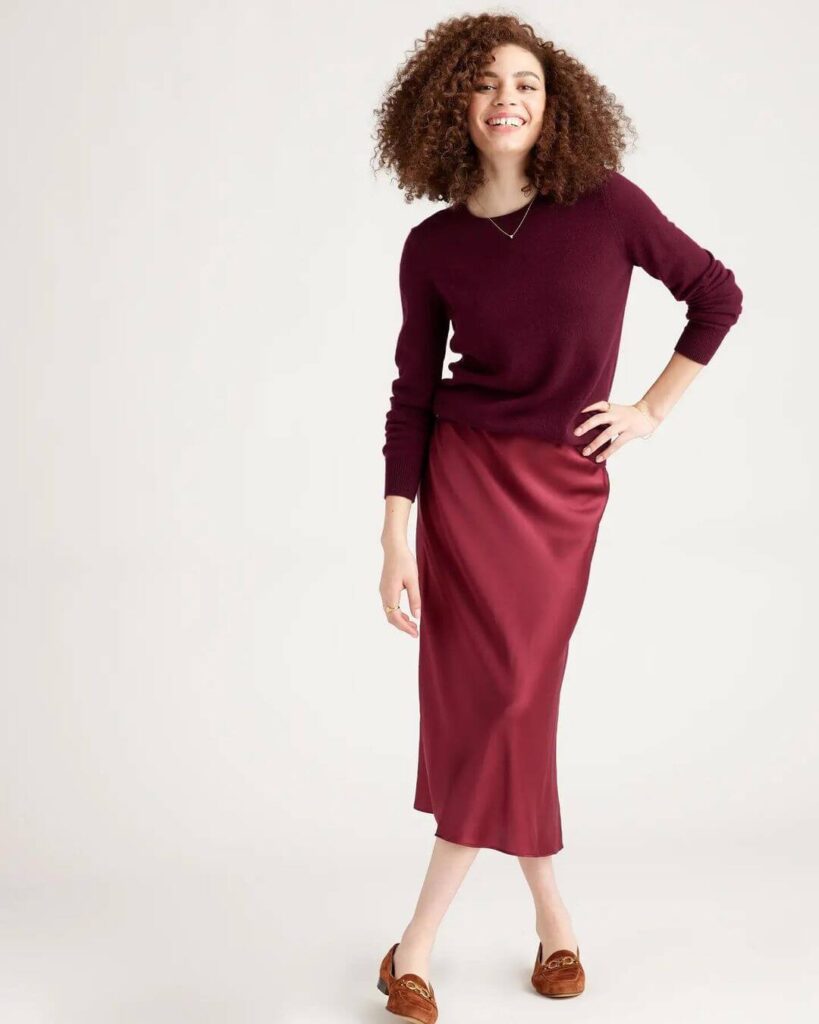 Quince believes that sustainable fashion should be accessible to everyone. Hence, its affordable ethical clothing line consists of items made from luxurious materials like cashmere, Italian leather, organic cotton and washable silk. From blouses, dresses and skirts for women to shirts, polos and outerwear for men, along with kidswear and home textiles— it is a one-stop shop for your entire family's needs. Quince partners with factories that meet global standards for workplace safety and fair wages. And if you're wondering about its reasonable pricing— well, that is because it operates on a factory-direct model, cutting out the supply-chain mediators, ultimately reducing costs.
8. Pact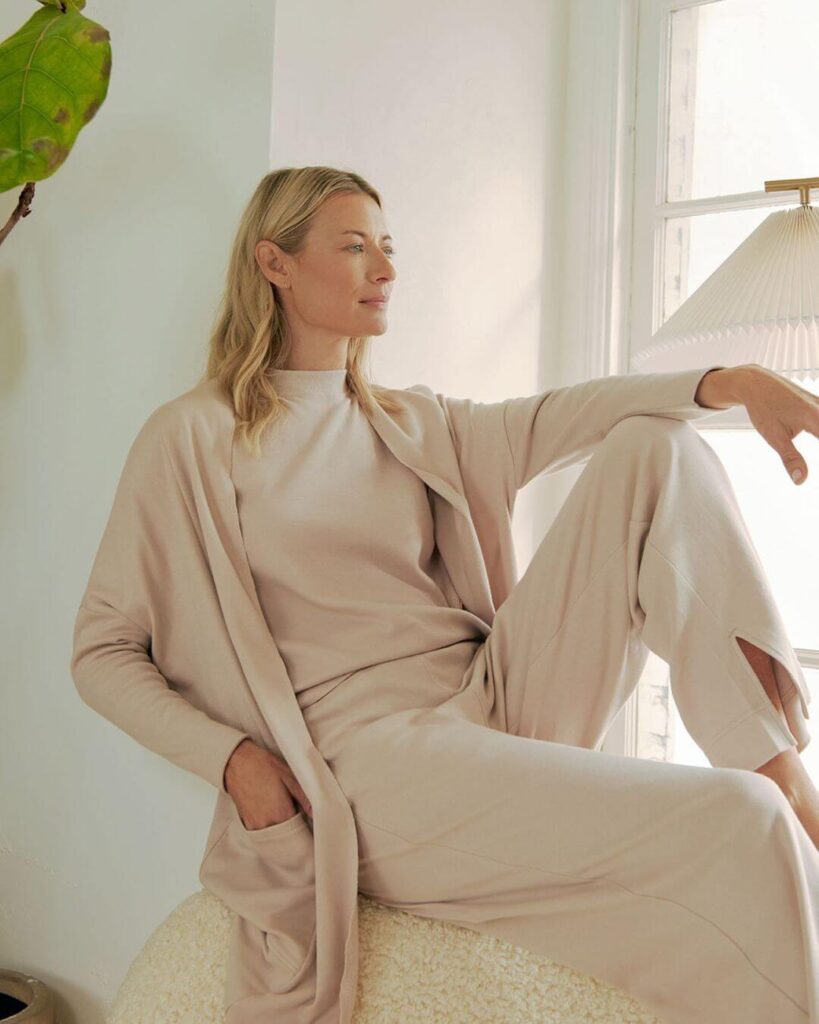 The "Earth's Favorite" ethical fashion and home goods brand, Pact, deals in products made with the good-old organic cotton. And we're talking GOTS certified organic cotton! As a leading slow sustainable fashion brand, its collection consists of wardrobe staples and everyday essentials like tees, sweaters, sleepwear and more, for men, women and kids. Committed to bringing change in the exploitative fashion industry, Pact has partnered with Certified Fair Trade factories for its production. Additionally, the label is Carbon Neutral, and its packaging is made from 100% post-consumer recycled paperboard to ship your ordered goodies right to your doorstep.
9. Eileen Fisher
The namesake label of the American fashion designer and entrepreneur, Eileen Fisher is a slow fashion label that is "Circular By Design." Advocating 'a simple wardrobe' and 'a sustainable life,' its luxury womenswear effortlessly fuses timelessness and elegant lines with eco-friendly fabrics. Definitely, an amazing addition to your capsule wardrobe, Eileen Fisher's pieces are created in factories that prioritize workers' well-being and standard living wages. Furthermore, as a certified B Corporation, the brand is high on sustainability and believes that high-quality materials deserve three or more lives if cared for properly. In fact, its website shares a detailed guide for taking care of your Eileen Fisher pieces so that they last longer.
10. OhSevenDays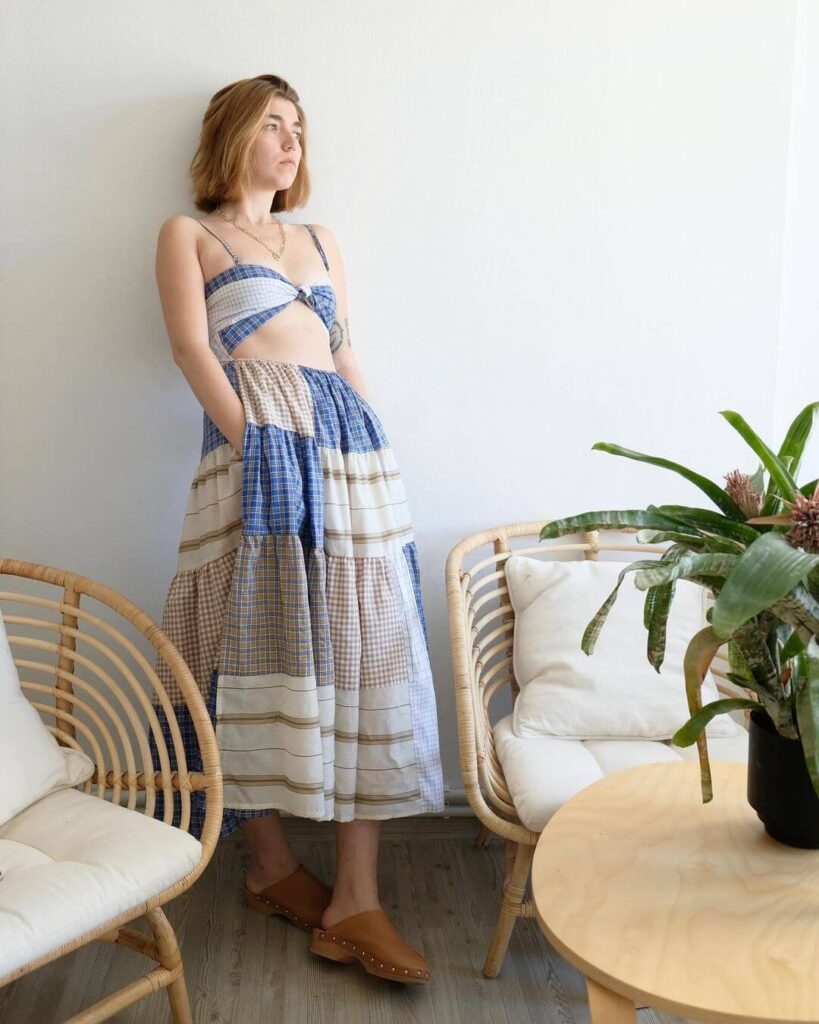 Sustainable womenswear brand OhSevenDays was launched by Megan Mummery to promote slow fashion. It offers Monday to Sunday dressing essentials representing the "power of circularity" in small batch collections. Its compact selection reveals an understated yet charismatic-aesthetic that is multi-functional and ideal for capsule wardrobes. Based in Istanbul, its garments are produced with sustainability in mind. Hence, they responsibly source materials from deadstock fabric rolls which are actually leftovers from the fashion industry. OhSevenDays maintains a transparent supply chain and works with a Sedex-audited factory, that operates in fair trading and has a worker-friendly atmosphere.
11. Baukjen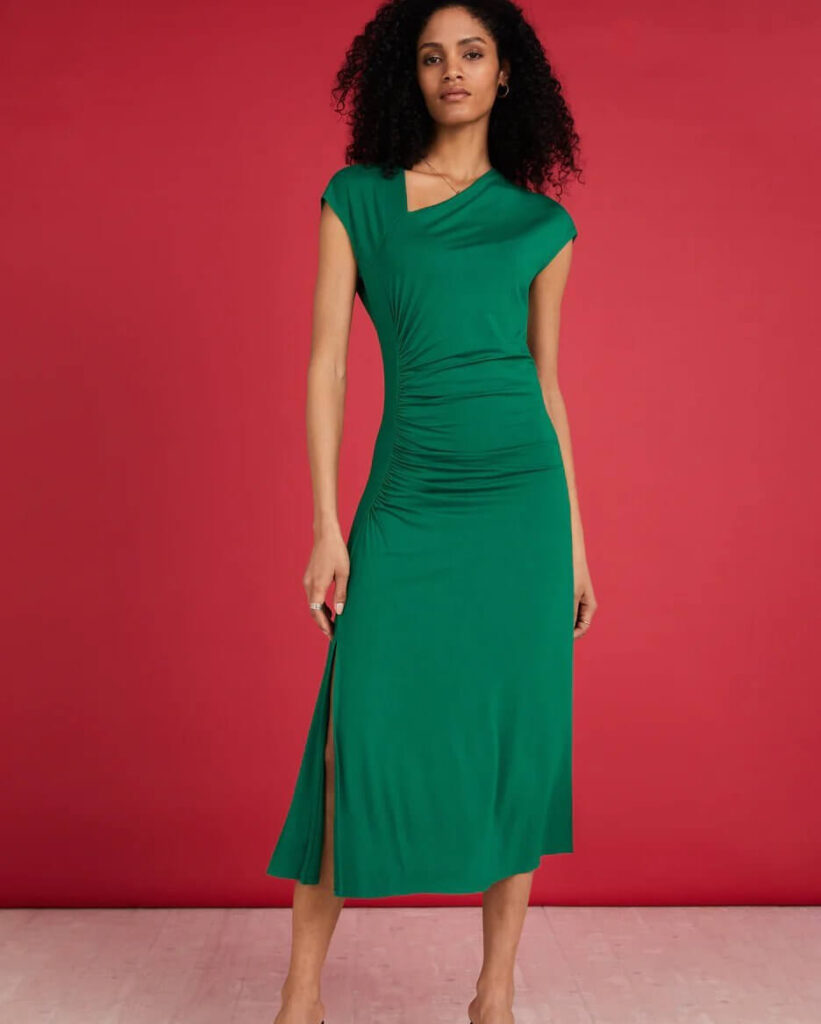 Award-winning label Baukjen is championing sustainable and ethical fashion with its consciously-made womenswear. From beautiful dresses, structured shirts and elegant blouses to well-made trousers, and cozy knitwear, it has everything possible to dress you effortlessly. Designed for good, Baukjen strongly believes that slow fashion is the only way to humanize the fashion industry. Certified as a B Corporation, its operations circle around the welfare of People and the Planet. Additionally, Baukjen is a member of the Sustainable Apparel Coalition, which uses 98.2% sustainably sourced materials and 100% plastic-free packaging to ship your orders. Oh! And did I mention, it is an absolute favourite of the Press?
12. Unspun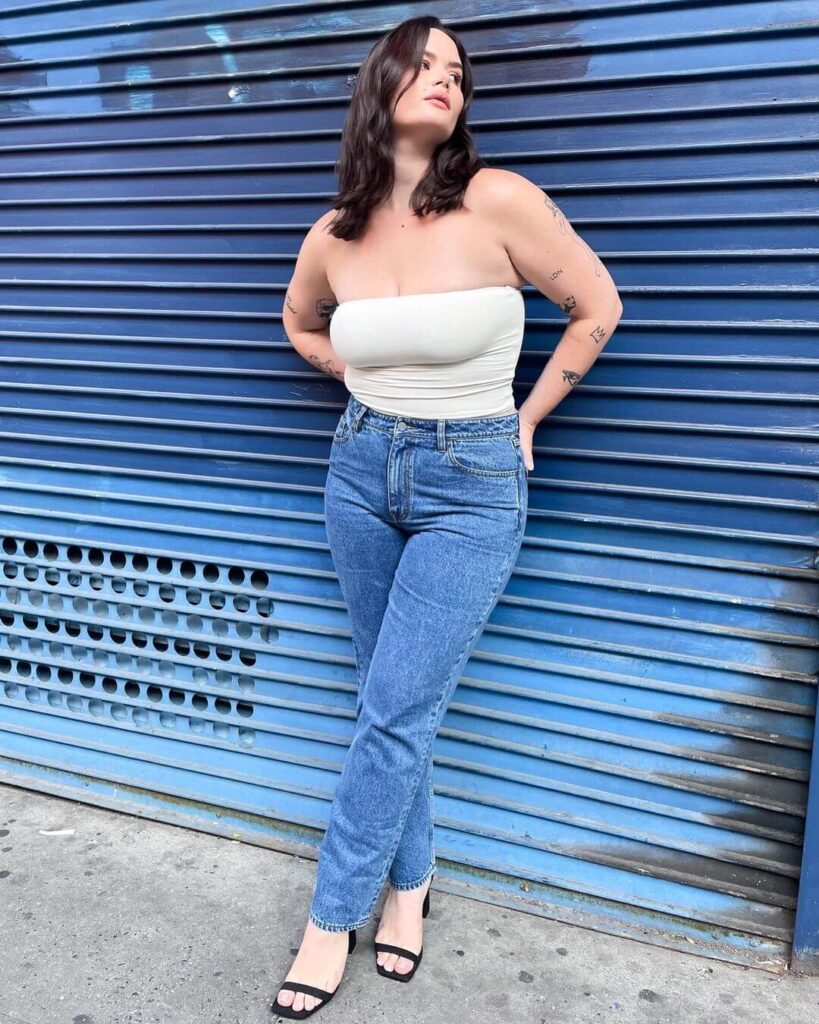 Are you tired of searching for the perfect pair of jeans that actually fits you like a glove? Then check out Unspun, the sustainable fashion denim label that will take your denim game to the next level. What sets it apart is the brand understands that mass-produced jeans in regular sizing by cheap fast fashion brands don't really work for every body type. Therefore, Unspun's business model uses a 3D scan to create the perfect fitting custom jeans, unique to your actual body size and design. Damn, Now we're talking! Jeans production heavily affects the planet, but with Unspun being a certified B Corporation, you know your jeans are thoughtfully made. Plus, they come with a 100% fit guarantee. Yayyy!
Final Thoughts…
Slow fashion is more than just a change in our shopping habits, as it works towards fixing the entire ecosystem revolving around the apparel world— from good quality sustainable materials to the welfare of the planet and the people. This approach has inspired consumers to embrace a lifestyle and a philosophy that recognizes the true value of clothing. And while slow fashion still has a lot of ground that needs to be covered, there's every hope that it will soon become the norm.
FAQs
What are examples of slow fashion?
Slow fashion clothing are adaptable in design and can be effortlessly paired with almost everything. These garments are basically made in classic shades and silhouettes that will never go out of style. Plus, the fabrics used by brands promoting slow fashion are always low-impact and high-quality, resulting in the pieces lasting longer.
What makes a brand slow fashion?
Brands that call themselves slow fashion focus on offering seasonless collections. These curated selections of clothes are consciously designed to function as wardrobe staples throughout the year. For labels located in a region having four seasons a year, you may get to see the launch of four collections as per the season's requirements. Whereas, brands catering to people living in a one-weather area, will house apparel fit to be worn all year round. 
Is slow fashion the same as sustainable fashion?
Sustainable or ethical fashion and slow fashion have a lot in common, as they are all sister movements that function under the same guidelines. However, what sets slow fashion apart is it focuses explicitly on reducing overconsumption and overproduction.