Disclosure:
Our editors handpick top-rated brands, vetted through our strict ratings. Purchases via our links may earn us a commission.
Learn more
Sustainability has the power to bring change! Owing to widespread awareness towards the climate crisis, and exploitation of humans and animals, there has been a surge in conscious consumers. If you're based in Canada, and thinking about how you can join the sustainability movement, then keep calm. Because thankfully, many ethical clothing brands in Canada are making thoughtful efforts by offering alternative fashion.
Recent years of environmental commotion have shown us that we have messed up big time with our planet. Sustainable fashion labels are trying their best to restore our environment and help Mother Earth heal. These brands create affordable ethical fashion so that everybody can incorporate a sustainable lifestyle and look stylish while protecting the planet, people, and animals.
Want to know more? Then let's check them out!
10 Ethical Clothing Brands in Canada
Not from Canada?
Check out our favorite lists of:
Our Beloved Ethical and Sustainable Clothing Brands in Canada [2023]
Canadian sustainable clothing brands like Tentree, Kotn, EcoLove, Franc, Kent, Aisle, Encircled, The Good Tee and Wuxly Movement have substantially reduced their environmental impact, offering affordable ethical fashion to the public and making a difference in the fashion industry.Here's a curated list of these well-loved and well-acclaimed Canadian ethical clothing brands providing affordable ethical clothing that will last you a lifetime!
1. Tentree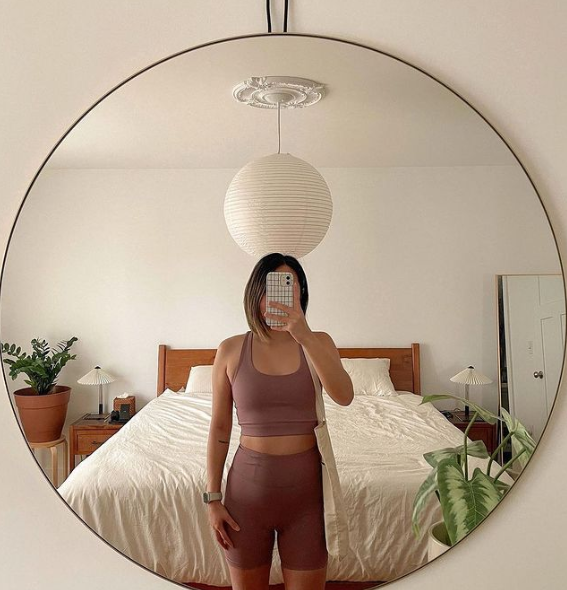 Place of origin in Canada: Regina, Saskatchewan
Founders: Kalen and Derrick Emsley
Values: Circularity, Reforestation, Ethical Manufacturing, Transparency, Responsible Packaging, Traceability, Eco-friendly materials, Chemical-free fibers, Reused Fibres, Sustainable Sourcing, TENCEL™ lyocell, Organic Cotton, REPREVE® recycled polyester, Fair Wages, Ethical labor rights
Awards: 2019 Top Innovator by Apparel magazine, Awarded Best For the World in Community in 2021
Certifications: B Corp Certified, Certified Climate Neutral
Price Range: $12-$350 (CAD)
Tentree is regarded as one of the best Canadian ethical clothing brands established with a belief that 'Big Change Starts Small.' For every item purchased they plant ten trees, offset a whole lot of carbon, and create all their products with an Earth-First approach which translates to fair, safe working conditions, sustainable sourcing, and recycled materials. Tentree is a Carbon Neutral label and has so far planted 75 Million plants.
2. Conscious Step
Founder(s): Prashant Mehta
Values: 1% for the planet, sustainable sourcing, non-GMO, pesticide- and insecticide-free organic cotton, Timeless designs, Lasting quality, Transparency, Safe and Fair working conditions, Workers' empowerment, ethical manufacturing, Supporting Social Causes like water conservation, women empowerment, protection of endangered animals, rainforest conservation, ocean restoration, etc.
Social Cause Partners: Conscious Step has partnered with various organizations to work for many social causes.
Certifications: GOTS certified Organic Cotton, Certified Vegan, Fairtrade Cotton
Price Range: $10-$100 (CAD)
Conscious Step is an affordable ethical clothing brand for kids selling feel-good socks and sweatshirts made from certified organic cotton and fairtrade practices. The brand is committed to both social and environmental change. Their website allows you to shop for supporting different social causes like 'empowering women,' 'planting trees,' 'protecting endangered animals,' 'providing disaster relief,' etc.
Conscious Step is a perfect choice if you want to purchase high-quality, fairtrade socks that are made from the cleanest cotton for your kids!
3. Kotn
Place of Origin in Canada: Toronto
Founders: Benjamin Sehl, Mackenzie Yeates, and Rami Helali
Values: Traceability in the supply chain, fair trade, funding education through The ABCs Project, sustainable cotton farming, natural and biodegradable fibers, Responsible & Reusable packaging, plastic-free, chemical-free
Fabrics used: Egyptian Cotton, BCI Cotton, GOTS certified Organic Cotton Linen, TENCEL™ Lyocell, Merino Wool, ECOTEC Cotton
Awards: 2019 CAFA Sustainability Award Winner
Certifications: Certified B Corporation® voted Best for the World™, use fabrics and dyes certified by OEKO-TEX®, Better Cotton Initiative (BCI), and Global Organic Textile Standard (GOTS)
Price Range: $12-$200 (CAD)
KOTN creates a world of timeless designs for lasting ways of life. All this is achieved without compromising on quality, price, or the integrity of the people and the planet. The brand produces ethically and sustainably made fashion for both men and women. With each purchase, Kotn invests in the creation of jobs and infrastructure, alleviation of poverty, and sustainable growth.
4. Ecolove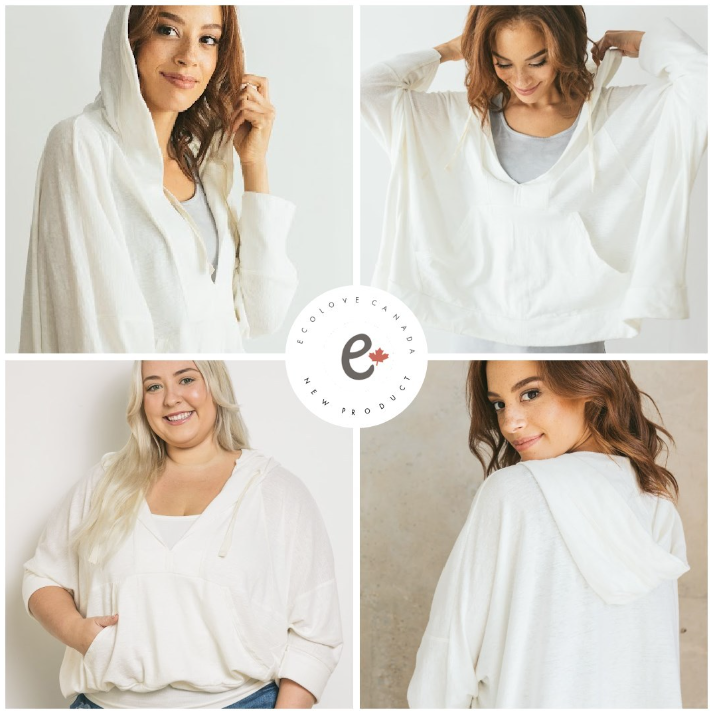 Place of Origin in Canada: St. Catharines
Founder(s): Jennifer Armstrong
Values: Transparency, natural fibers like organic cotton, Handcrafted in Canada, Manufactured in St. Catharines Studio, energy-efficient industrial machines, low carbon footprint, Plastic-free options, made-to-order
Certifications: Global Organic Textile Standard (GOTS), OEKO-TEX 100
Price Range: $15-$140 (CAD)
Ecolove's foundational roots trace ethics, sustainability, and transparency. All their products are handmade locally in their St. Catharines Studio by Jennifer herself. Being a made-to-order clothing brand, Ecolove focuses on creating as little waste as possible while also providing you with the perfect fit at a reasonable price.
When it comes to fabrics, the brand avoids plastics wherever possible, choosing Canadian knit fabrics and fabrics with third-party certifications like GOTS and OEKO-TEX 100 instead. As far as possible, the brand insists on choosing Canadian suppliers who pay living wages.
5. Franc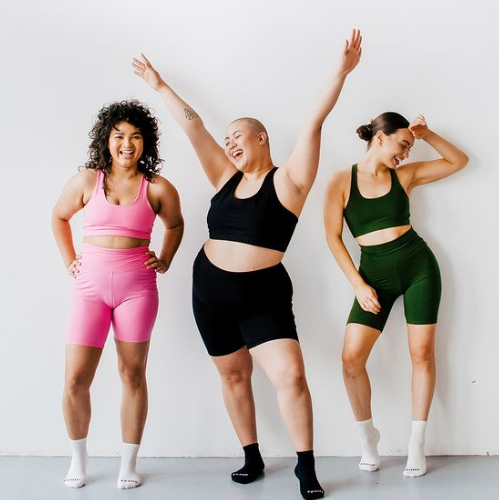 Place of Origin in Canada: Toronto
Founder(s): Brandy Mercredi
Values: plastic-free, 100% compostable and recyclable shipping bags, women's support and empowerment, carbon neutral shipping, Transparency, Honest Pricing, Organic Cotton, Natural Fabrics, ethically manufactured in Canada, Fair Trade, Fair Wage, Size-inclusivity
Certifications: B Corp Certified, GOTS certified Organic Cotton, TENCEL™ yarn, Bluesign® certificated dyes, FSC-certified paper bags, OEKO-TEX low-impact dyes
Price Range: $30-$125 (CAD)
Franc is an ethical clothing brand selling sustainably made timeless basics for you to splurge on. The brand is not only wardrobe conscious but also size inclusive, creating a flexible size chart to make you feel as confident as possible in the clothes you purchase. With a motto to 'BE' and 'DO' better, Franc brings you 'Better Than Basic' fashion.
6. Kent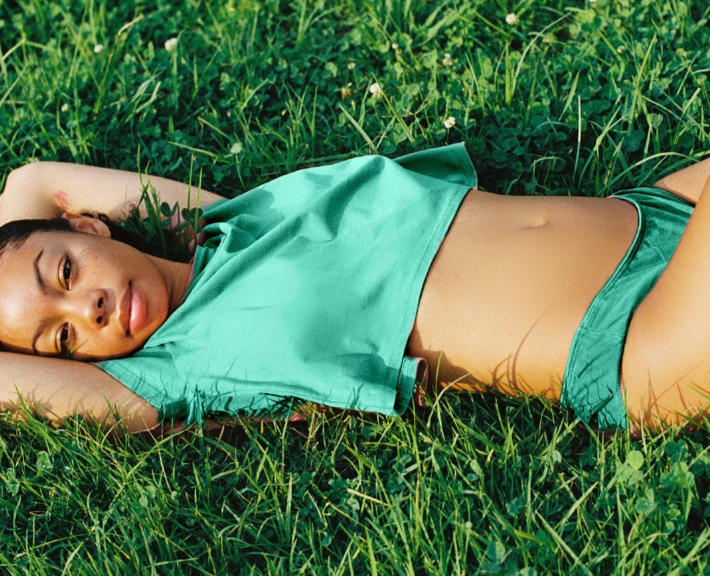 Founder(s): Stacy Grace
Values: 100% natural, plant-based and organic materials, plastic-free, organic cotton, compostable, Non-Toxic, Vegan, GMO-free cotton, chemical-free, plant-based, acid-free, and compostable packaging, offer carbon neutral shipping, pledge by equality & anti-racism, transparent supply chain, fair and ethical trade
Certifications: GOTS-certified organic Pima cotton, Oeko Tex-certified inks
Price Range: $18-$144 (CAD)
At Kent, the goal is to create comfortable, body-loving, sustainable, and all-natural basics that can free the body and the planet from toxic and disposable fast fashion. The brand is obsessed with sustainable fashion and creates the softest, skin-approved, super-natural underwear with the best fit possible.
For this, they have created a super-natural standard for all their fabrics used in the production process, including only plant-based, non-toxic, organic materials and rejecting all things plastic. Plus, you can get the best fit basics using their Fit Quiz!
7. Aisle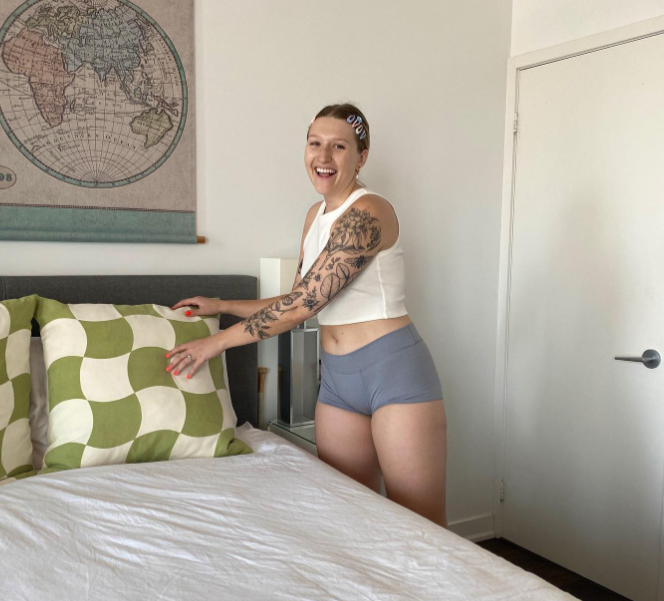 Place of Origin in Canada: Vancouver
Founders: Suzanne Siemens & Madeleine Shaw
Values: Reusable, Ethical Manufacturing, Women Empowerment, Transparency, Low Environmental Footprint, Zero Waste, Eco-certified materials
Fabrics Used: Tencel™, Truetex, Bamboo Organic Cotton, Recycled Polyester, TransDRY® Technical Cotton, Thermoplastic Polyurethane
Awards: Voted Best for Overall 2017-19, Voted Best for Changemakers 2017, Voted Best for Environment 2016
Certifications: B Corp Certified, Fabrics with certifications like Oeko-Tex Standard 100, GRS (Global Recycled Standard), OCS (Organic Cotton Standard)
Price Range: $13-$52 (CAD)
Established in the year 1993, Aisle was created with the purpose of introducing modern reusable period products to the masses. The brand creates its products keeping in mind the comfort, performance, and the product's impact on the environment.
All their products are super affordable, size-inclusive, and designed for real women with real bodies. From reusable and washable menstrual pads and liners to underwear, Aisle has got you covered for your painful period days!
8. Encircled
Place of Origin in Canada: Toronto
Founder: Kristi Soomer
Values: Made in Canada, Transparent supply chain, Supports local economic development, Reduces carbon emissions environmental impact, Super-sustainable materials, Low-impact dyes, Capsule wardrobe collection to minimize overconsumption
Fabrics Used: Modal, Tencel™ Lyocell, Linen, Merino Wool, Bamboo Organic cotton
Certifications: Certified B Corporation
Price Range: $119-$318 (CAD)
Workwear, so comfortable that they feel like loungewear. Sounds like a dream, right? But Encircled is making it possible. Undeniably, one of the best Canadian sustainable clothing brands, Encircled offers comfortable, travel-friendly and relaxed-fit garments that can get you going from morning to night effortlessly.
It aims to uplift the local economy by providing employment opportunities. Hence everything at Encircled is proudly 'Made in Canada.' The female-founded sustainable fashion brand also guides you to styling and promotes diversity and inclusivity.
9. The Good Tee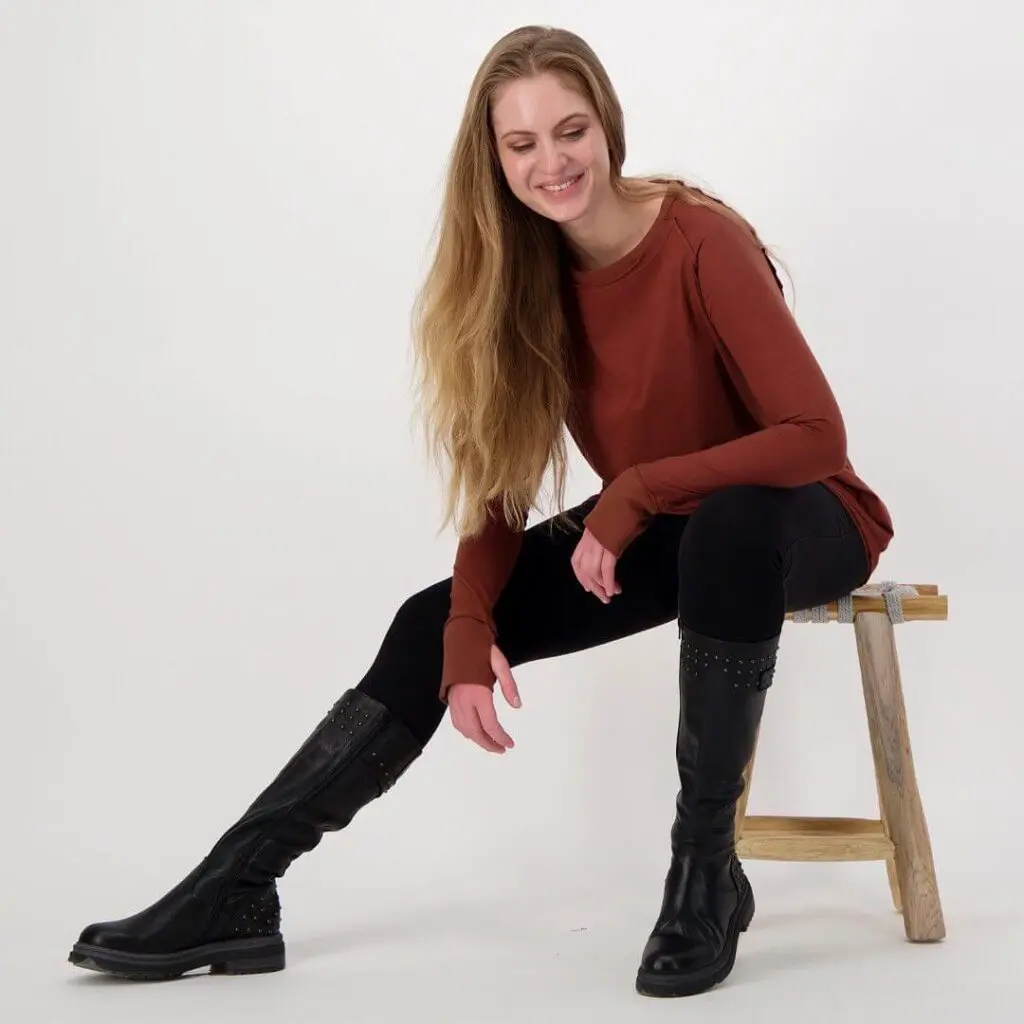 Place of Origin in Canada: Toronto
Founder: Adila Cokar
Values: Transparent supply chain, Helping deprived cotton farmers earn decently through Fair Trade, Healthy working conditions, Minimizing carbon emissions environmental impact through sustainable operations
Fabrics Used: Certified Organic Cotton
Certifications: B Corp Certified, Fair Trade Certified Cotton
Price Range: $30-$45 (CAD)
Undoubtedly a good choice, The Good Tee is going to be your go-to label if you love comfy and super snug organic cotton t-shirts and essentials. From relaxed to slim fit styles in womenswear to premium quality men's t-shirts in modern classic fits, nobody does everyday basics as mindfully as this label.
Aiming to humanize the fashion industry, The Good Tee has embraced a clean supply chain where organic cotton is sourced ethically from vetted farmers and suppliers. Celebrating and being kind to all the good humans associated with the brand, The Good Tee delivers compassionate fashion sustainably that doesn't hurt the people and the planet.
10. Wuxly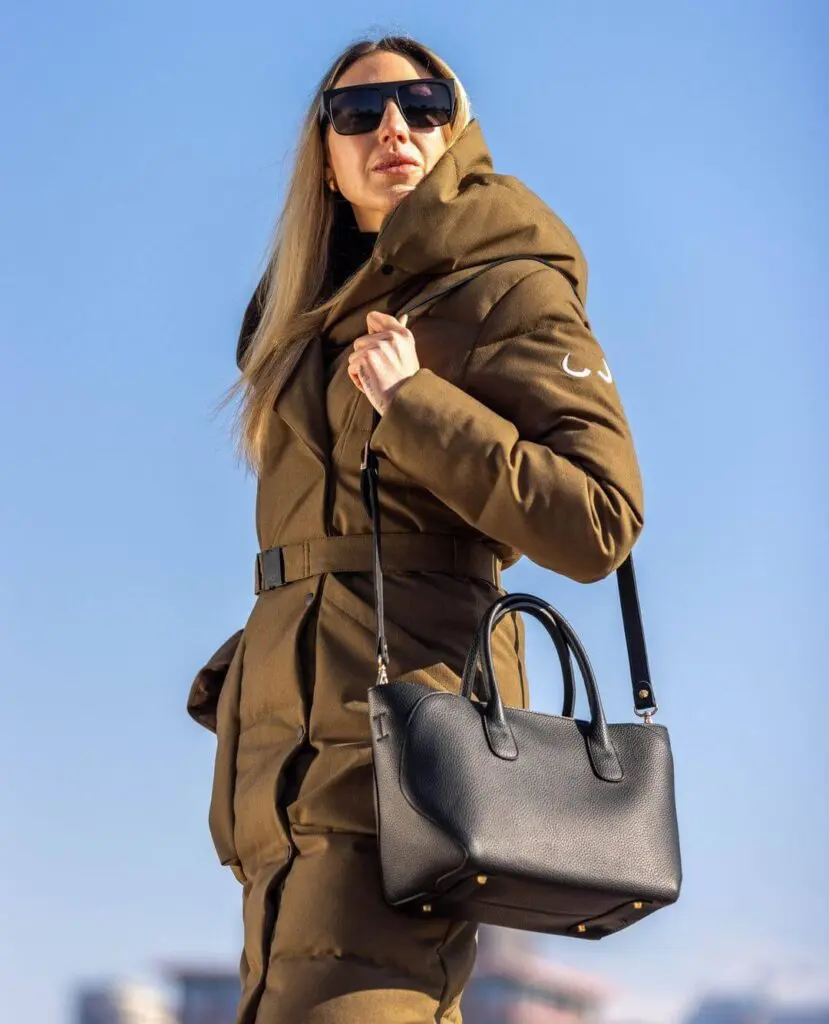 Place of Origin in Canada: Toronto
Founder: James Yurichuk
Values: Sustainable fabrics and approach, Cruelty-free and vegan, 'Trade Up' initiative to repurpose existing clothes by recycling or donating them, 'Made in Canada,' Ethical production
Fabrics Used: Sorona®, Recycled Nylon, Recycled Polyester
Certifications: Certified as B Corporation
Price Range: $250-$450 (CAD)
Beat the harsh Canadian winters, but do it the Wuxly way! Offering a wide range of warm outerwear, Wuxly Movement was launched with environmental protection and innovation in mind. As a common practice, most brands use animal-derived materials in creating functional outerwear, but Wuxly Movement does it differently.
Known as one of the best Canadian ethical clothing brands, Wuxly Movement's product line is cruelty-free, and every piece is guaranteed to be vegan with zero animal intake. Moreover, production takes place locally in Canada in factories that align with the label's ethical and eco-friendly values. It also offers a 'Trade Up Program' where you can donate your old winter coats and get $100 credit on your next purchase.
Conclusion
Awareness concerning the conservation of nature and our society and avoiding fast fashion brands has led to the rise in affordable ethical fashion brands. These labels are pledging to eco-friendly ways of production with the hope of salvaging the planet before it's too late. And it's great to see that Canada is not falling behind. This list comprising the best Canadian ethical clothing brands have taken it upon themselves to be more considerate towards the environment. Now, the choice remains ours. Do we become the change makers or do we let the planet suffer with our indifference?