Disclosure:
Our editors handpick top-rated brands, vetted through our strict ratings. Purchases via our links may earn us a commission.
Learn more
Fast fashion hinges on what's trendy, what can be mass-produced with cheap (often exploited) labor of third-world countries, and on the rapidity of consumption and production. The result? We have landfills heaped with textile waste releasing harmful chemicals into the land and air. In such a world, is Cotton On ethical? Or is Cotton on fast fashion? Let's find out!
Now one may ask if fast fashion is so bad, why do people still go for it? Well, it's affordable and trendy, which is all our social media generation wants. Unlike sustainable fashion brands, fast fashion brands do not believe in maintaining an ethical supply chain, an airtight animal welfare policy and labor law adherence, the use of sustainable fabrics, and workers' welfare.
What is Cotton On?
With over 1400 stores spread over 18 countries, Cotton On belongs to the Cotton On Group, Australia's largest global retailer of clothing and stationery. It all started with some laid-back denim jackets that everybody wanted and the next thing you know, Cotton On is an international brand!
Cotton On claims to take Aussie fashion and lifestyle to the rest of the world while also making a "positive impact" on the planet. But is Cotton On sustainable? Or is it just like other fast fashion brands? Read on to find out!
Founders, Year of Launch & Location
Nigel Austin founded Cotton On in 1988 with the introduction of denim jackets sold from the boot of a Ford Bronco parked at The Beckley Market in Geelong, Australia.
Cotton On Products
Cotton On has a massive catalog of products for both men and women under broad categories like Swimwear, Activewear, Sleepwear, Lingerie, Shoes, Accessories, etc.
Products include Tops, Jeans, Pants, Dresses, Skirts, Shorts, Jackets, Knitwear, Maternity clothing, Tanks, Bikinis, Bras, Bralettes, Shapewear, Nighties, Bags, Hats, Jewellery, Loafers, Sneakers, Flip Flops, and a whole lot more to explore!
All the products are super affordable with a price band of $1-$149 (AUD).
Sale, Packaging & Shipping
Cotton On has a global presence with nearly 1400 stores spread over 18 countries. You can either take the in-store shopping experience by finding the nearest store around you with their store finder, or you can always shop online on their website. 
The brand ships internationally and was able to successfully remove all single-use plastic bags from each of its 1400 stores around the globe in the year 2019. However, much of their plastic and packaging reforms are still to be achieved by the year 2025.
Is Cotton On Ethical?
Cotton On has "set the ethical ball rolling" but has yet to reach the finish line like some other brands including those for men and a recently given up company. The brand acknowledges Aboriginal Torres Strait Islander people as the original custodians of the land they work and live on and have also published a sustainability report in the year 2021.
The brand was rated 'B' in the 2021 Ethical Fashion Report issued by Baptist Aid Australia but scored a meager 22% in the Fashion Transparency Index 2022 Edition.
For a better understanding let's diagnose the brand further!
Does Cotton On Use Child Labor?
No, Cotton On doesn't use child labor. It has a zero-tolerance approach towards unethical behavior in the workplace, along with forced and child labor. In addition, the brand claims to maintain transparency and traceability with most of its partner factories. And with all the accords it has signed to protect labor rights, it is unlikely that Cotton On will ever engage in child slavery.
Cotton On is an ACT initiative participant, which is an initiative between international brands, retailers, manufacturers, and trade unions to address the issue of living wages in the textile and garment supply chain.
It also signed the 'Accord on Fire and Building Safety in Bangladesh' in 2019 that protects the Bangladeshi labor rights. The brand also bans modern slavery and has made some efforts towards paying sustainable living wage. But much of it is still underway and yet to be applied globally. Furthermore, the company does little for workers' empowerment.
According to a 2019 report by Oxfam Australia, Cotton On sources from Bangladesh and Vietnam, which are countries favored by brands that use sweatshops. A survey conducted in these countries showed that 100% of the workers were not being paid a living wage. Thus, the ground reality of the brand says that all is not well with the ethics!
Cotton On's Animal Welfare Policy
According to PETA, Cotton On does not test on animals, but it's not vegan either. The brand has also banned the use of Angora by taking all Angora products off its shelves after PETA's 2013 campaign.
How Transparent Is Cotton On?
Cotton On took the Apparel and Footwear Supply Chain Transparency Pledge in 2019 thereby committing to regularly publish on its website a list naming all sites that manufacture its products.
Cotton On Controversies
In 2010, the brand was forced by the Fair Work Ombudsman to payback 3289 of its employees for the failure to pay them for attending training out of working hours.
Cotton On was also fined $1 million in 2012 for selling children's sleepwear that was reported to be flammable.
Some customers also claim that Cotton On greenwashes its buyers with talks of better ethics and sustainability.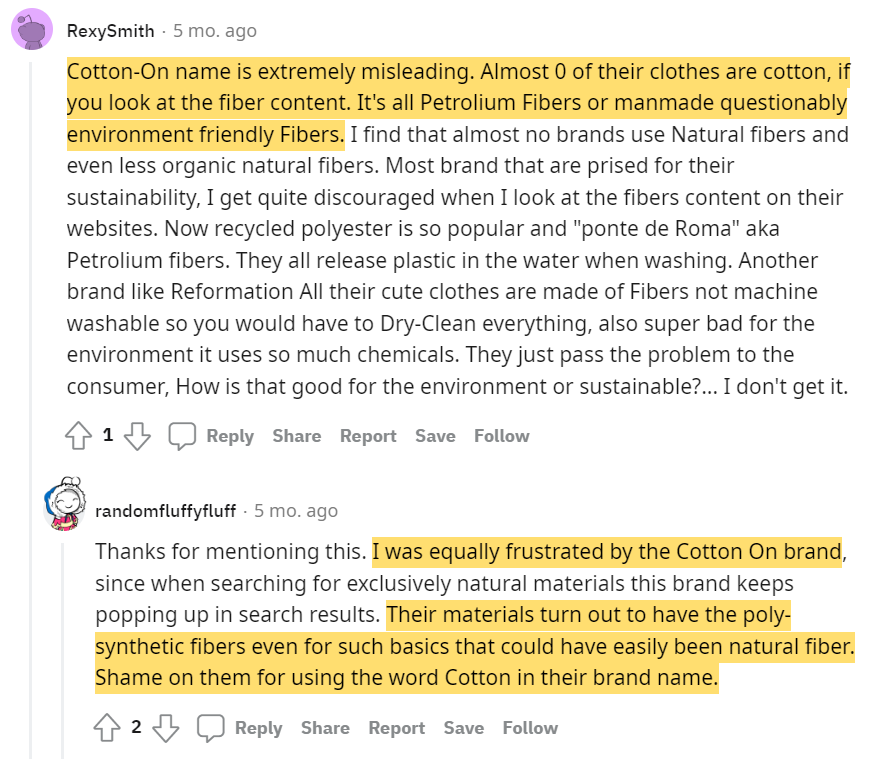 Is Cotton On Sustainable?
Cotton is a member of the Better Cotton Initiative (BCI). This voluntary program encourages companies to adopt better and more sustainable cotton cultivation methods so that their overall impact on the planet falls significantly.
Although the brand initiated the African Cotton Program to support small farming communities in Kenya, much of their "responsibly sourced materials" is still a goal not fully achieved according to their Sustainability Report 2021.
Similarly, their efforts to go carbon neutral are still under construction and a goal yet to be achieved.
Is Cotton On Legit?
Yes, Cotton On is a legit brand and has been a hit with consumers in Australia as well as globally for its versatile pieces of clothing and accessories available at affordable prices, and with just the right sizings. The fabrics used in their clothing collection are not top-notch high-quality but are comfortable and performance-oriented keeping in mind the pricing.
However, again just like any other e-commerce retailer, Cotton On too has a bunch of some really unhappy customers with constant complaints popping out on unresponsive customer support, untimely delivery, and worst return/refund policies. Criticisms are important as it just tells you where you got to improve so we can only hope that Cotton On pays heed to the complaints and serves better to its consumers.
Best Sustainable Alternatives to Cotton On
1. Thread Harvest
Thread Harvest is a B Corp certified online ethical fashion marketplace designed to bring together affordable ethical clothing brands under one roof.
2. Kathmandu
Kathmandu is an Australia-based B Corp Certified brand known for selling ethically made sustainable lifestyle products from jackets and vests to footwear and accessories for men, women, and kids.
3. Outland Denim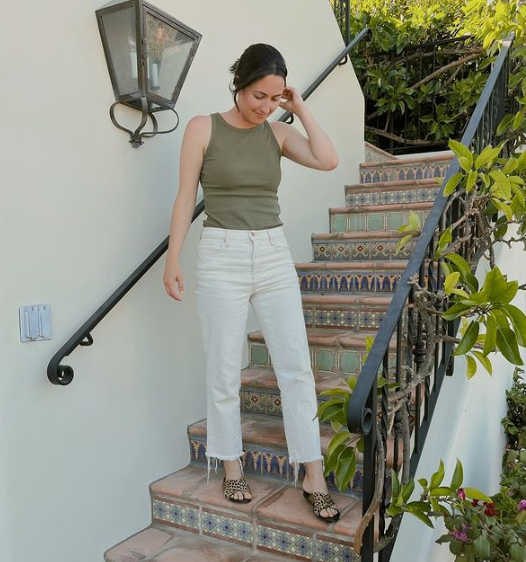 Graded A+ by Baptist Aid Australia, Outland Denim is a B Corp Certified that specializes in denim and produces them ethically using organic fabrics and zero waste practices.
Conclusion – Is Cotton On Fast Fashion?
Yes, Cotton On is a fast fashion brand with all its products falling under an affordable price band of $1-$149 (AUD). It conforms to sure fire fast fashion checks like clothes made with synthetic cheap materials and mass-produced at regular intervals.
However, the brand has made considerable efforts to gradually get out of the fast fashion cycle it has fallen into. Till then one can always go for better and more sustainable alternatives! Let's explore a few.