Disclosure:
Our editors handpick top-rated brands, vetted through our strict ratings. Purchases via our links may earn us a commission.
Learn more
For the ethical shoppers out there who like to buy clothes from sustainable fashion brands with ethical workplaces, you need to watch out for Ted Baker clothes lining your closet. As an ethical fashion enthusiast, the first thing you need to ask before buying is, whether Ted Baker is really a sustainable brand or fast fashion. Or is Ted Baker ethical? What about its supply chain and carbon emissions? Fret not, we'll answer all for you!
While ethical fashion is hard to find, it's not a rarity these days. The fashion industry is fast evolving with online stores and fashion companies adopting sustainable fashion around the globe. Turns out that Ted Baker is not one of them. As a well-known affordable luxury brand, Ted Baker is still far from being included in the ethical fashion industry. Keep reading to know why.
What Is Ted Baker?
Ted Baker is a well-known affordable luxury brand that first started as a men's shirt specialist back in 1988 and slowly entered the realm of women's fashion. Today Ted Baker offers a pool of collections in all things fashion: Menswear, Womenswear, Global, Endurance, Pashion, Langley, Accessories, Fragrance, Skinwear, Footwear, Eyewear, and Watches.
This 'No Ordinary Designer Label' is a personal favorite of many UK buyers, growing every day even without advertising. But have you ever stopped and wondered if Ted Baker offers ethical fashion? Is Ted Baker ethical? Is it a fast fashion or a slow fashion brand? Is it sustainable? Well, things get a little tricky here!
When Was Ted Baker Founded?
Ted Baker was founded in Glasgow, Scotland in 1988 by Ray Kelvin.
Where Is Ted Baker Located?
Ted Baker's headquarters are currently located in London, England.
Is Ted Baker Ethical?
No, Ted Baker is not one of the many ethical clothing brands in the market. Yes, the brand is making efforts to ensure ethical treatment of its people, planet, and product but there's still a long way to go. A 2021 study by Jackfille C. Pierre states how the brand's corporate sustainability strategy is still introverted. The report writes, and I quote: "Despite a partnership with the CDP's Science Based initiative, Ted Baker did not commit to a specific goal and their sustainability plan only discloses an intention to 'improve our processes' or 'develop ambitious targets,' which leads to their introverted classification."
Furthermore, the report discloses that "Ted Baker currently does not employ any of the strategies recommended by the McKinsey framework to optimize upstream operations, brand internal operation, or sustainable consumer behaviors. The company identifies several banned materials such as Turkmen cotton, angora, fur, and feathers, and has reduced package waste through the elimination of laminated cardboard with fully recyclable plastic-free packaging. However, the company does not actively incorporate eco-friendly materials in its products, nor have they adopted sustainable manufacturing processes only disclosing that they "keep a close eye on how our products are processed".
Does Ted Baker Use Child Labor?
No, Ted Baker claims that it does not use child labor. It maintains an Ethical Code of Conduct for its suppliers, ensuring that each facility is free from child labor or compulsory labor. This Ethical Code of Conduct requires all the suppliers involved in the brand's supply chain to ensure freely chosen employment, safe working conditions, freedom of association and collective bargaining, standard working hours and living wages, prohibition of child labor and slavery, etc. But there is no evidence if all suppliers follow these codes or not.
The Brand's top manufacturing countries are China, Turkey, Portugal, and Vietnam, which possess the salient risks of unethical practices. And Ted Baker is doing everything possible to develop a robust, fair trade program across all its units. As such, it can not be definitely determined whether Ted Baker is one of those brands that use sweatshops or not.
The brand says their teams take regular inspections and audits but no information from such audits is published to assure whether these codes are being followed throughout the supply chain or not. Furthermore, all their efforts to ensure fair, safe and ethical workplaces are still in the target phase with no information of any progress made.
The brand's initiatives are good, only not executed properly. They have also started mapping their first-tier suppliers in 2020 and are slowly moving on to the second and third-tier suppliers. Here too, their efforts are still in the progress phase.
Ted Baker's Animal Welfare Policy
Much like other things, Ted Baker's animal welfare policy is still in the making. PETA agrees that the brand does not test any of its products on animals, but it nowhere assures that no animal products are being used by the brand. It still uses leather and exotic animal hair and provides no information on how its Animal Welfare and Responsible Materials Policy is being implemented to ensure cruelty-free production.
They expect all animal-derived products to have met the highest standards of animal welfare but have no data to ensure if such is the case. Their Ethical Code of Conduct lays down ethical codes for their suppliers but no proof backs up the fact that all the suppliers and factories are following these codes. Although they are headed in the right direction, much ground is still to be covered.
Is Ted Baker Sustainable?
No, Ted Baker is not a sustainable brand. As of now, the brand does not actively make use of eco-friendly fibers but has interim targets to achieve the same. Ted Baker's most used materials in their collections in the year 2020 are Polyester, Cotton, and Leather. All their initiatives to use sustainable materials are still a dream and a goal yet to be achieved.
Although they have an Ethical Code of Conduct based on standards such as the Ethical Trading Initiative Base Code, the UN Universal Declaration of Human Rights, the ILO Core Conventions, and more, that have codes set in place for responsible sourcing, there is still no material proof that these codes are being followed.
Is Ted Baker Fast Fashion?
Yes, Ted Baker is a fast fashion brand. Although Ted Baker is not one of those cheap fashion brands, it is not any luxury brand either. Many label it among the few affordable luxury fashion brands out there in the market. The brand mass produces to keep up with all the fast fashion trends around the seasons, following little to no ethical practices that could help reduce its carbon footprint.
Who Owns Ted Baker?
Ray Kelvin is the founder and owner of Ted Baker while Rachel Osborne is the current Chief Executive Officer at Ted Baker.
Is Ted Baker Legit?
Yes, Ted Baker is definitely a legit brand and has been winning hearts since it started operations. This premium brand offers a pool of sleek designs in its clothing and accessories collection that are of amazing quality and fit. The service around every Ted Baker store screams hospitality and leaves you with a smooth shopping experience.
However, not everything is working well with Ted Baker, the brand needs to work thoroughly in managing its online operations as customers have been complaining over complicated customer support, faulty pieces being delivered, and a complex refund policy.
2 Sustainable Alternatives to Ted Baker That are Worth Trying Out
While Ted Baker and other brands like Buckle, Shekou and Emmiol have adhered to fast fashion, why not try some other dependable alternatives?
1. DEPLOY London
Established in 2006, DEPLOY London is one of the few luxury brands pioneering circular and ethical fashion. The brand has a robust 360-degree sustainability strategy that's been followed since its launch in 2006. The brand combines couture craftsmanship, customization expertise, and sustainable ethos to create thoughtful designs that fit your lifestyle.
The brand is also B-Corp certified and uses 100% natural fibers including GOTS-certified organic cotton, DETOX cotton knits, certified silks, fully biodegradable linen and bamboo, FSC-certified viscose, etc. It follows a zero-waste supply chain incorporating on-demand production, and creative upcycling. And this is only the tip of the iceberg! You can read their full sustainability plan here. If you like to invest your money in luxury brands, DEPLOY London is certainly the best choice.
2. Fanfare Label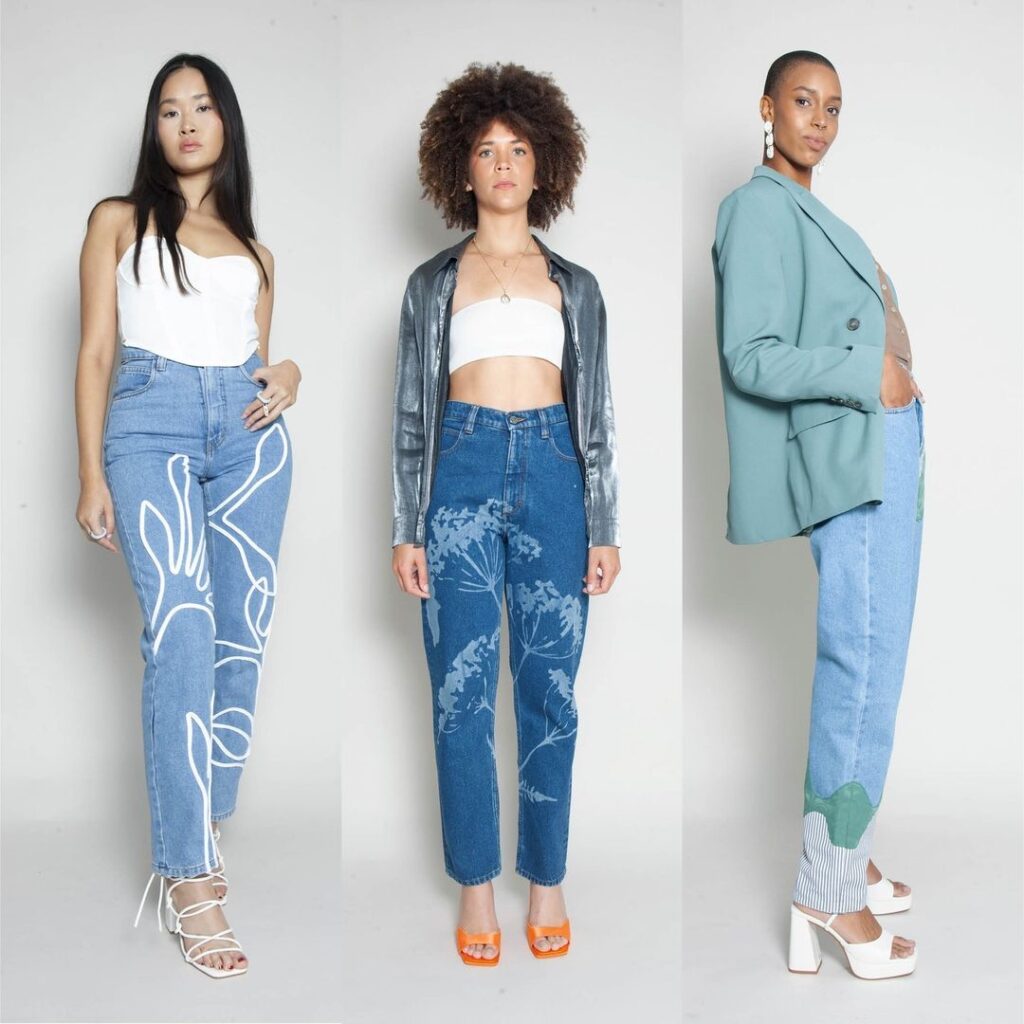 Fanfare Label is an award-winning circular clothing brand, launched in 2018 by Esther Knight, offering simple solutions to complex fashion problems like the cloth-filled landfills of the UK. The brand offers ethical clothing that is plastic free and uses materials that include sustainable fabrics accredited by organizations like OEKO-TEX and GOTS. The brand also supports the upcycling movement by turning vintage pieces into unique contemporary designs. Circularity, longevity & recycling are some of the core values of Fanfare Label.
Conclusion
So if you are wondering if Ted Baker is ethical or not, then the answer is NO. As of now, the brand has only taken up visible initiatives toward ensuring fair trade and sustainability. No real data is available to prove the brand's commitment to ethical fashion. However, there are awesome alternatives that you could always fall back on!