Disclosure:
Our editors handpick top-rated brands, vetted through our strict ratings. Purchases via our links may earn us a commission.
Learn more
If you are filling your closet with UNIF clothes thinking that 'Oh! They are bringing back the 90s', or 'Aah! What's wrong with reviving Vintage?', then you've probably been swept away by the brand's popular ways of promoting itself as distinct, and might want to question whether is UNIF ethical.
Over the years, especially in recent decades, the fashion industry has become one of the most environmentally detrimental, unethical, and exploitative industries to ever exist. Fast fashion brands have taken over; hiding behind greenwashed claims and advertisements, making sustainability itself a "trend." Many of the ethical brands that promote sustainable fashion and follow ethical practices often get overshadowed by the fast fashion flooding our streets.
So what should you do to switch to ethical clothing? The answer is simple: avoid shopping from brands like UNIF, Dolls Kill, etc., and swap their products with sustainable and ethical alternatives. Keep scrolling for some juicy information on UNIF. Is it a sustainable brand? Let's find out!
What is UNIF?
UNIF, which stands for 'Ur Not In Fashion', is a retail clothing and apparel brand that was created for the purpose of selling fashion to the misfits that still held the 90s grudge wave close to their hearts but weren't able to rock it in the modern day.
As the name suggests, the attempt was to revive something that had ceased to be fashionable. For a fashion junky, UNIF is the place to be with its trendy collection of bold fashion, funky accessories, and articles that will take you down the road back into the 90s. UNIF warps time with its bomber jackets, baby tees, knee boots, tank tops, and other metallic clothing. But the question stands: Does UNIF follow ethical practices?
UNIF has been at the boiling end of a number of controversies over the years. People have accused UNIF of using satanic imagery to shock buyers into purchasing UNIF's rebellious clothing. The brand has also been accused of overpricing and blatant art theft. Read on to find out how many moral codes has UNIF broken.
Is UNIF Ethical?
No, UNIF is not an ethical brand.
We rate the brand as unethical because of the non-disclosure of relevant information regarding the brand's impact on the planet, people, and animals.
While the brand sure does pass the vibe check rocking its neon tees, fluorescent skirts and the grim reaper's look all at the same time, it fails to pass the ethicality test. Read on to find out why!
Does UNIF Use Child Labor?
UNIF doesn't disclose any information regarding its labor rights practices on their website or anywhere else. While some of its apparel is labeled as 'Made in LA', most are imported from overseas, with unknown origins. So there's absolutely no way of knowing who are making these clothes.
Although their Instagram bio suggests that they are 'family owned and operated' and therefore don't 'mass produce', one should not believe such hollow statements that lack proof! UNIF's secrecy and non-transparency is a major turn-off.
Is UNIF Cruelty Free?
No, UNIF is not a cruelty free brand.
With the official website not even having an 'About Us' section, UNIF has been tight-lipped about many relevant things which it should have disclosed as per the ethical and moral codes of the fashion industry. Animal Welfare Policy is just another thing in the list of things UNIF is quiet about.
While we don't know if they are helping the animal cause in any way, we do know that UNIF sells Leather Shoes and Faux Fur Jackets.
Is UNIF Sustainable?
Besides having a 'Natural Fabric' section on their website under which some of their clothes made of 100% cotton and rayon are placed, there is no other information regarding the sourcing of materials used in the making of their products.
There are some cotton shirts marked as 'made in LA' but the other fabrics have been marked as 'imported,' which is nothing but a subtle way of disguising their origin. Most of their products are made of nylon and polyester, both cheap and environmentally detrimental fabrics.
UNIF Controversy: Art Theft
Evidence has it that UNIF has been rightly accused of blatantly copying the designs of deadstock vintage companies that have since long closed. Trollfunk on YouTube reveals the many ways in which UNIF is a problematic brand. There's an Instagram page named Unifcopied that features a whole list of products and their comparison with the original designs that UNIF stole and marked as its own.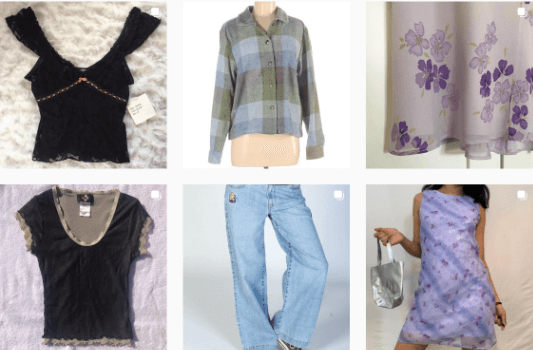 Is UNIF Sustainable?
No, UNIF is certainly not a sustainable brand despite claiming to be so. The brand's Instagram bio that they are 'family owned and operated' and therefore don't 'mass produce.' However, this comes as just an off-handed statement with no proof to back it up.
Further, the company refuses to provide any information regarding its supply chain or the materials used in the making of its products. There isn't even an "About Us" section on their website, leaving the customers in utter ignorance. This alone should be read as a huge red flag waving in our faces. What does the brand have to hide?
Plus, there have been many complaints regarding the faulty size chart that the brand offers. Apparently, UNIF isn't that size inclusive as it would like to show through its size charts.
Is UNIF Fast Fashion?
Yes, UNIF is one of the many fast fashion brands that have taken today's fashion junky on a fun-filled ride where trendy clothes are available at the price of cheap hand-me-downs.
Although UNIF hasn't been the cheapest brand out there, it hasn't been a luxury either. Their products are overpriced in the sense that their price doesn't match the low-quality fabrics used, which again, is common with many fast fashion brands.
Fast fashion works on quantity, not quality, which is exactly what UNIF has been accused of doing. Though they claim that they don't 'mass produce' in their Instagram bio, there's no proof backing up that hollow statement. Following is a consumer's review to back up the fact that UNIF offers cheap quality products at overpriced rates:
Who Owns UNIF?
Based in Los Angeles, California, UNIF was founded by designer and former DJ Eric Espinoza along with designer Christine Lai.
When Was UNIF Founded?
UNIF was founded in the year 2009 with an aim to 'revive' y2k/90s (vintage) fashion.
Is It Ok To Buy From UNIF?
While no brand is faultless in the grime of the fashion industry, there are always better and sustainable brands you can shop from in order to escape the tornado called fast fashion. So, no, if you have better alternatives, you should not buy from UNIF.
What with UNIF breaking many moral and ethical codes, keeping a hush-hush about its sustainability claims, overpricing cheap products, and stealing art in the name of vintage revival, it is certainly not a brand you should go for! Other fast fashion brands like Motel Rocks, J.ING and Banana Republic are also not far behind.
Is Unif Legit?
Yes, Unif is undoubtedly a legit brand and has a troop of loyal customers worldwide. And why not? The brand doesn't mass produce, sticks to all-time classic designs, and offers superior quality clothing made of all the right fabrics. Plus, their clothes are 'true to size' and fit like a glove. True, they are expensive but for high-quality clothing, you got to pay.
Although there are a bunch of unsatisfied online customers raising complaints over late delivery, improper sizing, and poor customer support, at this point, one has to accept that no brand can be perfect and have only happy and satisfied customers on its list.
3 Best UNIF Alternatives Worth Trying
1. Either, And
Want to get your hands on some vintage clothing that can make you look both retro and trendy? Either, And is the place for you! Why buy fast fashion when you can get your hands on sustainable vintage clothing?
2. Plant Faced Clothing
Plant Faced Clothing prides itself on producing ethical, sustainable, and 100% plant-based streetwear. You name the trend and they have it all! So why buy somewhere else?
3. Unrecorded
Rebelling against fast fashion, Unrecorded is a Netherlands-based brand that brings a wave of unisex clothing produced following ethical practices.
Conclusion: Is UNIF a Fast Fashion Brand?
Yes, UNIF is a fast fashion brand. True, it might not mass produce, but it regularly drops collections inspired by the latest trends, which will go out of style in a couple of months. UNIF also doesn't maintain transparency about its supply chain operations. As conscious consumers, it is our right to know who are making our clothes, whether they are being made in countries notorious for sweatshops, and what sustainability goals the brand have. And while UNIF claims to be fair fashion, there's literally no evidence of fair trade practices on its website. Like zero information! Plus, the product quality was reported to be so cheap that paying the prices they demand isn't worth it!