Disclosure:
Your Sustainable Guide is supported by our readers. We might receive an affiliate commission if you make a purchase using links on our website, at no cost to you.
Learn more
For far too long, conventional period products have ruled the market. But do you know, your regular pad and tampons consist of harmful chemicals and plastic that not only affect our bodies but also the environment when disposed of? However, with the rise of sustainable options like non-toxic period underwear, you can happily say goodbye to unhealthy menstrual products for stress-free monthlies.
Undoubtedly, non toxic period underwear is a revolutionary period care alternative that will provide you with comfort and security to glide through that time of the month. So, eco-warriors, if you want to upgrade to a sustainable and safe period routine, then check out the deets on what makes these products so special. Ready to slay your monthlies like a queen?
The Best Non Toxic Period Underwear Brands are:
1. Aisle
2. AWWA
3. Boody
4. Modibodi
5. Revol Cares
6. Saalt
7. Sustain
8. TomboyX
9. The Period Company
10. WUKA
How We Chose the Best Organic Non–Toxic Period Underwear Brands for You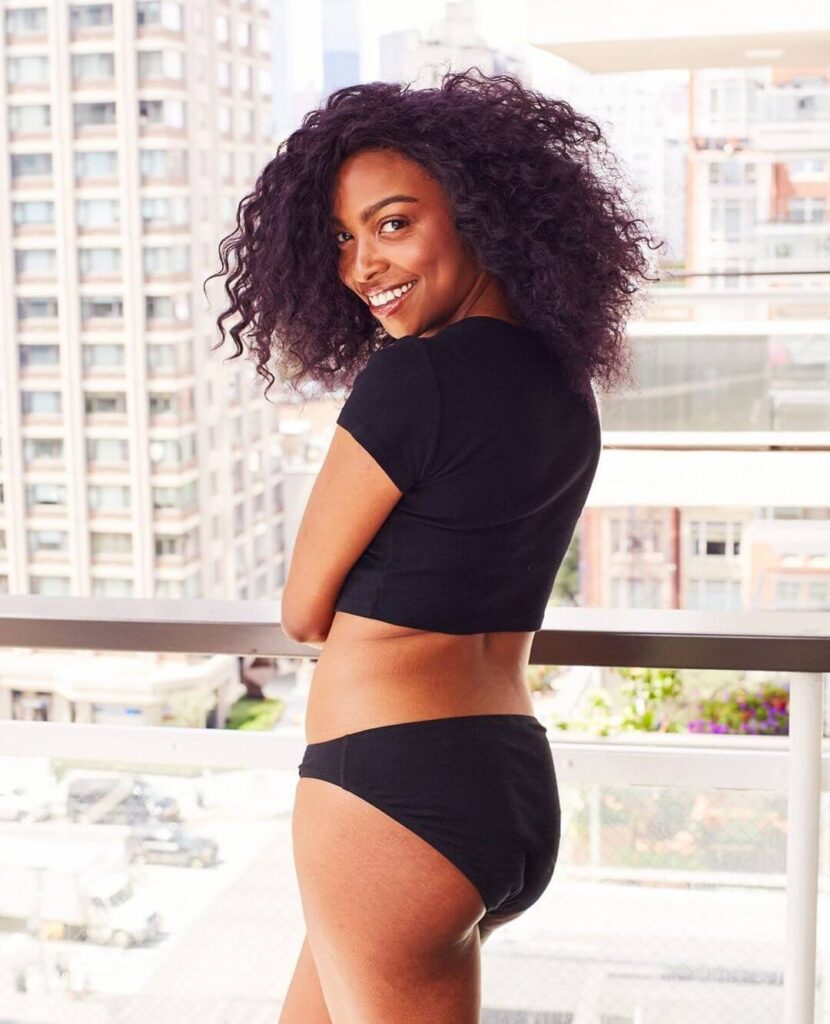 Materials: We solely picked period underwear made from natural and sustainable materials, such as organic cotton, bamboo, and Tencel. Such fabrics are exceptionally breathable and gentle on your intimate area. Plus, they do not contain harmful toxins that will irritate your skin or cause damage to the environment when discarded.
Absorbency: Absorbent properties of any period care product is for sure a priority. And all these non toxic underwear brands are excelling in their products that are equipped with innovative absorbency technology at different levels. So just consider your flow level and choose a period panty to suit your needs.
Brand transparency: For a brand to call itself sustainable, it has to be transparent. The labels that made it to our list maintain full disclosure of their supply chain, business operations, non toxic certifications, and their 'give back' initiatives to assure you that you're making a conscious choice.
Comfort and fit: Just like with any underwear, comfort and fit are important, especially during periods. We've checked for styles and sizes for every body type that will provide you with both coverage and comfort to nail your menstrual cycles.
Care instructions: We love brands that offer easy-to-clean organic non toxic period underwear. And all these labels are a winner! All you got to do is follow the care instructions on the tag to ensure longevity and for the underwear to maintain its effectiveness.
Affordability: Non toxic period underwear are budget friendly in the long run. While they are pricier than regular disposable period products, they are reusable and can last you years.
Reviews: Our favourite non toxic period underwear brands are a fan-favorite with thousands of menstruating women singing praises for achieving an easy and leak-free period experience.
Our Top Pics on 10 Best PFAS-free, Eco-friendly & Non-Toxic Period Underwear 
Our cherry-picked list of the best non toxic period underwear brands will guarantee you safe and Earth-conscious periods round the year. Whether you experience heavy, moderate or light flows, these labels have got it all sorted for you. Now let's explore Aisle, AWWA, Boody, Modibodi, Revol Cares, Saalt, Sustain, Tomboy X, The Period Company, and WUKA. 
1. Aisle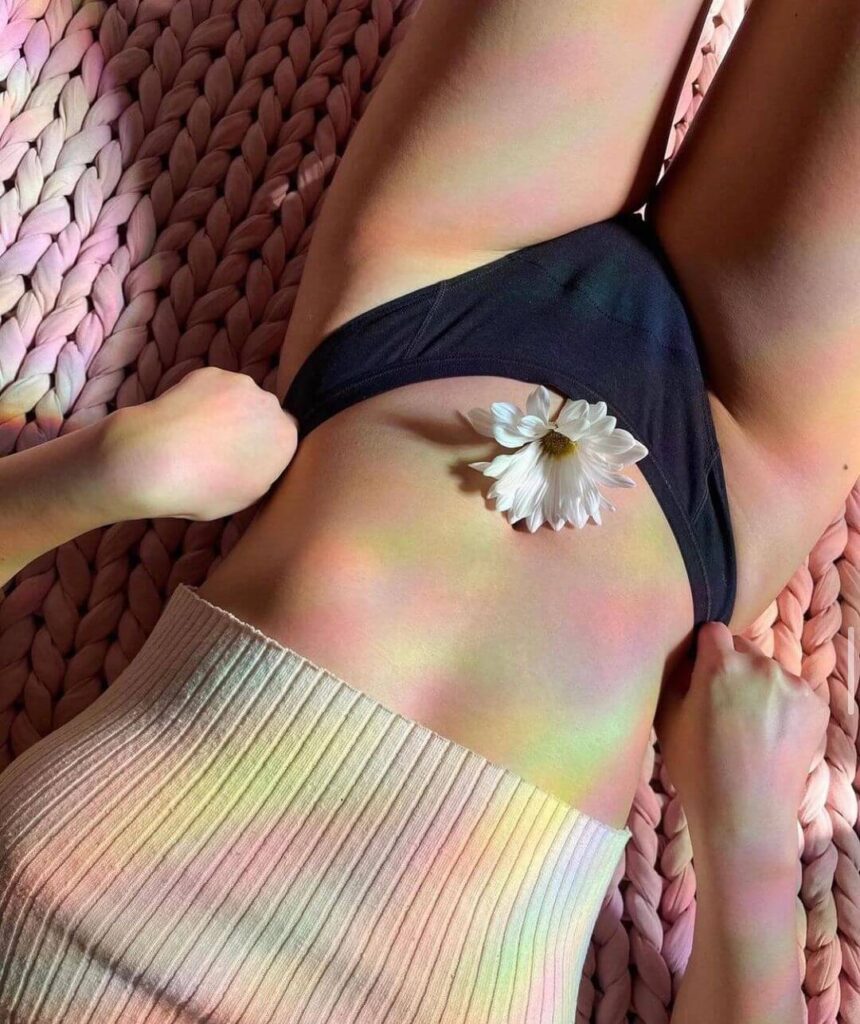 Materials: Tencel, Organic Cotton, and Recycled Polyester
Styles: Brief, Bikini, Boxer brief, Hipster
Absorbency: Absorbs between 4-8 Tampons
Size Range: XS to 5XL
Price Range: $34–$48
Shipping: Directly ships across the USA & Canada. Third-party courier shipping for overseas locations
Hands down to one of the best non toxic period underwear labels, Aisle is here to walk you through your period days gracefully. Formerly known as Luna Pads, this menstrual-care company was one of the first brands to introduce reusable period products to the world. Its collection of non-toxic period panties has all the needful properties like moisture-wicking, lightweight, leakproof, and the capacity to hold up to 8 regular tampons worth of fluid.
Whether you're comfortable in boyshorts and hip huggers or feel your best in bikinis and thongs, Aisle has got different styles for each one of you. What I love about these eco-friendly reusables is they are not only fashionable but also functional, easy to wear, and affordable. Plus, Aisle is ranked as the #1 ranked period care B Corporation in the world. It donates 2% of annual sales towards nonprofits that work towards curbing period poverty and gender equity.
2. AWWA
Materials: Bamboo, Organic Cotton, Tencel, Elastane, and Spandex
Styles: Brief, Thong, Boxer, Bikini, and Hipster
Absorbency:  Absorbs up to 5 Tampons
Size Range: 3XS – 6XL
Price Range: $22-$45
Shipping: Worldwide
AWWA is a female-founded period care label that offers non toxic period underwear for diverse body types for hassle-free handling of your monthly cycles. Inspired by the Māori word 'awa', which means river or flow, this brand is rooted in the indigenous tradition that celebrates periods. Its range of super-absorbent, anti-microbial menstrual panties are made from the most sustainable materials in ethical facilities. With a wide size and style range, these PFAS-free period panties are specially designed with innovative sustainable fabric technology and have multi-layered absorbent gusset.
As a menstrual needs B Corporation, AWWA is helping people worldwide to manage their periods without causing any negative impact on the planet. And it's absolutely remarkable how it is fighting to resolve period destigmatization by offering informational resources along with striving to eradicate period poverty in New Zealand.
3. Boody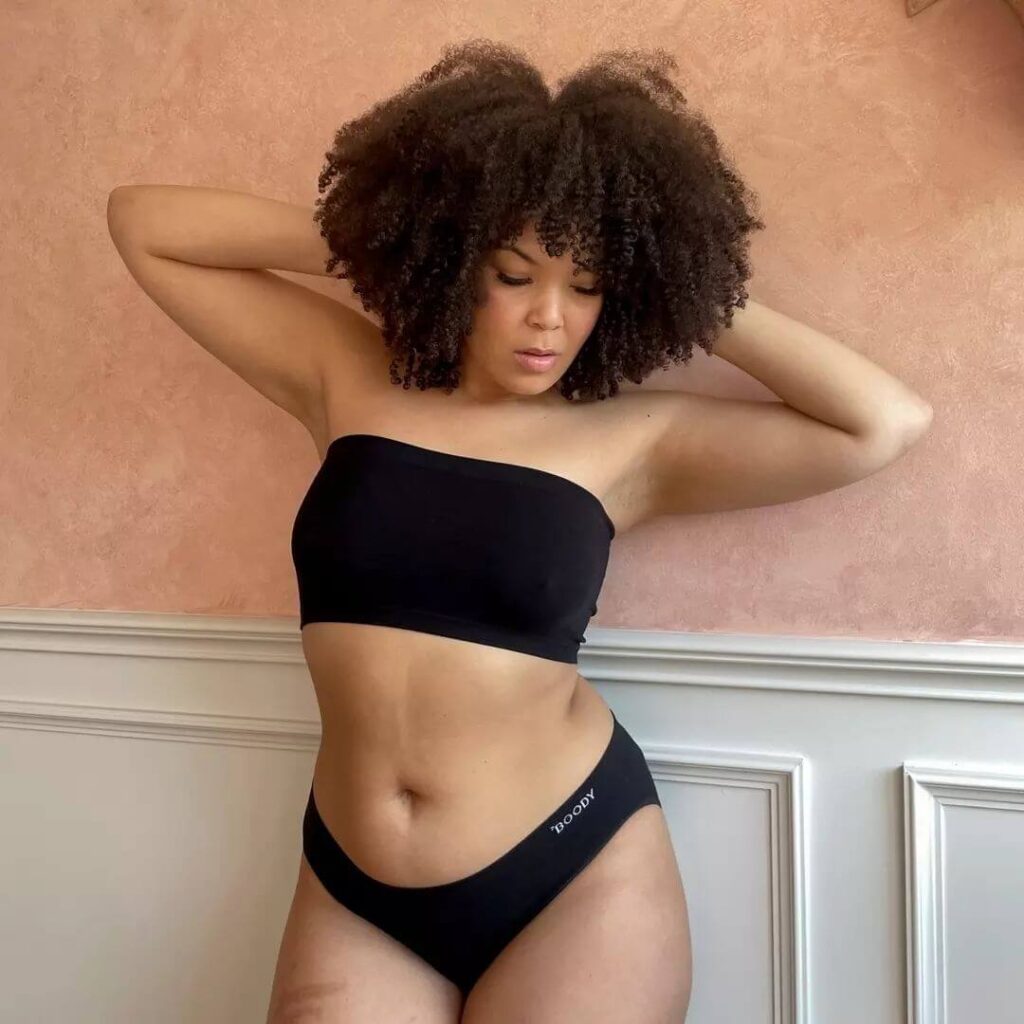 Materials: Organic Cotton, Elastane, Bamboo, TPU, and Polyester
Styles: Bikini, Brief, and Hipster
Absorbency: Absorbs up to 3 Tampons
Size Range: XS-3XL
Price Range: $19-$26
Shipping: Worldwide
Boody is a popular sustainable underwear brand that I'm sure you've come across while shopping for your intimates. But do you know they also have a period panties section? With different styles to suit your needs, their PFAS-free organic non toxic period underwear feature a multi-layered absorbent gusset that has the capacity of holding up to 20 ml of fluid. And while the collection is fairly limited, it is everything you need to tackle sneaky leaks during those heavy, moderate, and light flow period days.
I personally love Boody's period panties because they look and feel just like regular underwear but come with the functionality and technology to keep you extra comfy. Plus, Boody is a Certified B Corporation that uses certified fabrics to craft its products, ensuring the well-being of people and the planet.
4. Modibodi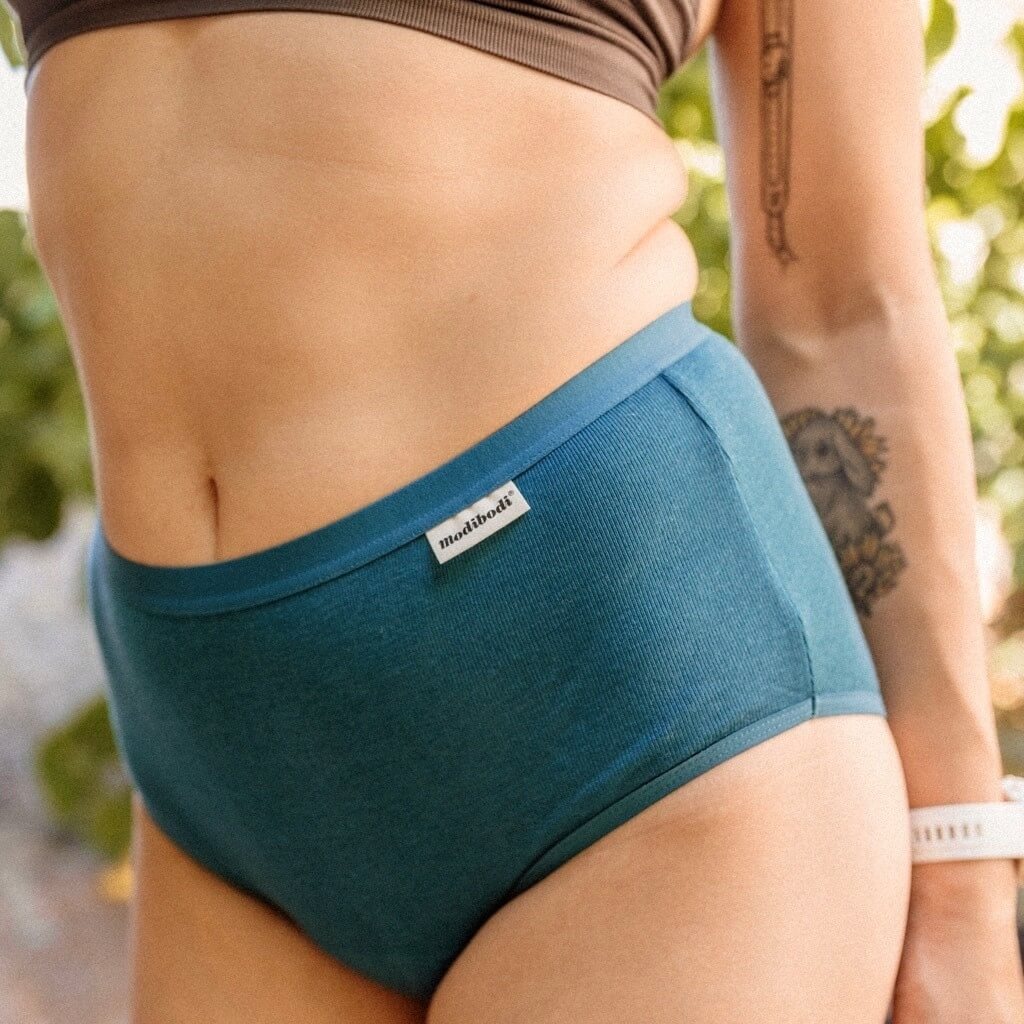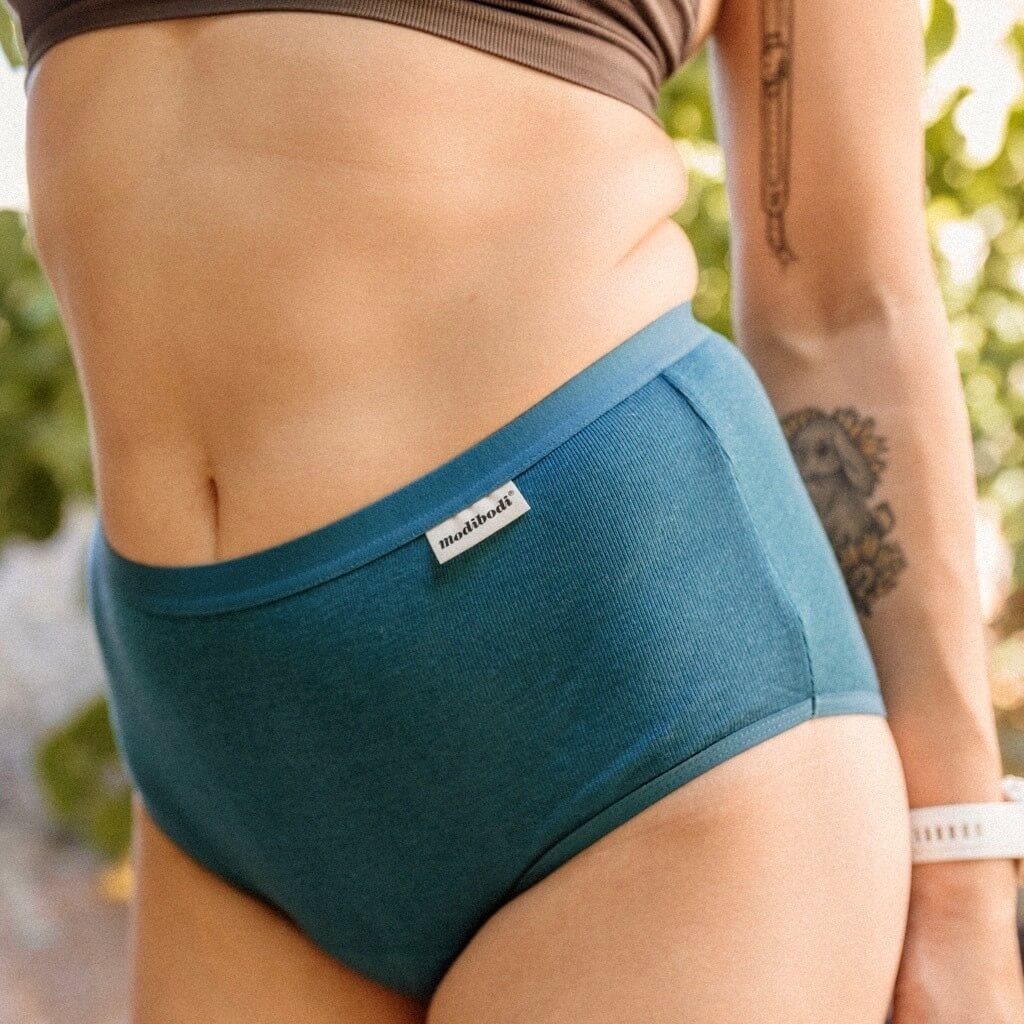 Materials: GOTS Certified Organic Cotton, Bamboo, Spandex, Merino wool, and Tencel
Styles: Briefs, Thongs, Bikinis, and Hipsters
Absorbency: Absorbs up to 10 Tampons
Size Range: 3XS–6XL
Price Range: $16-$30
Shipping: Ships in the USA, Australia, New Zealand and Europe
If you're looking for super absorbent period knickers that just feel like everyday undies, then you have to check out Modibodi. Claiming to be the original organic period panties label, it first came to the spotlight after pulling an ad that showed menstrual blood as an effort to combat period taboos. While the ad got banned, Mobibodi thrived for its period care product line consisting of PFAS-free and leak-proof underwear.
Modibodi is the first company to launch 100% biodegradable period and pee-proof undies and uses certified eco-friendly materials and ethical manufacturing. What sets its organic non toxic period underwear apart is they come in fun prints and vibrant colors that will definitely bring a pop of color during those uncomfortable days.
5. Revol Cares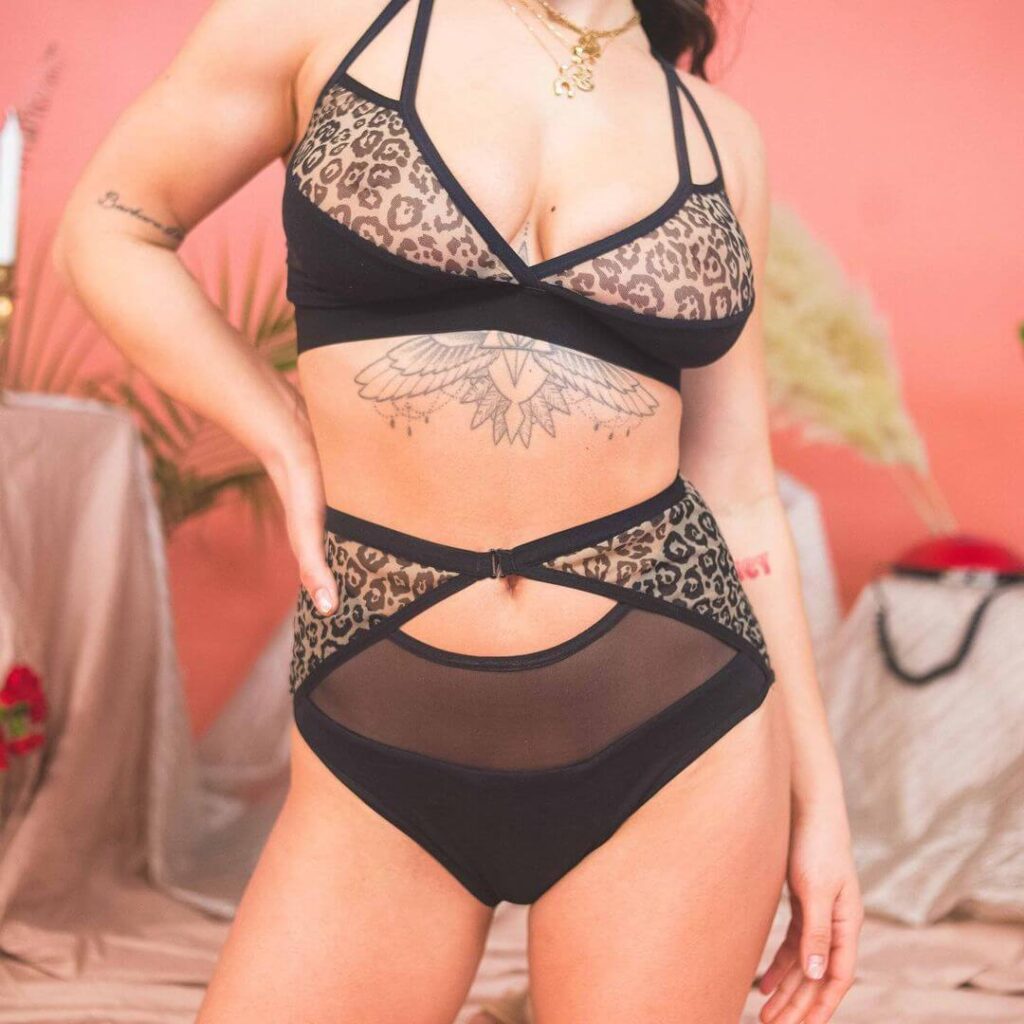 Materials: Certified Organic Cotton, Bamboo, and Spandex
Styles: Briefs, Boxer shorts, Bikinis, and Shorts
Absorbency: Absorbs up to 6 Tampons
Size Range: XS-7XL
Price Range: $35-$50
Shipping: Worldwide
For heavy bleeders, Revol Cares is a lifesaver. This non toxic period underwear brand was created as a space where women  can feel "Free to Bleed." Made with OEKO-TEX-certified fabrics, these products will cover all your period needs— from light and regular to super plus, and ultra. And you can wash these organic period panties for over 100 times— now, that's a lot!
Revol Cares heavy-duty and absorbent leak-proof undies are super comfortable and feel amazing on every body type, no matter your size. And we're talking breathable, four-way stretch fabric that seamlessly moves with your body while maintaining its original shape, even after 12 hours of being down there. Apart from this brand's phenomenal product, I appreciate its effort for going zero-waste, as Revol Cares lists its improperly tailored underwear in its Bruised Peach section, ensuring nothing gets discarded.
6. Saalt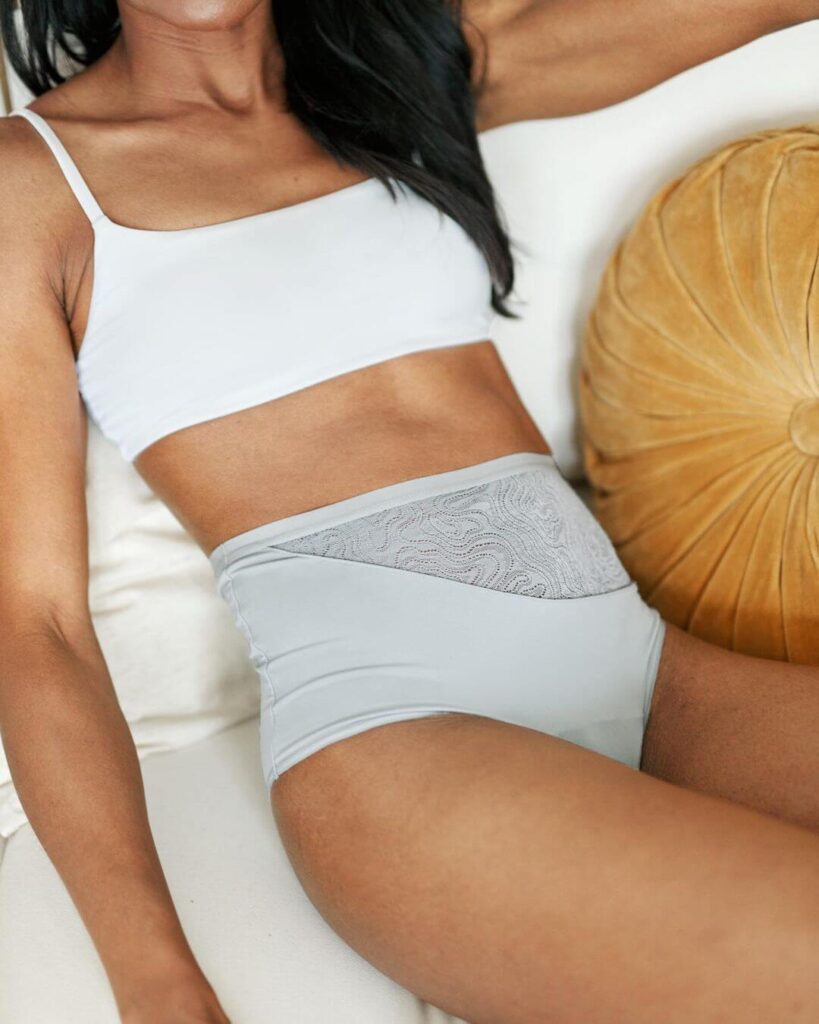 Materials: Certified Organic Cotton, TENCEL™ modal, and Recycled polyester
Styles: Briefs, Thongs, Bikinis, Boyshorts, and Hipsters
Absorbency: Absorbs up to 4 Tampons
Size Range: XS to 2XL
Price Range: $27–$45
Shipping: US, UK & Canada
Saalt strongly believes that reusable is the future. For that reason, it creates sustainable non toxic period underwear that will empower everyone to live their best lives during their monthlies. With the thinnest yet driest gusset technology, this brand's period underwear effectively absorbs your menstrual fluid and bladder leaks so that you can live life leak-free.
But what's with that name? Well, the title is inspired by 'salt,' something that is as natural and essential for our bodies as periods. In addition, the company is a B Corporation and donates 2% of its revenue to fund initiatives supporting menstrual health, education, and sustainability. So, Saalt's organic period panties are definitely a must-have in your zero-waste bathroom that will make you feel anything but salty!
7. Sustain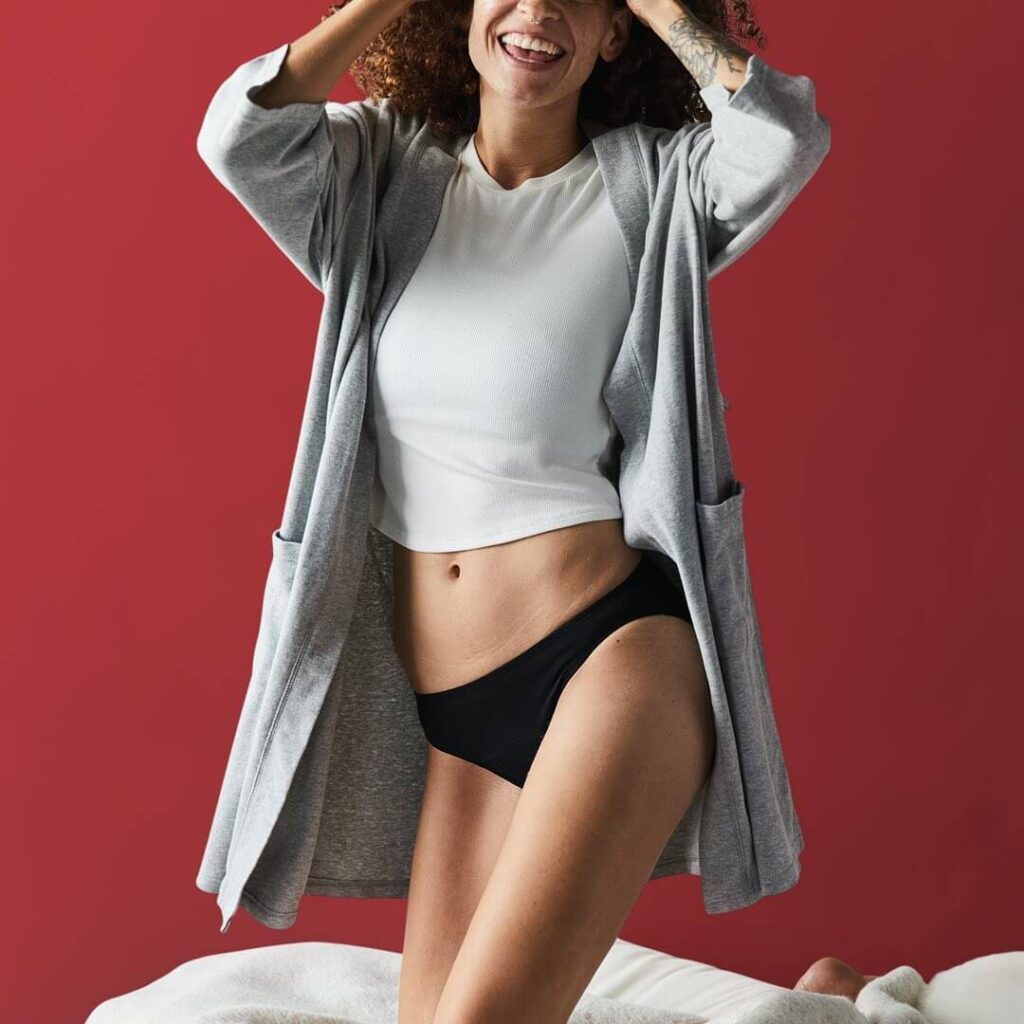 Materials: GOTS Certified Organic Cotton
Styles: Briefs, Thongs, and Bikinis
Absorbency: Absorbs up to 1 Tampon
Size Range: XS-XL
Price Range: $30-$40
Shipping: Across the US
Sustain is one of the best non toxic period underwear brands that was born with the intent to offer natural sexual and period wellness essentials to protect your body and that of the planet. Its collection consists of everything from eco-friendly menstrual cups and reusable pads to organic non toxic period underwear. With super thin gusset and fabrics like GOTS certified organic cotton, these underwears are incredibly breathable and lightweight.
Maintaining product transparency through and through, Sustain uses responsibly sourced certified green materials and ethical production in its supply chain. As a B Corporation, it is committed to supporting reproductive health and menstrual education initiatives among women and girls. Raising the bar to prove its organic underwear is PFAS-free, Sustain's products were even tested by the University of Notre Dame and came back clean of any toxins. 
8. TomboyX
Materials: OEKO-TEX Certified Cotton and Spandex
Styles: Boxer briefs, Trunks, Hipsters, and Bikinis
Absorbency: Absorbs between 4-8 Teaspoons
Size Range: 3XS-6XL
Price Range: $28–$38
Shipping: Worldwide
The name says it all, TomboyX is home to gender-neutral sustainable clothing, organic panties, and some of the best non-toxic period underwear you'll ever come across. The collection includes briefs, bikinis, trunks, and hipster styles that will surely please everyone looking for that added comfort during those difficult days. Plus, these non-toxic period panties are antibacterial and have odor-repellent properties. Now we're talking!
TomboyX is a proud B Corporation that maintains an extremely high sustainability standard for a positive environmental impact. 75% of their products have recognized environmental certifications such as OEKO-TEX and BCI, and they are headquartered in a Gold LEED-certified building. As a queer-founded company, it has partnered with the National Center for Transgender Equality to support inclusivity and transgender rights.
9. The Period Company
Materials: OEKO-TEX Certified Cotton and Spandex
Styles: Hipsters, Briefs, Thongs, Boyshorts, and Bikinis
Absorbency: Absorbs between 2-10 Tampons
Size Range: XS to 6XL
Price Range: $9-$25
Shipping: Worldwide
I love The Period Company because it delivers what it promises, and that is super-duper absorbent and comfortable period panties at affordable pricing. Whether it's heavy to medium flows or medium to light flows, you name it, and they've got it all for every phase of your monthly cycle. The brand strongly believes that periods are a superpower and that incredible things happen when we tune into them and just let it all flow. And we're all in for it!
To disrupt the highly unsustainable and conventional period care market, The Period Company designs organic non toxic period underwear that are made to last you long. These panties have an organic cotton body, polyester absorbent, and leakproof layers. Plus, each piece of underwear undergoes rigorous testing by a third-party company to ensure they are PFAS-free.
10. WUKA
Materials: GOTS Organic Cotton, Tencel and Recycled Nylon
Styles: Brief / Thong / Bikini etc.
Absorbency: Absorbs up to 4 Tampons
Size Range: 2XS–2XL
Price Range: $20-$35
Shipping: Worldwide
WUKA is UK's #1 independent female-led non toxic period underwear brand that caters to menstruating women, covering teens to adults. Passionate about smashing taboos with innovations in sustainability and menstrual health, the label is a cult-favorite and for all good reasons. Their period panties are ethically made from certified chemical-free materials and designed with an exceptionally absorbent feature to keep you cozy for up to 8 hours. And we're talking 4 layers of protection such as a moisture-wicking layer, an absorbent layer, a leak-proof layer, and an outer layer. Impressive!
WUKA stands for "Wake Up Kick Ass," and true to its name, the brand is striving to create a positive mindset around periods. It's admirable how it contributes to ending period poverty by donating to worthy charities and organizations working towards resolving menstrual health issues. So, all in all, WUKA definitely deserves your attention if you want to attain your periods the kick-ass way!
Why Use Non Toxic Period Underwear?
Non-toxic period underwear is an excellent choice for anyone looking for an eco-friendly, cost-effective, chemical-free, and convenient alternative to traditional disposable menstrual products. Plus, they are so comfortable with the coverage of any regular undie and are easy to clean up. And if you need more motivation to make the sustainable switch, then take these:
Protects Your Health: Traditional period products such as pads and tampons contain chemicals like PFAS, which can disrupt your hormonal balance and irritate your intimate area, potentially leading to long-term health complications. However, these risks can be eliminated through PFAS-free organic non-toxic period underwear that ensures you are not exposed to hazardous chemicals.
Better for the Environment: Disposable period products generate an enormous amount of waste that can take hundreds of years to decompose, resulting in a disastrous impact on the planet. On the other hand, eco-friendly period underwear can be reused multiple times, significantly reducing waste generation and plastic pollution.
Saves You Money: Single-use period products might feel affordable in the first go, but they are actually expensive if you add up the cost over time. Investing in high-quality, PFAS-free period underwear can save you money in the long run, as they are designed to last for years, eliminating the need for frequent menstrual care purchases.
Comfortable and Convenient: Non-toxic period underwear is designed to be both comfortable and convenient. They are available in a range of styles and absorbency levels to suit your specific needs. Plus, the soft, breathable and green materials used in their fabrication guarantee a snug feeling while you're 'Aunt Flo' is visiting.
Supports Ethical and Sustainable Manufacturing: Choosing to purchase organic and non-toxic period underwear supports ethical and sustainable manufacturing practices. Many brands that produce these products prioritize fair labor standards and environmentally responsible manufacturing, verifying that your purchase has a positive impact beyond your personal use.
Commonly Found Chemicals in Traditional Period Products and Their Harmful Effects
PFAS: PFAS or per- and polyfluoroalkyl substances are chemicals often used in the production of disposable menstrual products such as pads and tampons. Consisting of a large group of synthetics, PFAS was introduced to the industry somewhere in the 1940s. Since then, it has been widely used in consumer goods items because they make products waterproof. Also known as "forever chemicals," PFAS have been linked to hormonal disruption, immune system dysfunction, and increased risk of cancer.
Dioxins: These chemicals are a by-product of the bleaching process used in the production of conventional menstrual products. They are known to be highly toxic and have been connected to cancer and reproductive health problems.
Fragrances and Dyes: Fragrances and dyes are a regular part of single-use period products. But they can be irritating to sensitive areas of your body and may even cause allergic reactions. These chemicals are also harmful to the environment, massively contributing to water pollution.
Chlorine: Chlorine is often used in the production of traditional menstrual products, particularly to bleach materials like cotton and wood pulp. This, again, is a chemical that is harmful to both the environment and human health.
Final Thoughts…
Switching to non toxic period underwear is a powerful step towards achieving a healthier and more sustainable menstrual cycle. By choosing organic and eco-friendly materials, you can avoid exposing your privates to fatal chemicals while also reducing your environmental impact. A win-win for all! So embrace your flow in the most mindful way, because menstruating women deserve nothing but the best. I promise, once you experience the comforts and convenience of organic non toxic period underwear, there's no going back. Happy Periods!
FAQs
Which period underwear is non toxic?
Organic underwear from period care brands like Aisle, AWWA, The Period Company, Boody, Modibodi, WUKA, TomboyX, Saalt, Sustain and Revol Cares are some awesome non toxic period underwear options.
What are the non toxic period underwear?
Non-toxic period underwear are menstrual products that are made from safe and sustainable materials. They do not contain unsafe chemicals or synthetic fibers that can trigger your skin or cause health problems.
Does all period underwear have PFAS?
No, sustainable period underwear from eco-friendly brands does not contain PFAS. However, there are many commercialized labels offering cheap period underwear with dangerous chemicals as part of the composition.
What's wrong with Thinx?
Thinx faced controversy regarding the use of PFAS in its period underwear. Research has revealed that exposure to PFAS can cause various health risks. An investigation by Women's Voices for the Earth (WVE), an environmental advocacy group, found that Thinx's period underwear contained high levels of PFAS. The investigation also revealed that Thinx had previously claimed that its products were free of harmful chemicals, including PFAS. Even a lawsuit was filed against the period underwear brand.