Disclosure:
Our editors handpick top-rated brands, vetted through our strict ratings. Purchases via our links may earn us a commission.
Learn more
Happy or heartbroken, annoyed or feeling at peace— Chocolates are one such thing that sets every emotion alright! Known as a superfood, chocolates are packed with antioxidants that increase heart health, boost energy, and reduce stress. This perfect oh-so-heavenly treat improves mental health by releasing Serotonin— also known as the "Happiness Hormone!" While chocolates bring joy into everyone's lives, unfortunately, this industry remains to be one of the most exploited.
True! The chocolate industry is highly profitable. All thanks to the never-ending demand for this product. But it has also led to a neglected production system where most chocolate companies source their hybrid cocoa beans from underpaid farmers. Does that mean giving up on our favorite chocolaty goodies? No. It simply means opting for chocolates that come from ethical chocolate brands that use organic cocoa and operate in fair trade practices.
Apart from choosing fair trade chocolate companies, for a healthy lifestyle, always try to make better food choices by opting for cereals, glyphosate free honey, tea brands, pesticide free coffee, and glyphosate free oats. Wait, there are organic wine and organic beer to enjoy too!
Ethical Chocolate Brands
1. Alter Eco
2. Askinosie Chocolate
3. Beyond Good
4. Dapaah
5. Divine Chocolate
6. Dandelion Chocolate
7. Endangered Species Chocolate
8. Loving Earth
9. Taza Chocolate
10. TCHO Chocolate
What is Sustainable and Ethical Chocolate?
The first step to determine whether your chocolate was ethically produced is to check if it comes from a fair trade brand. Fair trade chocolates are made from cacao beans for which the farmers receive a fair and standardized rate, no matter the market price.
In the 1990s, most cacao farmers had no idea how much their crop was worth. As a result, they were often paid low prices. The increased need for fertilizers led to a shortage of labor which further led to increased child labor. Fair trade certifications were introduced to overcome these problems and safeguard the interest of cacao farmers. Farmers are also encouraged with higher wages if they produce organic cocoa.
If a brand claims to be fair trade, check to confirm if they are Fair Trade Certified. However, it is to be noted that despite being Fair Trade certified, a company might not be entirely ethical. Anyway, it's a positive sign, and something is better than nothing, right?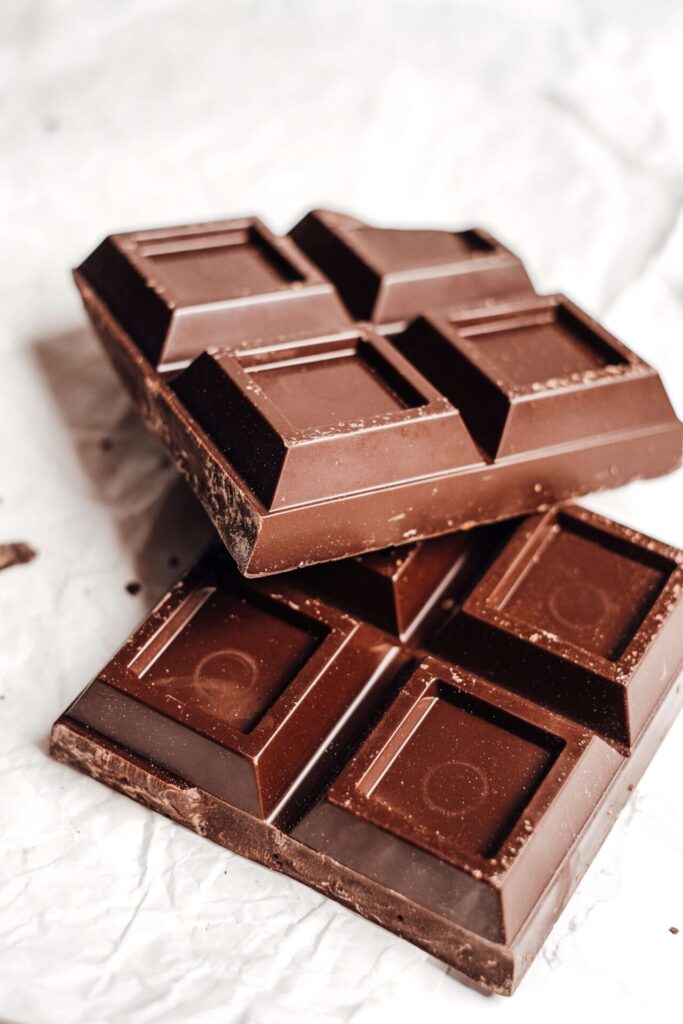 Terms to Check in Ethical Chocolate Brands
A fair share of ethical chocolate brands follow rightful practices in their end-to-end supply chain, but they still aren't Fair Trade Certified. The reason? Getting through these types of certifications is time-consuming and often unattainable for small chocolate businesses operating outside the US. So to determine if these brands are fair trade, check for transparency in their practices.
Look up the terms mentioned below on their site. If the brand maintains a transparent approach by using these fair trade related terms, then you're good to go for your next chocolate purchase from them.
1. No Palm Oil
The Roundtable Sustainability Palm Oil (RSPO) was founded in 2004 to clean up the palm oil sector after several environmental hazards. But unfortunately, most companies that rely on the RSPO logo, offering assurances of fair trade palm oil sourcing, have been engaged in major human rights abuses, including forced labor and child labor. So the best thing, as of now, is to avoid palm oil altogether.
2. Certifications for Cocoa
3. Bean-To-Bar
This means that the company sources raw cacao and transforms them into chocolate from scratch, literally from bean to a bar. These chocolates are usually handcrafted by small-batch chocolatiers instead of being mass-produced.
4. Direct Trade
This means that the company works directly with the farmers to produce their cacao. Through Direct Trade, ethical production is verified, and companies can keep a check on the cacao harvest to ensure top-quality beans. And the most important thing— brokers are not a part of this business model. Hence, farmers receive a fair price for their produce.
5. Single Origin / Single Estate
Single-origin simply means chocolates made from one variety of cacao grown in a specific region. It matters because these chocolates are alike in taste as they're made from cocoa that possesses certain characteristics of a particular area. Single estate refers to cocoa from a single farm in one region.
Top Picks for 10 Best Sustainable & Ethical Chocolate Brands
The International Labor Organization (ILO) estimates that millions of child laborers work in the cocoa industry. And laborers in the supply chain are forced to work for long hours with little or sometimes no pay. But ethical chocolate brands like Alter Eco, Askinosie Chocolate, Beyond Good, Dapaah, Divine Chocolate, Dandelion Chocolate, Endangered Species Chocolate, Loving Earth, Taza Chocolate, and TCHO Chocolate are here to bring change.
1. Alter Eco
Alter Eco is a certified B Corporation chocolate brand that you might have already seen in most departmental stores. Producing "The Cleanest Greenest Chocolate" in an eco-friendly way is their priority. Their truffles and chocolate bars are made with the goodness of good-fat-rich coconut oil, instead of trash like— preservatives, soy, or palm kernel oil. These little bars of decadent joy are full of nutrients that are good for you and the planet. And let's not forget their granola which will sort your breakfast in a jiffy.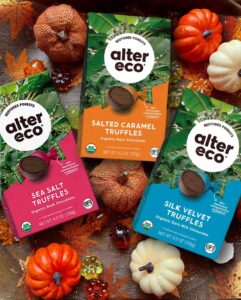 Certified as Fair Trade, Alter Eco strives to solve the issue of inequality in the cacao supply chain. Hence, they work towards helping cacao farming communities grow by paying fair wages along with helping them to transition into regenerative agriculture. Alter Eco creates small batches of chocolates to keep up with the high quality, and their products are 100% organic and non-GMO. In addition, the Carbon Neutral brand uses compostable packaging to offset its carbon emissions and has also established Alter Eco Foundation (agroforestry) to combat climate change.
2. Askinosie Chocolate
Askinosie Chocolate is a bean-to-bar chocolate company that sources its cacao beans through a Direct Trade model. The single-origin chocolate brand has developed long-standing partnerships with cacao farming communities in Ecuador, Tanzania, the Amazon, and the Philippines. As a result, these farming co-ops adhere to Askinosie's specifications to produce the best organic cacao beans. Since the brand works personally with the co-ops, their chocolate is 100% traceable and ensures fair-wage employment along with an ethical supply chain.
What's best? You can check Askinosie's Transparency Report, published to verify concerns regarding their sustainability and fair trade claims. The US-based company produces their artisan-made chocolates in small batches in a micro-factory located in Springfield, Missouri. And they even offer tours to enlighten you about the chocolate-making process. So cool! At Askinosie, options are unlimited with their flavorful chocolate bars, chocolate snacks, and sipping chocolates.
3. Beyond Good
Beyond Good creates single-origin chocolate and vanilla from Madagascar and Uganda. Their chocolates and vanilla products have all the lush tastes that will leave you craving for more. They directly work with 93 cacao farmers to source premium cocoa and pay fair wages by employing the local Malagasy people at their chocolate factories. Africa is the world's largest contributor of cocoa, yet farmers out there can barely make a living— all thanks to mediators who suck out a significant chunk of money. But Beyond Good is here to change that!
The company strives to empower Madagascan and Ugandan cacao farmers by providing them with skills training, higher wages and producing chocolates at the origin by cutting out the mediators. So far, Beyond Good has successfully created meaningful livelihoods for more than 100 people— from farming and chocolate making to production and packaging; this ethical chocolate brand operates on a fully traceable supply chain.
4. Dapaah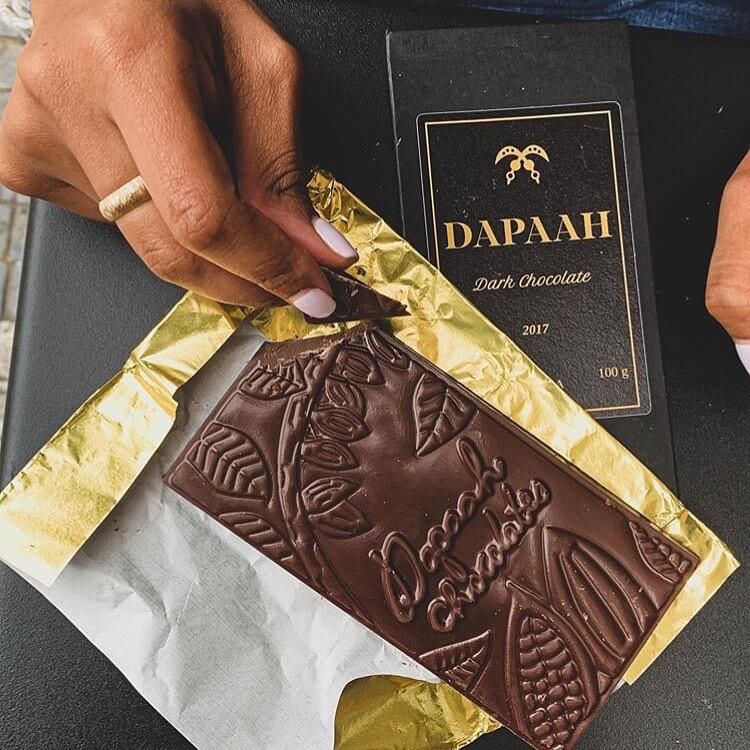 Dapaah is a chocolate wonderland for vegans. Currently operated by the Dapaah siblings, this company comes from a family which has been in Ghana's cacao production for several generations. Ghana is recognized globally for its supreme quality cocoa, yet it doesn't have a single chocolate brand acknowledged worldwide. But Dapaah is here to change that! The locally-owned brand directly works in the organic cocoa trade, continuing a legacy initiated seven decades ago.
Although their chocolates are dairy-free, each bar is handcrafted to perfection, giving a milky-rich and melt-in-the-mouth taste that comes in a pool of exotic flavors. Dapaah's bean-to-bar chocolate bars are produced in micro batches using organic cocoa from local farming communities, who receive sizable wages. Dapaah also aims to contribute to a green revolution by creating new job opportunities so that more and more youth choose industrial cocoa farming as a livelihood.
5. Divine Chocolate
Divine Chocolate is the first farmer-owned fair trade chocolate company that started with the goal of ending farmers' exploitation in the cocoa industry. Certified as a B Corp, Divine Chocolate creates bean-to-bar products using cacao beans sourced from cacao growers in Ghana and São Tomé. This approach makes the traceability of the raw materials more transparent, ensuring farmers receive better compensation for their harvest. This chocolate brand hits differently because not only do members of this co-op share in the profits but they are also committed to prioritizing gender equality.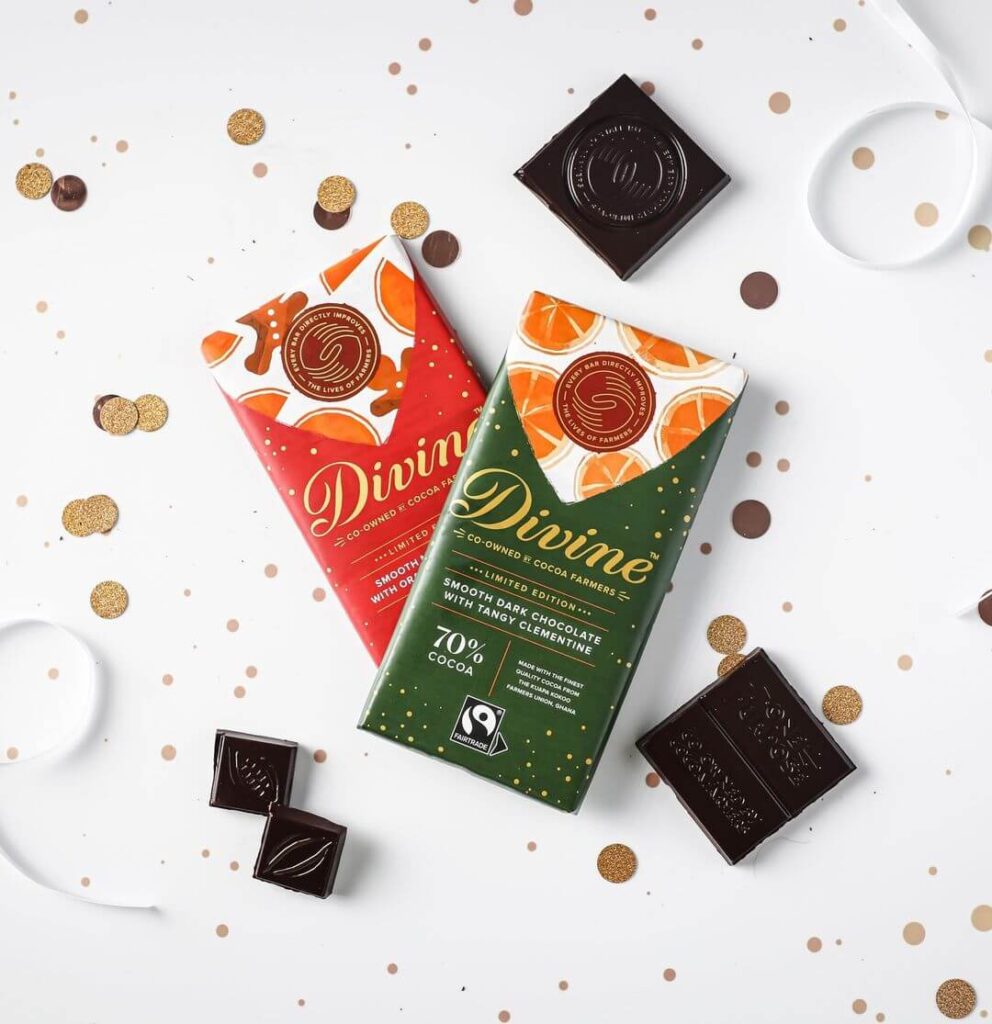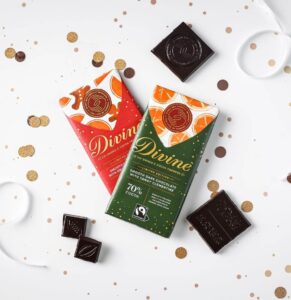 That's right! Out of 100,000 farmers working for Divine Chocolate, more than 1/3 are women cacao growers. These women are supported with several mentorship programs to grow their skills and confidence and thrive in the cocoa business, creating better lives for themselves and their families. You are offered plenty of options at Divine Chocolate— from small chocolate bars to sharing bars in dark, brown, and white chocolate to baking and drinking products. And they're all palm oil free!
6. Dandelion Chocolate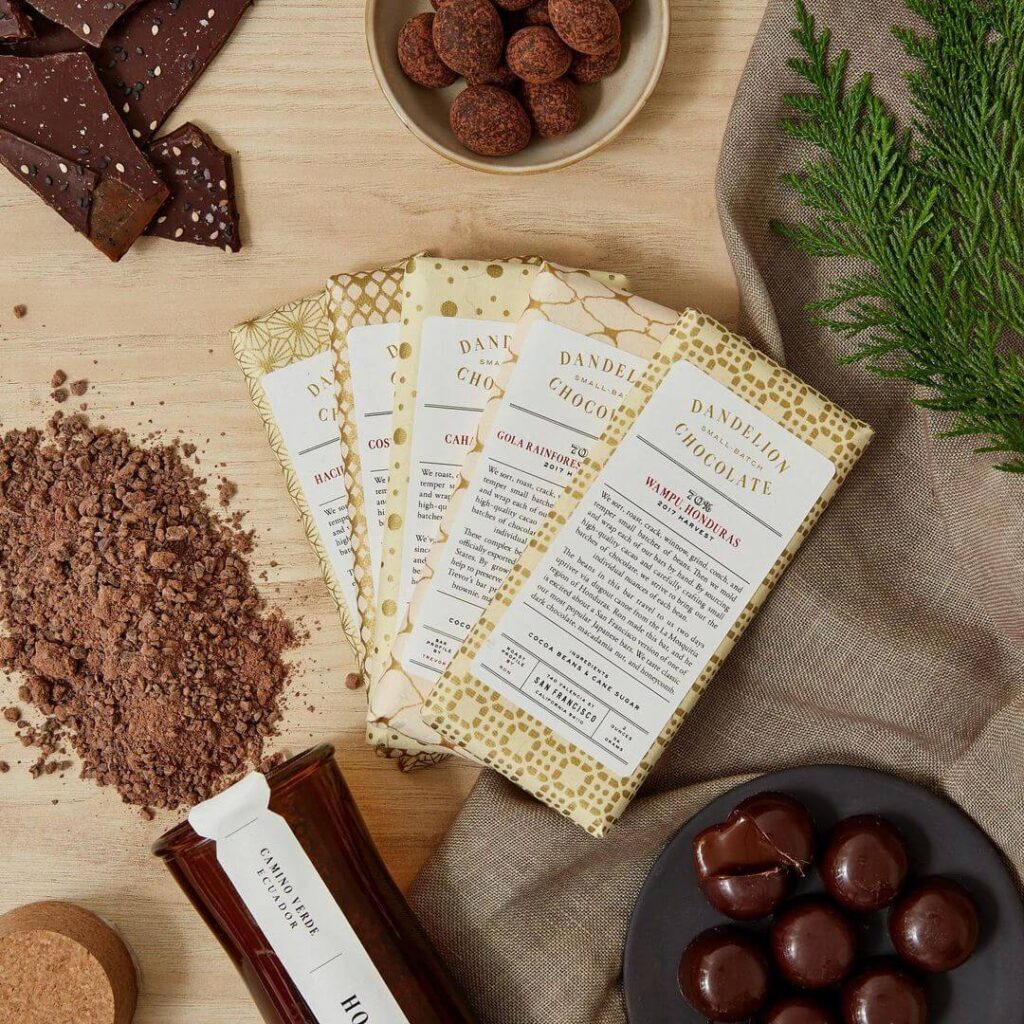 Dandelion Chocolate is another popular bean-to-bar chocolate maker from San Francisco. Operating for over 10 years, this brand offers single-origin small-batch chocolate bars, hot cocoa mixes, assorted chocolate boxes, baking chocolate essentials, and everything chocolaty in between. Their chocolates are free of additives as Dandelion aims to highlight the distinctive flavor notes in different cocoa beans. Their single-origin chocolates are handcrafted in small batches using fair trade cacao beans from trusted producers who share the brand's values of transparency and accountability.
Plus, if you're in the city, they would gladly give you a tour of their factory to let you observe how cacao beans are roasted and turned into melt-in-the-mouth chocolates. Dandelion has long-term partnerships with cacao farmers from Tanzania, Madagascar, India, Ecuador, etc., who receive fair pay for producing world-class cacao.
7. Endangered Species Chocolate
Launched in 1993, Endangered Species Chocolate has gained quite a reputation for their conservation efforts to protect the diverse wildlife on the planet. The brand creates authentic chocolates without artificial additives using responsibly sourced shade-grown cacao beans from fair trade farmers in West Africa. Their chocolate bars, bites, and chips range in exotic flavors that make you crave more. And their dark chocolate collection is to die for!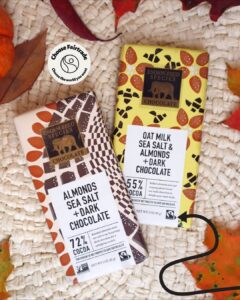 In addition, Endangered Species Chocolate donates 10% of their annual profits to impactful organizations that work towards endangered species conservation, habitat preservation, and humanitarian efforts. Since 2016, they have donated over $2.6 million to Give Back Partners like Wolf Conservation Center and others focusing on wildlife conservation. So, choosing their chocolate honors farmers, supports sustainable farming and contributes to protecting Mother Earth.
8. Loving Earth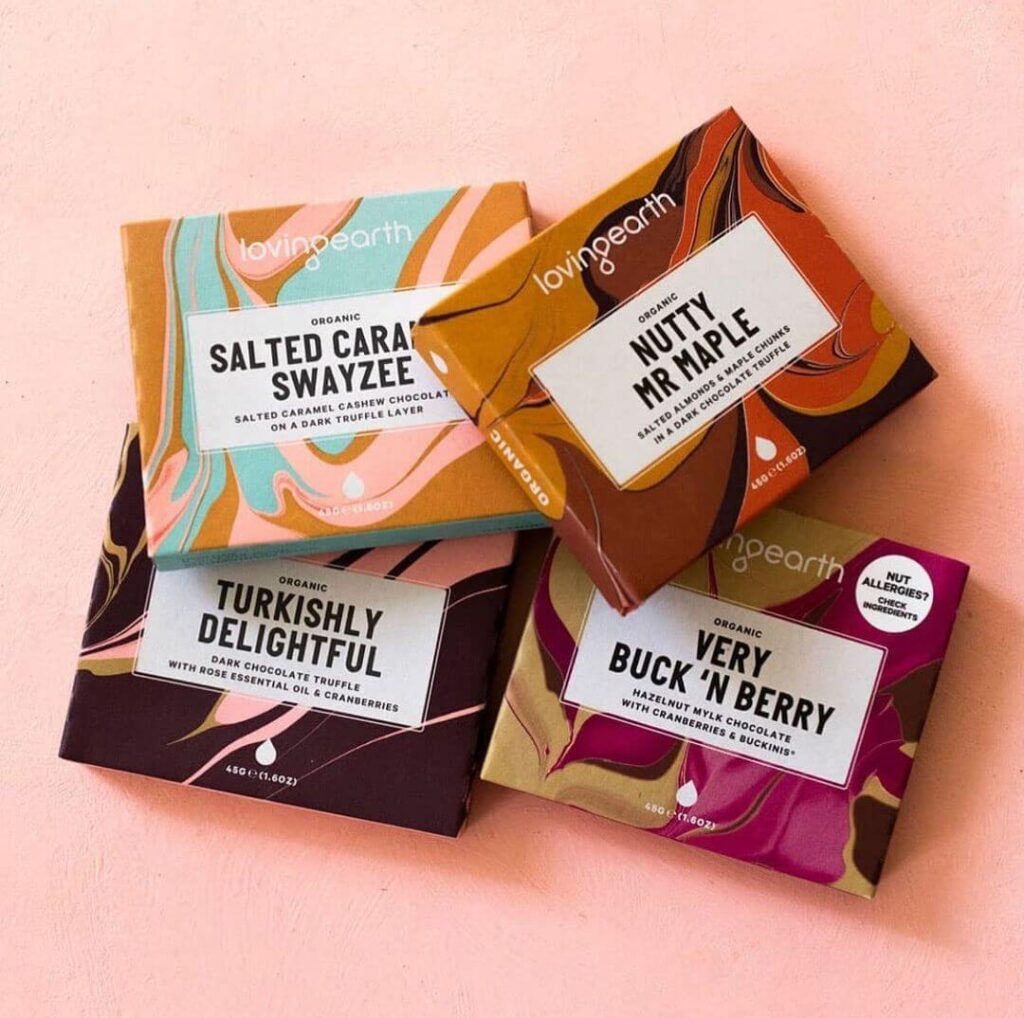 Loving Earth is a unique fair trade chocolate company that creates ACO Certified organic chocolates using raw cacao. Yes, you read that right! Their chocolates are made without roasting the cacao beans, keeping the natural wealth of phytonutrients fully intact. Hence, their raw chocolates are extra-healthy because they contain about twice the amount of antioxidants compared to regular processed chocolates. Loving Earth is a bean-to-bar chocolate brand that is 100% plant-based and gluten-free and does not use cane sugar, dairy, or other preservatives in its unprocessed dark chocolate bars.
The Australian-based company works with the indigenous Ashaninka community of the Peruvian Amazon, who cultivate their cacao at the source of the Amazon River— where cacao originated. Loving Earth chocolates are made from premium Amazonico Criollo Cacao beans, which have a certain depth of flavor that enhances the taste of their chocolate bars, drinking chocolate, and candies. Apart from organic raw chocolates, they also offer pantry staples like cereals, coconut sugar, coconut oil, cacao butter, chia seeds, etc.
9. Taza Chocolate
Taza Chocolate offers you the experience of stone ground vegan dark chocolates. With bold textures and tastes, the stone ground process brings out the complex flavors of high-quality cacao, which are non-GMO, organic, and gluten-free. From farm to factory, Taza's products are completely traceable. They responsibly source their cocoa through Direct Trade from cacao farmers in Haiti, who receive a premium above the Fair Trade price for their produce.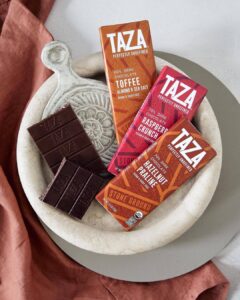 A leader in ethical cacao sourcing, Taza was the first U.S. chocolate company to establish a Direct Trade Cacao Certification program. With a large variety of chocolaty treats, including chocolate bars, snacks, and discs in seasonal flavors, Taza also has a wide collection of delectable recipes for you to try out. Plus, they've also introduced a Virtual Chocolate Tasting Kit, which is a great way to connect with faraway family and friends over chocolates.
10. TCHO Chocolate
Fair trade chocolates from TCHO are flavorful and luscious, made from high-quality organic cacao beans sourced from Madagascar, Ghana, Ecuador, and many other cacao regions. Certified as a B Corp, TCHO is committed to transparency in its supply chain. In fact, they have created a unique source program that partners with cacao producers and research institutes globally to make the best cacao beans. In addition, the brand directly works with cacao farmers, providing them fair wage employment along with additional training, better infrastructure, etc., to prosper within the cacao industry.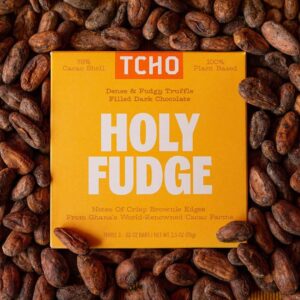 Plus, you can always book a tour at TCHO's Berkeley factory to experience the cacao-to-chocolate journey, where about 40,000 chocolate bars are produced in 48 hours. So far, TCHO has received over 30 awards for their exceptional tasting range of chocolates that come in single bars and bundles as well. Also, remember to check out their baking chocolate essentials and gift boxes.
Conclusion
Every industry can thrive with fair trade practices because the planet and its resources are for the benefit of every individual. These ethical chocolate brands are surely going the extra mile to support the sustainable livelihoods of cacao farmers across the world. And as conscious consumers, it is our duty to encourage such brands so that more and more people can earn a dignified livelihood by engaging with the chocolate industry. With this list, I hope your fair trade chocolate cravings just got sorted. Happy Chocolaty Snacking!