Disclosure:
Our editors handpick top-rated brands, vetted through our strict ratings. Purchases via our links may earn us a commission.
Learn more
Great times with friends and family = Cheers with Beers! Ahhh! A Match made in Heaven! And things just get better when we're sipping on naturally-made premium-quality beers. With that being said— Welcome to the world of organic beer brands that champion the finest ingredients, sustainable practices, and exceptional craftsmanship to create brews like no other.
Come along as we embark on a delightful journey through the realm of pesticide free beer brands, seeking out the very best that nature has to offer. From the grain to the glass, we'll explore a curated selection of breweries that have embraced the organic movement, delivering unparalleled flavor, quality, and a deep commitment to environmental stewardship. So, grab your favorite pint glass and let's raise a toast to the top organic beer brands that are revolutionizing the way we enjoy our beloved brews.
Best Organic Beer Brands
1. Peak Organic Brewing Co.
2. Samuel Smith's Brewery
3. Stroud Brewery
4. St. Peter's Brewery
5. Black Isle Brewing Co.
6. Eel River Brewing Co.
7. Lakefront Brewery
8. Pinkus-Muller Brewery
9. Green's Gluten-Free Beer
10. Pure Project
What Makes a Beer Organic
Organic beer is made using ingredients that have been produced and processed according to specific green standards. The exact requirements and certification processes can vary between countries and certification bodies, but here are some general principles that make a beer organic:
All-natural ingredients: Organic beers are brewed using toxin-free natural grains, such as organic barley, wheat, hops, and yeast. These raw materials are grown without the use of synthetic pesticides, fertilizers, or genetically modified organisms (GMOs).
Sustainable farming practices: The ingredients used in organic beer are cultivated using eco-friendly agricultural techniques. These practices focus on maintaining soil fertility, promoting biodiversity, and minimizing environmental impact. Organic farmers use natural methods to control pests, enhance soil health, and manage weeds.
Certification: Organic beer typically undergoes a certification process to ensure it is in compliance with specified standards. Different countries have their own organic certification bodies, such as the United States Department of Agriculture (USDA) Organic seal or the European Union Organic logo. These certifications verify that the beer meets the established organic criteria.
Brewing process: The brewing process itself does not necessarily need to be different for organic beer. However, some organic breweries may choose to use additional processes to avoid certain additives, such as chemical preservatives or artificial flavors, to maintain the organic integrity of the final product.
How We Chose the Best Organic Beer Brands for You
Sourcing of Organic Ingredients– We have hand-picked breweries that are dedicated to using organic grains like barley, wheat, hops, spices, and other crops, sourced from certified organic farms. Because real ingredients help in keeping the real aroma and flavors of brews intact.
Brewing Methods– We cheer for breweries that employ organic brewing practices throughout the entire beer production, from mashing and boiling to fermentation and packaging.
Flavor Profiles and Uniqueness– Of course, taste comes first! That's why, we have evaluated the diverse flavor profiles offered by the best organic beer brands, ranging from crisp and refreshing to bold and complex, and highlighting notable characteristics.
Innovation and creativity: Recognizing breweries that push the boundaries of organic brewing by experimenting with unique ingredients, barrel aging, or unconventional brewing techniques to create distinctive flavors.
Sustainable practices: Beer labels that implement sustainable water management practices, such as water recycling, rainwater harvesting, or eco-friendly wastewater treatment systems, deserve all the appreciation. To top it all, we highlight breweries that prioritize energy conservation and utilize renewable energy sources like solar or wind power to minimize their environmental footprint.
Environmental Initiatives– Ultimately, the planet matters! Breweries that made it to this list actively collaborate with organic farmers, supporting local agriculture and promoting sustainable farming practices.
Our Favorite List of 10 Best Organic Glyphosate Free Beer Brands
Beer is one of the most commercialized beverages that is found to be extensively contaminated with harsh pesticides and chemicals. So finding a good assortment of clean organic beers does become a task. But we've got your back! Our favourite pesticide free beer brands like Peak Organic Brewing Co., Samuel Smith's Brewery, Stroud Brewery, St. Peter's Brewery, Black Isle Brewing Co., Eel River Brewing Co., Lakefront Brewery, Pinkus-Muller Brewery, and Pure Project are preparing the ideal brews without harming the planet. Let's check them out!
1. Peak Organic Brewing Co.
Peak Organic Brewing Company is a well-known craft brewery based in Portland, Maine, that has gained recognition for its commitment to producing high-quality organic beers. With the mission to brew the best beer, the company has an unwavering dedication to using only the finest organic ingredients. It directly sources its malt, hops, and other raw materials from organic farms, ensuring that the beers are free from synthetic fertilizers, pesticides, and GMOs.
By adhering to these stringent standards, Peak Organic aims to support sustainable agricultural practices and promote a healthier brewing industry. Our recommendations? Fresh Cut, which is a highly refreshing dry-hopped pilsner with aromas of citrus, grass and spice. You can also try the Evergreen IPA, a distinctly crisp-tasting brew flavored with juniper berries and organic spruce. And watch out for their seasonal and limited-edition beers, showcasing their creativity and innovation.
What We Like
Peak Organic Brewing Co. has a wide range of beer flavors, catering to everyone's individual tastes. It is Non-GMO verified and has partnered with local organic farmers to promote sustainable toxin-free agriculture.
What We Don't Like
No gluten-free beer options.
2. Samuel Smith's Brewery
The British label Samuel Smith's Brewery is a historic and renowned brewery with a rich heritage dating back over 250 years. Founded in 1758, it is one of the oldest and most traditional breweries in the United Kingdom, with practices that are deeply rooted in tradition and craftsmanship. The company is committed to using age-old artisan brewing methods, including open fermentation in stone Yorkshire squares. This unique fermentation process, combined with the use of natural, local ingredients, contributes to the exclusive flavors and character of their beers.
Samuel Smith is focused on preserving and celebrating the heritage of British brewing. Its lineup features iconic beers such as the Organic Pale Ale, a well-balanced and flavorful ale, and Samuel Smith's Oatmeal Stout, a rich and velvety dark beer with notes of chocolate and roasted malt. They also produce fruit beers made with real fruit extracts, such as their popular Organic Strawberry Fruit Beer. The brand is Vegan Certified and has earned certifications such as the British Retail Consortium (BRC) Global Standard for Food Safety.
What We Like
Samuel Smith's Brewery has received various certifications and accolades over the years. It extensive range of flavors, including classic ales, stouts, lagers, and fruit beers, feels lush on the palate and goes well with different food pairings.
What We Don't Like
There's nothing not to like about beers from this Yorkshire's oldest brewery. From crisp beers to an inviting pub for beer enthusiasts, they're an apt choice ;-)
3. Stroud Brewery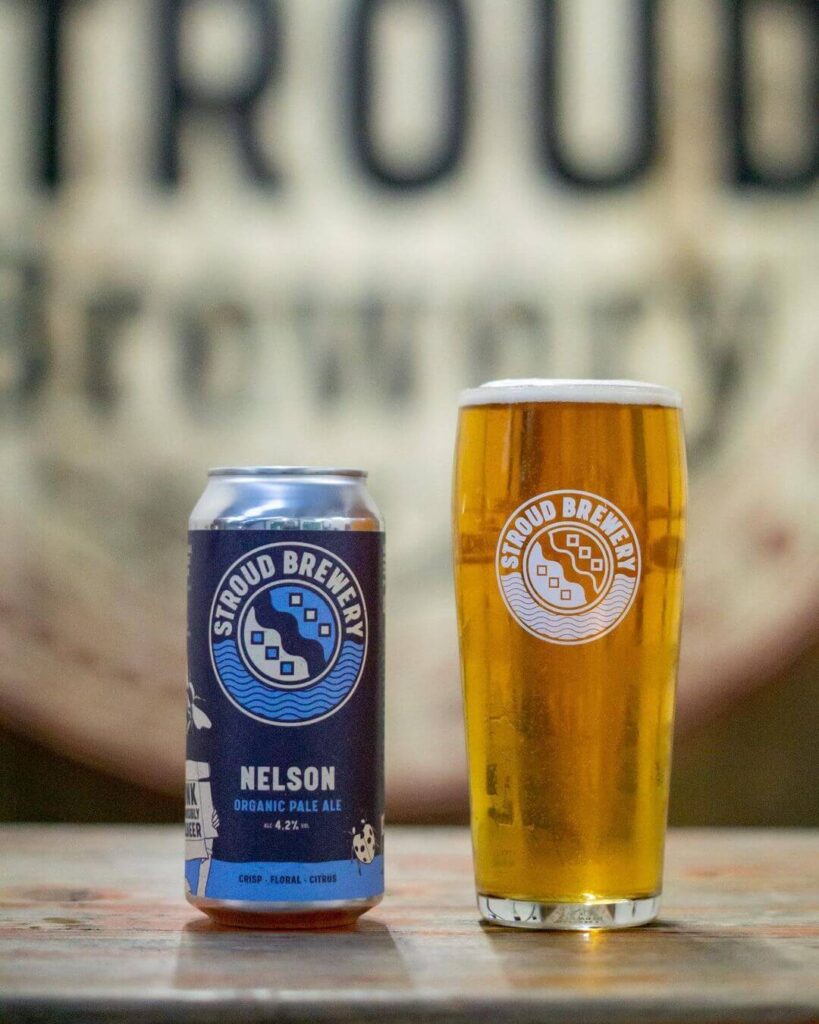 Stroud Brewery is a prominent figure in the craft beer scene, focusing on creating innovative and environmentally conscious brews since 2006. The brand describes its beers as "CLASSIC AND 'THEN SOME'", as its brews have a characteristic balance of a signature malty style. As a firm supporter of sustainability, it sources its organic ingredients, including malted barley and hops, from local and ethical suppliers in England. In addition, its brewing process incorporates energy-efficient techniques, such as solar panels for electricity generation and a heat recovery system.
Stroud Brewery is a Certified B Corporation that actively engages in community projects and supports local charities. The beer flavors it offers are diverse, reflecting the passion for quality and creativity. Some notable offerings include the Alederflower Organic Ale, infused with elderflower for a refreshing floral twist; its award-winning beer Budding, a characterful pale ale; and the Big Cat Organic Stout, a robust and flavorful dark beer with hints of chocolate and coffee.
What We Like
Stroud Brewery makes great-tasting beers without exploiting the planet of its resources. The carefully-crafted beers have a sharp taste that lingers on your taste buds. It is certified organic by the Soil Association, which guarantees the implementation of eco-friendly farming initiatives.
What We Don't Like
Stroud Brewery's taprooms are pretty busy, so you might have to wait for long hours to enjoy your beer. While their brews are excellent, some of their taproom food items are just average.
4. St. Peter's Brewery
St. Peter's Brewery is a historic and respected brewery known for its adherence to traditional brewing practices and distinctive bottle designs. The company is devoted to stand-by authentic brewing practices, using time-honored methods to create their beers. It utilizes a combination of classic techniques, including open fermentation in traditional wooden vessels and 100% natural ingredients. This approach, coupled with the label's flawless product accuracy, results in beers that possess a depth of flavor and a rich sensory experience.
While St. Peter's Brewery has a reputation for exceptional beers, it's packaging just adds to the charm. The brand uses oval-shaped bottles, which are reminiscent of old-fashioned medicine bottles, giving them a distinctive and recognizable appearance. If you're a traditional beer enthusiast, then do try their classic British ales such as Bitter, Best Bitter, and Golden Ale, which have their own unique character and profile. And for those seeking more experimental brews, their fruit-infused Ruby Red Ale and the Grapefruit IPA will be perfect.
What We Like
St. Peter's Brewery's beer flavors encompass classic British ales as well as innovative and specialty brews, catering to a diverse audience. So whatever your choice is, they have something for you. It has garnered several certifications and accolades, including accreditation by the Vegan Society and Soil Association Organic. Plus, the monthly beer subscription is the cherry on the cake.
What We Don't Like
The brewery doesn't have gluten-free options.
5. Black Isle Brewing Co.
Black Isle Brewing Company is a renowned organic craft brewery that has been at the forefront of sustainable brewing practices since 1998. Located in Munlochy, Scotland, this label produces world-class beers using naturally grown barley and hops. They closely work with organic farmers and growers who share their values for the environment, ensuring that every ingredient is free from pesticides and synthetic chemicals. As a B Corporation, the company incorporates renewable energy sources into its operations, making it one of the UK's most sustainable breweries. These practices reflect its ethos of environmental stewardship and contribute to the unique character of its beers.
The flavors offered by Black Isle Brewing Company cover classic British ales, IPAs, stouts, and seasonal releases, each carefully crafted to deliver distinct and memorable taste experiences. Some notable brews that will take your fun times to the next level include the Blonde, a refreshing and crisp golden ale, and the Porter, a dark and robust beer with notes of chocolate and coffee.
What We Like
Love the fact that Black Isle Brewing Company experiments with barrel-aged and sour beers, displaying their versatility and innovation in brewing. While some of their brews stand at 12% ABV, they're still so smooth and easy to drink.Plus, the company strongly feels about its environmental and social responsibility and is tied up with multiple worthy initiatives.
What We Don't Like
The brewery's slick and crisp beers are one-of-a-kind. Once you try them, there's no going back ;-)
6. Eel River Brewing Co.
Source: eelriverbrewing/ Instagram
Eel River Brewing Company is America's first certified organic brewery, pioneering craft beers through organic brewing practices and sustainable initiatives. With an unfailing commitment to quality, it uses 100% organic ingredients and good-old environmentally conscious methods to create brews that are Edgy, Different, Daring, and Spirited. The flavors offered by the label cover a broad spectrum of beer styles, ranging from traditional to innovative. They produce classic ales, lagers, stouts, and seasonal releases, catering to various preferences and tastes.
Eel River Brewing Company holds various certifications to validate its organic and sustainable claims. They are certified organic by the USDA and have received the Non-GMO Project Verified certification. These certifications provide assurance to consumers about the authenticity and integrity of their offerings. Some of their delish brews include the Organic Amber Ale, a balanced and flavorful ale with caramel and toffee notes, and the iconic Emerald Triangle IPA, a bold and West Coast-side beer.
What We Like
Eel River Brewing Co. is one of the trusted non-gmo beer brands offering the cleanest organic beers. Their barrel-aged and specialty beers are literally pushing the boundaries of flavor and creativity.
What We Don't Like
Many beer options form the online shop are sold out most of the times. It is easier to get in touch with their distributors to get your set of cans.
7. Lakefront Brewery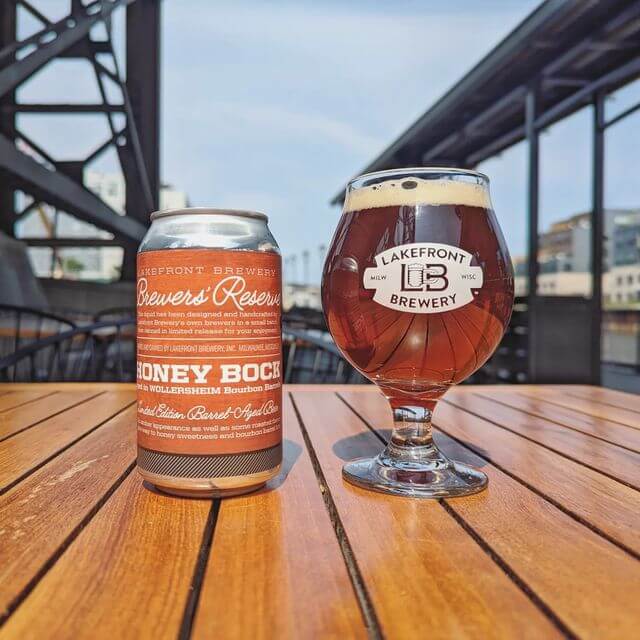 Lakefront Brewery is a revered craft brewery in the heart of Milwaukee, Wisconsin, known for its commitment to quality, innovation, and community engagement. Its diverse range of flavors, use of local ingredients, and involvement in sustainability initiatives perfectly reflect its dedication to the craft beer industry. The brand combines traditional brewing techniques with modern advancements to curate unique flavors. Plus, with a focus on small-batch brewing, it allows for meticulous attention to detail and experimentation with new recipes and ingredients.
Certified as a B Corporation, Lakefront Brewery takes pride in using high-quality malted barley, hops, and other flavorings to produce its beer variants. If you're new to this label, then you've got to try their flagship Riverwest Stein Amber Lager, a smooth and malty beer with a crisp finish, and of course, their award-winning Eastside Dark Lager, a rich and robust beer with notes of chocolate and roasted malt. It also happens to be one of the best gluten free beer brands, with the La Gosa Rita brew as the ultimate deliciousness for people with a gluten sensitivity.
What We Like
Lakefront Brewery takes the beer business quite seriously, because most of its brews are multiple award-winners for their strong and stunning flavors. You can also Dine-In in their Beer Hall for an in-house experience with your friends and family.
What We Don't Like
All of their brews are warm, roasty and indulgent. You can literally get addicted ;-)
8. Pinkus-Muller Brewery
Beer discussions are never complete without the mention of a classic German brewery. So here's presenting, Pinkus-Muller Brewery— one of the oldest organic beer brands, tracing its roots back to 1816. Its brewing practices revolve around traditional and sustainable methods. The company strictly observes the German Purity Law (Reinheitsgebot), which stipulates that beer should be brewed using only water, malted barley, hops, and yeast. This adherence to the Reinheitsgebot concept ensures that their beers are crafted with premium, clean ingredients and traditional brewing techniques, resulting in authentic and flavorful brews.
Pinkus-Muller Brewery is certified organic by USDA-accredited. It is home to classic German lagers and ales, such as Pilsner, Hefeweizen, and Alt, each with its own quaint features. Their flagship beer, Pinkus Original, is a delicate and smooth organic Pilsner with a crisp and refreshing taste. They also offer specialty beers, including the Münster Alt, a malty and slightly hoppy amber ale, and the Organic Ur-Pils, a full-bodied and flavorful Pilsner.
What We Like
For those of you who relish German brews, Pinkus-Muller Brewery is going to be your true love.
What We Don't Like
As a veteran brewery, Pinkus-Muller surely knows everything when it comes to curating top-notch German beers, so there's barely anything you wouldn't like about them ;-)
9. Green's Gluten Free Beer
Love beer but have gluten sensitivity? Then Green's Gluten Free Beer has got your happy times sorted! As a renowned beer brand, it specializes in producing gluten-free brews for individuals with gluten sensitivities or celiac disease. With a focus on quality and taste, Green's offers a range of 5 barley and wheat-free beers to beer enthusiasts looking for alternative options. Wait, but how do they do that? Well, they use alternative grains, such as millet, buckwheat, rice, and sorghum, as the base for their beers, which are naturally gluten-free. Plus, the brewing process is carefully controlled to prevent cross-contamination.
Green's Gluten-Free Beer's product line covers everything from crisp, light lagers to rich, dark ales. Some of their "must-try" brews include the Endeavour Dubbel Ale, a rich and malty beer with notes of caramel and dark fruit, and the Discovery Amber Ale, a well-balanced beer with a blend of toasty malt and hop bitterness. Green's has been honoured by the World Beer Cup for its Dry-Hopped Lager, which has a light malt taste with a hoppy aftertaste. Definitely something exciting for gluten-free beer enthusiasts!
What We Like
Very few breweries focus on catering to the gluten-free public, and those who do, just offer 1-2 brews limiting a consumer's choice. So. it's amazing to see that Green's solely offers a healthy collection of gluten-free alternatives, ensuring nobody misses out on the fun.
What We Don't Like
Green's beers are specifically crafted for people looking for gluten-free brews, so everyone might not like the flavors or robustness.
10. Pure Project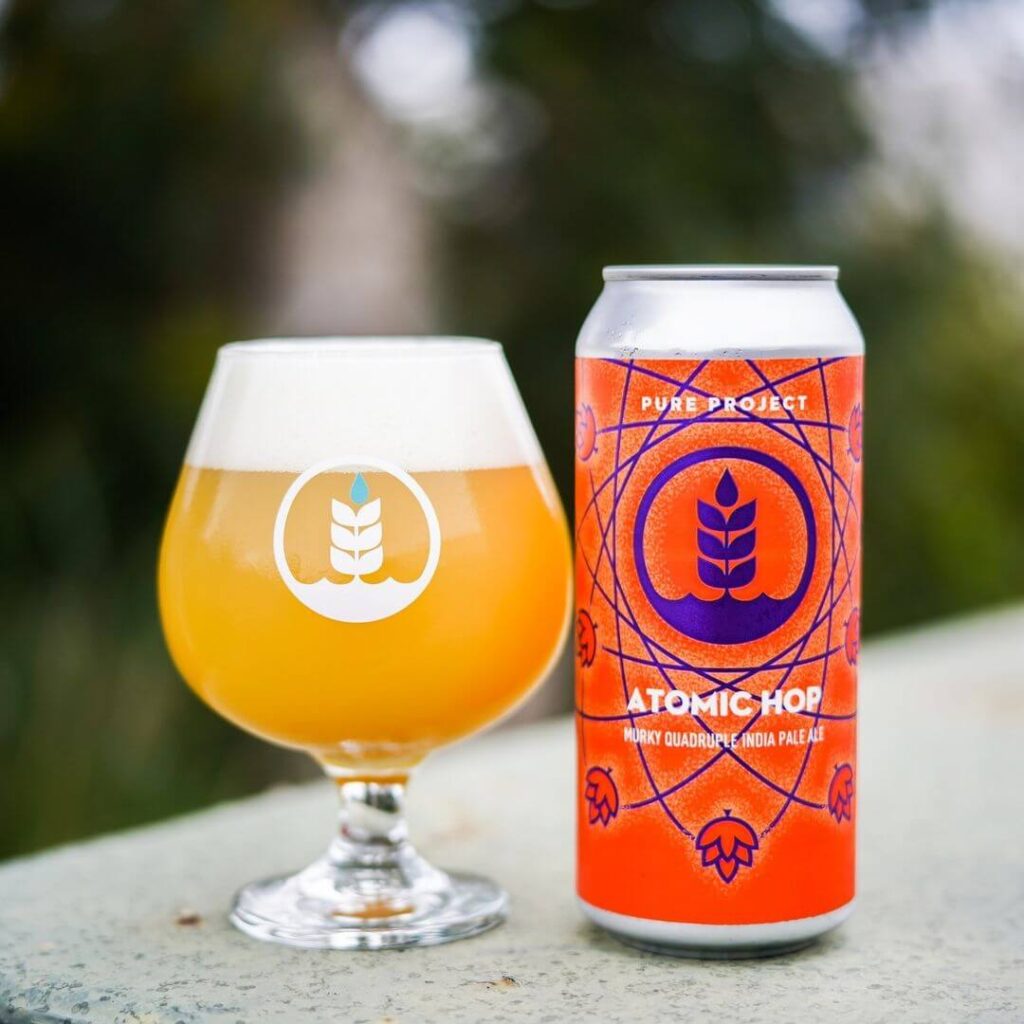 Pure Project is a renowned craft beer company that has gained a loyal following for its exceptional brews and commitment to quality. Founded in 2014 by Jesse Pine and Mat Robar, the brewery was initially launched as "Pura Vida" in Costa Rica. But after a couple of years, it changed base to San Diego because of a lack of infrastructure in Costa Rica. The founders also decided to change the name to Pure Project.
Pure Project believes in maintaining transparency with its consumers. Therefore, from listing their suppliers to the organic ingredients used and the brewing process involved, they disclose every deets. The company takes pride in sourcing locally and globally for unique and interesting raw materials to create innovative and refreshing beers. In addition, it strives to bond with the local community and collaborates with organic and biodynamic farmers, growers, and purveyors to showcase the best of San Diego. Pure Project strongly values on offering an assorted range of beer styles, from hoppy IPAs to barrel-aged stouts, farmhouse ales to sour beers.
What We Like
Pure Project's beers are well-balanced and suit most taste buds. The label is also engaged in philanthropic efforts as its a member of the 1% for the Planet Initiative. They have multiple taprooms across California that provide a welcoming and relaxed atmosphere for beer enthusiasts to enjoy their brews and engage in the vibrant craft beer community.
What We Don't Like
Honestly, there's nothing not to like about Pure Project. The label is excelling in every aspect of the beer business ;-)
Cheers to the World of Organic Beers!
Beer is one of the oldest and most loved alcoholic beverages, with a history dating back to thousands of years ago. Back then, every region seemed to have their own brew with varied recipes and fermentation techniques. While much has changed today, the love for a hearty beer remains. Now, let's widen your Beer-ography!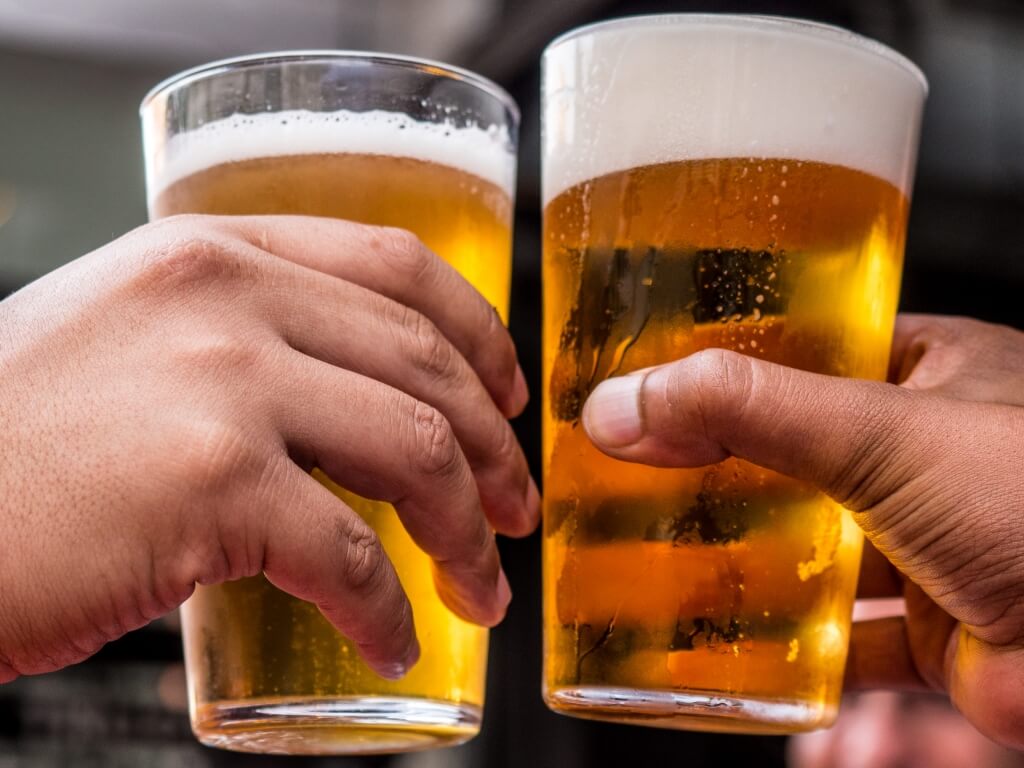 Types of Organic Beers
Lager: Lager is a type of beer that is fermented and conditioned at low temperatures. Organic lagers are made using organic grains and hops, resulting in a crisp, clean, and refreshing taste.
Pale Ale: Pale ales are known for their hop-forward flavors and aromas. Organic pale ales use organic malt and hops, often showcasing a balance between malty sweetness and hop bitterness.
IPA (India Pale Ale): IPAs are characterized by their strong hop bitterness and floral or citrusy hop aromas. Organic IPAs are brewed using organic malt and hops, providing a bold and flavorful beer experience.
Wheat Beer: Wheat beers are typically light-bodied and refreshing, often with a cloudy appearance. Organic wheat beers are made using organic wheat, providing a smooth and slightly fruity flavor profile.
Belgian-Style Ale: Belgian-style ales encompass a wide range of beer styles, including blondes, dubbel, tripel, and quadrupel. Organic Belgian-style ales are crafted using organic ingredients and often exhibit complex flavors, spicy notes, and fruity esters.
Stout: Stouts are dark beers that are known for their roasted malt flavors, full-bodied texture, and creamy mouthfeel. Organic stouts are brewed using organic malt and may offer notes of chocolate, coffee, and caramel.
Porter: Porters are similar to stouts but tend to have a milder flavor profile. They often showcase a combination of roasted malt, caramel, and chocolate flavors. Organic porters are made with organic ingredients, providing a smooth and rich drinking experience.
Fruit Beers: Some organic breweries also produce fruit-infused beers. These beers incorporate organic fruits, such as berries, citrus, or tropical fruits, to add a unique and refreshing twist to the beer.
It is to be noted that the availability of specific organic beer types may vary depending on the brewery and region. Additionally, breweries may create their own unique variations within each style. When exploring organic beers, it's always a good idea to check with local breweries or specialty beer stores for the latest offerings.
Certifications and Standards for Organic Beers
USDA Organic: Many organic beers carry the USDA Organic certification, indicating that the ingredients used in the brewing process meet the standards set by the United States Department of Agriculture (USDA).
European Organic Certification: In Europe, organic beers may adhere to the European Union's organic certification standards, which ensure the use of organic ingredients and sustainable practices.
Local and Regional Organic Certifications: Some breweries may obtain certifications specific to their regions, reflecting compliance with local organic regulations and standards.
Benefits of Choosing Organic Beers
Health and well-being: Organic beer is free from synthetic chemicals, pesticides, and GMOs, offering a healthier and more natural choice for consumers.
Environmental sustainability: By supporting organic beer brands, consumers contribute to sustainable agriculture and reduce the negative impact of conventional farming practices on ecosystems and water resources.
Taste and quality: Organic beers showcase the unique flavors and characteristics of unadulterated organic ingredients, resulting in an interesting and enjoyable drinking experience.
Supporting ethical practices: Organic breweries prioritize sustainable farming, fair trade, and responsible sourcing, aligning with consumers who value ethical business practices.
Food Pairings with Organic Beers
Organic Lager:
Grilled seafood, such as shrimp or fish tacos
Light salads with citrus dressing
Chicken or vegetable stir-fry
Organic Pale Ale:
Spicy foods, like buffalo wings or curry dishes
Sharp and aged cheeses, such as cheddar or gouda
Grilled burgers or sandwiches with flavorful toppings
Organic IPA (India Pale Ale):
Spicy and bold cuisines, like Indian or Mexican dishes
Strong and aged cheeses, such as blue cheese or aged gouda
Grilled meats, like steaks or barbecued ribs
Organic Wheat Beer:
Light and fresh seafood, like ceviche or grilled shrimp skewers
Salads with fruity or citrus-based dressings
Creamy and mild cheeses, such as mozzarella or goat cheese
Organic Belgian-Style Ale:
Rich and hearty stews or braised meats
Mussels or other shellfish cooked in a flavorful broth
Dark chocolate desserts or fruit-based pastries
Organic Stout:
Roasted or grilled meats, like roasted chicken or charred steak
Chocolate desserts, such as brownies or chocolate cake
Creamy and robust cheeses, like camembert or brie
Organic Porter:
Smoked or grilled meats, like smoked ribs or grilled sausages
Dark chocolate desserts with nuts or caramel
Roasted vegetables or mushroom-based dishes
Organic Fruit Beers:
Fresh salads with fruity components, like mixed berries or citrus segments
Light and fruity desserts, such as fruit tarts or sorbets
Soft cheeses, like brie or goat cheese, paired with fruit preserves
Okay, these pairings are suggested just as general guidelines, so your personal preferences can vary. It's always fun to experiment and discover your own favorite combinations. When in doubt, trust your taste buds and enjoy the interplay of flavors between the beer and the complementary food fares. Cheers!
To elevate your clean eating journey further, do check out some amazing organic wines and if you are looking for breakfast and other recommendations, check out the options from cereals, glyphosate free honey, tea brands, pesticide free coffee, glyphosate free oats and ethical chocolate.
The Future of Organic Beers
The dark secrets of the highly polluted food and beverage industry are finally unravelling. This has led to a growing curve in consumer demand for organic beer, highlighting its alignment with health and wellness, environmental consciousness, and the vibrant craft beer culture.
Consumer Demand for Organic Beer
Increasing awareness: Consumers are becoming more conscious about the impact of their food and beverage choices on their health. As a result, there is a growing demand for organic products, including organic beer, as people seek healthier and more natural alternatives.
Environmental consciousness: The global movement towards sustainability and environmental preservation has influenced consumer preferences. Organic beer aligns with these values, as it promotes sustainable farming practices, reduces chemical use, and supports biodiversity.
Craft beer culture and exploration: Craft beer enthusiasts are known for their curiosity and desire to try unique and high-quality brews. Organic beer offers a niche within the craft beer scene, appealing to consumers who value the authenticity, flavors, and craftsmanship associated with organic brewing.
Innovative Approaches to Organic Brewing
Experimentation with organic ingredients: Breweries are exploring a wider range of organic ingredients, such as heirloom grains, locally sourced hops, or unique adjuncts, to create distinct flavor profiles and push the boundaries of organic brewing.
Barrel aging and mixed fermentation: Brewers are employing traditional techniques like barrel aging and mixed fermentation with organic beers, resulting in complex and nuanced flavors that cater to beer connoisseurs seeking new taste experiences.
Collaborations and partnerships: Organic breweries are forming collaborations with local farmers, conservation organizations, and other like-minded businesses to promote organic farming, sustainability, and community engagement.
Potential Challenges and Opportunities in the Organic Beer Industry
Sourcing organic ingredients at scale: As the demand for organic beer grows, breweries may face challenges in sourcing organic ingredients in sufficient quantities. Developing strong relationships with organic farmers and investing in their supply chains can help mitigate this issue.
Education and consumer awareness: While the popularity of organic products is increasing, there is still room for educating consumers about the benefits and value of choosing organic beer. Breweries can play a role in raising awareness and promoting the unique attributes of organic brewing.
Market expansion and accessibility: As the organic beer market expands, there is an opportunity for breweries to make organic options more widely available, both in terms of distribution and affordability, to cater to a larger consumer base.
FAQs
What beers have no chemicals?
Organic beers do not have any chemicals.
What is the healthiest beer in the world?
Beers from glyphosate free beer brands like Samuel Smith's Brewery, Stroud Brewery, Peak Organic Brewing Co., Black Isle Brewing Co., Lakefront Brewery, Pure Project etc., are some of the healthiest beer in the world.
What is a clean beer?
Organic beer is a "clean beer" as it is free from chemical flavorings, impurities, and undesirable characteristics. It generally implies that the beer has been made from pure ingredients, is well-brewed, properly fermented, and is of high quality.
Does organic beer taste different?
Yes, organic beer may taste slightly different than conventional beer as they are made from all-natural, unprocessed ingredients. However, the difference is minute, and organic beer only tastes better.
Is organic beer healthy?
Yes, of course! Organic beer is a healthier counterpart to regular commercialized beers as they are made from non-toxic, clean ingredients without the addition of any synthetic preservatives or flavorings.