Disclosure:
Our editors handpick top-rated brands, vetted through our strict ratings. Purchases via our links may earn us a commission.
Learn more
Tea is Love! Don't you agree? No matter where in the world you live, every country seems to have its own tea blend as an essential lifestyle addition. Afterall, nothing can beat that warm cup of soulful goodness to beat a tiring day, boost our immunity or just rejuvenate the mind. However, while tea companies worldwide advertise their teas brimming with health benefits, you'll be surprised to know that it's all a sham!
True, teas are supposed to be a wholesome drink, but over the last two decades studies have found traces of pesticide residues, carcinogens ,and heavy metals in the majority of the samples from popular tea brands. So what can you do? Stop having that most awaited cup of tea? No! Instead opt for the healthiest organic teas with least pesticides. To make your search easy, we bring you some notable mentions to start with.
And while you're here, trying to incorporate toxin-free healthy food options in your diet, feel free to check out cereals, glyphosate free honey, pesticide free coffee, glyphosate free oats and ethical chocolate. Wait, there are organic wine and organic beer to enjoy too!
Teas with Least Pesticides
1. Tielka
2. Tealeaves
3. A Thirst For Tea
4. Madura Tea
5. Golden Moon Tea
6. Art Of Tea
7. Numi Tea
8. Davids Tea
9. Stash Tea
10. Pique Tea
11. Sama Tea
12. Traditional Medicinals
13. Choice Organics
14. Yogi Tea
15. Republic of Tea
Studies & Stats about Pesticides in Teas
Most of the tea brands widely consumed contain dangerous levels of illegal pesticides, heavy metals, GMOs, and not so natural flavors. An investigation carried out by Greenpeace India (from where much of the tea sold in Australia is sourced) in 2014 found out that nearly 94% of the tested tea samples contain 34 types of tea pesticides.
Another recent 2018 Chinese study found the presence of heavy metals like Lead, Cadmium, Chromium in the soils where tea is grown because of the heavy use of pesticides. Moreover, many popular tea companies have been flagged red because of their consistent use of deadly pesticides.
Pesticide Traces In Some Teas Exceed Allowable Limits
CBC, after testing some of the popular Canadian green and black tea brands, released results showing that half of the tea brands contained residues of 22 different pesticides. Some tea brands even exceeded the maximum residue levels, which is potentially dangerous for consumers.
Refresh Yourself With These 15 Pesticide-Free Teas
Organic tea brands like Tielka, Tealeaves, A Thirst For Tea, Madura Tea, Art Of Tea, Golden Moon Tea, Numi Tea, Davids Tea, Stash Tea, Pique Tea, Sama Tea, Choice Organics, Traditional Medicinals, Yogi Tea, and Republic Of Tea rigorously trace their tea ingredients for harmful additives before bringing them out to you. Try out their blends and taste the change for yourself, because they are actually offering what they are promising.
1. Tielka
Tielka is an award-winning, Australia-based tea company selling organic teas to fall in love with. All their teas are Australian Certified Organic, EU Organic Certified, USDA Organic Certified, and Fairtrade Certified. They have also opted for plant-based plastic-free tea bag fabric for making their pyramid tea bags more sustainable. Currently, they offer international shipping around the globe, but rates vary accordingly. Click here to check their shipping policy.
Some of their award-winning must-try teas are: Earl Royale Black Tea for its rich and creamy taste blended with the notes of natural Italian bergamot oil, Jade Mist Green Tea for its buttery and dulcet taste, and Limonada Rosa Herbal Infusion for its playful mix of rose and hibiscus.
2. Tealeaves
Tealeaves teas are certified organic by the British Columbia Association for Regenerative Agriculture (BCARA). With a commitment toward SDG (Sustainable Development Goal) 1, 5, 12, 13, 14, and 15, Tealeaves is on its way to revolutionizing the tea business one teacup at a time.
They have renounced the use of plastic in their packaging swapping it for plant-based, compostable or recyclable materials. The raw material used in the production of their teas is carefully sourced from trusted growers who follow sustainable growing practices. The tea company also supports international biodiversity cause for healthier ecosystems.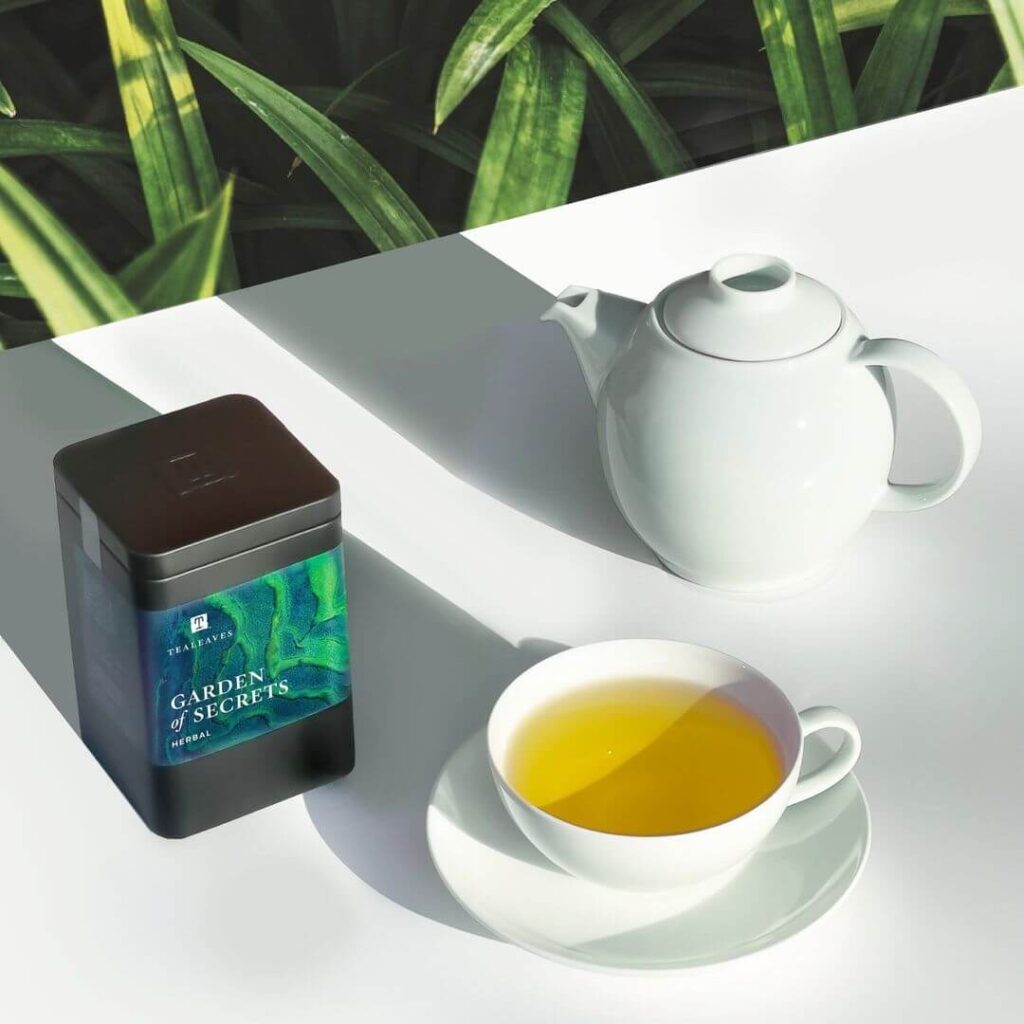 Some of their must-try teas are: Organic Earl Grey with Lavender for its citrusy bergamot complemented with sweet notes of lavender, Organic Pear Tree for its natural pear flavors, and Pantone Color of the Year Loose Leaf Tea for its tasteful berry notes and lemony zest.
3. A Thirst For Tea
A Thirst For Tea is a tea company that brings you rare, handcrafted, artisan teas with a unique earthy taste hard to find anywhere else in the US. Frankee Muller, the founder of A Thirst For Tea, is a tea addict bringing only the best to the table. Here, you can find a whole range of teas to purchase from minus the toxic pesticides found in conventionally popular brands.
Their tea menu is diverse with a list of black teas, green teas, oolong teas, herbal teas, white teas, purple teas, yellow teas, flowering teas, and decaffeinated teas, chai teas, and much more!
Some of their must-try teas are: Genmai Cha, Japanese Green Tea with Matcha, and Toasted Rice for its natural sweetness and chewy character. Produced by Tea Maestro Hiroyuki Sugimoto, this tea won first place in the 2008 World Tea Championships for Best Blended Green Tea. Another must-try is the 2021 1st Flush Kanoka Estate Organic Whole Leaf Assam Tea, known for its subtle floral aroma combined with the notes of cacao and pipe tobacco. Handcrafted by artisans in Assam, India, this brew will surely leave you wanting more!
4. Madura Tea
Madura Tea is one of those Australian organic tea brands that offer 100% natural and pesticide-free teas with recyclable packaging every time you order. Their diverse tea menu has a range of black teas, chai teas, herbal infusions, green teas, organic teas, and much more!
To ensure sustainability, health, and wellness, Madura Tea has taken numerous steps, from using 100% natural plant-based teabag paper to independently testing their teas in Australia to ensure that they contain no harmful chemicals or pesticide residue. Read more about their sustainability plan here.
Some of their must-try teas are: Premium Blend 80 Enveloped Tea Bags an award-winning tea known for its full-bodied flavor and rich taste. This tea is locally grown, pesticide-free, vegan friendly, and 100% natural. Another must-try tea is the Single-Origin Madura Organic Green Tea. This takes purity and well-being to the next level with its high antioxidant and nutrient content, sugar-free blend, and pesticide-free assurance. Furthermore, the tea bags are packed in recyclable materials.
5. Golden Moon Tea
Serving loose tea since 1994, Golden Moon Tea offers you teas made with 100% natural ingredients, grown without the use of any hidden toxins or dangerous pesticides because "this is how tea should be. This is what you deserve." Their teas have no GMOs, no artificial flavors, no plastic coated tea bags, and no toxic pesticides.
All their tea blends are made using freshly plucked ingredients from kitchen gardens. This means that their vanilla teas are flavored with real bourbon vanilla beans. So you need not worry about anything artificial going into your teacup. They also don't use plastic-coated tea bags since plastic can leach chemicals when placed in boiling water.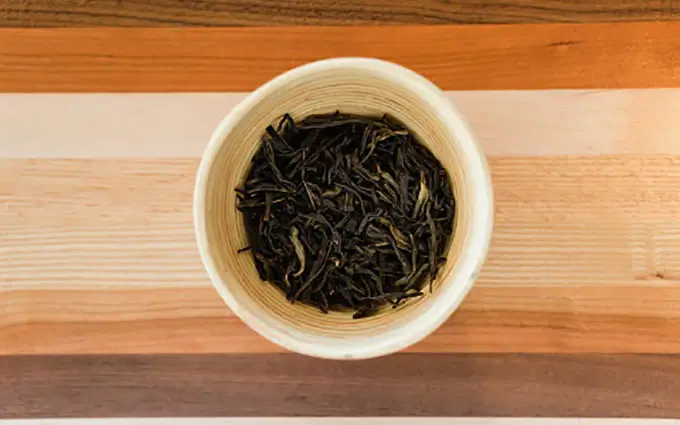 Some of their must-try teas are: Organically grown and hand rolled with Jasmine flowers in full bloom, Jasmine Pearls is known for its sweet and floral character; Known for its rich and bright flavor, Tippy Earl Grey is their best-selling black tea infused with fresh bergamot flavor.
6. Art Of Tea
Based in Los Angeles, California, Art Of Tea offers you a range of hand-blended and custom-crafted organic teas, each tea having a unique story of its own. All their teas are made from natural ingredients and are hand selected by Steve Schwartz, known as the Master Tea Blender in the tea world. The brand also offers Customized Tea Menus, Retail Teas, Pyramid Tea bag Line, Hospitality Tea Program, Customized Blends, etc.
Art of Tea offers loose leaf teas in recyclable metal tins, and pyramid bag sachets in 100% recyclable cardboard boxes, thus making the brand carbon neutral. All their filter bags and tea bag sachets are biodegradable and can be used to hydrate and fertilize the plants in your garden.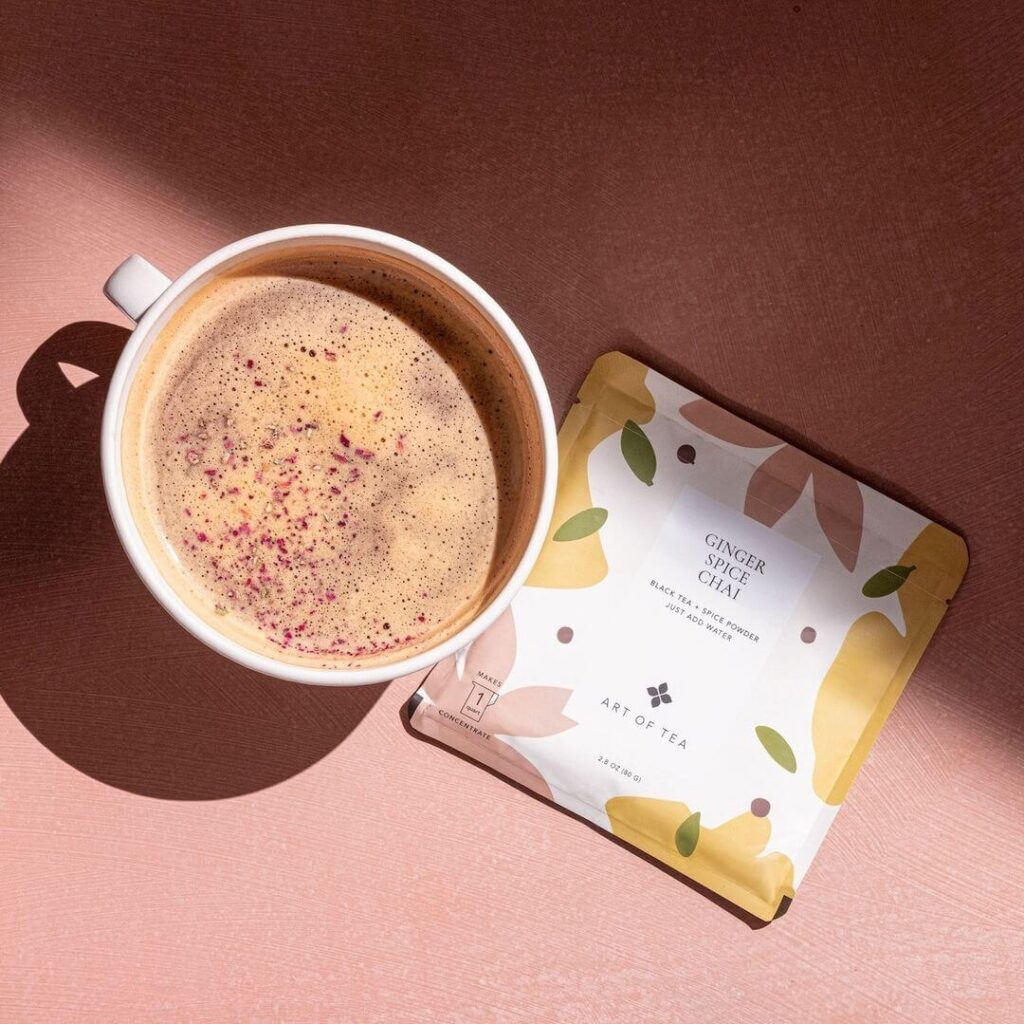 Some of their must-try teas are: Earl Grey Crème Tea for its citrus and silky notes with a touch of french vanilla, 2 QT Iced Tea Pouches – Summer Peach Tea for the perfect pitcher of fruity iced tea, and White Coconut Crème Tea for its creamy tropical notes.
7. Numi Tea
Numi was created with a vision to share the transformative, healing power of tea with the rest of the world. All their teas are organically crafted with 100% natural ingredients and no added pesticides or artificial flavors. Numi teas are certified organic and fair trade certified, meeting standards that guarantee no GMOs, synthetic pesticides, or preservatives in your tea.
Furthermore, they ensure that the workers who grow their tea are paid fair wages, and provided with safe living conditions, and community benefits. They also have a 5-step action plan to counter the climate crisis.
Some of their must-try teas are: Jasmine Green for its delicate, smooth, and fragrant notes, Aged Earl Grey for its robust flavor and subtle citrus notes of real bergamot, and Three Roots for its earthy and spicy notes of turmeric and ginger.
8. Davids Tea
Established in 2008, Davids Tea is committed to providing well-crafted, single-origin loose leaf teas that are certified organic, fair trade certified, elephant approved, and made using conflict and cruelty-free ingredients. Their tea menu is a diverse collection of some of the best-iced teas, black teas, oolong teas, white teas, rooibos teas, herbal teas, and much more! All their packaging is recyclable with sachets that are plastic free and biodegradable. Their teas are natural, organic, and intrinsically compostable.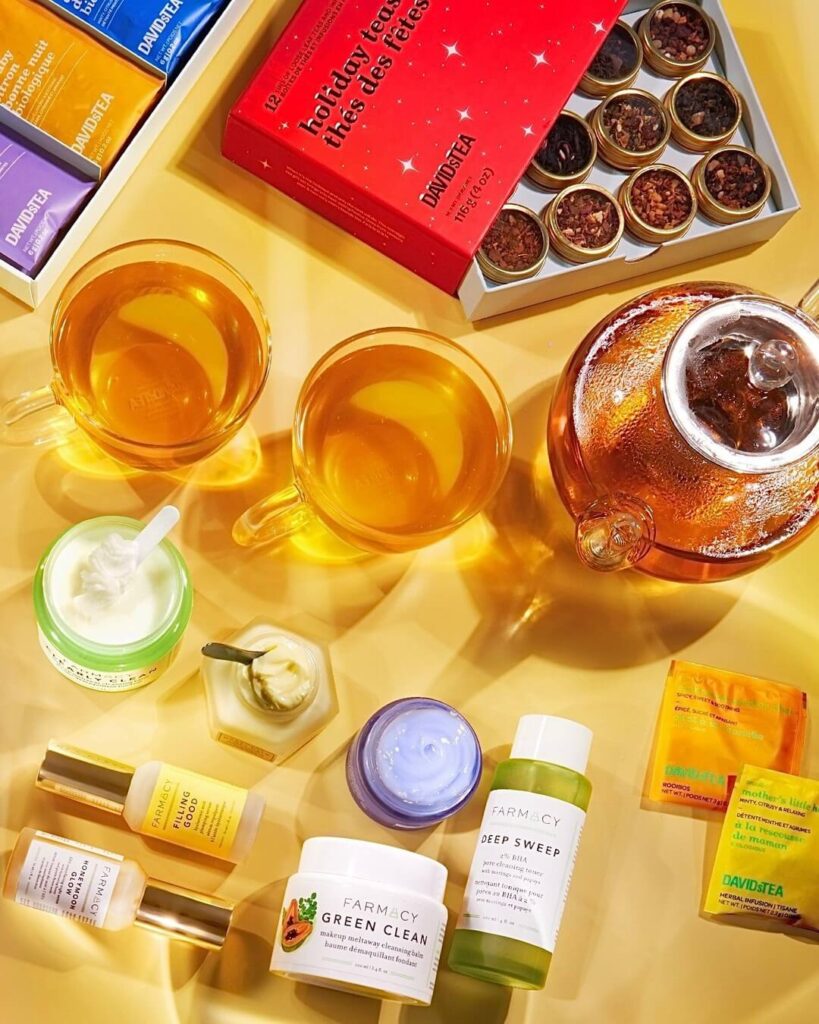 Some of their must-try teas are: Cream of earl grey tea organic for its creamy sweetness and a citrus burst of bergamot oil, David's breakfast blend organic for its full-bodied flavors and hints of honey, and Vanilla matcha for its antioxidant-rich flavors of natural vanilla.
9. Stash Tea
Established in 1972, Stash Teas are a 'bag of crazy' with its bold flavored and bright-colored teas. In 2017, Stash Teas became a B Corp certified brand meaning they are working towards better environmental performance and transparent operations.
All Stash teas are Kosher certified by KOF-K Kosher Supervision (one of the leading certification agencies of the United States), gluten-free, pesticide-free and meet the strict Federal Drug Administration (FDA) standards. Plus, all Stash Tea bags are made from 100% cellulose fibers (wood) with no harmful chemicals involved. Stash Tea guarantees that all its products are 100% safe to consume, so you can buy your next brew stress-free!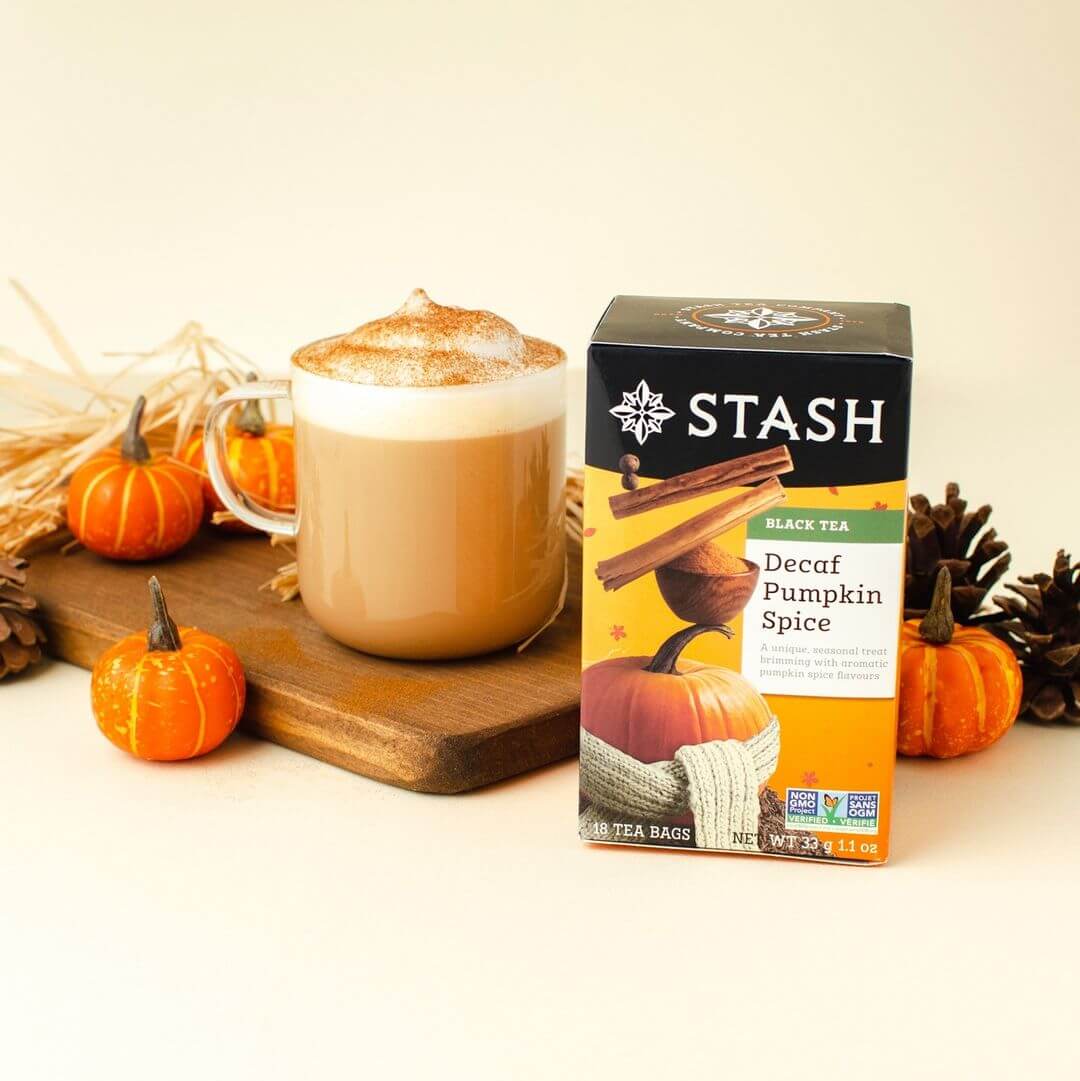 Some of their must-try teas are: Breakfast in Paris Black Tea for its blend of lavender, bergamot citrus, and vanilla, White Peach Oolong Tea for the peachy punch it packs along with the oolong benefits, and Meyer Lemon Herbal Tea for its bold burst of sweetened lemony flavor.
10. Pique Tea
Pique Tea is on a mission to bring to you doctor-approved, cutting-edge solutions for your head-to-toe health. Their teas are quite popular because of the standards maintained for overall safety, transparency, & purity. It uses exquisite ingredients from the most diverse ecological destinations like Kagoshima, Calabria, and Yunnan in every tea and elixir.
On reaching the factories, the ingredients further undergo Triple Toxin screening to detect things like heavy metals, pesticides, & toxic mold. In addition, Pique uses Full-Spectrum Isolate Synthesis [F-SIS]™ to extract & preserve active compounds & phytonutrients present in the ingredients. Overall, it is an amazing tea label you can try out.
Some of their must-try teas are: Sun Goddess Matcha to brighten skin and curb sugar and hunger cravings, Electric Turmeric Herbal Tea to support radiant skin and a strong immune system, Reishi Calm Elixir to support cellular rejuvenation, and Cinnamon Fasting Herbal Tea to support a healthy metabolism and manage cravings.
11. Sama Tea
Sama Tea comes from the house of the very famous Jay Shetty & Radhi Devlukia-Shetty. Crafted to help balance your mind, body, and heart, these tea blends have adaptogenic features that encourage mini-moments of self-reflection.
Made with super-organic ingredients, every product from this label is USDA Organic Certifed & GMO free, & their tea bags are plastic-free. Yes! Their sachets are made from PLA, a compostable plant-based material. At Sama Tea, you get to choose from both non-caffeinated & caffeinated tea flavors.
Some of their must-try teas are: Awaken & Energise which is a Bergamot Earl Grey black tea that fights fatigue and helps you kickstart the day, Protect & Support which is an antioxidant-rich floral blend that creates a defence against free radicals, and Warm & Nourish which is a vanilla chai black tea that helps you feel warm and cozy.
12. Traditional Medicinals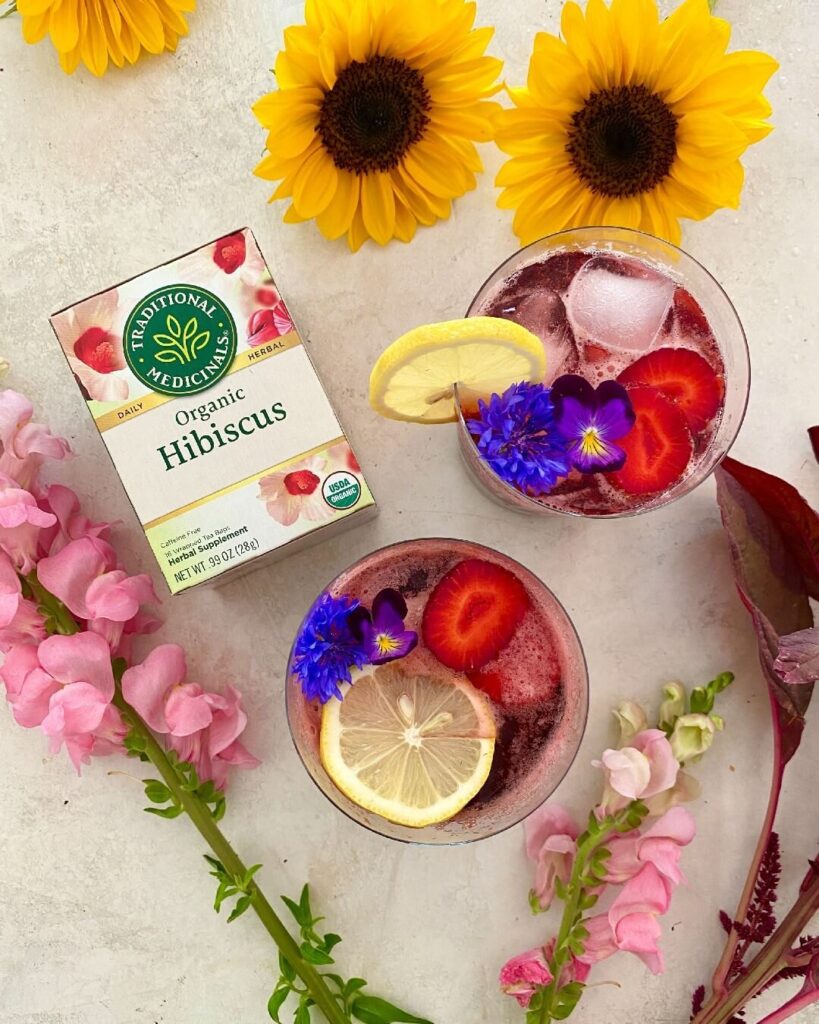 Established in 1974, Traditional Medicinals is passionate about connecting people with the power of plants. Its herbal tea ranges from everything super-power and comforting, with blends like Chamomile tea, Dandelion tea, Darjeeling tea, and so many more. Certified as a B Corporation, this label maintains serious transparency in its ingredients list and has been a champion in the wellness tea sector within the U.S. and Canada.
I especially love their Chamomile tea which is all you need to calm your senses after a tiring day. Everything at Traditional Medicinals is created with the highest ethical standards. They rigorously test their ingredients to detect and eliminate signs of metals & other microcontaminants to bring nothing, but the best!
Some of their must-try teas are: Assam Chai which is a perfect blend of bold and spicy kick that promotes healthy digestion, Chamomile Tea that calms your nerves and supports digestion, Dandelion leaf and Root Tea that supports kidney health and body's natural detoxifcation process.
13. Choice Organics
With teas from Choice Organics, you can engage, recharge, and intentionally focus on yourself- one cup of tea at a time! Bursting with flavors in every sip, their teas come in a wide range of beautifully balanced blends that will set every mood right. Choice's tea blends are USDA Organic certified, and Non-GMO verified. Their tea bags are also plastic-free.
In addition, they maintain a transparent supply chain where every ingredient is responsibly sourced. As a B Corp certified tea label, Choice Organics operates under its parent company East West Tea Company, and is a proud member of the Ethical Tea Partnership. This organization works to develop & execute programs worldwide to create a fair & sustainable tea industry for tea farmers & the environment.
Some of their must-try teas are: Organic Chamomile Tea which is smooth and sweet and helps in releasing stress, Organic Genmaicha Tea which has a satisfying toasty and intriguing flavor, Organic Grapefruit & Honeybush Tea which has a citrusy tart flavor and light floral notes, and the very best organic Rooibos Tea which has a sweet, earthy and mellow flavor with subtle notes of vanilla.
14. Yogi Tea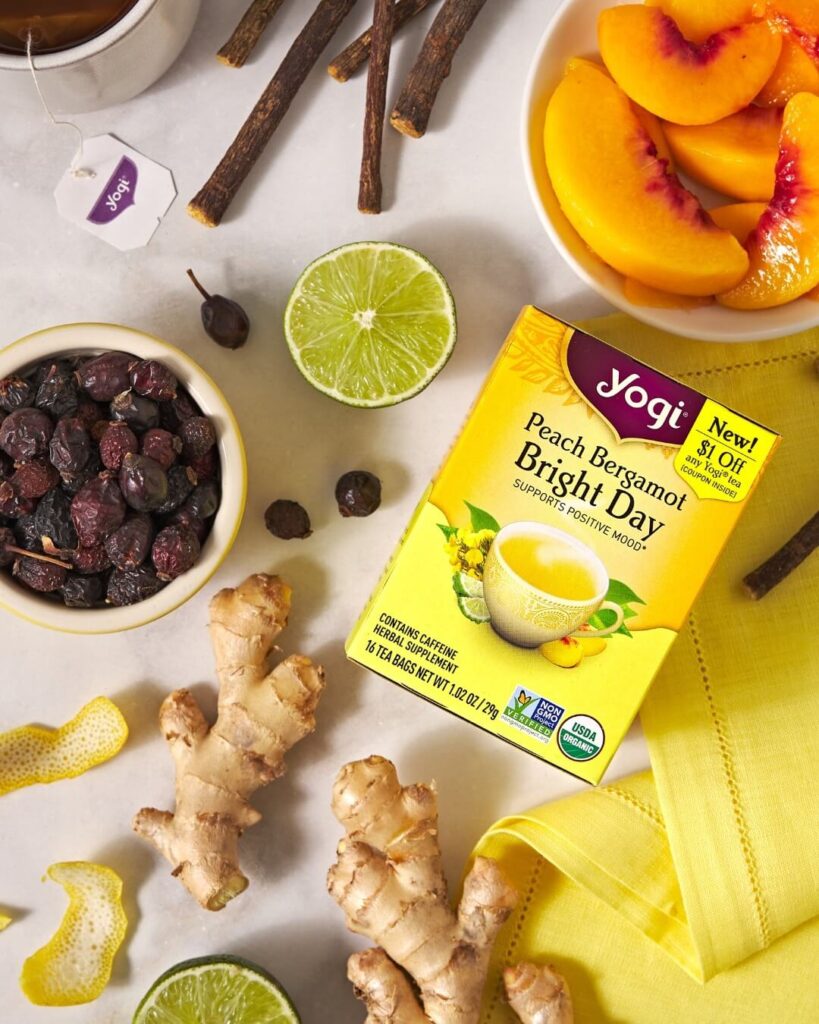 Yogi Tea houses a variety of green, black, and herbal wellness teas, which are made to do more than just taste good! Inspired by the ancient holistic approach of Ayurveda, this label offers 40+ tea blends crafted with more than 140 exotic herbs and botanicals. From caffeine-free teas to digestive support and stress-relieving teas, it has a pool of beneficial herbal packs to choose from.
Certified as USDA Organic, this tea label believes in supporting high-quality and sustainability along with abiding by its social responsibility on a local, national, and global front. As part of the responsible sourcing of ingredients, they ensure that all their suppliers perform Good Agricultural Practices (GAP) and Food Safety audits.
Some of their must-try teas are: Breathe Deep blend that supports respiratory system, Echinacea Immune Support that strengthens immunity, Elderberry Lemon Balm that has adaptogenic support to reduce stress, Green tea Kombucha that supplies antioxidants and supports overall health.
15. Republic of Tea
From The Republic Of Tea, you are sure to have great-tasting flavors in every sip. Founded in 1992, this label sparked a Tea Revolution by canvassing the most prized tea gardens across the globe. With over 350 premium teas under its belt, this brand acts as a socially and environmentally responsible business.
Committed to sharing their prosperity by creating products to support worthy organizations, Republic Of Tea has partnered with the Whole Planet Foundation and the Global Alliance for Improved Nutrition (GAIN). It is also a member of The Ethical Tea Partnership. And if you're intrigued about their ingredients, take a look at their web page, to know everything about their sourcing, including tea leaves from China, India, Sri Lanka, Kenya, and so on.
Some of their must-try teas are: Get Gorgeous No.1 Herb Tea which is a rooibos-based, caffeine-free tea blend rich in antioxidants, Hibiscus Blueberry Tea which is a combination of deep, lush flavors of the blueberries and citrusy hints of hibiscus, and Orange Ginger & Mint Herbal tea which is a must after heavy dinners to calm a stormy stomach.
Health Benefits of Safer Tea
Some of the healthiest teas that have innumerable health benefits that are sure to inspire you into buying organic teas in bulk. Here's why you need to get organic teas now:
1. Goodbye Chemicals
Whenever you choose organic teas over popular brands, you choose to consume few to no toxic pesticides with every sip. To get organic certification, tea companies generally have to strictly prohibit using pesticides during any stage in the tea production process. Thus, those bite-sized organic tea bags can save you from consuming unwanted chemicals.
2. Hydrate While You Can
Did you know? Organic teas can be the perfect hydrating swaps for water as and when you don't feel like drinking 8 glasses of water a day. So get your next organic brew knowing it will add up to your daily water cycle.
3. Stronger Immunity
The polyphenol content in your simple tea bags matters a lot when it comes to reaping health benefits from the tea you consume. A study conducted by Naghma Khan and Hasan Mukhtar in 2007 reveals that tea polyphenols like epigallocatechin-3-gallate are responsible for the health-promoting ability of green tea, known for preventing the body from cancers and cardiovascular diseases. That's probably the reason why people who drink organic teas have better immunity than, say, coffee drinkers.
4. Antioxidants
Organic teas contain antioxidants that fight against damaging molecules in the body and prevent cellular damage. Thus, one will be surprised to know that teas can prevent diseases as serious as cancer. However, a lot depends on the type of tea consumed. Generally, green tea is higher in antioxidant content than black tea. This is because the tea leaves go under a fermentation process to change their color. The polyphenol content is even higher in rose tea, making it the most sought-after choice when it comes to reaping health benefits from teas.
5. Anti-Aging Properties
According to this study published in PubMed Central, tea leaves are high in polyphenol content which evidently reduces the signs of aging like wrinkles, dead skin, roughness, etc. Polyphenol also delays the loosening of muscles and loss of vision, thus slowing down the aging process.
6. Tea And Alzheimer
What if we tell you that there's a high chance those organic tea bags you just purchased are more beneficial than you could ever imagine. Apparently, different varieties of green teas and oolongs contain a natural substance called Theanine in abundance. According to this article by Leo Kwan, Korean scientists found that this natural substance when mixed in water and given to mice, reduced the chances of Alzheimer's.
Conclusion
Escape the hold of toxic pesticides with these organic, pesticide-free tea brands that will surely add a lot more bounce to your health in the long run. Comment and let us know if you liked these recommendations and if we left out some of your favorite organic tea brands!
FAQs
Which tea has the least pesticides?
Organically grown teas have the least pesticides. Some incredible tea brands that produce tea with all of its goodness intact are Numi Tea, Traditional Medicinals, SAMA Tea, Pique Tea, Yogi Tea, Madura Tea, Golden Moon Tea, etc.
Do all teas have pesticides?
No, all teas do not have pesticides. Organic teas grown using natural, low-impact and healthy agricultural methods, never have traces of synthetic chemicals in them. So, choosing organic tea brands is always the best choice.
Which is the safest tea to drink?
Herbal teas grown organically are the safest teas to drink. Before buying your next stack of tea, always check the brand's details like their ethics, sourcing partners, whether the tea is organic or not, whether they have some kind of certification or not, etc.
Does Lipton tea have pesticides?
Yes, Lipton tea has pesticides. As a highly commercialized tea brand, Lipton's production is in tonnes and it is only possible to produce huge volumes of any crop by using high levels of pesticides and growth stimulants. The same is the case with Lipton. In fact, banned pesticides like Methomyl were found in Lipton tea.
Can I brew tea to reduce the pesticide content?
Rinsing dried tea leaves before brewing reduces the pesticide content to some extent. However, no studies have mentioned that brewing tea reduces pesticide content.
What are some ways to reduce my exposure to pesticides in tea?
Choosing organic pesticide free tea is the best way to steer clear of harmful synthetic toxins. So always go for organic tea brands that maintain transparency about their products and emphasize on the fact that how their tea is cultivated and processed to clear your concerns.
How often are teas tested for pesticides?
Samples of tea from popular brands are regularly tested for traces of harmful pesticides.