Disclosure:
Our editors handpick top-rated brands, vetted through our strict ratings. Purchases via our links may earn us a commission.
Learn more
Breakfast oatmeal bowl with a dash of pesticide, anyone? What? Sounds gross, right? But that's probably what you've been consuming and serving your entire family for years, thinking it to be nutrient-rich! Agreed, oatmeal is a popular breakfast choice, known for its many health benefits, and that's why we see all those health and wellness influencers and bloggers consuming it day after day. But with all that weed killers like glyphosate in the revered oatmeal— Believe me, the nutrition has long left the scene!
However, there's Hope! To help you achieve health goals and just enjoy a clean bowl of pesticide free oatmeal, many organic food and supplement brands are offering oatmeal in its true form— Packed with fibre, protein, and essential nutrients. Today, we will put light on the risks associated with consuming conventionally grown oats and the immense benefits of choosing glyphosate free oatmeal. Ready to switch to a healthier breakfast option? Let's get started!
To elevate your clean eating journey further, do check out these organic and healthy options for choosing between cereals, glyphosate free honey, tea brands, pesticide free coffee, and ethical chocolate. Wait, there are organic wine and organic beer to enjoy too!
10 Best Oatmeals without Glyphosate
1. Back Roads
2. Seven Sundays
3. Only Oats
4. Grandy Organics
5. Almond Cow
6. Red Tractor Foods
7. Laird Superfood
8. Nature's Path
9. Farm To Table
10. Mush
How to Choose the Right Pesticide-free Oatmeal ?
Always, always go for organic pesticide free oatmeal and other oat products. Just choosing non-GMO oats doesn't confirm they weren't sprayed with glyphosate as a pre-harvest desiccant. Try to go for organic brands which ensure you of their produce through various certifications. This approach from your end will not only help discourage the use of glyphosate, but also reduce contamination risks.
Initiatives by The Detox Project, the EWG, and other health organizations are available to assist you in making more informed decisions about our oatmeal bowl of goodness. Beyond everything, opting for glyphosate-free oats is as wholesome for your family's health as it is for the environment.
Our Favorite List of 10 Best Organic Glyphosate Free Oatmeal Brands
Kickstart your day with a healthy dose of wholesome organic pesticide free oatmeal from these incredible labels who are going the extra mile to take care of your health. Check out Back Roads, Seven Sundays, Only Oats by Avena Foods, Healthy Traditions, Almond Cow, Red Tractor Foods, Laird Superfood, Nature's Path, Mush, and Farm To Table Foods.
1. Back Roads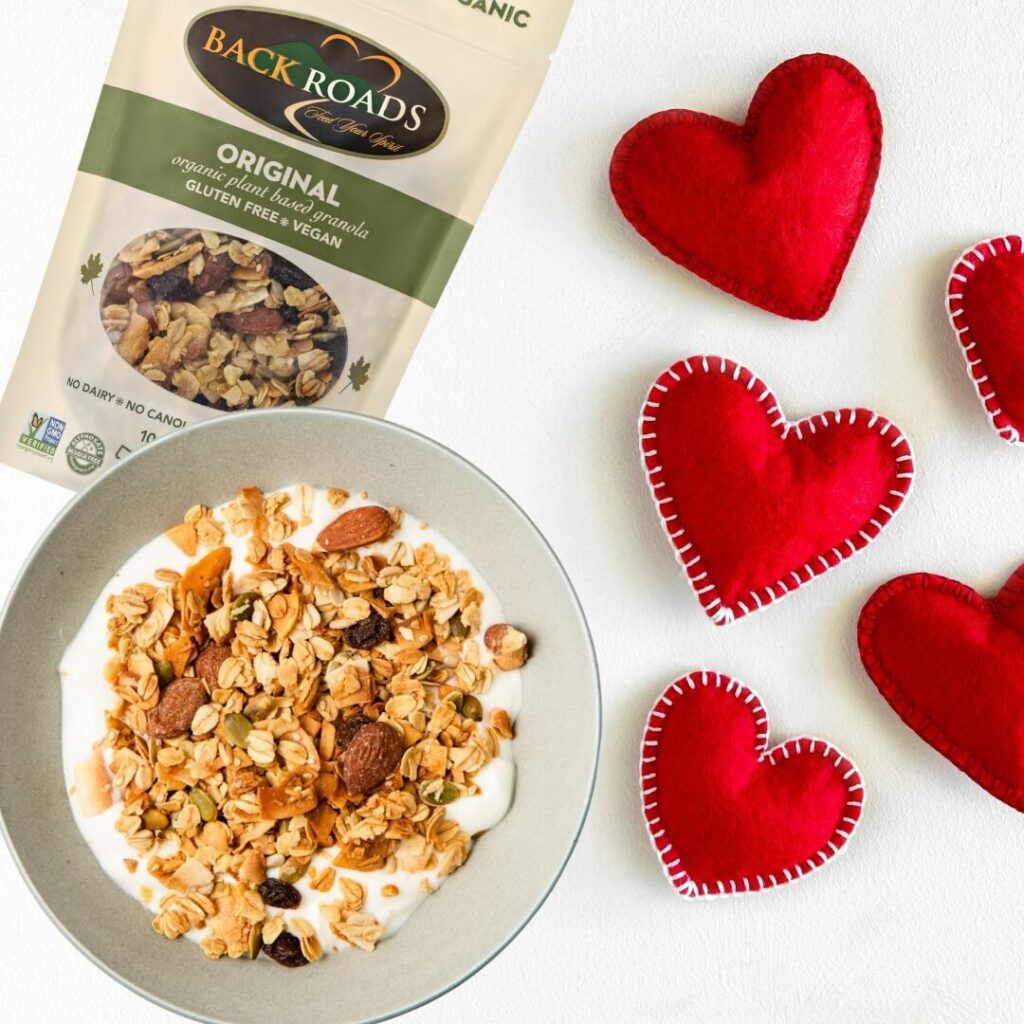 Price Range: Starts at $10
USP: First glyphosate-free certified breakfast cereal company, Vegan products
Certifications: Certified USDA Organic, Kosher Certified, Non-GMO Project Verified, Certified Gluten Free, Certified Vegan and Certified Glyphosate Residue Free by The Detox Project
Back Roads is a family-owned company that started out by baking their own granola to serve at their B&B. Later they began distributing their homemade granola to several co-ops around the city, before getting into the breakfast cereal business full-time. It's the first oats company in the U.S. to get certified as Glyphosate Residue Free.
Operating as a successful company in the organic cereal sector, Back Roads is committed to only making organic and glyphosate-free products. In addition, it supports various causes in its area and has a positive homely company culture. While Back Roads has a lot of granola options, my personal favourites are Maple Pecan Granola, Dark Chocolate Pecan Granola, Maple Cranberry Granola, and definitely their Original Granola.
2. Seven Sundays
Price Range: Starts at $8
USP: 100% Plant-based products, No artificial flavors, Regeneration Projects, Direct-To-Farm relationships
Certifications: B Corporation, Certified Gluten Free
Established in 2011, Seven Sundays offers a variety of wholesome breakfast cereals made from glyphosate residue-free oats. The brand sources its oats from farmers and mills that guarantee they don't use glyphosate as a pre-harvest chemical agent. But, Seven Sundays still undertake third-party testing to confirm the claim further and publishes the test results on its website. Extremely transparent about its operations, the company focuses on developing and maintaining healthy relationships with the farmers it sources its ingredients from.
The label constantly tries to innovate and add new items to its cereal list, so you better watch out for some goodies! My recommendations? Maple Seasalt Sunflower Cereal, Wild & Free Blueberry Muesli and Real Cinnamon Sunflower Cereal.
3. Only Oats
Price Range: Starts at $10.99
USP: Gluten free, Halal, Kosher
Certifications: Certified Organic, Certified glyphosate residue free,
Avena Foods is a specialty miller offering certified glyphosate residue free oats and other nutrient-rich food items, sustainably grown in the Canadian prairies. Its whole-grain rolled oats are non-gmo, allergen and gluten-free. To process its oats, the company uses its Purity Protocol which is a multi-faceted food safety system for traceable pure oats.
With a reputation for sustainable practices, Avena is grounded in the world's largest oats and pulses growing regions and partners with farmers who share their commitment to producing safe, high-quality ingredients. It increasingly works with farmers to promote regenerative farming practices. Avena Foods has launched a separate website for its Only Oats products, where you can find Rolled Oats, Quick-cooking Oats, Steel cut Oats, Fine Oat Flour, etc.
4. Grandy Organics
Price Range: Starts at $20.99
USP: Gluten free, Non GMO crops, Kosher, Fair Trade, Uses solar powered energy
Certifications: USDA Certified Organic
Grandy Organics, initially known as Grandy Oats, has been a pioneer producer of organic oats, granola, and other cereal mixes since 1979. Since its start, the label is committed to creating organic food products without adding any artificial ingredients. What's remarkable is that it is located in a rural town in Maine and is the location's largest employer, building personal connections with its suppliers to ensure high-quality natural ingredients, like pesticide free oatmeal.
On a sustainable forefront, Grandy Organics supports its organic farmers by helping them boost soil and plant health, wildlife habitats, and biodiversity. In addition, it also believes in giving back and has been donating to various non-profit environmental causes, educational outreach, etc., for decades.
5. Almond Cow
Price Range: Starts at $12.95
USP: Offers the best ingredients including glyphosate free organic oats to make homemade plant-based milks. Has the best-selling milk-maker.
Certifications: Certified Gluten-Free, USDA Certified Organic, Non-GMO and Glyphosate Residue Free – Approved by The Detox Project.
If you're a vegan or simply love to consume plant-based milk, then Almond Cow is going to be your new BFF! The brand specializes in providing supplies of organic oats, bee-friendly almonds, organic cashews and many more clean products for those who want to have full control in making their dairy-free unprocessed milk at home.
In addition, Almond Cow's whole grain oats aka groats, are completely unrefined, which means they work much better than regular processed oats for making oat milk. So no more slimy consistency of processed oats. Yayyy! What's best is their website is home to hundreds of recipes that you can try out using your blend of their homemade milk. And if that wasn't enough, they also guide you into efficiently using the leftovers from making oat milk or nut milk, so you can live zero-waste.
6. Red Tractor Foods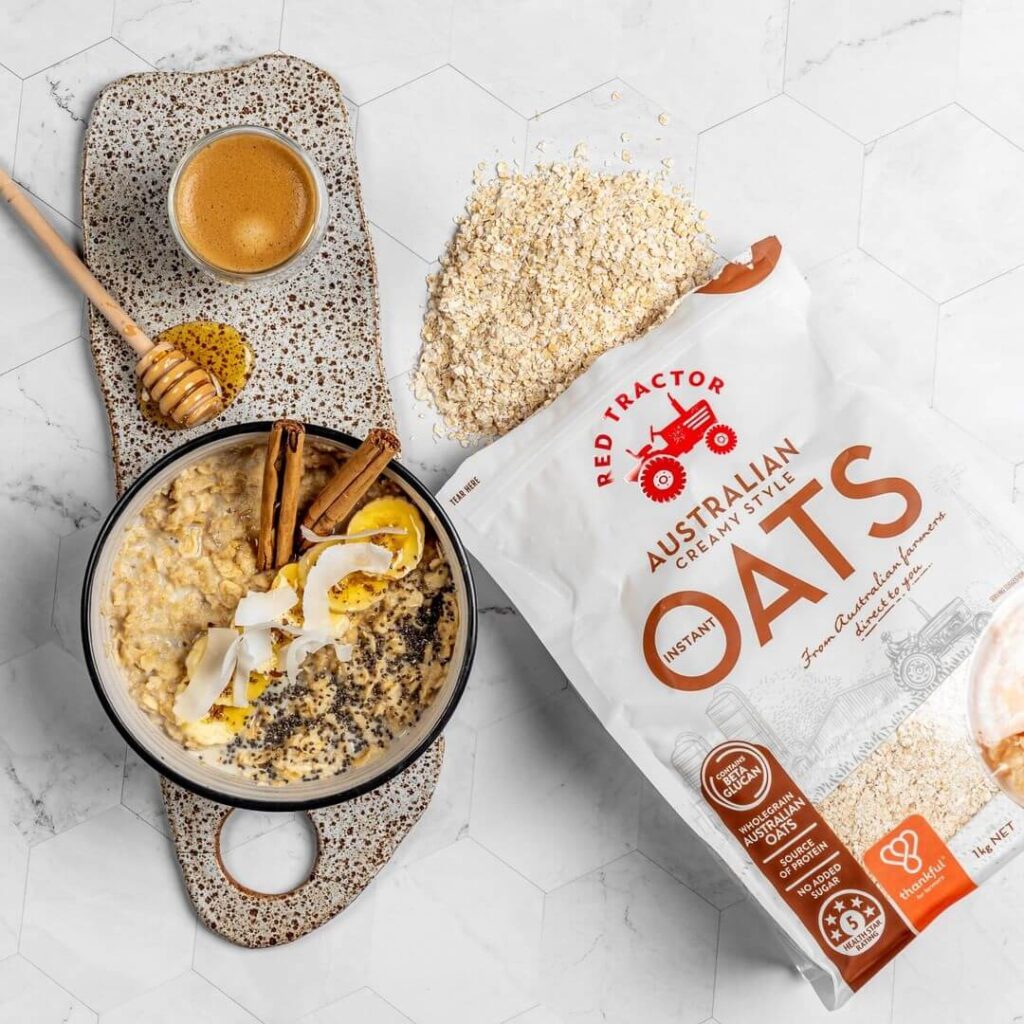 USP: 100% Organic Oats farmed for taste
Certifications: Certified by The Detox Project
With the goal to bring the best quality natural ingredients, Red Tractor Foods is home to healthy and great-tasting products to ease your everyday life. The Australian family-owned label has been in business since 2013. Their certified glyphosate residue free oatmeal products are sourced from organic farms and brought straight to your table. No Nasties!
Red Tractor Foodsprides itself on supporting farming families in producing organic ingredients that are both good for you and everyone involved. The label doesn't sell directly to its consumers, but if you're in the U.S., you can easily find them in TJ Maxx, Marshalls, and HomeGoods. My personal favorites are their Wheat Free Australian Rolled Oats and Steel Cut Organic Oats.
7. Laird Superfood
Price Range: $17.95
USP: Plant-based functional products to fuel your body
Certifications: Certified glyphosate residue free
Founded in 2015, Laird Superfood houses a range of nourishing, plant-based products, including certified organic pesticide free oatmeal. Their Trail Mix Fix Oatmeal and the How 'Bout Dem Apples Oatmeal are packed with the goodness of glyphosate residue free oatmeal along with other clean ingredients. The label strives to be environmentally conscious and ethically sources its materials from suppliers who are finalized after being rigorously vetted for their production processes.
Most of the ingredients are collected locally from U.S., organic farms to further reduce their carbon footprint. Additionally, Laird Superfood has an employee-led Sustainability Committee, uses solar power in its factories, and even offers sustainable commuting benefits to its staff.
8. Nature's Path
Price Range: Starts at $6.49
USP: Non GMO, Regenerative agricultural practices, Wide range of oatmeal products, Gluten free, Kosher
Certifications: Regenerative Organic Certification®, Non-GMO Verified, and USDA Certified Organic
Nature's Path is a family-owned company pioneering the organic movement with its range of delicious and wholesome food products. Their most popular glyphosate free oatmeal selections are the Original Instant Oatmeal, Brown sugar Instant Oatmeal with Maple, and Apple Cinnamon Oatmeal. Apart from these 3 oatmeal products, they have about 25 more oatmeal variants which you can check out.
Nature's Path is rooted in sustainability, and packs its products in reusable containers. They also publish their annual sustainability target reports and produce crops through Regenerative Organic Agriculture practices. Operating since 1985, the brand has grown to be North America's largest certified organic food label with over 150 breakfast and snack products. Undoubtedly, one of the best pesticide free oatmeal brands, Nature's Path, was also featured in Forbes for their nutritious breakfast range.
9. Farm To Table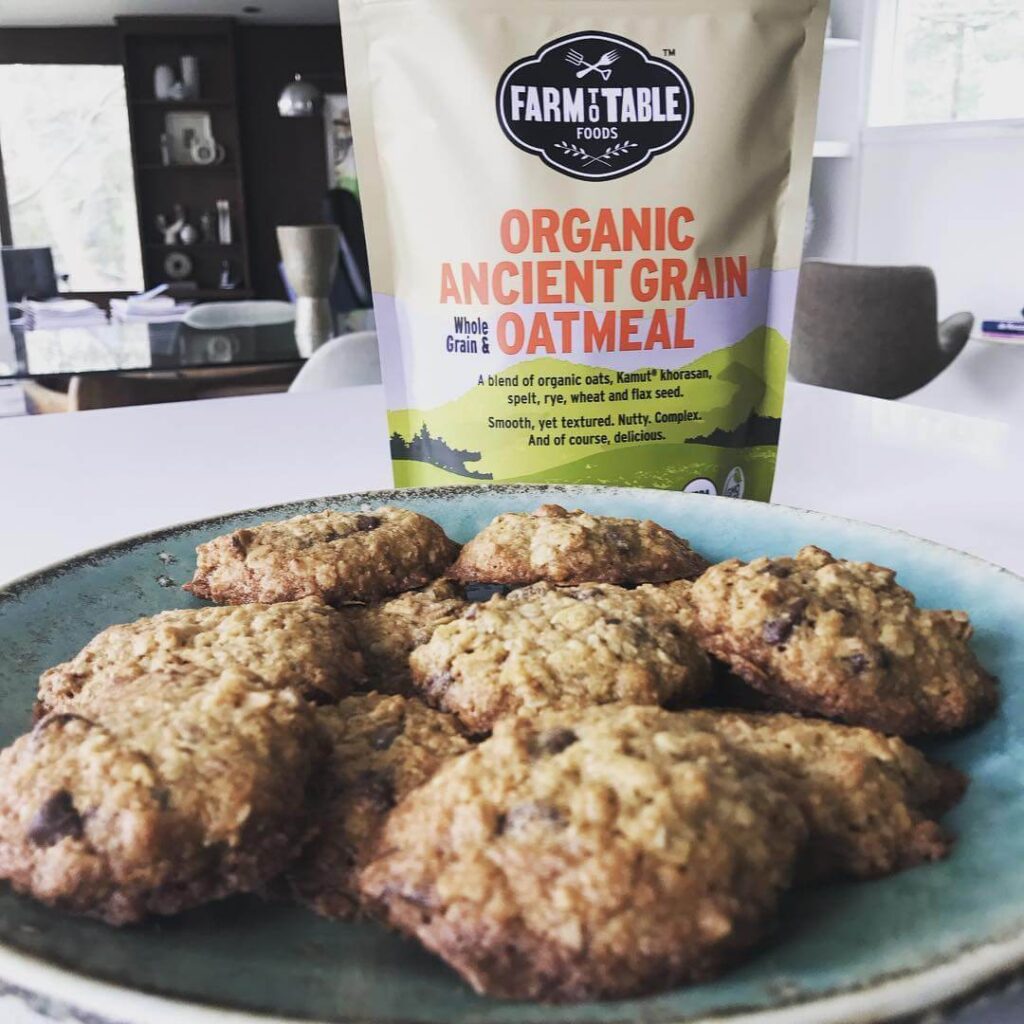 Price Range: 3 – 14 oz. Bags priced at $23.99
USP: Non GMO, Specializes in oatmeal mixes, Partners with sustainable farmers
Certifications: USDA Certified Organic, Certified Vegan
Perfecting the art of seed and grain mixology, Farm To Table is on a good food movement bringing you the purest and most hearty bowl of pesticide free oatmeal for your breakfast. The company uses minimal processing methods to keep intact the natural goodness of each ingredient, including various nuts, seeds, fruits and organic oats.
Farm To Table is commited to offer products made with the finest ingredients and sources its produce from sustainable farmers who share the brand's vision to be organic. With a base of 100% organic rolled oats or steel cut oats, its oatmeal mixes are high in natural protein, pre-biotic fibre and antioxidants. Definitely a power-packed start for the day!
10. Mush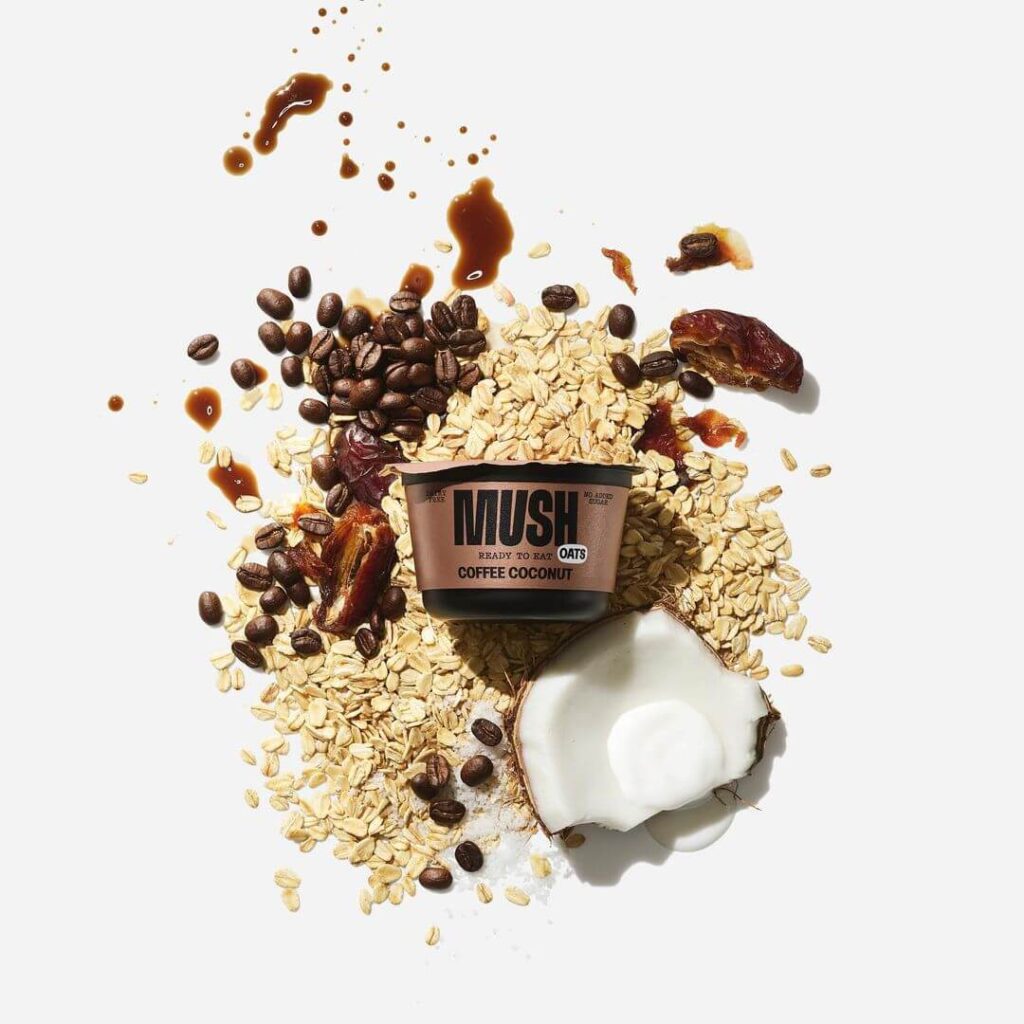 Price Range: Pack of 8 comes at $29.99
USP: Overnight ready-to-eat oats soaked in dairy-free milk, Plant-based, Heat-free pasteurization, No added preservatives
Certifications: Certified Glyphosate Residue Free by the Detox Project, Certified Gluten-free, Non-GMO Verified
MUSH Foods offers ready-to-eat overnight oats in eight amazing flavors, such as Dark Chocolate, Vanilla Bean, Apple Pie, Coffee + Coconut Cream, Peanut Butter Swirl Crunch, Wild Blueberry, and so on. Focussed on creating nutritious food that enables your body for better outcomes, the brand uses certified glyphosate residue free oats.
In addition to using natural ingredients, Mush uses a special pasteurization technique without any artificial additives, colour or heat. However, a notable downside of this woman-owned brand is their packaging. Their pre-made oatmeals come in single-use plastic packaging. So while consuming them is good for your gut, it's not good for our ecosystem. An overall good label, but Mush does need to work on its packaging and recycling practices.
Why it is Important to Choose the Right Organic Pesticide Free Oatmeal
Oatmeals are packed with nutrients, and that's the reason people worldwide blindly consume it on a daily basis. However, if you're not choosing the right organic pesticide free oatmeal, then you're causing more harm to your health than good.
What is Glyphosate?
Glyphosate is a synthetic herbicide that acts as an active ingredient in the weed-killer Roundup®. It was first developed in 1974 by Monsanto— An American agrochemical corporation, and has been widely used primarily across the U.S. since then.
Roundup® works by stopping the production of amino acids by plant cells. These acids create the plant's structure and protect them against diseases. Without the presence of the amino acids, the weeds automatically dry up and die. However, genetically modified (GMO) crops are resistant to Roundup®, and continue to grow even if they're sprayed with the weed-killer.
While oats aren't genetically modified, many farmers use glyphosate on oats in order to dry the crops at a shorter harvest time. This process is called desiccation. Farmers spray the oat plants with the weed-killer once they mature. This practice kills conventionally grown crops and makes harvesting easier by forcing the crops into earlier ripening. However, this results in higher levels of glyphosate in the oats.
Recent studies have found that glyphosate-based herbicides (shortened to GBHs) have increased nearly 300 times since the late 1970s. Particularly in oats. Reason? Farmers have discovered this chemical can be used 'off-label' as a pre-harvest desiccant. They also prefer using glyphosate because it increases the size and amount of oats in every harvest, which leads to better yields.
Glyphosate is Ruining your Health & Especially Affecting the Kids
Glyphosate-laced oats and their effects on human health is still a hot topic of an ongoing debate. The Environmental Protection Agency (EPA) has set the "tolerable limit" for glyphosate residue in oats at 30 parts per million, and the EU's limit stands at 20 parts per million.
It is to be noted that the daily limit for safe consumption levels of glyphosate varies worldwide. While the U.S. suggests within 1.75 milligrams per kg of body weight, the EU has limited it to a much lower 0.3 milligrams. Even the EPA, FDA, World Health Organization (WHO) and European Food Safety Authority (EFSA) have assured that glyphosate doesn't pose health risks to people.
However, critics of glyphosate have confirmed that this chemical damages oats' nutritional value and increases the risk of cancer. Glyphosate interferes with the development of the critical immune system that children need to fight off diseases and heal damaged tissues. This chemical also increases inflammation and causes cell damage. Probably these pro-inflammatory impact is the reason why studies have revealed that glyphosate plays a vital role in cancer development.
A bio-monitoring research by The Center For Environmental Health (CEH) studied parent-child pairs and found that 9 children had alarming amounts of glyphosate compared to their parents. In fact, half of the kids had twice the level of glyphosate in their bodies than their parents. If this isn't scary, what is?
Again, the microbes community in children's guts, also known as the gut microbiome, develops most from birth to three years of age during the transition from breastfeeding to solid food. So what your little ones eat plays a major role in the amount and quality of microbes that grow in the gut and live there throughout adulthood. Therefore, an imbalance of "good" and "bad" gut microbes—called dysbiosis, may dispose children to experience issues like irritable bowel disease, asthma, type 2 diabetes, and so on, as they age.
This concern over glyphosate's impact on oats' healthfulness is the reason why Western Canada, Grain Millers Inc. (one of the largest oat buyers) declared it would stop buying glyphosate-treated oats. The company mentioned they couldn't market their oat products as 'heart healthy' if they didn't actually contain the nutrient.
Global Glyphosate Contamination in Oats Revealed By Environmental Working Group
The Environmental Working Group (EWG) published a report on August 15th, 2018, revealing traces of glyphosate in 43 out of 45 conventionally grown oats samples. Roughly three-quarters of those samples had glyphosate levels higher than 160 parts per billion. But what's troublesome is EWG also tested 16 organic oats samples and, shockingly, found contamination there too. About a third of the samples had glyphosate residues. Fortunately, the amount was much lower and below the harmful threshold.
They have also shared how major food corporations like General Mills continue to produce kid cereals with oats despite the high amount of the carcinogenic glyphosate's presence in them.
The Canadian Food Inspection Agency (CFIA) published a report in 2017, disclosing residues of the weed-killer in approximately 29.7% of the 3,188 sample food products they tested between 2015 and 2016. It was noted that across all of the sample testings by the CFIA, 1.3% of products contained residue levels which are above Health Canada's Maximum Residue Limits (MRLs). Scientists believe that exposure to this level of glyphosate can harm human health.
Pesticide Free Oatmeal – Important Certifications
USDA Certified Organic – This is a recognized certification offered by the United States Department of Agriculture. It ensures that the crops were organically grown on clean soil that had no forbidden chemical substances added for three years before harvest.
Kosher – The term "Kosher" means the food items are produced as per the traditional dietary rules of the Jews. It includes a set of rules that needs to be followed to make any food, drink or supplement kosher. One such rule is milk and meat cannot be mixed together for consumption.
Gluten Free Certification – This certification confirms that the food, drink or supplement has been rigorously tested for gluten-free safety. It is designed to protect consumers with celiac disease and other gluten-related allergies.
Non-GMO Project Verified – This certification ensures that the food you're consuming doesn't consist of genetically modified ingredients. Known to be North America's most trusted non-profit body, it is committed to building and conserving the non-GMO food supply for healthier food options.
Glyphosate Residue Free Approved by The Detox Project – The Detox Project is a certification and research platform that operates as a third-party ISO 17025 accredited laboratory and tests a brand's food products for traces of glyphosate.
Vegan Certified – This certification means all the food products are made without the inclusion of any kind of animal-based ingredients, such as honey, dairy, eggs, meat, gelatin, etc. It also confirms that the products are not tested on animals.
To Conclude…
Oatmeal is supposed to keep us healthy. Let's keep it that way! Choosing pesticide-free oatmeal can have a significant positive impact on your health and the planet's biodiversity. Glyphosate free oats grown through sustainable farming practices might be a bit pricey compared to conventionally grown oats, but the long-term benefits of clean oats make it a worthwhile investment. And I'm sure that's what you want for yourself and your family. So, make the switch now, and see the difference for yourself. Support the above-mentioned pesticide free oatmeal brands so that more and more labels are encouraged to do "good" rather than just filling their pockets.
FAQs
What oatmeal does not have pesticides?
Organic oatmeal does not have pesticide as they are grown using non-gmo techniques and clean agricultural methods that involve natural manures and pesticides.
Are Quaker Oats free of pesticides?
No. Quaker Oats is one of those highly commercialized oatmeal brands that uses volumes of conventionally grown oats which are laced with pesticides. In fact, a report by the Environmental Working Group (EWG) has revealed that Quaker Oats have potentially dangerous levels of glyphosate.
What is the safest oatmeal to eat?
For the safest oatmeal, always look for organic certifications and check the brand's website to know more about their sourcing partners, processing techniques, dedication to consumers, etc. If you have any particular food concerns, then do confirm if the brand's products are vegan or kosher or gluten-free. And you're good to go.
Do all oats have pesticides?
No, all oats don't have pesticides. Usually, brands that mass produce use conventionally grown oats and other ingredients that are cultivated with huge amounts of pesticides, herbicides, and synthetic fertilizers. Organic pesticide free oatmeal brands that prioritize consumers' health, always stick to bringing to you the good-old glyphosate residue free oatmeal blends with steel cut oats or rolled oats as the base. These oatmeals are packed with nutrients.
Should you buy Glyphosate-free oats for your kids?
YES. Definitely! Glyphosate has adverse health effects and is disastrous for your kids' health. So without any second thoughts, go for glyphosate free oats and get the best of what this potential age-old grain has to offer. Refer to this article to ease your hunt for the best pesticide free oatmeal brands.
Is Organic oatmeal pesticide free?
Yes, organic oatmeal is pesticide free. These are grown using natural agricultural methods that don't pollute the soil or deteriorate the crop quality.