Disclosure:
Your Sustainable Guide is supported by our readers. We might receive an affiliate commission if you make a purchase using links on our website, at no cost to you.
Learn more
Veganism is currently all the rage! With a substantial surge in people wanting to embrace a plant based diet, it's important to have access to reliable sources of information. That's where vegan blogs come in! It's incredible to witness how vegan food bloggers are giving it all in to create lip-smacking recipes solely out of plant based ingredients. And not just recipes, they also share health tips and lifestyle inspiration to keep you motivated in your plant-based journey.
Agreed, the internet is swarming with vegan food blogs, and it does get confusing on whom to choose and whom to give a miss. But fear not! We've got your base covered! From best vegan podcasts, exotic Indian, Thai and Balkan-inspired cuisines, hearty American and British comfort food recipes to vegan dating apps, we have something for everyone. Now, say Goodbye to bland bowls of boiled veggies and tasteless salads, because a whole new world of the best vegan blogs awaits you! Let's get started!
20 Top Vegan Blogs
1. Veganosity
2. The Colorful Kitchen
3. Vegan Richa
4. Sweet Simple Vegan
5. Veggiekins
6. The Full Helping
7. Pick Up Limes
8. Chocolate Covered Katie
9. Sweet Potato Soul
10. The Curious Chickpea
11. Rainbow Plant Life
12. Nora Cooks
13. Planted And Picked
14. The Edgy Veg
15. Post Punk Kitchen
16. No Sweat Vegan
17. Oh She Glows
18. Heartful Table
19. Wallflower Kitchen
20. Shane & Simple
How We Chose the Best Vegan Blogs
Every vegan food blog is different. To bring you the best plant based culinary experience, we created a list of our most preferred vegan bloggers who ticked off positive on our set criteria.
Health-first Approach – Bloggers who made it to this list are those who focus on creating nourishing recipes that bring out the best of whole, fresh foods and organic, seasonal, local produce.
Personal Touch – Anyone can recreate similar recipes, but what sets these bloggers apart are each recipe they make is a personalized version of their own cooking forte. So while you come across dishes with the same name, they will all taste slightly different as they are adjusted to fit the bloggers' tastes.
AestheticPhotography – Let's face it, all of us are drawn towards recipes that look like a piece of art. If the picture ain't beautiful, no matter how much a blogger brags about it, people are not gonna try it. The vegan food blogs we've selected for you raise the bar for food porn with some insanely aesthetic photography.
Simplicity of Content – The best vegan food bloggers prioritize jotting down recipes in a simple format. This immensely helps the readers with easy readability and clarity of information. While detailed recipe guides are excellent, simple steps and easy-to-read ingredient lists are most helpful.
Variety of Content – All the bloggers featured in this list have a wide range of content. From breakfast to dinner to cuisines from every corner of this world, their library of plantbased recipes are so diverse that you can have exotic yet easy-to-make meals on rotation every day.
User Experience – Food blogs should be designed to serve the ultimate purpose of keeping the audience hooked. And these vegan food bloggers are doing a great task in creating sites that are easy to navigate, fuss-free and have a neat interface.
Consistency of Posting – Passionate vegan food bloggers stick to a consistent blogging schedule. And trust me; it's hard work! Staying in tune with everything from recipe development to trying them out to making necessary changes and finally scribbling them down is a lot. So, whoever stayed steady deserves all the acknowledgement.
20 Best Vegan Blogs – Our Top Picks 
Whether you're a newbie adopting vegan diet or have been a vegan for long, these food blogs are everything you need to stay motivated in your compassionate healthy eating journey. Everyone, make way for— Veganosity, The Colorful Kitchen, Vegan Richa, Sweet Simple Vegan, Veggiekins, The Full Helping, Pick Up Limes, Chocolate Covered Katie, Sweet Potato Soul, The Curious Chickpea, Rainbow Plant Life, Nora Cooks, Planted And Picked, The Edgy Veg, Post Punk Kitchen, No Sweat Vegan, Oh She Glows, Heartful Table, Wallflower Kitchen and Shane & Simple.
1. Veganosity
Content: Blog, Cookbook, Magazine, Meal Plans
Creators: Linda and Alex
Unique Feature: Southern & Midwestern recipes
Veganosity is a space where the creators share their favourite family recipes' plant-based versions. The food blog came to life when the mother-daughter duo decided to go vegan together. As a family with Southern cooking roots, they make incredible comfort food recipes ranging from vegan lasagna and beer-braised pulled 'pork' to enchiladas and mac and cheese. So if you're looking for a filling snack, a delectable dinner, or a hearty dessert, you'll find it all here. Their Warm Acorn Squash-Lentil and Quinoa Salad, Mexican Black Bean spaghetti and Vegan Chickpea Burgers are drool worthy! Go try them!
What We Like
Tons of innovative meat replacement recipes that are hard-core mid-west and southern comfort food.
2. The Colorful Kitchen
Content: Blog, Cookbook, Meal Plans
Creator: Ilene Godofsky Moreno
Unique Feature: Colorful and delicious take on raw food recipes
If you love a table spread of highly nutritious and colourful lunches, dinners, soups, and salads, then The Colorful Kitchen has got you covered. Run by a certified health coach, cookbook author and food photographer, Ilene, the blog focuses on exhibiting the whole-food nutrition of every color. Guaranteed to up your vegan diet game, her plant-based recipes will undoubtedly do a happy dance on your tastebuds. Not sure where to start? Try her Vegan Maple-Mustard and Sweet Potato Melt, Butternut Squash Miso Mac n' Cheese and Mini Spiral Cream Cheese Tarts.
What We Like
Prioritizes the healthful benefits of raw, colourful and nutrient-dense food in delicious recipes.
3. Vegan Richa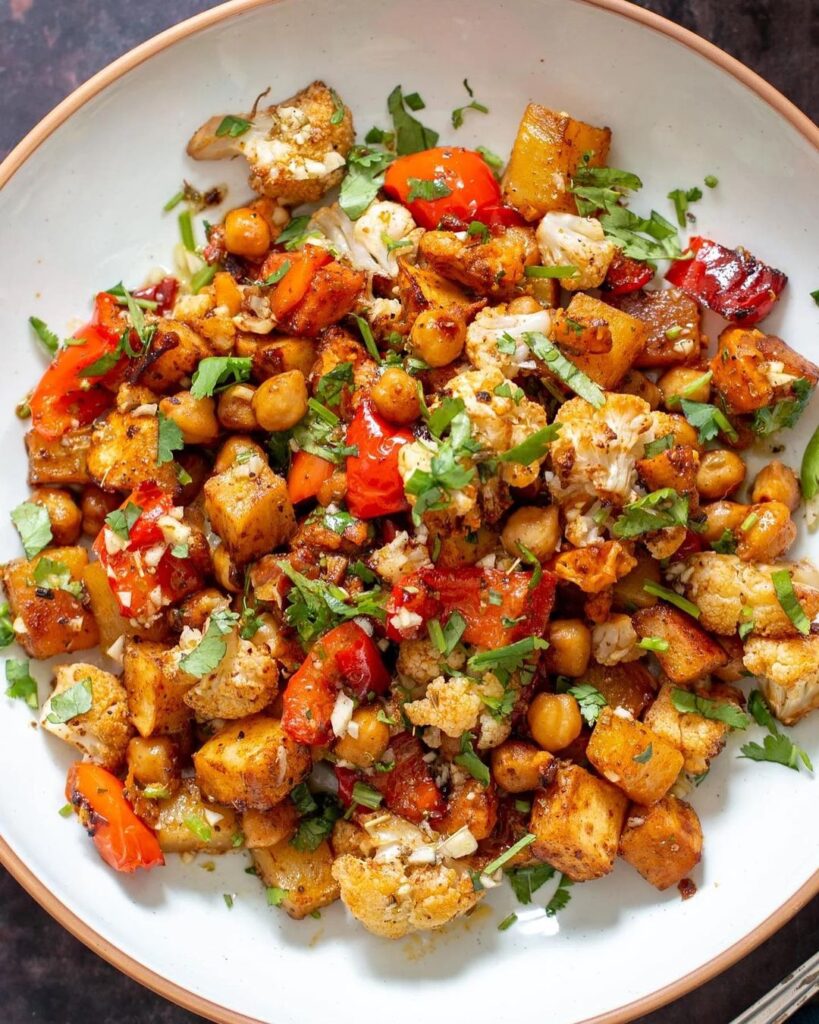 Content: Blog, Cookbook author, YouTube
Creator: Richa Hingle
Unique Feature: Indian-inspired vegan food
Indian food is filled with vegan recipes, and Vegan Richa does her best to create them in an easy-to-follow process for you to enjoy amazing food that is both colorful and wholesome. While most of her recipes are created with an Indian flair, her blog has a good collection of plant-based recipes from various cuisines of the world. Each of her recipes is a burst of flavors and textures that you can't get enough of. For starters, try her Vegan Green Keema and Tofu in Chilli Yogurt Sauce. You'll fall in love, I promise! 
What We Like
Along with vegan recipes, there is a great range of gluten-free, soy-free, and oil-free options. 
4. Sweet Simple Vegan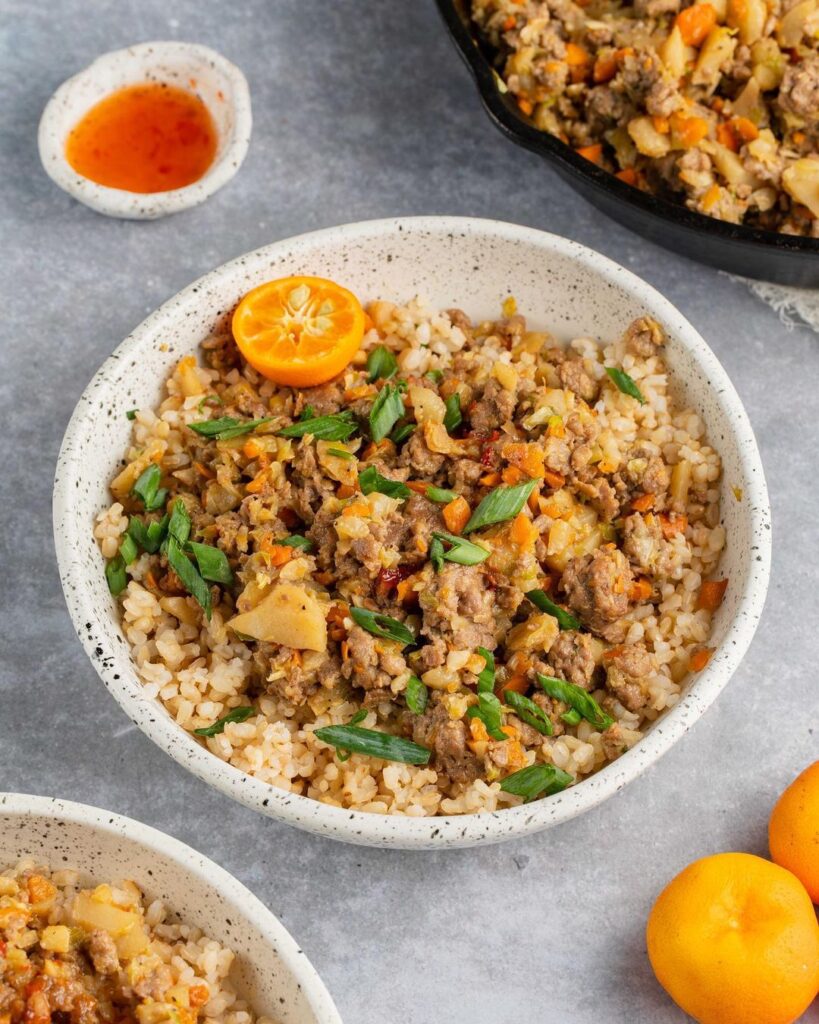 Content: Blog, Cookbook, YouTube
Creators: Jasmine Briones & Chris Petrellese
Unique Feature: Simple vegan recipes and lifestyle
Sweet Simple Vegan was initially launched in 2013 as a hobby, but soon the creators transformed the blog into a vegan recipe and lifestyle platform. With the passion to inspire others to live consciously, Jasmine and Chris strive to share simple plant-based, dairy-free recipes that are easy to make, delicious and budget-friendly. Along with scrumptious recipes, the blog also features the vegan lifestyle of the couple with reviews and tips on beauty and travelling.
What We Like
Easy recipes that can be effortlessly cooked by anyone, no matter their cooking skill level.
5. Veggiekins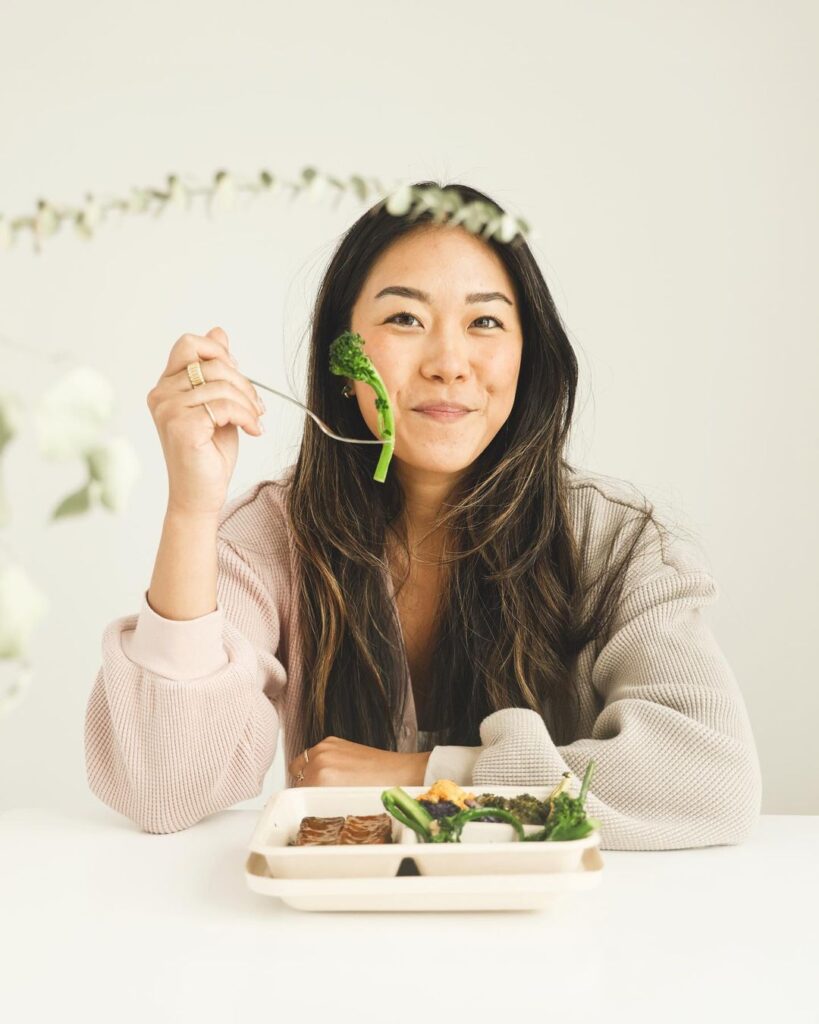 Content: Blog, YouTube
Creator: Remy Morimoto Park
Unique Feature: Wholesome and amazing vegan food
Veggiekins is home to nourishing recipes for a healthy body and mind. Prioritizing holistic wellness and non-toxic living, many of the recipes featured are gluten-free and inspired by East Asian flavors. With an aesthetic Instagram feed, Remy's recipes are all you need to kickstart your vegan diet and let the power of plants heal you. Her Avocado Green Goddess Salad, Tomato Orzo with Gochujang and Gluten-free Strawberry Peach Cobbler are too good to be true. Try it to know it!
What We Like
The aesthetic of the blog and Instagram motivate a vegan lifestyle. Mindfully made recipes that heal you inside out.
6. The Full Helping
Content: Blog, Cookbook, YouTube, Meal Plans
Creator: Gena Hamshaw
Unique Feature: Healthy vegan recipes
The Full Helping is the brainchild of a registered nutritionist— Gena. Therefore, her vegan recipes are expertly curated to fulfil all your nutritional requirements. Home to a considerable selection of cozy soups, wholesome dinners, and everything in between, her blog is a work of art with vibrant colors and stunning photography. While it's tough to pick just a couple of favorites, The Full Helping's recipes on Vegan Salisbury Steak with Mushroom Gravy and Broccoli Tabbouleh are to die for!
What We Like
Easy step-by-step process of loads of nutrient-rich meals. A clean and minimalistic aesthetic that represents clean eating. Plus, thoughtful discussions about topics like body image, eating disorders, emotional eating, and more.
7. Pick Up Limes
Content: Blog, Podcast, YouTube, Meal Plans etc.
Creator: Sadia Badiei
Unique Feature: Excellent video content on simple and delicious vegan recipes
Pick Up Limes aims to make a healthy plant-based, dairy-free lifestyle accessible to the masses. Launched in 2014, the blog shares delicious vegan recipes that are enriched with vital nutrients, visually appealing, and most importantly, fuss-free. Apart from recipes, you can also check the site for well-researched articles on skin health, bloating, inflammation, intuitive eating, and so on. You can start with her Vegan Whipped Ricotta Toast, Spicy Miso sesame Ramen and Oven Baked Tofu Shakshuka. Trust me; they're delish!
What We Like
Free grocery shopping list for a vegan diet and videos that cover pantry essentials to make plant-based eating a go-to thing.
8. Chocolate Covered Katie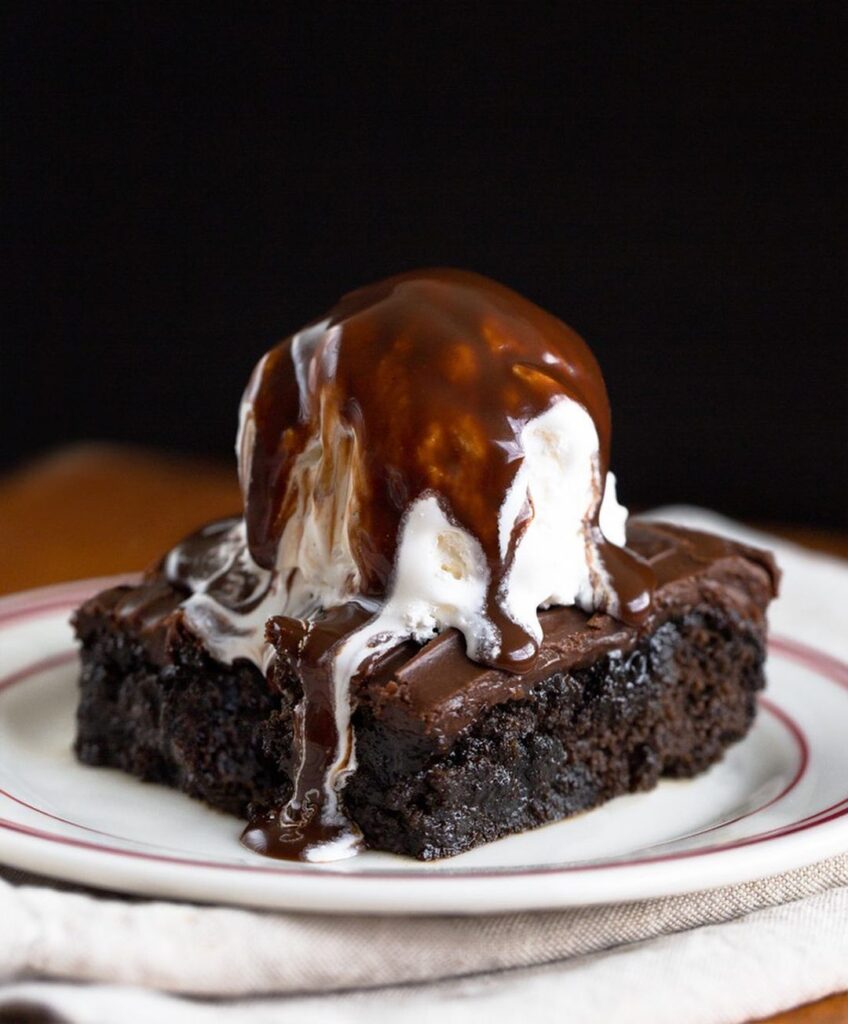 Content: Blog, YouTube
Creator: Katie Higgins
Unique Feature: Healthy dairy-free desserts
As the title says it all, this one's for those of you with a sweet tooth! Chocolate Covered Katie is a one-stop spot for deliciously decadent desserts that are perfect closures to every good vegan meal. What's remarkable is they're all made with nutritious, plant-based ingredients. Desserts apart, even their breakfast recipes are an amalgamation of over 100 ideas, including Cinnamon Rolls, Cranberry Orange Bread, Applesauce Muffins, etc. See, who said you couldn't have cake for breakfast? Because Chocolate Covered Katie is making it possible!
What We Like
A healthy take on desserts made from the best plant-based ingredients.
9. Sweet Potato Soul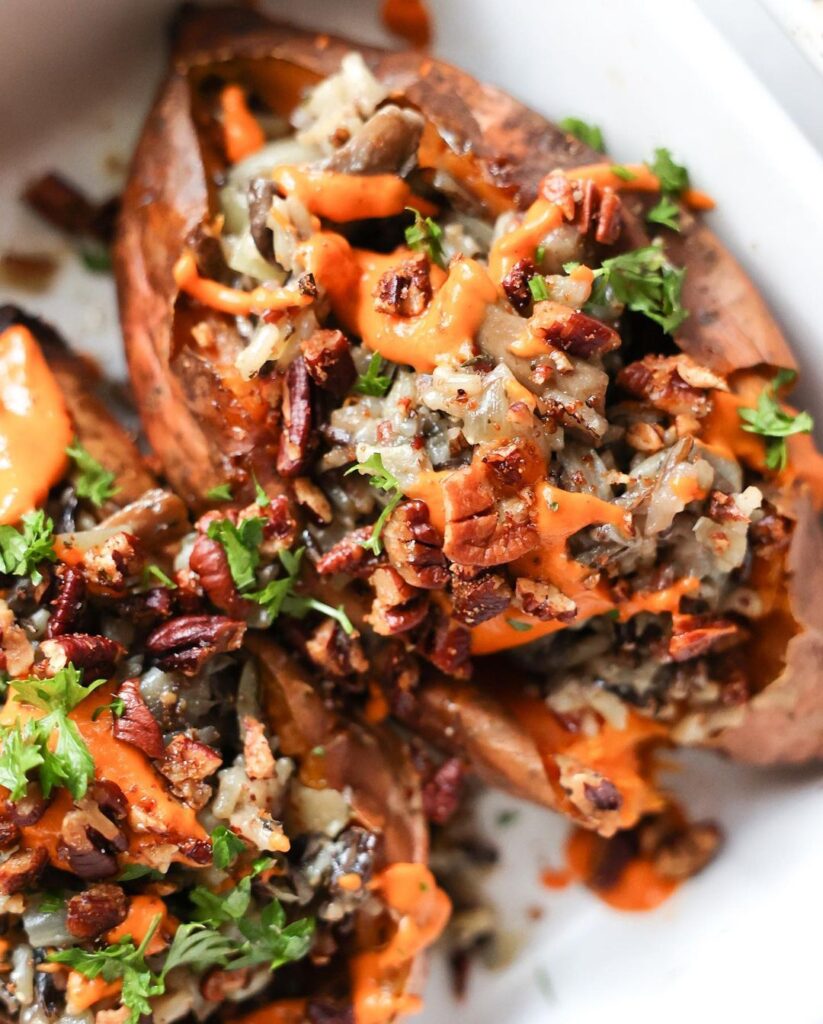 Content: Blog, Cookbook author, YouTube, Meal Plans etc.
Creator: Jenné Claiborne
Unique Feature: Fuss free vegan recipes
Jenné has an insatiable love for sweet potatoes, hence the name – Sweetpotatosoul! But her vegan recipes don't solely limit to sweet potato-based dishes. As a vegan, her blog is home to countless healthful recipes that are inspired by soul food and simple to be whipped up, no matter your cooking skills. Beyond recipes, she also shares healthy eating tips and the positive change that plant-based diets can make to your body. For my favourites, it has to be her Vegan Creamy Pasta with Mushroom Scallops and Vegan Sweet Potato Pie. Simply chef's kiss! 
What We Like
Uncomplicated vegan recipes that are super fresh. Free plantbased recipes as meal plans.
10. The Curious Chickpea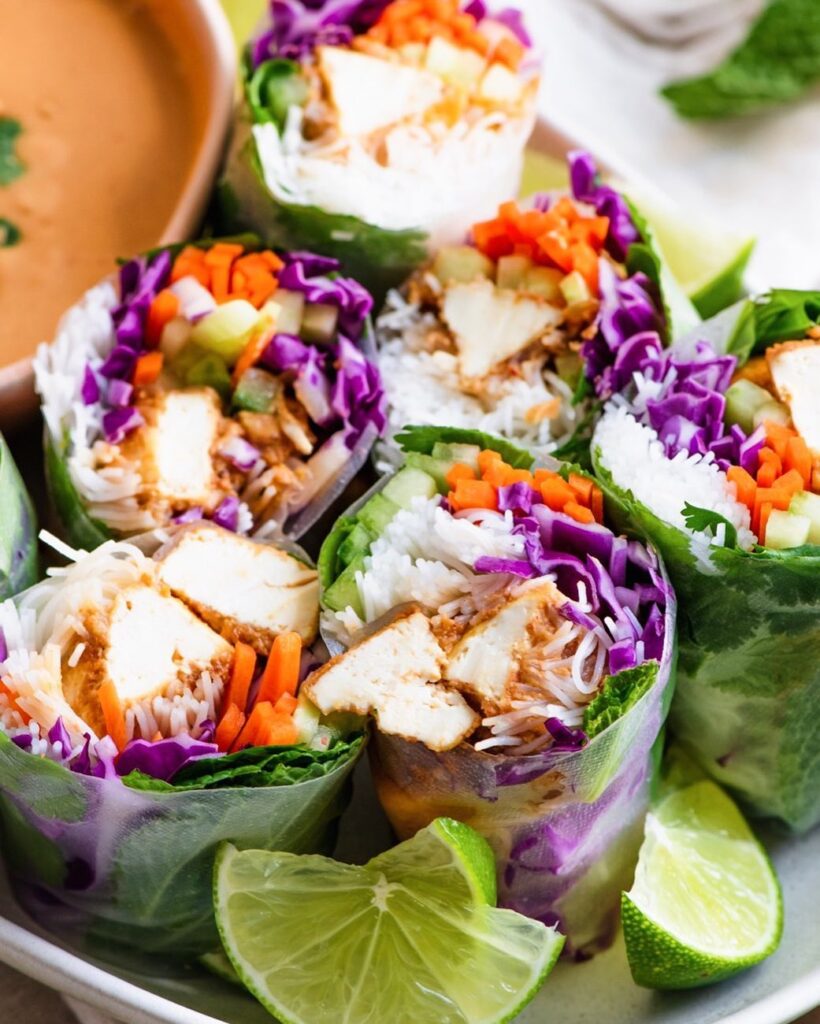 Content: Blog, YouTube
Creator: Eva Agha
Unique Feature: Specializes in recipes inspired by the Indian Cuisine
Undoubtedly one of the best vegan food blog, Eva is the chef-d'oeuvre of The Curious Chickpea. With her ethnicity of being half Sindhi and half American, she seamlessly depicts her multicultural background in her kitchen through her meal ideas. While she absolutely nails plant based versions of flavorful Indian dishes, she equally loves to experiment with recipes inspired by Ethiopian, Thai and Italian cuisines. In addition, Eva loves to geek about the science behind her recipes, so if you're interested, don't forget to check out her posts. My favorite? Vegan Chickpea Meatballs In Roasted Red Pepper Sauce and Vegan Caramelized Mushroom Pizza.
What We Like
The Curious Chickpea has a good collection of spice-diffused recipes. Its '35 minutes or under recipes' are amazing fixes for people with a tight schedule.
11. Rainbow Plant Life
Content: Blog, Cookbook author, YouTube
Creator: Nisha Vora
Unique Feature: Plantbased recipes rich in flavors
The Rainbow Plant Life came to life when Nisha, a former lawyer, gave up her corporate career to teach the masses the art of mastering vegan cooking. Growing up in an Indian household, her passion for vegetarian cooking was instilled early in her life. Later, however, she shifted to veganism as a more compassionate lifestyle choice. The Rainbow Plant Life perfectly represents her talents of creating vegan dishes that bust with flavors. So, if your passion for a plant based diet is dwindling for lack of taste, then this blog is everything you need. What I love? Tofu Tikka Masala, Jackfruit Tacos with Pickled Onion and Paleo Kulfi
What We Like
Covers everything from American comfort food to exotic Indian cuisine. You can also find veganism tips and articles on wellness and productivity.
12. Nora Cooks
Content: Blog, ebooks
Creator: Nora Taylor
Unique Feature: Simple and delicious American comfort food with a twist of healthfulness
The popular American vegan food blog Nora Cooks started out in 2017, out of Nora's love for creating healthy vegan recipes. As a passionate cook, her enthusiasm towards plant-based cooking are visible in her innovative take on the good-ol' American comfort food. With tons of recipes to ease your weekly meal plannings, you'll find plenty of uncomplex healthy ideas that everybody will appreciate— from people who are new to veganism to those pinched for time. My recommendation? I completely loved the JUST Egg Quiche and Asparagus Puff Pastry with Pesto.
What We Like
Easy-to-make recipes, made from easy-to-find ingredients, most of which only require a bowl or pot to make.
13. Planted And Picked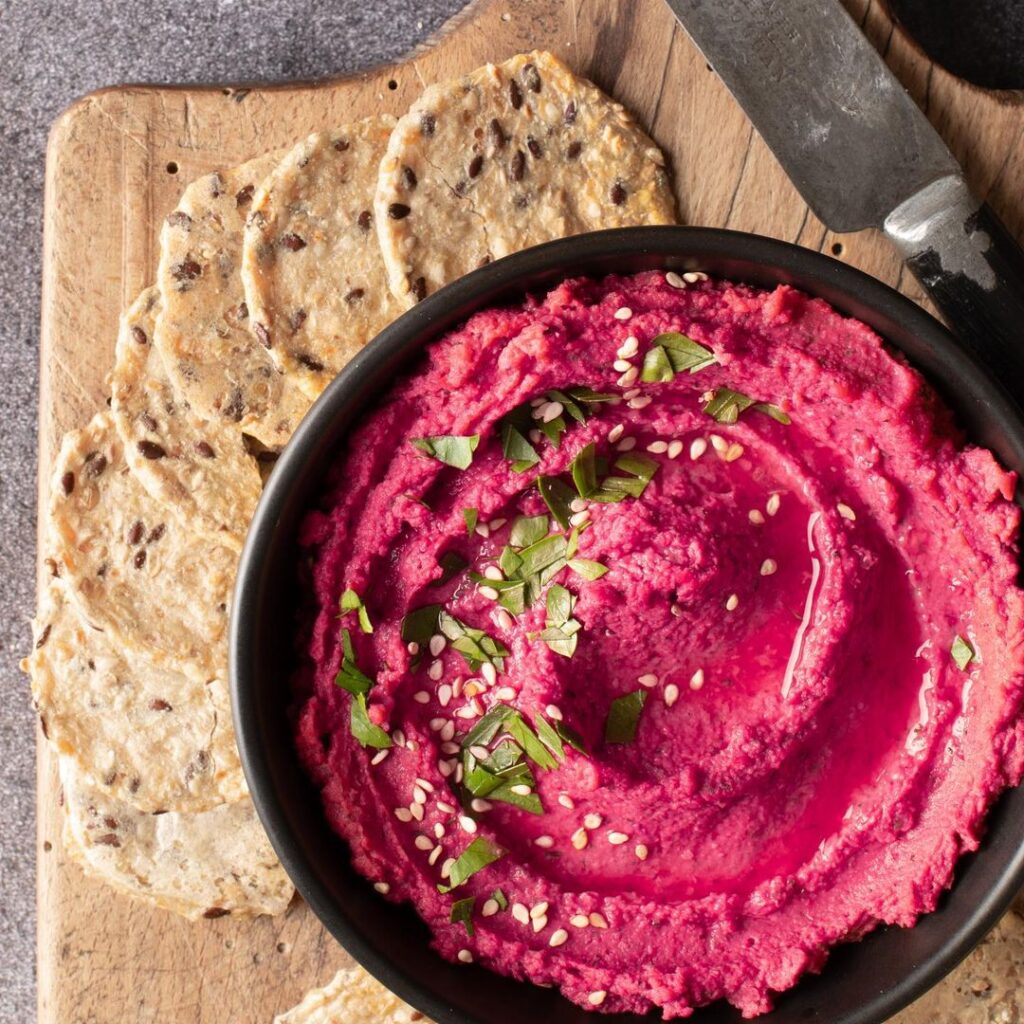 Content: Blog, Podcast, Cookbook, Magazine, YT, Meal Plans etc.
Creators: Sandra and Scott
Unique Feature: Easy vegan recipes mindfully made to cause the lowest environmental impact
Certified Culinary Nutrition Expert Sandra started her plant-based diet journey with her husband way late in their 40s. Today, they successfully run the gorgeous blog – Planted and Picked where they share vegan recipes, various resources and ideas that will help improve your health and that of the planet— one recipe at a time. The blog has hundreds of yummy and satisfying staple recipes, and the couple tirelessly promotes locally produced organic ingredients to reduce your carbon footprint. With hearty meals, you'll love their Creamy Butternut Squash Gnocchi, Wild rice and Mango Salad and Vegan French Onion Soup.
What We Like
Encourages vegan food ideas curated to minimize environmental footprint. Articles to educate on various wellness topics, such as Chronic Inflammation, Coping with Anxiety, Detoxification, and many more.
14. The Edgy Veg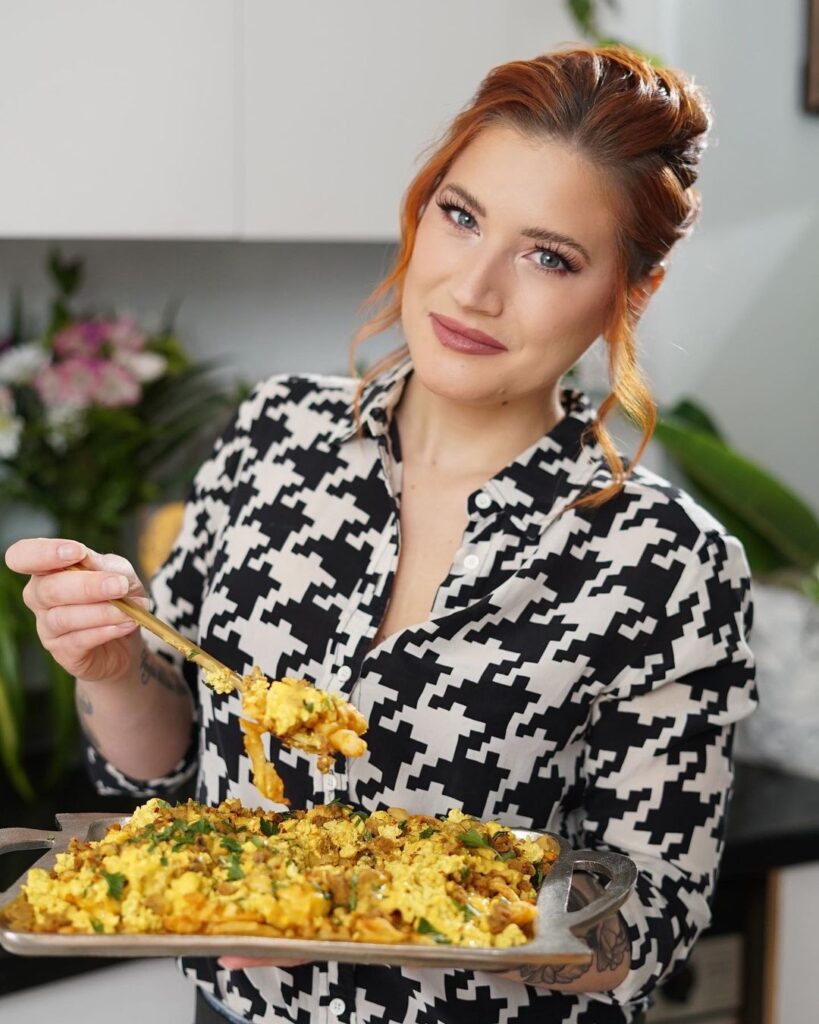 Content: Blog, Cookbook, YouTube, Meal Plans etc.
Creator: Candice Hutchings
Unique Feature: Flavorful plant based recipes as well as activism education
Revolutionizing vegan food, eco-conscious living and feminism, the creator of The Edgy Veg, Candice, is driven to change the world. The blog houses a cornucopia of carnivore-approved recipes along with "food porn" videos to encourage your plant based diet. Candice uses her socials to disrupt the vegan community through a humorous take on activism that goes beyond animals and food, focussing on issues like mental health, the environment, and women's rights. While you check out her recipes, consider trying the trending Vegan Tunacado and Eggplant Bacon. They're too good!
What We Like
The Edgy Veg also focuses on vegan tips and resources, eco-friendly approaches and more.
15. Post Punk Kitchen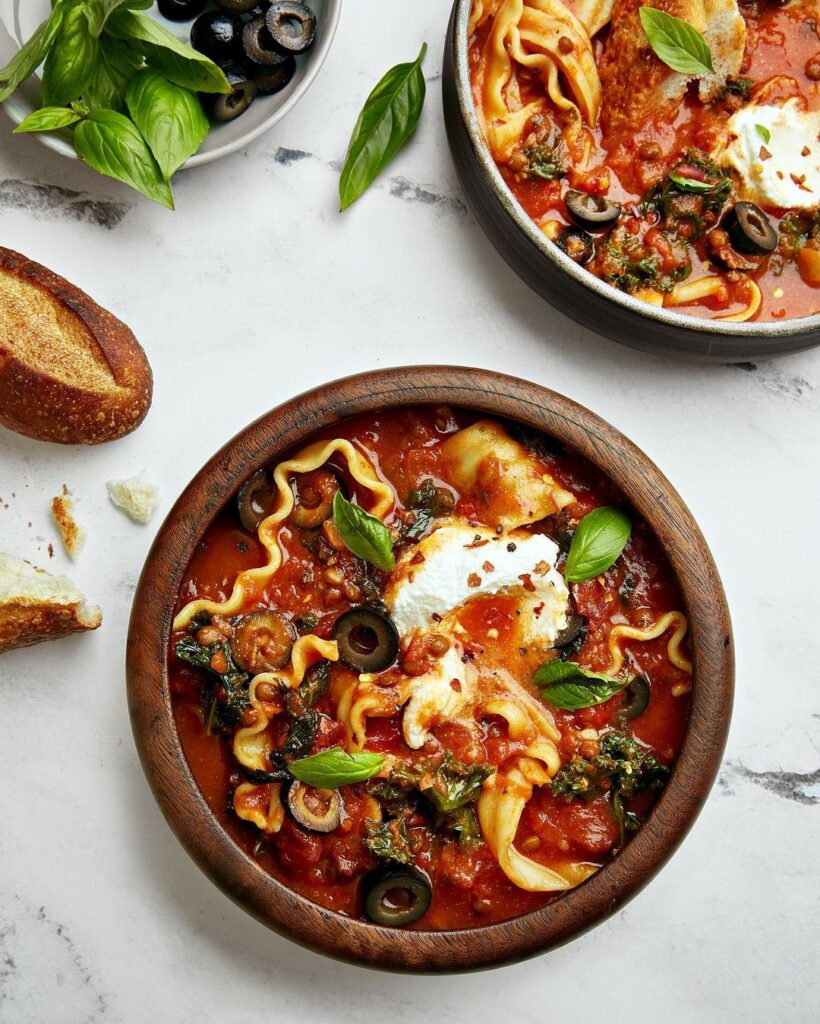 Content: Blog, Cookbooks
Creator: Isa Chandra Moskowitz
Unique Feature: Renowned for creating amazingvegan food for decades
Created by the famed queen of plantbased recipes and cookbook author Isa Chandra Moskowitz, The Post Punk Kitchen has been around for about two decades. With plenty of easy vegan recipes and videos, this blog fosters an incredible community of people adopting vegan diet. If you're new to veganism and struggling with meal ideas, this blog is a good starting point for piles of delicious vegan recipes to keep you on track. And while you're at it, do consider trying Lasagna Bolognese with Olives and Kale, Jacque's Bouef Bourguignon and Eggplant-Potato Moussaka. Oh! Did I mention the creator has two restaurants in New York?
What We Like
Post Punk Kitchen has credibility since the website has been around for a long time. Tons of plant based recipes, so that you never tire out of this diet.
16. No Sweat Vegan
Content: Blog, ebook, YouTube, Meal Plans
Creator: Julianne Lynch
Unique Feature: Quick-to-prepare, easy vegan recipes from around the world
If you're someone with a jam-packed schedule, struggling to put together everyday vegan meals, then No Sweat Vegan is going to be your new BFF! Run by plant-based connoisseur Julianne, the blog is home to recipes aligned around easy-to-make whole-food fares that can be quickly prepared and are budget-friendly. Another plus point, majority of the recipes are free from refined sugars or oils, and yet, they're so damn delish! I mean, I can't get enough of her Air Fryer Tofu Nuggets, Chili Sin Carne and Chipotle Sofritas Bowl. Ooh la la!
What We Like
No Sweat Vegan's site is super easy to navigate. Recipes are available based on various countries' cuisines to keep on rotation. Amazing vegan food that is in the category of 'Whole Food Plant Based.' You can download the ebook for free.
17. Oh She Glows
Content: Blog, Cookbooks author, App, YouTube
Creator: Angela Liddon
Unique Feature: Delicious vegan recipes inspired by global cuisines
Hands down one of the best vegan blogs for 15 years now, Angela started Oh She Glows to document her recovery from an eating disorder with the help of a plant based diet. Her goal is to inspire people across the world to embrace vegan foods and realize their immense benefits without feeling the least bit deprived of taste. Naturally, her blog has a bevy of over 500 energizing, plant-based recipes that are guaranteed to impress everyone in your family, including picky kids. Her simple yet creative recipes like Crunchy Dill Chickpea Pancakes with Lemon-Garlic Aioli, Sloppy Glows and Creamy Buffalo Cauli Tacos continue to inspire vegans every day.
What We Like
Most of Oh She Glow's recipes are gluten-free and allergy-friendly. Mouthwatering neat photography. Angela's award-winning cookbooks are New York Times bestsellers.
18. Heartful Table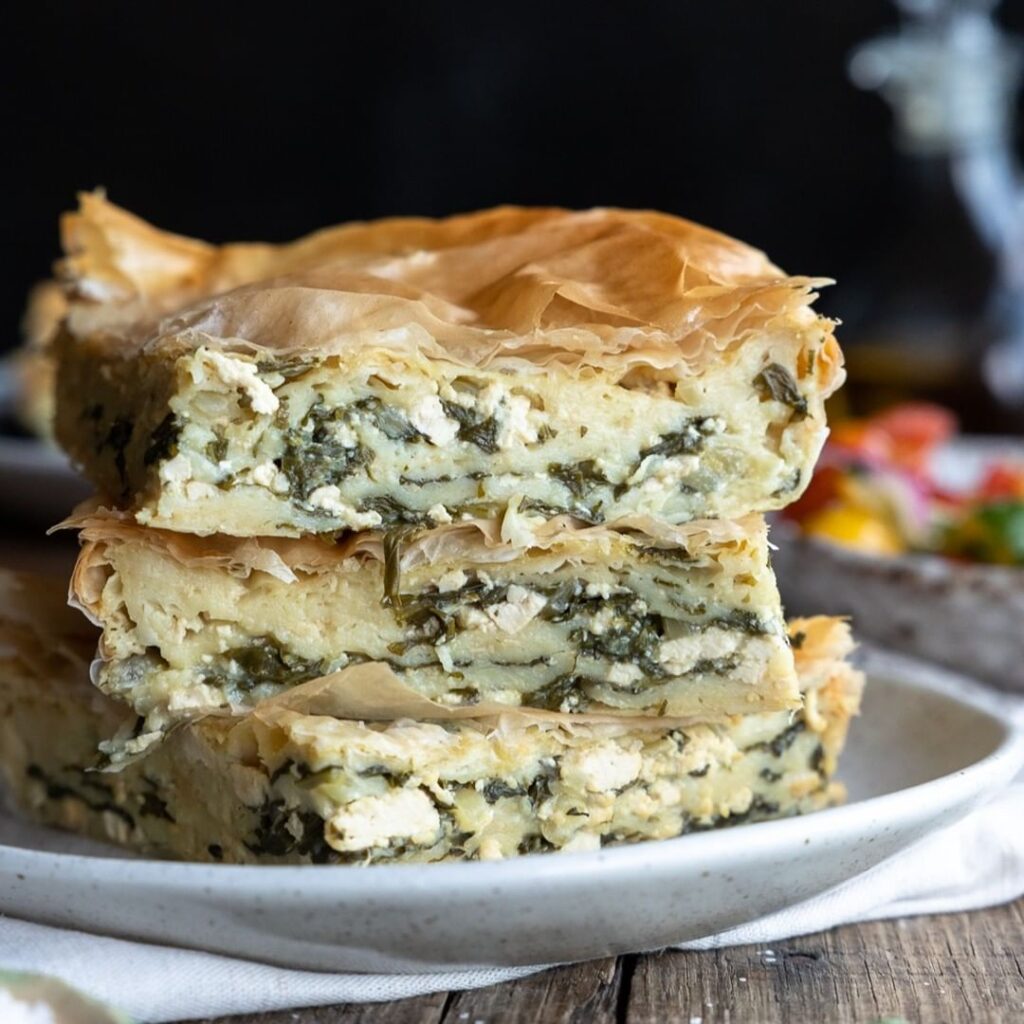 Content: Blog, Cookbook author, YouTube, Meal Plans
Creator: Maša Ofei
Unique Feature: Balkan-inspired plantbased recipes
Do you love to explore the varied tastes of multicultural cuisines? Then make way for Heartful Table— a vegan food blog where plant based versions of mouthwatering recipes unite from all corners of the world. The creator Maša is passionate about ethical food that can be enjoyed with family and friends. While her recipes are a good mix of Ethiopian, Indian, Italian, Turkish and Vietnamese cuisines, a lot of them are inspired by her Slovenian roots. Her vegan rendition of traditional Balkan dishes are so unique that they're assured to make you fall in love with vegan food all over again. My favorites? Oh, it has to be Vegan Asparagus Tart with Cashew Cream and Cherry Strudel with Cream Cheese.
What We Like
Heartful Table has a good collection of recipes, videos, and how-to guides to support your vegan diet with nourishing and delicious meals every day. Also offers a free cookbook. Gluten-free, nut-free and soy-free options are available.
19. Wallflower Kitchen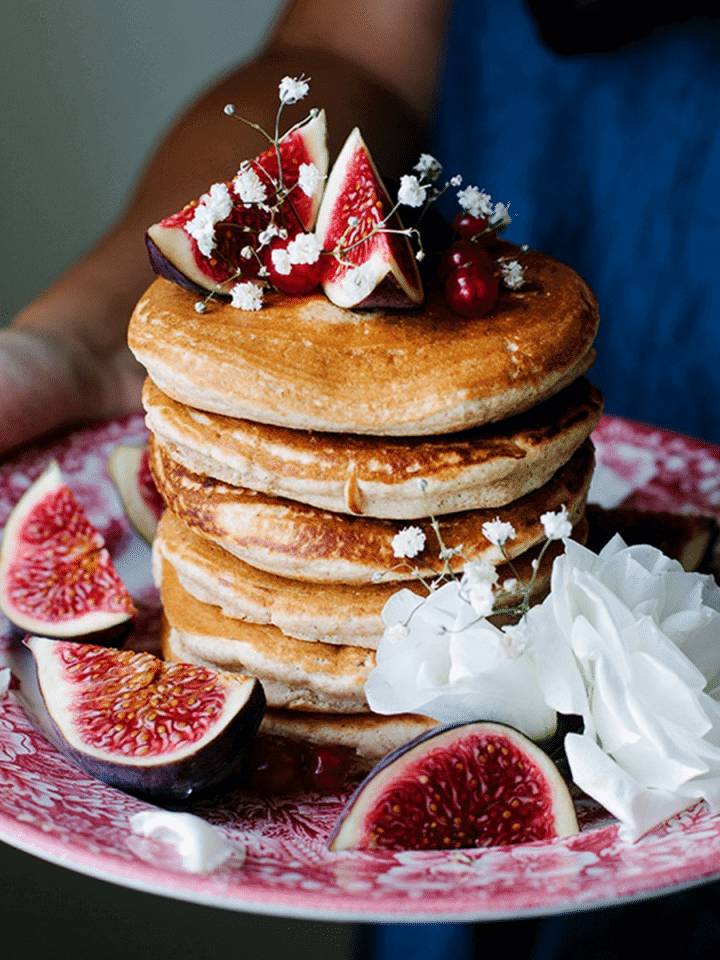 Content: Blog, Cookbook author, YouTube
Creator: Aimee Ryan
Unique Feature: British comfort food
Are you someone who finds solace in classic British food? Then you've got to check out Wallflower Kitchen. Created by recipe developer and food photographer Aimee, this blog is a space where she gives life to vegan versions of British classics. Think Sunday Roasts, Shepherds Pie, Breakfast Scones, and you'll get each of these nostalgic comfort food recipes, but with plant based ingredients. As a home cook, Aimee strives to create simple non-pretentious vegan recipes that are accessible and affordable for everyone. I find my comfort in her Vegan Potato and Leek Soup and Vegan Mushroom-Ale Pie.
What We Like
Simple recipes with easy-to-find, budget-friendly ingredients. An innovative take on British cuisine.
20. Shane & Simple
Content: Blog, ebook
Creator: Shane Martin
Unique Feature: Practical American easy vegan recipes
Last, but definitely not the least, one of our favorite vegan food bloggers had to be Shane— manning Shane & Simple. The name says it all, this vegan food blog is the address of simple, affordable, practical plant-based recipes that can be whipped by any casual cook. So, if you feel intimidated by vegan cooking, then this space has got your back. You'll be amazed to know that while this site features recipes from around the world, none of them will feel unapproachable. Because Shane takes care to curate everything in a super simple manner but with an elevated taste.
What We Like
Vegan meals are crafted with large families and tight schedules in mind. No fancy equipment needed.
Types of Vegans
The vegan philosophy teaches people to abstain from the use of any animal-derived products. From diet to clothing, everything that vegans use in their daily life is free of items sourced through forms of animal exploitation and cruelty. However, not all vegans are the same. In fact, there are various types of vegans leading a lifestyle based on different ideologies.
Vegetarians are often confused with egans. Though vegetarians follow a diet that is free of meats, lard, fish and eggs, they do consume dairy and honey. Vegans on the other hand exclude all kinds of animal-based foods from their diet.
Health-conscious Vegans: Many people transition to a plant-based diet primarily for health reasons. Countless research has proven that a vegan diet can cure your gut, reducing the risks of many diseases.
Ethical Vegans: These people are the compassionate ones. They choose a plant-based diet to steer clear of the ever-exploitative animal agriculture industry. Ethical vegans' values are based on animal rights and welfare concerns.
Environmental Vegans: Concerned environmental enthusiasts choose a plant-based diet to reduce their impact on the planet. A recent study revealed that we can eliminate our individual carbon footprint by up to a whopping 73% if we only cut on meat and dairy products from our diets.
Spiritual/Religious vegans: Many people choose a plant-based diet as part of their spiritual or religious beliefs that revolve around ahimsa and clean eating values.
Raw Vegans: People whose eating habits are centred around uncooked, unprocessed, fresh plant based ingredients are called raw vegans. Their diet usually consists of fresh fruits, salads, legumes, nuts, seeds, etc.
Final Thoughts…
Vegan food has so much potential, and the vegan bloggers listed above are proving every ounce of this theory right. With categories ranging from comfort food to international exotic dishes, these vegan blogs are keeping their best foot forward to support and inspire your plant based eating journey. Whether you're a health-conscious vegan or an ethical vegan, these spaces can be your go-to for staying informed and motivated to embrace a clean, green, and simple vegan diet. Happy Cooking!
FAQs
How to start a vegan blog?
Passion and informed knowledge about plant based diets are crucial for starting a vegan blog. Next, pick your niche/specialty. Being focused on the sphere of your choice will not only add value and uniqueness to your blog, but you'll also enjoy curating content.
What do vegan athletes eat?
For athletes, it's important to achieve their daily dietary requirements of phytonutrient-rich foods. Vegan athletes eat a lot of plant based proteins like tofu, lentils, beans, chickpeas, beans, quinoa, seeds, nuts, mushrooms, green leafy vegetables, and various grains.
How to choose a name for a vegan blog?
To choose a name for a vegan blog, it's vital to make it catchy. The title should somehow give the audience an idea that the blog is about plantbased recipes.
What is the best vegan blog?
The best vegan blog is the one which creates recipes that is a combination of easy-to-make simple recipes that can be made with affordable, easy-to-find local ingredients and are packed with nutrition so that you can get the most benefits from your plant based diet.
Who are the biggest vegan influencers?
Radhi Devulikia Shetty, Fearne Cotton, Niomi Smart, Marta Canga, Lucy Watson, Nisha Vora, Family Fizz, Richa Hingle are some of the biggest vegan influencers.
Is vegetarian and vegan the same?
No, vegetarians and vegans are not the same. The difference is while vegetarians don't eat animals and eggs, they consume dairy products. However, vegans exclude all kinds of items related to animals from their diet and overall lifestyle.