Disclosure:
Our editors handpick top-rated brands, vetted through our strict ratings. Purchases via our links may earn us a commission.
Learn more
Mornings and Coffee are a Match Made In Heaven! Like, nothing beats a steaming cup of coffee to fuel your senses and get the ball rolling for the day. And the equation just gets better when it's organic pesticide free coffee packed with the goodness of rich intense flavours. However, while you regard this beverage as an elixir, you might not be aware of the potential health risks associated with it. Why? Because, nowadays, the widely available coffee packs are laced with pesticides, mold, mycotoxins, and God knows what!
The growing demand for coffee has led to massive commercialization, ultimately polluting the coffee production system. Thankfully, consumers are now aware that making the right purchasing choices can have a powerful impact on their health, and of course, the environment. As a result, conscious pesticide free coffee brands are coming up with a pledge to offer real coffee. No Nasties!
In today's feature, will explore the truth about profit-oriented coffee and highlight the importance of organic mold free coffee, so that you can make informed choices when it comes to your daily cup of joy! Let's begin!
12 Best Organic Pesticide Free Coffee Brands
Why it is Important to Choose the Right Organic Pesticide Free Coffee ?
According to the National Coffee Association, about 66% of Americans drink coffee every day. That's how important this beverage is to us! Most people can't fathom starting their day without a large mug of latte, cappuccino or americano. Including me! So with coffee being a vital part of our existence (please share in the drama), it is crucial to ensure that we're choosing the right organic pesticide free coffee to soak in its numerous health benefits.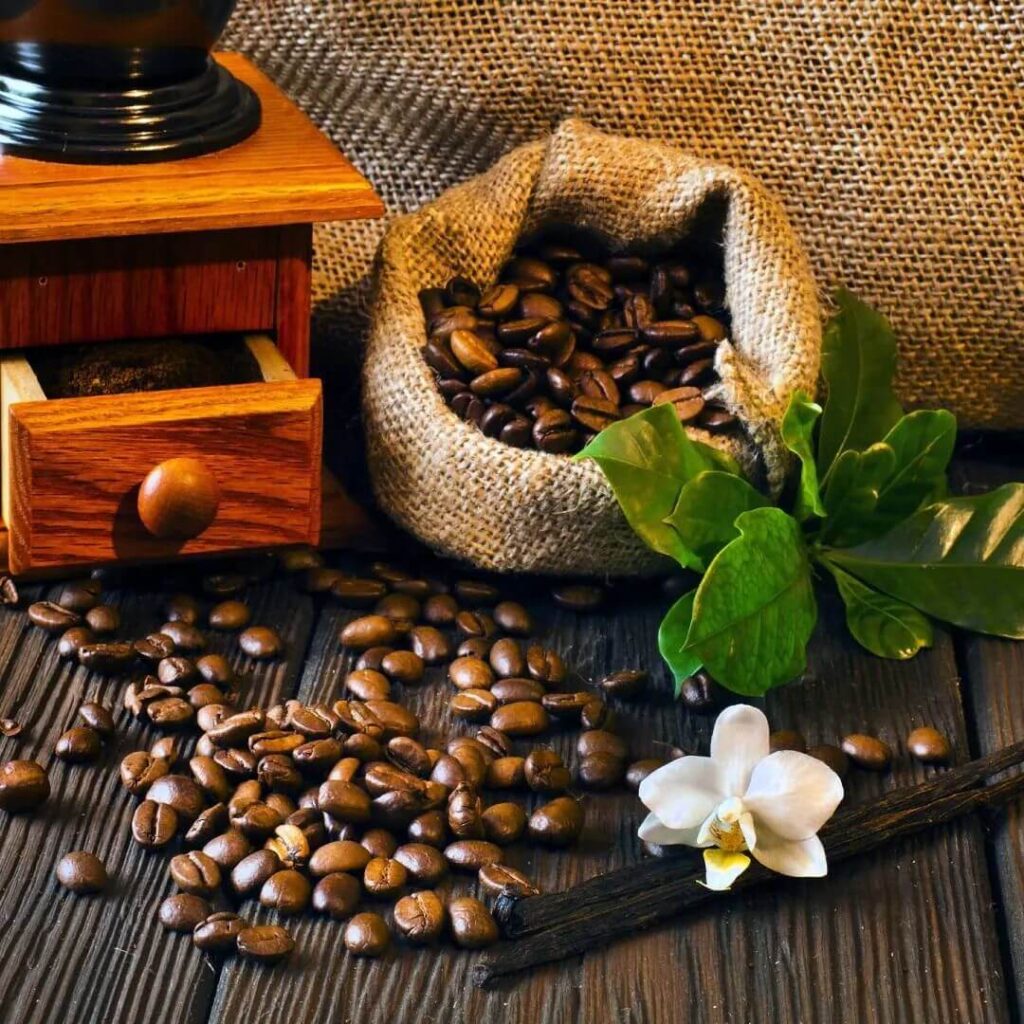 Coffee Boosts Immunity!
Organic coffee is rich in potent antioxidants. Having a cup of freshly brewed pesticide-free coffee daily helps in steering clear of depression, Parkinson's disease, cardiovascular ailments, liver problems, and the list goes on. Along with powering your energy levels, it also magnifies your immunity and reduces the risk of Type 2 Diabetes. According to Harvard, coffee can help you live longer. Of course, moderation is the key!
Avoiding Coffee Contaminants
The use of pesticides, herbicides and fungicides in coffee production isn't unknown. According to CS Monitor, roughly 250 pounds of synthetic fertilizers are sprayed per acre in conventional coffee farms. The U.S. government has not yet tapped the Maximum Residue Limits (MRLs) for pesticides used in coffee production. Adding to the horror, about 42 different types of pesticides are used in coffee cultivation worldwide, excluding chemicals banned globally. However, there's every chance they are still being used illegally. So watch out before you take a sip!
Bad Coffee = Bad Health
As much as clean, organic pesticide free coffee is favourable for your health, conventional coffee is just as damaging. Dripping in chemicals, it can increase the risk of cancer, and trigger insomnia, anxiety, digestive issues, and much more.
Mold…Mycotoxins…Oh No!
Mycotoxins are a type of naturally occurring toxins that are released by some molds and fungi. The most common mycotoxin found in coffee are Ochratoxin A and Aflatoxin B1. These are not added on purpose, but the contamination can happen at any stage of the coffee production process. Whether during the growth phase of coffee cherries, while being stored after harvest, or during transportation and change in temperatures.
Molds are another usual contagion found in regular low-grade coffee. In fact, a study revealed that 91.7% of green coffee beans are mold-contaminated, which is shocking and, might I add, disgusting!
Decaf is Fab!
If you're a Decaf buff, make sure the brand you go for uses a natural, non-solvent-based processing method, like the Swiss Water Process. First discovered in Switzerland during the 1930s, this method eliminates 99.9% of the caffeine molecules by tactfully using just pure water. It helps retain the original flavour and healthful antioxidant properties of organic coffee beans in your decaf blend!
Typically, caffeine extraction by commercialized brands involves synthetic chemical like methylene chloride or ethyl acetate, which you should avoid at all costs.
Gentle on Mother Earth!
Do you know, coffee is the second most tradable commodity? The demand for coffee worldwide has drawn in Corporates trying to make big money by producing massive volumes of coffee beans. In Central America alone, about 2.5 million acres of forest have been cleared for coffee farming leading to mass deforestation.
To cut short the harvesting duration, GMO seeds are used along with alarming amounts of pesticides, ultimately stripping coffee of its benefits and polluting the soil. Use of these toxic synthetic fertilizers over and over barrens the land, preventing the growth of other crops.
Supports Small-scale Coffee Farming Communities
Small-scale coffee growers with generations of expertise fall prey to this ever-expanding coffee business. Most coffee brands produce their own coffee beans or tie up with commercialized partners who pay coffee farmers in pennies for the harvest acquired. However, pesticide free coffee brands practice fair trade and collaborate with age-old expert coffee farmers. These labels help coffee growers in using the best farming practices for which they receive a fair share and are able to live a decent life.
How will you choose YOUR Coffee?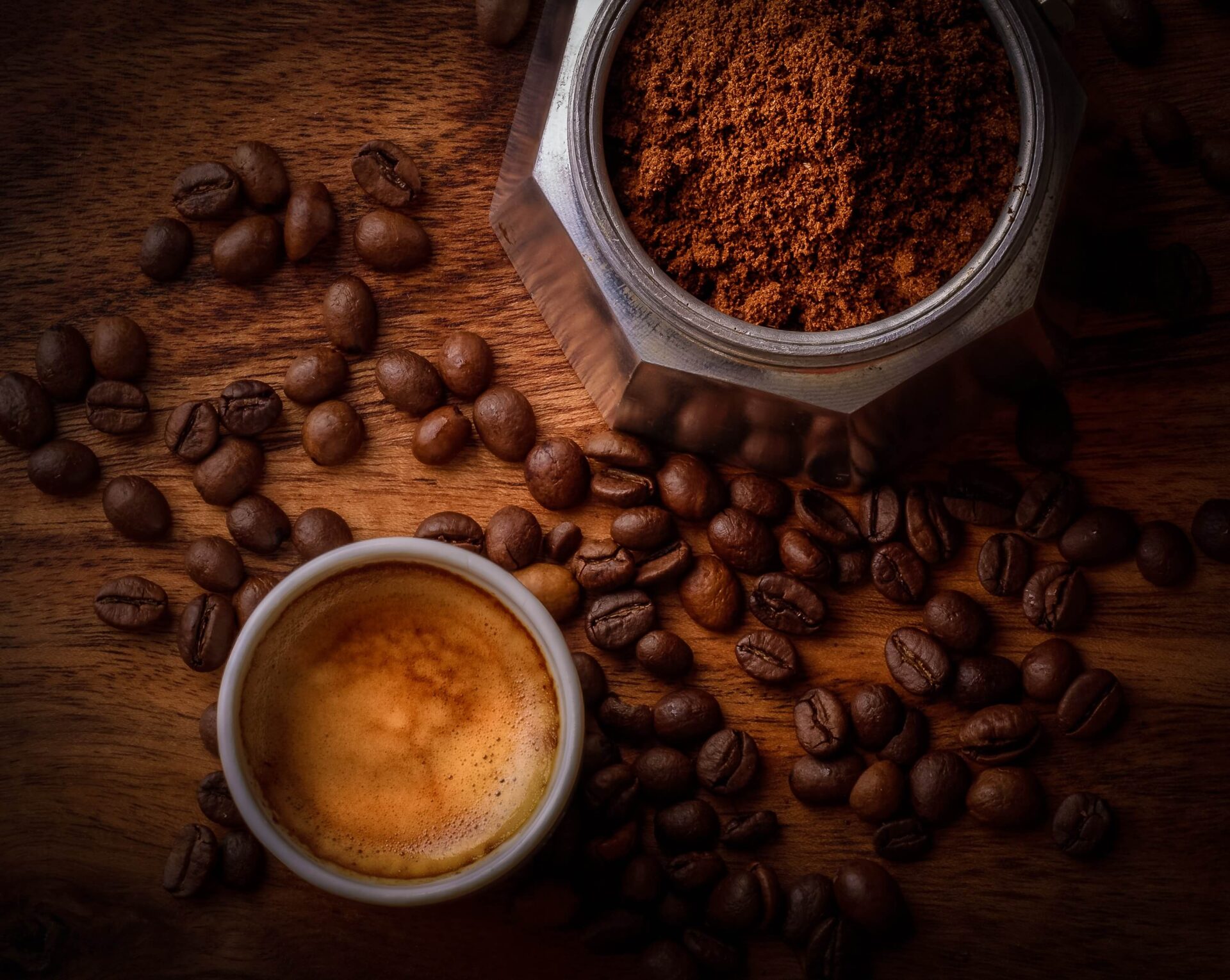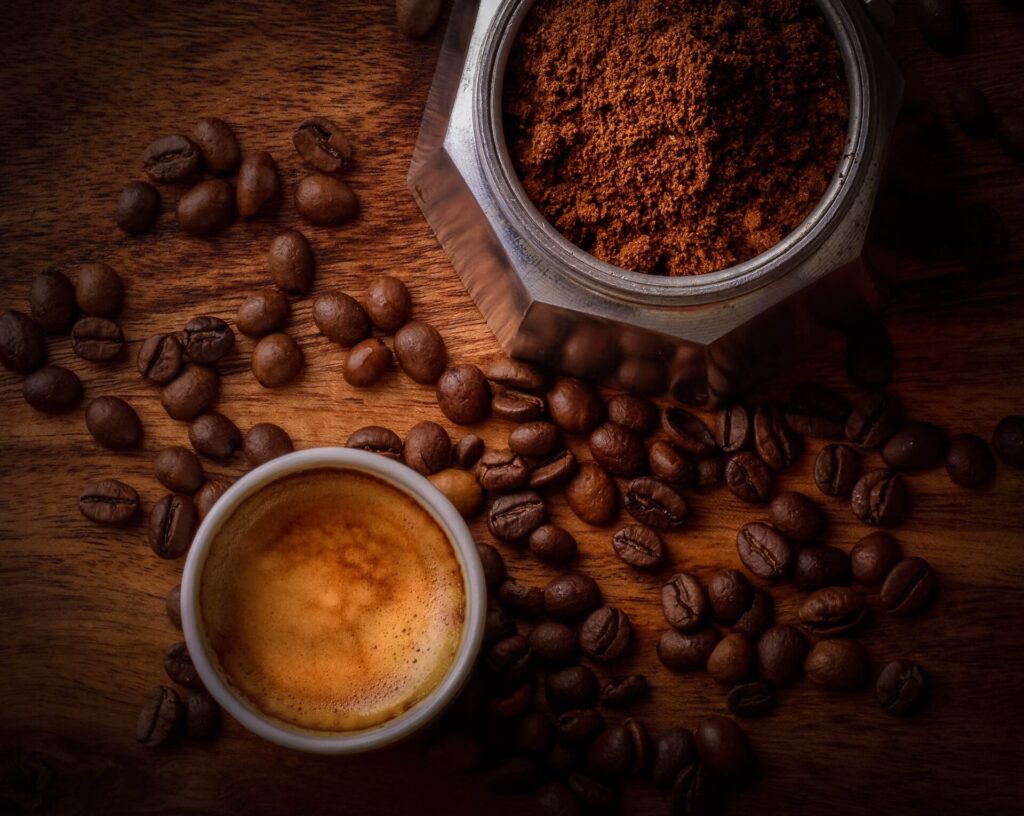 Some general guidelines to keep in mind while choosing an organic coffee brand are laid out for you—
Grown Organically
First and foremost, look for the term "Organic." While Certified organic is a cherry on top, these certifications are expensive, which many small farms just can't afford. Nonetheless, take their word. Because small coffee farms usually own a few acres and believe in cultivating coffee in the good-old way— No chemical pesticides, herbicides, fungicides, or genetically modified ones.
Availability of Whole Bean
With whole beans, the perfect brew is in your control, and it's so satisfying. Grinding roasted organic coffee beans ensures you're getting the freshest properties with the heavenly aroma. Plus, the chances of contamination are far less when you buy whole beans.
Grown in High Altitudes
Higher altitudes mean mountainous terrain with cooler temperatures. Organic coffee beans cultivated in these lands develop a full-bodied and luscious flavor. They are also high in restorative antioxidants. Plus, the chances of growing mold in mountain temperatures is less likely. An ideal starting point would be above 1,200 meters.
Arabica Beans
Arabica is the 'King' of coffee beans. Nearly 70% of coffee sold across the world is from this variety, compared to Robusta. Arabica beans are preferred for their low caffeine content and have sweet, smooth and chocolaty notes with hints of fruits. Robusta, on the other hand, has higher caffeine levels and a harsher, more bittery taste. Robusta is also found to contain mycotoxins.
Single Origin
A lot of brands sell coffees which are blends of beans from different regions. If you love coffee with a refined taste, always go for brands offering 'single origin' coffee. It simply means the beans are grown on the same farm or region, ensuring a unified flavour. You can literally trace the produce to a single farm, farmer, or area in a specific country.
Wet Process Method
In this method, coffee beans are pulped and then washed with water to remove fructose and sucrose layers. Big brands typically go for the dry processed method, where the cherries are dried before pulping. Rinsed beans are not prone to get contaminated with molds and fungi.
Roast Options
Coffee beans are roasted in three ways— Light, Medium and Dark roasts. Light roasted coffee beans have a light brown colour and a low viscosity. These beans retain more caffeine than raw coffee beans and have a subtle floral aroma.
Medium roasted beans are brown in colour and have a thicker body. These beans have a balanced flavour and a medium amount of caffeine. Medium roasts are also known as American Roast, Breakfast Roast, or City Roast.
As coffee beans are roasted longer, the caffeine slowly cooks out. Hence, dark roast coffee is low on caffeine but has a robust, smoky flavour which many prefer for an elevated taste.
Shade Grown
Coffee beans grown in the shade have a full-bodied taste. The 'shade-grown' farming practice is better for the environment as it restores the forest, supports soil health, sustains pollinators, and so much more. Coffee crops thrive in the shade and do not require synthetic fertilizers.
Smokeless Roasting Technology
Some brands go for smokeless roasting, where roasters use a smokeless technology that ultimately helps minimize the risk of acrylamides— a harmful toxin.
Nitrogen-Flushed Bags
Coffee packed in regular oxygen bags makes the coffee stale after a certain period. However, nitrogen-flushed bags keep your coffee fresh. Many brands choose to flush packaging with nitrogen and force out the oxygen to increase the shelf life of your organic coffee beans.
And while you're here, trying to incorporate toxin-free healthy food options in your diet, feel free to check out cereals, glyphosate free honey, tea brands, glyphosate free oats and ethical chocolate. Wait, there are organic wine and organic beer to enjoy too!
Our Favorite List of 12 Best Organic Pesticide Free Coffee Brands
Here are 12 beautiful pesticide free coffee brands that deal in the best organic coffee, free of contaminants like molds and mycotoxins. Check out Bulletproof Coffee, Peak Performance Coffee, Kicking Horse Coffee, Deathwish Coffee, Lifeboost Coffee, Purity Coffee, Spirit Animal Coffee, Caribou Coffee, Kion Coffee, Fabula, Stumptown Coffee Roasters, and Natural Force Clean Coffee.
1. Bulletproof Coffee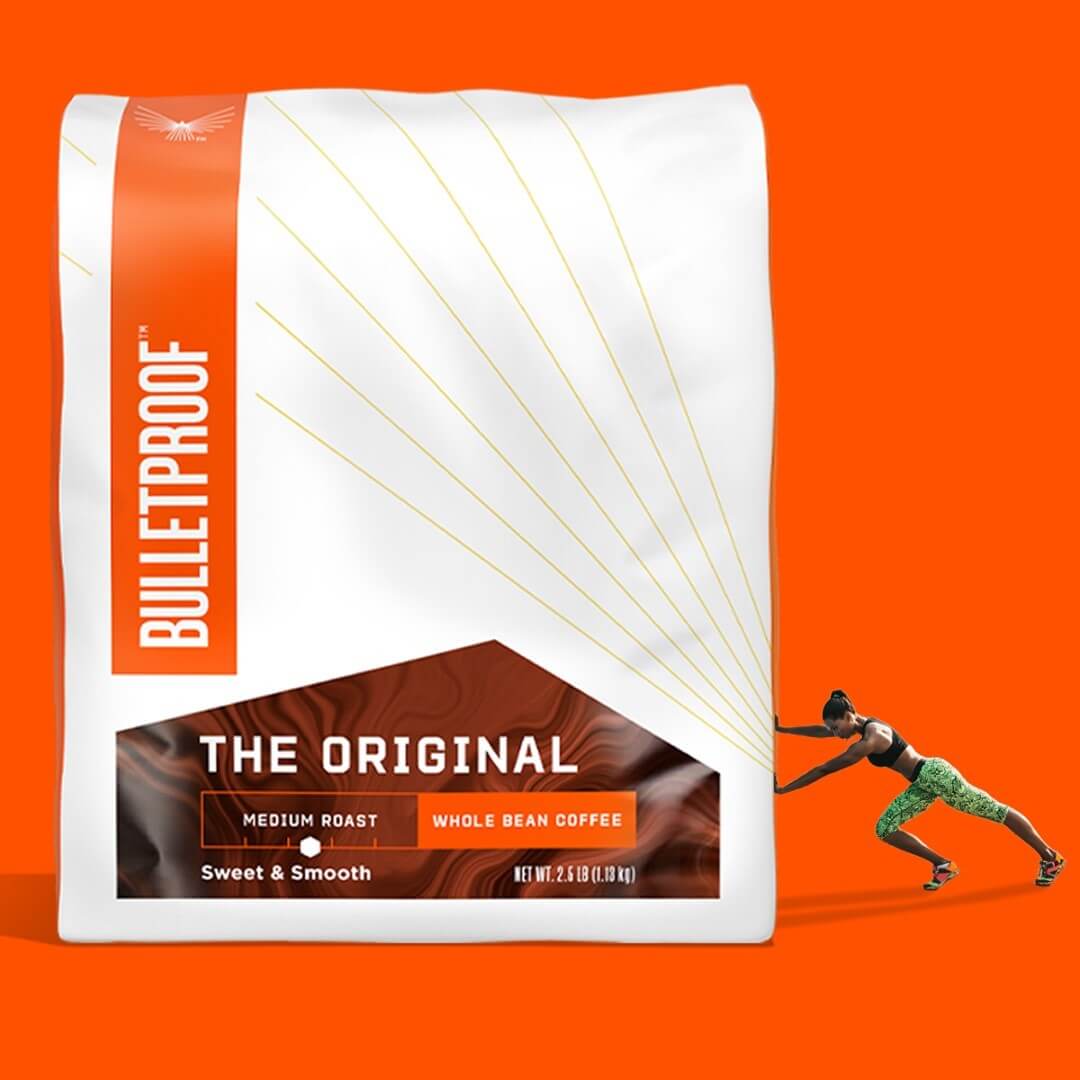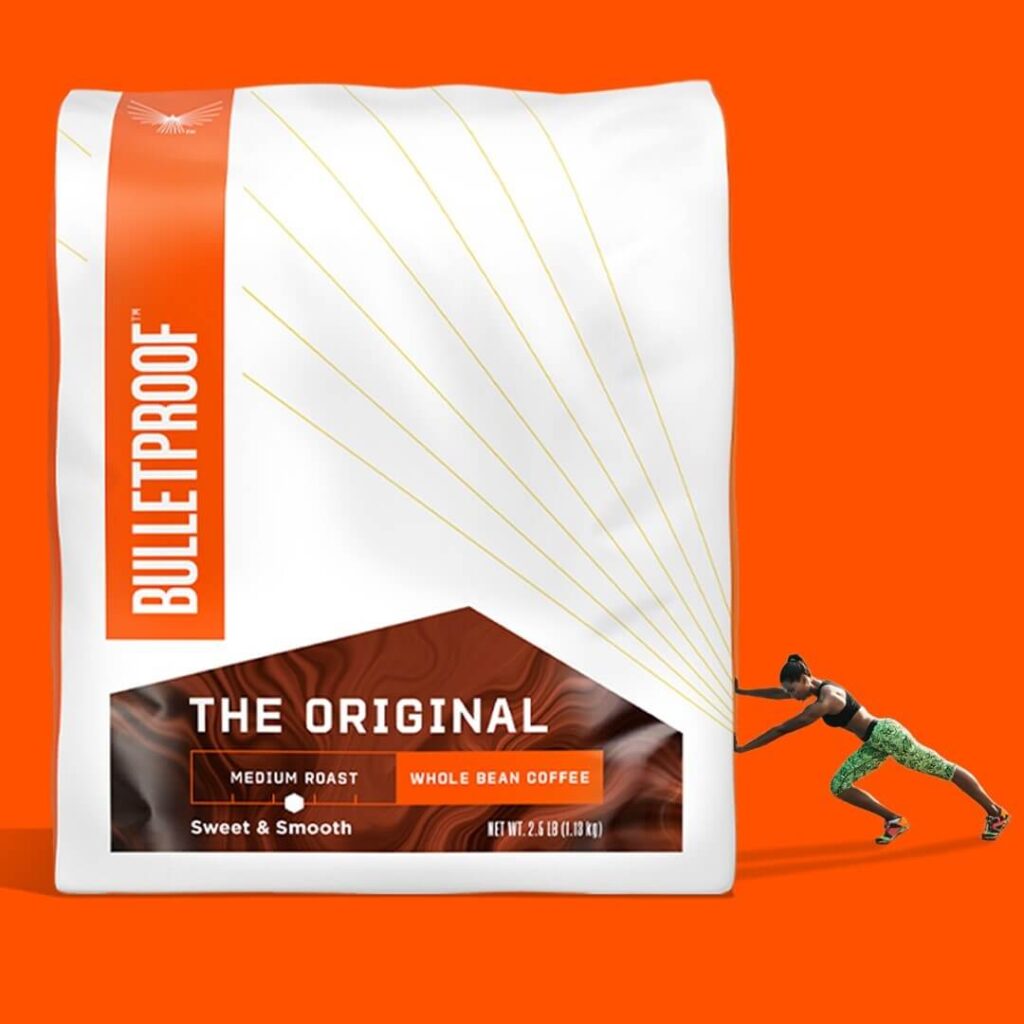 Price Range: $15.99 – $29.99
Roast Options: Light, Medium and Dark Roast available
Decaf: Yes, the Decaf option is available in both Ground bean and Whole bean coffee
Sourcing: From coffee farms in Colombia, El Salvador and Guatemala
Certifications: Rainforest Alliance Certified
Founded in 2011, The Bulletproof brand offers organic pesticide-free coffee and science-backed supplements to fuel your body and help you feel your best self. The label rose to popularity by raising awareness for its recipe of "Original Bulletproof Coffee," which is a blend of mycotoxin free coffee, MCT oil and grass-fed butter.
Passionate about bringing to you the best ingredients for powering your mind and body, every product at this brand undergoes the "Bulletproof Process" for guaranteed quality from farm to cup. It ethically sources 100% Arabica beans from its partner farms to craft consistent roasts for coffee enthusiasts like you.
2. Peak Performance Coffee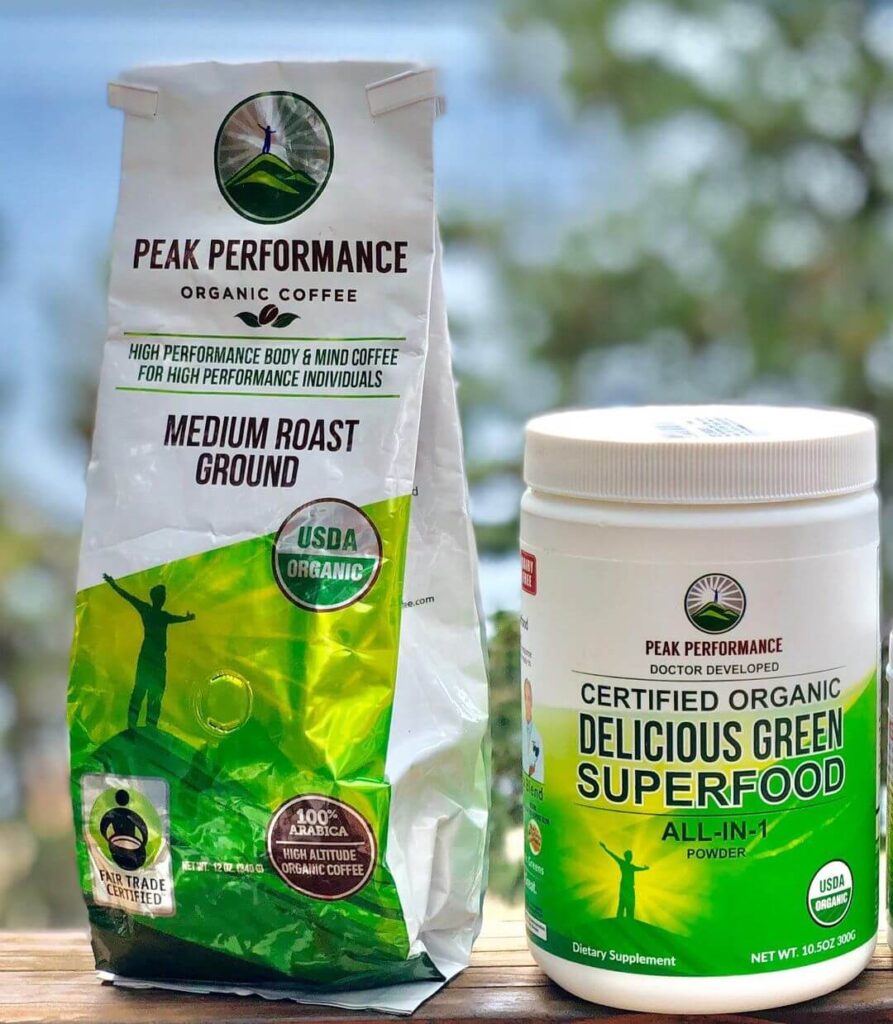 Price Range: $22.95 – $29.95
Roast Options: Medium and Dark Roast
Decaf: Yes, the Decaf Swiss Water Process option is available in both Ground bean and Whole bean coffee
Sourcing: Guatemala
Certifications: USDA Certified Organic and Fair Trade Certified
Peak Performance Coffee houses single-origin, low-acid, organic pesticide-free coffee grown in Fair Trade certified farms of the Guatemalan Highlands. Coffee beans harvested in high altitudes are denser— meaning these beans are of a higher quality grade, ultimately beneficial for your body. And Peak Performance Coffee is the ideal example of this.
To help you start your day on an energetic note and achieve peak performance, its coffee blends are loaded with antioxidants and tested twice for mold free coffee beans before packaging.
3. Kicking Horse Coffee
Price Range: $11.99 – $12.99
Roast Options: Medium and Dark Roast
Decaf: Yes, the Decaf Swiss Water Process option is available
Sourcing: South America, Central America, Africa, Indonesia
Certifications: USDA-Certified Organic, Canada Organic Certified, ECOCERT and Fair Trade Certified
With quite a story of starting out in a garage in the Canadian Rocky Mountains 25 years ago, Kicking Horse Coffee prides itself in its kick-ass range of non gmo pesticide free coffee. Obsessed with perfect results, its coffee blends jolt your entire system to alertness and Boy! We're talking about some intense fresh flavours! After all, you can't beat 100% Arabica coffee beans that are cultivated in higher altitudes.
Plus, the taste just gets better when they're single-origin and fair trade. What's more? 95% of their mold free coffee is wet-processed, which helps in keeping the fruity, nutty flavours intact. Did you know? Kicking Horse Coffee was rated as Canada's No.1 selling Organic Fairtrade coffee brand.
4. Lifeboost Coffee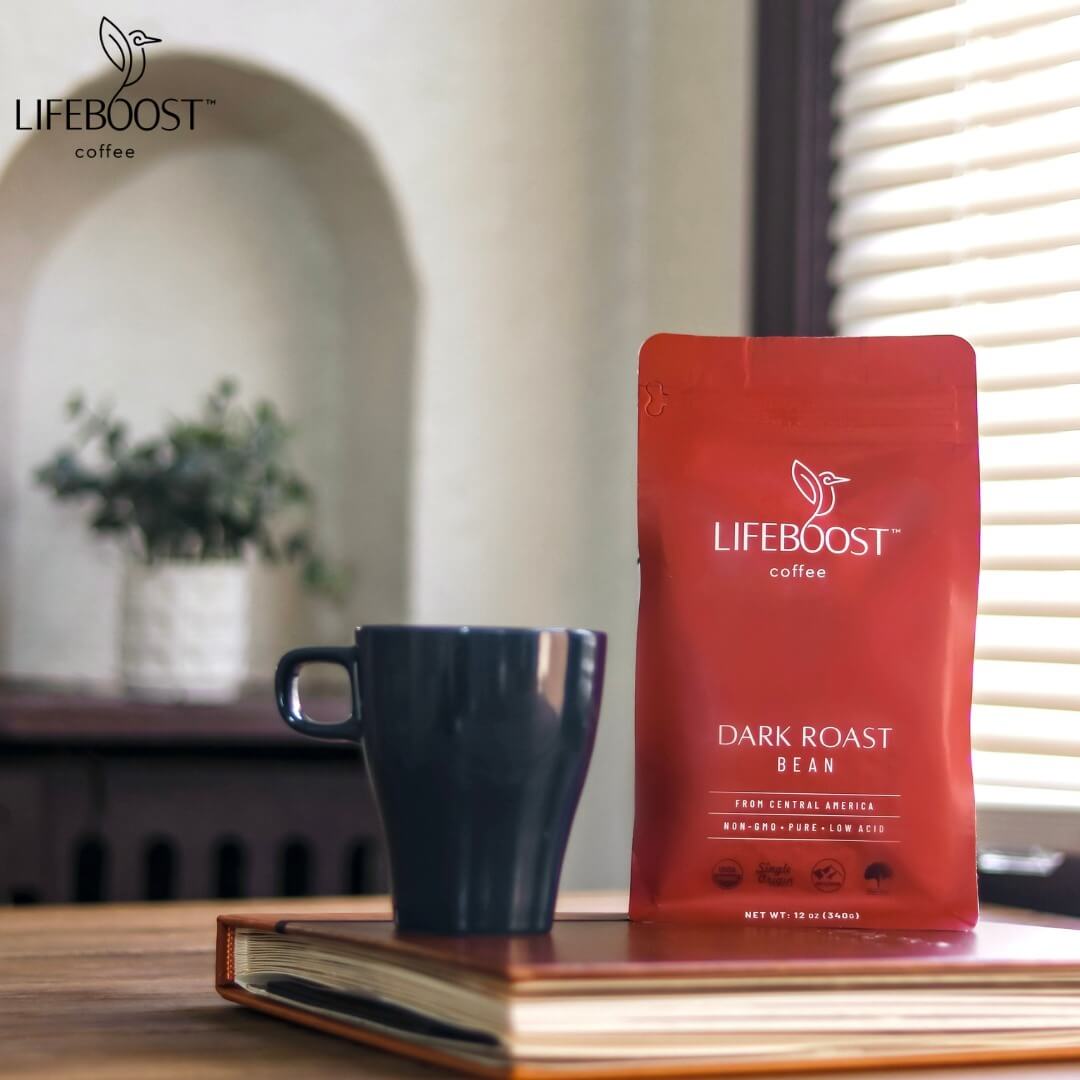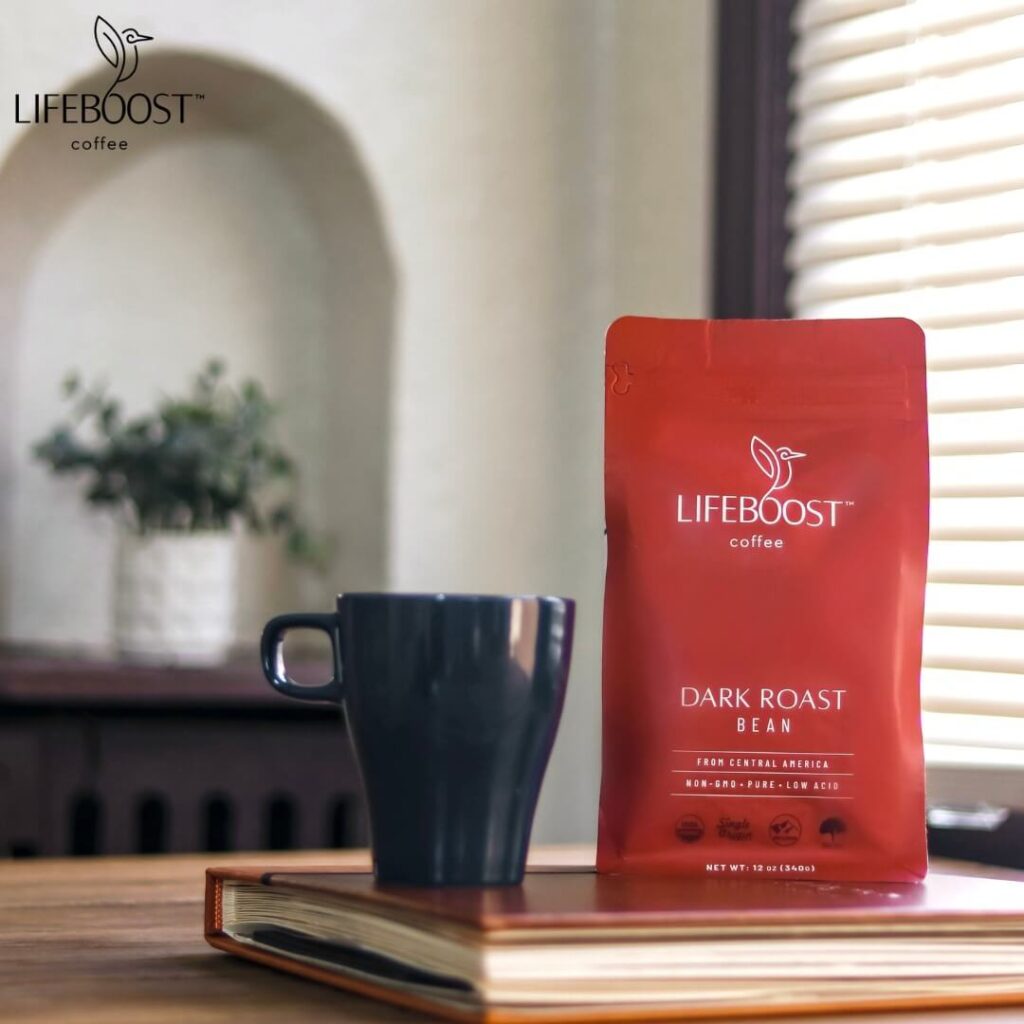 Price Range: $20.20 – $34.95
Roast Options: Light, Medium and Dark Roasts are available. Also offers various flavored coffee blends like Hazelnut, Maple Cinnamon, White Chocolate Mocha, etc.
Decaf: Yes, the Decaf Swiss Water Process option is available. Also offers Half-Caff blends
Sourcing: Nicaragua
Certifications: USDA Organic Certified
Not just regular organic, but Lifeboost Coffee is 100% single-origin, mycotoxin free coffee, shade-grown in Central America's Nicaraguan mountains. To energize you with the tastiest and healthiest cup of coffee, this brand sources the top 2% of coffee beans in the world. What's impressive is Lifeboost uses artisanal techniques in roasting its coffee beans. And guess what?
The beans are roasted in small batches when you order, so that they stay fresh for you to enjoy the rich aroma and flavours. Moreover, they are extremely easy on your stomach as they're low-acid. The only downside? These organic pesticide free coffee blends are dangerously drinkable- so you may never stop! Just Kidding!
5. Deathwish Coffee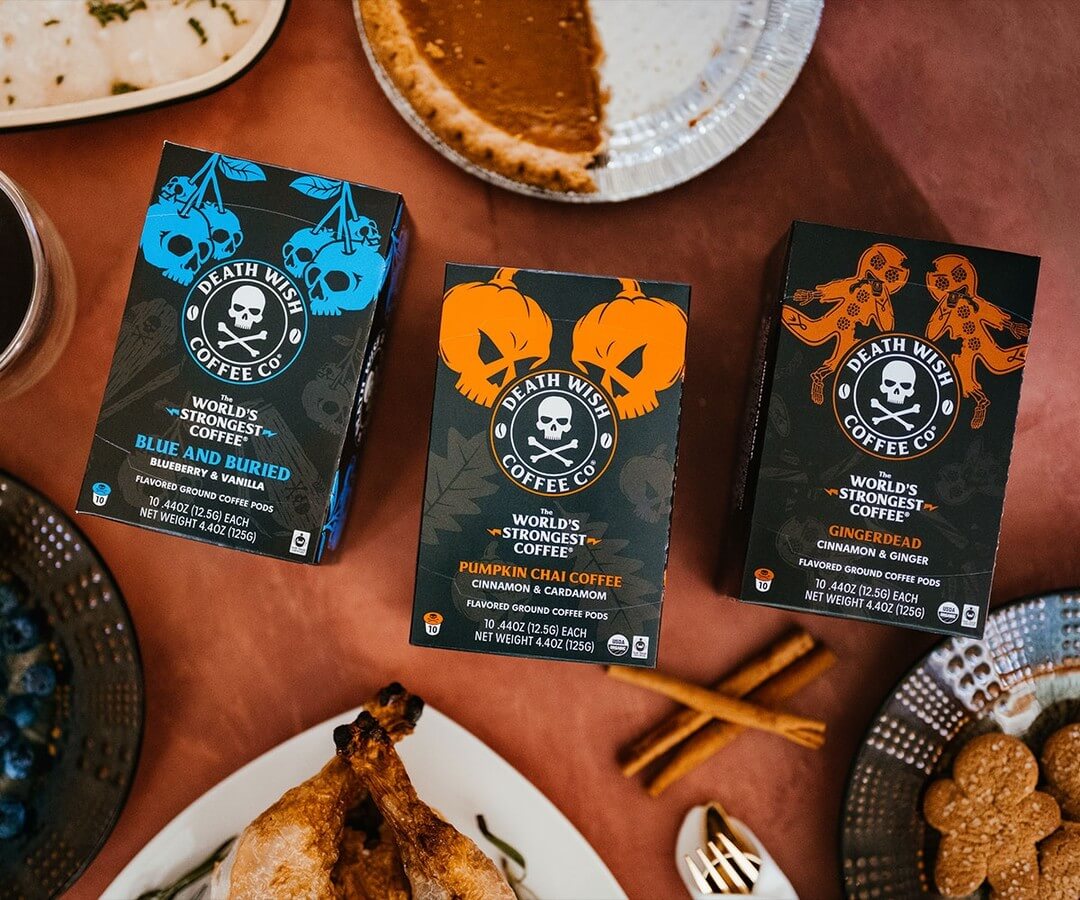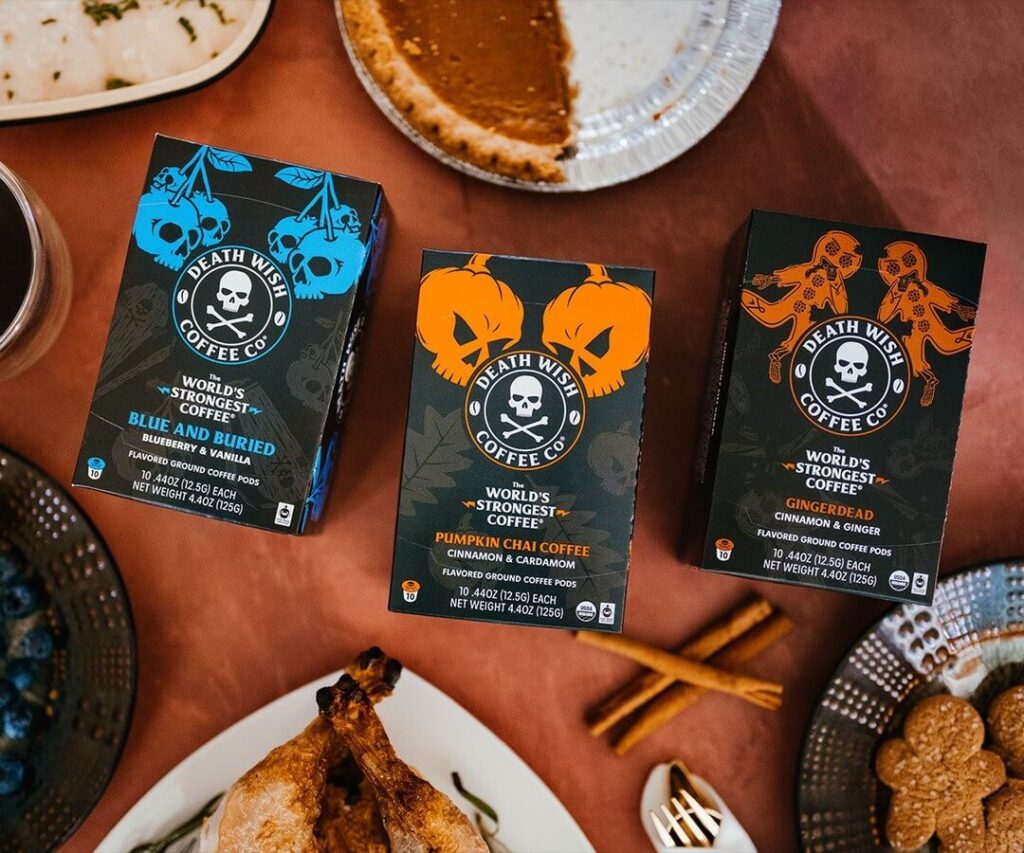 Price Range: $15.99 – $39.99
Roast Options: Espresso Roast, Medium and Dark Roast Coffee
Decaf: No
Sourcing: Colombia
Certifications: USDA Organic Certified and Fair Trade Certified
Rebellious By Nature, Death Wish Coffee creates smooth, strong and flavorful brews with non gmo pesticide free coffee beans. Claiming to be the world's strongest coffee, Deathwish's one cup coffee in the morning is enough to awaken your taste buds and ignite your senses to get up and about for the entire day. My personal favourite has to be its dark roast brew which has a smoky aroma and robust flavour that isn't bitter on the palette.
Proudly caffeinating the universe, Death Wish has developed an instant freeze-dried coffee blend in collaboration with NASA Food Labs to charge astronauts on the International Space Station. Try it, to know it!
6. Purity Coffee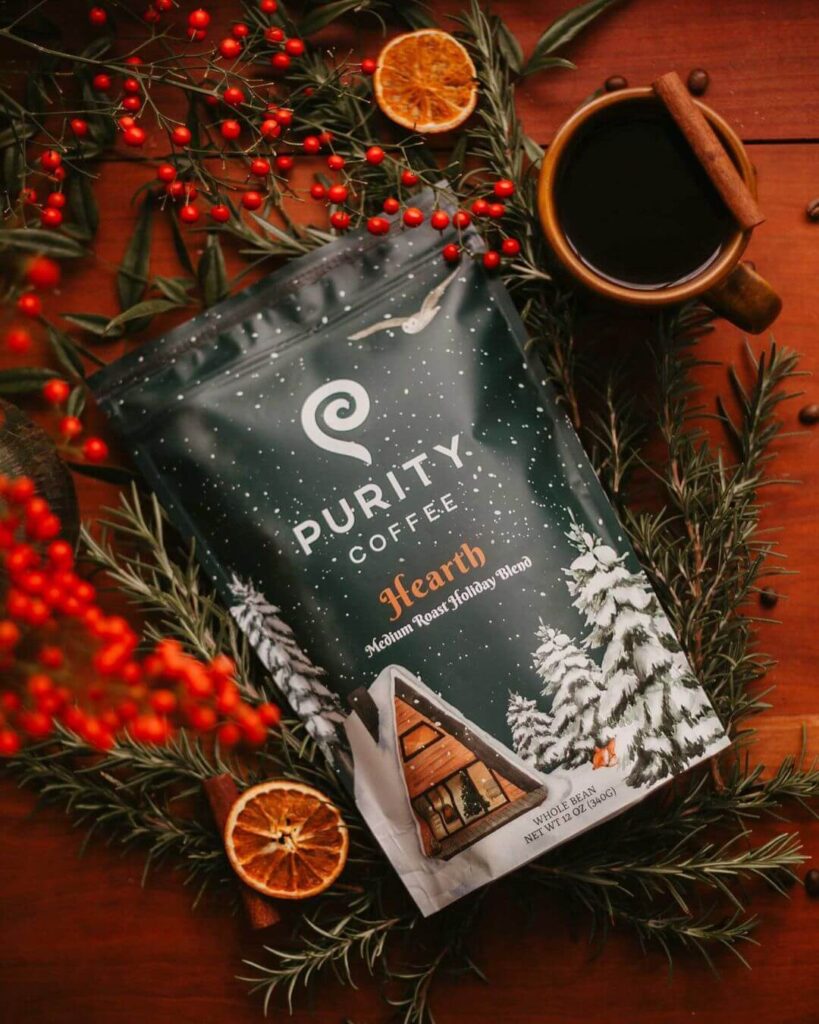 Price Range: $24 – $26
Roast Options: Light, Medium and Dark Roast Coffee options
Decaf: Yes, the Decaf Swiss Water Process packs are available
Sourcing: Colombia
Certifications: USDA Certified Organic and Rainforest Alliance Certification
Delivering bold and brilliant cups of coffee since 2016, Purity Coffee is one of the best pesticide free coffee brands with a devoted fan-base. Driven by the goal to back scientific research on coffee's health benefits, Purity's coffee brews are specifically roasted to target certain health advantages like boosting longevity, strengthening the heart, metabolic vitality, etc. Impressive!
Purity is incredibly transparent about its production process and results. What makes the label more mindful is the Blog section covers in-depth education on organic mold free coffee, which are loaded with antioxidants. Oh! Did I mention, they do third-party testing for mycotoxin free coffee brews? A strong dose of caffeine to set the stage? Hell, Yeah! Purity Coffee it is!
7. Spirit Animal Coffee
Price Range: $22.50 -$34.50
Roast Options: Medium Roast and Dark Roast Coffee are available
Decaf: No
Sourcing: Honduras
Certifications: USDA Certified Organic, Rainforest Alliance Certification, UTZ Certified and Fair Trade Certified
A fairly new entrant in the pesticide free coffee market, Spirit Animal Coffee houses brews with an astonishingly clean and strong taste to lift your spirits, every time you take a sip. It responsibly sources specialty-grade organic coffee beans grown in Honduran farms and checks the blends to ensure mold free coffee before launching them.
Furthermore, Spirit Animal's coffee is tested by 3rd party for mycotoxins. In addition, the brand is on a mission to stabilize the economic condition of Honduran coffee growers. Hence it partners with small-scale producers of the region to promote environmentally sustainable farming and bring to you the rarest and best-scoring specialty-grade coffee blends in the world.
8. Caribou Coffee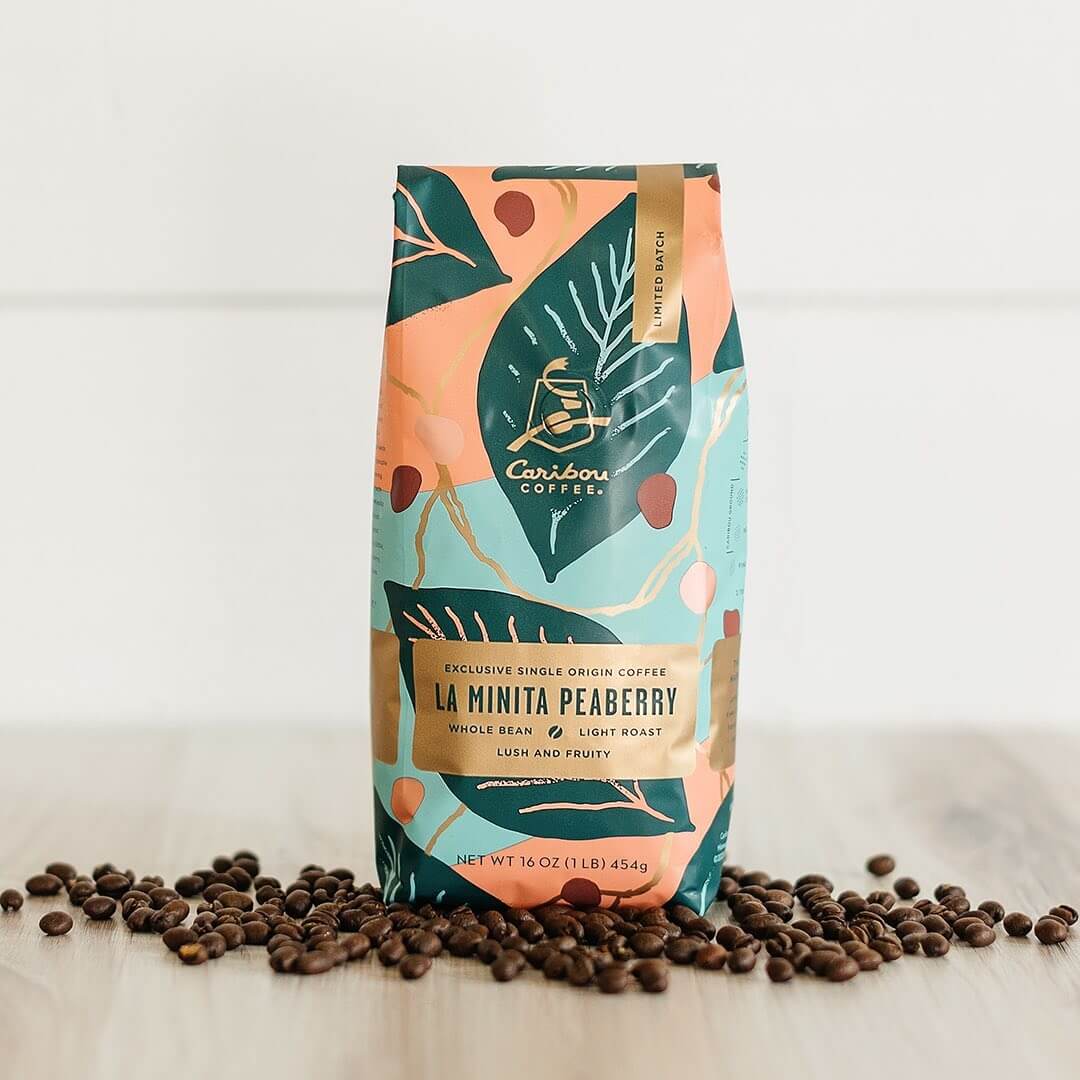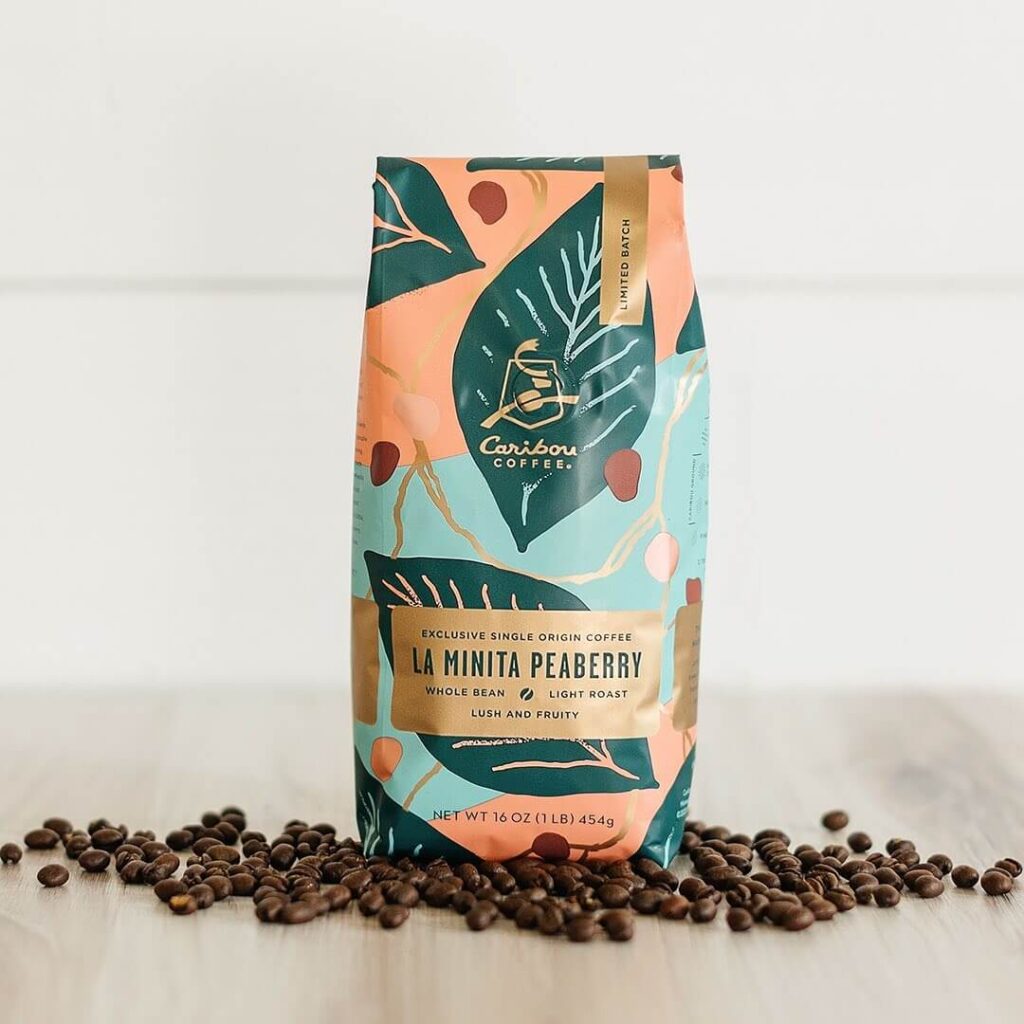 Price Range: $7.99 – $74.99
Roast Options: Light, Medium and Dark Roast Coffee are available
Decaf: Yes, the Decaf Swiss Water Process packs are available
Sourcing: India, Brazil and Ethiopia
Certifications: Rainforest Alliance Certification
Caribou Coffee needs no introduction. What started as a small roastery and shop in Minnesota, grew into a popular pesticide free coffee label over the years, offering delectable brews to coffee devotees worldwide. With hundreds of cafes scattered around 19 US states, Caribou Coffee had set a Clean Label Standard for its stores in 2017. That means, it is the first national coffeehouse committed to offering clean beverages that do have any added artificial colours, flavours, sweeteners, preservatives, or MSG.
Every bag of Caribou Coffee consists of 100% Arabica coffee beans grown by coffee farming communities in India, Brazil and Ethiopia. Do check them out for your pack of power-packed coffee beans fresh roasted in small batches.
9. Kion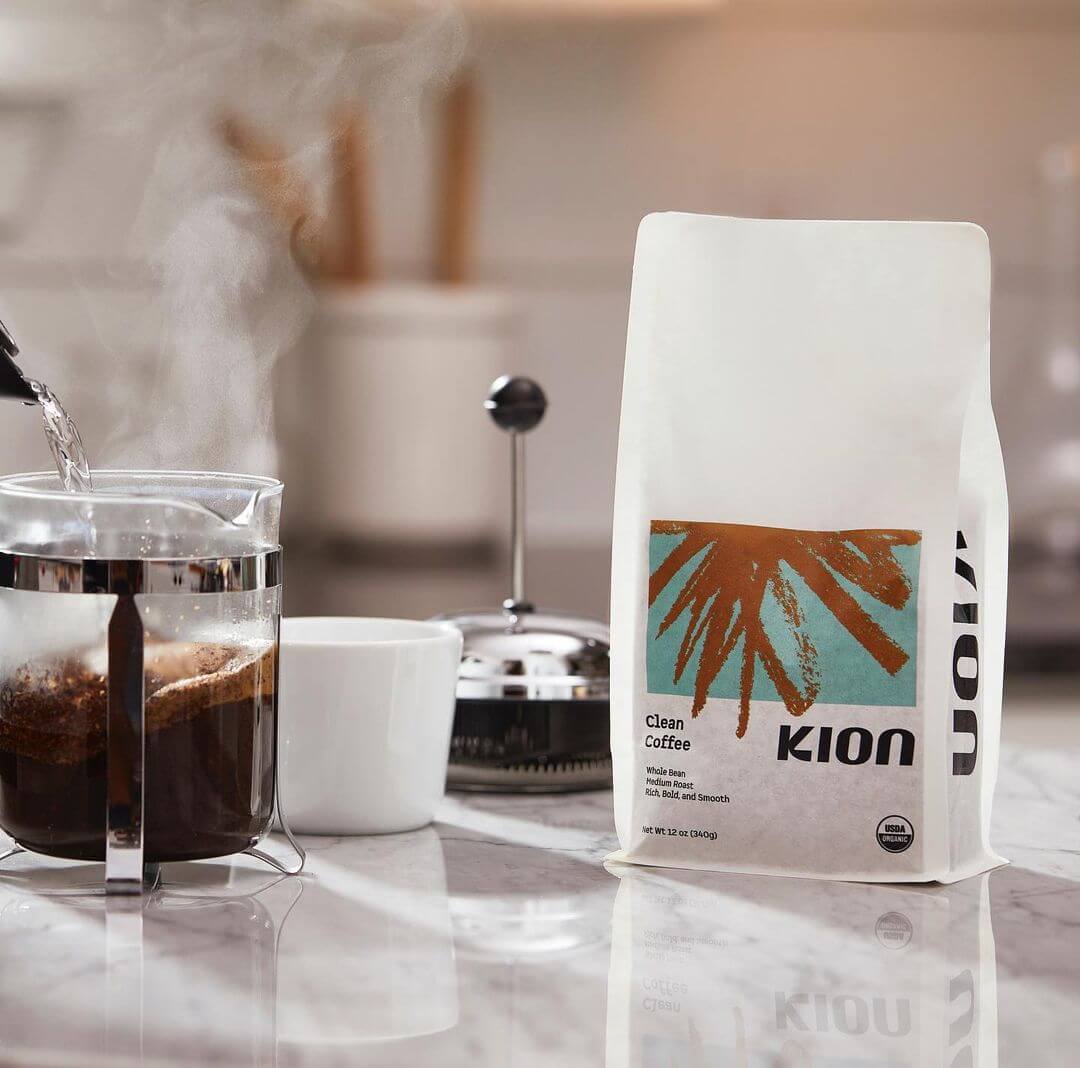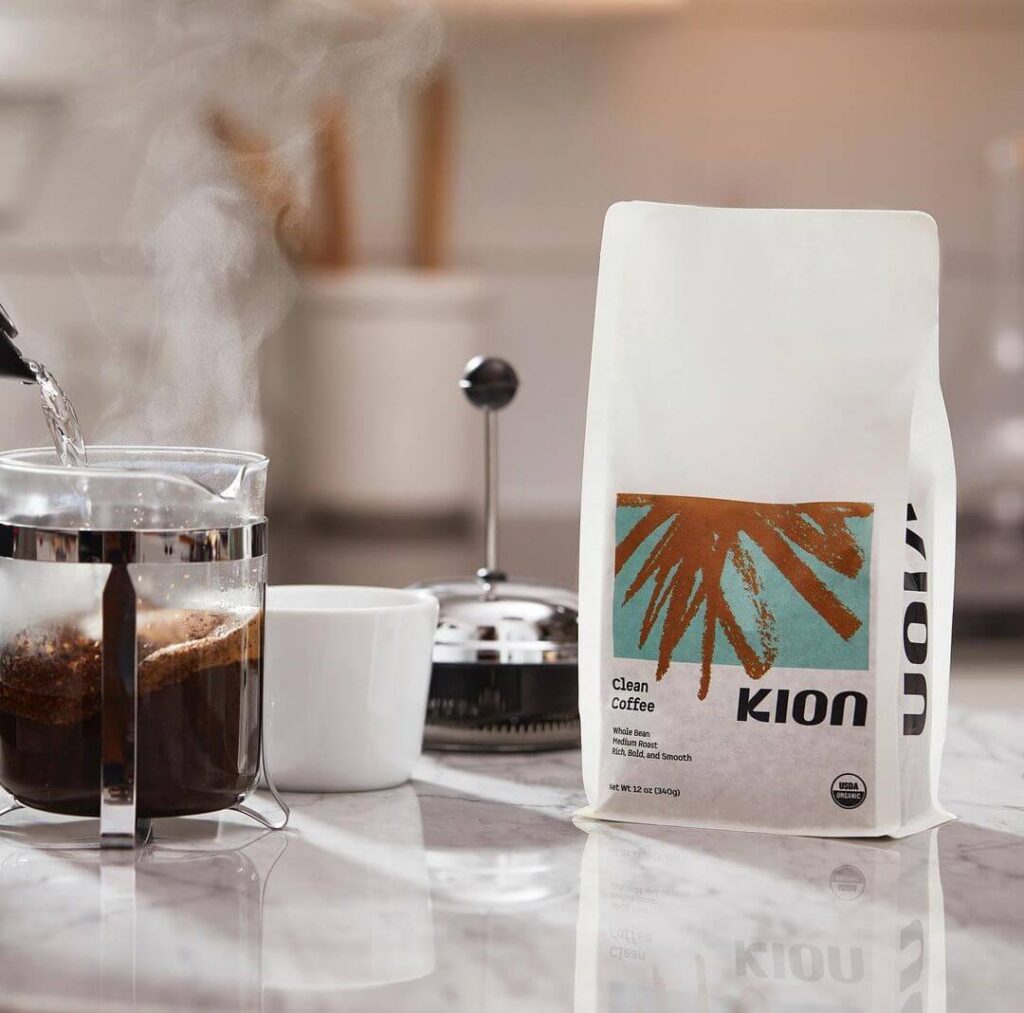 Price Range: $19.76 – $59.43
Roast Options: Medium and Dark Roast
Decaf: Yes, Decaf brew with Mountain Water Process is available
Sourcing: Mexico, Honduras and Colombia
Certifications: Certified Organic, Smithsonian Bird Friendly Certification, NSF Certified
Based out of Colorado, Kion makes research-backed nutrition supplements and non gmo pesticide free coffee to help you live a long, fun and happening life. While its coffee line is fairly limited to the classic medium and dark roasts, I bet you would love the rich, chocolaty and smooth smoky flavours, if you prefer strong tastes.
Just one cup coffee free of all the nasties, and it's your ticket to heaven! Like, Really! Kion uses sustainably sourced 100% Arabica coffee beans that are "specialty-grade." Plus, its ingredients are lab-tested to ensure they are free from mold, mycotoxins and other alien additives.
10. Fabula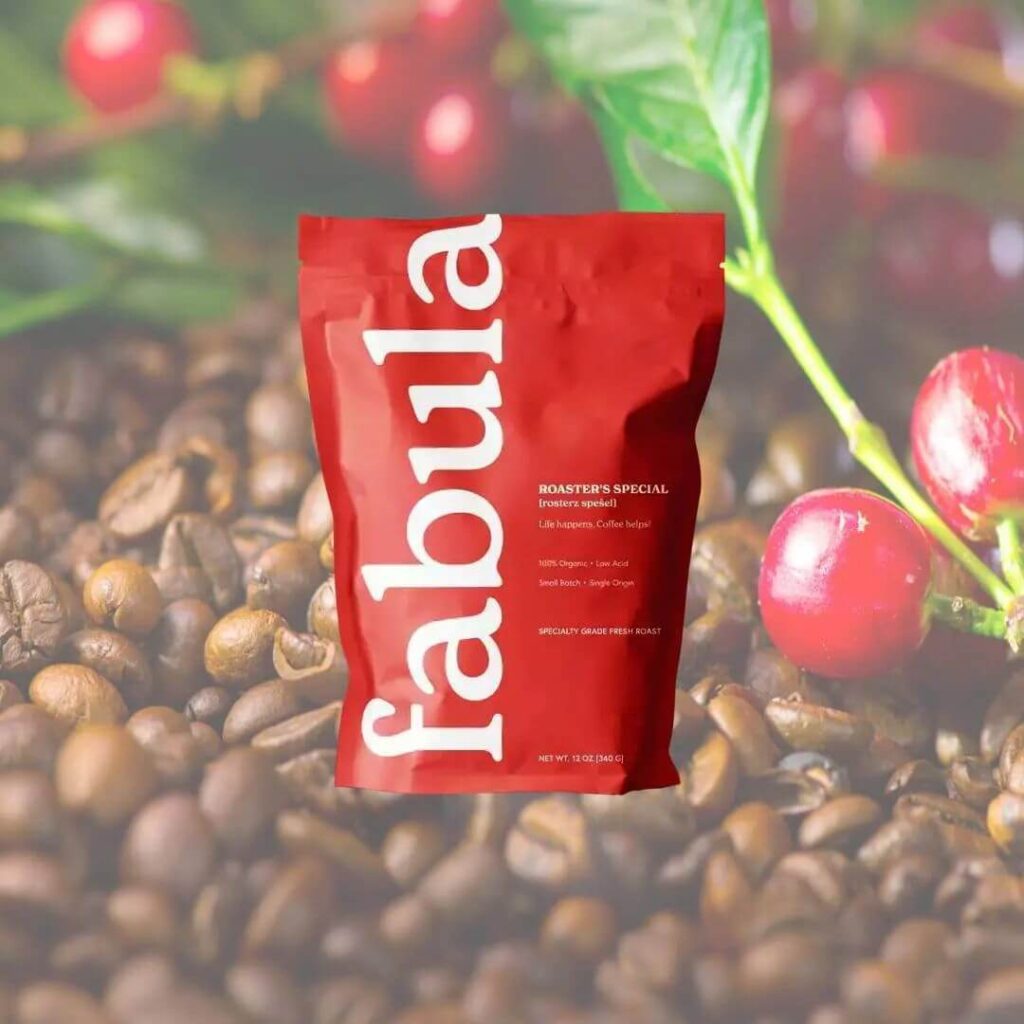 Price Range: $19.49 – $25.99
Roast Options: Light, Medium, and Dark roast coffee. Flavours like Vanilla, Hazelnut, etc, are available
Decaf: Yes, packs of Decaf Swiss Water Process is available
Sourcing: Mexico, Peru, Colombia, Indonesia, and Papua New Guinea
Certifications: USDA Certified Organic
100% Arabica beans, single-origin and low-acid— Fabula creates coffee that doesn't hurt 'sensitive stomach' coffee lovers. With each pack containing hand-picked, perfectly roasted non gmo pesticide free coffee, you can happily say goodbye to stomach aches, tummy burns or cramping. Dedicated to crafting coffee that is better for you, the community, and the planet, Fabula sources its organic coffee beans from Fair Trade coffee growers.
Advocating sustainability, the brand has partnered with the One Tree Planted non-profit that works towards global reforestation. Just like most conscious organic coffee brands, they roast their coffee RIGHT before shipping to you so that you can savour maximum freshness. So drink coffee guilt-free!
11. Stumptown Coffee Roasters
Price Range: $17 – $25
Roast Options: Light, Medium and Dark Roast
Decaf: Yes. The Decaf Swiss Water Process pack is available
Sourcing: High-elevated farms of Nicaragua, Honduras, Colombia, Guatemala, Peru, Ethiopia, Costa Rica, etc.
Certifications: B Corporation and Certified Organic
Based in Portland, Stumptown Coffee Roasters established its flagship café and roastery in 1999. Serving the United States with great-tasting coffee for over two decades, this brand is home to full-bodied aromatic coffee that will remind you of apple pie.
At Stumptown Roasters, sourcing the best single-origin, shade-grown organic coffee is vital, and so is their roasting process. They believe that roasting is one of the most delicate and complex parts leading to a good cup of warm coffee. So they have a roasting team of roasters who come with 121 collective years of roasting experience to work with them each day. Do check them out!
12. Natural Force Clean Coffee
Price Range: $27.99
Roast Options: Medium and Dark Roast Coffee
Decaf: Yes. The Defac Swiss Water Process pack is available
Sourcing: Colombia
Certifications: B Corporation, Certified USDA Organic Coffee and Rainforest Alliance Certification
Natural Force is a food-based nutrition company dedicated to using clean, healthy ingredients like organic pesticide free coffee beans to craft its bodacious brews. Its low-acid, mold free coffee is gentle on the stomach and is focused on improving overall physical and mental wellness. Plus, nothing beats the refined taste of shade-grown, single-origin coffee.
Natural Force Clean Coffee beans are meticulously roasted to minimize acrylamide and maximize health-amplifying compounds like antioxidants. Definitely not your average coffee, because each batch of its "specialty-grade" blends contains 200% more antioxidants to boost your immunity. Plus, packaging takes place in non-toxic, eco-friendly materials so that the planet isn't ruled out of our mindful equation.
Important Organic Coffee Certifications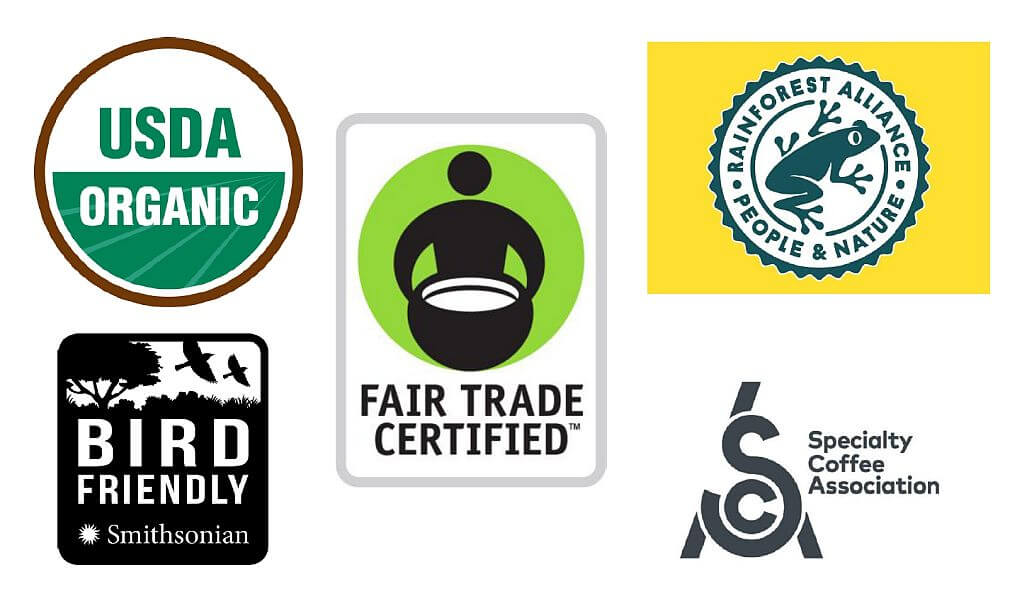 Choosing coffee brands vetted by recognized bodies is a great of confirming that your coffee cup is safe and healthy— for you, for coffee farmers and for Mother Nature. You can look for any of the below-mentioned certifications.
To wrap it up…
Conscious consumerism has led many brands to embrace the old-fashioned coffee production methods, which work in harmony with the environment and the coffee-growing communities. When you opt for organic and sustainably produced coffee, you support a more responsible and ethical coffee industry that promotes the well-being of both people and the planet. So next time you reach for that cup of coffee, remember the importance of making a mindful choice for a healthier body and a sustainable future.
FAQs
What coffee does not have pesticides?
Organic coffee beans harvested by using non gmo coffee seeds do not have pesticides. These coffee beans are grown using organic fertilizers, like coffee cherries' pulp, compost, etc, instead of synthetic fertilizers or chemicals.
Is there pesticide free coffee?
Yes. Many trusted and conscious brands are offering pesticide free coffee that is not only certified organic but is also nutrient-rich and mold/mycotoxin contamination free.
What is the cleanest, healthiest coffee?
The cleanest, healthiest coffee is cultivated from non-gmo seeds and shade grown in high elevated areas without the use of any type of pesticides, fungicides or herbicides. These coffee beans are tested for mold and mycotoxins, are low-acid in nature and consist of beneficial antioxidants. The roasting is also done at an artisan level so as to enrich the flavors while keeping the nutrition intact.
Does all coffee have pesticides?
No, all coffee does not have pesticides. Although presently, more than 90% of the world's coffee is produced commercially with pesticides and other synthetic chemicals, many brands are providing pesticide free coffee that is sustainably harvested and has all the healthy goodness.
Is all organic coffee pesticide free?
Yes. The term "organic" means crops grown using natural fertilizers that do not harm the quality of the produce and the environment. So, all organic coffee is pesticide free. While it does adds a bonus if they're certified organic, but many regions do not provide certifications, and sometimes small entrepreneurs can't afford the certification cost.