Disclosure:
Our editors handpick top-rated brands, vetted through our strict ratings. Purchases via our links may earn us a commission.
Learn more
Olaplex is one of the world's largest independent luxury hair care brands devoted to helping you level up your hair game with its innovative "bond-building" technology. With over 100 worldwide patents, the brand has become a global sensation for its shampoos, conditioners and treatments that claim to safely "repair broken bonds and rejuvenate hair". But how much of these assertions are actually true? Because currently, the Olaplex lawsuit is everything everyone's talking about.
Olaplex is being sued by a group of consumers who claim to have suffered from alarming hair and scalp issues after using its products for a couple of months. What's shocking is after the news of the lawsuit went viral, many consumers joined in and shared similar experiences. So, what is wrong with Olaplex? Is it really compromising on people's health over profits? Let's find out!
Background of Olaplex
Olaplex is a renowned haircare brand that has gained significant popularity and recognition in the beauty industry. It is celebrated for its innovative hair treatment products that aim to repair and strengthen damaged hair. The single ingredient that acts as the core to all Olaplex products is its in-house invention— "Bis-Aminopropyl Diglycol Dimaleate." The company has revolutionized the way hair is treated with this patented hair bond technology, making it one of the most sought-after brands for professionals and individuals seeking to improve hair health.
Founded in 2014, Olaplex first rose to the limelight when celebrity colorist Tracey Cunningham used its products for the hair transformation of Kim Kardashian. The impressive results caught the attention of many professionals in the beauty industry, and Olaplex quickly became a gold dust label.
Since its inception, the company has expanded its product range to include a variety of hair treatments and styling products. These cover serums, shampoos, masks and more, labelled as No.0, No.3, No.4, No.4P, No.5, No.6, No.7, No.8, and the NEW No.9. Olaplex's No.1 and No.2 are not available on store shelves for the general public because they are exclusively designed for in-salon use by hair experts. The brand continues to invest in research and development to improve its formulas and introduce innovative solutions for hair repair and care.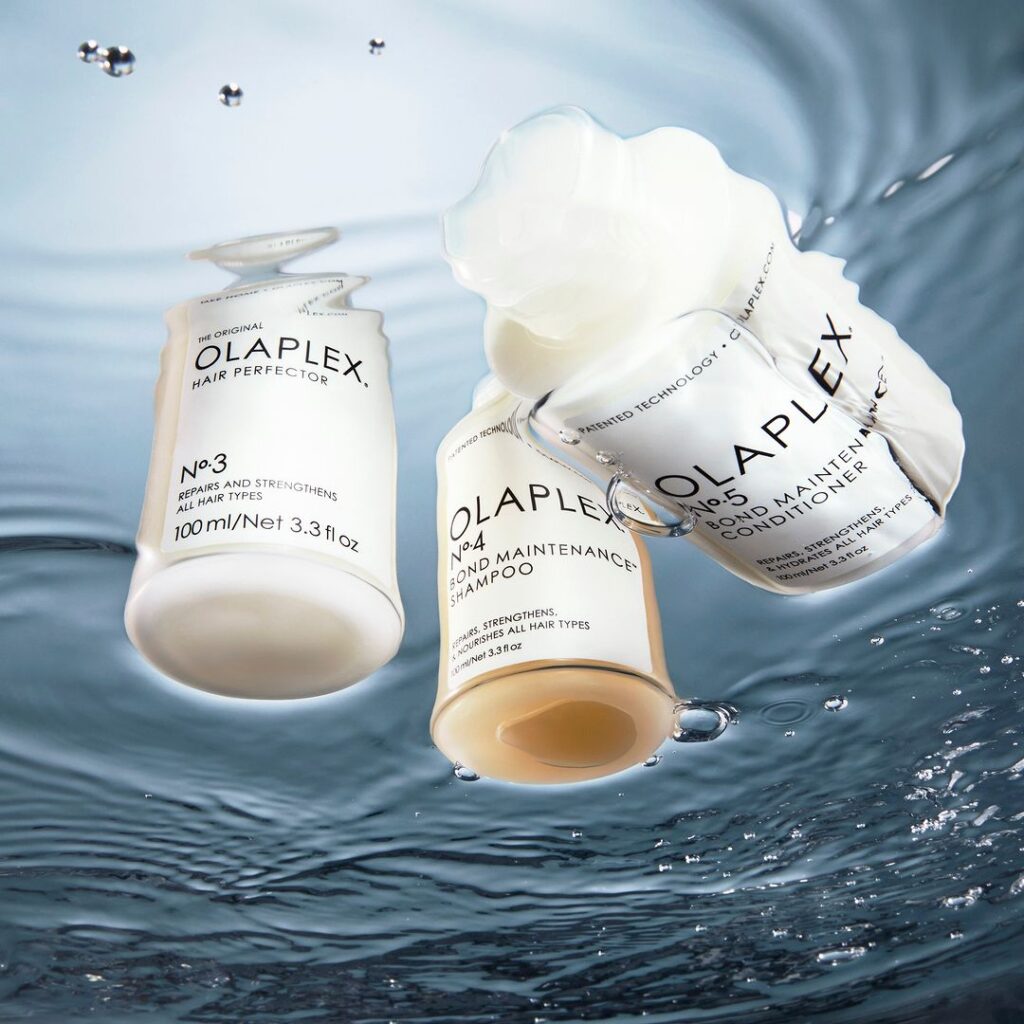 The Olaplex Controversy: Allegations and Claims
On 9th February 2023, a class-action lawsuit was filed against Olaplex by 28 women. The plaintiffs claimed that Olaplex's hair care range caused hair loss and scalp injuries such as extreme itching, bacterial infection, open sores, and burning, as they contain harmful chemicals, including allergens and irritants. The case was registered at the US District Court for the Central District of California, accusing the company of falsely marketing its products to "restore damaged and compromised hair" while all it did was turn the plaintiffs' hair "dry, brittle, frizzy, and dull."
According to the suit, Olaplex products contained Lilial, a synthetic compound used to add fragrance to cosmetics. However, the European Union mandated a ban on the ingredient from all hair and beauty products by March 2022 because of rising concerns about its impact on fertility. The complaint also pinpoints another ingredient, Panthenol— a form of Vitamin B5 — as a potential allergen that can trigger "inflamed, blistered, flaking, or scaling skin", as reported by these customers' experiences.
The complaint states, "Although Defendants have received thousands of complaints and learned of countless others through social media and major media outlets, it has failed and refused to formally recall any of the Products".
The plaintiffs are collectively seeking $75,000 in damages.
Olaplex's Response to the Hairloss & Infertility Allegations
Olaplex has denied the accusations and stood by the potency and safeness of its hair care range. A company spokesman commented, "We have publicly released test results from independent third-party laboratories, going above and beyond industry standards, to demonstrate this. We have full confidence and believe in the safety and efficacy of our products." He added, "There are a wide variety of reasons for hair breakage or hair loss, as medical and scientific experts have publicly stated, including lifestyle, various medical conditions and medications, the aftereffects of Covid, skin conditions and more."
Addressing the lawsuit's claim on the presence of lilial (butylphenyl methylpropional) in its products, Olaplex said that it had already stopped using the ingredient "out of an abundance of caution." But the complaint states that the brand is still selling older products that contain lilial.
Olaplex declared, "We are prepared to vigorously defend our company, our brand, and our products against these baseless accusations."
Expert Opinions and Scientific Perspectives on the Allegations
Registered toxicologist Rani Ghosh says, "Llilial, otherwise known as butylphenyl methylpropional (BMHCA), is commonly known as a fragrance ingredient used in cosmetic products as well as in non-cosmetic products." "There has been no direct data to suggest that lilial causes infertility to humans."
While the EU has classified Lilial as "reprotoxic" and phased out its usage in personal care products since 2020, the FDA has not set any regulation on the ingredient in the US. However, Olaplex has clarified that it no longer uses Lilial in its products' since the discovery of its questionable aspects.
In terms of Panthenol, Ghosh states, "Panthenol is a ubiquitous ingredient used in many hair-care products, like shampoos and conditioners." "Panthenol is derived from vitamin B5, also known as pantothenic acid, which is a natural constituent of hair." She explains that numerous hair-care brands use it as a key ingredient in their product range. That's because there are multiple benefits of panthenol, including smoothening and strengthening hair. In fact, studies have even revealed that it can help to stimulate hair growth. So, there's a fair chance that you are already using it.
Ghosh concludes, "There is no direct data to suggest that panthenol causes hair loss or compromised scalp health." "If there was any truth in this, it would not be a staple ingredient in a lot of our favorite hair-care products."
Consumer Experiences and Reactions to the Lawsuit
Since the Olaplex hair loss lawsuit went public, more than 100 customers have joined the ongoing injury case, sharing similar experiences with the hair care brand. Amy E Davis, Dallas-based attorney prosecuting the plaintiffs, said, "Since we brought the suit, we've been contacted by hundreds of other victims of the product that include both men and women and, in some cases, children."
One of the plaintiffs, Jessica Auriana, told Good Morning America that she lost 20% of her hair after using Olaplex's haircare range for just two months.
Another consumer Felicia Sanchez said that she has been using Olaplex products for a few months, but her scalp conditions began deteriorating. She said, "Just by changing my shampoo, I feel a difference." "I don't have itchiness. I don't have irritation. Even when I wash my hair, it used to be clumps of hair just coming off."
Similar Lawsuits and Precedents
Over the years, there have been several high-profile lawsuits filed by consumers against beauty and personal care product companies regarding the presence of harmful chemicals in their products. These lawsuits have garnered significant attention and have played a crucial role in raising awareness about the potential risks associated with certain ingredients. Let's take a look at some examples:
Consumer Rights and Safety Regulations
Several regulatory bodies work towards the protection of consumers against exposure to harmful compounds in beauty and haircare products. Some of these most trusted agencies involve:
Food and Drug Administration (FDA): In the United States, the FDA regulates food and cosmetic products, including beauty and haircare items. While cosmetic products do not require pre-market approval, the FDA monitors their safety through post-market surveillance. They can take action against products that are found to be adulterated, misbranded, or present a significant risk to consumers.
European Commission and European Chemicals Agency (ECHA): In the European Union, the safety of cosmetic products is governed by the Cosmetic Regulation. The European Commission and ECHA work together to regulate and evaluate cosmetic ingredients and ensure compliance with safety standards. They maintain a database called the Cosmetics Ingredients Database (COSING), which provides information on the safety and regulatory status of cosmetic ingredients.
Health Canada: In Canada, Health Canada oversees the safety of cosmetics, including beauty and haircare products. They regulate these products under the Food and Drugs Act and the Cosmetic Regulations. Health Canada requires manufacturers to provide safety information, and they conduct risk assessments to ensure products meet safety standards.
Consumer rights for seeking compensation or filing complaints vary by country. Some general avenues for seeking recourse in case of damages from using certain chemical-contaminated beauty or haircare products are as follows:
Product Liability Lawsuits: Consumers who have suffered harm from using contaminated products can file product liability lawsuits against the manufacturer or distributor. These lawsuits typically involve claims of negligence, breach of warranty, or strict liability.
Class-Action Lawsuits: If multiple consumers have been affected by the same product, they may choose to file a class-action lawsuit collectively. This allows individuals with similar claims to seek compensation as a group.
Consumer Protection Laws: Many countries have consumer protection agencies or bodies that oversee product safety and handle complaints. Consumers can report incidents, seek information, and file complaints with these agencies.
Consumer Advocacy Groups: Non-profit organizations focused on consumer rights and safety may provide guidance, resources, and assistance to consumers seeking compensation or filing complaints. They can offer legal advice and support throughout the process.
Final Thoughts…
Olaplex has a cult following worldwide. Millions of consumers have shared positive reviews that they have felt an extraordinary difference after using its products. While the brand is adamant about not using any sort of harsh chemicals in its haircare range, the issues faced by the plaintiffs of the lawsuit and several other people cannot be denied. In fact, attorneys representing the complainants said that they have carefully considered other causes that might trigger hair and scalp problems but found "the products alone are to blame."
To stay away from such mishaps, let's make it a habit to read product labels carefully before purchasing them. It is always a good idea to familiarize ourselves with the impacts of common harmful chemicals such as parabens, sulfates, formaldehyde, and phthalates. And, of course, opt for beauty and haircare brands that prioritize safety and transparency. Stay Safe!
---
Reders also search for Simply Orange lawsuit and Fairlife milk scandal.
---
FAQs
Is there a lawsuit against Olaplex?
Yes, there's an ongoing Olaplex lawsuit where about 30 women are suing the haircare brand for creating products that caused them extreme hair and scalp issues.
What is the controversy with Olaplex?
Olaplex is facing charges by a group of consumers who claim to suffer fromhair loss, blisters, hair breakage and thinning after using its hair treatment products.
How to join the Olaplex lawsuit?
If you have experienced similar hair and scalp damage after using Olaplex products and want to join the Olaplex hair loss lawsuit, then you can consult with a lawyer who specializes in such class-action cases. The Olaplex lawsuit is currently handled by a law firm named Kaliel PLLC. You can contact them to express your interest in joining the lawsuit by filling out the contact form on their website or simply calling on their toll-free number. The agency will guide you from there.