Disclosure:
Your Sustainable Guide is supported by our readers. We might receive an affiliate commission if you make a purchase using links on our website, at no cost to you.
Learn more
Candles are love! Nothing beats the feeling of tranquility you sense after soaking in the aroma of your favorite scented candle. But do you know mass-produced candles cause you more harm than good? Traditional candles are made with paraffin wax and synthetic fragrances, which release harmful chemicals into the air when burned. But you can make a mindful lifestyle choice by switching to non toxic candles that are both safe for you and the planet.
Recent years have witnessed a surge among conscious consumers who prioritize quality and sustainable products as part of their everyday life. And safe non toxic candles are being welcomed by informed consumers like never before. These candles are made from 100% natural ingredients and essential oils, creating a clean-burning and wholesome experience. In this article, we will explore the benefits of non-toxic candles and why they are a great option for anyone looking to create a healthier home environment. 
The Best Non Toxic Candle Brands are:
1. Fontana Candle Co.
2. Brooklyn Candle Studio
3. Ritual + Fancy
4. Grow Fragrance
5. Heretic Parfum
6. Prosperity Candle
7. Isle de Nature
8. La Lueur
9. P.F. Candle Co.
10. Obakki
11. Essence + Alchemy
12. Sanari Candle
13. Pure Plant Home
14. Public Goods
15. Siblings
How We Chose the Best Non Toxic Candle Brands for You
Wax: We love eco-friendly candle brands that use natural and renewable wax sources, such as soy, beeswax, rapeseed wax or coconut wax into making safe non toxic candles. These waxes are biodegradable and burn cleanly without emitting soot particles or smoke.
Fragrance: Scents are an important feature of aromatherapy candles. We have cherry-picked labels that craft candles scented with pure essential oils rather than synthetic fragrances, which can contain harmful chemicals like phthalates.
Wick: Candles with lead-smothered wicks are a big no-no, as they release toxic fumes when burned. Mindful brands use lead-free and unbleached cotton wicks or responsibly sourced wooden wicks.
Packaging: We have chosen sustainable candle brands that use repurposable vessels for setting their candles. This approach drastically reduces waste generation as you can effortlessly reuse the empty candle jars for storing pantry items, or your jewelry, turning them into tiny planters, or even just DIY-ing them into a decorative piece. Also, these candles are shipped in recyclable packaging, making them the best eco-conscious product.
Affordability: To ease your search, we've compiled a list of brands to fit every budget. You'll find many great affordable non toxic candle options here, along with some luxurious pieces for people who love to indulge.
Reviews: These brands are trusted by many sustainable consumers who have experienced major positivity and emotional well-being after adding these non toxic candles to their lifestyles.
Our Favorite Pics of 15 Best Non-Toxic Candles 
Candles are much more than just regular home fragrances. They not only have the power to add spark to any setting but also nourishes our mind, body, and soul. That's why we've curated a list of our favorite sustainable candle brands that are outdoing the toxic candle industry. Check out Ritual + Fancy, Grow Fragrance, Heretic Parfum, Prosperity Candle, Fontana Candle Co., Brooklyn Candle Studio, Isle de Nature, La Lueur, P.F. Candle Co., Obakki, Essence + Alchemy, Sanari Candle, Public Goods, Pure Plant Home, and Siblings.
1. Fontana Candle Co.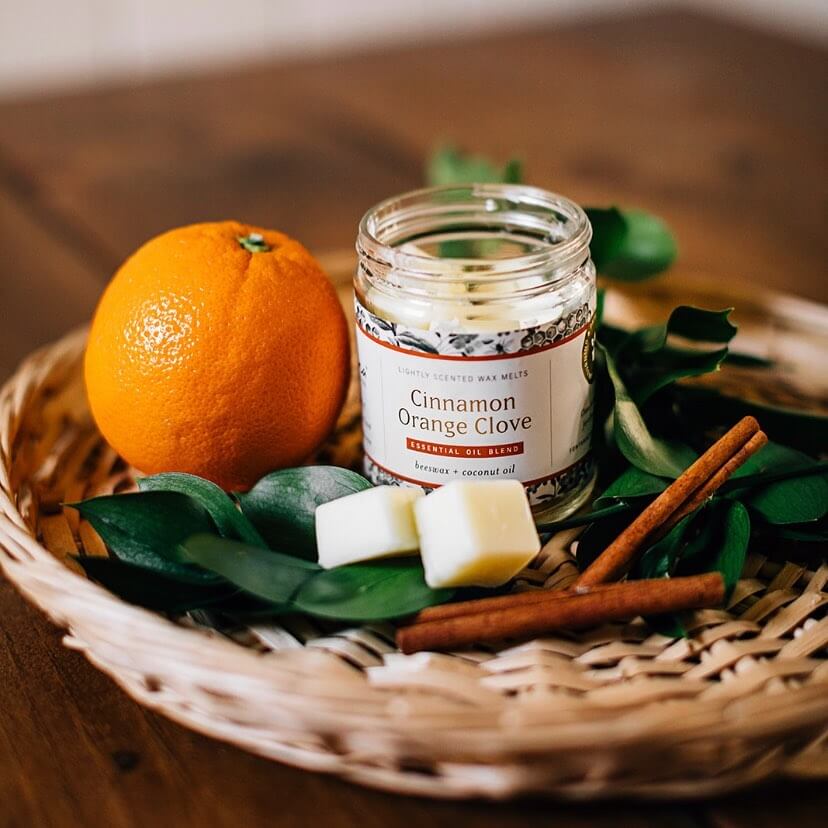 Price: Starts at $15
Fontana Candle Co aims to disrupt the fragrance industry by creating candles and fragrance products that not only smell good, but is also safe for you and your family. That's why the company is committed to offering you toxin-free living with its wide collection of non toxic candles. Made with 100% natural ingredients like beeswax, coconut oil, pure essential oils, and wooden wicks, its candles stand out for their exceptional quality and warm aesthetics. 
Fontana Candle Co is the first candle label to be certified as MADE SAFE®. One of the standout features of Fontana and Co is the variety of scents available. Like, there's literally a lot to choose from! Whether you're looking for something floral and sweet, like the Honeysuckle candle, or something warm and cozy, Cinnamon Orange Clove candle, there's a scent to nourish every senses. In addition, their candles are elegantly designed to add a touch of understated elegance to your home. Also, making it a perfect gift for your loved one.
2. Brooklyn Candle Studio
Price: Starts at $16
For gorgeously scented non toxic candles at an accessible price, Brooklyn Candle Studio can help you big time! With dreamy scents inspired by travel, nature, moments, and memories, the brand houses a plethora of options to suit every occasion. In terms of eco-friendliness, it uses sustainable raw materials like soy wax, lead-free cotton wicks, and natural essential oils. From their best-selling Maui Escapist Candle, which will remind you of oceans, to the Petrichor Artist Edition Candle that feels like earth- freshly drenched in the rain, you name your mood, and they've got it all.
Founded by an Indie designer Tamara Mayne, Brooklyn Candle Studio's beautifully scented candles are petroleum-free, cruelty-free, phthalate-free, and 100% vegan. Each candle is hand-poured and labeled by a team of fairly paid artisans in the company's in-house studio. With minimalist, modern packaging in sleek glass, tin, and ceramic jars, these candles are a chic addition to any home decor. Moreover, all these vessels can be effortlessly repurposed as a pencil holder, planter, and so on, after the candle has evenly burned out.
3. Ritual + Fancy
Price: Starts at $15
Ritual + Fancy's enchanting candles will definitely keep you hooked. From elegant designs to captivating fragrances, this company is surely setting the standards for lighting a candle with intention and purpose. Each candle has a slow-burning wood wick and is carefully hand-poured with 100% vegan soy wax extracted from a renewable resource. Plus, their collection is made in small batches with the utmost attention to detail.
Ritual + Fancy uses thoughtfully chosen aromatic notes to create a unique sensory experience that transports you to a peaceful realm. Whether it's Santo+Sage, Fig+Honey or my personal favourite, Sandalwood Rose, they have something to go with our ever-changing moods. I particularly adore its candles because they are topped with real dried flowers. So pretty! And as one of the best brands for non toxic candles, this woman-owned label is committed to self-care and sustainability and donates 1% of its profits to worthy causes.
4. Grow Fragrance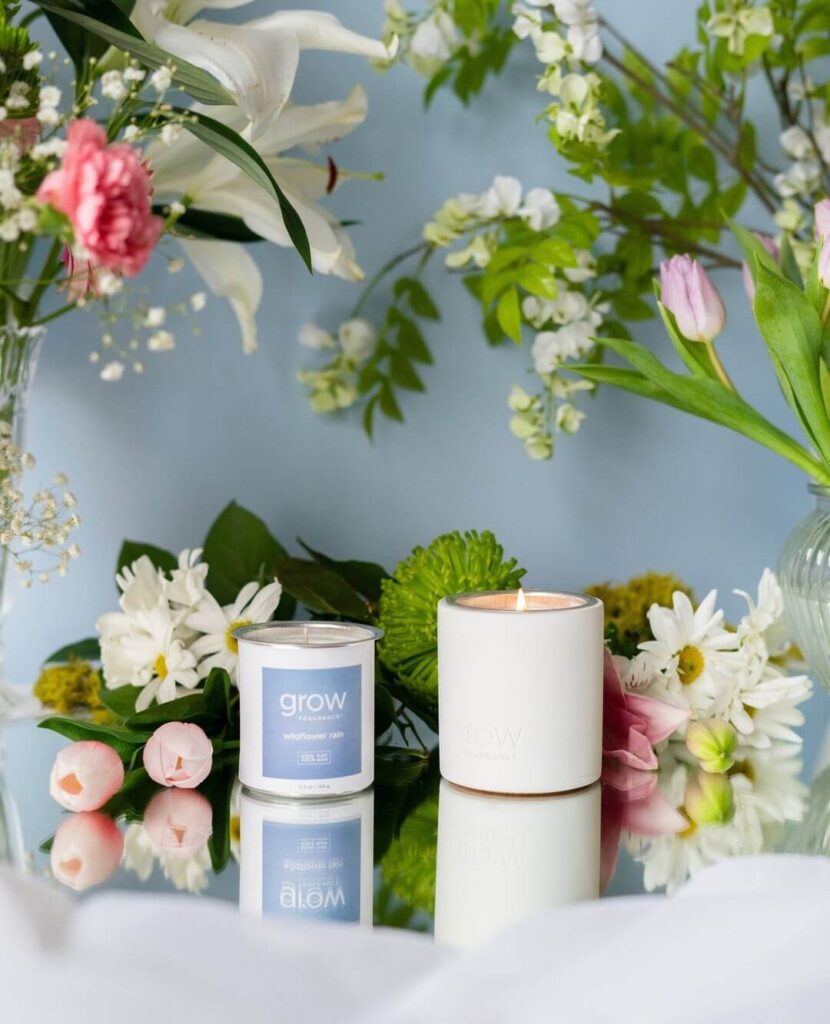 Price: Starts at $34
Grow Fragrance is a popular non toxic candle and air freshener brand in the world of home fragrance. The company is known for crafting luxurious and eco-friendly candles, making it a top choice for consumers who value quality and sustainability. With a scintillating range of notes, you are guaranteed to be enveloped in a warm and inviting atmosphere every time you light a Grow Fragrance candle. From the sweet notes of vanilla in Blondewood, the fresh and floral aroma of Lavender, or the citrusy scent of Bamboo, Grow Fragrance has a candle to suit every preference.
Everything is ethically handmade in the USA with 100% certified plant-based ingredients like blends of soy and coconut oil, along with natural fragrances. Plus, the vessels are refillable as they are made from pure concrete, and the cotton wicks are lead-free and unbleached. So if you are looking for a waste-free candle, then I strongly recommend this one! Grow Fragrance is also dedicated to giving back to the community and donates a portion of its profits to various environmental and social causes.
5. Heretic Parfum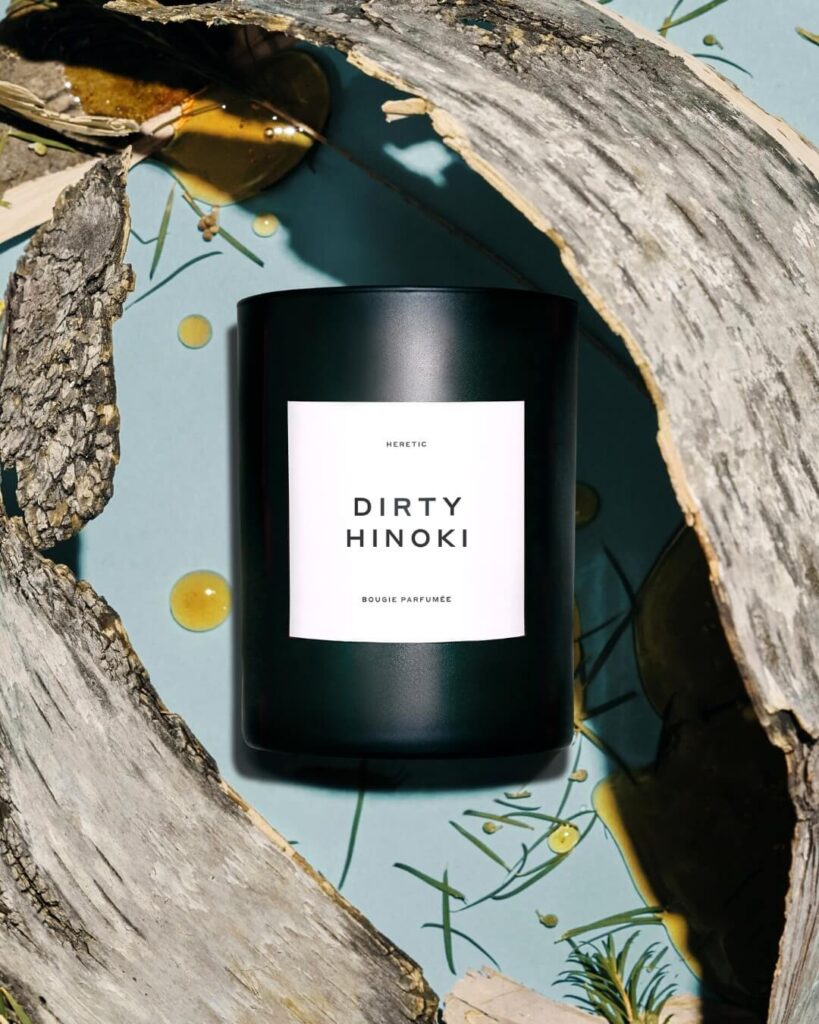 Price: Starts at $55
Symbolizing the essence of modern luxury home fragrances, Heretic Parfum's aromatic non toxic candles are everything you need. Deep-rooted in sustainability, the brand is renowned for designing candles that are not only alluringly scented but also free from harmful chemicals. With an unwavering commitment to sustainability, it only uses sustainably sourced plant-based ingredients, including organic soy wax, natural fragrance oils, and lead-free cotton wicks. Each candle is hand-poured in small batches, ensuring even and clean burning.
While Heretic Parfum's collection is pretty limited, each variant has the ability to tug you into a world of sensory indulgence. The fragrances are complex with layered notes, blending the organic essential oils and natural aromatics to create the finest scents. I was recently gifted its Dirty Hinoki Candle, and trust me, its earthy and ethereal notes has become my elixir after a long tiring day. Oh, did I mention, Heretic Parfum's candle collection is constantly changing? So you might want to stock some if you realllly love them.
6. Prosperity Candle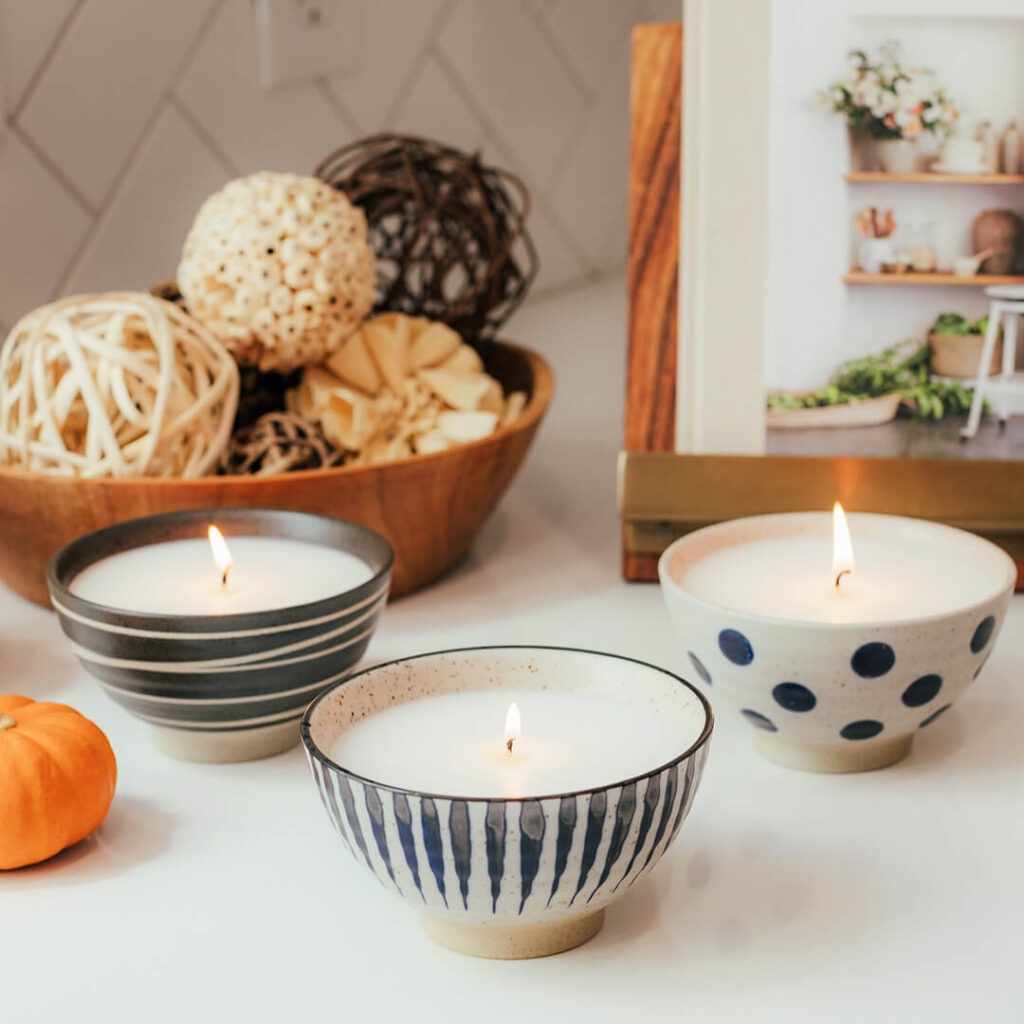 Price: Starts at $22
If you're looking for an ethical candle brand that combines luxurious fragrances with a deep sense of social responsibility, then Prosperity Candles will check all the boxes. Its non toxic candles are handcrafted by women refugees and artisans in the U.S. with the best sustainable vegan ingredients. The company uses all-natural soy and coconut waxes, pure cotton, and wood wicks, along with clean essential oils without the addition of synthetic dyes or enhancers. I can't brag enough about their candle jars and bowls, which are so aesthetic that they will undoubtedly add character to your home. The best thing— they're repurposable.
As a B Corporation, Prosperity Candles is one of the best non toxic candle brands dedicated to making a positive impact on the world. The company advocates fair trade and is on a mission to empower underserved women by providing them with opportunities for economic growth and self-sufficiency. Moreover, its Prosperity Partnership program donates a portion of annual profits to organizations that are working to empower women and promote social justice.
7. Isle de Nature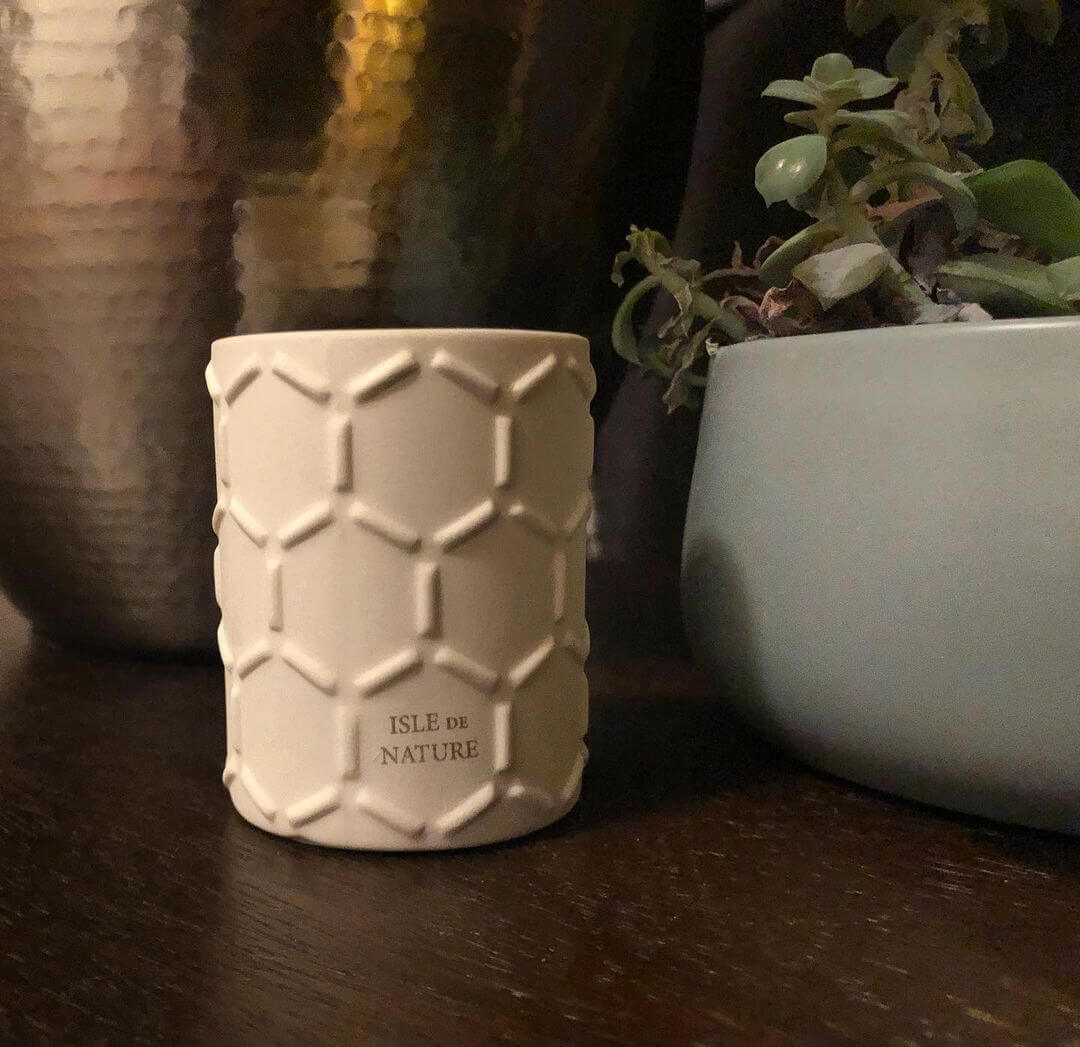 Price: $125
Isle de Nature is a luxury candle brand specializing in creating premium quality non toxic candles inspired by the exotic indigenous scents of remote islands. Its collection includes 2 variants: Pagua Bay Fragrance Luxury Beeswax Candle and Pagua Bay Votive Candle. Both of which are influenced by the Caribbean Islands of Dominica. While you may feel it's not much to choose from, these candles have a different fan base of people who prefer signature scents for their homes.
Agreed, the price is more on the expensive side, but that's because, along with ethical practices, Isle de Nature solely uses beeswax, which is considered as a superior wax. Apart from the unforgettable scents, these safe non toxic candles' classy packaging are a true indulgence. Feel free to use them as a focal point in your living room or as a calming addition to your bedroom. Isle de Nature believes that if we take something from the earth, we should replenish it. Therefore, its sustainability mission focuses on rebuilding the dwindling bee populations of remote islands.
8. La Lueur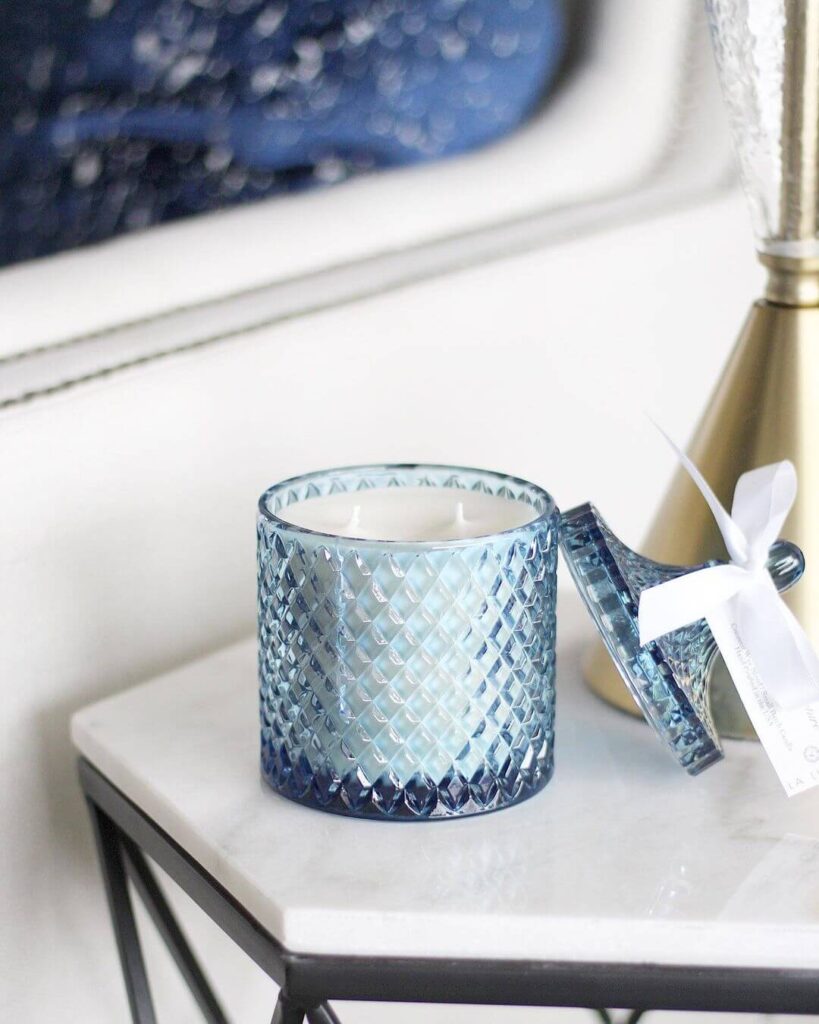 Price: Starts at $30
La Lueur was born out of a great passion for creating the best non toxic candles for consumers who prioritize sustainability and outstanding quality. With a variety of unique fragrances, these candles are composed of natural coconut wax blend, 100% cotton wicks, and the finest fragrance oils free of parabens, phthalates, and sulfates. The brand has an extensive collection where you can choose fragrance types covering fresh, woody, floral, exotic, fruity, and citrus. So whatever you're feeling right now— take your pick!
While I'm sure you would love their scented candles, the aesthetics will make you go weak in the knees. I mean, the vessels are simply a piece of art with sleek and sophisticated designs that will beautifully complement any décor. Another plus point? La Lueur candles are crafted to be slow-burning. So whether you're looking to create a relaxing and cozy atmosphere or simply add a touch of luxury to your space, La Lueur candles are an ideal choice.
9. P.F. Candle Co.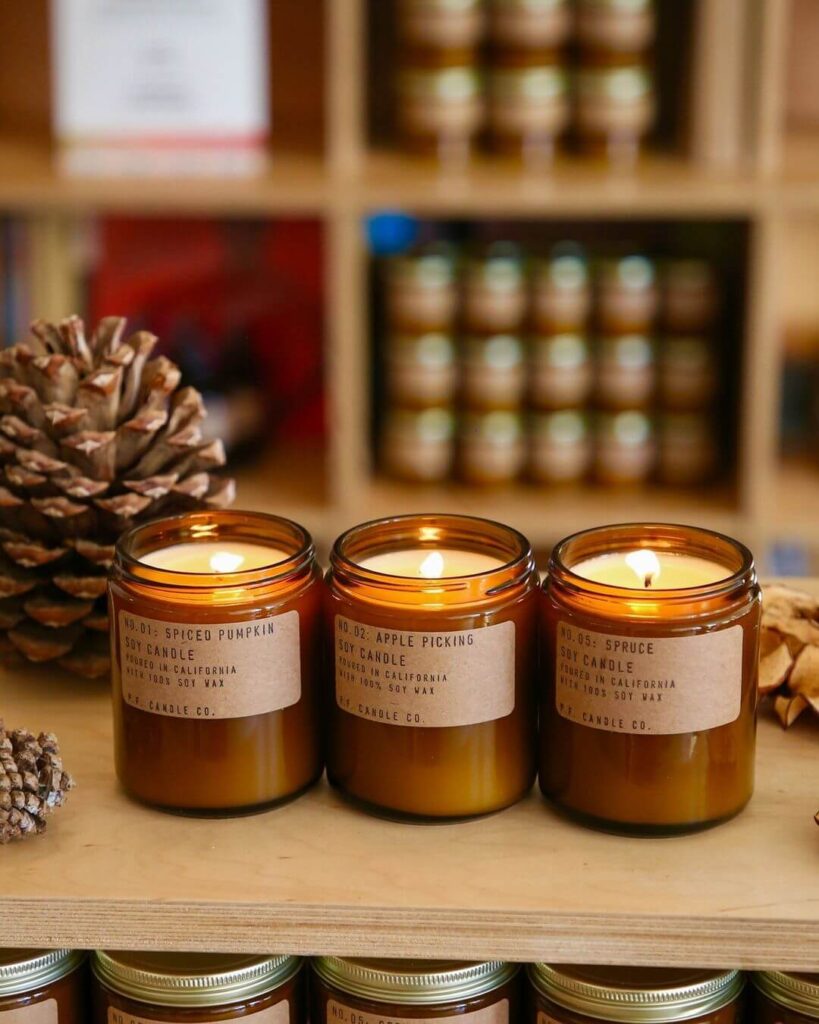 Price: Starts at $14
P.F. Candle Co. is one of my favorite candle brands that offer a limited selection of natural and safe non toxic candles. They expertly craft each scent using a blend of natural essential oils and botanicals, resulting in unique and complex aromas that are both soothing and invigorating. All of their candles are hand-poured in apothecary-inspired amber jars with 100% domestically-grown soy wax and come with a brass lid closure. Plus, all the candles come in reusable jars, so you can repurpose them in countless ways.
P.F. Candle Co. has a strong commitment to sustainability. No wonder, their entire collection is cruelty-free, cruelty-free, and phthalate-free. In addition, it constantly strives to reduce its environmental impact through eco-friendly practices and gives back to society through partnerships with local organizations. For being a devoted sandalwood and lavender lover, my recommendation has to be their Sandalwood Rose and Ojai Lavender, but I also loved to sink in their Wild Herb Tonic Candle.
10. Obakki
Price: Starts at $25
For those of you who love to adorn your dining area, consoles, library, and other nooks, with classic long-standing decorative candles, take a look at Obakki's candle fare. The lifestyle brand is renowned for its dedication to sustainability, social responsibility, and ethical production practices. And their safe non toxic candles are no exception. Offering a range of artisan-made uniquely-shaped candles with delicate scents, these pieces are both luxurious and environmentally conscious.
Obakki's intricately crafted Specialty Beeswax Candles are a constant part of my home décor. Made in Mexico by a native expert artisan, every layer of these non toxic candles are hand-poured for longer burning times. Their Sumac Wax Candles are another example of dedicated artwork. These rustic-looking candles are made by a family-run business in Japan, who have been crafting traditional Japanese candles since 1892. Both these candle varieties, along with all of Obakki's entire candle selection, are made from sustainable and vegan ingredients that are guaranteed to be the limelight at your home.
11. Essence + Alchemy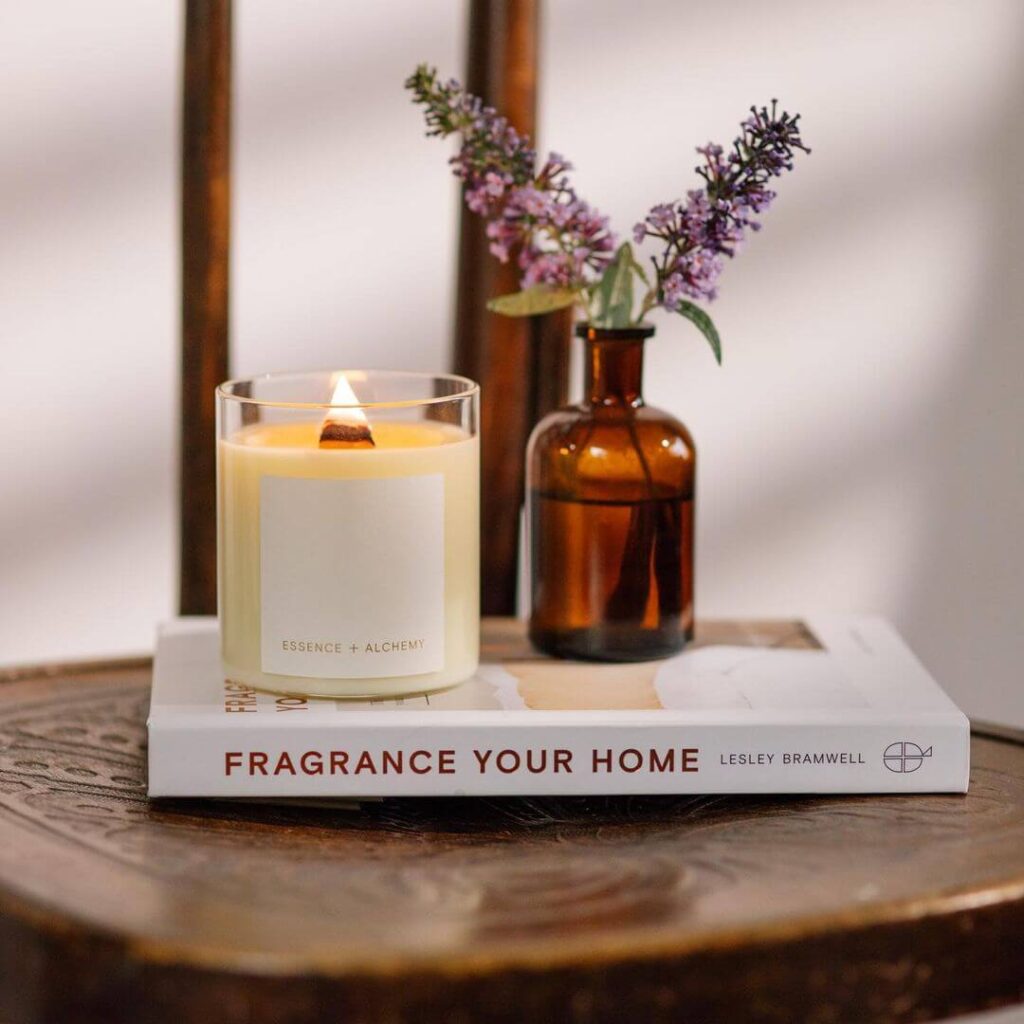 Price: Starts at $20
Hailing from the British soil, Essence + Alchemy is a candle brand devoted to crafting eco-friendly and safe non toxic candles that enhance the mind, body, and spirit. With inspirations from traditional aromatherapy and ancient alchemy, each candle is made with a blend of natural ingredients to support your emotional well-being naturally. From 100% GMO-free rapeseed wax to FSC-certified wooden wicks and pure essential oils, Essence + Alchemy responsibly sources each component, reinforcing respect for the planet and people.
The brand is a strong advocator of circularity and has a zero-waste policy. Therefore, all of Essence + Alchemy's candles are hand-poured into reusable handblown British-made borosilicate glass vessels that can be refilled if you opt for the 'Candle Refill Subscription'. Furthermore, the candle jars come in recycled kraft cardboard boxes with FSC paper labels, making them a truly earth-friendly choice. My recommendations? Try their Azoth Candle for a sweet floral scent and Dusk Candle for a serene scent of dark patchouli.
12. Sanari Candle
Price: Starts at $22
O My! Love this candle brand for 'n' number of reasons. Here's presenting Sanari Candle— a genuinely sustainable luxury candle company that deliberately crafts its product with the Earth in mind. With sustainability at its core, every part of the brand's process is designed to work in harmony with our planet. From sourcing farm-grown ingredients and selecting materials to curating scents, ethical manufacturing, and recyclable packaging. And the candle jars are nothing but sleek whiskey glasses. Not kidding! So now, even if your candle burns out, you'll be dancing with happiness because you just got to add more to your glassware collection. How innovative!
Sanari Candle was founded by Rebecca Aghalarpour as an effort to create a healthy and toxin-free lifestyle, when she was diagnosed with breast cancer. For that reason, their candles are made with kosher, non-toxic, and plant-based ingredients like organic coconut, non-GMO soy, and whole essential oils. Plus, they give back to society by donating 5% of their yearly sales to the National Breast Cancer Foundation. For Sanari Candle, you've got to try them, to actually know them!
13. Pure Plant Home
Price: Starts at $10
Pure Plant Home is a candle brand that symbolizes the essence of natural living. Their vegan candles are handcrafted with love and care, using only the purest plant-based ingredients, such as an exclusive blend of coconut vegetable wax, unbleached cotton wicks, and authentic essential oils. The brand aims to provide you with aromatherapy that boosts positive energy, enhances well-being, happiness, and longevity. As a result, there are no traces of petrochemicals, synthetic fragrances, or artificial colorants in any of their candles.
From the moment you light one of Pure Plant Home's candles, you will be enveloped in a world of pure, natural bliss. Offering some of the best non toxic candles, their wide range of scents comes in different sizes and caters to every mood, from the relaxing and calming scent of lavender to the refreshing and uplifting citrusy aroma. Pure Plant Home candles are perfect for any setting as they create a warm and inviting atmosphere, making any space feel like a sanctuary of peace and relaxation.
14. Public Goods
Price: Starts at $5.95
If you're on the hunt for some amazing budget-friendly non toxic candles, then Public Goods is here at your service. The famous sustainable home goods company has a small section dedicated to candles infused with nature-inspired scents and therapeutic essential oils, which tremendously help reduce stress. The 3 candle variants can be bought in sets or individually and range from Black Currant Soy Candle, Cedar & Suede Candle, and, my favorite, Lavender & Vanilla Soy Candle. Each fragrance brings a calming effect and ferries you to a different world, creating an ambiance of peace, tranquility, and serenity.
Driven by sustainability, Public Goods only use kind-on-the-earth materials. Their candles are made from 100% natural soy wax, lead-free cotton wicks, and essential oils, ensuring that they not only smell great but are also safe for you and the environment. And the candle jars come with an Acacia wood lid closure, so you can easily repurpose them, once the candle burns out evenly.
15. Siblings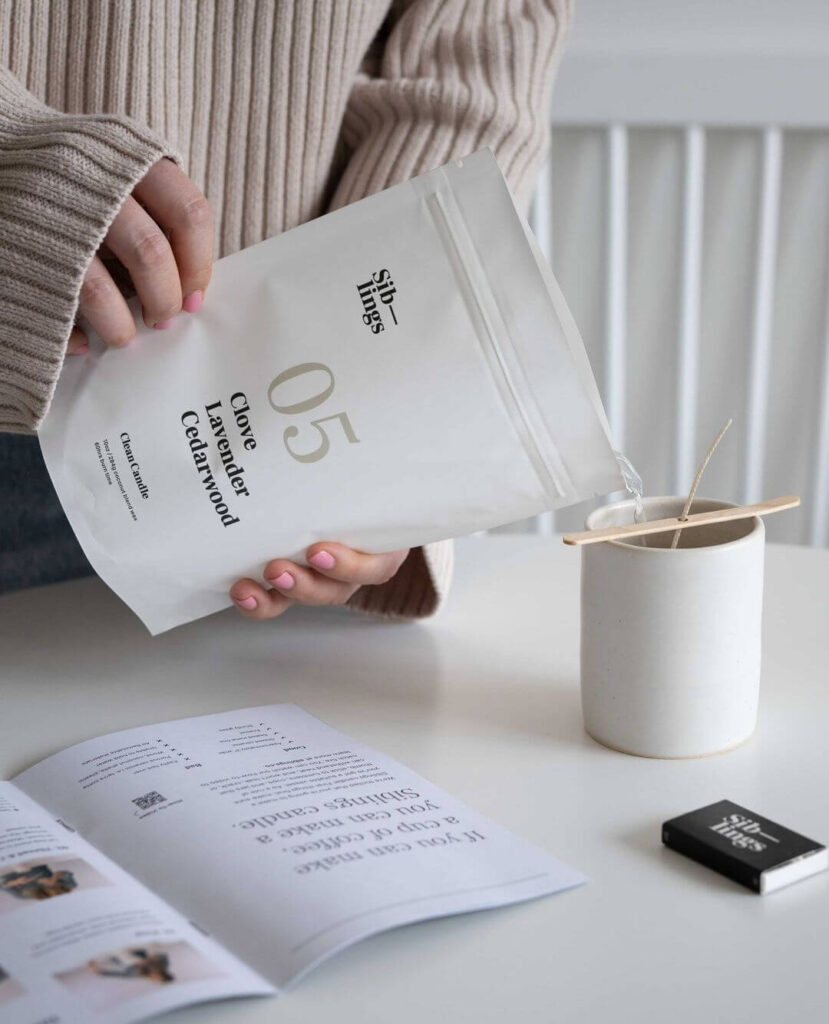 Price: Starts at $26
Is anybody up for making your own candle? Because non toxic candle brand Siblings can help you do that. With dreamy scents to elevate your sensory points, this brand is raising the bar for sustainability by offering candle wax in 100% compostable bags. Yes, you read that right, bags, not jars! Empty candle containers usually get discarded, but Siblings is here to tackle this throwaway culture with its innovative packaging so that you can reuse your old candle jar or any vessel that you no longer use. 
Every step at Siblings is taken in a way that is right by the environment, right by your home, and right for your health. They offer more than 10 gorgeous scents covering florals, earthy + woody, and fresh + fruity. All you got to do is shop their candle pack, microwave for 2 minutes and fill the melted wax in your favorite vessel. Also, their ingredients include a 100% natural blend of coconut and soy wax, along with chemical-free and cruelty-free essential oils.
Welcome to the World of Candles
Scented candles are a major mood lifter. That's why, brands create different fragrant candles and mention the notes along with the mood settings. Just like perfumes, every person has a personal fragrance inclination when it comes to candles. While some find solace in the warm and grounded mood emitted by earthy aromas, others love the vibrancy and freshness of citrusy scents. No matter what your choice is, it's important to opt for candles that not only make you feel good but are also safe for you and the planet.
Why Should You Avoid Conventional Candles?
Using conventional candles can release toxic compounds and particles into the air. This exposure can have harmful effects on your mental and physical health over time. While burning one candle might not have any significant impact, regular use can be problematic.
The candle industry is largely unregulated, and companies are not required to label their ingredients. Since there is no transparency, consumers also don't get to know about their production process or who are making them.
Most conventional candles contain toxic substances such as paraffin wax, synthetic fragrances, and lead wicks. They also have a short burning time and usually do not burn evenly, leading to wastage.
Indoor air pollution from burning candles can be harmful to respiratory health.
Conventional candles come in candle jars that can no longer be repurposed after the wax has burned down completely. As a result, empty candle jars get dumped and end up in landfills, contributing to waste generation.
How Using Conventional Candles Can Prove Harmful?
Conventional candles can be dangerous for your health as they are made of paraffin wax— a petroleum-based product that releases Volatile Organic Compounds (VOCs) when burned. Studies have found that VOCs can disrupt hormones as they are composed of carcinogens and neurotoxins.
Burning paraffin wax also releases chemicals such as formaldehyde, acetaldehyde, toluene, benzene, and acetone into the air. 
You'll often find that mass-produced candles discharge ultrafine soot particles. While that may feel like a petty issue, these particles can make their way to the lungs and bloodstream, leading to health disorders, such as allergies, asthma, bronchitis, strokes, and even cancer.
Conventional candles contain lead-core wicks made of zinc and tin. Burning these can release traces of heavy metals, further polluting the air around you. In 2003, the U.S. Consumer Product Safety Commission banned the usage of lead cores in candles, but many brands still continue to use them as they are a cheaper option.
Types of the Best Natural Waxes
Soy Wax: Soy wax is made from soybeans and is a natural and renewable resource. It burns cleaner and slower than paraffin wax, and is non-toxic, biodegradable, and vegan. Another feature of soy is it gives a cool-toned whiter flame
Beeswax: Beeswax is made by bees and is a natural, renewable, and sustainable resource. It emits negative ions when burned, which can purify the air, and has a natural honey scent. Beeswax has a natural-toned warm flame.
Coconut Wax: Coconut wax is made from the edible white part of coconuts and is a natural and renewable resource. It burns cleaner than most waxes and has a longer burn time. It is also non-toxic and biodegradable.
Carnauba Wax: Carnauba wax is made from the leaves of the Brazilian palm tree and is a renewable resource. It has a high melting point, making it useful for adding firmness and texture to candles.
Hemp Wax: Hemp wax is made from the oil of the hemp plant. It is another biodegradable and renewable resource that burns cleaner and slower than cheap paraffin wax.
Benefits of Using Non Toxic Candles
Improved Indoor Air Quality: Non-toxic candles do not emit harmful chemicals and soot particles, improving indoor air quality and reducing the risk of respiratory issues, allergies, and other health problems.
Eco-Friendly: Non-toxic candles are typically made from natural and renewable resources, such as soy wax, beeswax, or coconut wax, making them more eco-friendly and sustainable than conventional candles made from petroleum-based paraffin wax.
Safer for Health: Clean candles are free from poisonous chemicals, such as benzene, toluene, and formaldehyde, that are commonly found in conventional candles. This makes them safer to use and reduces the risk of exposure to toxins and carcinogens.
Natural Fragrances: Sustainable candles are infused with natural essential oils, which provide a subtle, natural fragrance that is free from synthetic fragrances and their associated health risks.
Longer Burning Time: Non-toxic candles made from natural waxes, such as soy or beeswax, typically have a longer burn time than conventional candles, making them a more economical choice in the long run.
Aesthetically Pleasing: Eco-friendly candles come in understated gorgeous vessels to enhance the décor of any room, creating a dreamlike ambiance.
To Wrap it Up…
So there you go! Non-toxic candles are a safer and more sustainable alternative to conventional candles. Made with all-natural ingredients and mindful vessel packaging, these candles exude sophistication and indulgence while also caring for the environment. And the above-mentioned candle brands have my heart for doing all the right things. So take a step towards creating a healthier and more environmentally conscious lifestyle for yourself and your family by choosing the best non toxic candles.
FAQs
Which candles are non toxic?
Candles made from 100% natural wax, lead-free cotton and wooden wicks, and genuine essential oils are non toxic. These candles are free from all kinds of synthetic chemicals and do not cause any harm to your health or to the environment.
Which is the safest and healthiest candle to burn?
Non toxic candles from Ritual + Fancy, Heretic Parfum, Prosperity Candle, Isle de Nature, Fontana Candle Co., Brooklyn Candle Studio, La Lueur, Grow Fragrance, P.F. Candle Co., Essence + Alchemy, Obakki, Siblings Sanari Candle, Public Goods, and Pure Plant Home are some safest and healthiest candles to burn.
Are all soy wax candles non-toxic?
No, there's no guarantee that all soy wax candles will be non toxic. That's because, while soy wax alone is a 100% natural material, a candle is made up of many other ingredients, like fragrances and wicks. If those substances contain hazardous chemicals, then despite of the presence of soy wax, the candle can't be considered as non toxic.