Disclosure:
Our editors handpick top-rated brands, vetted through our strict ratings. Purchases via our links may earn us a commission.
Learn more
For many of us, our morning cup of tea serves as the elixir that energizes us to take on the hustles of the day. But do you know widely-sold tea kettles made from plastic or low-quality metal are actually contaminating your cherished tea? Yes, it's true! However, the solution is right here. A non toxic tea kettle! Crafted from harmless materials, these kettles brew rich, flavorful tea without compromising your health. And the match just gets better when you're using pesticide-free teas from organic tea brands.
As we become more conscious of our lifestyle, it is essential to verify that every kitchen appliance is safe for our family. That's why, many responsible brands are coming up with products to help you switch to cleaner kitchenware. Whether it's non-toxic coffee makers, non-toxic dinnerware, or the safest air fryer choices, all kitchen essentials are covered! For now, let's explore the best non-toxic tea kettles to make your tea time delightful and free from health worries!
10 Best Non Toxic Tea Kettles
1. Fellow Stagg
2. Quickone Takei
3. Caraway
4. Willow & Everett
5. OXO Brew Classic Steel Kettle
6. Staub
7. All-Clad
8. Alessi
9. ASCOT
10. Cafe Brew Glass Kettle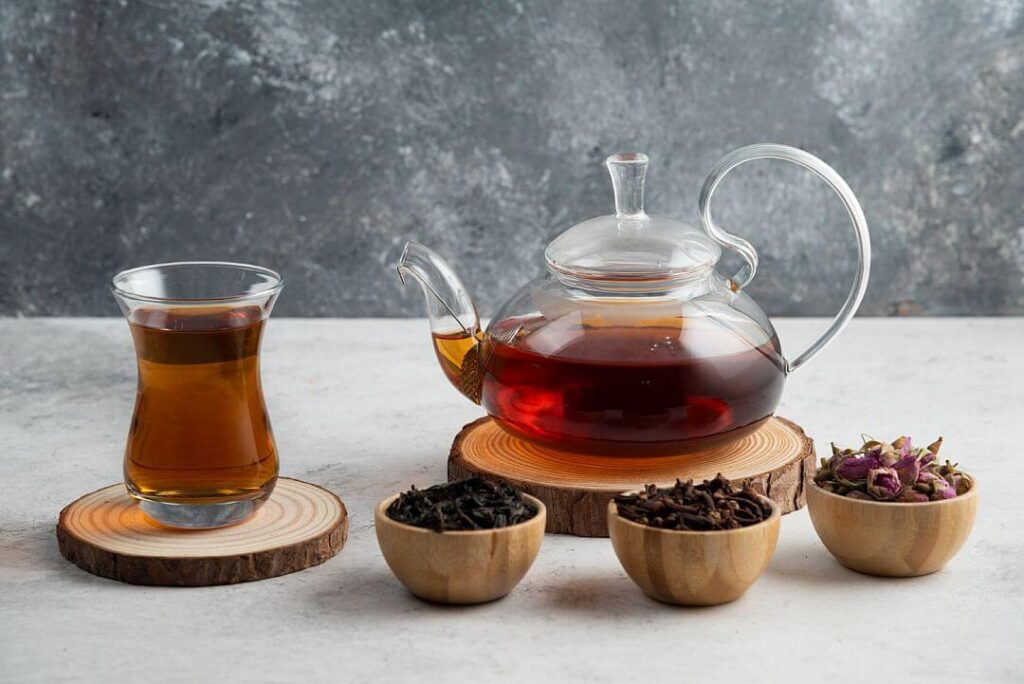 How We Chose the Best Non Toxic Tea Kettles for You
Material
Stainless steel and glass are popular choices for non-toxic tea kettles. While stainless steel is durable, rust-resistant, and easy to clean; borosilicate glass is heat-resistant and allows you to watch the water boil, which can be aesthetically pleasing. Again, ceramic tea kettles offer a classic and elegant design with excellent heat retention properties.
Safety Certifications and Standards
Every tea kettle that made it to this list have been tested and certified by recognized safety organizations for non-toxic compounds and safe usage.
Heat Resistance and Insulation
Our focus is to highlight kettles made from materials that can withstand high temperatures without leaching harmful chemicals into your tea. Additionally, double-wall insulation is a must, as they retain heat better and prevent the outer surface from becoming too hot to touch.
Coating
We have avoided kettles with non-stick coatings, as they may contain hazardous chemicals that can seep into your water when heated. Non-coated surfaces are the best to ensure the safety of your tea.
Ergonomic Design and Spout Precision
A well-designed kettle with a fitting handle provides a comfortable grip and reduces strain on your hand and wrist. Plus, a precision spout allows for a smooth pouring experience, minimizing the chances of spills.
Capacity and Brewing Efficiency
It is important to assess our brewing needs and select a kettle with an appropriate capacity. This ensures you can make enough tea for your requirements without wasting water or energy. We have listed kettles with rapid heating capabilities to save time and energy during the brewing process.
Affordability
Of course, no one wants to pay a huge sum for a good tea kettle. That's why, we have curated some amazing options at various price points to strike a balance between affordability and quality.
Reviews
Yes, customer reviews matter as they provide valuable insights into the performance and durability of the tea kettles. We have dug deep, reading reviews from other users to determine if the product meets all our criteria for the best non toxic tea kettles.
Types of Non-toxic Tea Kettles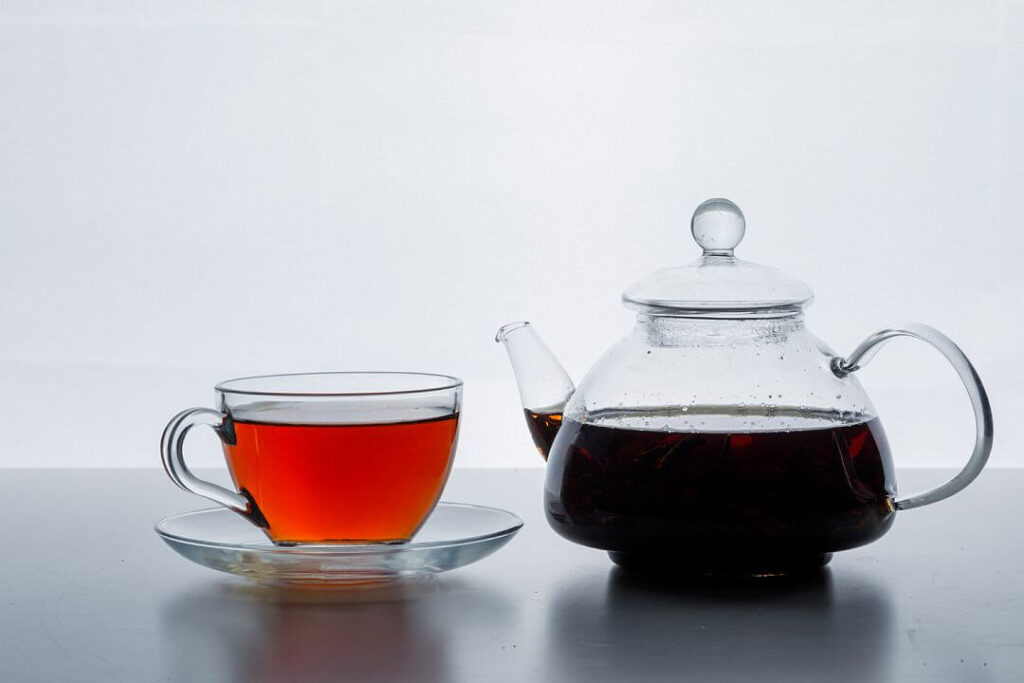 Stainless Steel Tea Kettles
Stainless steel tea kettles offer exceptional safety and durability. They are resistant to rust, corrosion, and stains, making them a long-lasting kitchen appliance. Their robust construction can withstand daily use while still maintaining their sleek appearance for years. Moreover, stainless steel kettles are easy to clean, which makes them a practical and reliable option for tea lovers looking for a safe solution for their daily brewing needs.
Opting for 18/8 stainless steel is a smart move when it comes to brewing that perfect cup of tea. This stainless steel alloy contains 18% chromium and 8% nickel. But if you're someone who's allergic to nickel, you might want to explore tea kettles made from different materials.
Glass Tea Kettles
Glass tea kettles are prized for their ability to preserve the purity of the tea's taste and ensure a health-conscious brewing experience. Since glass is non-reactive, it won't impart any unwanted flavors or chemicals into the tea. This allows the natural flavors and aromas of the tea leaves to shine through, delivering a clean and untainted taste. Moreover, the transparency of the glass allows tea enthusiasts to monitor the brewing process and observe the color and clarity of the tea. Glass tea kettles are also easy to clean, as they do not absorb odors or stains. Again, high-quality borosilicate glass is heat-resistant and suitable for use on various stovetops and withstanding temperature fluctuations.
Ceramic Tea Kettles
Ceramic tea kettles are favored for their excellent heat retention and non-toxic properties. As ceramic is a natural and inert material, it guarantees an uncontaminated tea flavor, ensuring that no toxins leak into the tea while it brews. In addition, it has remarkable heat retention features, guaranteeing that the water stays hot for an extended period, ideal for multiple servings or longer tea steeping. The best thing is, ceramic tea kettles usually come in beautiful and elegant designs, adding a touch of charm and sophistication to your kitchen countertop.
Choose Your Safest, Cleanest, and Non Toxic Tea Kettle for a Pure Cuppa
We've compiled a diverse list of tea kettles to suit every preference, ranging from cutting-edge stainless steel electric options to elegant glass kettles with charming whistles. Check out Alessi, Caraway, Quickone Takei, Fellow Stagg, ASCOT, OXO, Willow & Everett, Cafe Brew, Staub, and All-Clad.
1. Fellow Stagg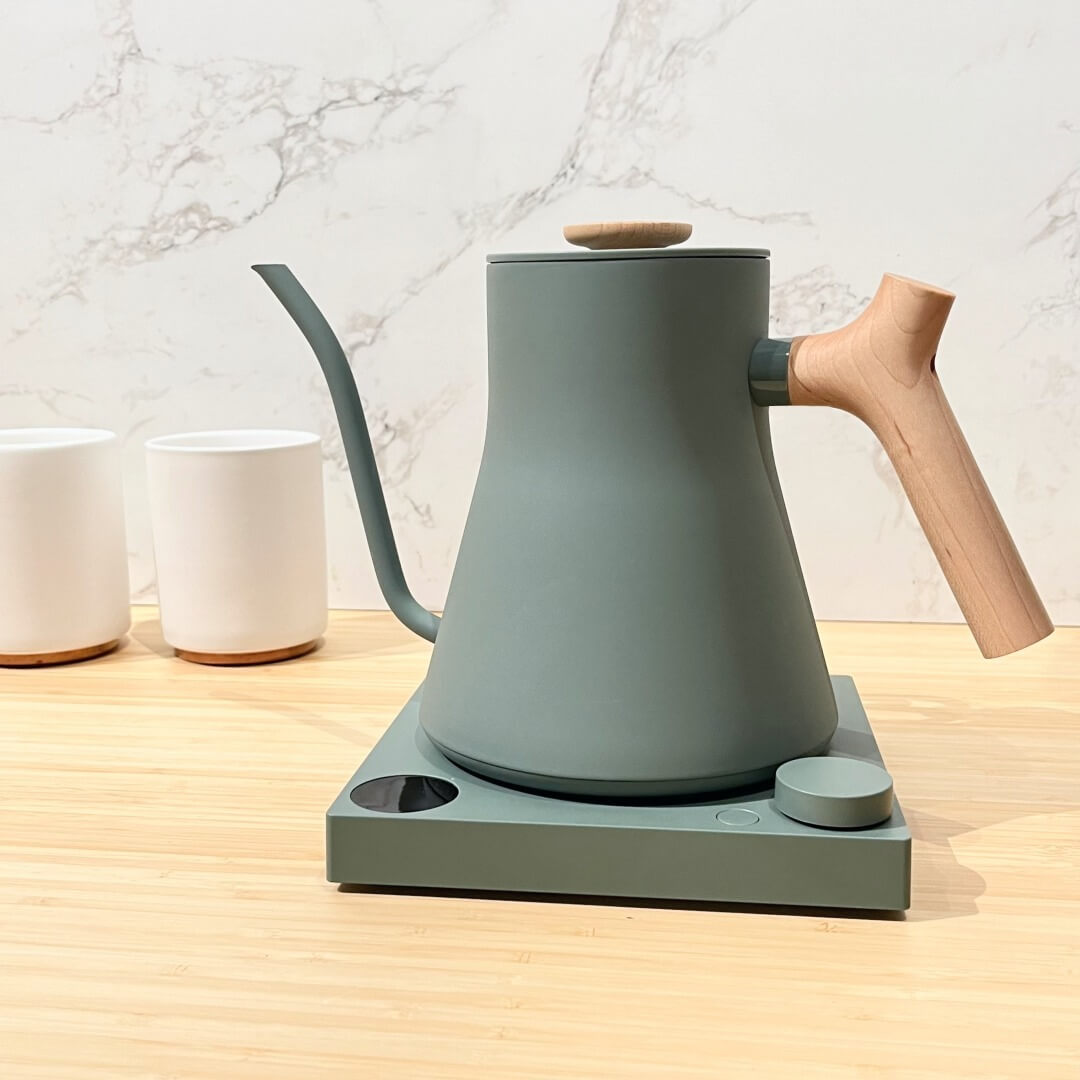 Material: 304-grade stainless steel with wooden accents
Type: Electric
Price: $195
Interested in a chic, premium-looking kettle that is adorned with walnut, maple, and cherry accents? Then Fellow Stagg's pieces will steal your heart! It is equipped with precise temperature control and rapid 1200 watts of heating power. And it can boil close to 0.9 liters of water effortlessly! Its digital LCD screen and custom heat settings allow you to achieve the perfect water temperature with ease. If that wasn't enough, pouring becomes a breeze with the precision-pour spout, ideal for pour-over coffee or tea. With a high-performing design and the sleekest of styles, this kettle is a must-have for tea enthusiasts!
What we like
The kettle has a 60-minute temperature HOLD feature to keep water hot for second helpings. And it comes with a 1-year warranty.
What we don't like
The kettle doesn't have an alarm; you'll be notified by the screen once the water has reached the target temperature. The spout is designed for steady pouring, so it might feel troublesome at times when you're in a hurry. Also, it's not dishwasher-safe.
2. Quickone Takei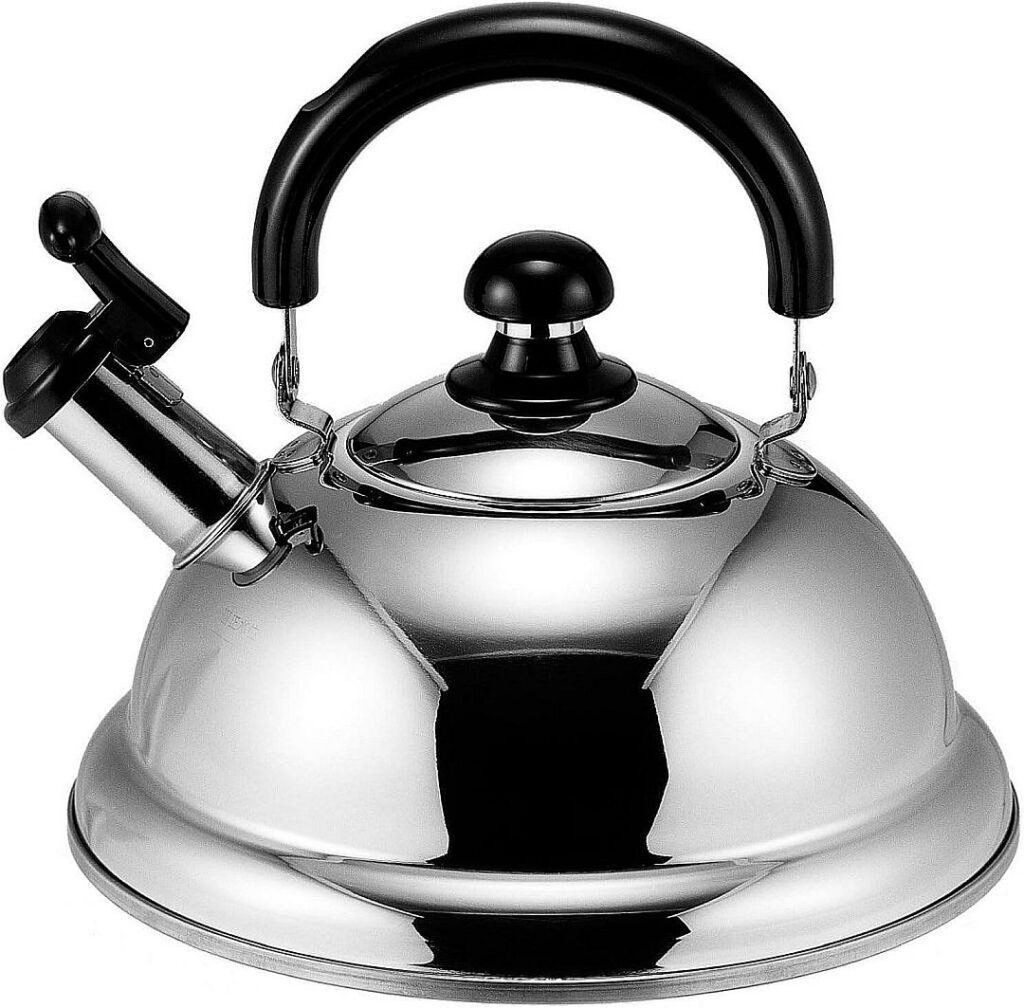 Material: 18/8 stainless steel
Type: Stovetop
Price: $39
If you're a fan of Japanese craftsmanship, then you're going to get hooked on Quickone Takei! This classic stovetop tea kettle offers a timeless design at an unbeatable price! It's lightweight, durable, and the build makes it easy to handle, even for those who are a bit clumsy. With a rust-proof 18/8 stainless steel interior, you can be confident that no plastic touches your boiling tea. The simplicity of this kettle and a clear whistle allows it for effortless use. To top it all, it has an extra-wide base for quick heating and can efficiently boil up to 7.6 cups of water in just 4 minutes.
What we like
The energy-saving kettle features a shiny mirror finish that complements any kitchen decor. It is suitable for gas, electric, and induction cooktops, including glass-top stoves. It has a loud and clear whistle to alert you while you're busy with other household chores. If you don't want the whistle, simply flip the cap down to silence it.
What we don't like
The kettle has a foldable handle for easy storage, but you have to be cautious while pouring, as it could lead to spills or burns.
3. Caraway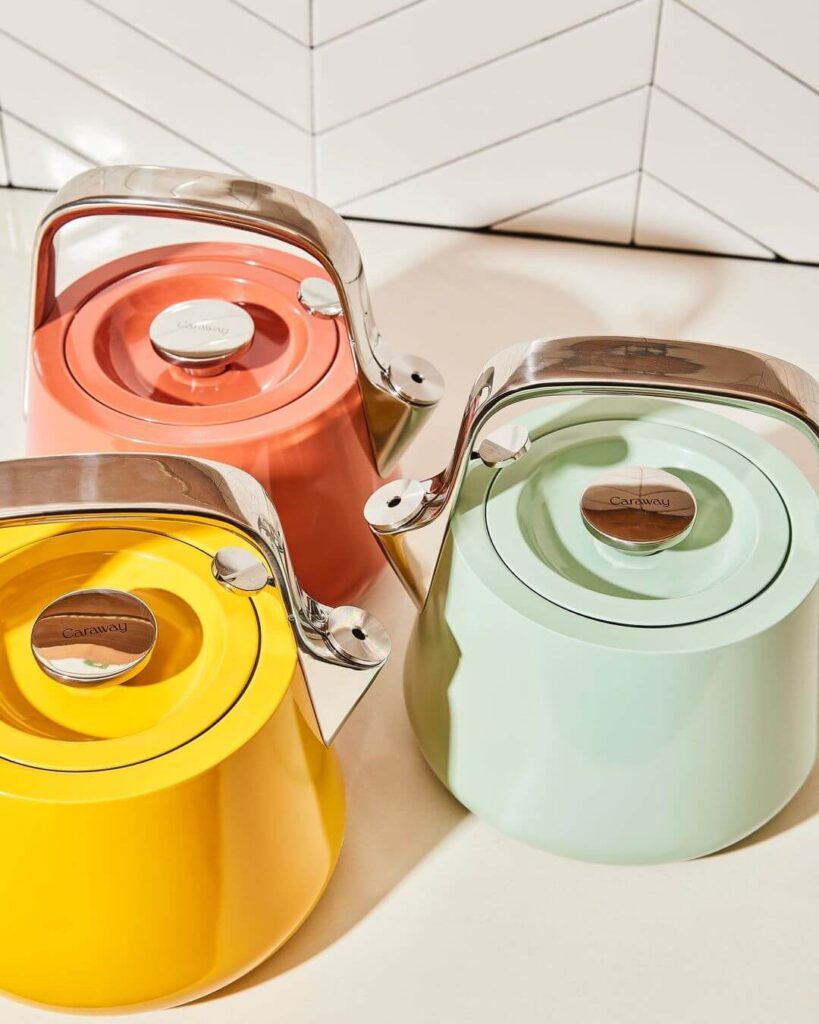 Material: Stainless Steel with ceramic coating
Type: Stovetop
Price Range: $195-$245
The leading cookware brand Caraway has just launched its line of sleek and lightweight stainless steel kettles, leaving us in awe! With a stunning range of 9 captivating colors, these kettles are not only constructed with non-toxic materials but are designed to be display-worthy. The stainless steel body has the capacity to hold up to 2 quarts of water and is thoughtfully coated in ceramic, ensuring that no harmful toxins are released. Plus, they're free from harmful substances like PFOA, PTFE, PFAs, Lead, and Cadmium. What's even more impressive is the production of these kettles emits up to 60% less CO2 compared to conventional non-stick kettle coatings!
What we like
The kettles are aesthetically pleasing, manufactured responsibly, and come in plastic-free packaging.
What we don't like
Quite expensive, so might not be suitable for people looking for budget-friendly, safe kettle options.
4. Willow & Everett
Material: Stainless steel
Type: Stovetop
Price: $30
If you're on the hunt for an affordable non-toxic tea kettle, look no further than Willow & Everett's Whistling Tea Kettle. Available in stores like Target or Amazon, this timeless stovetop kettle boasts a stainless steel body with a cool-touch silicone handle and has a capacity of 2.75 Quarts. It is compatible with most gas and induction cooktops and comes with a removable loose-leaf infuser. Built to endure rust, dents, and scratches, its 5-layer construction of stainless steel heats water quickly and promises durability.
What we like
The kettle features a conveniently accessible lever to open the spout and pour water with ease. With its 9-inch wide flat base, it ensures optimal heat transfer, allowing the water inside to boil quickly.
What we don't like
The whistling sound is a bit low. So people looking for a loud whistling kettle might not like it.
5. OXO Brew Classic Steel Kettle
Material: Stainless steel
Type: Stovetop
Price: $49
Innovative and fuss-free, the OXO Brew Classic Tea Kettle ensures a drip-free pour with a precise spout. It has silicone touch points on the spout cap and handles to protect your fingers from heat. The angled handle conveniently turns down for easy filling and storage, while the high-grade stainless steel construction prevents corrosion. You can trust its 1.7-quart water capacity and rely on the loud whistle to let you know when the water has reached its boiling point. Plus, no plastic comes in contact with the water, making it a safe and durable choice for your hot beverages.
What we like
Sturdy and high-performance kettle at a good price point. Oxo is also a member of the 1% for the Planet program and donates funds to various social and environmental causes.
What we don't like
You may face pouring issues sometimes.
6. Staub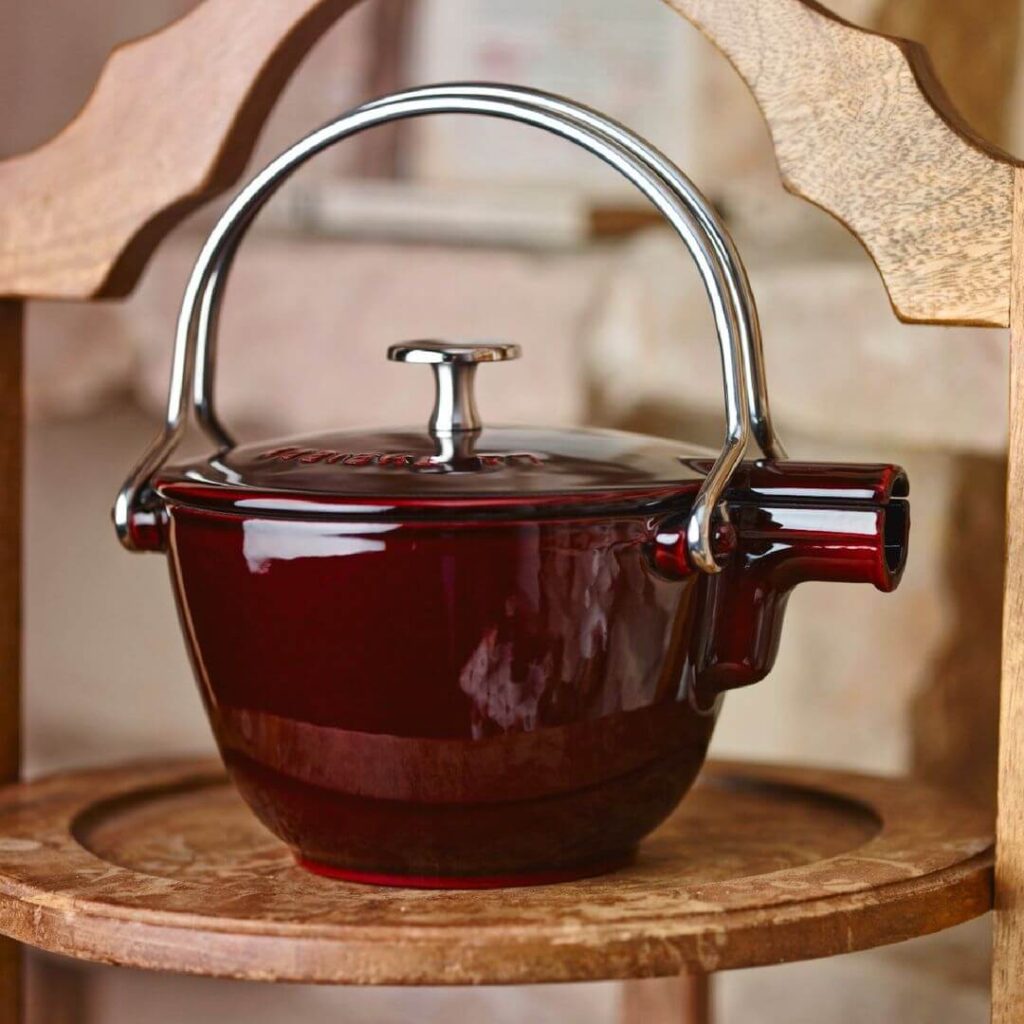 Material: Cast iron with glass enamel
Type: Stovetop
Price: $199
Throughout history, cooks have cherished cast iron's natural heat retention and distribution qualities. Staub takes this heritage further with its enameled cast iron kettle. Made in France, this cast iron kettle can be used not just for brewing tea but also for cooking. With even heating, everything inside boils or cooks to perfection. What sets Staub's kettle apart is its clear textured enamel coating, inside and out, offering raw cast iron's performance and timeless style without demanding special 'cast iron seasoning care.' Moreover, its suitable for all heat sources, such as gas, electric, and induction, and oven-friendly up to 500F. Definitely, the perfect kitchen addition for those seeking a beautiful, high-performing heirloom with incredible versatility.
What we like
Staub comes at a higher cost compared to other non toxic tea kettles. It is dishwasher safe.
What we don't like
It is not a whistling tea kettle and the handle gets hot easily.
7. All-Clad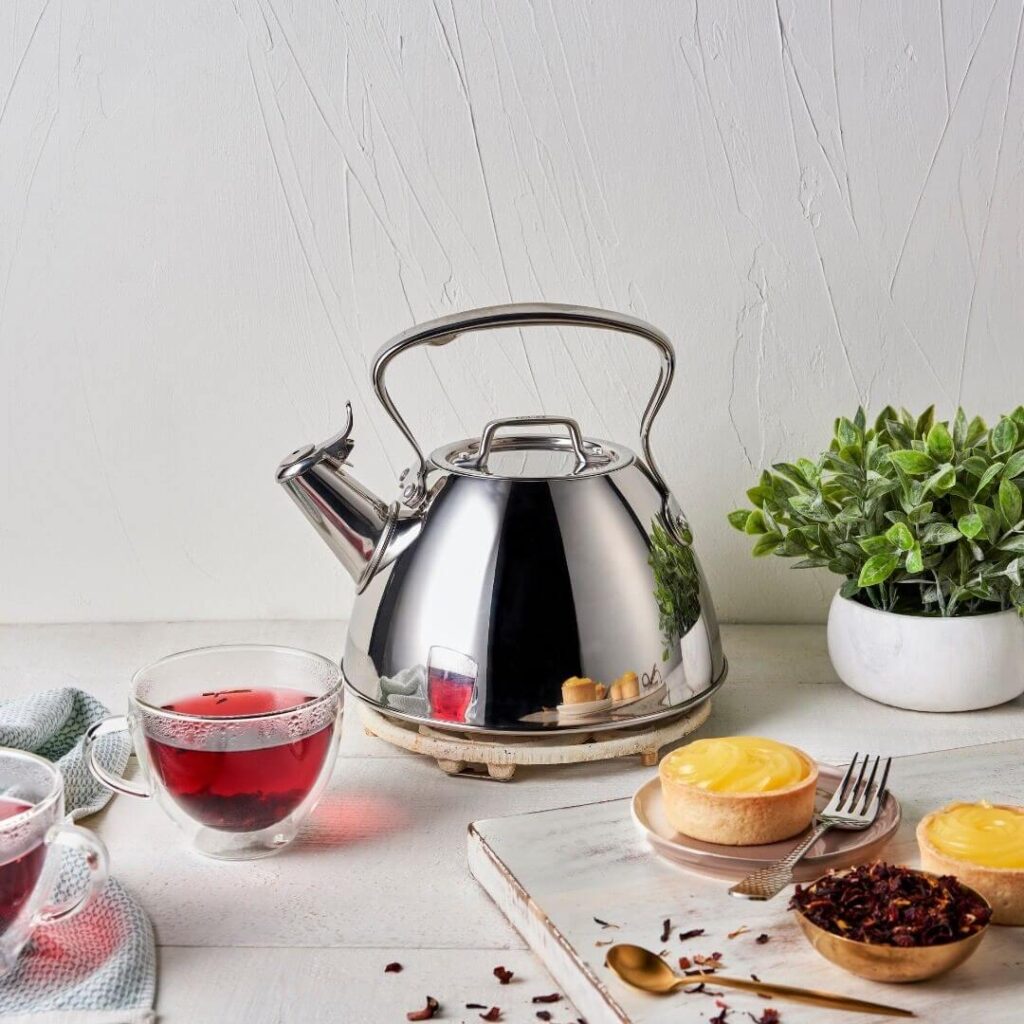 Material: Stainless Steel
Type: Stovetop
Price: $89
The All-Clad tea kettle is a real practical countertop addition, crafted with 18/10 stainless steel material. Its polished finish adds a touch of sophistication to any kitchen. Pouring is a breeze with the comfortable, sloped handle, and cleaning is a snap thanks to the high-polished surface. Whistle lovers will love it as this 2 Quarts kettle emits a loud, distinct sound when the water is ready, even if you're in another room. It's durable without being overly heavy, and it efficiently brings water to a boil within minutes. What's more, it's compatible with all cooktops, including gas, electric, ceramic, and induction.
What we like
The kettle has a cute design, good water capacity, and is dishwasher safe.
What we don't like
Sometimes the lid fits tightly, posing a challenge when removing or securing it.
8. Alessi
Material: 18/10 stainless steel
Type: Stovetop & Electric
Price Range: $148-$275
The Alessi all-stainless steel kettle is a stunning model of Italian craftsmanship, perfect for elevating your kitchen countertop. With rave reviews all over the internet, this kettle was designed by the architect Michael Graves in 1985 and stands as one of the finest non-toxic tea kettles available. Made from 18/10 stainless steel, this kettle boasts a wide base that efficiently absorbs heat, bringing 4.3 cups of boiling water to life in just 5-6 minutes. What I particularly love about this kettle is, it is oh-so-elegant, and as the water reaches a boiling point, the bird spouts whistles, giving you a fun brewing experience. Oh! And these kettles are available in different sizes for both stovetop and electric plug-in models.
What we like
The spout is accurately crafted to avoid spillage, and the whistle has a gentle sound that won't give you a jump. The broad base of the kettle effectively catches heat from your stove, ensuring faster boiling.
What we don't like
The kettles are not dishwasher-safe, and the price point is more on the higher side.
9. ASCOT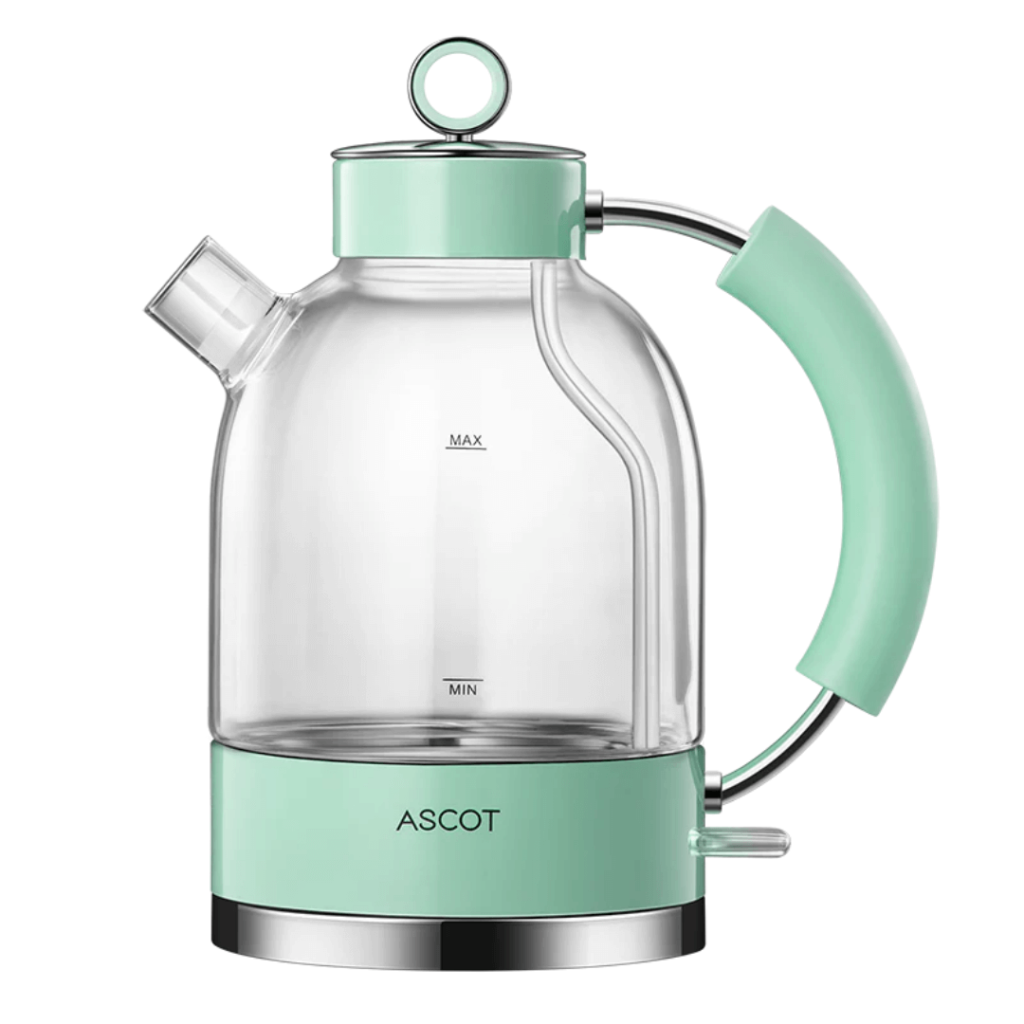 Material: Borosilicate glass
Type: Electric
Price: $79
Designed in Denmark, the ASCOT Glass electric kettle has a versatile and classy appearance that matches every kitchen set-up. It features an anti-scald handle, round spout, separate lid, and spout filter, all adhering to high-quality standards. Made from top-notch borosilicate glass, it is resistant to scratches and scuffs, ensuring no plastics come into contact with the boiling water inside, including the lid. Also, it has a stainless steel and 100% BPA-free plastic filter. With a generous 1.7-liter water capacity, it can rapidly boil water within a mere 5 minutes.
What we like
The kettle comes with a 1-year guarantee. Its auto shut-off boil-dry protection feature is a lifesaver as you can leave it unattended and focus on other tasks with complete confidence as it takes care of the boiling process.
What we don't like
The kettle does not have a custom temperature setting or a "keep warm" feature.
10. Cafe Brew Glass Kettle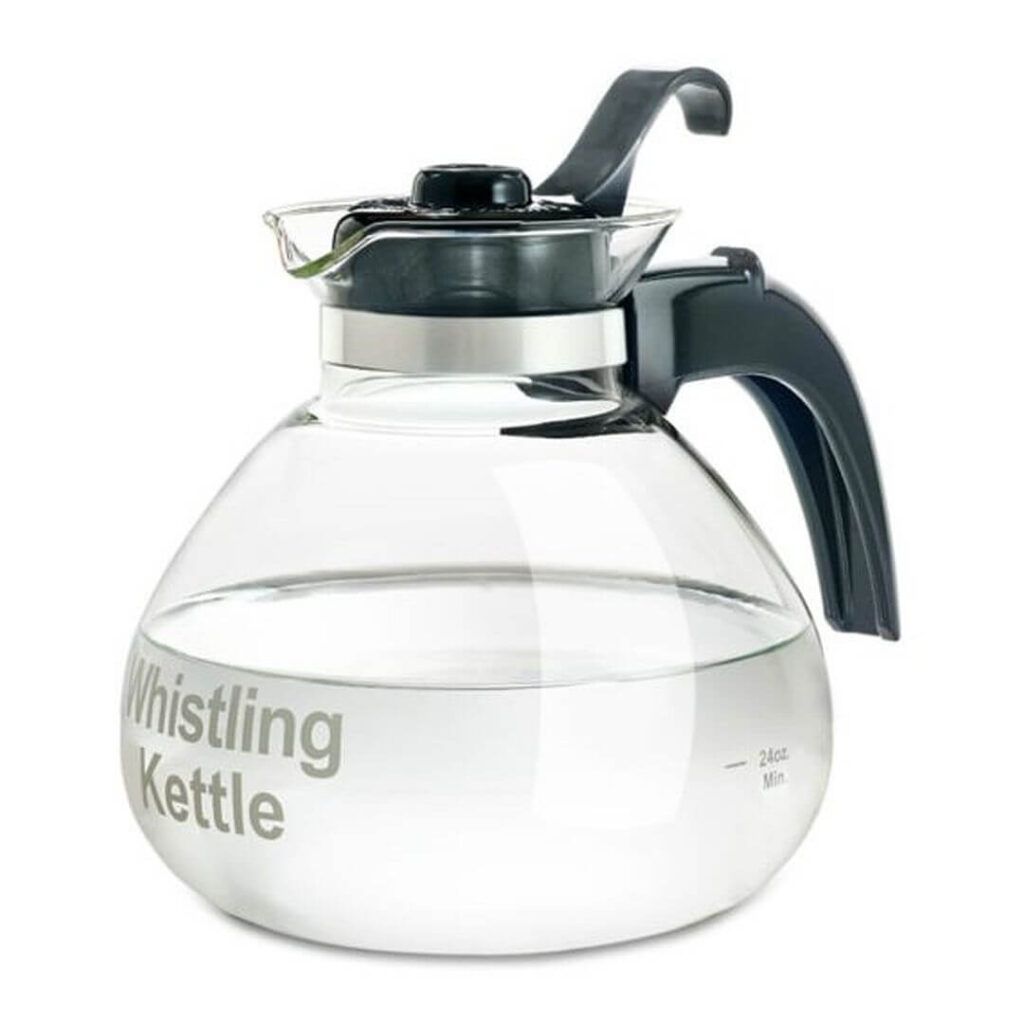 Material: Borosilicate glass
Type: Stovetop
Price: $18.99
The Cafe Brew Glass Kettle is a great choice for tea enthusiasts seeking a safe and reliable kettle. Made with heat-resistant Schott DURAN borosilicate glass from Germany, it is assembled in the USA and ensures durability. It's 12-cup capacity and BPA-free composition makes it practical and eco-friendly. The retro look adds a touch of elegance to any kitchen while the easy-to-use handle and lid remain cool to the touch. Whistling when ready, the transparent glass allows you to keep an eye on the water's boiling progress.
What we like
Its dishwasher safe (top rack), and budget friendly.
What we don't like
The handle becomes hot during use, so you have to make sure to use oven mitts to hold it.
Welcome to the Realm of Tea Kettles: All You Need to Know
Selecting the Right Tea Kettle
Selecting the appropriate tea kettle can have a lasting impact on our health. The kitchenware and appliances we take for granted also contribute significantly to the chemicals that come into contact with our food. Traditional or older tea kettles were often crafted from materials like plastic, aluminum, ceramics, cast iron, and copper.
Agreed, these items make sense when it comes to durability and reasonable costs. But the glitch happens when these materials interact with high heat and acidity. Combine these factors with prolonged use, and you may unwittingly be introducing harmful elements into your daily routine.
Like many food contact chemicals, tea kettles are also guilty of leaching chemicals like metals (lead, nickel, arsenic, cadmium, aluminum), BPA, BPS, PFAS, PTFE, and phthalates into our daily diet. Prolonged exposure to high heat and acidity can even increase the chances of inhaling noxious gasses.
How Different Toxic Elements from Tea Kettles Can Affect Your Health
Exposure to Bisphenols (BPA/BPS/BPF)
These chemicals, vital for plastic production, are known for their ability to cause endocrine disturbances, resulting in weight gain and potentially inducing carcinogenesis. BPA is even known to disturb reproductive functions, especially in women.
Research has shown that bisphenols can even cross the placenta and harm the fetus.
Lead Toxicity
Lead can leach into our diet from traditional ceramics, glazed pottery, and poor-quality metallic tea kettles. It aggravates oxidative stress on coming in contact with living cells, and destabilizes normal body function in the following ways:
Neurological damage, such as poor IQ, learning disabilities, etc.
Impaired cardiovascular activity
Lead-induced anemia
Renal damage
Risk of premature birth, low birth weight, and miscarriages
Osteoporosis, osteopenia, and osteomalacia leading to increased bone fragility.
Pesky Phthalates
Phthalates like DEHP, DBP, DiNP, and DiBP are often used as plasticizers and are found in almost every plastic or PVC item we touch. Interestingly, these compounds do not have a safe level of exposure and persist in the environment for longer periods.
Studies suggest that these chemicals may contribute to various health hazards, including:
Infertility, birth defects, and miscarriages
A high risk of breast cancer
Developmental disorders, including Autism Spectrum Disorder and Attention Deficit Hyperactivity Disorder (ADHD)
Metabolic and endocrine disorders like diabetes, thyroid disorders, etc.
However, these studies are relatively new and research is still underway. But staying on the side of caution is beneficial for health.
Polytetrafluoroethylene (PTFE)
PTFE, or our dear old Teflon, is a popular choice of material for fabricating non-stick cookware. But when heated to higher temperatures (>260 degrees Celsius), PTFE releases a compound called perfluoroalkyl carboxylic acids (PFCAs) in the form of fumes.
Exposure to PFCAs is associated with developmental defects, hormonal imbalances, increased tumor growth, and immunotoxicity in animal studies.
Maintenance and Care for Non-Toxic Tea Kettles
Regularly clean the kettle with warm soapy water to remove any residue or stains.
For tough stains or mineral buildup, use a mixture of equal parts water and vinegar to descale the kettle. Let it sit for a few hours before rinsing thoroughly.
Avoid using harsh abrasive cleaners or metal scouring pads to prevent damaging the surface.
After use, ensure the kettle is completely dry before storing it to prevent moisture buildup and potential rusting.
Store the kettle in a cool and dry place, away from direct sunlight or heat sources, to maintain its appearance and performance.
If possible, store the kettle with the lid slightly open to allow air circulation and prevent odors from developing.
Stovetop vs Electric Non Toxic Tea Kettles
Stovetop kettles directly use the heat from the hob, resulting in lower electricity consumption. They have a lower environmental impact since they do not rely on electricity. Whereas, electric kettles consume electricity and contribute to the overall energy demand, which may have a higher environmental impact depending on the electricity source.
Stovetop kettles usually take longer to heat water. Temperature control is typically manual, and some models may lack precision in maintaining specific temperatures. They require stovetop monitoring during heating. On the other hand, electric kettles boil water faster due to higher wattage. Many electric kettles have built-in temperature settings for precise brewing. They offer automatic shut-off features for convenience and ease of use.
Stovetop kettles require stove access and additional space on the stovetop. Suitable for kitchens with available space and for those who prefer traditional kettle designs. However, electric kettles require a power source and countertop space. Ideal for kitchens without stovetops or limited stove access. They come in various designs, including cordless models, for easy portability.
Tea Kettles to Avoid
Non-Certified Plastic Tea Kettles
Uncertified plastics may contain harmful chemicals like BPA (Bisphenol A) and phthalates that can absorb into hot water during boiling.
Exposure to these chemicals may pose health risks, including endocrine disruption, reproductive issues, and adverse effects on human health.
Low-Quality Metal Kettles
Avoid low-quality metal kettles that are made from questionable materials. They may compromise your health and safety.
Look for reputable brands and choose tea kettles made from high-quality stainless steel, glass, or ceramic to verify they are safe and durable.
Avoid kettles with coatings that may chip or peel over time, potentially contaminating your water with harmful substances.
Read customer reviews and ratings to gain insights into the kettle's performance and durability before making a purchase.
Invest in a reliable and well-crafted metal tea kettle that will not only provide a good brewing experience but also stand the test of time in your kitchen.
Non-Heat Resistant Materials
Avoid tea kettles made from materials that are not heat-resistant, as they may not withstand high-temperature boiling and pose safety risks.
Opt for tea kettles crafted from heat-resistant materials like stainless steel, borosilicate glass, or ceramic, which are designed to withstand boiling water without warping or releasing harmful chemicals.
Be cautious of kettles with plastic components, as they may not be suitable for high-temperature use.
Check the manufacturer's specifications and product descriptions to ensure the kettle is explicitly labeled as heat-resistant and suitable for boiling water.
Prioritize safety when selecting a tea kettle and choose one that is specifically designed for high-temperature use to ensure a safe and enjoyable tea brewing experience.
Downsides of Using Tea Kettles That Are Toxic
As already mentioned, non-food-grade materials like certain plastics or low-quality metals may seep harmful chemicals into the boiling water. These chemicals, such as BPA or lead, can contaminate the water and pose health risks when ingested.
Some tea kettle materials may trigger allergic reactions or sensitivities in individuals with specific allergies. For instance, certain metals or coatings might cause skin irritation or respiratory issues.
Tea kettles made from poor-quality materials might alter the taste and odor of the water, affecting the overall tea-drinking experience.
Kettles made with inferior materials may corrode or develop rust over time. Ingesting rust or corroded particles can be harmful to health.
Lack of heat resistance quality in certain tea kettles might release harmful fumes or degrade under extreme heat, affecting both the quality of the water and the kettle itself.
Non-durable kettles may break or deteriorate more quickly, leading to potential hazards as against non-toxic tea kettles that are often made from more robust and durable materials, ensuring they last longer.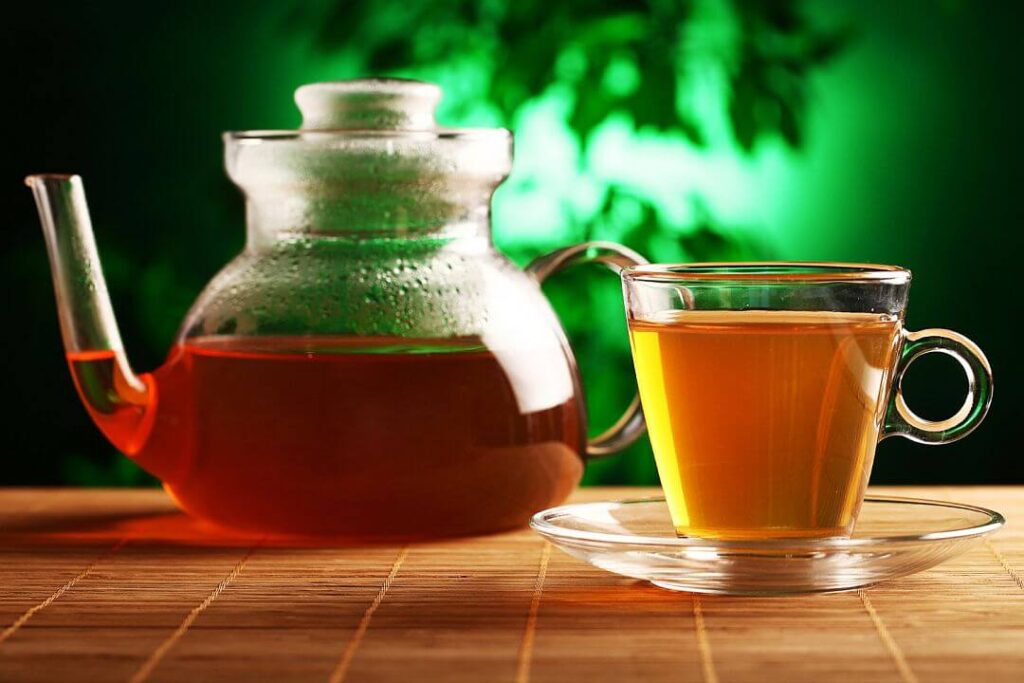 Important Certifications for Non-Toxic Tea Kettles
Some of the crucial certifications to look for in non-toxic tea kettles include:
Concluding Thoughts…
Choosing the right non toxic kettle goes beyond just boiling water. So, it is important to analyze your lifestyle before moving on with a purchase. Whether you'll be comfortable with a stovetop kettle or an electric one. Do you want it just for yourself or for your entire family? Is the dishwasher-safe feature important for you, or you're fine with handwashing your kettle? Determine what features will suit you best, because this list has something for everyone. From the innovative plastic-free electric kettles to the classic charm of stainless steel with whistles, the options are vast. Simply, be mindful of the materials used in kitchen essentials. By selecting non-toxic tea kettles, we not only protect ourselves from potential health risks but also contribute to a sustainable and eco-friendly lifestyle.
FAQs
What is the least toxic kettle?
Tea kettles made from safe, human-grade materials, like those from Caraway, Alessi, Oxo, Quickone Takei, Cafe Brew, ASCOT, etc., are some of the least toxic kettles.
What is the healthiest type of tea kettle?
The healthiest type of tea kettles are those that are crafted from high-quality stainless steel, borosilicate glass, cast iron, and ceramic. If they are certified by regulatory bodies, then the deal just gets better.
Is a silicone tea kettle safe?
You should opt for silicone tea kettle only if they are certified by trusted organizations like the FDA, ISO 9001, CE Marking, etc.
Are tea kettles and teapots the same?
A tea kettle serves the purpose of heating water for tea, whereas, a teapot is designed for steeping tea leaves to create a flavorful brew.