Disclosure:
Your Sustainable Guide is supported by our readers. We might receive an affiliate commission if you make a purchase using links on our website, at no cost to you.
Learn more
Are you concerned if most dinnerware sets in the market are safe to use? Several materials in your daily dinnerware can cause adverse health effects. Many popular types of dishes, cups, and bowls can contain toxic chemicals that can leach into your food, posing health hazards to you and your family, especially the children. Luckily, there are plenty of non toxic dinnerware options available that are both safe, stylish, and affordable. In this article, let's explore what to look for in a non toxic dinnerware and what to avoid; we will recommend the safest options for your home.
Best Non Toxic Dinnerware Brands
1. Public Goods 
2. Fable
3. Corelle 
4. Anchor Hocking 
5. Ekobo
6. East Fork
7. Duralex
8. VivaTerra
9. Our Place
10. The Little Market
11. Libbey
12. Bambu
How We Chose the Best Non Toxic Dinnerware for You
Firstly, we look at the safe materials- verified Glass, stainless steel, ceramics, porcelain, and bamboo that are not exposed to any risky chemicals are safe to use.   
Dinnerware made with plastic, melamine, glazed ceramic, and earthware contains harmful chemicals like BPA, Lead Cadmium Hide, and Phthalates, which propose health risks and are to be avoided. 
Coatings & finishes, and materials approved by the California Department of Public Health contain safe-to-use food-grade silicone or natural plant-based glazes. They are regulated through their Proposition 65 levels. 
Selecting dinnerware brands with sustainable manufacturing processes. The production contains responsibly and sustainably sourced materials like harvested bamboo and recycled Glass. These nontoxic dinnerware sets are eco-friendly and non-polluting.
Often labels on the dinnerware are of low quality- the label's material, ink, and glue can contain lead, cadmium, or silica. When labels do not come off easily, they can be quite toxic. Hence it's important of non toxic dinnerware. 
In terms of durability, non-toxic dinnerware materials like Vitrelle, Stainless Steel, are highly durable. Glass and non-toxic Ceramic are moderately durable. Bone China is a highly durable material that may not be ethically sourced due to the use of bone ashes. 
Non-toxic dinnerware should be certified by a third-party organization like the Environmental Protection Agency (EPA), Prop 65 test by CDPH, or the US Food and Drug Administration (FDA) to ensure it meets safety standards.
To avoid nontoxic dinnerware sets, keep away from red, orange, and yellow, as lead often helps boost such colors. Most non-toxic dinnerware brands adhere to these standards. 
Antique dinnerware is not considered safe non, toxic due to aging and no proper quality regulations at the time of production.
Using plain non-painted dinnerware is preferable in Place of painted dinnerware due to the potential of toxic chemicals.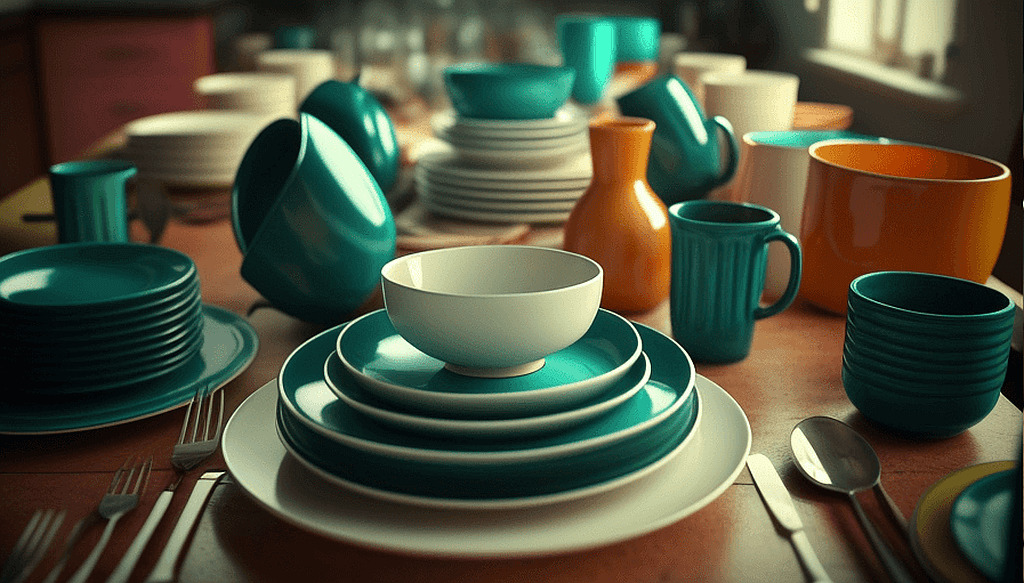 Our Top Pics of 12 Best Non-Toxic Dinnerware Brands That are Most Healthy for Your Home  
In the list below, we have curated a variety of options for nontoxic dinnerware that are safe to use while being stylish. The dinnerware brands are of high quality and are durable enough to last for years in your home. So whether you want a modern, minimal set of dinnerware plates or a vibrant and playful bowl set for your kids, these non-toxic dinnerware brands have everything you need. 
1. Public Goods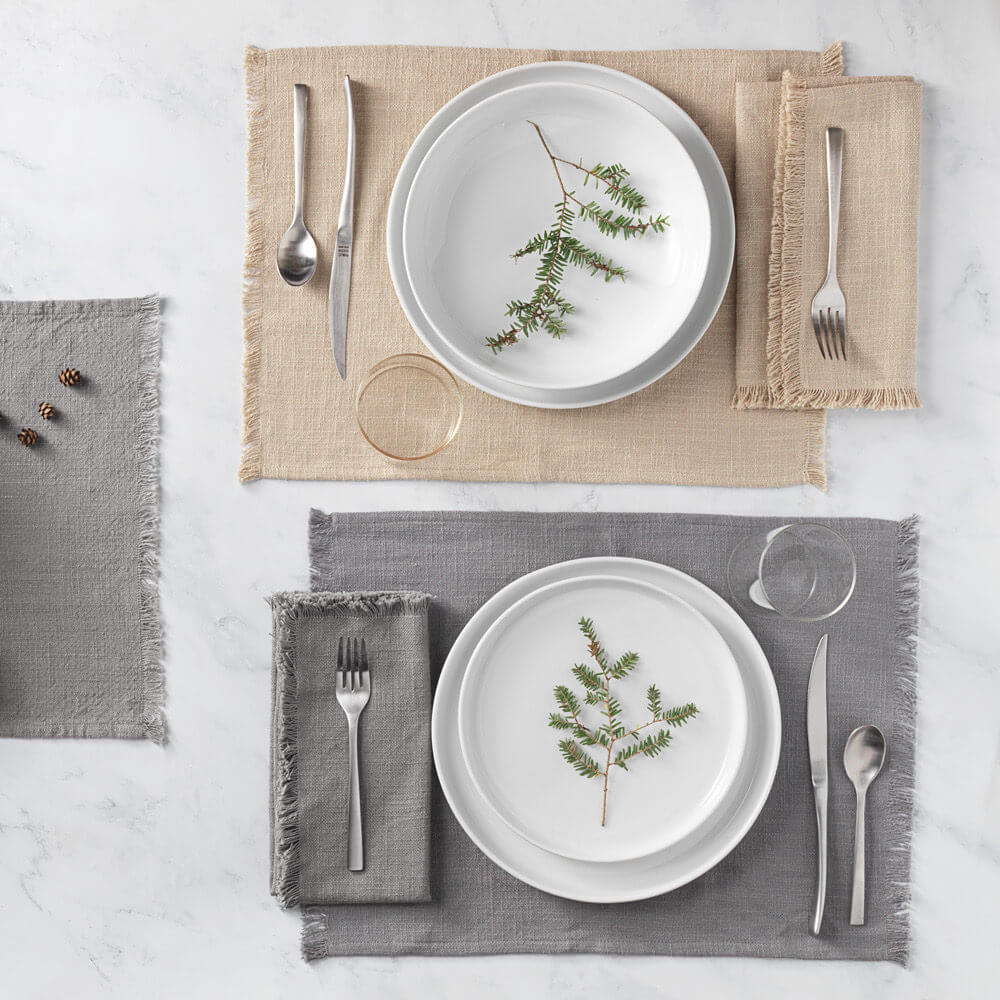 Materials: Lead-free Non toxic Porcelain, Wood, Stainless Steel
Availability: Dinner Plates, Wine Glass set of 4 / Ceramic Bowls / Ceramic plates set of 4, French Press, etc.
Price Range: Starts from $7.95
Shipping: USA ( Including Alaska and Hawaii)  / Canada 
Public Goods is a sustainable brand that caters to various lifestyle products, including personal care and household maintenance products. This brand's ethical practices cover the use of responsibly sourced materials, their packaging has removed any use of styrofoam and bubble wrap. They sell a beautiful variety of porcelain nontoxic dinnerware sets made by producing a technology that does not waste heat. Their dinnerware is durable and styled in sophisticated, minimal designs to complement your home. The non-toxic dinnerware is dishwasher microwave safe, oven and freezer safe. Importantly the dinner plates, bowls, glasses, etc., are all Prop 65 compliant, so you can be carefree and buy these beautiful ranges of products today!
What We like
Durable
Stackable
Cruelty-free
What We Don't Like
Membership required ($59/year) after a free 2-week trial
Minimum $45 free shipping threshold
2. Fable
Materials: Ceramics, Stainless steel, Glass
Availability: Dishes/ Plates/  Mugs/ Cappuccino Cups/ Dessert Bowls/ Pasta Bowls/ Full Dinnerware set
Price Range: Starts from $26
Shipping: Canada (excluding Nunavut), United States (excluding Alaska and Hawaii) and the United Kingdom.
(For those living outsideof these regions, the brand asks to send them an email to work on a solution.)
Fable is a zero-waste company that exclusively makes dinner, kitchen, and serveware with a few decor products. Fable is a zero-waste company, its policy is strong, and they only partner with makers who prioritize recycling and eco-friendly practices. Their materials are sustainably sourced, and all their products, including their ceramic dinner plates, are free of lead cadmium and other toxic chemicals. Fable's packaging is also 100% recyclable and plastic-free; the dyes of the boxes are non-petroleum, with paper that comes from FSC-certified forests. Many customers have given positive reviews of the brand. A reviewer said their dinnerware sets are very durable and dishwasher microwave safe. Buyer approved, this is great nontoxic dinnerware set brand for you.
What We Like
High Quality 
Good For Gifting
What We Don't Like
Takes up more space while stacking in comparison to other dinnerware 
Bit Expensive
3. Corelle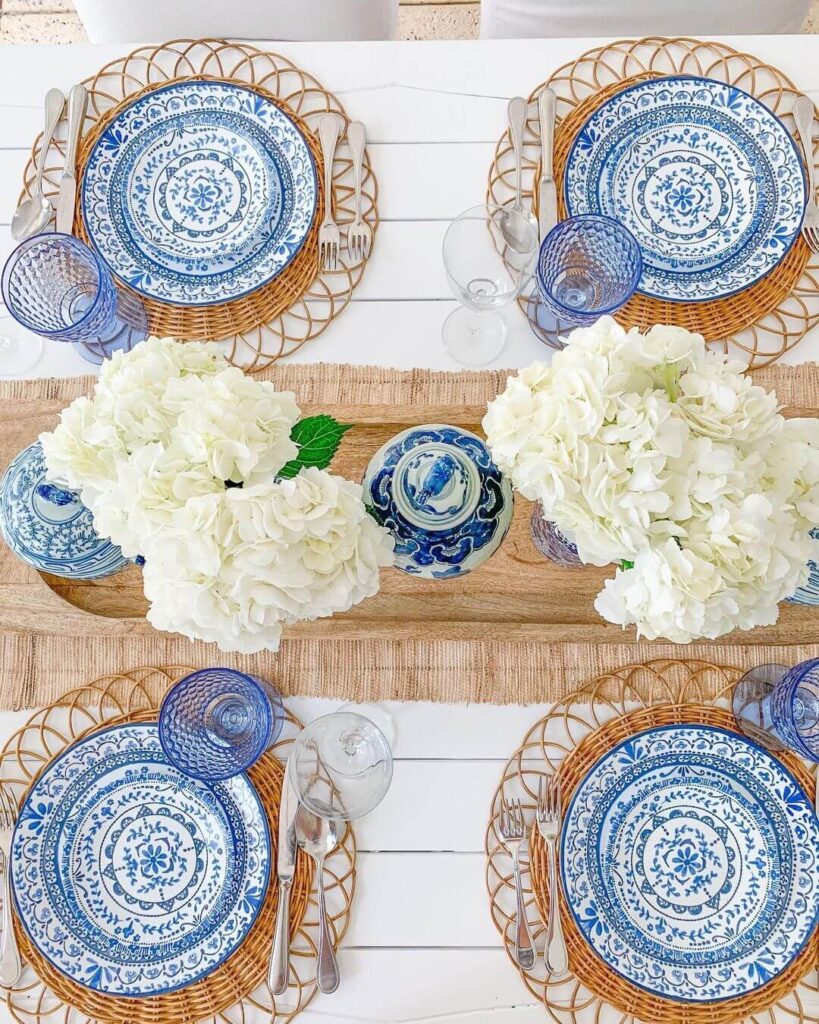 Materials:  Vitrelle- Proprietary three-layer glass technology, Clay ( Stoneware collection)
Availability: Dishes / Plates / Bowls/ Serving Plater/ 12 piece Dinnerware Set
Price Range: Single products star from $1.75, Non-Toxic Dinnerware Sets can go upto $100
Shipping: USA / Canada ( Puerto Rico and the Virgin Islands) / Worldwide through B2B sourcing. 
The popular brand Corelle has been a part of households for generations. Established in the 1970s, the brand is known for its beautiful and vibrant patterns on lightweight and highly durable dinnerware. Although, in recent decades, as there has been awareness of the risk of paint and prints on the dinner plates and bowls we use, the colorful products by Corelle have come into question. The brand has stated that all their products made after 2005 are free of heavy metals and safe. However, that means all the vintage Corelle sets- made before 2005 have a risk of being toxic. But, if you're a new buyer, you need not be worried, the new Corelle is entirely safe and complies with current FDA regulations on lead cadmium. In terms of the material used, Corelle's Viterelle glass technology is a classic with an array of beautiful dining tables set to match your home. 
What We Like
Dinner sets manufactured after 2005 comply with regulations
Lightweight and sturdier than other glass dinnerware
What We Don't Like
Older dinner sets are at risk of being toxic
Small shards from breakage can cause injury
4. Anchor Hocking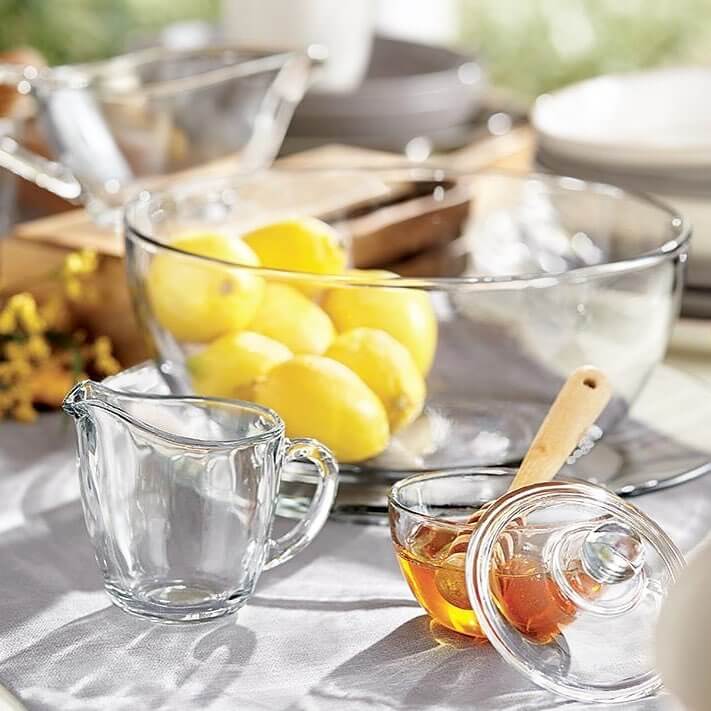 Materials: Glass
Availability: Dishes / Plates / Bowls/ Containers/ Jars/ Glasses/ Measuring Jugs/ and more
Price Range: Single item $15 to sets for $45
Shipping: within USA / Canada and parts of the world through various online retailers.
Anchor Hocking Company was established in 1905 more than a century ago! The company produces glassware. Their glass products were made with the goal of the best utility for home use. Anchor Hocking glass bowls and dinner plates showcase the genius of design utility that stands the test of time. Their brand is timeless and safe, ranging from bakeware, drinkware, serveware, housewares, food storage items, and pantry solutions. Their products are Lead Cadmium free, no heavy metals used. Mainly made of Glass, the products are microwave oven safe. Plastic lids sold too are BPA Free, and CA Prop 65 compliant. An upgrade from the Amazon basics dinnerware sets, you can buy Anchor Hocking's classic 10-Inch Presence Dinner Plate Set of 12 on Amazon. Their products are also available on other online retailers like Bed Bath and Beyond, HSN, Walmart and Wayfair. 
What We Like
Affordable price
Classic designs 
What We Don't Like
Chips and scuffs easily
Some products might have manufacturing flaws
5. Ekobo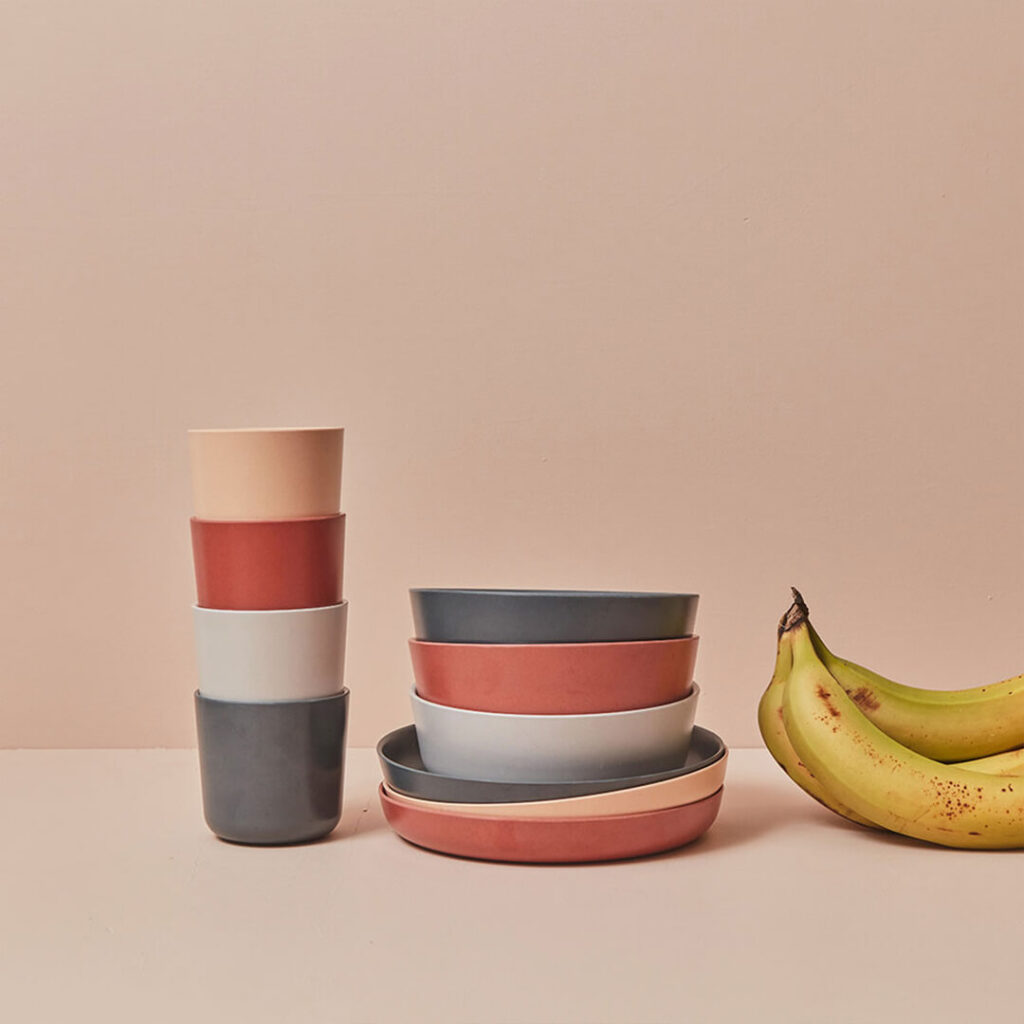 Materials: Bamboo
Availability: Dishes / Plates / Bowls/ Baby Feeding Plates/ Sippy Cups/ Lunch Boxes/ Kitchenware etc.
Price Range: Single item $8 to $156 for a full set of non-toxic Dinnerware
Shipping: USA / Europe / Oceania
EKOBO is a French eco-lifestyle brand that launched in 2003. The use of bamboo has always been the center of their work. Eventually, their range grew with cork, food-grade silicone, rePET fabric, and GOTS-certified organic cotton. If you're looking for nontoxic dinnerware sets for kids, you will love EKOBO's collection of dinner plates, bowls, spoons, and more. Their bamboo fiber tableware products are nontoxic but also reusable and durable. The products are also dishwasher microwave safe up to 230°C (446°F). So go buy a beautiful dinner table set from the wide palette of forms and colors, designs suitable for modern living indoors and outdoors.
What We Like
What We Don't Like
Delicate than expected
Not best for dishwashing 
Bit Expensive
6. East Fork
Materials: Clay, Wood, Stainless Steel, Glass, Copper
Availability: Dishes / Plates / Bowls/ Mugs/ Wine Glasses/ Salad Bowls/ etc.
Price Range: Single items from $16 to 7-piece dinnerware sets for $193
Shipping: Worldwide
East Fork Pottery is a certified B corporation, which meets high standards of verified performance, accountability, and transparency. They work with Climate Neutral to decrease global carbon emissions by creating a net-zero certification for consumer brands. Their ceramics, stainless steel, and wooden products are free of heavy metals like lead cadmium. If you are looking for non-toxic dinnerware that is not only safe but of premium quality, then this microwave oven safe pottery is some of the best dinnerware you'll ever buy!
What We Like
High Quality
Aesthetic designs
What We Don't Like
Dinnerware needs care 
Bit Pricey
7. Duralex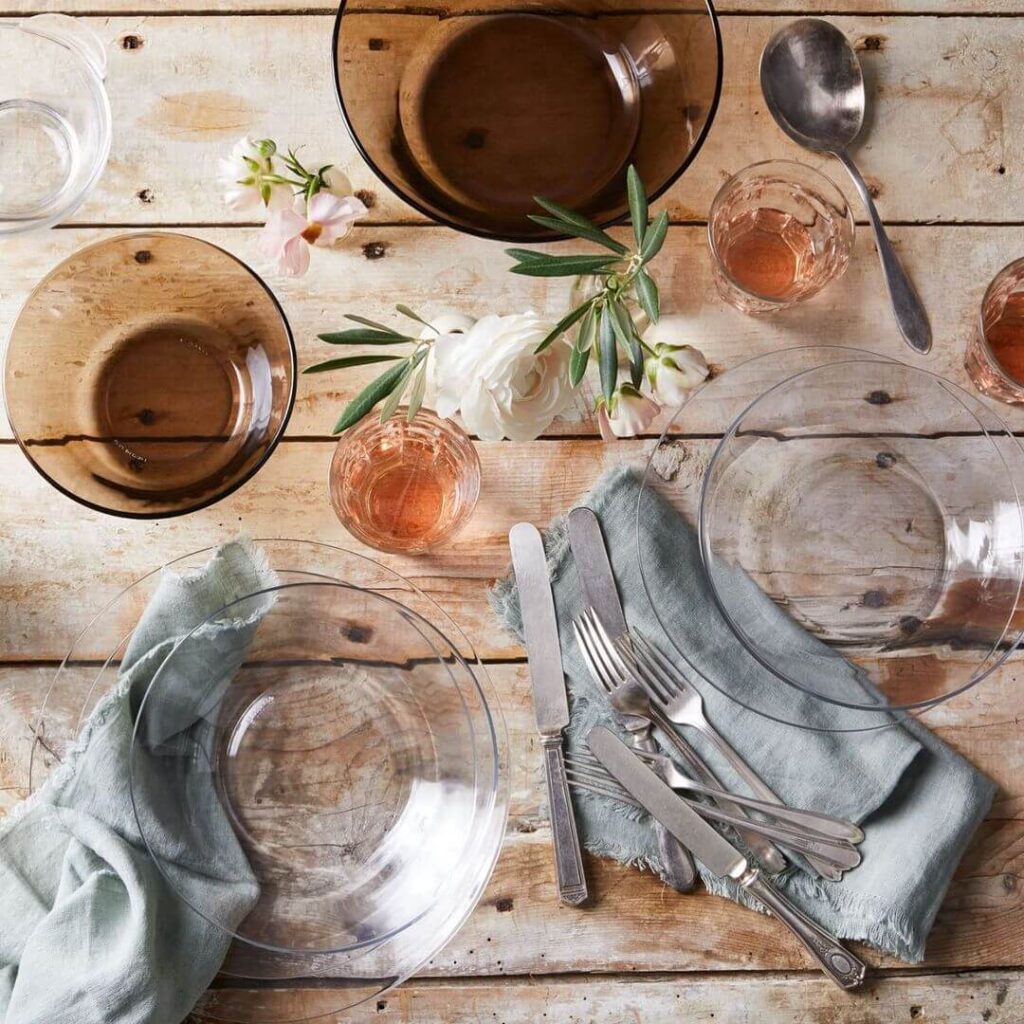 Materials: Glass
Availability: Dishes / Plates / Bowls/ Soup Plates/ Tumblers
Price Range: Sets range fro $45 to $90
Shipping: Worldwide
Made in France, Duralex has been in business since 1945; they have manufactured their tempered dinnerware products for more than 70 years in La Chapelle-Saint-Mesmin, France. This proprietary process of tempering Glass to make dinnerware makes Duralex 2.5 times stronger than ordinary Glass. Duralex glassware is nonporous, shock absorbent, and safe in time of breaking as it shatters in small pieces. This modern glassware can go directly from your freezer to the microwave, so it's needless to say that their products are dishwasher microwave oven safe. Duralex is a great dinnerware brand with an affordable price point. 
What We Like
Affordable 
Used worldwide
Temperature safe
What We Don't Like
Can chip or scuff after a long time of use
8. VivaTerra
Materials: Ceramic, Glass
Availability: Dishes / Plates / Bowls/ Glass/ Pitcher
Price Range: $19 for starting items upto $349 for 12 piece dinnerware set made with stoneware
Shipping: Worldwide
VivaTerra is a lifestyle brand that sells more than just dinnerware, they sell Home décor products, furniture, bed+bath, outdoor accessories, etc. Their glass dinnerware comes in a beautiful variety of hues and is lead-free, cadmium-free, and non-toxic. Their paints and clays are safe, recycled Glass is ethically sourced, and skillfully made by Mexican artisan potters with generational experience. If you like vibrant and fun dinnerware, I recommend you look at their Jugs and Juice glasses made in cute confetti designs. And don't worry, all these colorful glassware are microwave oven safe and can be cleaned in a dishwasher. With Planters to Halloween Décor, this brand can become your go-to sustainable and non-toxic lifestyle. 
What We Like
Recycled material
Stylish
What We Don't Like
Bit Pricey
Color consistency issues 
9. Our Place
Materials: Ceramic, Glass, BPA free Plastic, Stainless Steel
Availability: Dishes / Plates / Bowls/ Copping Boards/ Containers/ Knives/ Cookware
Price Range: Starting $30
Shipping: USA / Canada / UK
If you've been out and about searching for sustainable brands on social media recently, then there's a good chance you may have heard of Our Place. Recently the brand gained immense popularity through its social media presence and collaborations with celebrities like Selena Gomez, who also featured their Cookware and Dinnerware on the show hosted by her called Selena + Chef. In addition, our Place has been featured in magazines like AD, Vogue, The New York Times, and Bon Appétit. They are known for their ceramic cookware, dinnerware, stainless steel spoons, knives, and recycled plastic accessories that are all non-toxic and BPA-free. Anyone who likes to match their cookware with their kitchen or dinnerware will love what Our Place has to offer. 
What We Like
Product dimensions are meticulously listed for review on their website 
They stack nicely and are a good size.
What We Don't Like
Products are not sold in stores
On expensive end
Glasses are not very durable
10. The Little Market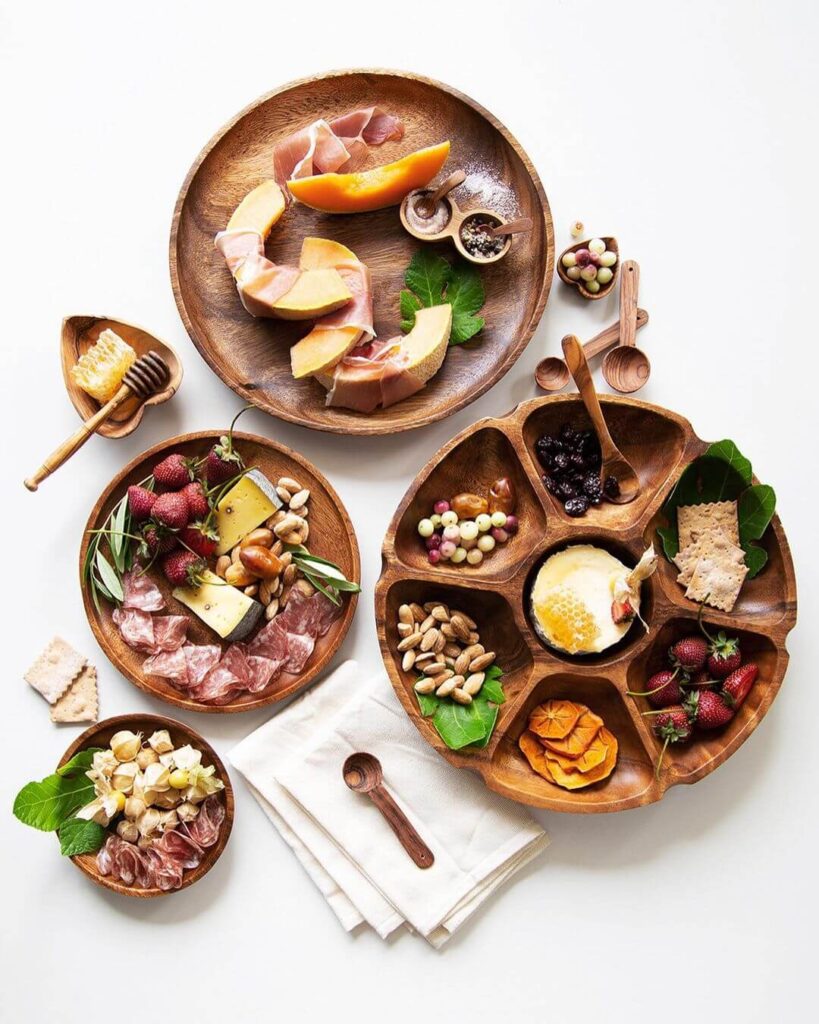 Materials: Wood, Glass, Ceramic
Availability: Dishes / Plates / Bowls/ Mugs/ Basket/ Pitchers
Price Range: Starting $12
Shipping: Worldwide 
The Little Market is a fair-trade, nonprofit organization that sells decor products, accessories, travel essentials, organizers, and more. One of the product highlights is their Acacia wood dinnerware, made in irresistible designs with high-quality material. The brand is proactive on ethical and safe practices and writes reports about the fair wages given to the artisans in the Philippines who make these. Their wood is safe to use with a requirement of timely maintenance, like natural vegetable oiling. Their glassware is handmade and hand-etched in Mexico and complies with the U.S. Food and Drug Administration's regulations and California law requirements. 
What We Like
Beautiful design
Good finish and all-natural ingredients
What We Don't Like
Bit expensive to get a full set
Can scratch easily
11. Libbey
Materials: Glass, Porcelain , Stainless Steel, Ceramic, Acacia Wood, Copper
Availability: Drinkware / Pitchers / Cake Stands  / Serving Boards/ Plates / Bowls / etc.
Price Range: Mugs starting from $7.25 to 12-piece Glassware Dinnerware Set for $39.99
Shipping: USA / Canada/ Worldwide with Shipito service
Libbey was first established in 1818! And since then, they have been the vanguard of artistic innovation in glassmaking. Their brand has become a worldwide supplier for chefs, mixologists, and many home entertainers with their durable tabletop products. Their glass is made from all-natural ingredients and meets all regulatory guidelines, including and not limited to Prop 65, FDA Food Contact. Their glasses are non-porous, and materials are also safe and will not leach onto your food. Libbey also has active environment-friendly practices for production and recycling. With unique designs, you will thoroughly enjoy their range of dinnerware! 
What We Like
Unique design
Durable 
Easy to clean 
What We Don't Like
Lacks high heat tolerance, not for microwaving
Heavy
12. Bambu
Materials: Bamboo, Stainless Steel
Availability: Spatulas / Tongs / Kid's dinnerware / Trays/ Disposable Plates/ etc.
Price Range: Ranging from $6 for single spatulas to their Veneerware 3.5″ Bamboo Tasting Plates, Bulk Case of 250 for $78
Shipping: within the USA 
Bambu is committed to creating zero-waste for those who care to live as sustainably as possible. They are still constantly striving to set the standard for sustainable business practices by making compostable all-natural Bamboo dinnerware. They use food safe oils for finishing, water-based adhesives, and natural finishes for their production. Their products tested food safe and 3rd party certified for FDA and CPSC. The utensils and kids' products go one step further with USDA certification. All their products are great for when you are entertaining guests at home, especially their disposable plates, as they make for a great conversation piece. Bambu sources materials free of pesticides, fertilizers, and chemicals for a non-toxic and sustainable life! 
What We Like
Good for guests
Sturdy
Free of plastic
What We Don't Like
Bit expensive compared to artificial-material disposable plates 
Temporary use, not for daily purposes hence, non-microwavable. 
Non Toxic Dinnerware: Know it All
Understanding the materials and effects of harmful substances is essential to choose the right dinnerware. So here, let's look at what these heavy metals can do and how they are regulated. 
Harmful Chemicals – Common harmful chemicals found in dinnerware (lead, cadmium, BPA, phthalates, other), health hazards because of these chemicals, risks associated with long-term exposure, and why nontoxic dinnerware is important for your health
Leaching – What is leaching, how does it happen, what risks are associated with leaching, and how to prevent it
California Warning – The California Prop 65 warning, what it means for your dinnerware, and how to identify products with the warning label
Types of dinnerware – Ceramic, porcelain, Glass, stainless steel, melamine, bamboo, bone china, stone, wood, earthen, plastic, disposable, etc. The list may be bifurcated into good and bad. 
About materials that are safe to use:
Glass is usually safe to use when clear of unregulated design elements. 
Ceramic is a generalized term for all pottery dinnerware. It includes bone china, porcelain, china, and stoneware. While Ceramic own it's isn't an issue, the paint might contain lead then be a problem.
Melamine is a hard plastic made from a nitrogen compound that can contain lead. FDA calls melamine safe to use, but it is generally not microwave oven safe. Many studies have found that melamine can leach into our food when the food is very hot or acidic.
Stainless Steel is mostly PFAS-free and safe to use. You can bake or eat acidic food, but be careful of eating/storing acidic or salted food in this material for extended periods, as that can cause the leaching of nickel, iron, and chromium. 
Bamboo & Wood are free from hazardous materials, but clean them well and do not let bacteria build up. 
Pros and Cons of Non-toxic Dinnerware 
Let's discuss the benefits and drawbacks of using non-toxic dinnerware so you can choose what's best for you. 
Pros of Non-toxic Dinnerware:
Safe for health: Non-toxic dinnerware is made without harmful chemicals such as lead cadmium, and other toxic substances that can leach into food and cause health problems.
Environment friendly: Many non-toxic dinnerware brands use biodegradable, compostable, ethically sourced, or made from sustainable materials like bamboo or recycled plastic, reducing the environmental impact.
Durable: Non-toxic dinnerware made from materials like Glass, stainless steel, or ceramic with a close emphasis on quality. Hence, they can be even more durable and long-lasting than generic, disposable, or plastic options.
Aesthetically pleasing: Non-toxic dinnerware comes in various styles and designs that are aesthetically pleasing, adding to the overall ambiance of a meal.
Cons of Non-toxic Dinnerware:
Cost: While non-toxic dinnerware is safe, it is often more expensive than generic, disposable, or plastic options. This can be a big disadvantage for those on a tight budget. 
Fragility: Most non-toxic dinnerware is made with strong durability, but some materials like Glass or ceramic can be fragile and may break or chip easily, requiring more care and attention when handling and washing.
Limited availability: Non-toxic dinnerware is not as widely available as the generic, disposable, or plastic options, which becomes a challenge in the ability to find and purchase them.
Limited heat tolerance: Some options for non-toxic dinnerware with materials like bamboo or wood don't have high heat tolerance and might not be suitable for hot foods or liquids, which can be inconvenient for some users.
Healthy Dining Tips 
If you wish to know more about how to adapt to healthier dining, then have a look at our tips below.
Avoid non-stick cookware: Many household non-stick cookware is often made with harmful chemicals like perfluorooctanoic acid (PFOA), which can be released into your food. So along with non-toxic dinnerware, opting for materials like stainless steel cast iron, or ceramic for cookware is better.
Natural cleaning products: Using harsh chemicals when cleaning your dinnerware can be harmful as they can leave residues on the surface that can be harmful when ingested. You can choose natural cleaning products like lemon juice, vinegar, or baking soda to clean your dinnerware.
Avoid harsh abrasive cleaning tools: When utensils are hard to clean due to oil, fat residues, or food stains, harsh tools can do more harm than good. Steel wool scratches the surface, removing the protective layer which can trap bacteria. So use a soft sponge or cloth to clean your dishes instead.
The art of storing food: It is essential to store food in airtight, safe containers. Making sure the right temperature for food storage is also essential.
To Wrap it Up…
Although it may seem easier to buy generic plastic dinnerware due to its price range, a little effort goes a long way. Safe non-toxic dinnerware is an investment for your family's health and Earth. 
Using non-toxic dinnerware protects yourself and your family from harmful chemicals leaching into your food. Many traditional dinnerware options, such as plastic or glazed ceramic, can contain toxic chemicals which can leach into your food and pose a health risk over time. These chemicals have been linked to various health problems, including developmental issues, hormonal imbalances, and cancer. 
Non-toxic dinnerware is made without these harmful chemicals and is designed to be safe for food use. In addition, many non-toxic dinnerware options are also environmentally friendly, biodegradable, and made from sustainable materials.
Through this article, we hope you can make safe and stylish choices for your home. Many non-toxic dinnerware options are available here in various styles, materials, and prices. So, select non-toxic dinnerware, and enjoy your meals without worrying about adverse effects.
FAQs
What are the safest dishes to eat from?
Dishes made from Stainless Steel, Ceramics, and Wood that follow the Safety Laws are the safest to eat from. 
Is Corelle toxic-free?
Corelle products made after 2005 are toxic-free. Avoid using or buying products made before the year 2005. 
How can I find non-toxic dinnerware?
You can find non-toxic dinnerware directly on the official websites of the manufacturers or even on e-commerce websites like Amazon, Bed, Bath & Beyond. 
What ingredients are in dinnerware?
Dinnerware is commonly made of Clay, Glass, Stainless Steel, Bamboo, and Melamine. 
What materials are best for non-toxic dinnerware?
The best materials are Glass, Stainless Steel, Ceramic, and Wood. 
What material is safest for dinnerware?
Usually, Glass is considered the safest in terms of non-toxic dinnerware. 
How can I make my dinnerware more eco-friendly?
You can opt for dinnerware brands that are transparent in their practices.  
When should I replace my dinnerware?
You can use good quality dinnerware for more than 10 years if you take care of your dinnerware, though in case of damage beyond repair, many sustainable brands offer helpful solutions.