Disclosure:
Our editors handpick top-rated brands, vetted through our strict ratings. Purchases via our links may earn us a commission.
Learn more
Yes, Peppermayo is a fast fashion brand that ardently creates trend-focused swanky apparel for sharp dressers across the globe. As the hot new destination for all the latest fashion must-haves, this label has quickly resonated with the audience with its flashy website and inexpensive products. Whether it's about using cheap materials or producing merchandise in nameless factories, it is ticking all the boxes for a business operating on the fast fashion business model. So, the only answer to the question— "Is Peppermayo fast fashion" is— Unfortunately, yes. It is!
The fashion label has been particularly tactful with its branding and collaborates with social media influencers to promote its products. While the brand announces to adhere to sustainable practices and operate ethically, it offers the least bit of information to verify its claims. And this attitude does feel shady! So, what's actually going on? Is Peppermayo ethical? Is it sustainable? Or just indulging in greenwashing? Keep scrolling to know more!
What is Peppermayo?
Peppermayo is a Sydney-based online-only fashion label that has become the ultimate shopping destination for fashionistas across Australia and worldwide. With a never-ending stream of stunning on-trend apparel, its product range includes everything from dresses, tops, bottoms, and outerwear to swimwear, shoes, and accessories.
Consumers can shop from this brand under categories like "Festival," "Pink Party," "Hens Paty," "Retro Vibes," "Feather Edit," and so much more. It has a quick turnaround time to make the most of the demanding fashion market. As a result, fresh designs are consistently dropped, with the best-selling styles being restocked in bulk every week.
The company caters to a diverse, fashion-forward female customer base, primarily aged between 16 to 35. Its pricing strategy aims to appeal to a broader audience, especially budget-conscious shoppers. Therefore, its merchandise is available at considerably lower price points compared to high-end clothing brands. So, it's not a surprising that products start as low as $18.
When Was Peppermayo Founded?
Peppermayo was founded in 2012 by Georgia Wright and Huayi Huang. The brand initially began as a small online eBay outlet offering a curated selection of good-conditioned pre-loved clothing and accessories at relatively low prices. Upon receiving a positive response from the consumers, the founders started the Facebook business page "Peppermayo Boutique" in the same year, which added to the label's success.
In the early years, the brand gained popularity for its trendy and affordable fashion items, particularly among younger women. It launched its website to stand out as an independent label offering its own designs. However, it battled hard to gain market share against well-established fashion labels. Nevertheless, it quickly gained traction by leveraging the power of social media platforms to expand its online presence.
With its focus on staying on top of the latest fashion trends, it has gained a loyal clientele and experienced rapid growth, especially across Australia. At present, founder Georgia Wright acts as the label's Managing Director, which managed to pull in $17.6 Million in 2022's global net sales.
Where is Peppermayo Located?
Peppermayo is headquartered in Sydney, New South Wales, Australia. The HQ serves as the central location for the brand's operations, including design, marketing, and customer service. As far as production units are concerned, it does not have its own factories. Instead, it works with a network of manufacturers and suppliers across the world.
Where Does Peppermayo Ship From?
Peppermayo ships all orders from its warehouse located in Zetland, Sydney. The brand offers worldwide shipping, and products are dispatched within 1-3 business days. It solely operates as an online-only womenswear label. Hence, there are no physical stores or pop-up outlets to check its merchandise in-person. The models on its website wear AU sizes, so consumers can refer to the size guide to ascertain their preferred size. The label offers free returns for Store Credit or Exchange for its Australian and New Zealand customers.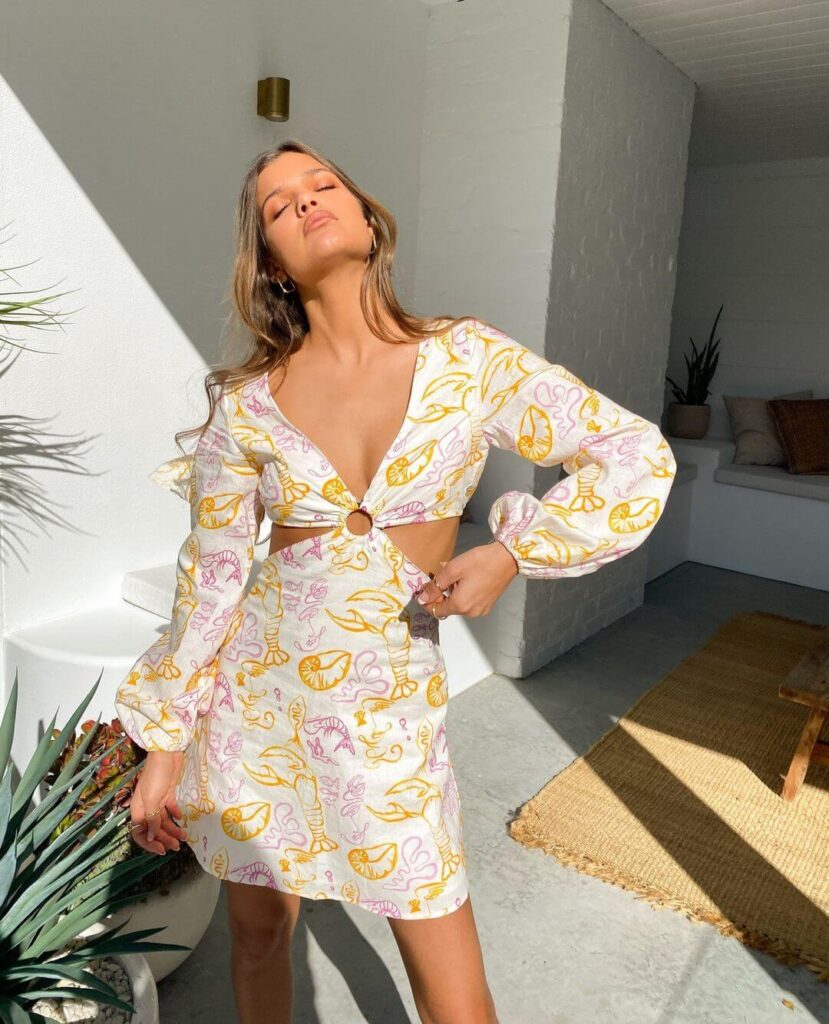 Is Peppermayo Ethical?
No. Peppermayo has a long way to go to become genuinely ethical. However, it's off to the right start. The brand partners with independent supplier factories to source its products and mentions that it has made it mandatory for all of its production units to register with the Supplier Ethical Data Exchange (SEDEX).
It also states that these facilities are enforced to undertake annual independent audits in compliance with Ethical Trade Initiative Base Code (ETI) to ensure all local labor laws and regulations are observed. While incorporating such responsible approaches are definitely a thumbs up, Peppermayo doesn't disclose any data to back up such claims.
Another point that needs to be considered is, it is not maintaining a transparent supply chain, as it does not provide any information about its factory locations. So, apart from taking their word, there is absolutely no way of knowing where its products are being manufactured, who are making them, and in what condition.
Furthermore, the label has declared that it aims to empower women by giving them access to its workforce to practice gender equality, but again, where's the evidence? If the company truly wants to come out as an ethical label, it's time that it starts sharing some valid details about its suppliers, by confirming their locations, SEDEX registration status, and yearly audit reports.
Does Peppermayo Use Child Labor?
Peppermayo has publicly stated that it observes a "Zero tolerance policy" on child labor. However, with the least amount of information available on its website about its supply chain, it's quite difficult to ascertain the brand's actual take on child labor.
Child labor is a sensitive issue on a global level, and businesses try their best to not get entangled in this controversial subject. As for Peppermayo, it has not been associated with any reports or allegations of child labor to date. So, for now, it can be considered that the label is staying true to its words and not employing underage workers.
Peppermayo's Animal Welfare Policies
Peppermayo doesn't cover animal welfare policies anywhere on its website. Upon thoroughly checking its merchandise, it was found that while the brand doesn't use leather, angora, fur, silk, and other exotic animal hair or skin, it does use pig suede and wool in some of its products without marking their source of origin.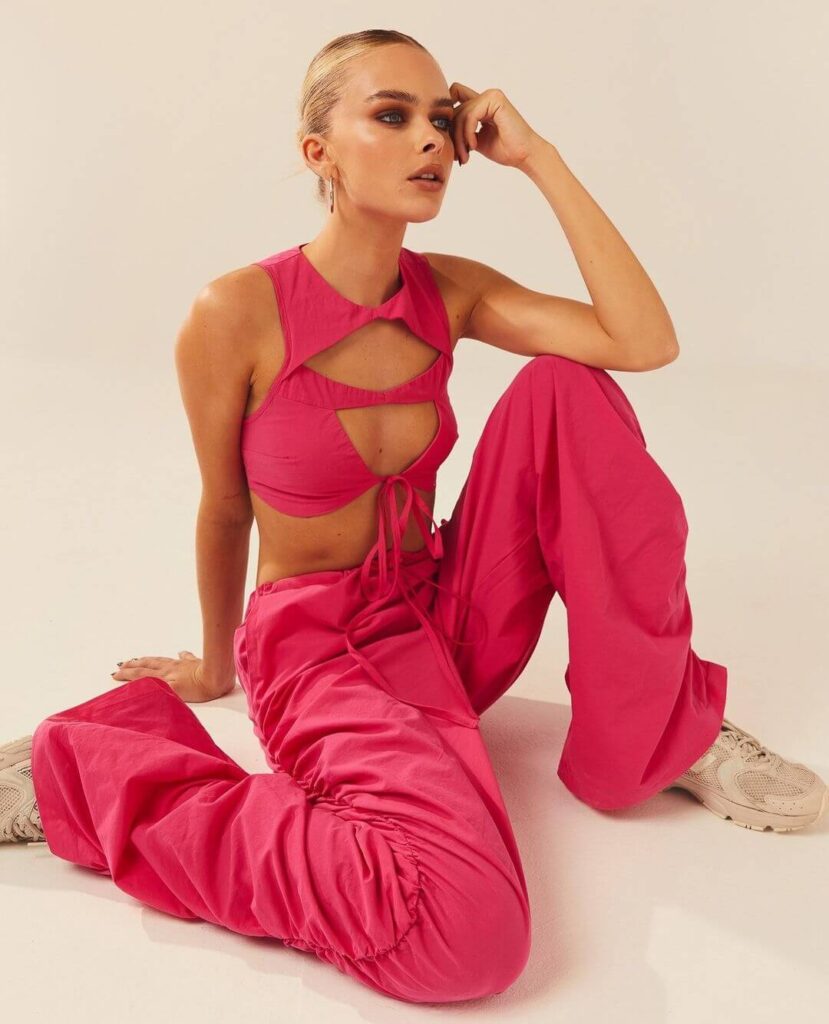 Is Peppermayo Sustainable?
No, Peppermayo is not sustainable for now. While the brand is making some efforts towards being planet-friendly, there is ample room for improvement. It has dedicated a page to sustainability, marking its "5 key initiatives of focus." These include ethical trade, zero-waste packaging, sustainable fashion, community initiatives, and going carbon positive. These declarations do sound impressive, but the label doesn't share data on how it's executing these ideas.
Peppermayo announced that its mission statement of making a positive impact on the planet is aligned with the United Nations Sustainable Development Goals (SDGs). However, it does not any provide information about its progress in fulfilling such goals.
To top it all off, the company does not have a clear policy on the type of materials it uses. Almost all of their garments are made from harsh fabrics such as polyester, acrylic, spandex, polyamide, conventional cotton, and so on. They also offer vegan leather items made from polyurethane. It's true that such form of leather is cruelty-free as they're man-made, but polyurethane is far from being a sustainable material.
The only positive things, for now, is it uses biodegradable and compostable mailing bags and recycled tissue paper for packaging. It has also partnered with the National Breast Cancer foundation and introduced an exclusive product line where 50% of the profits is donated to the charity. But that's all! It neither discloses reports of tracking its carbon footprint caused through shipping practices nor maintains transparency on how it manages its own textile waste.
Is Peppermayo Fast Fashion?
Yes, Peppermayo is fast fashion. Its collections focus entirely on trendy and posh designs that appeal to a younger demographic seeking up-to-date styles. Its website is flooded with thousands of products at steal-worthy discounts, tempting consumers to shop their hearts out. Also, the brand works with multiple supplier factories and follows a rapid production cycle by frequently introducing new styles, keeping up with the fast-paced fashion industry.
In addition, the brand positions itself as an affordable apparel space, making it an apt choice for people looking for chic clothing, accessories, and shoes at budget-friendly prices. And just like all fast fashion brands, it lacks transparency. The label is pretty vague about its manufacturing processes, the factories it works with, and its strategies to deal with its carbon emissions, water consumption, waste generation, and so on. For all these reasons, it is evident that the label's business model and practices align closely with fast fashion.
Is Peppermayo Legit?
Yes, Peppermayo is legit. The e-commerce fashion retailer has a 3.9 rating on Trustpilot, with consumers applauding the brand for its stylish range, excellent customer service, and easy returns policy.
But, it is to be noted that everyone who shopped from this label did not have a fuss-free experience. The brand has been called out by dissatisfied consumers for offering cheap quality products with faulty sizing and late deliveries. Seems like Peppermayo has a lot of catching up to do to survive in this ever-competitive fast fashion business.
Worst Fast Fashion Brands Similar to Peppermayo
The fast fashion industry is a growing concern for environmental advocates worldwide, as it massively contributes to global warming. Since fast fashion items are all about chasing trends, they are typically designed to last a few wears. This idea is built on encouraging consumers to engage in a disposable fashion culture, where items are worn for a short period and then discarded. Some brands that follow the fast fashion business model include Shein, Zalando, Banana Republic, Fashion Nova, Romwe, and Nasty Girl.
Some of the Best Sustainable Alternatives to Peppermayo
If you love the styles offered by Peppermayo but want to switch to better shopping decisions, then check out some of the most ethical clothing brands in Australia like Afends, Velvety, Luna + Sun, and ELK.
1. Afends
Afends is an alternative clothing brand leading the way in offering Organic Hemp fashion for men's and women's streetwear. The label is based in Byron Bay, and true to its native culture, it incorporates "surf and skate" inspired designs in its eco-friendly and timeless apparel. With sustainability at the forefront of its operations, everything at Afends is made to last for years, using 100% clean fibers. Plus, it has formed long-term partnerships with certified factories that share the brand's vision of sustainability, accountability, and transparency.
2. Velvety
If you're someone who get a hard time shopping from limited selections of clothing and accessories, then Velvety will be your BFF for all things mindfully-made. The company is a sustainable fashion and lifestyle marketplace where you can discover everything from clothing, shoes, and bags to beauty products, candles, and even pre-loved items. As an eco-friendly vegan business, it is committed to creating slow fashion that doesn't harm the planet and people, and supports animals in need. At Velvety, you can shop from a multitude of ethical labels, most of which are Peta Approved Vegan, Fair Trade Certified, and Organic Certified by GOTS.
3. Luna + Sun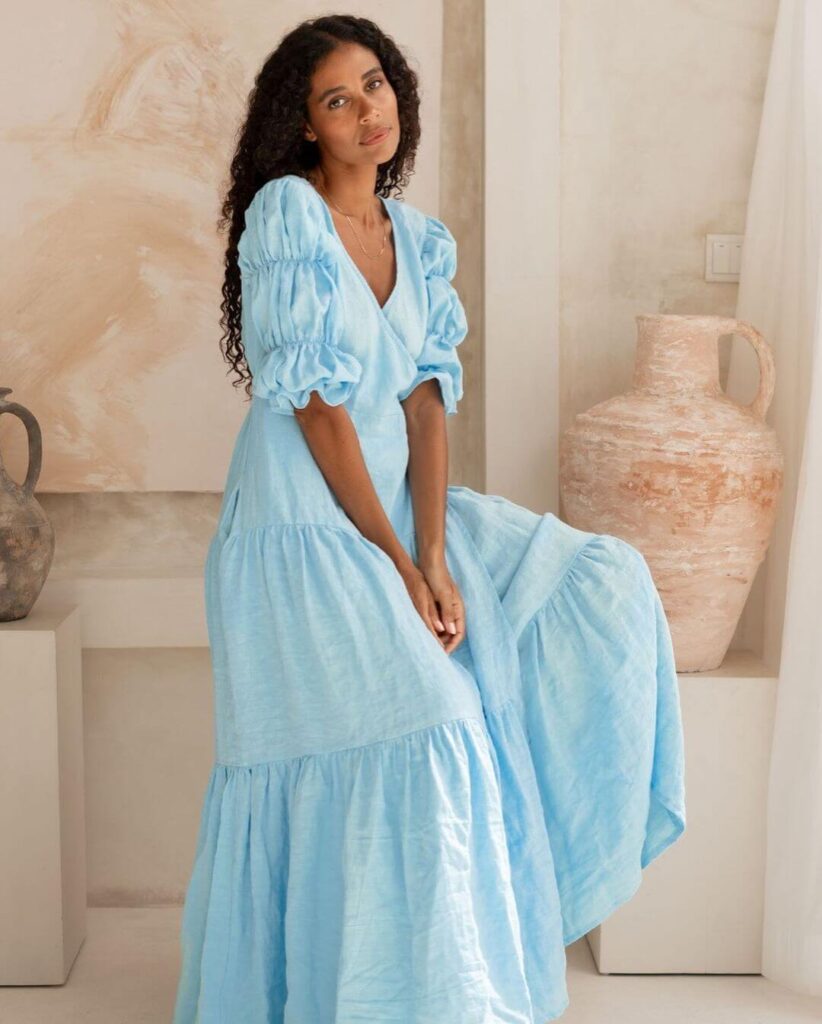 Luna + Sun is home to cruelty-free, slow and sustainable fashion that can be worn for life. Yes, you read that right! The brand was created to support and uplift women at every stage of their lives. Therefore, each garment at Luna + Sun is designed to adapt to a women's ever-changing body and are breastfeeding-friendly. So, whether you plan to have kids in the future, or already in the pregnancy phase, or are a new mama— this cruelty-free label's clothes are investment pieces that are feminine, functional, and outdoes fleeting trends. Plus, they're oh-so-comfy, cute and roomy.
4. ELK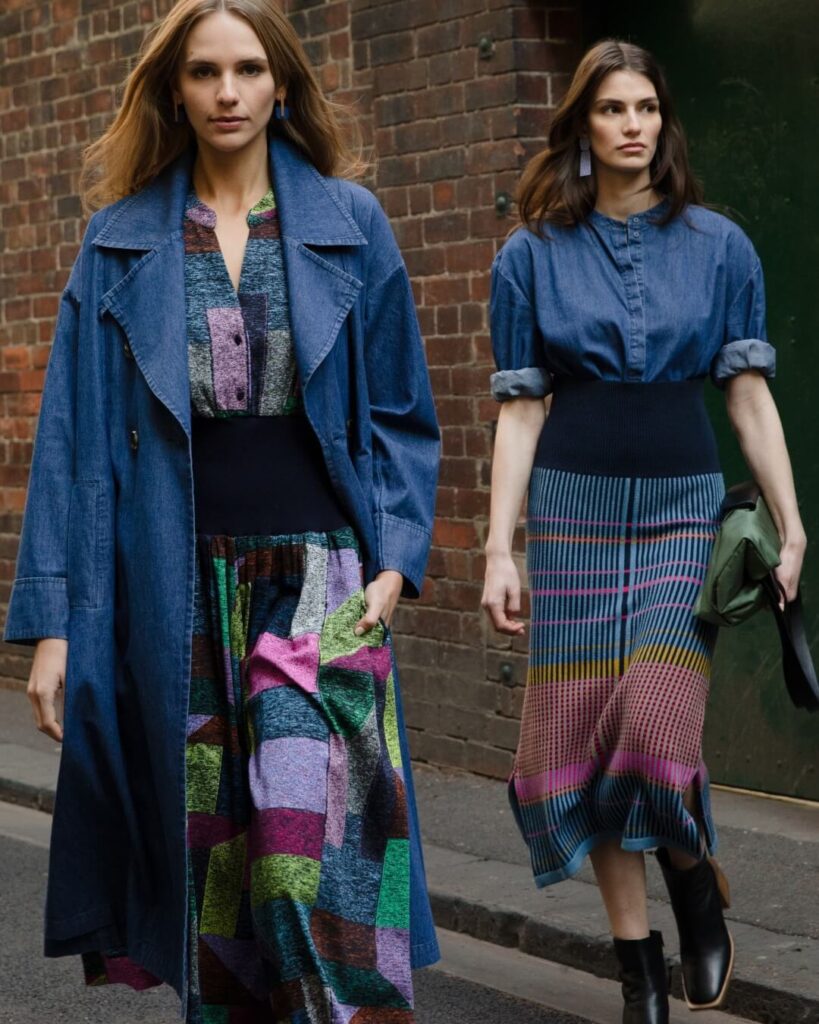 ELK is an independent family-owned clothing label that offers an artsy range of super-chic clothing, shoes, handbags, jewelry, and accessories. Championing slow fashion, the brand ready-to-wear collections are investment pieces that are the perfect addition to your existing wardrobe. As an incredibly transparent company, ELK is rooted in sustainability, ethical practices, and giving back to the planet. Its clothing is designed in-house in Melbourne, by a dedicated design team, and production occurs in certified factories located globally, supporting employment across the world. It is also a member of the 1% of the Planet initiative and donates to multiple worthy causes.
Final Thoughts…
Peppermayo started out as a sustainable company, as it dealt with secondhand clothing during its earliest stage. However, once the label started operating on a bigger level, producing its own products, the sustainability factor got compromised at a drastic level. It's commendable that the brand has identified the flaws and declared its commitment to creating environmentally responsible fashion. But for now, it's far from its goals. So, until Peppermayo becomes truly sustainable, it's only mindful to stay away from it. Because no matter what, fast fashion should be avoided at all costs!
FAQs
Is Peppermayo an ethical brand?
No, as of their current policies, Peppermayo is not an ethical brand.
Who owns Peppermayo?
Peppermayo is owned by Australian entrepreneurs Georgia Wright and Huayi Huang.
When was Peppermayo founded?
Peppermayo was founded in the year 2012.
Is Peppermayo in Australia?
Yes, it is an Australian fashion brand.