Disclosure:
Our editors handpick top-rated brands, vetted through our strict ratings. Purchases via our links may earn us a commission.
Learn more
Google— One of the "Big Four" tech corporations in the world, has been taking significant steps to become Earth-friendly in recent years. As the company continues to grow and expand operations worldwide, it's incorporating a more responsible approach to minimize its environmental impact. With the mission to foster sustainability at scale, its products, practices, and partnerships are unified towards several Google sustainability initiatives, and have achieved momentous milestones to date.
From reducing carbon emissions and investing in renewable energy to designing energy-efficient data centers, Google is committed to using its resources responsibly to combat the climate crisis and create a greener future. Let's explore Google's take on sustainability and the effect its actions are having on the environment and society.
Google's Commitment to Renewable Energy
Google stands as one of the largest multinationals in Silicon Valley, so it's expected for the organization to play a crucial role in fighting global warming. And the search giant is not backing out of its responsibilities. With numerous "Google sustainability" initiatives at work, the company has already turned carbon-neutral in 2007.
Since 2010, Google has been pursuing a move to reach "net-zero" carbon emissions and become the world's largest corporate buyer of renewable energy after acquiring 2.6 Gigawatts of wind and solar farms. In 2017, the search engine giant became the first major organization to match 100% of its annual global electricity consumption with renewable energy. This means that all of the electricity depleted by Google's data centers, offices, and other facilities is matched with the same amount of renewable energy purchased and put onto the grid.
And the latest development is Google's commitment to decarbonizing its entire electricity supply chain has led the corporation to accumulate more than 7 Gigawatts of combined renewable energy. With the pace of its sustainability accomplishments, Google is doing great on its path to accelerate climate action and fulfill its goal of operating entirely on carbon-free energy by 2030.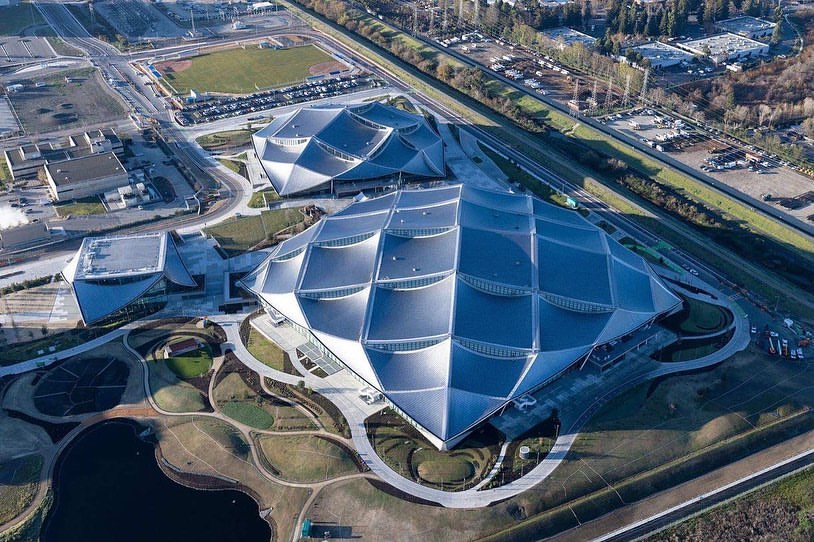 Google's Energy-Efficient Data Centres
Sustainability has been a core value for Google, and this extends to its data centers as well. The company has implemented several policies and practices to reduce the environmental impact of its data centers and increase their energy efficiency.
For instance, every time someone uses a Google product, the servers in their data centers get to work— around the clock and around the world. Since the cloud can support many users at a time, it can more efficiently distribute resources among everyone, ultimately leading to getting more work done in less energy.
Google uses renewable energy to support its data centers. As mentioned earlier, the company has achieved its goal of being 100% powered by renewable energy for its global operations, including its data centers. Most tech firms use "overhead" energy (such as cooling and power conversion) in their data centers to power their servers. However, Google uses advanced cooling systems that are designed to be more energy efficient than their traditional counterparts and have reduced its overhead energy to only 11%. The internet giant has also developed its own custom-designed servers and data center equipment that are optimized for energy efficiency.
Google's Carbon Footprint Reduction Efforts & Carbon Offsetting Initiatives
Google has made a significant effort to reduce its carbon footprint through a range of initiatives aimed at minimizing its greenhouse gas emissions. One of the key ways is sourcing green energy to power its operations. The company has invested in numerous renewable energy projects worldwide and has signed long-term power purchase agreements (PPA) to buy renewable energy directly from these projects. This approach substantially helps to reduce the carbon intensity of the electricity used by the company.
Next, Google recycles 100% of the electronic equipment used to equip its data centers. Since 2007, it has recycled sufficient outdated servers to save the purchase of over 300,000.
Furthermore, the search engine giant has set a goal of sending zero waste to landfill from its operations, and it has implemented a number of recycling and composting programs in its offices. In 2021, Google's global landfill diversion rate was 78% for data center operations.
As far as carbon offsetting is concerned, Google has incorporated several programs to help counterbalance the carbon emissions associated with its operations that cannot be reduced through energy efficiency measures or renewable energy sourcing. The corporation has invested in many green projects around the world, including activities such as reforestation, landfill gas capture, and agricultural methane capture. By investing in these projects, Google can support emissions reductions in other parts of the world while offsetting its own emissions.
What's remarkable is Google is dedicated to maintaining exceptional transparency about its targets, achievements, and progress made in ongoing projects. For that reason, the company has given public access to its latest Environmental Report 2022, CDP Response Report 2022, and Supplier Responsibility Report 2022, as well.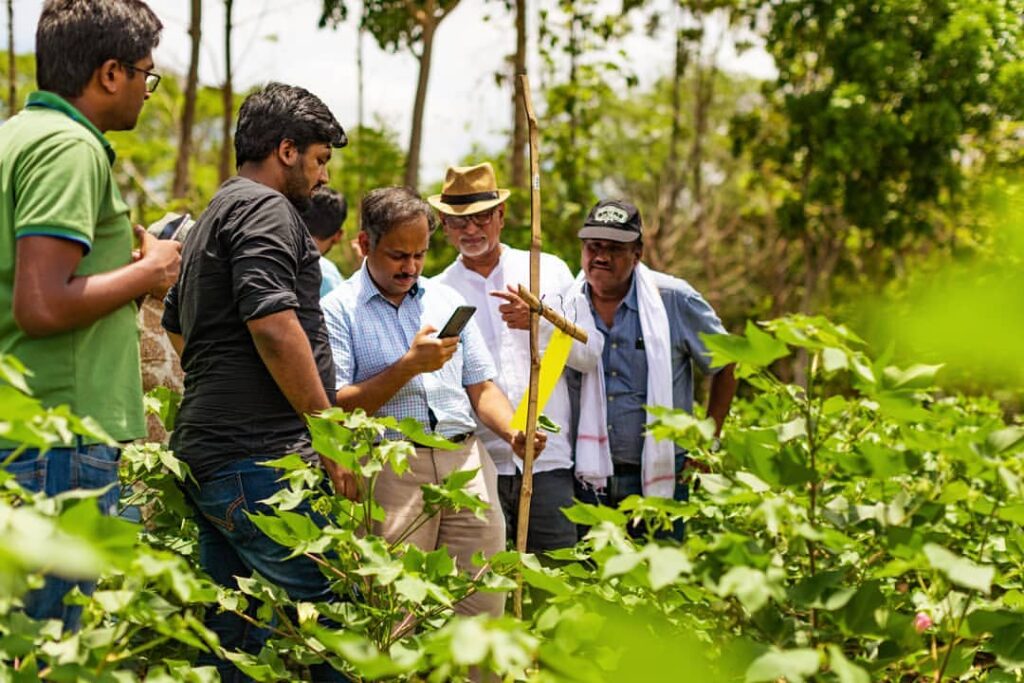 Google's Sustainable Product Design
Everything at Google is done with the Earth in mind. The organization is tirelessly working to transition into a circular economy by maximizing the reuse of finite resources across its operations, including sustainable product designs. For that reason, it is creating environmentally friendly and socially responsible products with an end-to-end clean lifecycle— from sourcing materials to the end of their useful life.
Google's sustainable product design is to reduce the environmental impact by using more responsible materials. The company has developed a recycled aluminum alloy for its merchandise, cutting out the need for virgin aluminum along with the associated energy and greenhouse gas emissions required to produce it.
Moreover, Google partners with suppliers to create recycled plastics for its products and packaging. Google places a strong emphasis on energy efficiency in its products, such as Google Pixel smartphones and Chromebooks. Therefore, each merchandise is designed to provide high-performance under minimized energy use. It also promotes energy-saving features in its software, such as optimizing battery life in Android devices.
In addition to these initiatives, Google focuses on making its products more repairable and recyclable. With easy-to-disassemble designs, its products can be easily dismantled for repair and recycling. It has also developed programs to promote the repair and refurbishment of its products. Google works with recycling partners to ensure that its products are responsibly recycled at the end of their useful life.
Google's Community and Environmental Initiatives
Google takes a strong stance in its philanthropic efforts by incorporating meaningful community and environmental initiatives for the betterment of the planet. The corporation's Google.org philanthropy program supports nonprofit organizations and social enterprises that are working to address some of humanity's biggest challenges. Covering areas such as education, economic opportunity, inclusion, and crisis response, this program has provided grants to a variety of worthy causes around the globe.
Even the corporation's products and services are designed to promote sustainability and social responsibility. For instance, Google has developed a range of tools to help individuals and organizations reduce their environmental impacts, such as the Google Nest smart thermostat and the Google Maps platform for sustainable transportation options.
Google is also an active member of the Climate Savers Computing Initiative, created in 2007, and The Green Grid. These are two international environmental tech groups devoted to the highest sustainability and efficiency standards. Furthermore, the Google Ad Grants program provides free Google Ads services to charitable organizations to extend their public service messages to a global audience for a greater impact.
Google Sustainability Jobs
Google has a variety of sustainability-related job roles that focus on developing and implementing strategies to reduce the company's carbon footprint. From positions for sustainability program managers, and renewable energy strategists to environmental compliance specialists, and many more, the company goes through unbound efforts to hire and retain top sustainability talents. At present, it is actively seeking skilled individuals for diverse Google sustainability job roles.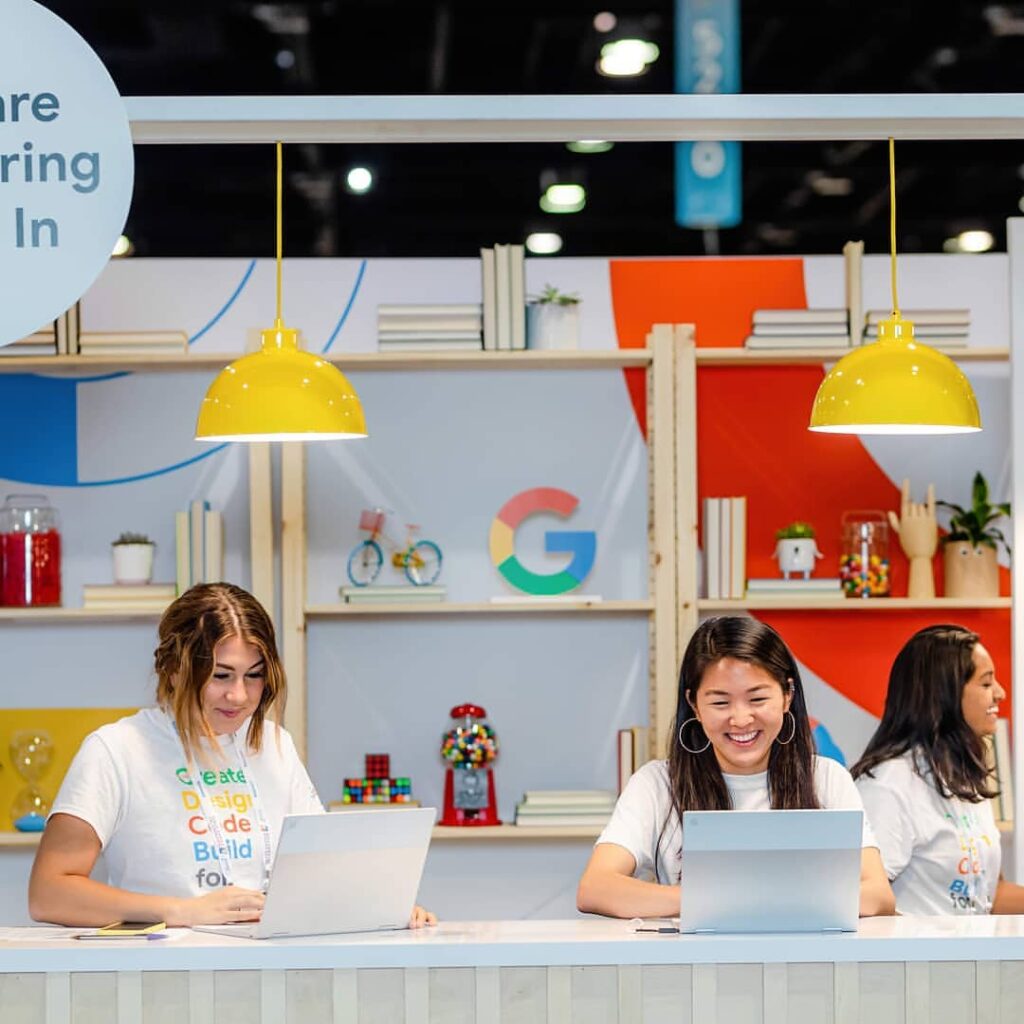 Criticisms on Google's Sustainability Efforts
Despite Google's efforts to be more sustainable, the company has faced severe criticisms and concerns from various stakeholders, including environmental advocates, conservation non profits, and employees. Some of the criticisms on Google's sustainability efforts include:
Energy Use: While Google has made significant strides in reducing energy consumption in its data centers, some critics argue that the company's overall energy usage is still too high.
Electronic Waste: Despite its efforts to design more sustainable products, Google still faces criticism for the amount of e-waste generated by its products. The company has been working to increase its recycling efforts, but a lot more needs to be done to reduce the environmental impact of its products. For example, sustainable design principles to eliminate the need for frequent device upgrades.
Supply Chain: Like many large tech companies, Google relies on a global supply chain to manufacture its products. While the company has a Supplier Code of Conduct, it can definitely do more to ensure that its suppliers meet environmental and labor standards.
Carbon Offsetting: While Google has invested heavily in carbon offsetting projects, many environmental enthusiasts argue that this approach does not go far enough in reducing the company's carbon footprint. To become truly sustainable, the tech giant should focus on reducing emissions at the source, rather than relying on offsets to mitigate its impact.
While criticisms surely help an organization to improve its practices, it's worth noting, that many of the above concerns are common to the tech industry as a whole. Because Google is undoubtedly leading in the sustainability game compared to its peers. It's appreciative that the company has acknowledged the fact that the climate crisis is already upon us, and there is still more work to be done. As a result, Google continues to invest in sustainability initiatives and partnerships to address these global challenges.
To Wrap it Up…
Corporate giants like Amazon, Google and Apple have demonstrated a commitment to sustainability by implementing various rational initiatives and achieving notable milestones.
Google has demonstrated a strong commitment to sustainability in its operations, collaborations, and products, along with its community and environmental initiatives. From renewable energy and energy-efficient data centers to sustainable product design and carbon offsetting, the company has taken meaningful measures to protect the planet and promote sustainable practices.
Moreover, Google's efforts to hire and develop top sustainability talent demonstrate its dedication to advancing the field and creating a more sustainable future. While there are still challenges to be addressed, the tech giant's leadership and innovation in sustainability serve as a model for other companies and organizations to follow. By continuing to invest in sustainability initiatives and partnerships, Google is undoubtedly helping to build a more sustainable world for future generations.
FAQs
How is Google being sustainable?
Google's sustainability efforts span a wide range of initiatives, such as reducing energy use, using renewable resources, cutting on waste generation, and promoting sustainable products. Its sustainability commitments have helped set an example for other companies to follow.
Is Google really environmentally friendly?
Yes, Google is really environmentally friendly. With the rigorous observation of innovative and eco-friendly practices, it has achieved carbon neutrality in 2007 and is already on the path to decarbonizing its entire operation. Everything at Google is done with the planet's well-being in mind.
Is Google an ESG company?
Yes, Google is considered as an ESG (Environmental, Social, and Governance) company due to its strong performance on various ESG metrics, which is a set of criteria used by investors to evaluate the environmental, social, and governance impact of a company's operations and investments.
Is Google more sustainable than Apple?
Both Google and Apple have made significant efforts to become more sustainable and reduce their environmental impact. It's difficult to say definitively which company is more sustainable, as each has different strengths and weaknesses in its sustainability efforts. However, various organizations have recognized both companies for their sustainability efforts.