Disclosure:
Your Sustainable Guide is supported by our readers. We might receive an affiliate commission if you make a purchase using links on our website, at no cost to you.
Learn more
Amazon has undoubtedly become the go-to shopping destination for everyone in every corner of the planet. With thousands of brands and lacs of sellers operating under its belt, the world's largest online marketplace's delivery vehicles can be found crisscrossing the entire world daily, creating a significant environmental impact. However, with great power comes greater responsibility. And Amazon is quickly picking up pace to reduce its massive carbon footprint by taking deliberate steps through its Amazon sustainability initiatives.
Amazon is on a mission "to be Earth's most customer-centric company," but what exactly is it doing for the Earth? Find out everything about Amazon's sustainability efforts in minimizing its plastic waste, CO2 emissions, and other concerning environmental issues. Let's dive in!
The Future of Amazon's Sustainability: Innovations to Watch Out
Amazon's approach to sustainability is guided by its commitment to be a net-zero carbon company by 2040, a decade ahead of the Paris Agreement's goals. Amazon sustainability projects include several programs that address various aspects of its operations, including its facilities, transportation, packaging, and product categories. The company is also maintaining transparency by publishing the Amazon Sustainability Report 2021, highlighting its accomplishments and progress in target-based goals.
Some of the critical goals that Amazon has declared to lower its ecological damage and promote sustainability across its operations are:
Carbon Reduction: Amazon has set a target to achieve net-zero carbon emissions across its operations by 2040. The company has committed to using 100% renewable energy, including wind and solar, to power its operations by 2025.
Sustainable Packaging: Amazon has been regularly called out for its contribution to plastic pollution through massive amounts of plastic packaging waste. To answer this issue, Amazon has pledged to reduce the size and weight of its packaging through its "Frustration-Free Packaging" and "Ships In Own Container" programs. It has also announced to the incorporation of more eco-friendly materials in its packaging to minimize waste.
Energy Efficiency: Amazon is dedicated to improving the energy efficiency of its operations by using energy-efficient technologies in its facilities, such as LED lighting and energy-efficient heating and cooling systems.
Sustainable Transportation: Amazon is working to shrink the carbon footprint of its transportation operations by using electric vehicles, including delivery vans and cargo trucks, and investing in sustainable fuels, such as biofuels. The company has ordered more than 100,000 fully-electric delivery vehicles to do so.
Climate Pledge Arena: Amazon is partnering with the NHL's Seattle Kraken to develop the world's first net-zero carbon-neutral arena— the Climate Pledge Arena, which has raised the bar for sustainability in the sports and events industry. With funding from Amazon and Oak View Group, this arena will feature 100% renewable energy, rainwater recapture systems, and other sustainability features.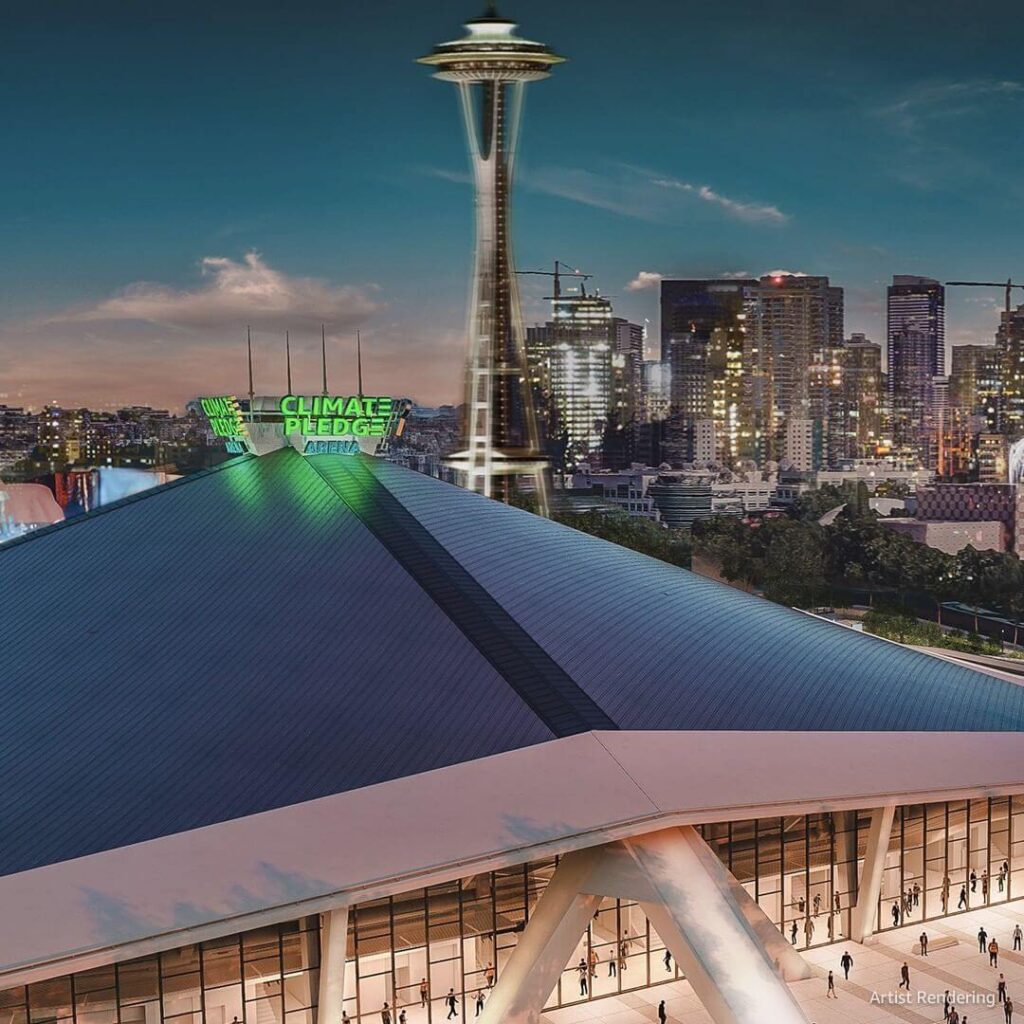 Amazon's Renewable Energy Commitment
Amazon's Renewable Energy Commitment is a pledge to become a 100% renewable energy powered business by 2025. The Amazon renewable energy projects include powering its global infrastructure, such as data centers, fulfillment centers, offices, and AWS Cloud with sustainable resources. This target is part of the company's broader efforts to address climate change and build a green future.
To achieve it's Renewable Energy Commitment, Amazon has invested in various projects, including wind and solar farms, along with energy storage technologies. And the good news is— in 2021, the conglomerate has already reached 85% renewable energy across its businesses in 18 countries. In addition, Amazon has also launched sustainability-related research programs such as the Amazon Sustainability Data Initiative to help researchers, scientists, and innovators worldwide with access to important scientific and climate projection data to accelerate sustainability advancements.
Even its Climate Pledge Fund— a $2 billion fund is designed to invest in companies and suppliers focused on the development of innovative sustainable technologies that can contribute to Amazon sustainability goal to achieve net-zero carbon by 2040.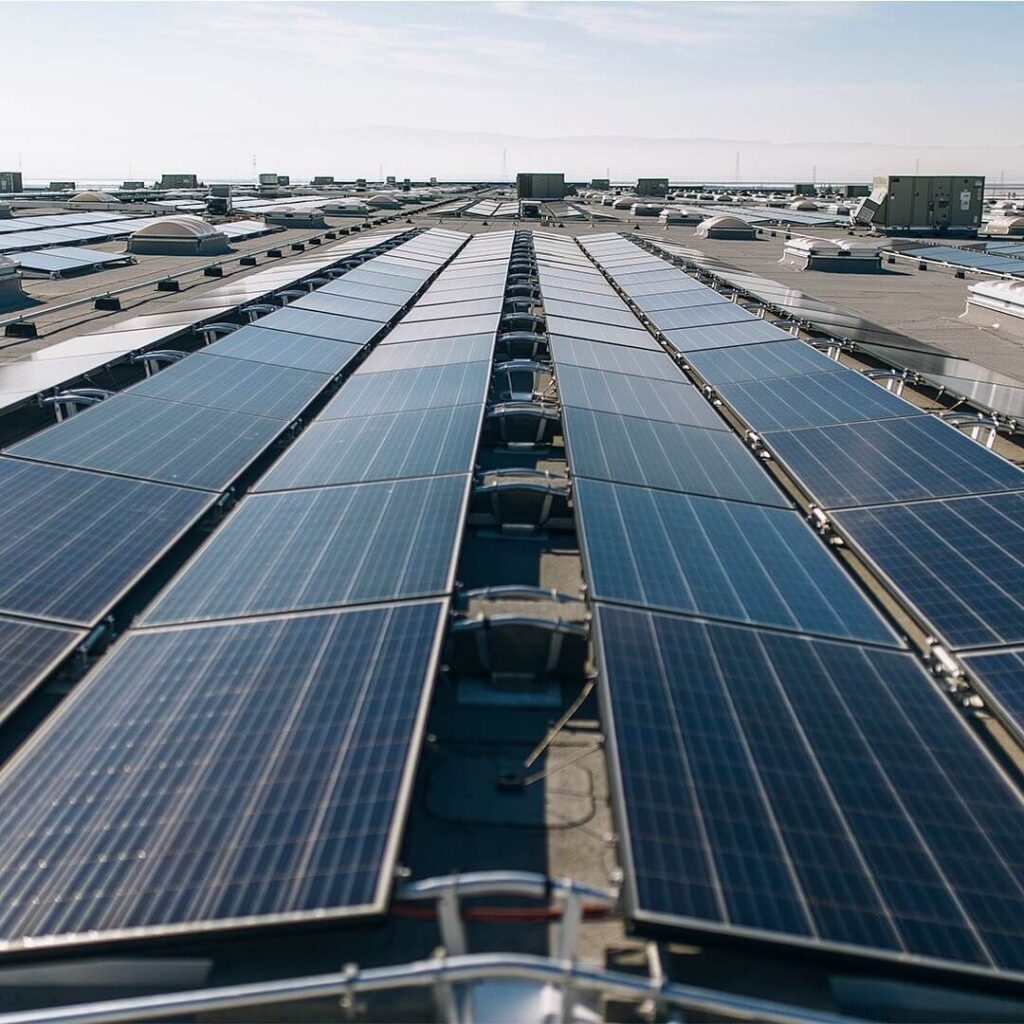 Amazon's Circular Economy Approach
Amazon's Circular Economy Approach is based on the principle of minimizing waste by increasing recycling systems to keep materials in use rather than sending them to landfills. The company aims to create a closed-loop system in which products are reused, recycled, or repurposed at the end of their life cycle, for as long as possible. This includes initiatives such as the Amazon Second Chance program, which encourages customers to donate or recycle their old devices, and the Amazon Renewed program, which sells refurbished and pre-owned products.
As part of its waste reduction commitment, Amazon has also joined hands with The Recycling Partnership. The company took this step to effectively execute the Circular Economy goal by improving sidewalk recycling in the U.S. It has also invested $10 million in the Closed Loop Infrastructure Fund to minimize waste, making it easier for customers and communities to recycle.
Recently, Amazon donated $100,000 to some worthy Closed Loop Partners. These corporations work with local governments, companies, and communities to upgrade recycling drives in U.S. neighborhoods, along with providing assistance to areas struggling to adapt to the changes in the recycling system. The company is constantly exploring new circular business models. Additionally, it has become a member of the Ellen MacArthur Foundation's Network to help reduce waste and increase the use of renewable resources.
Amazon's Climate Pledge Friendly Program
The Amazon Climate Pledge Friendly program is designed to help customers discover and shop for more sustainable products. Items that are part of this program have been certified by independent third-party organizations that evaluate the product's environmental impact.
The Climate Pledge Friendly products can be found across a wide range of consumer goods categories, including grocery, household, fashion, beauty, and electronics. You can identify these products through the Climate Pledge Friendly label, which ensures that the item has one or more of the 19 different sustainability certifications.
To be considered for the Climate Pledge Friendly program, products must meet at least one of the following criteria:
They are certified as carbon neutral.
They are made with eco-friendly and sustainable materials.
They are designed to have a lower environmental and social impact while in use.
They are built to facilitate the recycling or composting of the product at the end of its life.
In a nutshell, Amazon's Climate Pledge Friendly program makes it easier for consumers looking to purchase products with a reduced carbon footprint. The online giant hopes to encourage more sustainable consumption and production practices through this initiative.
Amazon's Sustainable Fashion Efforts
The fashion industry is known to be a major contributor to the current climate crisis. As a popular marketplace for affordable clothing, Amazon is doing its part in promoting sustainable fashion through several mindful practices.
Amazon's Sustainable Packaging Solutions
Amazon has implemented several sustainable packaging solutions to reduce waste and minimize its environmental impact. Some of these solutions include:
Frustration-Free Packaging: Amazon has introduced Frustration-Free Packaging, which is easy to open, 100% recyclable, and reduces shipping waste. This packaging is meticulously designed to eliminate the need for additional shipping boxes or materials.
Ships in Own Container (SIOC): Part of the Frustration-Free Packaging is the Ships in Own Container (SIOC) certified packaging. Amazon encourages its vendors to ship products in their original packaging without an additional box or packaging material.
Recyclable Materials: Some Amazon vendors who are trying to get FFP certification will have to find an alternative solution of padding by replacing Styrofoam, bubble wrap, and other non-biodegradable materials that aren't curbside recyclable.
Amazon's Packaging Feedback Program: This program allows customers to provide feedback on the packaging they receive, which helps Amazon identify areas of improvement to reduce unnecessary packaging.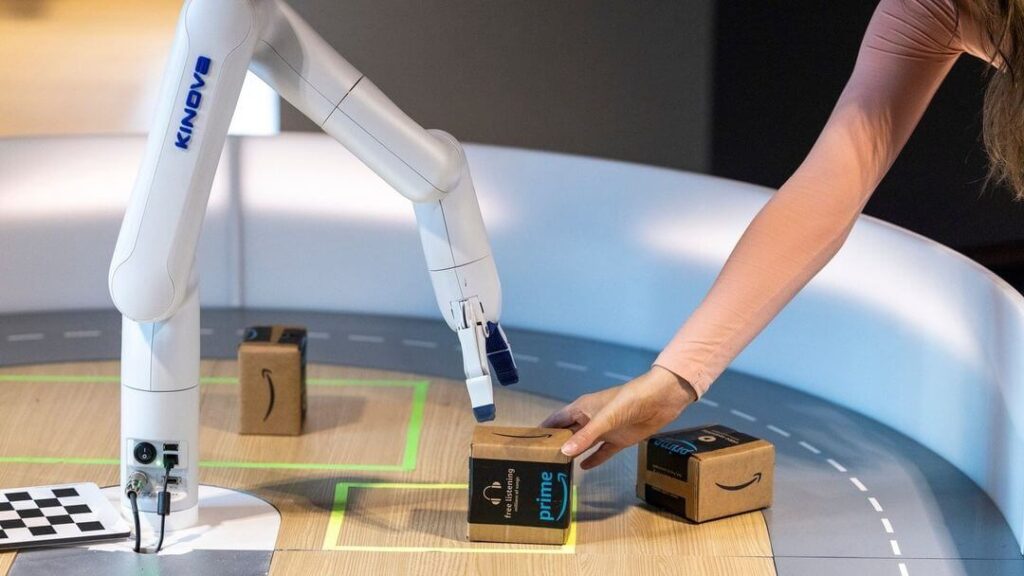 Amazon's Sustainable Shipping Solutions
Amazon is a leading online global retailer that ships millions of products every single day, across the world. So, it's only natural for the company to release massive carbon emissions through its transportation alone. However, Amazon is taking responsibility and implementing sustainable shipping solutions to decarbonize its transportation network. Some of these solutions include:
Amazon Prime: Amazon encourages customers to opt for Amazon Prime, which offers free shipping on millions of items. By consolidating orders into fewer shipments, Amazon is able to reduce the environmental impact of transportation.
Amazon Air: Amazon has invested in a fleet of more fuel-efficient aircraft for its Amazon Air shipping service, which reduces emissions and fuel consumption. In 2021, it has joined the Sustainable Aviation Buyers Alliance (SABA) to support sustainable aviation fuel.
Electric Delivery Vehicles: Amazon has committed to using 100,000 electric delivery vehicles by 2030. The first lot of these vehicles are already hitting the roads since 2021. This transition will significantly reduce emissions from delivery vehicles.
Packaging Optimization: By optimizing the size and weight of packaging, Amazon is able to reduce the amount of packaging material needed. This practice maximizes the space in shipping containers, thereby fitting in more parcels at one go and ultimately decreasing the release of carbon emissions.
Carbon Offsetting: As part of its net-zero carbon emission goal, Amazon invests in carbon offset projects to neutralize the emissions from its shipping and other operations.
Shipment Zero Program: Amazon has announced the Shipment Zero initiative, which will ensure that at least 50% of Amazon shipments reach net zero by 2030.
Amazon's Carbon Footprint
For an organization as big as Amazon, operating at a global level will have a substantial impact on the planet. But the company is addressing the challenges in carbon reduction by undertaking various measures.
Amazon is striving to create a sustainable transportation system by deploying a fleet of 100,000 electric-powered vehicles and creating efficient infrastructure for their charging. It is also partnering with air and ocean freight industries like Cargo Owners for Zero Emission Vessels Network (coZEV), First Movers Coalition, Sustainable Aviation Buyers Alliance (SABA), and the Clean Energy Demand Initiative to decarbonize shipping.
Amazon is on the path of becoming a 100% renewable energy business by 2025 by incorporating various renewable energy projects to eliminate the use of fossil fuels in its operations.
Amazon has invested in CarbonCure Technologies and Brimstone Energy to enable concrete producers in making high-quality concrete with a lower carbon footprint. Such type of cement can be produced by focusing on calcium silicate rocks that have no embedded CO2 and magnesium species. Amazon itself has used this cement in building its second headquarters (HQ2) in Virginia and aims to achieve the Leadership in Energy and Environmental Design (LEED) Platinum certification, which is the highest sustainability building certification given by the U.S. Green Building Council.
Amazon is building its Amazon Web Services (AWS) data centers using steel made from renewable energy, which is up to 100% recycled content. Another Amazon news is, studies by the analyst firm 451 Research revealed that moving on-premises computing workloads to AWS (cloud) can lower carbon footprint by nearly 80%. And as a cloud service provider, Amazon is helping its customers to achieve their net-zero goals through this method.
Amazon is working to improve the energy efficiency of its buildings, data centers, and transportation fleet. The company has implemented energy-saving technologies such as LED lighting and smart heating and cooling systems and issued more efficient vehicles and logistics systems.
Amazon has recruited more than 300 businesses in its initiative— The Climate Pledge to find effective solutions to tackle the global crisis caused by carbon emissions.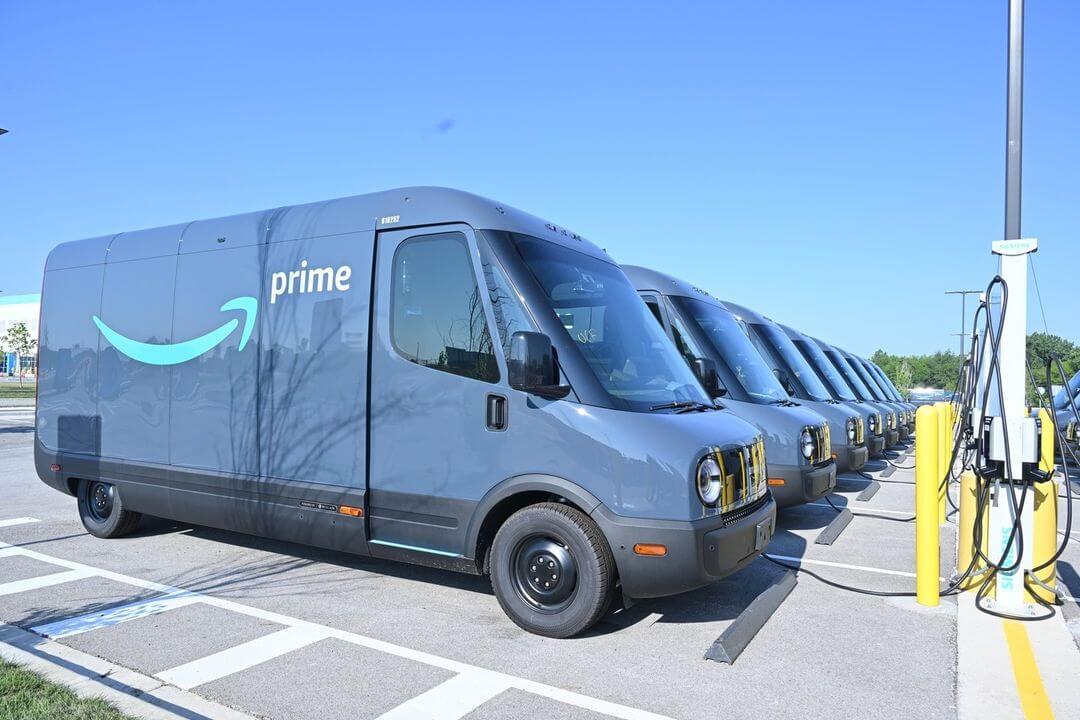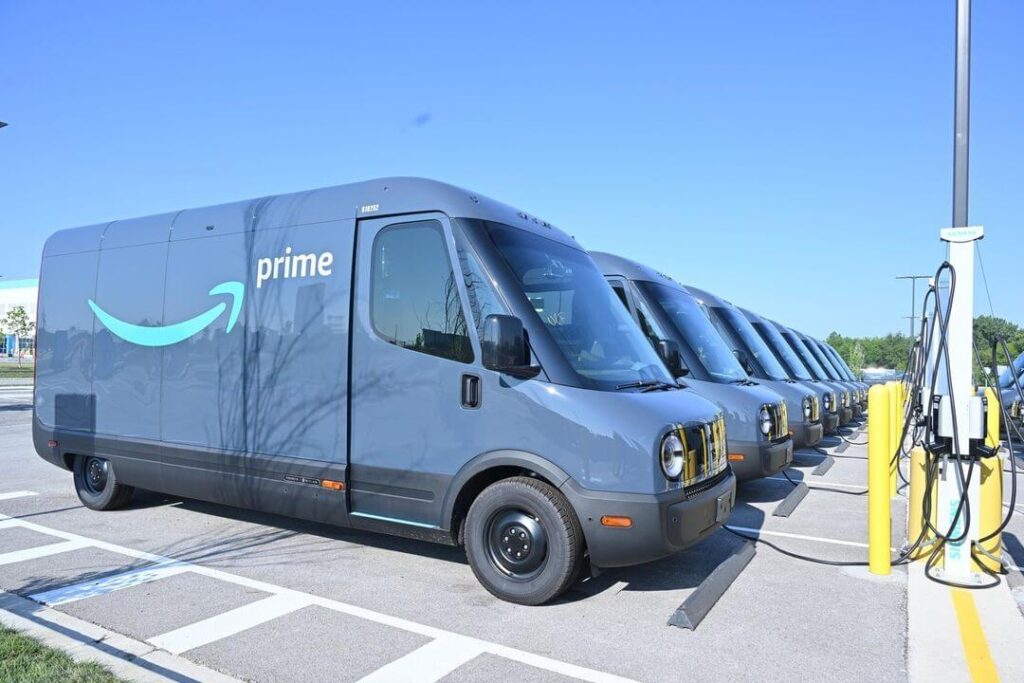 Amazon Sustainability Jobs
Amazon is always on the lookout for talented, bright, and driven people for its Worldwide Sustainability Team. This team focuses on expanding the company's scale and ability with solutions to manage its social and environmental impacts globally. It is divided into 6 sub-teams: Social Responsibility, Energy and Environment, Customer Packaging Experience, Sustainability Services, Sustainability Technology, and Sustainability Science R&D. Some recent job openings are:
Criticisms of Amazon's Sustainability Efforts
Growing into a successful multi-billion global business often comes at a cost. And its usually the planet that pays the bigger price. The same has been the scenario with Amazon. The company has been criticized multiple times over multiple aspects for its sustainability efforts. Some of them are:
Final Thoughts…
Corporate giants like Amazon, Google and Apple have demonstrated a commitment to sustainability by implementing various rational initiatives and achieving notable milestones.
Amazon's sustainability initiatives are making a positive impact on the environment, with a focus on reducing waste, increasing efficiency, and transitioning to renewable energy sources. While there is certainly scope for improvement in their approach, it's clear that the company is taking energetic strides towards creating a more sustainable future. By continuing to innovate and prioritize sustainability, Amazon has the potential to be a major player in the global fight against climate change. And we're all here for these honest efforts!
FAQs
Is Amazon a sustainable company?
Amazon is making honest and calculated efforts to become sustainable, but it is not an entirely sustainable company yet. With the proximity of its operations worldwide, the online retailer has a long way to go to become sustainable through and through.
How is Amazon doing on sustainability?
Amazon is doing great on sustainability. While the company still has a long way to go, it is taking intentional steps backed by science-based targets to become an end-to-end sustainable business.
What does AWS sustainability mean?
Adam Selipsky, CEO of Amazon Web Services (AWS), mentions that AWS sustainability is all about powering the data centers with 100% renewable energy sources and helping clients shift their computing workload's carbon footprint to these energy-efficient cloud data centers.
When did Amazon start on sustainability?
Amazon started on sustainability plans by first hiring the head of sustainability in 2014.
Does Amazon have a sustainability report?
Yes, Amazon has published its Sustainability Report in 2021, marking all of its achievements for making meaningful progress in addressing climate change for the greater good of the planet.