Disclosure:
Our editors handpick top-rated brands, vetted through our strict ratings. Purchases via our links may earn us a commission.
Learn more
Every woman dreams of flaunting a gorgeous diamond engagement ring as a symbol of her love and commitment. And why not? Engagement rings hold such deep emotions! However, shopping for the ideal ring can be overwhelming for many conscious consumers, because traditional diamond rings are tainted with someone's misery. Hence, they come at a much heavier environmental and social cost. The diamond industry has a dark history of exploiting workers, including children, who are made to mine in unsafe conditions in conflict zones.
Fortunately, sustainable engagement rings are on the rise, offering compassionate couples a way to express their love while protecting the planet and supporting ethical practices. These conscious jewelry companies either use lab-grown diamonds or source conflict-free diamonds and gemstones to design bespoke, one-of-a-kind rings. In addition, most of these brands are certified and engaged in philanthropic efforts of giving back to communities and environmental projects.
So, are you ready for some clean, swoon-worthy ethically sourced engagement rings? Then let's get started!
12 Best Sustainable Engagement Rings
1. Aurate New York
2. Aether Diamonds
3. Automic Gold
4. Brilliant Earth
5. Bario Neal
6. Catbird
7. Clean Origin
8. Holden
9. Miadonna
10. Mejuri
11. Taylor & Hart
12. Vrai
Why Sustainable Engagement Rings?
Sustainable engagement rings should be the ideal choice for everyone, as they have the lowest impact on the planet. With the cutting-edge innovation of labgrown diamonds, we have found an excellent alternative to traditional diamonds. So, the need for digging deep into the Earth's core is already sorted. Plus, these man-made diamonds look exactly the same as mined diamonds. And they're oh-so-gorgeous!
Apart from lab-grown diamonds, many jewelry brands offer rings made from sustainable diamonds that are harvested under strict regulations ensuring the environment isn't harmed in anyway.
Additionally, these rings are made from metals like recycled gold, silver or platinum that are already in circulation, so again, there's absolutely no need to exploit natural resources.
What are Ethical Engagement Rings?
Ethical engagement rings are made using lab grown diamonds or freshly mined raw diamonds sourced through fair labour standards. Brands prioritizing ethical practices go above and beyond the usual corrupted approach of the traditional diamond industry, ensuring workers are paid fair wages and provided with safe working conditions.
It is to be noted that child labour plays a strong role in the diamond mining business. Many children are forced to work under deplorable conditions in dangerous mines and often get killed in the process. However, ethical jewelry companies never partake in such inhumane sourcing and believe in offering fair trade conflict free diamonds that can be traced back to their origins.
From end-to-end, sustainable practices that comply with strict environmental and ethical regulations are followed by these brands— meaning no forced labour, no child labour, safe treatment of miners and sales that doesn't fund wars.
12 Conflict-free, Ethical and Sustainable Engagement Rings
Explore the world of sustainable engagement rings from incredible jewelry brands like Aurate New York, Aether Diamonds, Automic Gold, Brilliant Earth, Bario Neal, Catbird, Clean Origin, Holden, Miadonna, Mejuri, Taylor & Hart, and Vrai. From eco-friendly materials and maintaining the highest standards of ethical sourcing to the latest trends in sustainable jewelry, these sustainable brands are downright nailing it!
1. Aurate New York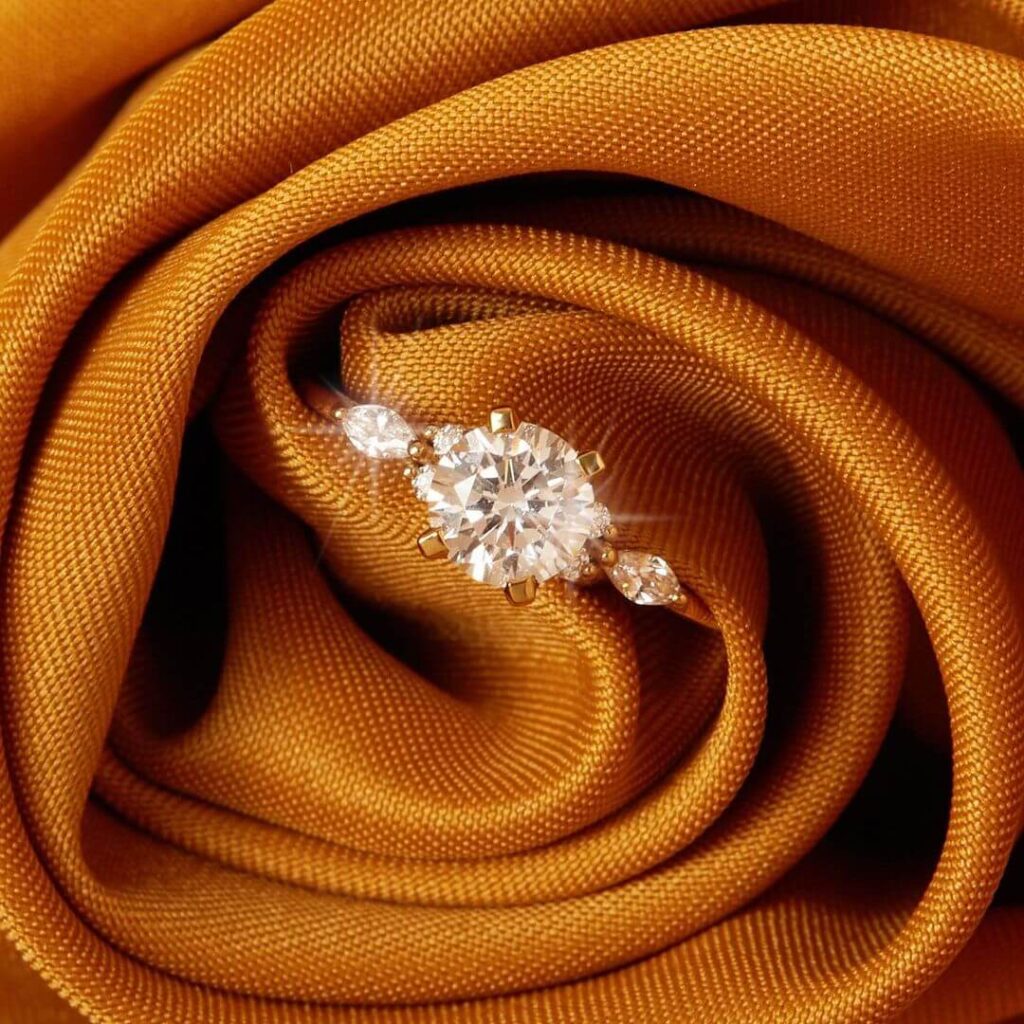 Values: Social responsibility standards, Traceable Diamonds, Recycled gold, Sustainably harvested Pearls, Gives back to charities such as Rainforest Alliance, Every Mother Counts, Malala Fund, etc.
USP: Elegant fine jewelry
For whom: Women
Certification(s): Kimberly Process Certified
Price Range: $165 – $4500
If 'modern and minimalist' is your style, then you're going to love Aurate's collection of affordable ethical engagement rings. Based in New York, Aurate believes everyone deserves fine jewelry, produced using sustainable practices to protect our planet. Therefore, the label carefully selects their recycled gold and high-quality conflict-free diamonds, prioritizing durable materials that can resist everyday wear and tear.
To maintain extraordinary craftsmanship, Aurate has employed 7th-generation jewelers to create their delicate pieces. The brand not only uses the Kimberley Process and lab-grown diamonds but also tracks every natural diamond from the mine to its New York workshop to ensure ethically sound sourcing. Plus, every ring has a certificate of authenticity.
2. Aether Diamonds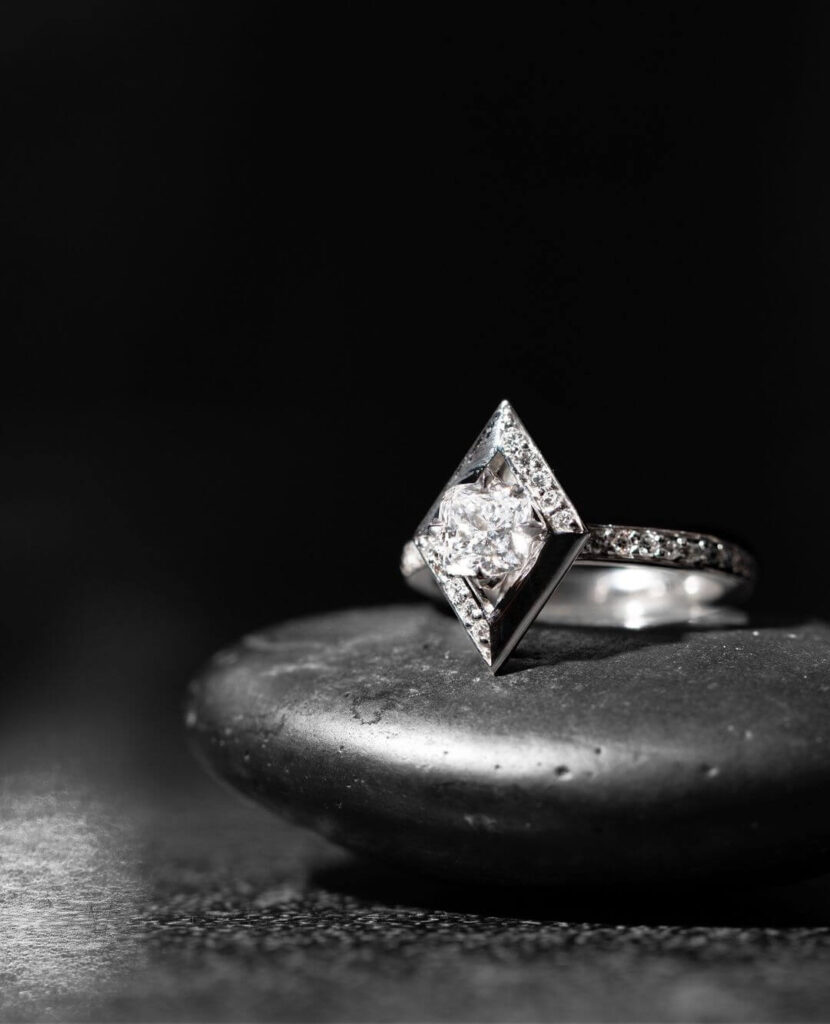 Values: Innovative technology that cleans CO2 from the atmosphere, Fairmined Gold, Responsible production, 100% conflict free diamond, Carbon Negative by 2023
USP: Lab-grown Diamonds by 'Direct Air Capture Technology'
For whom: Mainly for Women, Unisex designs are also available
Certification(s): B Corporation Certified, Kimberley Process Certified
Price Range: $700 -$10,000
Aether Diamond's commitment towards offering clean jewels is almost magical and, might I say, definitely nailing modern alchemy. Why? Well, their diamonds are literally made from thin air! No, Not kidding! The jewelry label is the first company to meticulously capture 100% atmospheric carbon through its 'Direct Air Capture Technology' to create lab-grown diamonds. This process saves about 127 gallons of freshwater and ensures that the gems are free of any petrochemicals. Also, the energy required for making these diamonds is half of what goes into mining diamonds.
What's impressive is Aether's approach of labgrown diamonds is not only cutting on carbon emissions from the mines, but also pulling out CO2 from the air, thus cleaning the atmosphere. No wonder, it's designed for humans and the planet! With a stunning range of sustainable engagement rings, Aether is undoubtedly creating the world's first positive-impact diamonds.
3. Automic Gold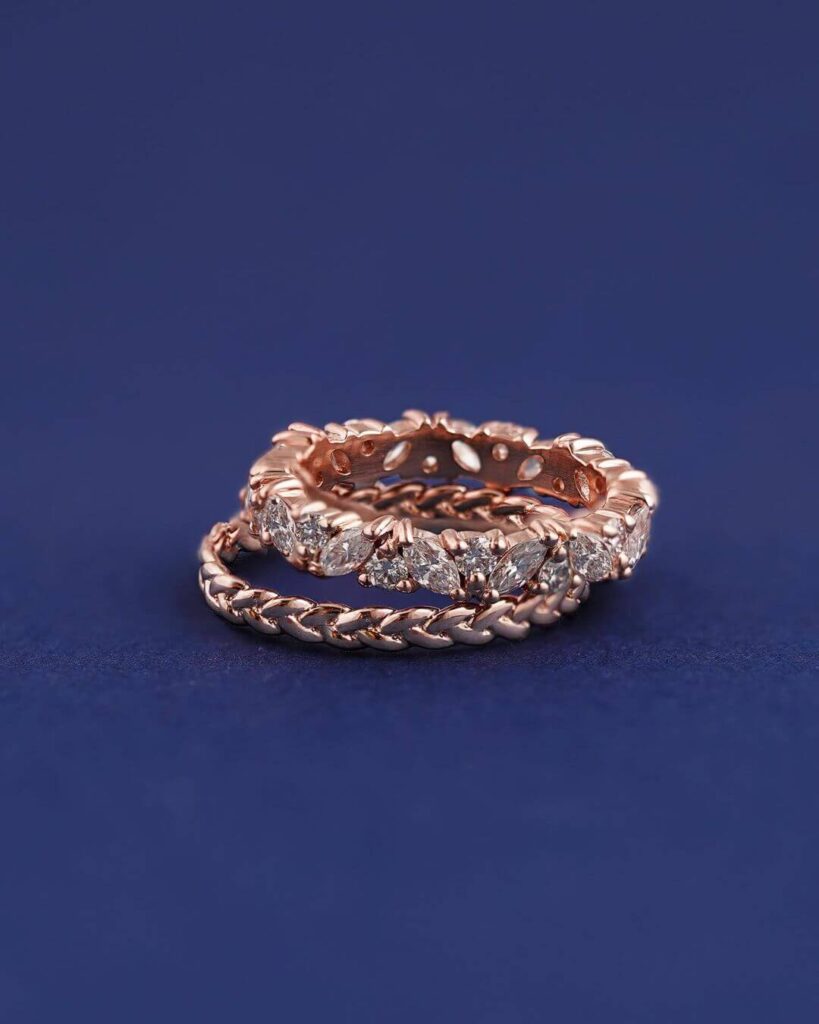 Values: Fair Pricing, Reclaimed Gold, Advocating Body Positivity
USP: Size-Inclusive and Diverse, Ethically sourced Diamonds
For whom: Gender Neutral
Price Range: $280 – $755
If you're more of a bold person and would love to flaunt a 'not-so-traditional' sustainable engagement ring, then Automic Gold can help you. Redefining size inclusivity, body positivity and diversity, this queer-owned brand has the highest jewelry standards to make you feel confident in your skin. Every piece of Automic Gold's jewelry is made with certified recycled gold and handcrafted in its in-house NYC studio.
While we love its unisex eco-friendly engagement rings, their earrings, necklaces, body jewelry and bracelets, are pretty eye-catching. Its diamonds and other gems are also responsibly sourced from ethical mines, and the best thing is Automic Gold's merchandise is fairly priced. They also offer customization, engravings, and size-inclusive options for every gender in every size.
4. Brilliant Earth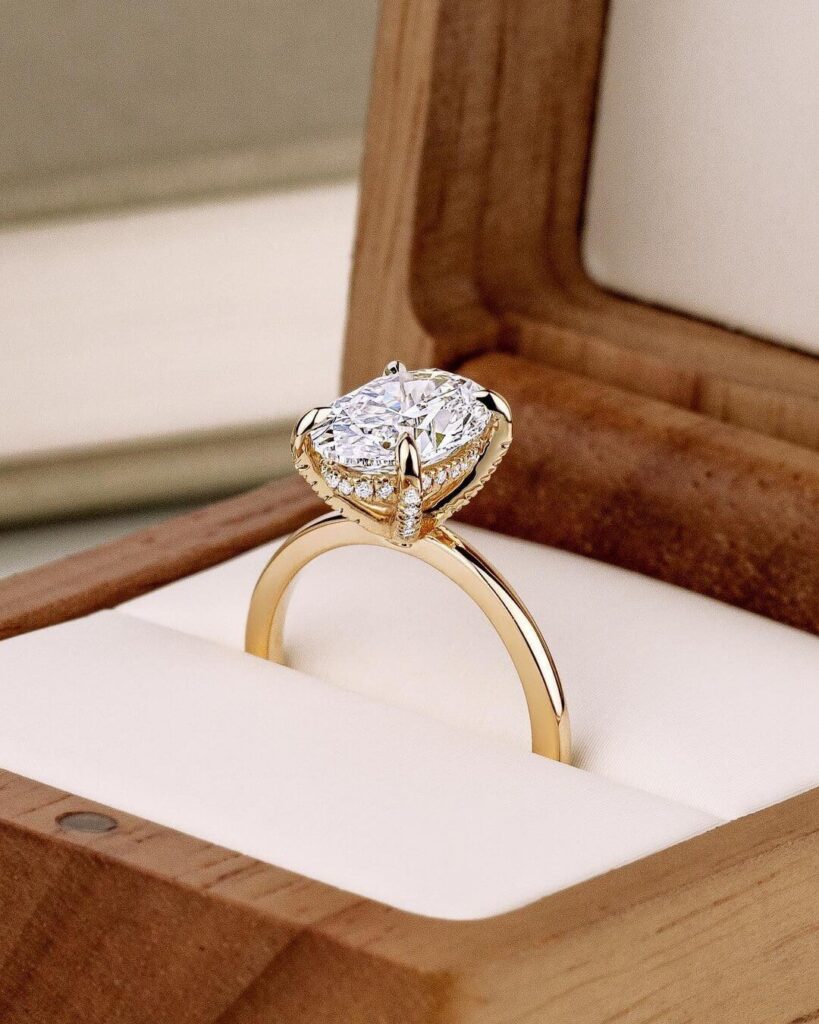 Values: Fair Trade and Conflict Free Diamonds and other Gemstones, Recycled precious metals, Goes beyond industry standards to ensure ethical and sustainable practices
USP: Beyond Conflict FreeTM Diamonds, Intricate designing and skilled partisanship, Transformational Blockchain Technology, Customize to create your own engagement or wedding ring
For whom: For Women
Sourcing: Canada, Botswana, Namibia, South Africa, and Lesotho
Certification(s): Kimberley Process Certified
Price Range: $450 – $6550
Brilliant Earth is a leading jewelry house offering a stunning collection of ethically sourced engagement rings, wedding bands, necklaces, gemstones jewels, and more. Centred around creating incomparably beautiful jewelry, their design team takes extra care and intricate craftsmanship to bring you mesmerizing pieces that you'll cherish forever. On a mission to cultivate a sustainable, transparent and compassionate jewelry industry, its products are made without compromising quality and conscience.
Pioneering ethical jewelry, Brilliant Earth is one of the first to offer blockchain-enabled diamonds at scale along with other precious gems. They undertake a rigorous protocol and even go beyond current industry practices to source for conflict free diamonds. Additionally, Brilliant Earth uses 100% recycled precious metals to further minimize its carbon footprint,
5. Bario Neal
Values: Donates to various organizations and initiatives connected to environmental and social impact in LGBTQIA+, jewelry industry, women's empowerment, etc. Some of them are Better Without Mercury, Earthworks, Village Health Works, The Picasso Project, National Resource Defense, etc.
USP: Heirloom Diamonds, Recycled Diamonds, Rare Black Diamonds, Celebrates love for ALL
For whom: Gender Neutral
Sourcing: Australia, Canada, Brazil
Certification(s): Fair Mined Certified
Price Range: $1340 – $10,250
Founded in 2008, Bario Neal is an ethical custom jewelry designer brand that creates exquisitely beautiful, sustainable engagement rings with conflict free diamonds and other precious gemstones. From mine to market, their supply chain is fully traceable. As an advocator of LGBTQ+ rights and worldwide marriage equality, their uniquely crafted custom rings are gender-neutral and represent a true reflection of love in all its forms.
The queer, women-owned company uses traceable recycled metals and stones along with Fairmined certified gold for its handmade pieces. With flagship stores in Philadelphia and New York, you can find your dream engagement ring from their acclaimed collection or customize your preferred design. Bario Neal has been featured in the recognized press, such as Forbes, Vogue, Refinery 29, Cosmopolitan, One Green Planet, and many more.
6. Catbird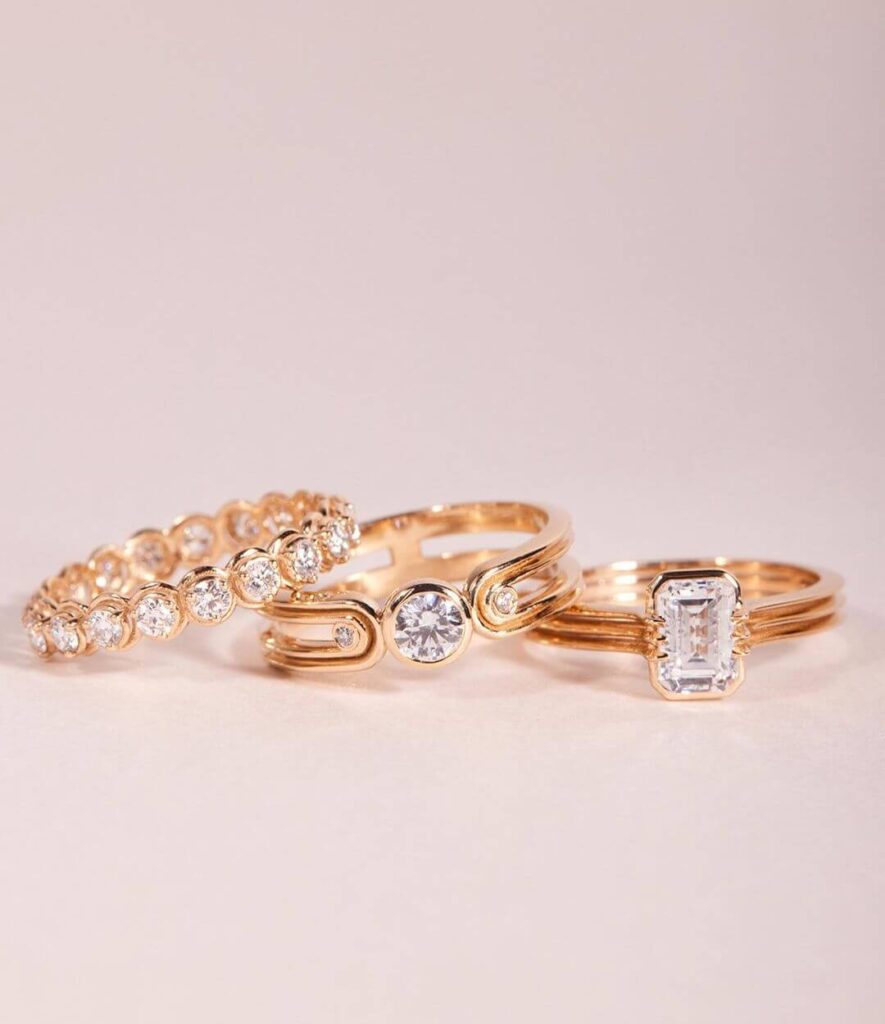 Values: Recycled Gold, Conflict-free Diamonds, In-house production to minimize carbon emissions, Gives back to mindful causes via Catbird Giving Fund
USP: Colored Diamonds, Brilliant cut and Rose cut Diamonds
For Whom: For Women
Certification(s): Kimberly Process Certified
Price Range: $255–$12,500
Based in Brooklyn, Catbird is a bespoke jewelry brand that has been crafting elegant ethical jewelry since 2004. The label uses sustainable 14k solid gold and fair trade sourced diamonds to create handmade pieces in its in-house studio. Its collection of eco-friendly engagement rings has my heart, and why not? They're designed by a variety of talented designers like Erstwhile, Gillian Conroy, and Kataoka.
Apart from housing the usual white diamonds, this label also has a good collection of rare grey and black diamonds. So if you love to stand out in the crowd, then consider trying these unique colored and other precious gemstones. Catbird's wedding and engagement ring category is named after princesses, swans, and fairytales, that will make you feel like royalty. In addition, almost their entire collection is made with recycled gold and diamonds to minimize environmental impact.
7. Clean Origin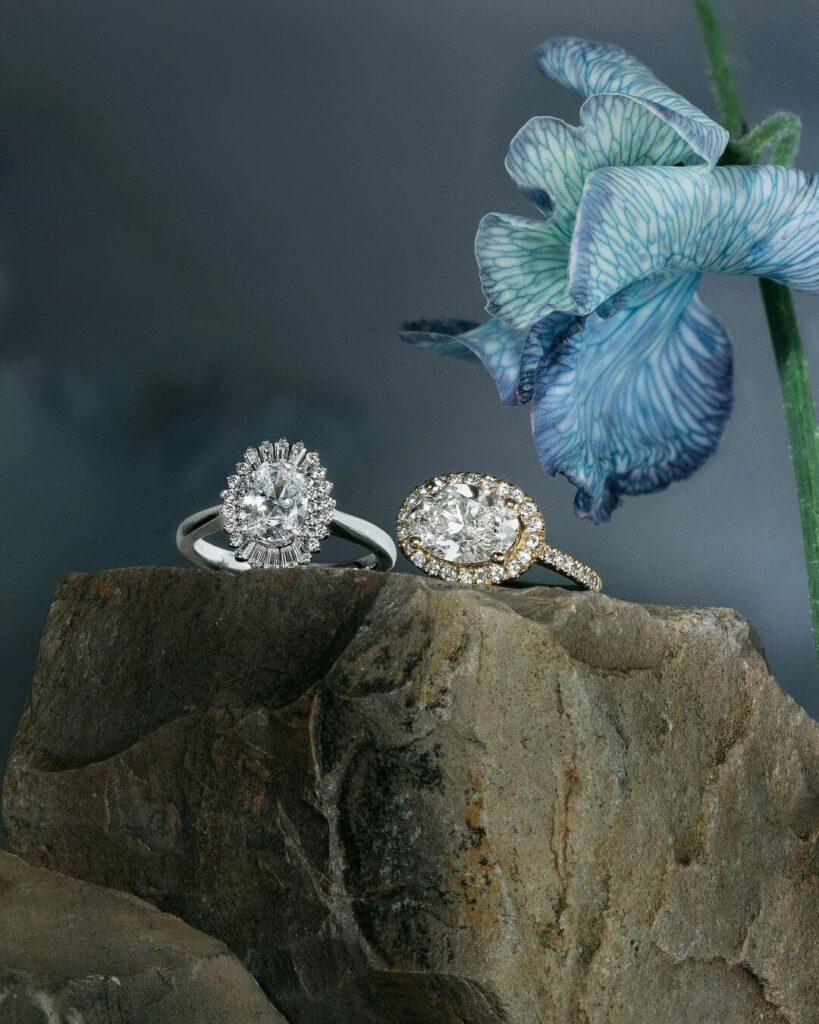 Values: Rejects the negative status quo of the mining industry, Innovative partnerships focused on positive environmental impact, including One Tree Planted, Committed to diversity and inclusivity, Gives back to the community by supporting various causes
USP: 100% labgrown diamonds, Handpicked diamonds by experts who come with a 100 years of combined experience, Lifetime Manufacturers' Warranty
For whom: Majorly for Women. Also has a Non-binary Collection
Certification(s): Certified by Gem Certification & Assurance Lab and the International Gemological Institute
Price Range: $650 – $1350
Clean Origin is a U.S.-based jewelry company that solely uses 100% ethical lab grown diamonds and recycled metals to create dreamy sustainable engagement rings. With the mission to make a legacy of transparency, ethics, and environmental responsibility, its diamonds are conflict-free and created under processes that are easier on the planet. And if you're someone quite hard to impress, then let me tell you this brand features an array of over 200 classic styles designed to exceed trends for a timeless appeal.
As a prominent direct-to-consumer retailer, Clean Origin partners with several independent and internationally recognized laboratories for guaranteed quality. Their diamonds are certified by third parties after being evaluated and graded in terms of the 4 Cs— cut, color, carat, and clarity. Therefore, you know you're getting an excellent quality diamond when you shop from Clean Origin.
8. Holden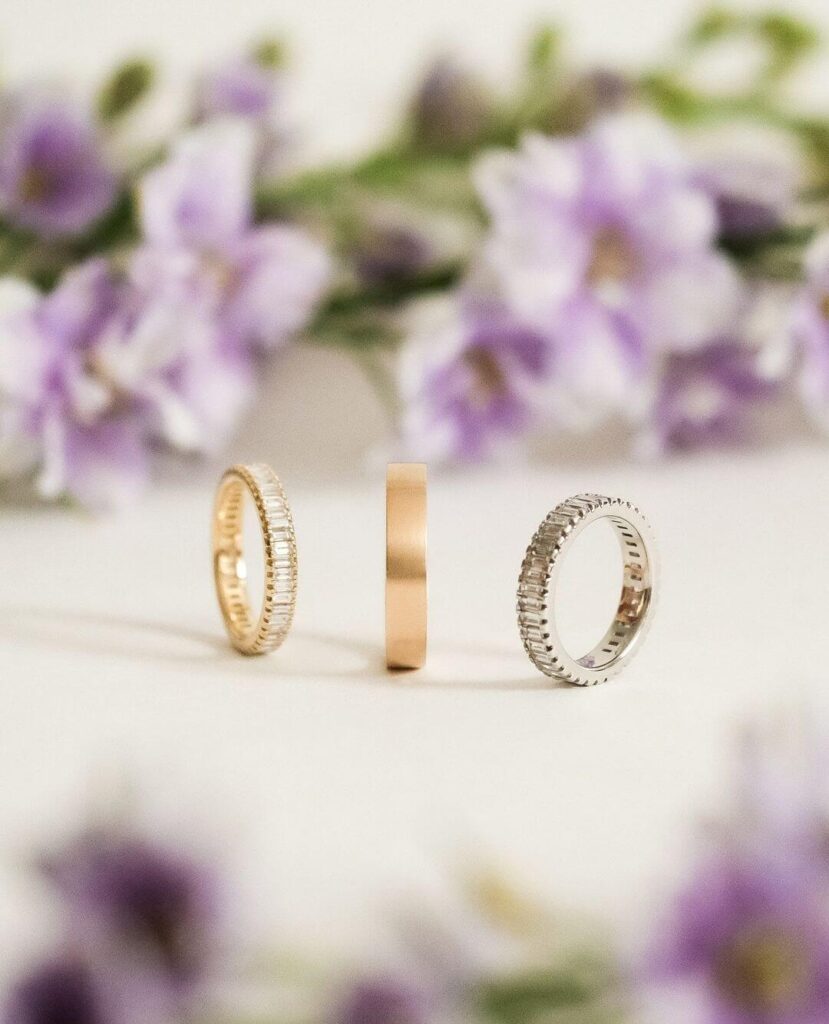 Values: Donate 1% of annual sales to The Trevor Project, Dedicated to minimising environmental impact, Local production in family-run small workshops
USP: Custom-made engagement rings, Handcrafted to perfection
For whom: Gender Neutral
Price Range: $499 – $2099
If you're looking for custom-fit engagement rings or wedding bands, then Holden is going to be your new BFF! This brand operates on a made-to-order business model, so there's no chance of stocking up excess inventory. Their gorgeous sustainable engagement rings are one-of-a-kind pieces, explicitly made just for you using 100% recycled gold/platinum metals and ethical lab-grown diamonds.
Additionally, Holden is Climate Neutral Certified, meaning they offset 100% of their carbon emissions. On top of that, they offer a lifetime guarantee, free shipping, resizing, and returns. And if you're wondering what happens to the returned pieces— Well, they meticulously poke out the gems and melt down the metals to make new rings. So cool, right? Another incredible thing about Holden is while they have a selection of designs to choose from, they are happy to give life to your vision of custom ethical engagement rings.
9. Miadonna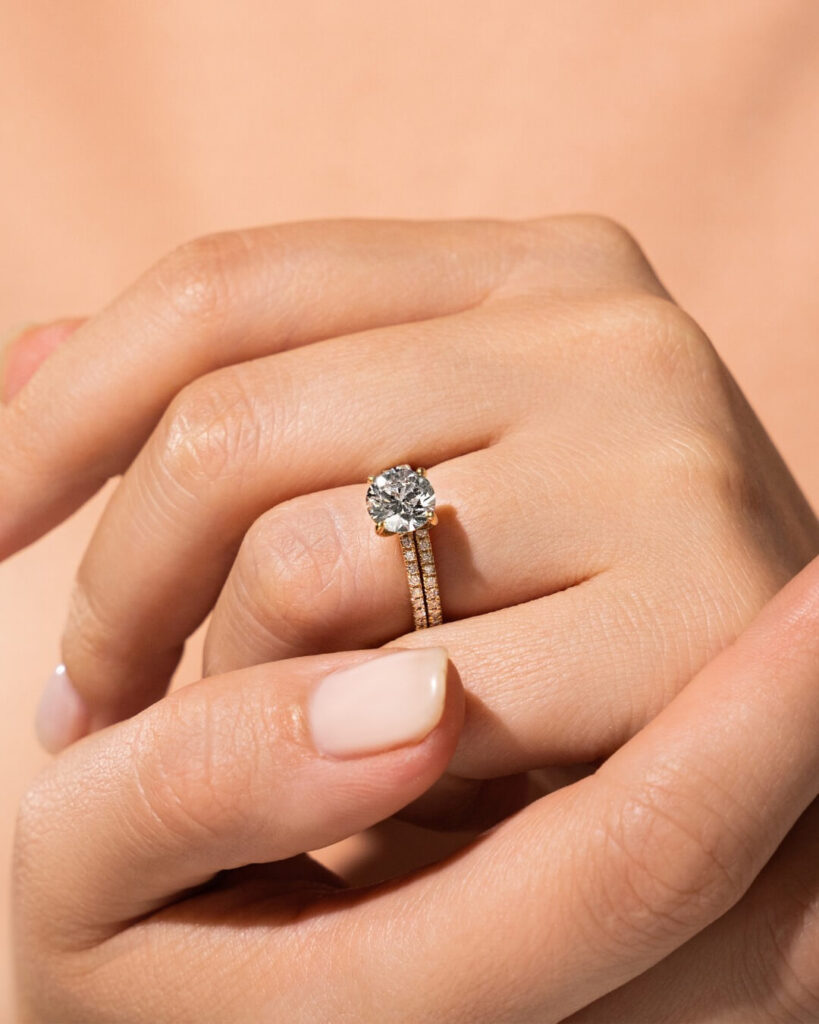 Values: The Greener Diamond Foundation, 10% of sales goes to underserved diamond mining families, One Tree Planted for every order placed, Ethical and sustainable production
USP: 100% lab-grown diamonds, Finest grade recycled gold and platinum
For whom: Men and Women
Certification(s): Certified B Corporation
Price Range: $650 – $2295
Established in 2005, Miadonna is the world's first retailer to exclusively sell lab-grown diamonds in its wide range of jewelry. The brand started with a single objective— To offer consumers an ethical and conflict-free diamond alternative that wasn't sourced by underprivileged children exploited by the diamond industry. At Miadonna, you get everything from affordable sustainable engagement rings, wedding bands, bracelets, earrings, and more.
Miadonna has the largest selection of remarkable American-grown Greener Diamonds and other gems. And if you're confused between its incredible designs, then you can easily order them for a 'Home Try-On' service to find the perfect style and fit. As an advocate of the diamond mining communities, it strives to better the lives of these families by contributing a portion of its annual sales to repair and rebuild their lands and lives.
10. Mejuri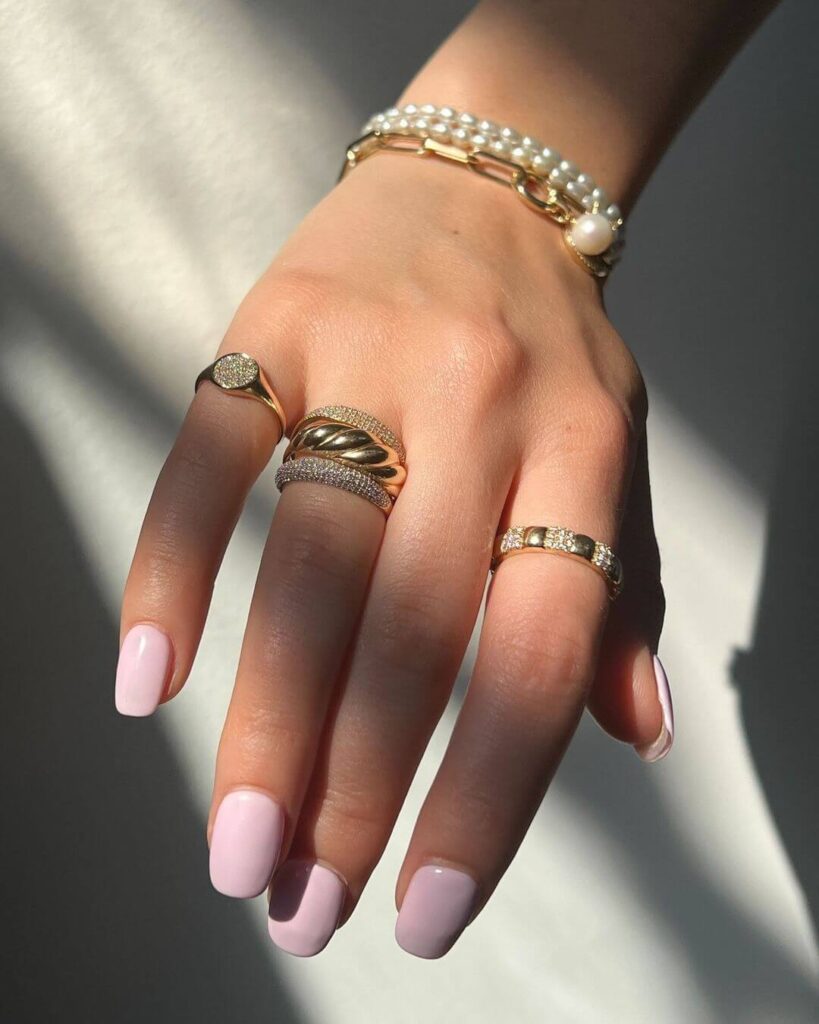 Values: Gives back to BIPOC women and nonbinary people through its Empowerment Fund, Safe and fair working conditions, Recycles to reduce its environmental impact
USP: Conflict free Diamonds, Traceable jewelry, Skilled craftsmanship
For whom: Men and Women
Sourcing: India, Italy, Korea, etc.
Certification(s): Kimberly Process Certified, Certified by Responsible Jewellery Council
Price Range: $180–$2000
Mejuri is home to elegant fine jewelry that you can wear and feel marvellous every day. The brand works with master jewelers to handcraft pieces that feel like You. Every piece of jewelry, including their eco-friendly engagement rings, is designed in-house and made from responsibly sourced materials like conflict free diamonds, recycled gold and other precious metals.
With a huge collection of jewelry, at Mejuri, you'll undoubtedly find the engagement ring of your dreams. Their production takes place on a global scale, and all of its suppliers are certified for fair trade and sustainable practices. Mejuri also gives back to society as part of its philanthropic efforts. So, when you buy an ethical engagement ring from them, you not only own an impeccable piece to create a lifetime of memories, but also leave a positive impact in a needful's life.
11. Taylor & Hart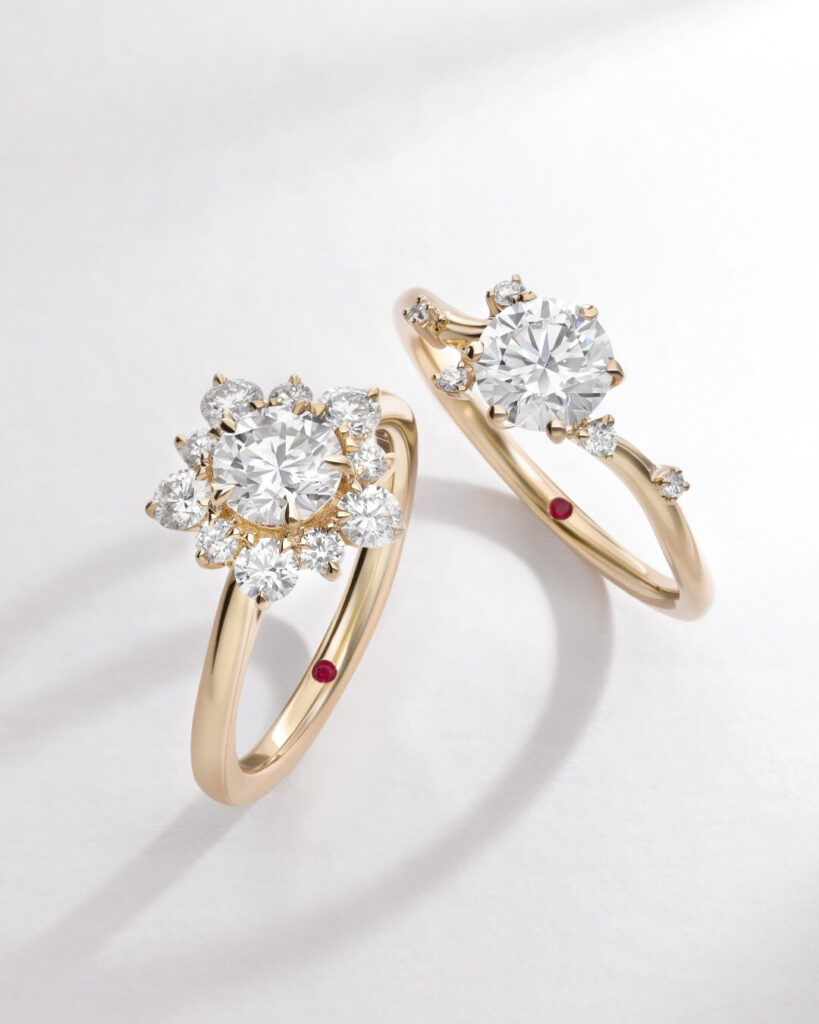 Values: Ethically sourced diamonds & lab grown diamonds, Fairtrade certified gold, Recycled metals
USP: Custom-made rings through personal consultations, Conflict free diamonds
For whom: Women
Sourcing: South Africa, Namibia, Canada, and Botswana
Certification(s): The Kimberley Process, and their own supplier-made Diamond Time Lapse and Canadamark
Price Range: $750–$14595
Hold your heart, because mine skipped a beat when I laid my eyes on Taylor & Hart's selection of ethically sourced engagement rings. This award-winning jewellery house specializes in bespoke custom-made engagement rings that are crafted with care to celebrate your love. Their talented design team will work closely with you to give life to your vision, and with their expertise, you will get an exquisite piece made from the world's finest ethically sourced materials.
Dedicated to fair trade standards, the company goes beyond the Kimberley Process to confirm that each diamond they source is conflict-free. Taylor & Hart deeply understands the sentiments one has with purchasing an ethically crafted ring. Hence, they pride in taking that extra step of diamond verification to ensure nothing taints this incredible moment of your life.
12. Vrai
Values: Fair Tradelabor practices, Gives back to various worthy social and environmental causes, Zero carbon emissions approach during production, 100% renewable energy
USP: Lab-grown diamonds crafted in their Diamond Foundry, Create your own ring
For whom: Men & Women
Certification(s): Carbon Neutral Certified
Price Range: $255–$6500
Championing fine jewelry and delicate designs, Vrai has a modern take on sustainable engagement rings made without markups. Their collection includes exotic contemporary pieces with either white or rare black diamonds. And for those who like a more minimalist look, their stackable rings are the best choice, as they come in various stone sizes, striking a flawless balance between simplicity and uniqueness.
Vrai firmly believes in the conservation of nature. Therefore, they do not house earth-mined diamonds. To help you indulge in sustainable jewelry possibilities, all of their diamonds are lab-created using greenhouse gas in their own Foundry. With only a decade in the sustainable diamond business, VRAI is a growing label operating as a D2C business with showrooms in the U.S., Europe, and China.
All You Need to Know About Sustainable Engagement Rings
History of Traditional Diamond Rings & Rise of Sustainable Alternatives
The history of diamond engagement rings dates back to a millennium when women of the royalty and elite classes used them as a sign of their betrothal or marriage. However, it is only in the 1900s that engagement rings gained popularity among the masses.
In 1947, multinational giant De Beers launched its classic slogan, "A Diamond is Forever." The message compared the durability of a diamond with the psyche that marriage is forever. And with De Beers opening mines in Africa, diamonds became more accessible than ever. Since then, this hard and sparkly gemstone has become an integral symbol of showcasing love and commitment between two people in practically every corner of the world. Currently, nearly 90% of the world's engagement rings are made from diamonds.
However, rising awareness regarding the horrific exploitation of workers and the harmful impact of diamond mining has led consumers to opt for sustainable alternative engagement rings. This basically comprises of man-made diamonds grown in advanced laboratories that have the exact physical, chemical and optical features of a mined diamond, but minus the negativity. In fact, a recent study by Queensmith revealed that today, about 88% of people prefer a lab grown diamond engagement ring over a traditionally mined diamond.
Importance of Sustainable Jewelry
Owning sustainable jewelry pieces, like a sustainable engagement ring, doesn't mean you have to compromise on the quality or the style. It simply means choosing clean jewelry made from eco-friendly materials and processes that dint leave a negative impact on the environment and working communities.
Just like any traditionally made jewelry, sustainable pieces of jewelry are built to last. The only difference— they're made in a more informed manner— from recycled metals and kinder gemstones that can be artificially lab grown without digging deep into Mother Earth. Therefore, eliminating forced labour and exploitation of natural resources, as well as preventing deforestation, soil erosion, and much more.
Processes & Certifications for Sustainable Engagement Rings
Tips for Buying a Sustainable Diamond Engagement Ring
Engagement rings are precious! Not only do they mark the start of a committed relationship, they will also stay with you forever to witness your blissful married life. No wonder, finding the ring of your dreams matters the most here. And it's even wonderful when you wear a dazzling rock that neither harmed the planet nor underprivileged working-class people.
To get the perfect sustainable engagement ring, always look for mindful jewelers who are abiding by the values of sustainable and ethical diamond mining.
It's best to go for lab grown diamonds, as you not only save a lot of money, but you also steer clear of exploiting natural resources. However, if you always wanted a mined rock, then try to opt for conflict free diamonds that are responsibly sourced. You can also go for recycled diamonds.
Look for transparency and some sort of reputed third-party certifications to ensure the brand's validity.
If you're confused, always reach out to the brand and ask your queries.
If you adore vintage styles, there are a whole lot of brands offering antique engagement rings. Vintage rings not only add character to your look but is a great way of using jewelries that already exists.
If you can't find the perfect engagement ring made under the values you care for, go check out brands offering customized made-to-order service and create custom engagement ring.
Diamonds are durable gemstones, and can be passed as heirloom pieces. Try to go for classic styles and cuts, that will forever remain in vogue, so that your next generation can happily cherish them.
To Wrap it Up…
Sustainable engagement rings are a meaningful alternative to traditional diamond rings. As an informed, compassionate individual, you've every reason to invest in mindfully made jewelry pieces that are not laced with someone's misery. By choosing ethical brands that are trying to disrupt the ever-exploitative diamond industry, you directly discourage unfair trade practices like forced labor and child labor, while being kind to Mother Earth.
Whether you're looking for a unique design, a vintage-inspired ring, or a custom-made engagement ring, the above-mentioned brands have a multitude of options that will make your heart and conscience happy. Check them out, if you haven't yet! Trust me, you're in for a treat!
FAQs
What are some eco-friendly materials used in sustainable engagement rings?
Sustainable engagement rings are usually made from artificial labgrown diamonds, as well as conflict free or recycled diamonds and gemstones. Metals used for such jewelry pieces are recycled or fair-mined gold, silver, platinum, etc.
How can I make sure my engagement ring is ethically sourced?
To ensure your engagement ring is ethically sourced, check for brands that are certified by recognized third-party organizations that focus on protecting workers' rights. These brands would mention that they offer conflict free diamonds or lab grown diamonds and will have a transparent supply chain to ease your concerns.
Are sustainable engagement rings more expensive than traditional diamond rings?
Sustainable engagement rings made from lab-grown diamonds and recycled metals are about 20-40% less expensive than traditional diamond rings, despite of being 100% identical. However, conflict free diamond rings may be priced in the same range as any other earth-mined diamond.
What is the most ethical stone for an engagement ring?
Lab grown diamonds are the most ethical stone for an engagement ring. These rocks are made by trapping CO2, so not only do they help reduce carbon emissions from the atmosphere, but also conserve natural resources.
What is an ethically sourced ring?
An ethically sourced ring can be anything from a vintage ring to a newly casted engagement ring made from gemstones and metals sourced from conflict-free economies. Ethical engagement rings have a minimal impact on our entire ecosystem. 
Are engagement rings and wedding bands the same?
Engagement rings typically consist of one dominant stone, specifically a diamond. The rock either stands on its own or can be surrounded by smaller stones. Engagement rings are usually given as part of a marriage proposal. In contrast, a traditional wedding ring is more like a plain metal band or half-eternity ring with tiny diamonds or other gemstones encrusted. Overall, wedding bands are much simpler and sometimes come in pairs, as they're exchanged between the couple during a wedding ceremony.