Disclosure:
Our editors handpick top-rated brands, vetted through our strict ratings. Purchases via our links may earn us a commission.
Learn more
Laptops are expensive electronics that have become an essential part of our lives, over time. Whether it is commuting to work, traveling places, or simply taking a work-from-cafe day— we all look for laptop sleeves or backpacks that are high on performance and sleek looking. Since nothing can be more thoughtful than investing in high-quality, sustainable laptop bags to extend the viability of our gadgets.
With sustainability on the rise, it is important that we follow an eco-friendly approach towards every household article, including laptop bags. And believe it or not, most brands worldwide are making these backpacks with unsustainable materials like uncertified chrome leather and synthetics. But hey, I'm here for you! And I've curated a list of the best brands offering sustainable laptop bags to keep your precious computer safe from the hustle of your everyday life. So let's jump right in!
15 Most Sustainable Laptop Bags
What Makes a Laptop Bag Sustainable
A laptop bag is here to stay with you for the long run. So, here are a few checkpoints you should look for while shopping for a sustainable laptop bag or sleeve—
Responsibly Sourced Raw Materials
A sustainable laptop bag is made from high-quality natural or recycled materials, like organic cotton canvas, jute, regenerative nylon and polyester, vegetable-tanned leather, and toxin-free bio-based leather. These eco-friendly materials have low water usage and are renewable, biodegradable, chemical-free, and less taxing on the planet.
Quality and Efficiency
First and foremost, a backpack has to be efficient. It should be high-performance and functional to sustain the rigors of the outdoors while shielding the laptop and its accessories. Whether it is daily work commute or a camping trip, chances are high that the bag will be slinging around for a long time, getting wet, dropped, and subjected to wear and tear. Because the last thing anybody wants is to end up with a broken strap or a busted zipper in an airport or on the way to the office. Durability is always a priority while choosing affordable, sustainable clothing or backpacks.
Transparency
Everyone deserves to be paid fairly for the work they do. But a lot of brands exploit workers to cut manufacturing costs, in order to make more sales. So, always look for brands committed to fair trade practices where workers earn reasonable living wages and are provided with benefits like healthcare and training. A transparent supply chain is a must for a bag to be ethical.
Take-back, Repair, Or Lifetime Guarantees
A sustainable backpack is an investment, so extending its usage only makes sense. Brands that are truly mindful will always offer some form of circularity. So, check for labels that offer lifetime warranties, take-back programs, or care and repair facilities.
PFAS-Free / Low Environmental Impact
Backpacks are typically treated with toxic synthetics, known as Polyfluoroalkyl chemicals (PFAS), to make them waterproof. However, the problem is these chemicals don't break down. And after washing, PFAS mixed with water can make its way into our water bodies, risking wildlife and humans. In addition, research has proved this chemical contributes to various health risks, like cancer, miscarriage, infertility, and hormonal disruption. So, it's important to opt for bags with PFC-free, water-repellent coatings.
Our Favorite List of 15 Most Sustainable Bags & Backpacks for Mindful Techies
Mindful brands like Allégorie, Cotopaxi, Terra Thread, O My Bag, ECOSUSI, Parker Clay, Issara, Solgaard, Opus Mind, Dare To Roam, Flowfold, Fjällräven, MATT + NAT, Day Owl, Etsy are here to keep your gadgets safe from drops, bumps, and spills with their beautiful and functional sustainable laptop bags collection.
1. Allégorie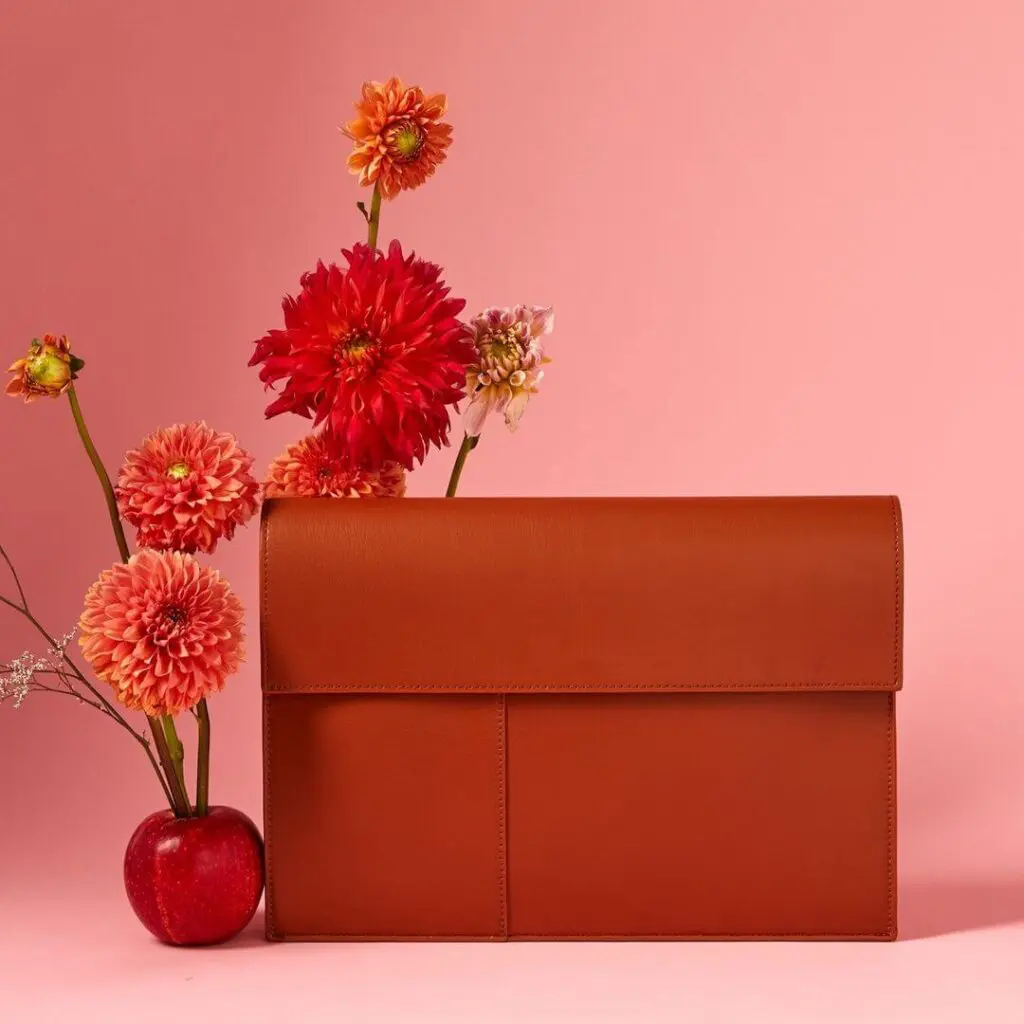 Materials Used: Bio-based leather made from apples, mangoes, pineapples, and cacti
Price Range: $375-$475
Allégorie is here to push the boundaries of sustainable fashion and take it to an elevated level. The women-owned brand houses a variety of luxuriously crafted bags, including purses, wallets, totes and my favorite— laptop cases, all of which are made from food waste. Yes, you read that right! Never have I ever thought that discarded fruits could be transformed into such stunning and sleek vegan leather laptop sleeves, or any bag for that matter! But Allégorie is making that possible.
With innovative technology and a skilled team, its products are created using plant-based leather made from responsibly sourced discarded apples, mangoes, pineapples, and cacti. Plus, the cruelty-free materials are USDA-certified, resulting in bags that are 100% free of PVC. Allégorie is also certified by the World Fair Trade Organization for following FairTrade principles across its supply chain.
2. Cotopaxi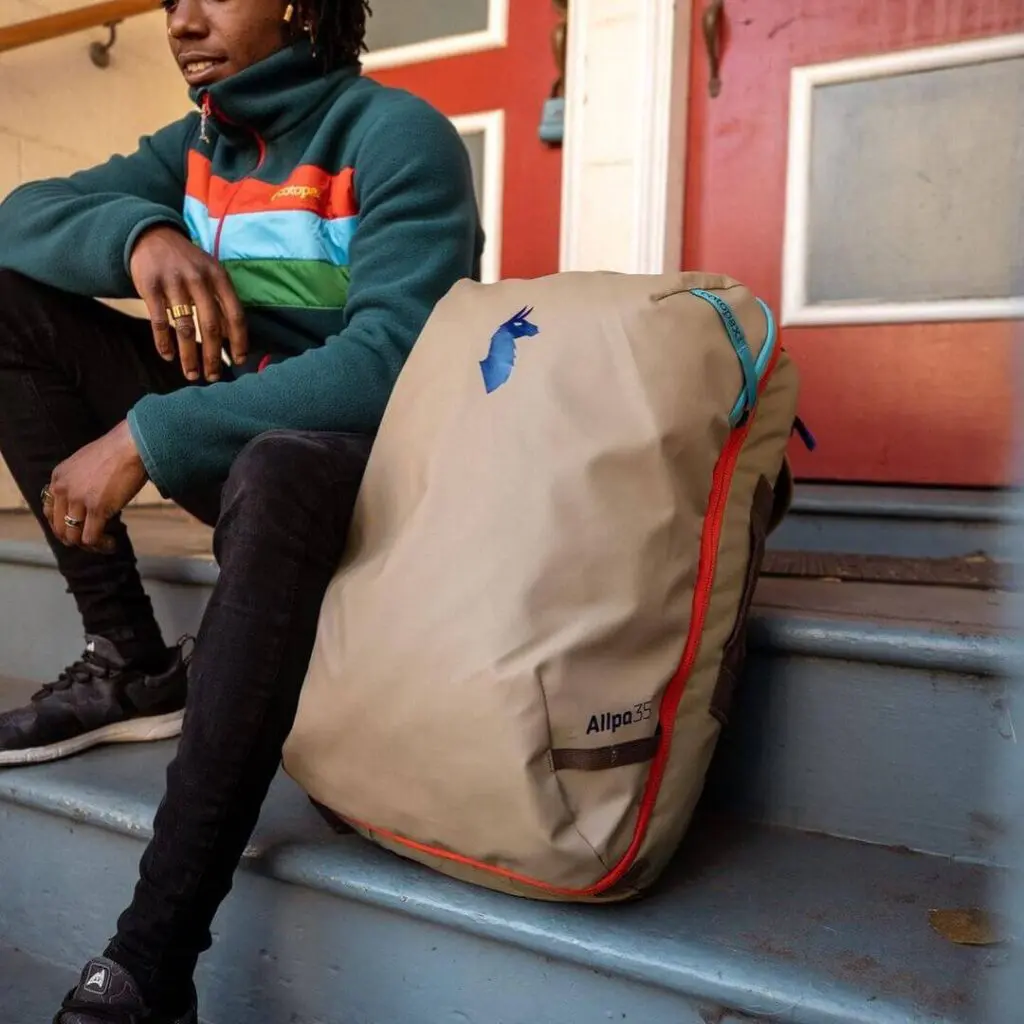 Materials Used: Repurposed fabrics
Price Range: $75-$220
Sustainable by Design, Cotopaxi creates thoughtfully made outdoor gear and backpack collection, including eco-friendly laptop bags, duffel bags, carry-ons, and totes. Its products are made in vibrant colors using 100% repurposed fabric which consists of unused left-over materials from other companies' production units. The totes and laptop bag dimensions are perfect to fit in any 13-inch to 15-inch laptop and have a soft fleece lining to give your gadget an extra padded protection.
Cotopaxi is a certified B Corp that maintains a transparent supply chain and works with fair trade facilities that ensure workers' rights. In addition, it is an entirely carbon-neutral label that strives to reduce its carbon footprint by launching repairs and resale options to help extend its products' lives. Every year 1% of its revenues is donated to the Cotopaxi Foundation. This charity works with various non-profits fighting poverty and funding health and educational development in the poorest communities of Latin America.
3. Terra Thread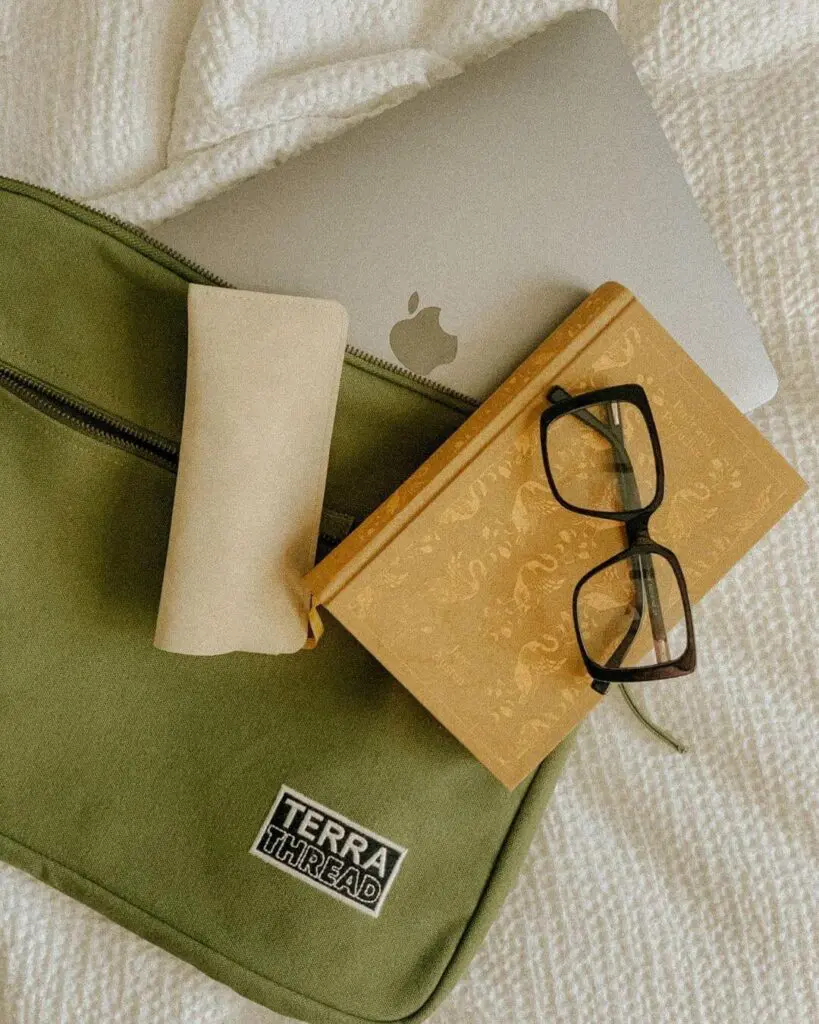 Materials Used: GOTS Certified Organic Cotton
Price Range: $35-$57
Terra Thread's sustainable range of bags are made with people and the planet in mind. Designed to fit into your everyday life ideally, its collection has everything from gym bags, mesh and tote bags to backpacks and sleeves for your laptop. And the best thing— the label uses 100% rain-fed organic cotton to build its entire line of products. With sustainability at its heart, everything at Terra Thread is produced in certified Fair Trade factories, where workers are paid fair wages and offered secure working conditions. The planet-friendly label's supply chain is also very transparent and traceable from the first stage of production.
Moreover, Terra Thread is a certified B Corp that is completely carbon-neutral as it offsets its carbon emissions by investing in various reforestation, and social development projects. Plus, for every tote bag or laptop sleeve you purchase, it helps and supports the Feeding America initiative, where meals are donated to underprivileged families.
4. O My Bag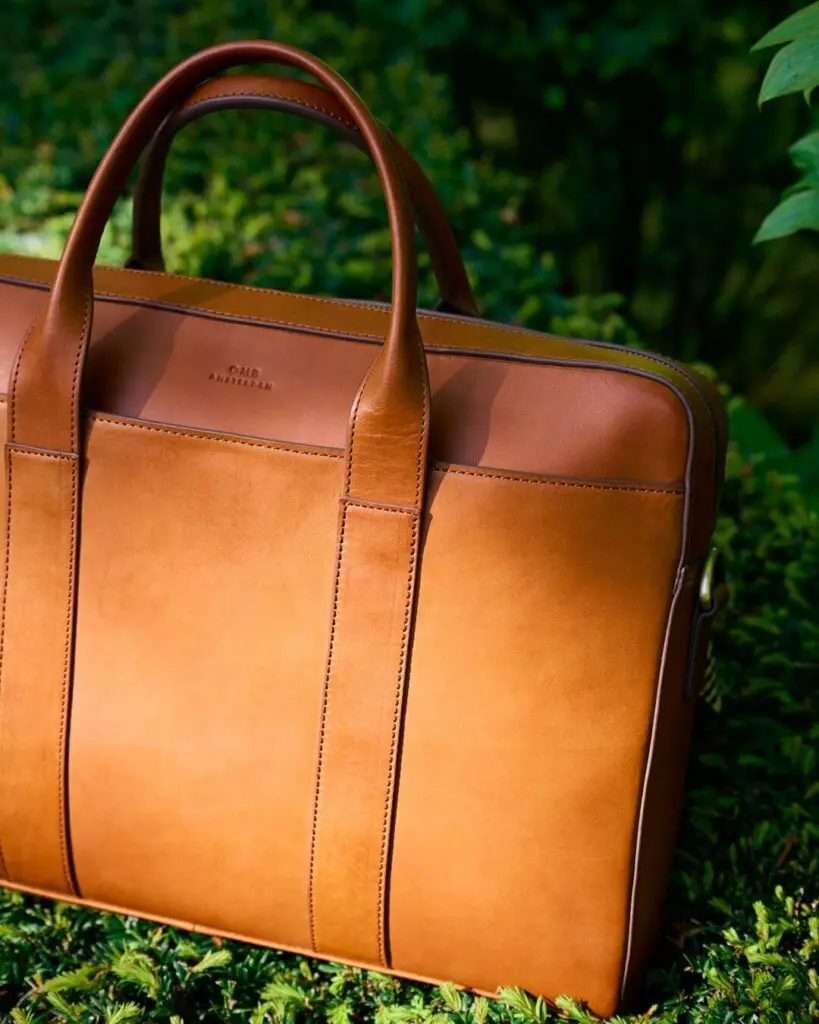 Materials Used: Organic Cotton, Responsible Vegetable tannin leather
Price Range: $32-$129
O My Bag was born with the mission to bring a positive difference in the world. Its beautiful collection of bags is handcrafted with love in small ethical factories in India where women artisans earn a fair livelihood. While its entire list of products is irresistible, it's especially hard to ignore the laptop bags line, which are incredibly sleek and sophisticated. All of O My Bag's products are either made from organic cotton or responsible leather, which are tanned with vegetable tannins without any synthetic coating. This tanning method is toxin-free and helps the leather age beautifully by getting softer and developing a rich deep color and sheen over time.
And for our vegan peeps— O My Bag also has a cruelty-free line made from apple leather, so that you won't miss out on all the fun! The Dutch label is certified as a B Corporation and has also won the Sustainable Leather Awards in 2015. In addition, it donates 1% of its annual revenues to support local Indian projects that focus on education, women empowerment, and innovation.
5. Parker Clay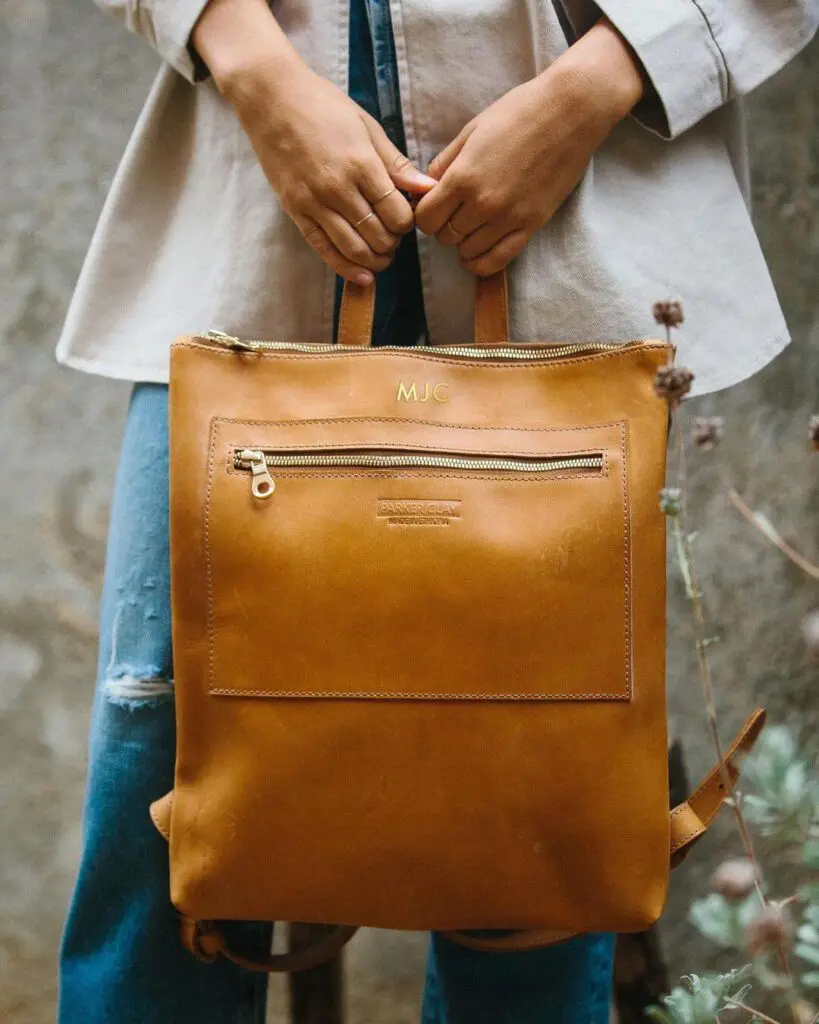 Materials Used: Sustainable leather
Price Range: $78-$498
B Corp certified Parker Clay offers premium leather bags handcrafted by underprivileged women of Ethiopia who used to work in the commercial sex industry. With every purchase you make, these women are empowered with stable jobs to build a better and dignified life for themselves and their families. While the label has a stunning line of bags in every category, its laptop sleeves are exceptionally sleek. Everything is handmade using responsibly sourced leather from the local Ethiopian farming industries. The tanning process is done by skilled craftsmen using traditional techniques and recycled water.
Parker Clay's laptop bags are designed to last while creating a fashion statement because sustainable leather develops a unique shine and darker color as it gets older. This means the more your bag ages, the classier it will become! Wow! And you can also customize your sleeves with leather monograms to make them unique and personalized.
6. Issara
Materials Used: Sustainable leather, Cotton twill
Price Range: $139-$220
Issara is a sustainable lifestyle label that crafts minimalist-looking leather briefcases, wallets, laptop bags and sleeves ideal for travel and work. Established on the belief in creating well-made products at affordable pricing, Issara combines superior quality full-grain leather and intelligent design to create bags that last. You will absolutely love its simple yet stylish laptop sleeves that come in classic colors like black, navy blue, orange, brown, and dark red. Each sleeve features polished Japanese zippers, has an internal pocket, and comes with a padded lining to protect your electronics while on the go.
With a dedication to sustainable and ethical practices, Issara's products are made from premium milled leather, tanned using chrome salts and vegetable tannins. The hides are sourced from a BSCI-certified and ISO 14001 compliant family-owned tannery in New Zealand. And production takes place in two of its partner workshops in Java and India, where skilled artisans create the products.
7. Solgaard
Materials Used: Recycled plastic bottles
Price Range: $145-$245
Solgaard's product line is concise, powerful, and of course, super sustainable. It houses a variety of high-performance luggage and backpacks, all of which are entirely made of recycled ocean plastic waste. Its Lifepack bags and Hustle backpacks are next-level innovative with unique features like a solar-powered charger, drop-proof laptop sleeve, secret compartments, and an anti-theft lock. The bags come in structured shapes and is definitely worth investing in.
Solgaard is on a mission to become climate positive and for every order placed, it rescues 229 plastic bottles from the oceans. So far, it has offset more than 22.9 million plastic bottles in collaboration with collection groups like The Plastic Bank, EcoRanger Indonesia, and so on.
8. Opus Mind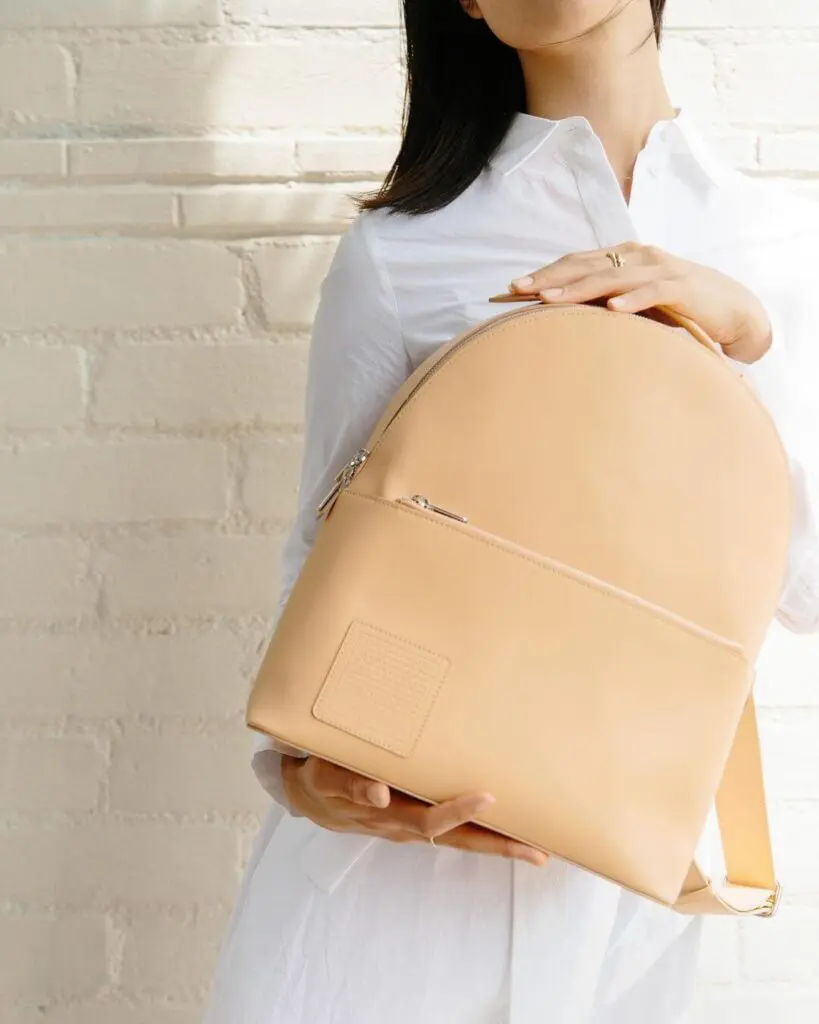 Materials Used: Upcycled leather scraps
Price Range: $425
Opus Mind was brought to life by founder Kathleen Kuo, who used to be a leather specialist at the luxury brand Chanel. After years of witnessing the amount of leather waste in the production of fashion and luxury products, Kuo was determined to make a difference. Hence, she introduced a label that disrupts the wasteful fashion industry and focuses on circularity.
Opus Mind's entire collection is made from recycled scraps sustainably sourced from RecycLeather™, a tech company that upcycles leather fibers from used and traceable leather waste. Its products are ethically crafted in a reputed family-owned factory in Florence, Italy, where artisans have been working for decades. My recommendation? Opus Mind's circular backpack, which is super chic and comes in various shades, perfect for packing in a 13-inch or a 15-inch laptop and other essentials to get you going for the day.
9. Fjällräven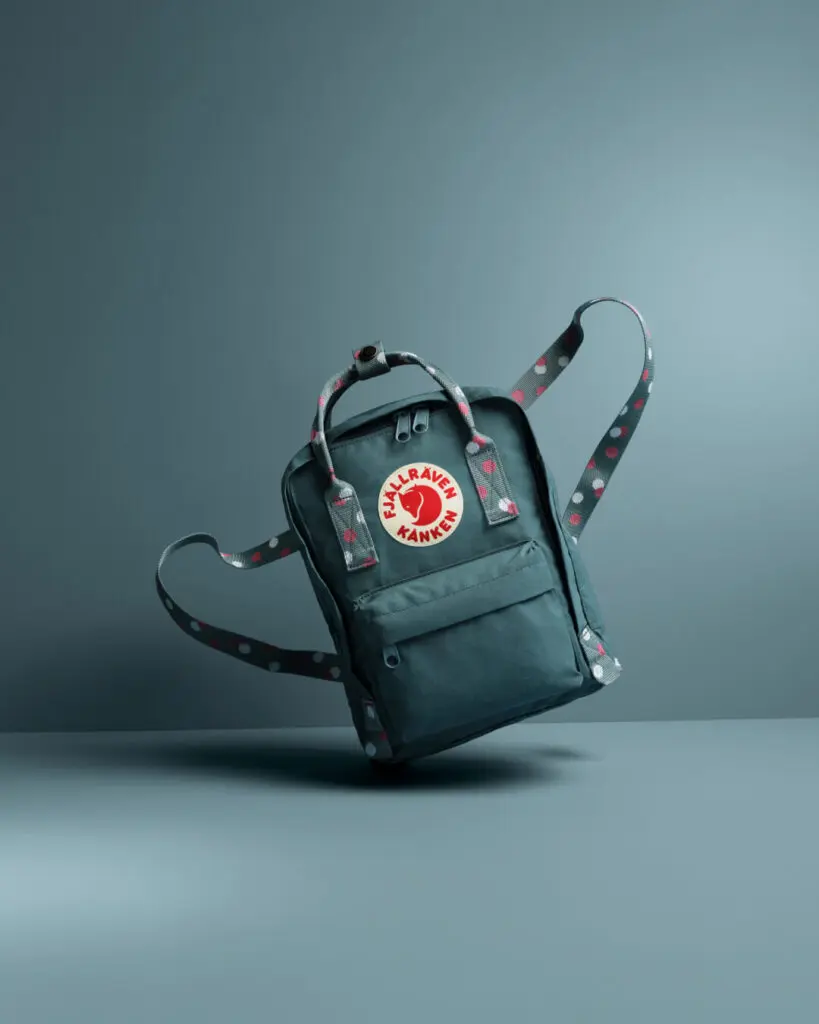 Materials Used: Sustainable materials like Hemp, Tencel, Recycled nylon, Recycled polyester, and so on
Price Range: $89-$169
Fjällräven is a renowned Swedish outdoor clothing, backpacks, and gear brand. Its laptop bags are extremely sturdy, lightweight, and functional to seamlessly get you through your daily life, short trips, and light hikes. Made from low-impact fabrics like upcycled nylon, these sustainable backpacks are waterproof and have a padded lining to protect your laptop and other gadgets.
Committed to sustainability, Fjällräven constantly innovates to lower its environmental footprint. Its products are consciously designed to stand the test of time and last you for decades. In addition, the company also provides detailed care and repair guidelines to prolong the life of your merchandise. Fjallraven has a strict Code of Conduct for its suppliers based on the Fair Labor Association's Workplace. These standards ensure that production practices can in no way violate human rights and animal welfare, and work towards sustainable development.
10. ECOSUSI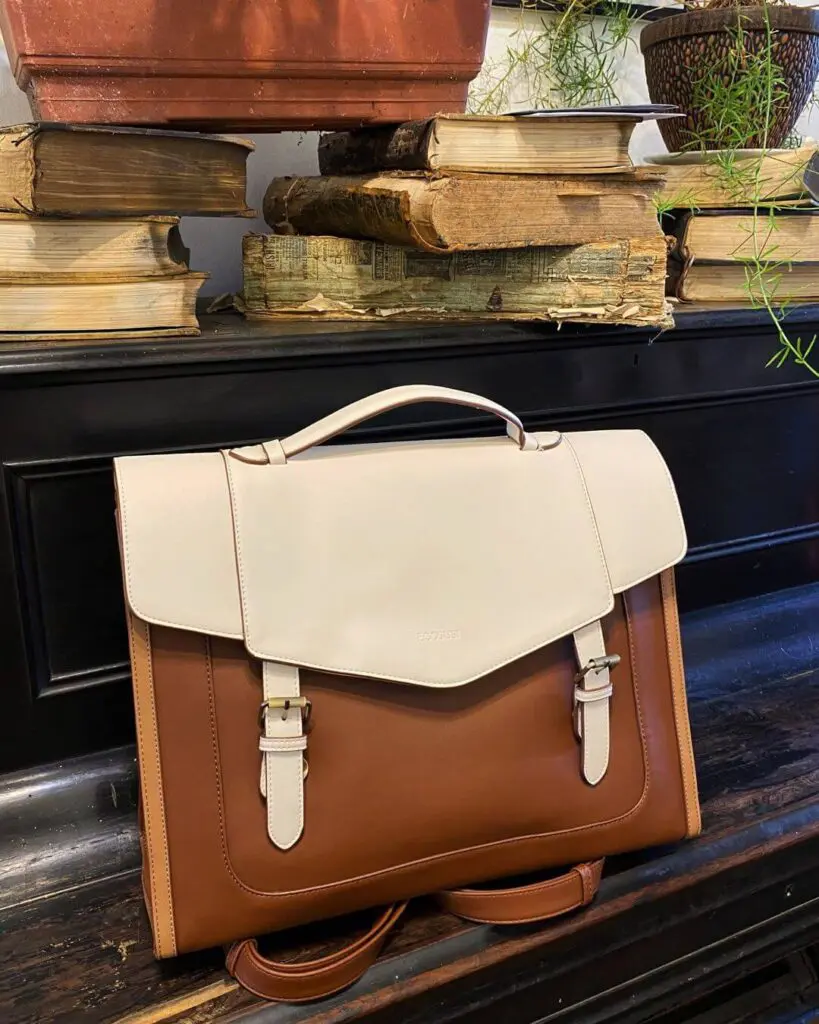 Materials Used: High-quality vegan leather and Upcycled materials
Price Range: $65-$89
ECOSUSI is a fast-growing vegan fashion brand that sells supremely aesthetic and vintage-inspired briefcases and totes. While the tote bags are roomy enough, the briefcases have separate compartments to fit any laptop up to 16 inches along with an ipad. Designed with practicality in mind, these bags are made from planet-friendly vegan leather and have a rustic look that appeals to modern style.
The company strongly advocates its responsibility to protect nature, animals, and people. Hence, it has sworn never to use leather or any animal-derived materials in its products. ECOSUSI's collections are made in factories that share the brand's value of ethical practices. It regularly visits these partner facilities to ensure a fair trade system where employees' rights are protected, especially the women workers.
11. Day Owl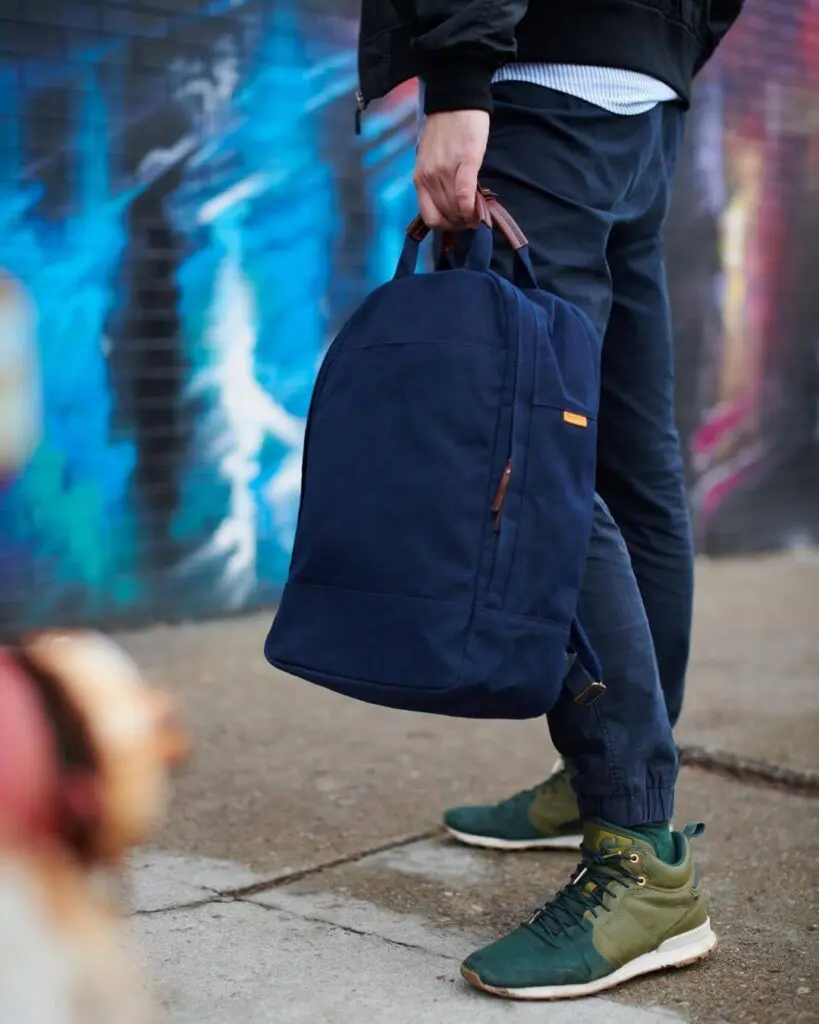 Materials Used: Recycled plastic waste
Price Range: $135-$155
Day Owl creates backpacks that can literally carry everything from day to night. Made from upcycled plastic bottles, these all-rounder unisex bags come in a selection of beautiful neutral colors and two sizes to choose from. On a note, to become circular, the label encourages consumers to send the backpack back once it is worn out. The used backpacks are recycled to be transformed into fresh bags, so nothing ends up in landfills. And you get a good deal on the purchase of your new gear. A win-win for all!
Intending to build a completely circular bag company, Day Owl operates with its sister organization First Mile®, to source the landfill-bound plastic materials that act as its products' core material. Certified as a B Corp, the company observes the highest environmental performance standards and supports ethical practices by creating meaningful jobs locally.
12. Dare To Roam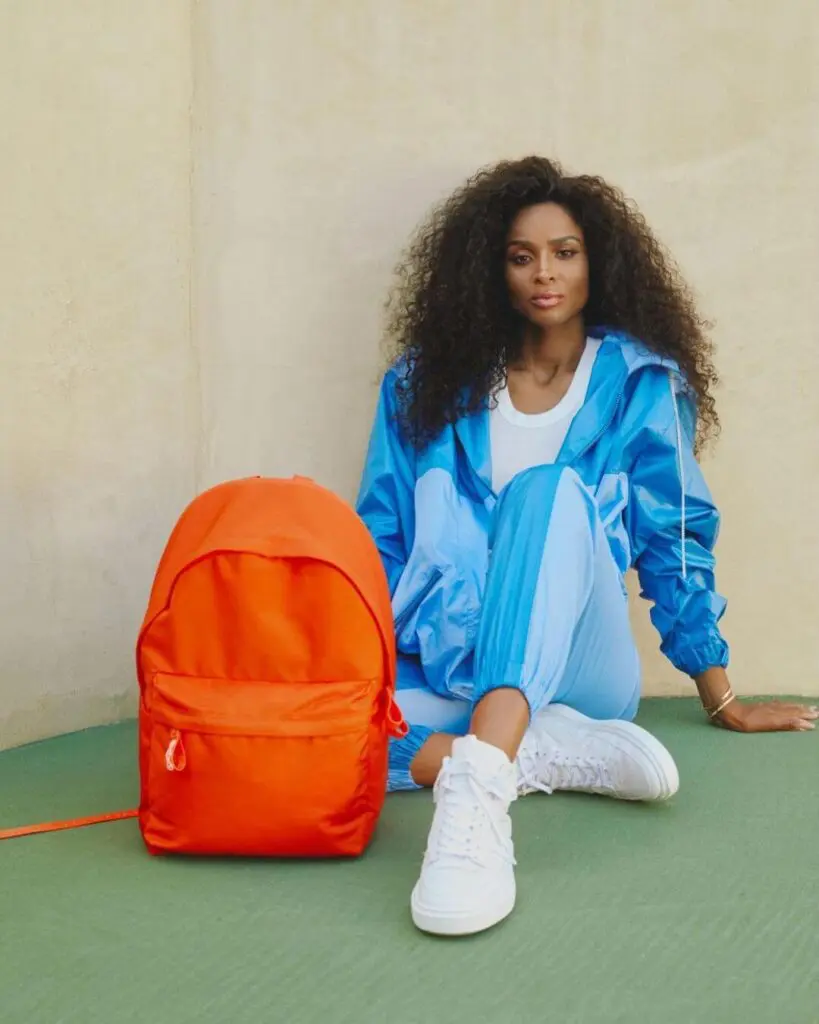 Materials Used: Nylon, Polyester, Recycled Nylon
Price Range: $60-$98
Dare To Roam is fit to your new go-to everyday gear brand offering a highly-functional, durable and innovative range of backpacks, duffle bags, tote bags, and laptop cases. Its products are ethically made with its patented Antimicrobial technology that uses silver ions to eliminate the growth of bacterial formations like mold, mildew, and fungi. This feature makes the bags water-resistant and odor-free, resulting in them staying fresher for longer and requiring fewer wash cycles.
Certified as a B Corp, Dare To Roam uses 100% biodegradable and recyclable plant-based shipping bags and mailers to dispatch every product. It also maintains a Giveback Program where 3% of the company's profits go to the Why Not You Foundation. This charity is a non-profit established by the label's founder herself, and is dedicated to fighting poverty and working towards children's health and education.
13. MATT + NAT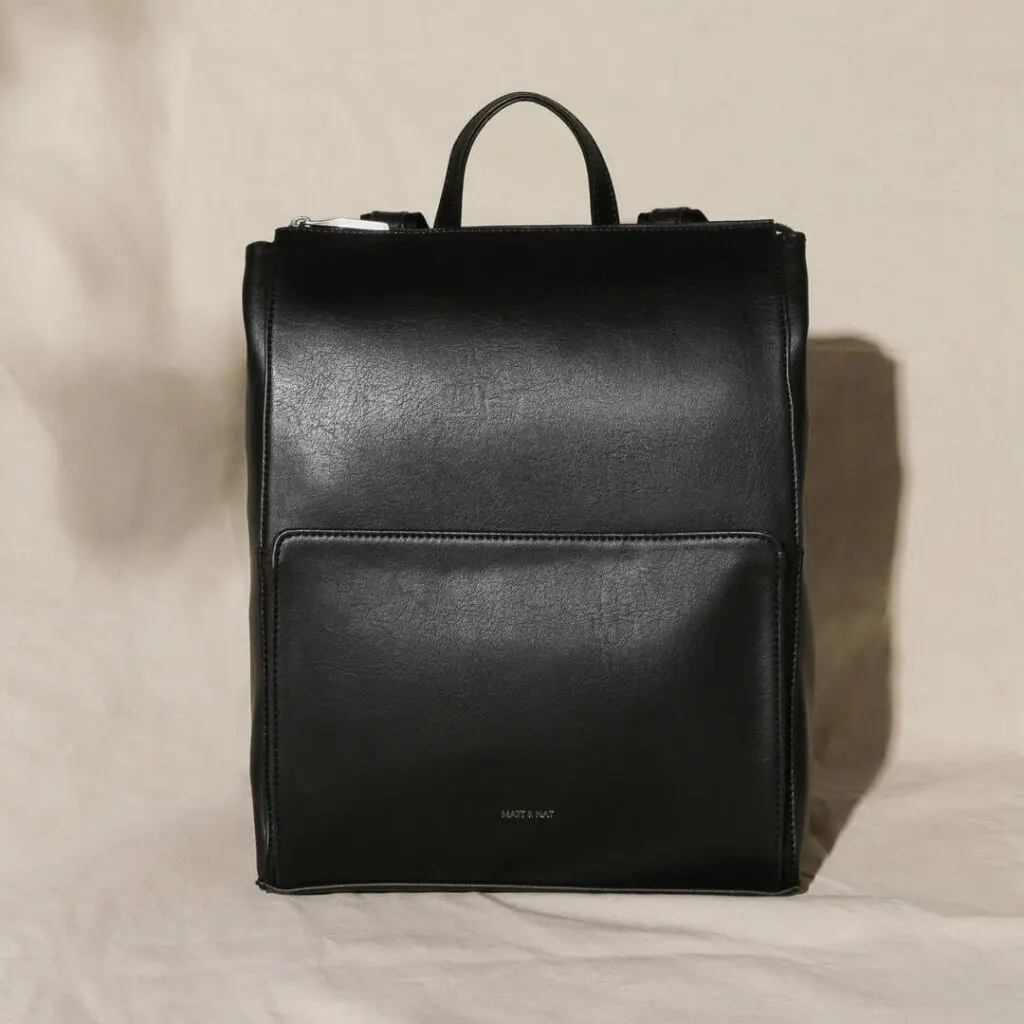 Materials Used: Cardboard, Rubber, Cork, Fruit skin, and Upcycled plastic bottles
Price Range: $99-$149
Launched in 1995, MATT + NAT is a vegan, cruelty-free lifestyle company offering a premium selection of highly functional briefcases, backpacks, and totes fit for your laptop. These bags are designed in timeless and structured shapes with separate compartments, magnetic closure, and soft but sturdy inner lining to protect your gadgets while you are on the move.
The label uses sustainably sourced materials like cardboard, rubber, cork, and recycled plastic bottles for its bags. MATT + NAT's products are designed in its home ground, Montreal, Canada. Production takes place in audited facilities that prioritize workers' well-being by providing a safe working environment, reasonable work hours, and fair wages. The brand constantly adopts new and better approaches by extending its innovative and sustainable raw materials line.
14. Flowfold
Materials Used: Recycled polyester and Recycled nylon
Price Range: $40-$119
US-based sustainable brand Flowfold creates minimalist and high-quality wallets, backpacks, dog gear, and other accessories using eco-friendly materials. It has a vegan laptop bag and sleeve that look simplistic on the outside but is well-built and highly functional, with a padded interior structure that protects the laptop from scratches, drops, and bumps. These pieces come with an outer zip pocket, convenient for storing all your tech accessories, like charger, earphones, and mouse.
Made with durable and water-repellent recycled fabrics, these bags are free from toxic coatings like PVC, TPU, and DWR. Flowfold's products are made in Maine with a commitment to supporting local communities while maintaining complete control over design and production. And the best thing? All these merchandises are backed with a Lifetime Guarantee.
15. Honorable Mentions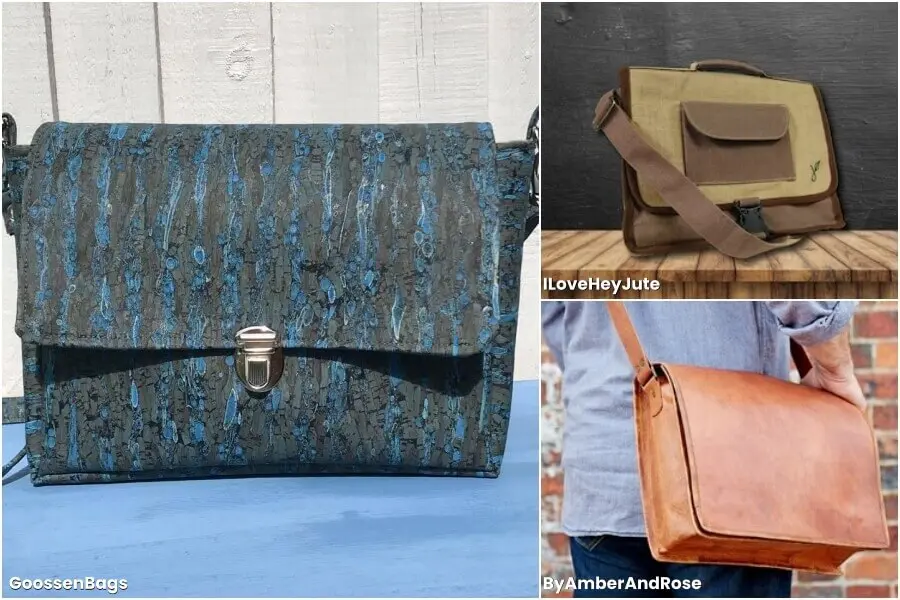 Materials Used: Low-impact materials like Upcycled fabrics, Jute, and Vegan leather
Price Range: $50-$72
Whether it is Goossens Bags, By Amber and Rose, or I Love Hey Jute, these small businesses strive hard to make things better for the people and the planet with their ethically made eco-friendly bags. With over 1000 sales and five-star reviews, these brands are here for your precious gadgets.
A Final Word…
Laptop bags, or any kind of backpack, for that matter, are usually considered unsustainable. Reason— most brands take the easy way to create these items with materials that harm the planet, one way or the other. However, sustainable bag companies are bridging this gap by creating backpacks and laptop sleeves that are eco-conscious fashion necessities. The labels mentioned above are trying their best to do everything ethically and sustainably! And it's time to make our laptop bags worthwhile by investing in pieces from these brands that are guaranteed to last the wheel of time.