Disclosure:
Our editors handpick top-rated brands, vetted through our strict ratings. Purchases via our links may earn us a commission.
Learn more
Phones have become the heartbeat of today's world. And for that reason, it's only practical to get a phone case in order to protect our precious device from potential damage. While it's certainly an incredibly conscious idea to prolong our phone's life, it's crucial to consider the impact of our choices on the planet. One way to do so is by investing in premium-quality eco-friendly phone cases.
Sustainable mobile cases not only protect our phones from accidental drops, bumps, and scratches but also minimize our carbon footprint. With an increasing demand for planet-friendly products, many phone case manufacturers have started producing greener options that are both durable and dapper. In this article, we'll explore the benefits of eco-friendly phone cases and highlight some of the best options available in the market.
Best Eco Friendly Phone Cases
1. agood company
2. CASETiFY
3. EcoBlvd
4. Nimble
5. Skate4Create
6. MMORE
7. Reveal
8. Wave
9. Native Union
10. Pela
How We Chose the Best Eco-friendly Phone Cases for You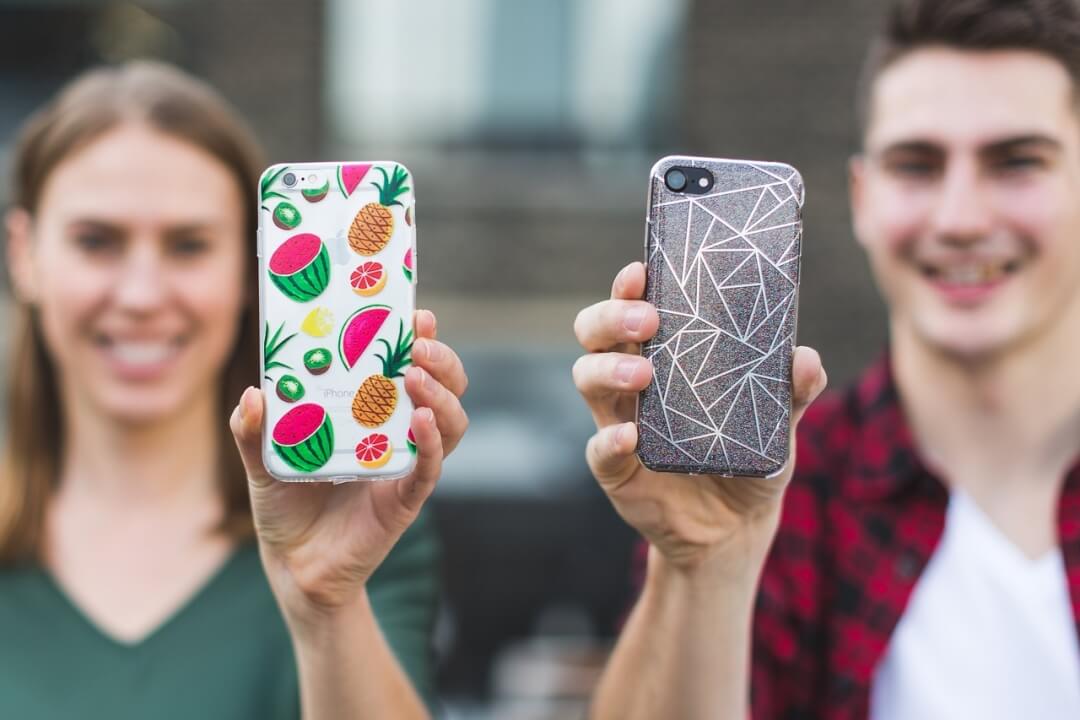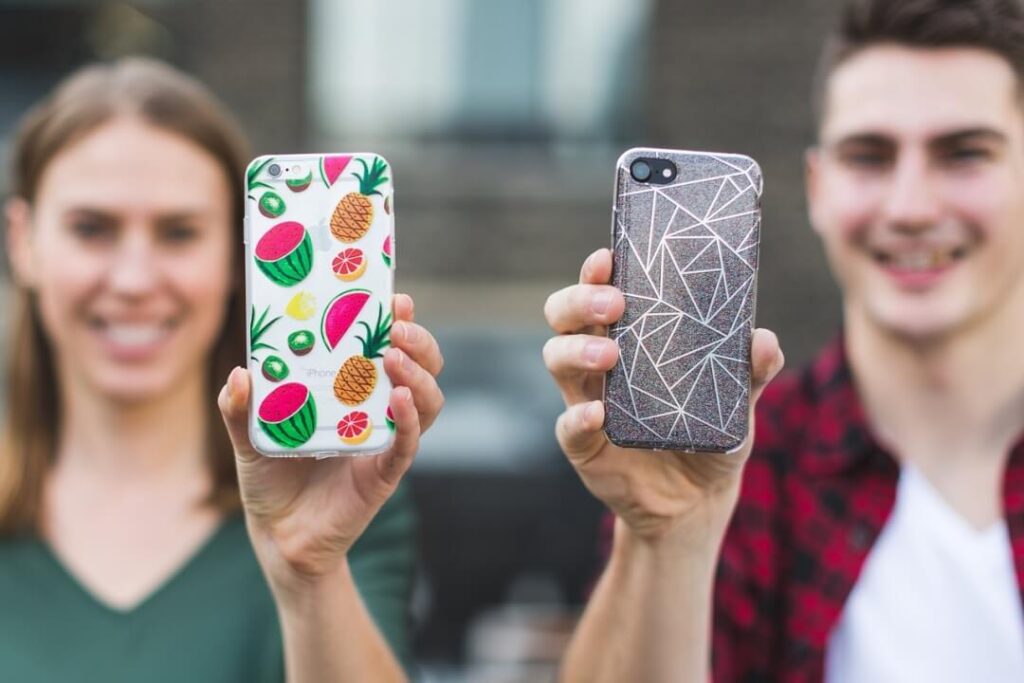 Sustainable Materials: The first criterion has to be eco-friendly materials such as bamboo, wood, flax, cork, certified leather, or recycled plastic. These materials are renewable, repurposable, and compostable, resulting in a lower carbon footprint than conventional cheap plastics.
Biodegradability: This is an important aspect we checked for while searching for eco-friendly phone cases. It's important to ensure that the phone cases biodegrade over time so that they don't end up in landfills and pollute the environment for centuries.
Chemical-Free: Commercialized plastic phone covers contain harmful chemicals such as phthalates, BPA, or PVC. These chemicals can leach out of discarded phone cases and destruct the environment. However, we hand-pick brands that do not use such synthetics and instead create clean, chemical-free phone cases.
Durability: Of course, phone cases have to be high-performance and strong enough to last for years, so you don't need to replace them often. That's why, we listed cases that are built to effortlessly withstand drops, scratches, and everyday wear and tear. A durable phone case drastically helps in minimizing the amount of waste generated over time.
Recyclability: We are advocates of a circular economy, so a recyclable phone case definitely has a thumbs up from us. Like, what could be more thoughtful than reusing existing materials and turned into new products instead of throwing them away? And it's absolutely admirable for eco friendly phone case manufacturers who even offer recycling programs for their already sold phone cases.
Carbon Neutral: To guarantee that the entire production process of your phone case is sustainable, we vouch for brands that are carbon neutral or are actively working towards offsetting their carbon emissions.
Style: Choosing an eco-friendly phone case doesn't mean you have to compromise on style. In fact, sustainable phone case brands offer plenty of options, ranging from various colors, and fun designs to textures to match your unique personality and preferences.
Affordability: It's true that eco friendly phone cases are pricier than cheap plastic covers that are easily available in anything between $1-$5. But they are easily breakable and do not last long. On the other hand, sustainable cases provide the highest level of protection and last for years, making them a cost-effective option in the long run.
Reviews: Brands listed in this feature are applauded for their impeccable quality phone cases by a bevy of sustainable consumers. So you're definitely checking the right labels at the right place for making a rightful decision.
Our Top Pics of the Best Sustainable & Eco Friendly Phone Cases
Both technology and the environment are of great importance for a thriving future. And nothing could be better when the two complement each other in the form of well-crafted products made with the earth's welfare in mind. So keep your phone and the planet protected by switching to the best eco friendly phone cases from agood company, CASETiFY, Nimble, Ecoblvd, Skate4Create, MMORE, Reveal, Wave, Native Union, and Pela.
1. agood company
Material: Flax & Hemp
Available for: iPhone & Samsung
Price: $30-$35
If you're looking for a phone case that is both stylish and sustainable, then 'agood company' is going to tick all the boxes. Deep-rooted in sustainability, the brand firmly believes in taking mindful steps at every stage of its product's journey. Therefore, they promote conscious consumerism by creating eco-friendly mobile cases, ethically crafted using locally sourced natural materials. Its designs range from solid colors to eye-catching prints, ensuring that there is a case to fit every taste and preference.
agood company's phone cases are the world's most climate-friendly mobile accessories as they are produced by upcycling compostable linseed plant waste. Hence, they are completely biodegradable, helping you in minimizing your carbon footprint. What's more? Their production process does not involve any synthetic materials or water wastage. And I can't sing enough praises for the cases' durability. Like, each mobile case has a textured and super-amazing grip that keeps your phone safe and secure at all times. So cool!
Certified as a B Corporation, agood company is definitely raising the bar as one of the best eco-friendly phone case brands that prioritize the planet's well-being over profit. The Climate Neutral label even uses Cradle to Cradle Stone Paper packaging instead of plastic. Plus, it has a circularity program, agood loop,whichgives you the chance to swap your old mobile case for a discount on the next one.
In addition, the company actively contributes to society by funding various worthy causes across the world. So, by purchasing one of their phone cases, you can not only protect your device and the environment but also directly support initiatives like the Malala Fund, which works towards protecting women's education.
What We Like
agood company uses kind-on-the-earth compostable materials. The phone case collection comes in sleek solid colours and vibrant prints for people who love to go all out with their devices. Engaged in philanthropic efforts to better the world.
What We Don't Like
We would love it if these awesome phone cases are made available for more makes than just iPhone & Samsung Galaxy models. In case of heavy handling, these cases might show signs of wear and tear after a few months .
2. CASETiFY
Material: Recycled Plastic, Ecotify™, Bioplastic, Bamboo, & Leather
Available for: iPhone, Samsung, Google Pixel
Price: $40-$85
CASETiFY is home to all kinds of sustainable tech accessories, such as iPad covers, MacBook cases, the best eco friendly phone cases, and everything else to protect your devices. Creating "Real Cute & Real Tough" custom mobile covers, the brand perfectly merges functionality, durability, and style to design its cases that not only look great but also keeps your phone secured.
CASETiFY'S cases are made from high-quality materials that provide a superior level of protection against drops, scratches, and so on. Plus, they are designed to be slim and lightweight, ensuring that your phone remains easy to use and carry. The best thing? Even the customization option is available!
As one of the fastest-growing global tech accessories companies, CASETify has pledged to continuously improve its sustainability efforts. Therefore, to close the loop, it launched a "Re/CASETiFY" section in 2021. It comprises of phone cases made from 65% recycled and plant-based materials, including old phone cases. The label has so far recycled over 51,000 used phone cases under this program. In addition, for every phone case sold, the brand plants one tree.
What We Like
Super cool designs to add a pop of colour to your phone. Phone cases are not bulky and have a good grip. It's a one-stop spot for all your tech accessories.
What We Don't Like
Deliveries get delayed in case of models with NIL inventory. In some phone cases, the adhesive might disintegrate after prolonged use. Expensive for people on a tight budget.
3. EcoBlvd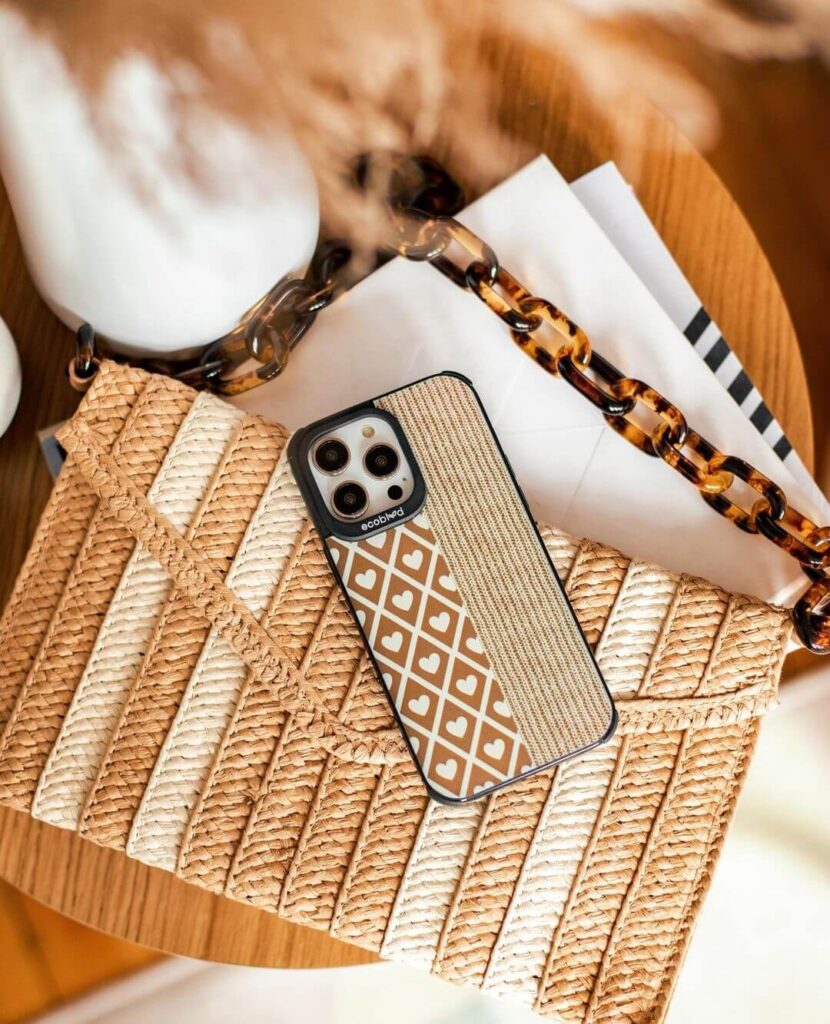 Material: Plant-based materials such as InnoMaize™ (corn-based plastic), & CornBo™ (bamboo-based plastic)
Available for: iPhone & Samsung Galaxy
Price: $30-$58
For a huge collection of aesthetically-pleasing phone cases, you have to check out Ecoblvd. Founded in 2018, this label is confident that "to eliminate waste, we must work together." Hence, by combining style and sustainability, it provides fashionable eco friendly phone cases that educate and inspire people to maintain a cleaner, greener world.
Featuring runway-inspired gorgeous designs at accessible prices, Ecoblvd solely uses renewable and reusable resources, guaranteed to minimize your environmental impact. The phone cases are built to last and have a flexible design that gives you a sturdy and non-slip grip. They are also equipped with maximum shock resistance and come with 6FT drop protection. Impressive!
Ecoblvd's sustainability practices go beyond the materials they use. Its initiative, "#Root2Renew," works towards renewing our relationship with Earth by protecting the ecosystems and natural resources. Furthermore, it uses compostable packaging and has partnered with Carbonfund.org to offset its carbon emissions. The brand is also a proud member of the 1% for the Planet initiative, donating 2% of annual revenues to non-profits like Ocean Conservancy, Mojave Desert Land Trust, and National Forest Foundation.
What We Like
Ecoblvd uses innovative and sturdy bio-based materials that will biodegrade over time. Elegant selection of prints and textures. Plus, the phone cases have good shock absorbency features.
What We Don't Like
Not all phone cases are equipped with handling defences against irregular drops.
4. Nimble
Material: Recycled PET, Recycled Polycarbonate, Recycled Silicone, Recycled Silicone, Recycled Aluminium, etc.
Available for: iPhone
Price: $25-$33
When it comes to ethically made sustainable phone cases, Nimble will give you the whole package. Creating "Tech for Good," this American brand manufactures phone cases made from recycled materials like old phone cases, recycled PTU, 100% recycled compact discs, and so on. The brand strongly advocates protecting the earth's resources, thereby championing low-impact production and high-impact protection.
Standing true to its sustainability values, Nimble designs phone cases that will last you for years. They are tested to protect your phone from scratches, drops, and bumps and have a non-slip texture with a hard protective shell. Each case comes with a 90-day risk-free trial and has a two-year warranty.
Nimble is a B Corporation that diverts waste from nature by producing all products and packaging with repurposed materials. To date, it has successfully diverted 331001 pounds of waste from landfills and aquatic ecosystems. It is also a member of the 1% for the Planet cause and donates to the Sheldrick Wildlife Trust, which protects orphaned elephants and endangered species across Africa.
What We Like
Nimble's cases are scratch-resistant, antimicrobial and perfectly fit your phone. The raised lips at the edges offer great protection to the phone screen. The company's commitment to protecting the planet is definitely commendable.
What We Don't Like
Creates phone cases only for iPhone users. While the pricing isn't really high, it's not cheap as well, so might not be accessible for everyone. Also, the open bottom part does not provide your phone with the most heavy-duty protection.
5. Skate4Create
Material: Upcycled skateboard wood
Available for: iPhone, Samsung Galaxy & Google Pixel
Price: $45-$60
Ever thought of a skateboard turned into a mobile case? Because Skate 4 Create is just doing that! Owned and operated by skateboarders, this brand recycles old, snapped, and discarded skateboards by transforming them into the best eco-friendly phone cases. One of the key features of Skate 4 Create's cases has to be their unique designs.
Each case is handmade in-house from broken skateboard decks and a black polycarbonate bumper, resulting in a one-of-a-kind, colorful design that reflects the skateboard's distinctive history and character. As far as device protection is concerned, the wooden shell is perfect for durability. The cases have a decent shock absorption feature and a good grip, preventing slip-offs.
Skate 4 Create's sustainability practices are also noteworthy. It responsibly sources materials from skate shops, skate parks, and skateboard communities, helping keep nearly 2 million skateboards away from landfills annually. Other eco-friendly raw materials include bio-resin and organic oil to protect the phone covers, further enhancing their durability. So, whether you're a skateboarder or not, this brand definitely deserves your attention for crafting the most sustainable phone cases.
What We Like
Skate 4 Create's sustainable phone cases are made from skateboard wood inlays creating a unique grain pattern that looks edgy. The lightweight and snap-fit construction is perfect for everyday use.
What We Don't Like
The phone cases are expensive, so not for people looking for an affordable eco-friendly option.
6. MMORE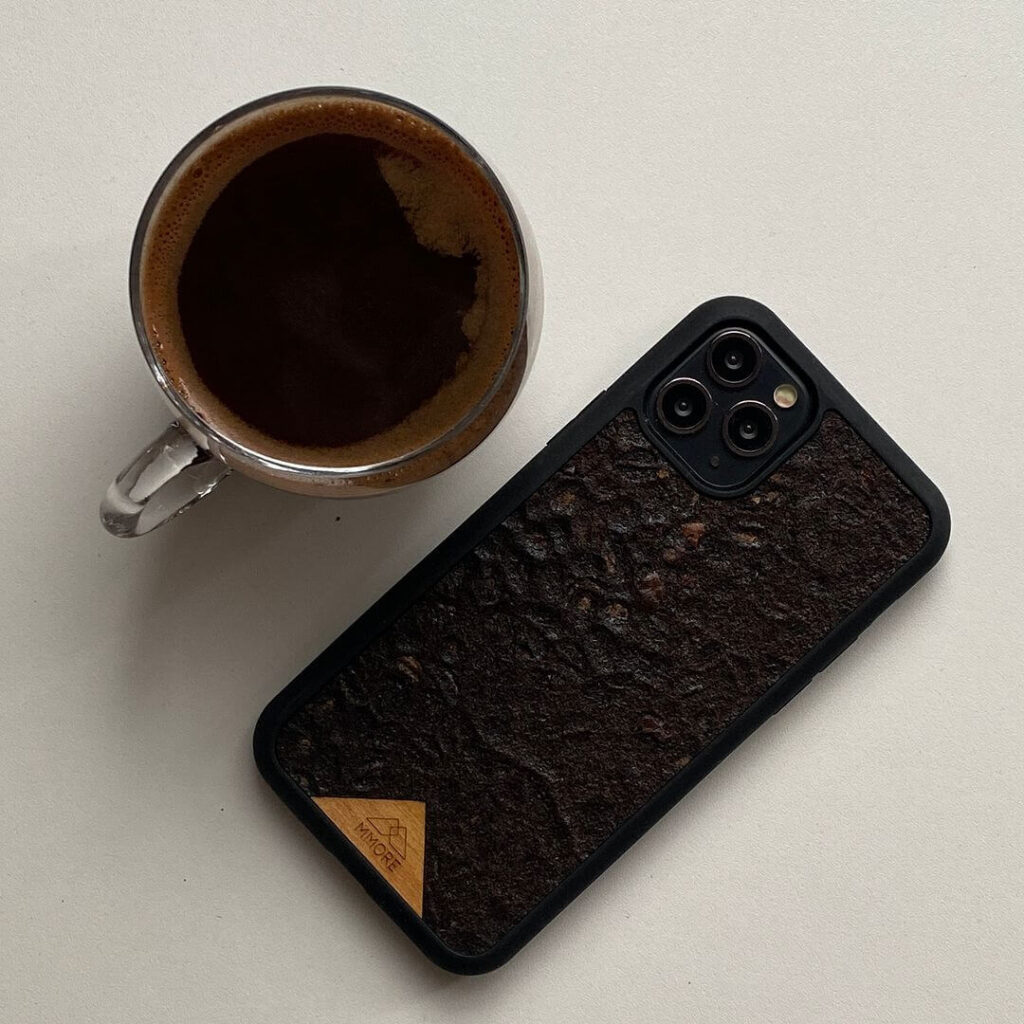 Material: FSC Certified Wood & Organic materials
Available for: iPhone, Samsung Galaxy & Google Pixel
Price: $25–$60
Eco-friendly phone cases with a whiff of lavender, coffee grinds, or forest moss, anyone? What? Not kidding! Because MMORE is taking the sustainable mobile accessories game to the next level by infusing the cases with real scents of nature. Whoa! As the world's first sustainable organic phone case brand, MMORE aims to bring you closer to nature in your everyday busy life, with the touch and fragrance of nature in the palm of your hands.
But how is that actually possible? Well, the organic materials used by the brand are pressed into the back of the bioplastic case, which is then sealed with a sugar-based resin locking in the natural scents. While the aroma will last for about 3 months, it certainly adds in to the excitement of getting a new sustainable phone case.
With eco-friendliness in-built into its DNA, MMORE only uses organically harvested materials and certified FSC wood. Production takes place in an SGS-certified fair trade environment, and the brand gives back to the planet by planting a tree for every phone case sold. Approved by nature, this brand has a different vibe altogether, as it strongly believes that you and the environment deserve nothing but more!
What We Like
MMORE's take on creating phone cases with natural fragrances is definitely a unique way of representing itself as a brand close to nature. These scented phone cases definitely deserve your attention. Plus, the brand's customer service is very responsive, so no worries about delays.
What We Don't Like
Some of its wooden cases are not sanded enough, giving an unfinished look. Their flower range of cases might result in some flowers falling off, but that's because the brand uses all-natural materials, including the glue used to fix the dried flowers.
7. Reveal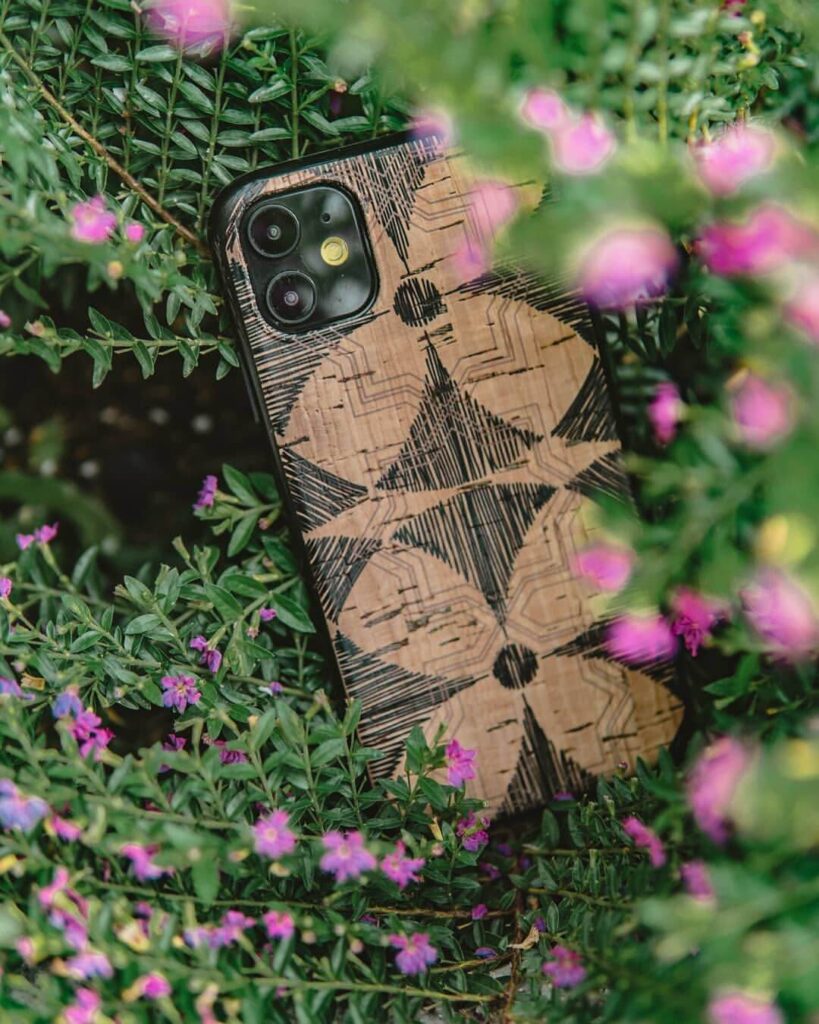 Material: Responsibly sourced Wood, Bamboo, & Cork
Available for: iPhone
Price: $19-$35
Reveal designs sleek and sustainable tech accessories that are good for you and the planet. Offering a limited selection of eco friendly phone cases, every piece by this brand has a supple touch and exudes timelessness. Each case will transport you to the peaceful woods as they are crafted using the highest quality responsibly-sourced bamboo, cork, and hardwoods.
While some of the designs have the classic, all-natural grain look, others have a more eccentric twist, with details like colored graphics or bright resin swirls. Whichever style you pick, each case is a great combination of style and protection. They feature a shock-absorbing silicon inner shelf and a naturally non-slip grip to protect your phone against drops. Plus, the cases are lightweight and designed with functionality in mind, providing easy access to all ports and buttons on your phone.
Committed to reducing its carbon footprint, Reveal plants a tree for every item sold under its "Replant Program." It also partners with organizations that are trying to combat the rising climate crisis.
What We Like
Reveal's phone cases are lightweight and have a smooth texture that prevents slip-offs. The woody touch feels comforting and natural, and the printed cases hold colours without fading out for way longer. Raw materials used are completely natural, so they will biodegrade easily.
What We Don't Like
Small collection of phone case designs and only available for iPhone models. All cases are not equally equipped with a superior level of protection; in fact, some have limited coverage on the top and bottom parts, which might damage your phone's screen in case of irregular drops.
8. Wave
Material: Wheat straw
Available for: iPhone, Samsung Galaxy & Google Pixel
Price: $30
Wave started as a small business by two environmentally conscious friends and soon grew into the UK's leading eco friendly phone case brand. It offers a wide range of collections in different poppy colors and fun patterns like turtles, leaves, flowers, and fruits— so you can seamlessly pick one that matches your personal style.
With the mission to change the world one phone case at a time, the brand solely uses a biodegradable material derived from wheat straw for its mobile covers. As an outcome, you'll find tiny irregular flecks on the cases, making them even more unique and appealing. Regarding functionality, Wave cases have a 2mm protective screen lip and are tested for Military-grade drop protection, which is 26 continuous drops against a hard surface. Whaatt! The best thing— they're affordable.
Wave has collaborated with the Climate Partner and offsets its carbon emission by supporting Plastic Bank, and the Worldwide clean ocean project. It is also a member of the 1% for the Planet, donating to incredible environmental charities.
What We Like
Wave's phone cases come in a cute collection that is perfect for both people who love minimalist designs and those who prefer more vibrant looks. Orders are shipped in a jiffy, so you don't have to wait for weeks and months. Excellent camera protection with raised bumper all around.
What We Don't Like
There's nothing not to like about Wave's phone cases. Like, they offer Military-grade drop protection, so even if you're someone who frequently drops your phone accidentally, then Wave has definitely got you and your phone.
9. Native Union
Material: CertifiedLeather, Recycled TPU, Recycled Microfiber, Recycled Polycarbonate & Silicone
Available for: iPhone
Price: $59.99
If you're looking for a phone case that is both functional and socially responsible, then Native Union is definitely worth considering. The label specializes in all types of tech accessories, including wireless chargers, organizers, card holders, laptop stands, and high-quality phone cases.
The drop-protected mobile cases are crafted with planet-friendly materials and feature striking designs with distinct textures, adding character to your essential everyday device. Designed for the modern lifestyle, these covers are slim, lightweight, and built to last, making them an easy fit for your phone that you can carry around whenever you are on the go. For added protection, you can also buy a compatible sling along with the case to prevent dropping your phone.
Native Union sources its materials from ISO 14001-certified sustainable suppliers and uses eco-friendly production methods to reduce its environmental impact. Its raw materials include genuine Italian leather sourced from a Gold-rated supplier certified by the Leather Working Group and Blue Angel.
What We Like
Native Union's phone case has clean aesthetics with the subtle logo imprint that doesn't feel overpowering. The slings definitely add to the advantage for those looking for extra protection.
What We Don't Like
Not many options to choose from. The bottom part is exposed, and the cases don't have raised edges for that extra camera protection. So, at that steep price point, this feels like a fallout.
10. Pela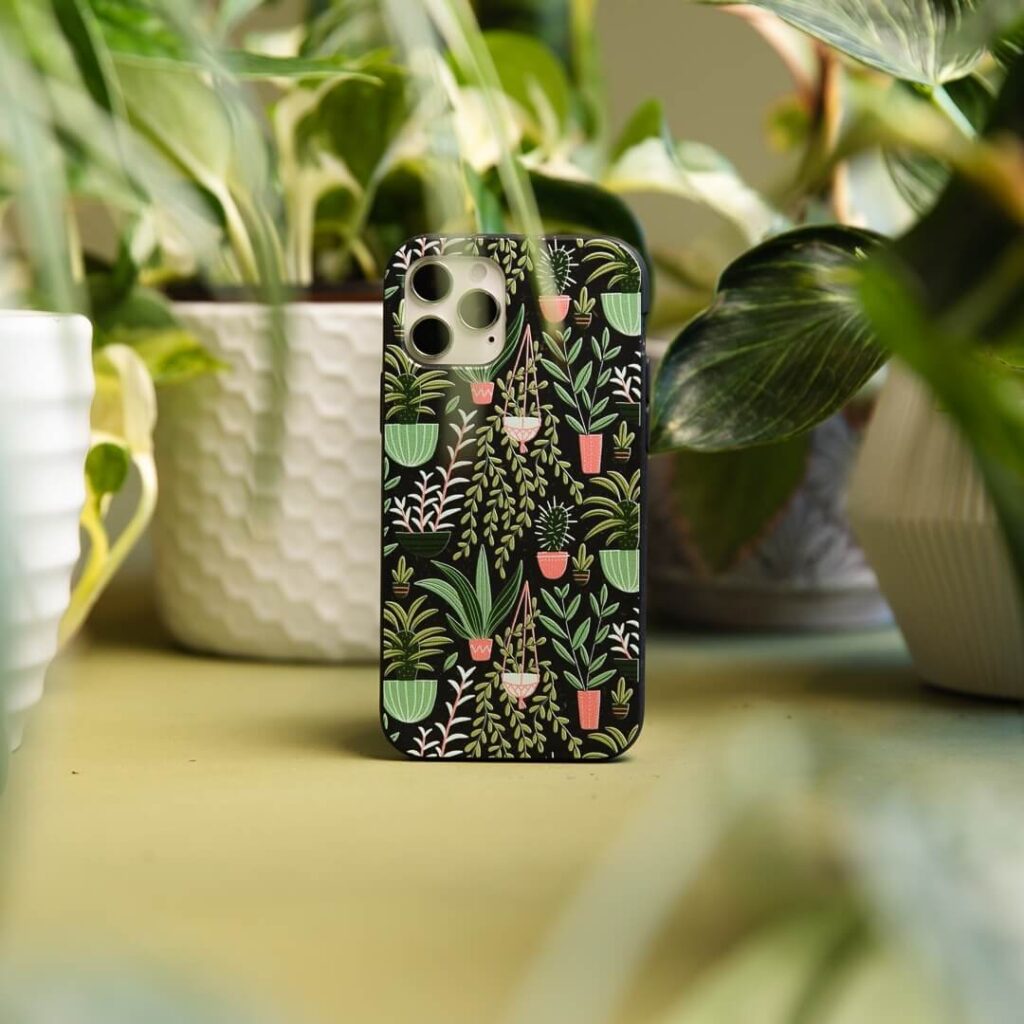 Material: Flaxstic® (Compostable Plastic)
Available for: iPhone,Samsung, Google Pixel & Huawei
Price: $37-$70
Last but not the least, here's presenting Pela— one of the most popular mobile case brands revolutionizing the way we protect our phones. Established in 2008, this label is on a mission to create a waste-free future. That's why they are developing mobile accessories made of environmentally suitable materials. Pela's eco-friendly phone cases come in a wide range of colors and designs, allowing you to express your personal style while also protecting the planet.
What makes these mobile cases sustainable is they're made from Flaxstic®, a blend of plant-based biopolymers and flax straw waste. These phone cases are tested to be free of phthalates, BPA, lead, and cadmium, making them a 100% safe option. In addition to being eco-friendly, Pela's mobile cases are also designed to provide superior protection for your device. The cases are soft to the touch, but provide a shock-absorbing layer that protects your phone from drops, scratches, and other damage.
Pela is a certified B Corporation that is committed to giving back to the planet. As a result, they work with various organizations to promote sustainable living. The company has also partnered with the 1% for the Planet program, donating a portion of its profits to environmental causes worldwide.
What We Like
Pela's phone cases are of premium quality that reduce fall impact, protecting your phone. Beautiful aesthetics that you just can't miss. Phone cases are slim fit and don't give a bulky feeling. The brand uses biodegradable materials that are not laced with harmful synthetics.
What We Don't Like
Prices are a bit on the higher side, so not an affordable option for everyone. Perkier designs and colours will fade after a few months of usage. The phone cases will show signs of damage if you're a clumsy handler.
Final Thoughts…
Opting for an eco-friendly phone case might feel trivial, but, trust me, it can make a substantial positive impact on the planet's health. Since sustainable cases are made from green materials, they do not cause any harm to the environment and often last longer than their non-eco-friendly counterparts. With millions of phone cases dumped every day across the world, just imagine how the earth is choking on all those plastics that will stay put in landfills for hundreds of years. However, our small lifestyle changes can bring a big change! So, go ahead and take a step towards a greener future by investing in eco-friendly phone cases.
FAQs
Do Pela cases actually work?
Yes, Pela is one of the top brands selling eco-friendly phone cases. Its products are actually made from sustainable materials and are designed to last, causing the lowest environmental impact. Plus, the brand has a huge phone case collection, so there's something for everyone.
Is CASETiFY actually eco-friendly?
Yes, CASTiFY is an eco-friendly tech accessories brand that uses responsible materials for crafting its phone cases. The brand is striving hard to up its sustainability game by going the extra mile of becoming an end-to-end eco-friendly label.
Do Pela cases actually biodegrade?
Yes, Pela cases actually biodegrade. The brand has engineered the world's first compostable phone case using plant-based materials that are easily compostable when discarded.
What is an eco-friendly phone case?
An eco-friendly phone case is designed with environmental sustainability in mind. This means that the materials used in its production, as well as the manufacturing process itself, are geared towards reducing environmental impact. From incorporating low-toxicity materials and less energy consumption to minimizing waste generation, everything is well-looked into while creating eco-friendly phone cases.