Disclosure:
Our editors handpick top-rated brands, vetted through our strict ratings. Purchases via our links may earn us a commission.
Learn more
Pregnancy—Isn't it magical? The joy of creating life within you undeniably surpasses every feeling. But the journey to motherhood is never easy; the identity transition, body transformation, a whirlpool of mood swings and emotions— You bet it gets overwhelming! Bodies change in every phase of pregnancy, and even after you've popped out the baby, you need to be in mommy-friendly clothes for stress-free nursing. So to remain comfortable while your belly grows, you got to grow your wardrobe with sustainable plus size maternity dresses.
And as my eco-conscious ally, I know you're stressed about spending on maternity clothes that only lasts for a few months and is discarded post-nursing period. However, many sustainable brands are outdoing themselves by curating size-inclusive maternity wear that will last you pre, during, and post-pregnancy.
Intrigued? Puuussshhhh through today's feature, and be surprised by the number of sustainable maternity wear brands to help you in your motherhood journey and beyond.
Sustainable Plus Size Maternity Dresses
1. Pact
2. Mata Traders
3. Girlfriend Collective
4. Storq
5. Warp + Weft
6. Frugi
7. Isabella Oliver
8. Christy Dawn
9. Sézane
10. Threads 4 Thought
11. Symbology
12. Mamarella
13. Cosabella
14. Boob Design
15. Mien Studios
Tips to Build a Conscious and Functional Pregnancy Closet
During pregnancy, our bodies transition from trimester to trimester. And it is of paramount importance to wear clothes that help the baby bump grow comfortably. Another priority should be to look for maternity clothes made out of the best skin-friendly natural fabrics that are breathable and lightweight.
Flowy Dresses- Flowing fits and wrap dresses are amazing during pregnancy as they can accommodate your belly's growth with all the room required.
Oversized Tees- Loose tunics and oversized garments made in organic fabrics are going to be your best friend during this period. Not only are these comfortable to lounge around, but they also allow you to stress-free nursing.
Leggings- Trust us, leggings are going to be your go-to bottom throughout this period. High-quality leggings have all the stretch you need to remain super-snug. Just adjust the waistbands below the tummy as you get bigger.
Jersey fabrics- Jersey fabrics are designed to keep up with the stretch. And they would happily fit into your growing curves. Yes, even during your 3rd trimester!
Organic fabrics- Organic fabrics like lyocell, modal, certified organic cotton, and responsible merino wool are extremely kind to the skin (and the planet). Maternity clothing made in these fabrics would undoubtedly keep you comfortable.
15 Sustainable Maternity Dresses Best for Plus Size Expecting Moms
Prepare for your bundle of joy's arrival in consciously-designed comfortable maternity clothing from brands like Pact, Mata Traders, Frugi, Storq, Christy Dawn, Warp+Weft, Isabella Oliver, Girlfriend Collective, Sézane, Symbology, Boob Design, Mamarella, Mien Studios, Threads For Thought, and Cosabella.

1. Pact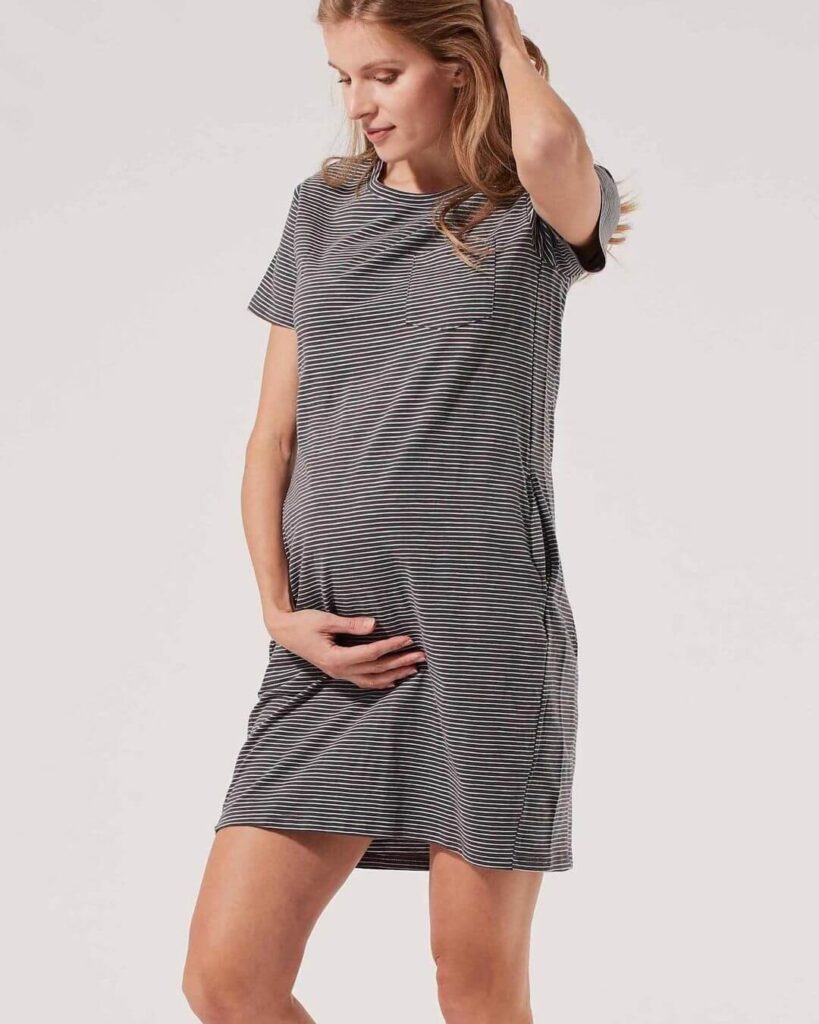 Place of origin: Boulder, Colorado, United States
Founder: Brendan Synnott
Sustainable Materials Used: GOTS Certified organic cotton
Product Range: Maternity dresses, Leggings, Tees, Lounge pants, Nightgowns, Robes, etc.
Size Range: XS-XL
Price Range: $35 to $110
Shipping: Worldwide
The "Earth's Favorite" clothing brand Pact will undoubtedly cater to all your maternity needs while being kind to the environment. Their maternity collection includes everything from roomy dresses and relaxed tanks to comfy loungewear, making Pact a one-stop solution for mommies-to-be. Made of organic cotton to treat you with some extra TLC, these clothes are extremely breathable and designed to last throughout your pregnancy and beyond.
In addition, Pact is a Carbon Neutral brand, and its production takes place in Fair Trade Certified facilities where every stitch empowers employees. So not only are these clothes good for your growing belly but also for the garment makers and the planet. Pact also has a "Give Back Box" program where you can donate your gently-used clothes that haven't seen daylight in a while.
2. Mata Traders
Place of origin: Chicago, Illinois, United States
Founder: Maureen Dunn Fetscher
Sustainable Materials Used: Organic Cotton, Linen, TENCEL™ Lyocell, Modal, etc.
Product Range: Midi dresses, Wrap dresses, Tiered mini dresses, etc.
Size Range: XS to 2X. Check Size Guide
Price Range: $25 to $118
Shipping: Worldwide
Think beautiful printed organic dresses in bold colors, and that's sustainable clothing brand Mata Traders for you. This size-inclusive brand creates intentional and thoughtful slow-fashion maternity clothes that make room as your baby bump grows. Inspired to normalize ethical fashion, their dresses are a must-have in your maternity wardrobe as the brand name "Mata" itself is the Hindi version of 'Mother.'
With the idea to popularize Indian traditional art forms, Mata's pieces are handmade with details like block printing, embroidery, and screen printing. To produce clothes responsibly, the brand has partnered with fair trade factories that provide a dignified livelihood to the rural artisan communities of India. Each dress is truly unique and celebrates individual variations as a reflection of time, just like your body during this period.
3. Girlfriend Collective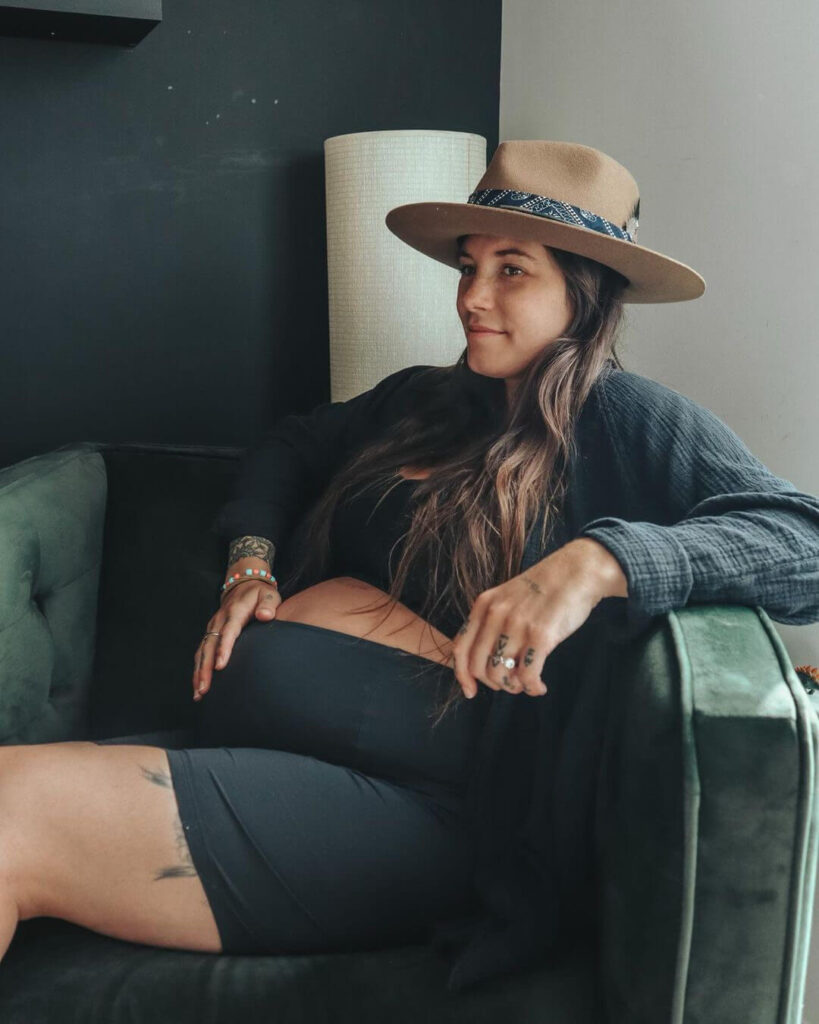 Place of origin: Seattle, Washington
Founder: Ellie Dinh
Sustainable Materials Used: Majorly Recycled Polyester (rPET) along with other materials
Product Range: Leggings, Nursing bras, Tees, Shorts, etc.
Size Range: XXS to 6XL. Check Size Guide
Price Range: $48 to $88
Shipping: Currently shipping to the United States, Canada, the UK, and Australia. Available worldwide via nordstrom.com.
For our active girlfriends who don't like to cut on their yoga sessions or workouts during pregnancy—Girlfriend Collective has got you covered! This size-inclusive sustainable brand has a collection of efficient maternity leggings, biker shorts, and nursing bras ranging up to size 6XL. While the collection is pretty limited, trust me, it is all you need to get through those morning runs and after lounging comfortably.
Girlfriend Collective was born to create classic styles by utilizing waste into something new. Hence, they solely use recycled plastic bottles (RPET) in their entire collection. Plus, all their production occurs in SA80000 and WRAP-certified factories, where fair wages and safe working conditions are guaranteed.
4. Storq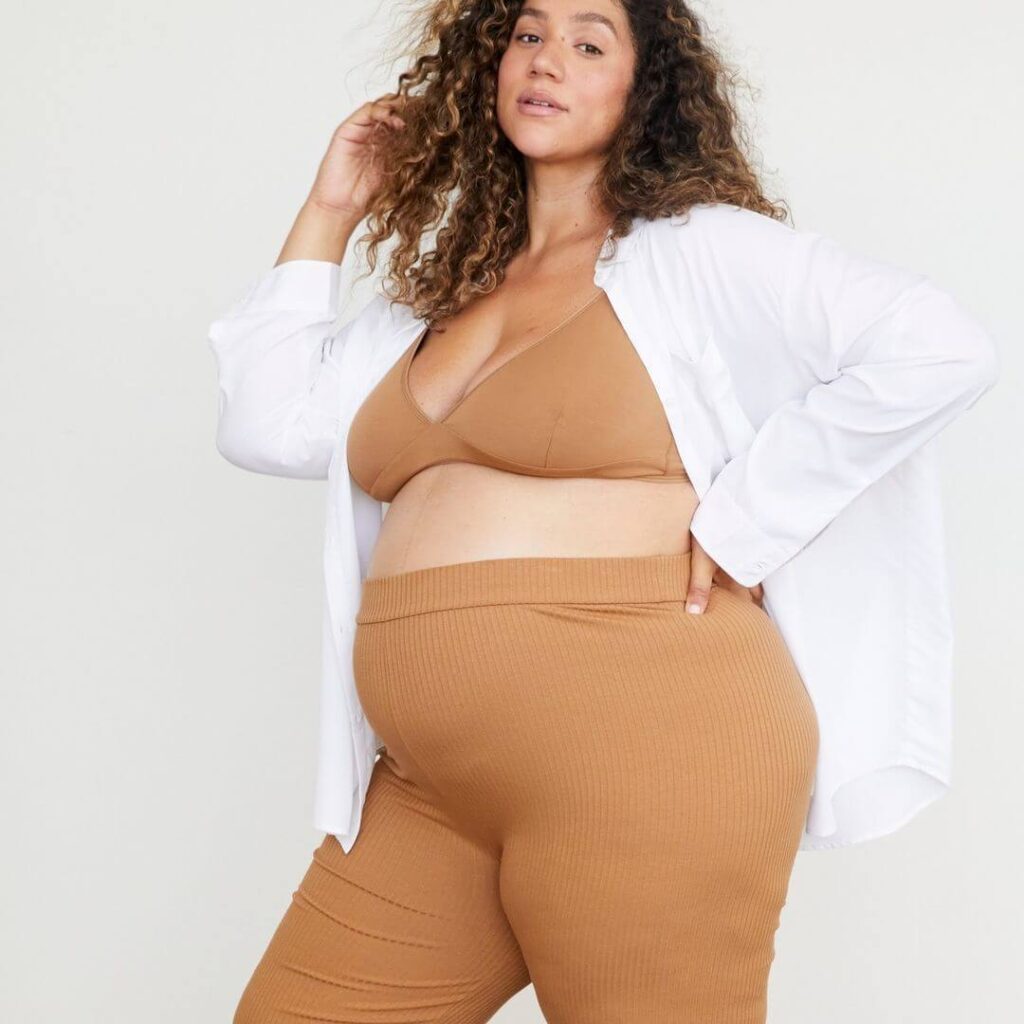 Place of origin: San Francisco, California, United States
Founders: Courtney Klein and Grace Kapin
Sustainable Materials Used: Standard 100 by Oeko-Tex certified fabrics
Product Range: Basics, Tops, Bottoms, Dresses, Jumpsuits, Intimate wear, Loungewear, Outerwear, Sweaters, etc.
Size Range: 0-4X. Check Size Guide
Price Range: $58 to $158
Shipping: Currently ships across the United States, Europe, and Canada
Let's face it; most women have to compromise on style while shopping during pregnancy, as maternity clothes leave a lot to be desired. The story of Storq started with the intention to help women maintain their sense of suaveness in those beautiful nine months of transformation— Both mental and physical. The maternity brand practices sustainability by focusing on creating versatile wardrobe staples not just to get you through pregnancy and postpartum but even beyond.
Definitely, an all-inclusive stop for mommies-to-be, Storq's maternity, nursing, and parenthood collection includes everything from tops, dresses, and jumpsuits to intimate wear and loungewear. Plus, they offer hospital bag checklists, postpartum essentials, self-care, and so much more. In addition, Storq's products are ethically made using OEKO-TEX certified eco-friendly fabrics in fair trade factories in the United States, Portugal, Peru, and many other countries.
5. Warp + Weft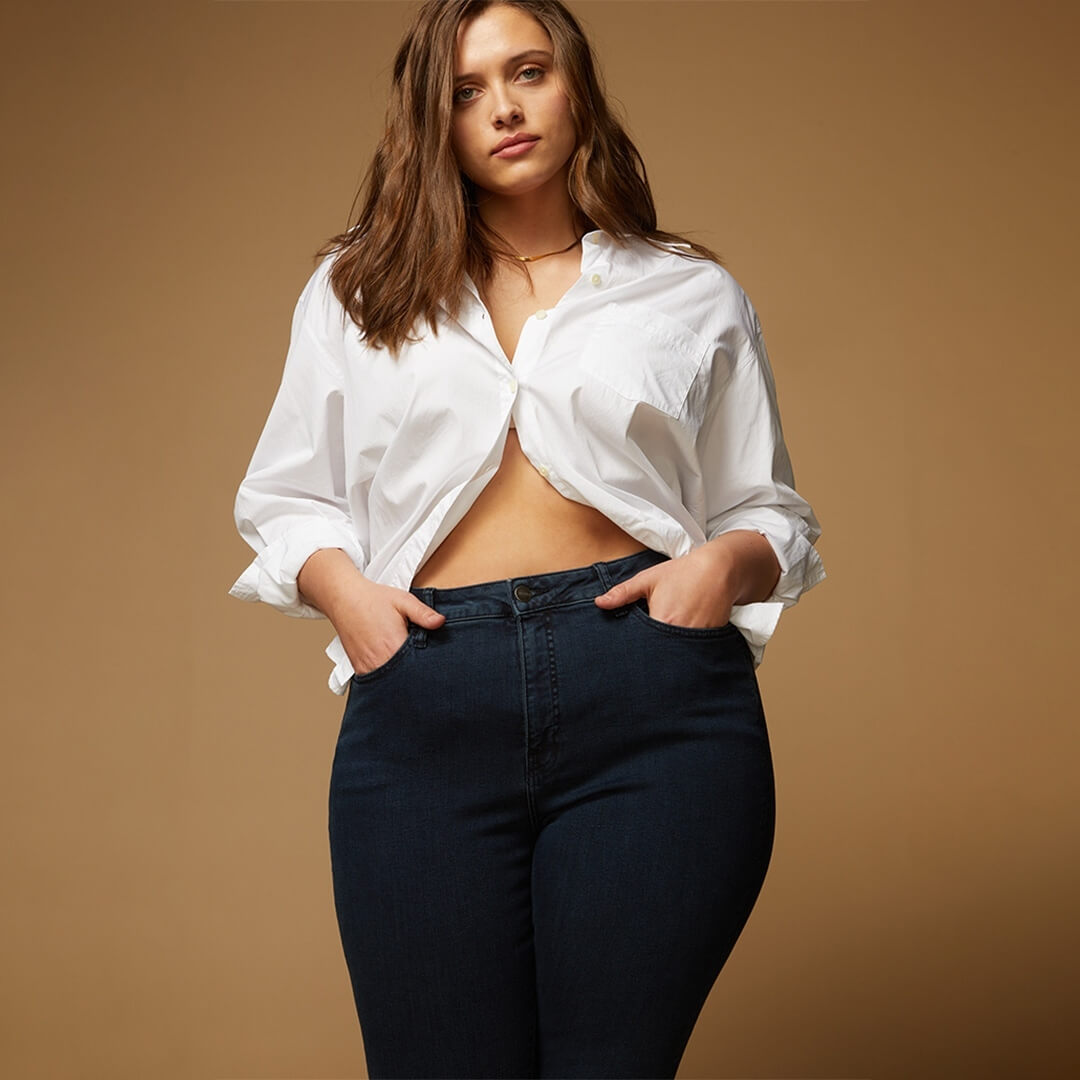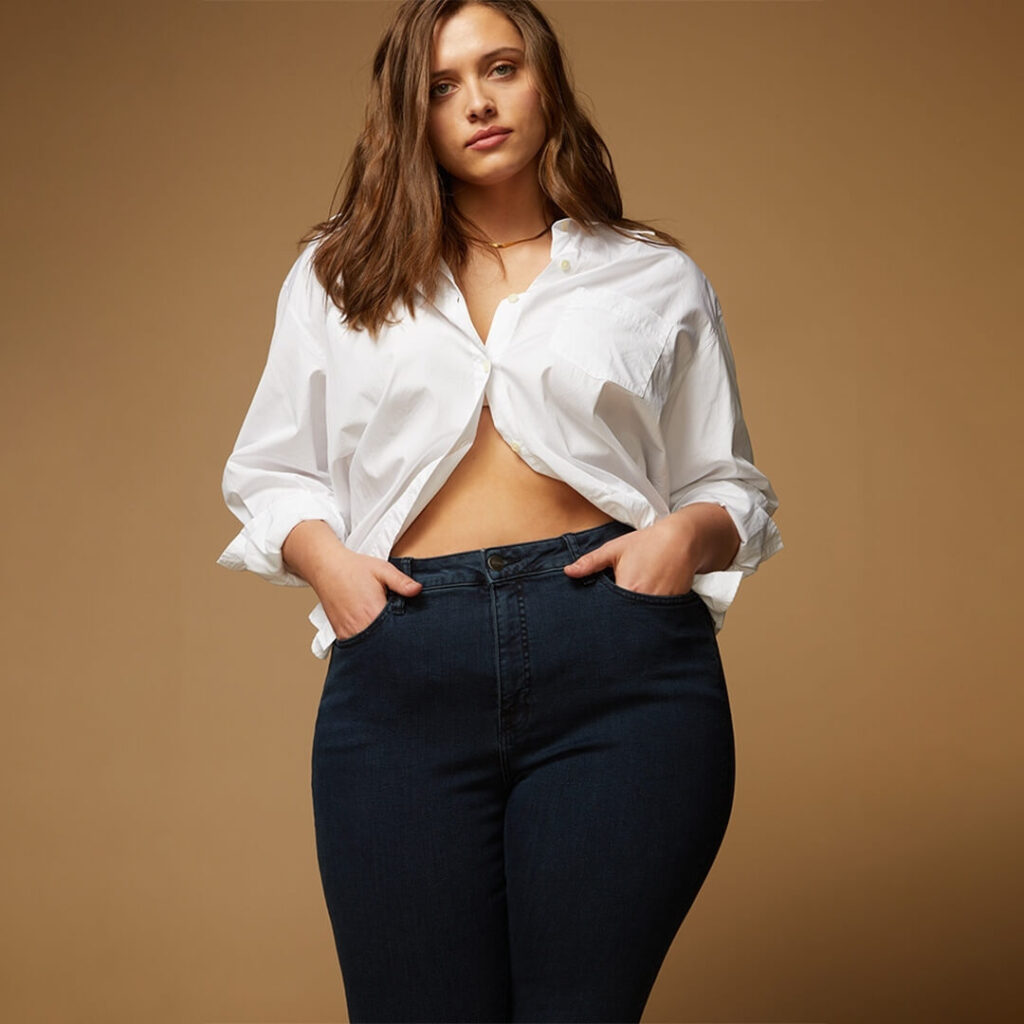 Place of origin: New York, United States
Founder: Sarah Ahmed
Sustainable Materials Used: Cotton, Lycra, Tencel, and High-quality European dyes
Product Range: Denims and Overalls for Women
Size Range: Denims up to 32. Overall up to 3XL. Check Size Guide
Price Range: $42 to $78
Shipping: Worldwide
Looking for bump-friendly sustainable denims? Well, Warp+Weft has got all your maternity denim needs sorted. Because they make sustainable denims for 'Every Body.' The size-inclusive brand is a family-owned business that has been in the denim industry for decades. Committed to sustainability, their eco-friendly mill is one of the world's top textile producers, creating high-quality denim that's good for you, your wallet, and the planet.
Each denim is made using superior quality earth-friendly fabrics and requires less than 10 gallons of water in comparison to traditional methods of using 1500 gallons per pair of jeans. Plus, they also treat 98% of the water consumed and skip the environmentally-hazardous bleaching process, making these denims completely safe.
6. Frugi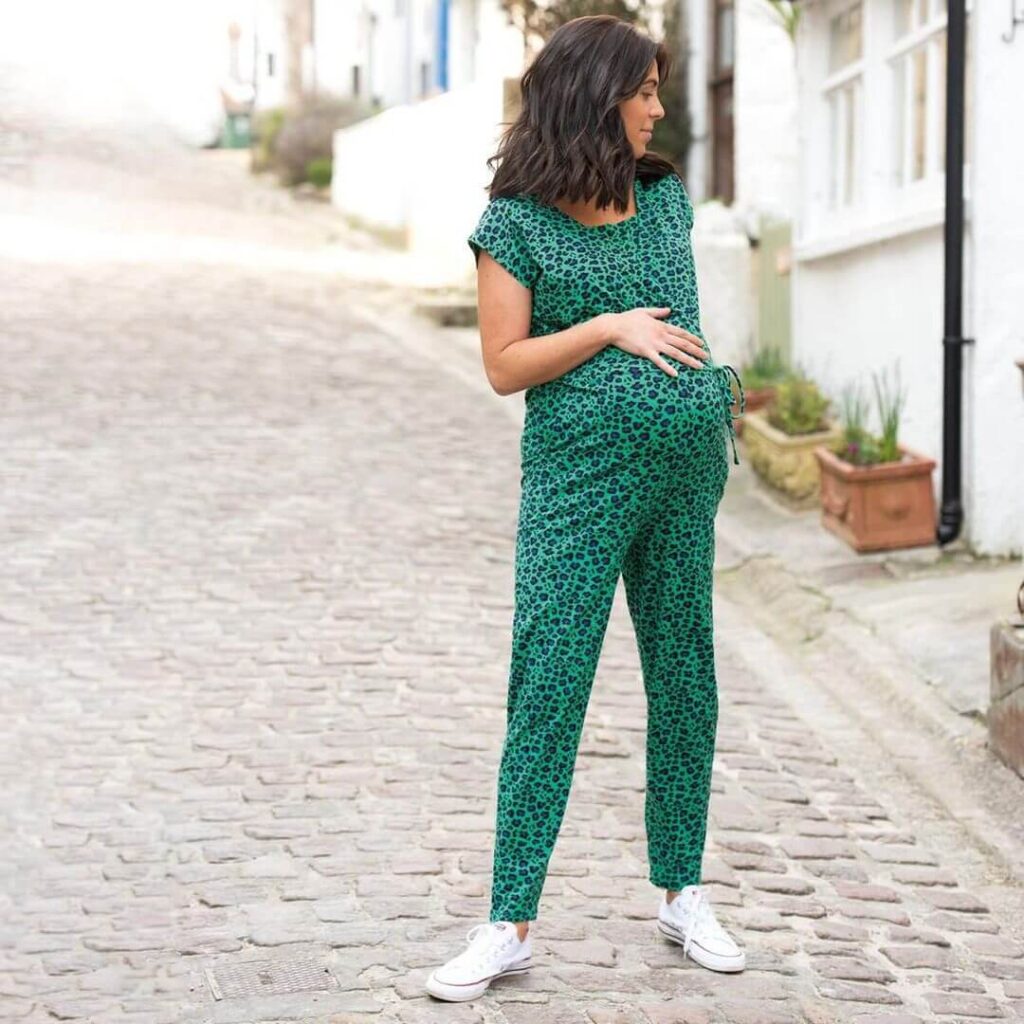 Place of origin: Helston, Cornwall, United Kingdom
Founders: Kurt and Lucy Jewson
Sustainable Materials Used: GOTS and Soil Association-certified organic cotton, Recycled polyester
Product Range: Tops, Dresses, Jumpsuits, Trousers, Dungarees, Jumpers, Nightwear, etc.
Size Range: From 8 to 18
Price Range: $20 to $80
Shipping: Worldwide
Frugi is an organic clothing brand that initially started out to cater to newborn babies, toddlers, and girls and boys up to 10 years. However, over time their product line expanded to maternity and nursing wear for newbie mums everywhere. Frugi is translated as 'Fruits of the Earth' in Latin, which displays their commitment to responsibly sourced sustainable materials and ethical practices.
Thoughtfully designed to blend fashion and functionality, their maternity clothing collections make you feel fabulous by celebrating your body, both during and after pregnancy. Plus, their Frugi Bloom guide has all the details demonstrating to new mommies how their maternity and nursing clothes work with ease. With the mission to create a clothing brand while upholding strong ethical and environmental values, Frugi donates 1% of sales annually to charity.
7. Isabella Oliver
Place of origin: London, United Kingdom
Founder: Baukjen de Swaan Arons
Sustainable Materials Used: Lenzing™ EcoVero™, TENCEL™ lyocell, Certified organic cotton
Product Range: Tops, Bottoms, Dresses, Jumpers, Sweatshirts, Skirts, etc.
Size Range: US 2-14. Check Size Guide
Price Range: $41 to $135
Shipping: International shipping to 150 countries, including Australia, New Zealand, Hong Kong, Israel, Japan, etc
UK-based maternity clothing brand Isabella Oliver champions sustainability with slow fashion and drives change by disrupting the fast fashion model. Certified as B Corp, this label covers all your maternity looks with fashion-forward and classic designs to dress your growing curves during pregnancy and beyond. Designed for comfort for the modern woman juggling between a busy life, Isabella Oliver's pieces are effortlessly styles made in premium quality using eco-conscious fabrics.
The Carbon Neutral brand has a pre-loved section where you can sell and buy pre-owned maternity wear to create a more circular system. Dedicated to the well-being of people and the planet, their production mainly takes place in family-run facilities that strictly observe Isabella Oliver's Code Of Conduct. This brand is also a member of the Sustainable Apparel Coalition and was awarded as one of the top five "Best for the World" B Corps-2021, along with UN Global Climate Action.
8. Christy Dawn
Place of origin: Los Angeles, California
Founder: Christy Dawn
Sustainable Materials Used: Organic cotton, Recycled and Deadstock fabrics
Product Range: Dresses and Tops
Size Range: XS-XL. For Extended sizing, 1X to 3XL
Price Range: $99 to $328
Shipping: Worldwide
Christy Dawn's entire collection is country-side and vintage-inspired, giving in all the earthy looks and feels of a damsel in the prairies. Their motherhood-friendly clothing consists of loose and flowing fits created with growing baby bumps and nursing in mind. With convenient details like wrap ties and adjustable waists, these maternity clothes make dressing up easy for new mamas and mamas-to-be. Their organic and regenerative cotton collection is dyed with natural dyes and is designed with timelessness, made to last for your current and future pregnancies as well.
"Honouring Mother Earth" has been deeply infused in Christy Dawn's DNA. Hence the brand has created reciprocal relationships with all of their people to build an ethical ecosystem. In sizes up to 3XL, these dresses can be an ideal addition to your sustainable plus size maternity clothing closet.
9. Sézane
Place of origin: Paris, France
Founder: Morgane Sézalory
Sustainable Materials Used: Linen, Organic cotton, TENCEL™ lyocell, RWS Certified wool, Responsible mohair, etc.
Product Range: Tops, Shirts, Pants, Dresses, Jumpers, Cardigans, etc.
Size Range: XS-3XL
Price Range: $65 to $175
Shipping: Worldwide
Any super stylish mommies-to-be striving to look their chic-self with the baby bump? Well, look no further because Sézane is the answer to your prayers. Hunting for maternity wear that is both fashion-forward and functional can be a real pain, but this sustainable French brand swears to make you look like a Goddess while you create life. Their "9 Months in Sézane" maternity capsule collection has everything from cozy-yet-chic sweaters to sensual mini dresses and fancy-knitted jumpers, with sizes up to 3XL.
The B Corp brand's clothes are designed by their long-standing expert ateliers and produced under fair trade practices in India, Portugal, Italy, and so on. In addition, Sézane is highly transparent about their operations, and 100% of their locations are energized by renewable energy.
10. Threads 4 Thought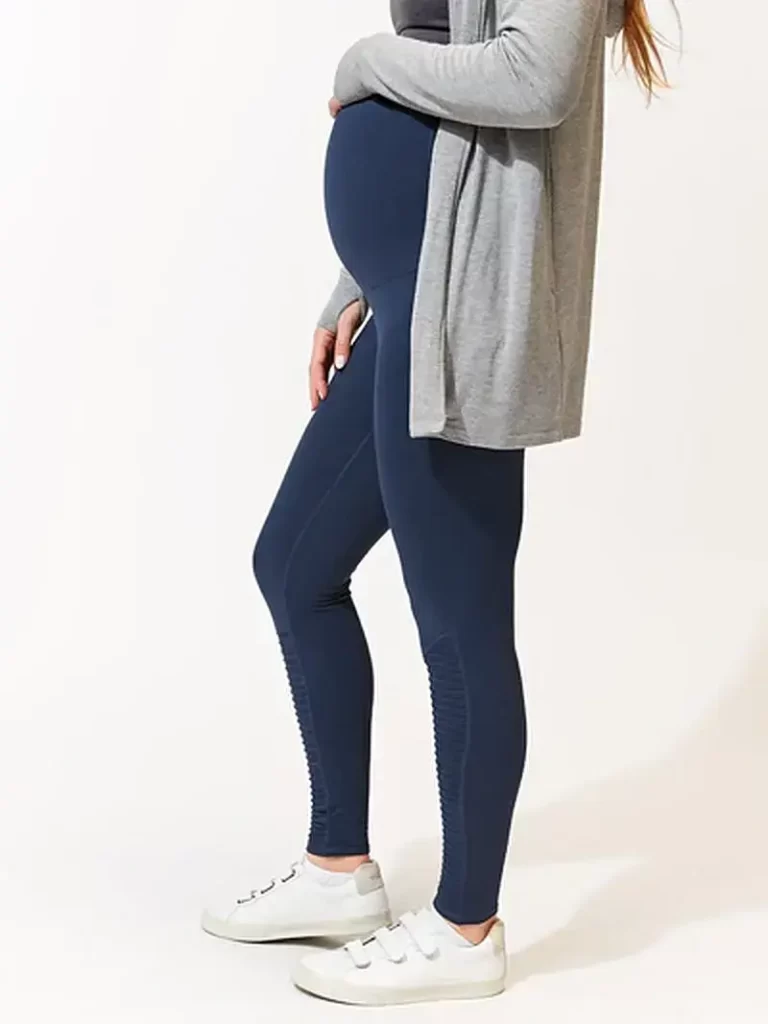 Place of origin: Los Angeles, California, United States
Founders: Eric and Leigh Fleet
Sustainable Materials Used: Recycled polyester, Organic cotton, and TENCEL™ Modal
Product Range: Maternity leggings, Joggers, Fleece pullovers, Tunics
Size Range: XS-2XL
Price Range: $48 to $59
Shipping: Worldwide
Sustainable, ethical, and impactful clothing brand Threads 4 Thought uses beautiful kind-on-the-earth fabrics to create their maternity collection that keeps you comfy throughout your pregnancy. Founded in 2006, this thoughtful brand is on a mission to create fashion that actually leaves a positive impact on the lives of the people involved and our planet.
Each piece is carefully designed for high performance in their Los Angeles studio and later produced in certified fair trade factories worldwide. 80% of their industrial water is recycled for further use, and so far, all their products have been marked as Co2 Neutral. As thoughtful as any fashion brand should be, Threads 4 Thought is undoubtedly a must-have in your maternity closet.
11. Symbology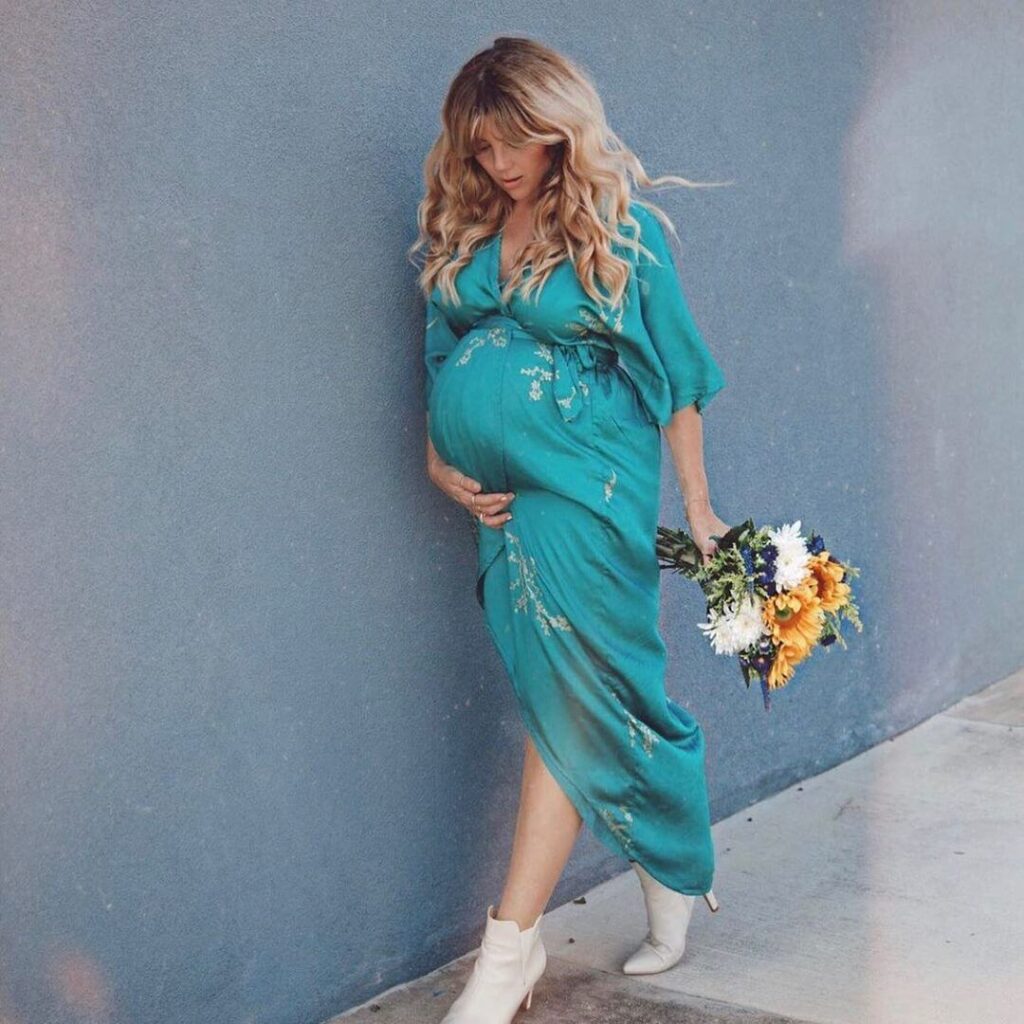 Place of origin: Dallas, Texas, United States
Founder: Marissa Heyl
Sustainable Materials Used: TENCEL™ Modal, Organic cotton, Hemp
Product Range: Maxi dresses, Twisted midi dresses, Wrap dresses, Shift dresses, Skirts, etc.
Size Range: XS-3XL. Check Size Guide
Price Range: $140-$315
Shipping: Worldwide
Size-inclusive sustainable clothing brand Symbology is here to make fair trade sexy. With sizes ranging up to 3XL, this brand's maternity clothes majorly consist of roomy and flowy dresses designed to compliment your growing belly and make you feel your best feminine self. Made with all-natural vegan fabrics like cotton and modal, these pieces are one-of-a-kind designs produced in small batches to keep up with the uniqueness and eliminate waste.
Symbology is highly inspired by traditional Indian art forms, and their entire collection is hand woven and hand embroidered by women-run small independent studios and artisan communities of rural India. The ethical brand practices women's empowerment and believes in connecting females in a global community. Hence their entire collection is created by women for women.
12. Mamarella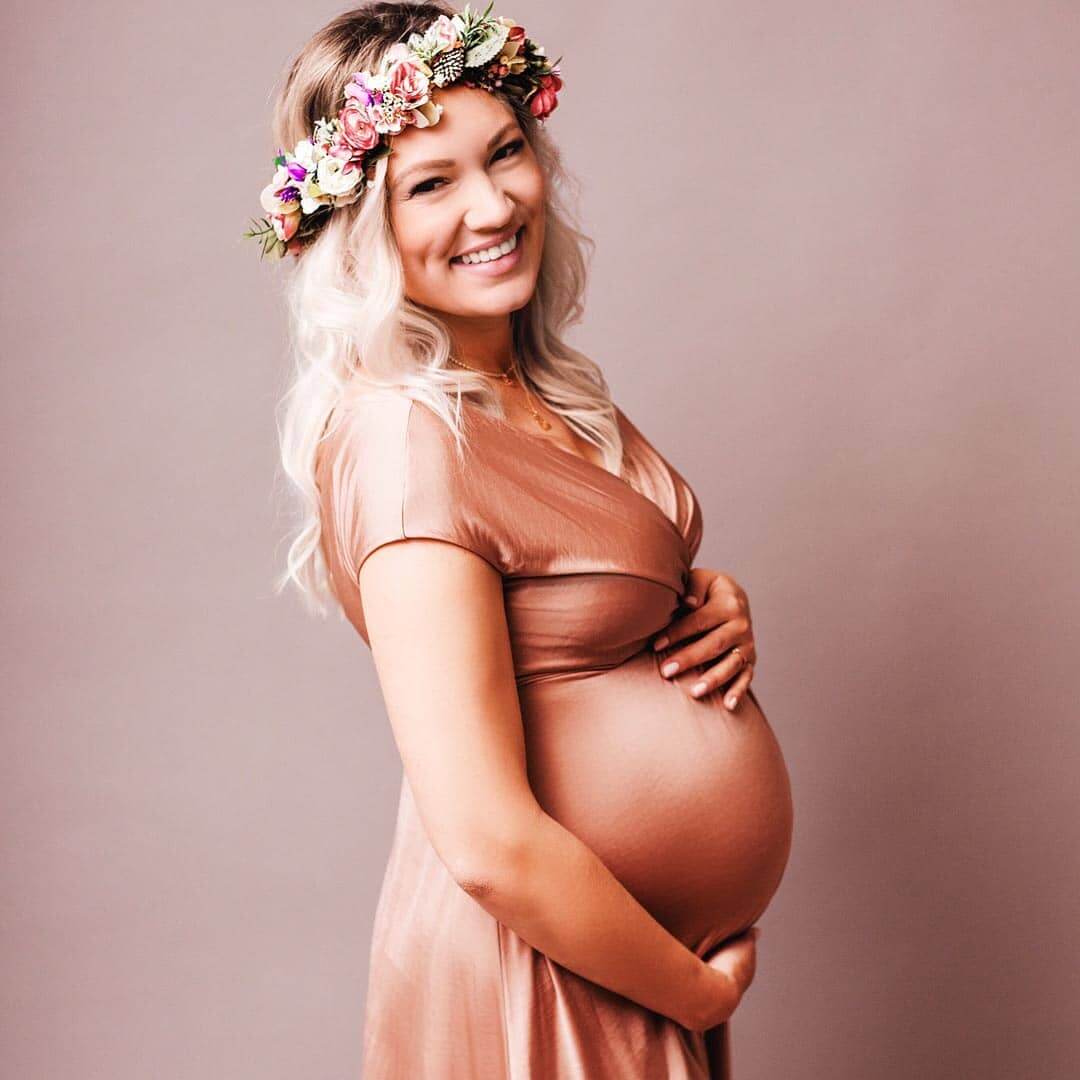 Place of origin: Munich, Germany
Founder: Petra Bedford
Sustainable Materials Used: Organic cotton, EcoVero, Plant-based viscose, etc.
Product Range: Tops, Pants, Dresses, Wedding gowns, Evening wear, Loungewear, Business looks, Outerwear, etc.
Size Range: 2XS-6XL. Check Size Guide
Price Range: $79 to $229
Shipping: Worldwide
Organic maternity wedding dress? Done! Cozy maternity outerwear? Done! Bump-friendly sassy evening wear? You bet! Because maternity fashion label Mamarella has clearly outdone itself with a comprehensive motherhood-friendly collection. Considered as one of the world's leading go-to brands for newbie mamas and mamas-to-be, Mamarella was born to offer the most stylish and affordable closet staples to which you will return even beyond your due date.
With their vast selection of thoughtfully made maternity and nursing fashion, you will find inspiration for every phase of your pregnancy journey. Whether it is the perfect nursing bra, varieties of changing bags, or the elegant maternity dress worn by Duchess Kate. Yes, you read that right! Mamarella is devoted to sustainability, and the majority of their collection is made with high-quality eco-friendly fabrics to last long.
13. Cosabella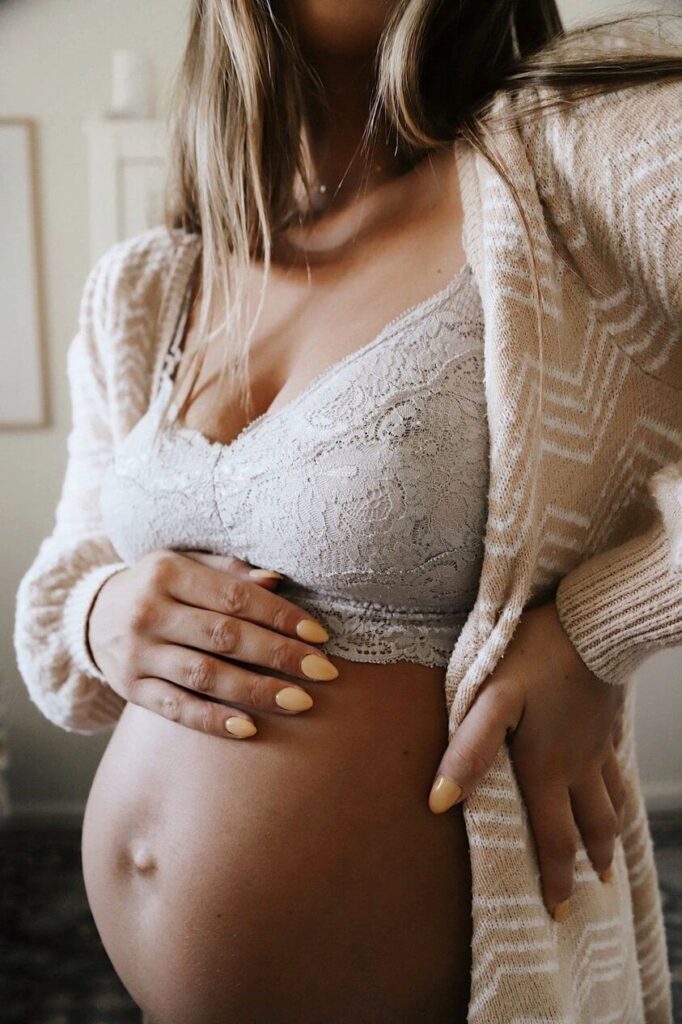 Place of origin: Miami, Florida, United States
Founders: Valeria and Ugo Campello
Sustainable Materials Used: Majorly uses superior quality eco-friendly fabrics like Modal, Organic cotton, etc.
Product Range: Nursing bras, Panties, Boyshorts, Chemise, Robe sets, Loungewear, Sleepwear, etc.
Size Range: Up to 40DD (3X). Check Size Guide
Price Range: $65 to $185
Shipping: International shipping to 35 countries
Sensual and luxurious lingerie that flatters feminity is what every woman deserves, regardless of size and body transformations during pregnancy. And sustainable intimate wear brand Cosabella lives up to our expectations with their stunning collection of handmade Italian lingerie, sleepwear, and nursing bras. The luxury lingerie brand is a boon for the curvy ones, delivering the best of intimates and loungewear for different extended sizings like super-curvy, ultra-curvy, petites, and so much more.
Translated as "Beautiful thing" in Italian, Cosabella is a female-owned company, successfully in business for about four decades because of their commitment to high-quality and contemporary designs. A perfect blend of traditional Italian artisanship and fashion-forward innovations, their maternity bras are crafted in gentle and supportive fabrics with your ease in mind. And the best thing? These garments are ethically produced in family-run workshops dotted throughout Italy.
14. Boob Design
Place of origin: Stockholm, Sweden
Founder: Mia Seipel
Sustainable Materials Used: GOTS Certified organic cotton, LENZING™ ECOVERO™, TENCEL™ lyocell, TENCEL™ modal, Organic merino wool, Recycled Polyamide, etc.
Product Range: Maternity tops, Bottoms, Dresses, Jumpsuits, Knitwear, Intimate wear, Loungewear, Nightwear, Nursing bras
Size Range: Up to US 22 (2XL). Check Size Guide
Price Range: $35 to $239
Shipping: Worldwide
Mommies-to-be, make way for Boob Design, your new BFF, for every phase of this motherhood journey. The eco-friendly maternity clothing label has got your back (and your belly) with their maternity clothes created with care to get you through your pregnancy, nursing period, and even beyond. Boob Design's clothing line includes comfy and breastfeeding-friendly everyday basics, intimate wear, knitwear, and so much more crafted using all-natural and superior-quality fabrics.
This sustainable brand for all mother-kind manufactures its products in certified ethical factories located across the globe, where workers' well-being is a priority. Highly transparent about its practices, Boob Design has received multiple awards for their functional and classic maternity wear.
15. Mien Studios
Place of origin: California, United States
Founder: Lisa Hsieh
Sustainable Materials Used: GOTS Certified organic cotton, Non-toxic AZO-free dyes
Product Range: Midi dresses, Rib dresses, Jumpsuits, Lantern pants, Relaxed tees, Outerwear, etc.
Size Range: XS-3XL. Check Size Guide
Price Range: $44 to $148
Shipping: Worldwide
Our bodies are dynamic; why shouldn't our clothing be? And with that in mind, Mien Studios offers the best size-inclusive organic maternity clothes in versatile designs that can be worn before, during, and post-pregnancy. Each piece is created with the most sustainable fabrics and is designed to fit our ever-changing bodies. So whether it is pre-pregnancy, postpartum, or nursing, Mien Studios' clothes beautifully adapt to body fluctuations while making you look and feel incredible.
Mien Studios' collection is soaked in sophisticated neutral colors, whether it is their flattering jumpsuits, midi dresses, or cozy outerwear. All their products are custom knit in California by a local fabric mill and produced in small batches by ethical family-owned factories. Also, do check out their "Sample Sale" section for some amazing deals.
Final Thoughts…
While bending over is a real struggle at this point, checking for sustainable plus size maternity clothing isn't. Baby-bump shopping has become so much fun and uplifting these days, all thanks to the mindful brands mentioned above. Plus, it is your chance to build a zero-waste lifestyle while the bun bakes to perfection in your oven. And once your bundle of joy arrives, you can always opt for sustainable plus size clothing brands to get your hand on some base layers, like sustainable plus size tops for daily wear and sustainable plus size sweaters.
Although size-inclusive brands are offering maternity apparel that are compatible with use post-pregnancy, it is totally fine if you want to avoid building a vast mom-friendly wardrobe. Since this period lasts for a short time, you can always opt for second-hand maternity clothes or go thrift shopping. What can be cooler than utilizing what already exists and joining Mother Earth in the eco mom's club? And whichever route you take to design your motherhood closet, I wish you a healthy and safe pregnancy!