Disclosure:
Our editors handpick top-rated brands, vetted through our strict ratings. Purchases via our links may earn us a commission.
Learn more
The 'sweater weather' is finally here! And as the temperature has started to drop in, it's time to bid goodbye to summer sunsets and late-night strolls and welcome the fun-filled evenings, snowy landscapes, and of course, a classic winter wardrobe. While jackets are fun and sassy, nothing beats the cozy-chic elegance of sweaters, both lightweight and chunky.
Although planet-friendly knitwear shopping has never been difficult for regular-sized women, curvy women did have to adjust to dull and unsophisticated designs. But not anymore! Because sustainable plus size clothing brands are taking the winter game a notch higher by offering a huge collection of sustainable plus size sweaters and cardigans along with amazing sustainable plus size winter coats that love your curves. So, expect nothing else but luxurious warmth and fabulous fits from these brands.
For this year's chill season, let's invest in mindfully-made sweaters from brands that love us for what we are and the planet as a whole. And when the weather starts to warm up, opt for sustainable plus size tops to sort your everyday casual looks.
As of now, Snug up, Babes! Time for some winter shopping!
15 Best Sustainable Plus Size Sweater Brands to Get Snug This Winter
1. ABLE
2. Naadam
3. Patagonia
4. Amour Vert
5. Sézane
6. Outerknown
7. Back Beat Co.
8. Tradlands
9. Peruvian Connection
10. People Tree
11. Eileen Fisher
12. Reformation
13. Toad & Co.
14. Thought
15. WVN
These brands are surely outdoing themselves by offering sustainable plus size sweaters that comfort the winter child within us. These brands have versatile pieces that are our year-round favourites for outliving fleeting trends. Let's check them out.
1. ABLE
Place of origin: Nashville, Tennessee, United States
Founder: Barrett Ward
Sustainable Materials Used: GOTS certified organic cotton, Recycled Polyester, BCI Cotton, Tencel Modal, etc.
Product Range: Cardigans, Pullovers, Sweatshirts, Sweater vests, Sweater tunics, Sweatshirt dresses, Polo sweaters, etc.
Size Range: XXS-3XL
Price Range: $75-$185
Shipping: Worldwide
ABLE falls in the category of those fiercely women-focused sustainable brands you absolutely can't ignore. Made from organic and eco-friendly materials, their knitwear collection is oh-so-chic and timeless, bound to make you look and feel like a fortune. With 90% of the brand's staff being women, ABLE believes its products are not just investment pieces but an investment in uplifting underprivileged women globally.
As a result, their ethical sweaters fell even warmer and cozier because by combining livelihood opportunities for women, ABLE works tirelessly to break cycles of generational poverty. The brand maintains unparalleled transparency in its supply chain and has partnered with fair trade certified factories in Ethiopia, Mexico, India, and many more.
2. Naadam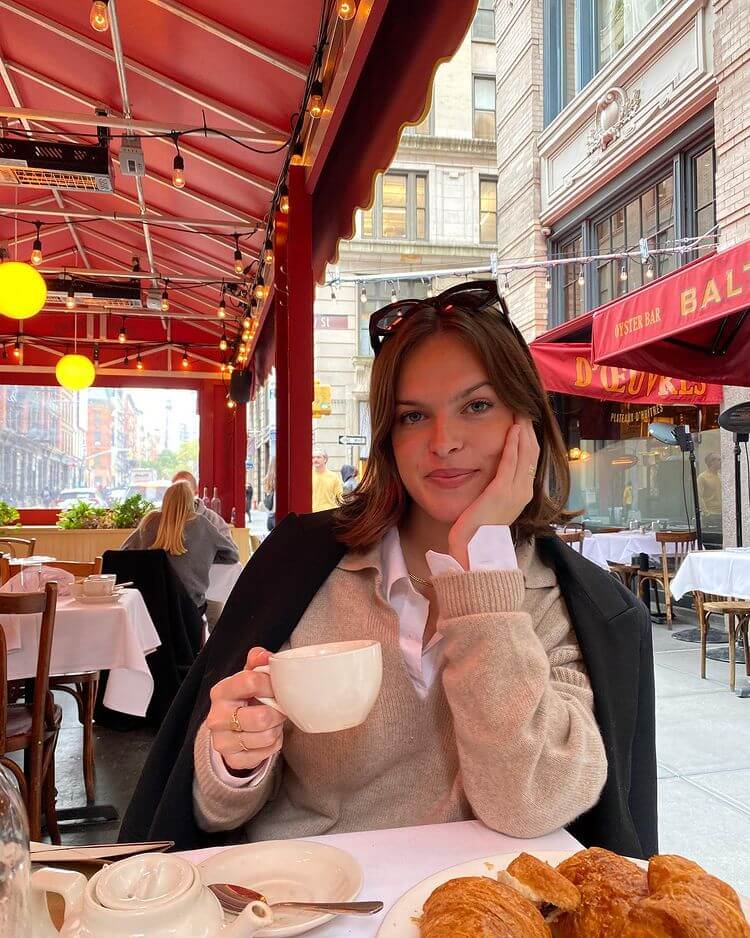 Place of origin: New York, United States
Founders: Diederik Rijsemus and Matt Scanlan
Sustainable Materials Used: Ethical Cashmere, Alpaca wool blend, Merino cashmere, and Recycled polyester wool blend
Product Range: Sweaters, Cardigans, Knits, Sweatshirts, Sweater dresses, Zip-up hoodies, etc.
Size Range: XXS–3X. Check Size Guide
Price Range: $150-$350
Shipping: Worldwide.
Naadam came to life with the passion to bring forward the world's best cashmere right from its very source, Mongolia's Gobi Desert. The brand directly works with the local herders by cutting down on mediators. Thus the herders are paid substantially more as a fair livelihood while ethically raising their livestock.
With a dedication to sustainability, Naadam is engaged in the Gobi Revival Fund and has set up a livestock insurance program, clean water source and so on for the local communities to thrive. They also provide hand-combing lessons and tools along with veterinary care to the animals, ensuring you receive the world's most sustainably sourced luxurious cashmere.
3. Patagonia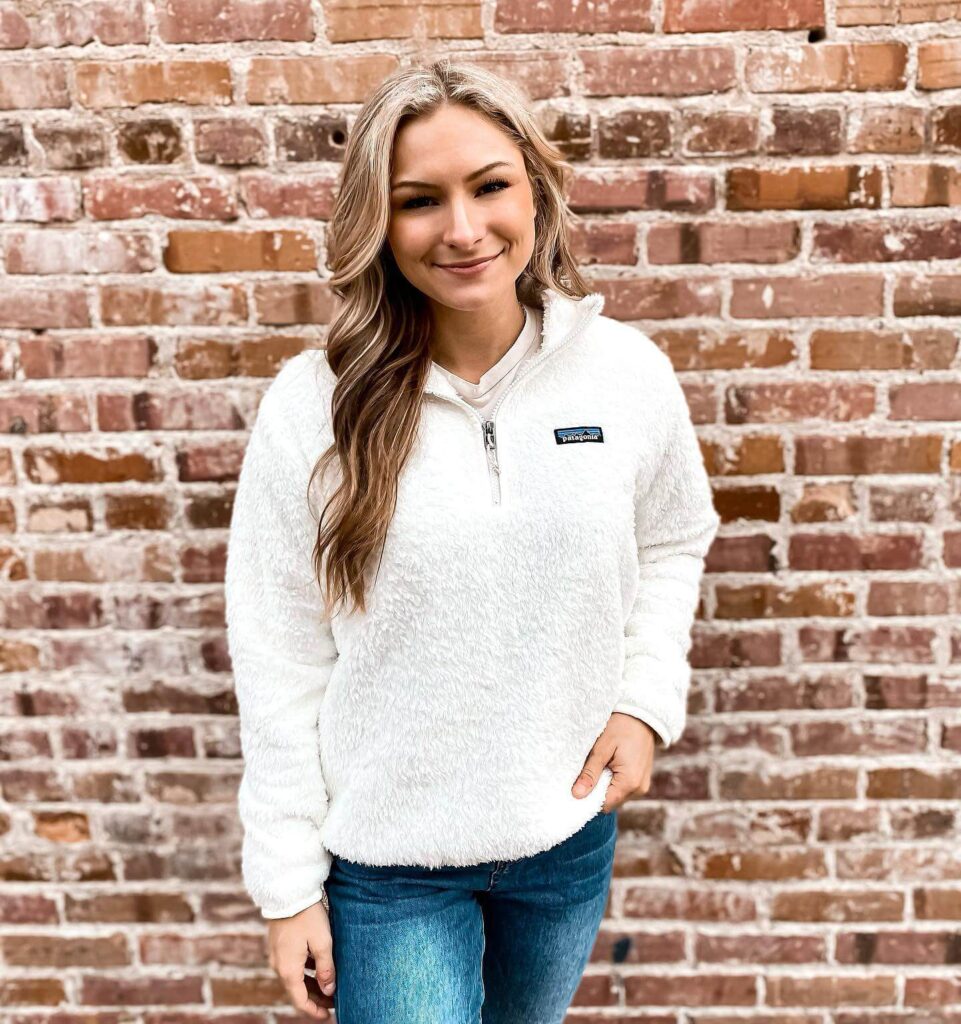 Place of origin: Ventura, California, United States
Founder: Yvon Chouinard
Sustainable Materials Used: Certified Organic cotton, Hemp, Merino wool, Alpaca wool, TENCEL™ Lyocell, Recycled down, Recycled nylon, Recycled polyester, Recycled cotton, etc.
Product Range: Quilted pullovers, Sweater tanks, Sweatshirts, Sweater vests, Insulated downs, Fleece snap necks, etc.
Size Range: XXS-2XL
Price Range: $47-$199
Shipping: Worldwide
Known as the pioneer of sustainable fashion, Patagonia offers a range of size-inclusive outerwear, including sustainable plus size sweaters, a variety of base layers, jackets, and much more. This B-Corp brand's sustainability and giving back to society efforts are endless. It is also the founder of the 1% for the planet initiative, where 1% of the brand's annual sales are donated to various environmental issues.
The Carbon Neutral brand's clothes are investment pieces, thoughtfully made with sustainably sourced materials from all over the world to last you a lifetime. They also offer a WornWear program where you can sell your used Patagonia items or get them repaired to create a more circular system.
4. Amour Vert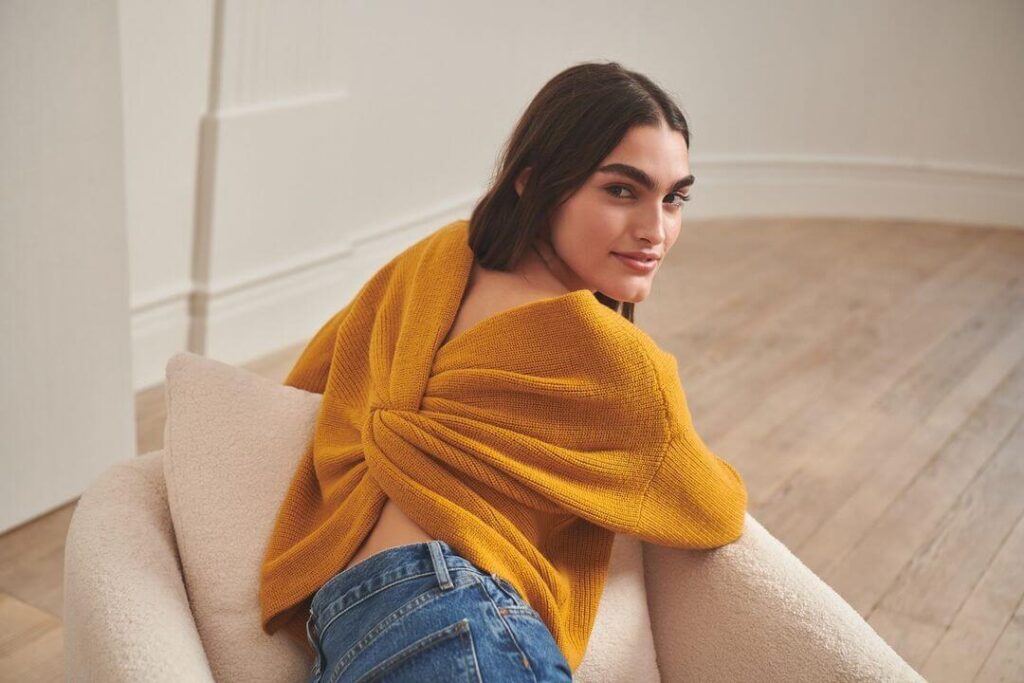 Place of origin: San Francisco, California
Founders: Linda Balti and Christoph Frehsee
Sustainable Materials Used: Non-mulesed Merino wool, Alpaca wool, Lenzing modal, GOTS certified organic cotton, etc.
Product Range: Sweater tanks, Crop sweaters, Pullovers, Cardigans, Fleece sweatshirts, Knit housecoats, etc.
Size Range: XS-XL
Price Range: $35-$228
Shipping: Currently shipping in the U.S. and nearby countries
Amour Vert is a sustainable fashion brand offering a stunning line of womenswear ranging up to size XL. Launched in 2010, the brand strongly advocates fair trade practices and directly partners with mills to produce the most durable and softest fabrics. Amour Vert is the French translated version of 'green love,' and staying true to being kind to the environment; they use low-impact materials to create classic pieces that never go out of style.
Their collections are ethically produced in California in small lots to ensure high standards and eliminate overproduction. In addition, they've partnered with the American Forests® and have so far planted 353990 trees for every purchase made. Rest assured, you'll love their sustainable knits and sweaters that flatter your curves and drapes like a glove.
5. Sézane
Place of origin: Paris, France
Founder: Morgane Sézalory
Sustainable Materials Used: Responsible cashmere, Certified mohair, Merino wool, Organic cotton, etc.
Product Range: Sweaters, Turtlenecks, Jumpers, Sweatshirts, Knitwear dresses
Size Range: XS-3XL
Price Range: $140-$225
Shipping: Worldwide
The story of Sézane began in 2013, with the founder's love for adding her personal style to vintage designs. From the start, the B-Corp brand had a simple goal: To create timeless, high-quality investment pieces that have the beauty to become tomorrow's vintage. The brand believes that fair fashion should be accessible to everyone. And this idea is brought to life by their size-inclusive clothing line comprising various luxurious looks crafted by expert ateliers.
In addition, sustainably sourced and certified fabrics are used in the brand's products that are made to last. Also, a transparent supply chain is mapped out on their website to secure every mindful consumer's conscience. In simple words, Sézane's cozy collection is 'très magnifique' from every end.
6. Outerknown
Place of origin: Culver City, California, United States
Founders: Kelly Slater and John Moore
Sustainable Materials Used: Recycled cashmere, Merino wool, Hemp, GOTS certified organic cotton, Recycled polyester, Recycled nylon, etc.
Size Range: XS-XL
Price Range: $240-$388
Shipping: Worldwide
Outerknown was founded in 2015 by World Surfer Champion Kelly Slater and designer John Moore, with a commitment to sustainability. Their range of knits are ultra-cozy and versatile pieces you can pair up with absolutely anything. With the mission to protect the environment, their clothing is intentionally designed to last a lifetime with the most eco-friendly materials.
In addition, Outerknown is associated with the Fair Labour Association and Fair Trade Certified factories that abide by the brand's Code of Conduct to improve the livelihoods of the workers engaged. They've also incorporated circular models where they serve resale, repair, and recycling programs to keep Outerknown pieces out of landfills.
7. Back Beat Co.
Place of origin: Los Angeles, California, United States
Founder: Isadora Alvarez
Sustainable Materials Used: Recycled Cotton, Hemp, GOTS certified Organic Cotton
Product Range: Pullovers, Thermal tops, Sweatshirts, Turtlenecks, Cardigans, etc.
Size Range: XS-2XL
Price Range: $75-$196
Shipping: Worldwide
Looking for edgy and cool sweaters? Well, Back Beat Co. has got your Back! With designs inspired by Californian old-school 'surf and skate' culture, this sustainable fashion brand caters to those who love investing in 'not-so-basic' looks. The size-inclusive brand is completely vegan and has a wide collection of plus size sustainable sweaters made from low-impact fabrics like hemp, organic cotton and so on. Their knits are brightly coloured, and extremely cozy, to keep you comfy during the chill season.
In addition, Back Beat Co. strongly supports a transparent and ethical supply chain where people and the planet always hold priority. Because of this, the brand only engages with fair trade factories that provide better working conditions and wages to their workers along with being environmentally responsible.
8. Tradlands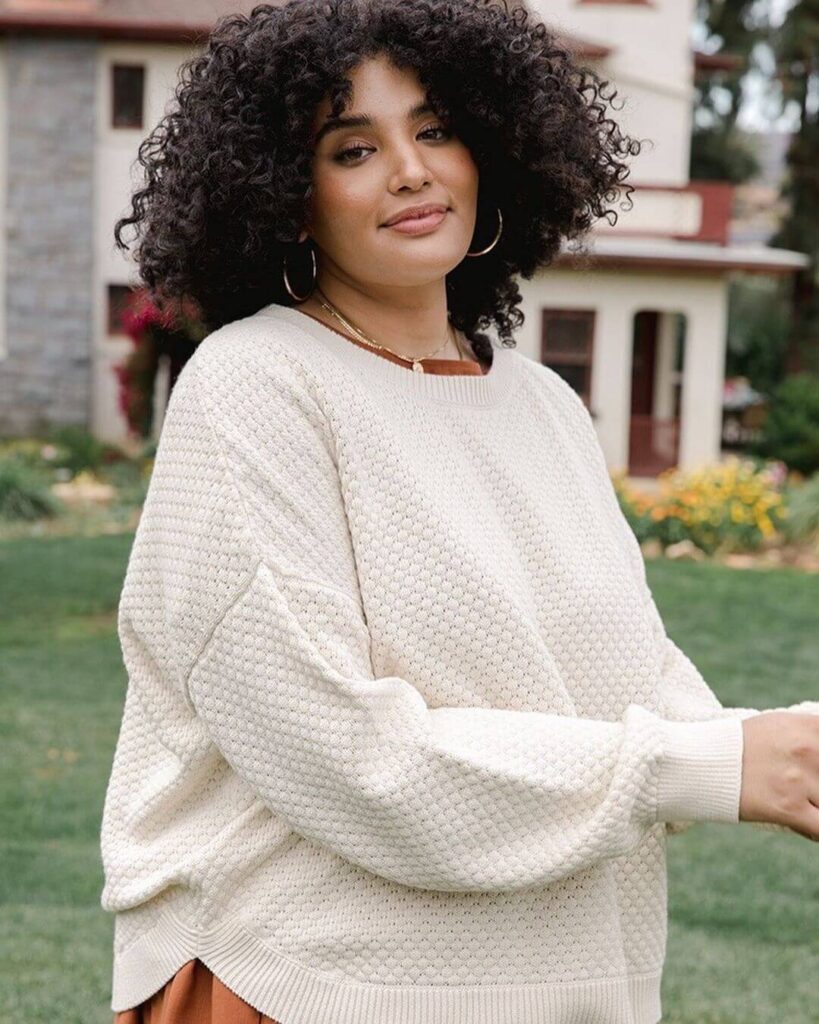 Place of origin: California, United States
Founders: Sadie Beaudet and Jeremy Roberts
Sustainable Materials Used: Organic Cotton, Recycled Polyester, TENCEL™ Modal, and Alpaca wool
Product Range: Sweaters, Cardigans, Pullovers
Size Range: XXS to 4X
Price Range: $119-$249
Shipping: Worldwide
Tradlands is a slow-fashion womenswear label with designs inspired by thoughtfully tailored men's fashion. Made for every contemporary woman with a love for classic looks, this brand creates well-made wardrobe essentials, including sweaters that remain seasonless and flatter every woman regardless of size. With sizes up to 4XL, their knitwear are well-structured, gentle, and easy to care for, made of minimalistic designs, leaving a canvas to add your style.
Tradlands' garments are ethically made with attention to detail, using high-quality and eco-friendly fabrics, keeping longevity in mind. Also, they've recently launched the 'Pre-loved' section on their site, where you can buy or sell used Tradlands pieces.
9. Peruvian Connection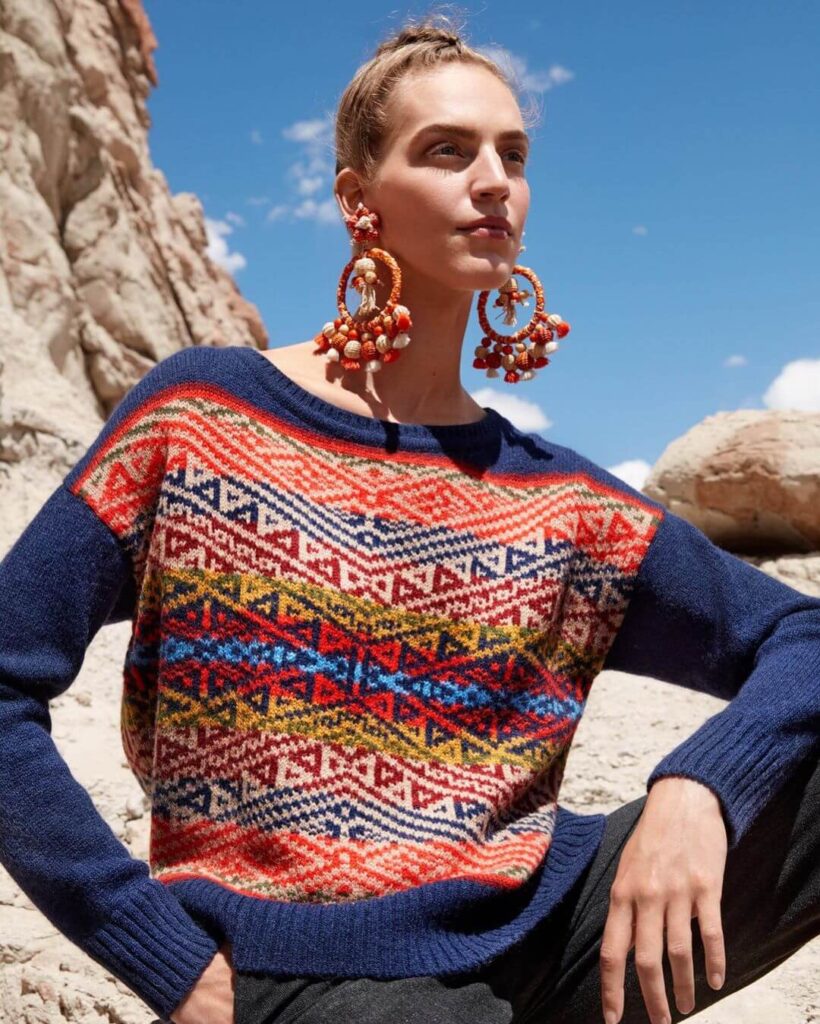 Place of origin: Kansas, United States
Founders: Biddy Hurlbut and Annie Hurlbut Zander
Sustainable Materials Used: 100% Organic Pima Cotton, and Alpaca wool
Product Range: Sweaters, Tunics, Cardigans, Ponchos, Turtlenecks, Pullovers, Sweater vests, Capelet, etc.
Size Range: XS-2XL
Price Range: $129-$795
Shipping: Worldwide
Launched in 1976, Peruvian Connection has been serving sustainable fashion lovers for over four decades. The brand came to life with the mission to treasure and showcase the exotic textiles and crafts of skilled artisans of the Andes. With a Peruvian Connection sweater or outerwear, you are guaranteed to make a statement as each piece celebrates unique traditional designs and weaving techniques.
In addition, each piece is thoughtfully handmade by skilled Andean craftsmen to honor ancient Peru textiles like Pima cotton and Alpaca wool, responsibly sourced from ethical farmers. The website has also mapped out a transparent supply chain along with the brand's efforts to uplift indigenous Andean communities.
10. People Tree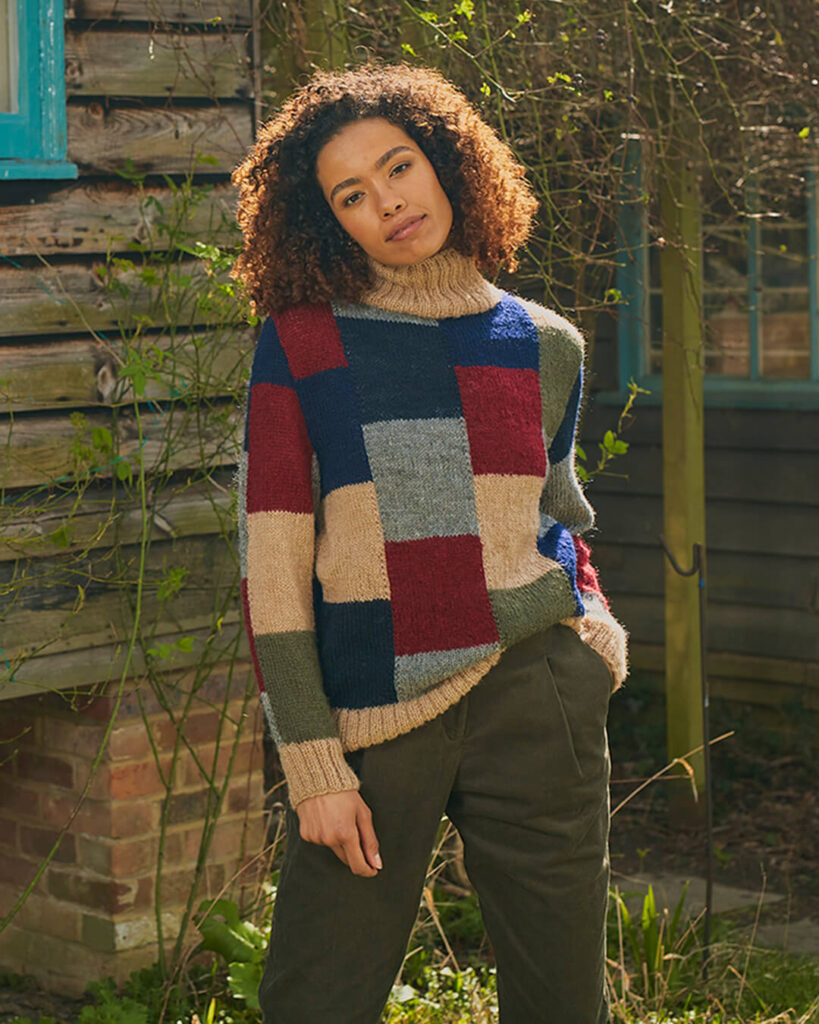 Place of origin: London, United Kingdom
Founders: James andSafia Minney
Sustainable Materials Used: 100% Organic cotton, Non-mulesed responsible sheep wool, Merino wool, etc.
Product Range: Cardigans, Pullovers, Jumpers, Sweater vests, etc.
Size Range: S-L
Price Range: $93-$184
Shipping: Worldwide
People Tree is considered as one of the pioneers of sustainable Fair Trade fashion brands. Launched in 1991, the brand's core mission is to offer contemporary and versatile designs created under the best ethical and environmental standards. The UK-based brand's knitwear collection is stylish, extremely cozy, 100% Fair Trade yet affordable. People Tree has a line of both PETA-Approved vegan sweaters along with responsibly sourced organic woollen pieces. All of its sweaters and cardigans are consciously hand-knitted by artisans in Nepal.
In 2013, the fair fashion label was honored as a guaranteed status member of The World Fair Trade Organization (WFTO) for its commitment to working with underprivileged communities globally to promote fair trading practices.
11. Eileen Fisher
Place of origin: Irvington, New York, United States
Founder: Eileen Fisher
Sustainable Materials Used: Peruvian Organic cotton, Alpaca wool, Merino wool, Cashmere silk, Recycled cashmere, Recycled wool, etc.
Product Range: Pullovers, Turtlenecks, V-neck knitted tops, Cardigans, Boat-neck knitted tops, etc.
Size Range: XXS-3X
Price Range: $198-$498
Shipping: Worldwide
Eileen Fisher is a cutting-edge, slow-fashion label. The B-Corp brand is loved for its minimalist and planet-friendly knitwear made using organic cotton, recycled cashmere and other regenerative wool. In addition, the fashion brand promotes inclusivity and has a wide range of sustainable plus size sweaters, ethically made, to keep you cozy while hugging your curves and values. Known for its super-stylish line of elegant and timeless pieces, it has always been a 'go-to' designer brand for sustainable shoppers.
Eileen Fisher is "Circular by Design." The designer majorly utilizes regenerative fabrics in its products to give a second life to what's already existing and combat climate change-'One sweater at a time.' Moreover, as a part of its strong commitment towards uplifting disadvantaged worker communities, the brand's supply chain supports over 450 worker families around Arequipa in Peru.
12. Reformation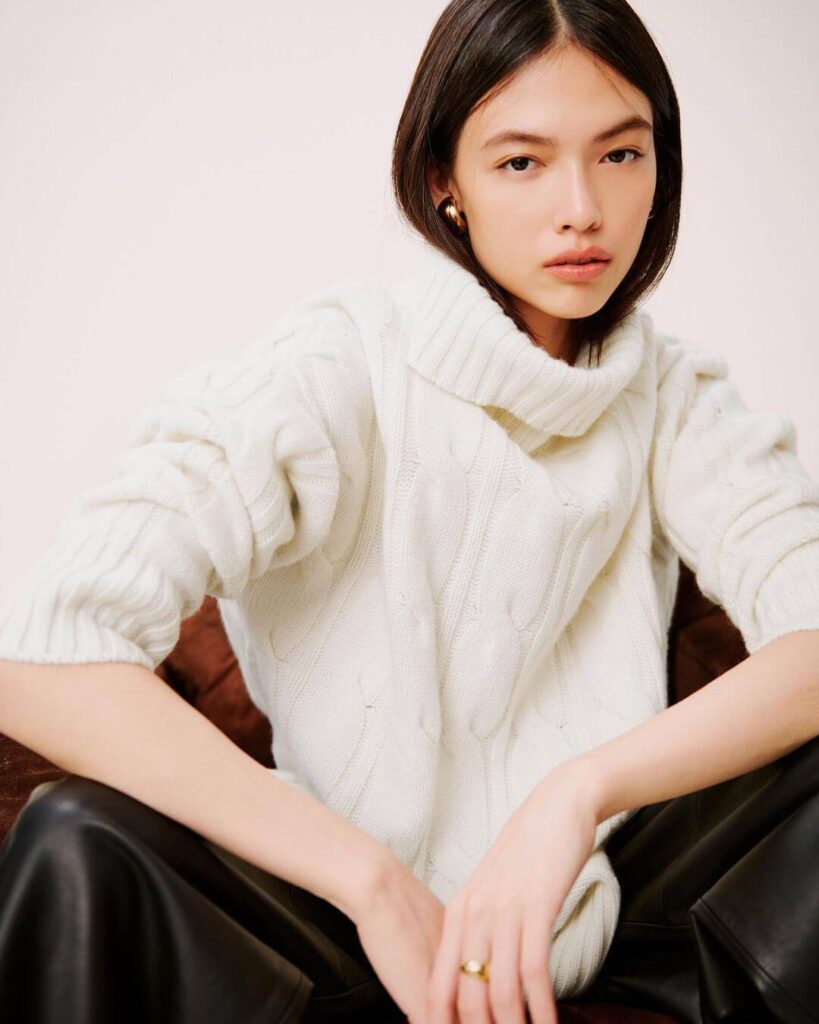 Place of origin: Los Angeles, California, United States
Founder: Yael Aflalo
Sustainable Materials Used: Regenerative wool, Recycled cashmere, Ethical cashmere, etc.
Product Range: Sweater vests, Cropped turtlenecks, Sweatshirts, Cardigans, Sweater dresses, Shrugs, etc.
Size Range: XS-XL
Price Range: $148-$348
Shipping: Worldwide
Reformation was born in 2009, with the mission to bring fair fashion to everyone. The brand's line of sweaters and cardigans are designed in effortless silhouettes that celebrate timelessness and feminity in all sizes. Approved by the sustainable youth, the brand seamlessly incorporates responsibly sourced materials like regenerative wool and traceable cashmere in its super-comfy and chic knitwear range.
In addition, with a pledge to reduce their carbon footprint and create a better planet for the working communities, Reformation's products are made with lower-impact fabrics in certified fair trade facilities worldwide. The Climate Positive brand believes in transparency for its consumers. Therefore, it has drawn up all its operations, including a list of factories, sustainability reports and frameworks, and much more, on its site.
13. Toad & Co.
Place of origin: Santa Barbara, California, United States
Founder: Jessica Nordhaus
Sustainable Materials Used: Non-mulesed merino wool, Organic cotton, Regenerative wool, etc.
Product Range: Crew-neck sweaters, Hoodies, Cardigans, Sweater vests, Zip sweaters, etc.
Size Range: XS-XL
Price Range: $77-$159
Shipping: Worldwide
Toad&Co is a sustainable clothing brand comprising a team of environmental enthusiasts. The brand started with the goal to bring change in the filthy fashion industry and inspire people to embrace sustainability. Its winterwear category houses an array of fun, fashionable and functional designs to keep you snug during the cooler months. The earth-minded brand uses non-mulesed OEKO-TEX-certified virgin wool and recycled wool blends for creating breathable and gentle-on-the-skin winter fits.
In addition, Toad&Co uses a "Circular Model" to eliminate waste and save on resources by offering reusable shipping packages and a renewal program for repairing old pieces. It also provides closet "clean-out" kits to consumers who want to sustainably give up their used clothes. Engaged in multiple social causes, the brand is also a proud member of the "1% for the Planet" initiative.
14. Thought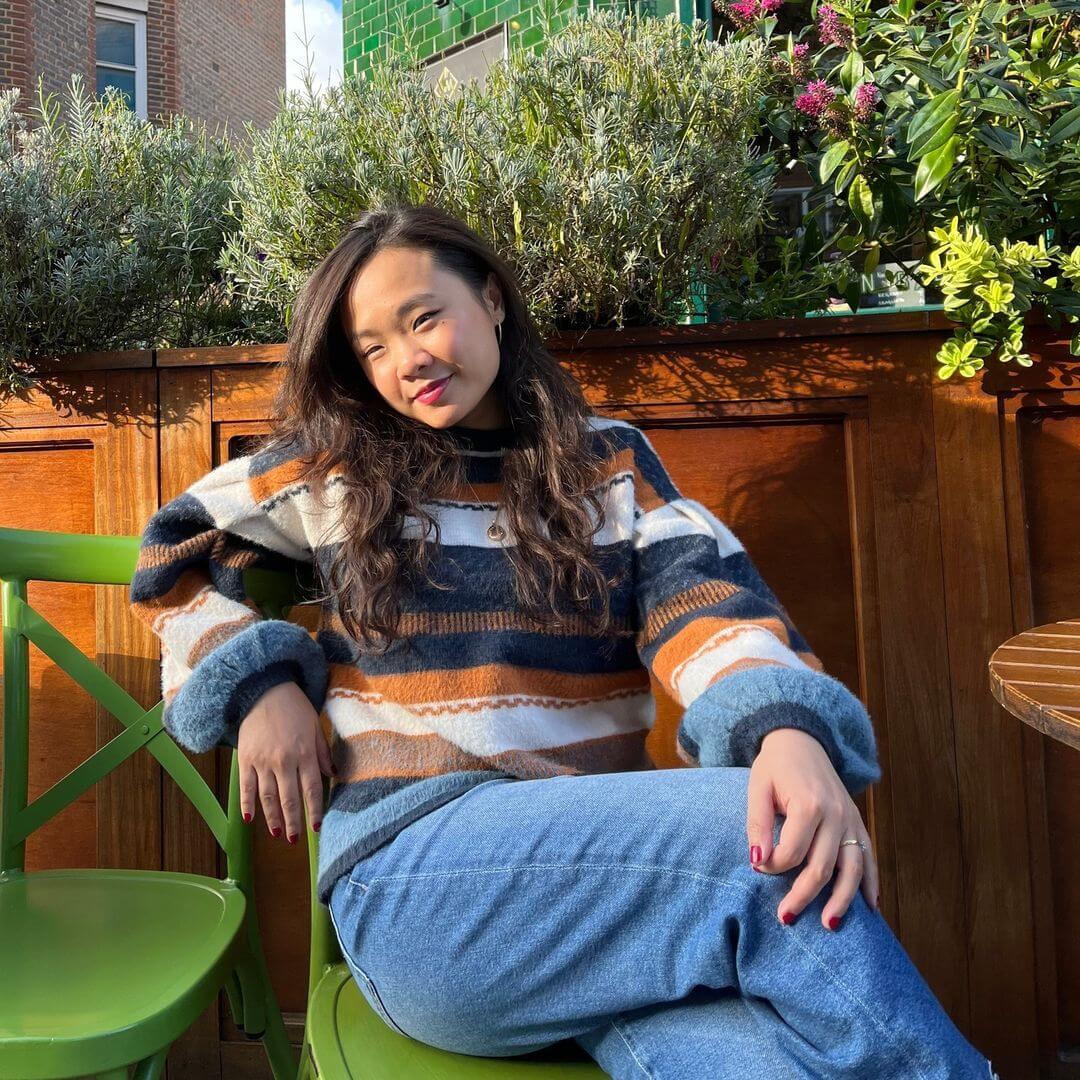 Place of origin: London, United Kingdom
Founders: John and Rachel Kelly
Sustainable Materials Used: GOTS Certified organic cotton, Responsible lambswool, Mercerised wool, Recycled polyester, etc.
Product Range: Cardigans, Jumpers, Cardi coats, Knitted tops, Sweat tops, etc.
Size Range: UK size up to 20. US size up to 16
Price Range: $62-$145
Shipping: Worldwide
Thought is a famous eco-conscious clothing brand based on the British soil. It offers soft and stylish affordable knitwear crafted from the cleanest, earth-friendly fibers like organic cotton, recycled wool and so on. With sustainability as its core value, the brand has high animal welfare standards and sources its woollen yarns from ethical breeders. Also, 96% of Thought's collection is vegan.
As a founding partner of the "Ethical Fashion Forum" and the nonprofit "Common Objective," Thought is dedicated to making responsible and functional designs. All of its products are ethically made in factories that provide liveable wages, safe working conditions and practice fair trade. In addition, the brand has a recycling section dedicated to TRAID– a UK charity that works to keep clothes out of landfills and minimize the fashion industry's environmental impact.
15. WVN
Place of origin: Santa Cruz, California, United States
Founder: Kate Fisher
Sustainable Materials Used: GOTS Certified organic cotton, Responsible wool, etc.
Product Range: Sweater vests, Basic cardigans, Sweater dresses, Wrap cardigans, Turtlenecks, etc.
Size Range: XS-XL
Price Range: $65-$185
Shipping: Worldwide
WVN is B-Corp certified sustainable brand with the mission to create amazing clothing while being kind to Mother Earth. Launched in 1993, the veteran fashion label started with an aim to inspire the fashion industry to produce thoughtfully-made apparel without compromising on style and standard. It offers modern, sophisticated and beautifully hand-knitted jumpers and sweaters made using GOTS Certified organic cotton and other sustainable fabrics.
WVN has partnered with Fair Trade certified factories that share the brand's value of being kind to the planet and the people. So you can trust that every purchase you make with the brand is ethically made with love.
A Final Word…
Our curvy tribe! Your search for the most planet-friendly size-inclusive knitwear labels ends here. As winters have started to set in, this list of brands knitting a better world is a great place to start when the mercury drops. These brands prioritize people and the environment over profit while adhering to ethical, eco-conscious, and fair trade production guidelines. And as consumers on a sustainable forefront, cozy clothes that don't heat up our planet are 'cool' and much easier to wear because they comfort not only our bodies but also our conscience.
Happy Winters!