Disclosure:
Our editors handpick top-rated brands, vetted through our strict ratings. Purchases via our links may earn us a commission.
Learn more
Winter Is Here! As the mercury drops, it's time to bundle up in layers to stay snug throughout the cool mornings and even cooler nights. And while putting on warm knits and sustainable plus size sweaters over your everyday sustainable plus size tops are fine— coats and jackets are signature winter staples that you just can't do without. Plus, a classic outerwear kind of pulls the whole look together, ducking in all the warmth while making you look the classiest.
Agreed, most fashion brands offer winter coats and jackets made of unsustainable fabrics that keep you cozy at the cost of heating Mother Earth. However, shopping for ethical outerwear is easier than you thought. Size-inclusive eco-conscious brands are coming up big time, with a plethora of sustainable plus size winter coats and jackets for women of all sizes.
No matter the level of temperature drip at your place, these brands got you covered with their range of lightweight layers to heavy-warmth outerwear. Let's check them out!
15 Best Sustainable Plus Size Winter Coats & Jackets to Keep You Warm
1. Patagonia
2. Reformation
3. Outerknown
4. Eileen Fisher
5. Girlfriend Collective
6. Sézane
7. Monsoon
8. Peruvian Connection
9. Boden
10. Mother Of Pearl
11. prAna
12. Thought
13. Amour Vert
14. Wuxly Movement
15. LANIUS
These sustainable brands will help you build a winning winter wardrobe that will keep you toasty without melting an ice cap.
1. Patagonia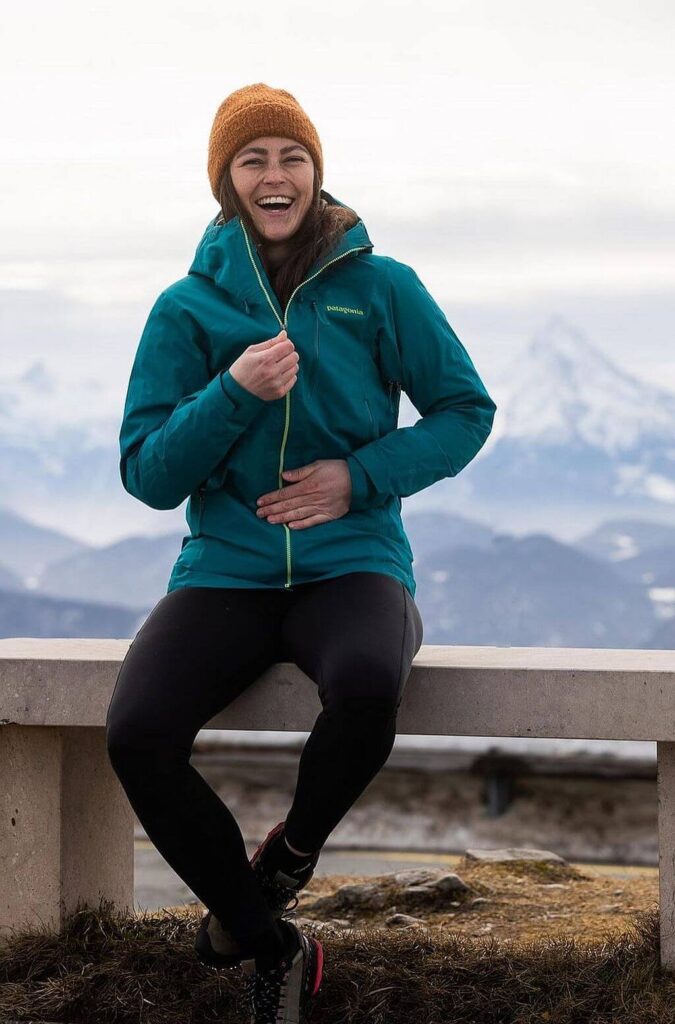 Place of origin: Ventura, California, United States
Founder: Yvon Chouinard
Sustainable Materials Used: Certified Organic cotton, Hemp, Merino wool, Alpaca wool, TENCEL™ Lyocell,Recycled down, Recycled nylon, Recycled polyester, Recycled cotton, etc.
Product Range: Rain jackets, Windbreakers, Fleece jackets, Casual jackets, Parkas, Vests, Coats, etc.
Size Range: XXS-2XL for Women; XXS-3XL for Men
Price Range: $179-$649
Shipping: Worldwide
Talk about highly sustainable winter coats and jackets, and Patagonia will always top our list. It has a wide collection of outerwear carefully crafted for performance when the weather gets chillier. Designed for warmth, comfort, durability and flexibility in changing conditions, these coats and jackets are ideal for those who love to explore the cool outdoors by hiking, camping or maybe just enjoying Mother Nature.
To keep clothes out of landfills, it has a WornWear program where you can sell your used Patagonia pieces or get them fixed for damages. Staying true to its message, "Earth is our only shareholder", the Climate Neutral brand is also the founder of the 1% for the planet initiative. The B-Corp-certified brand's entire line of products is made in certified fair trade factories using responsibly sourced eco-friendly materials.
2. Reformation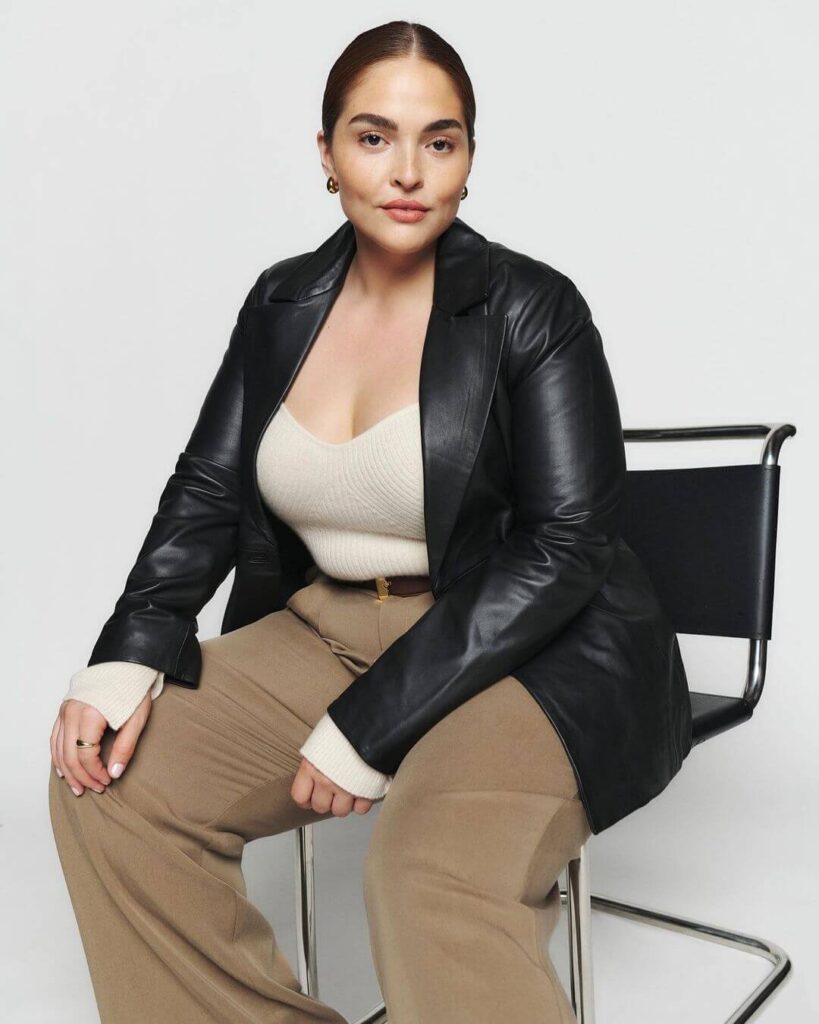 Place of origin: Los Angeles, California, United States
Founder: Yael Aflalo
Sustainable Materials Used: Regenerative Italian wool, Recycled materials, and Leather from LWG-Gold or Silver-rated tanneries
Product Range: Trench coats, Denim jackets, Leather blazers, Long warm coats, Jackets, etc.
Size Range: XS-XL. Check Size Guide
Price Range: $368-$498
Shipping: Worldwide
Presenting Reformation-the perfect combination of super-chic sustainable fashion. Designed to elevate your winter looks while keeping you cozy, this B-Corp certified brand's stylish winter coats and jackets are perfect to counter the freeze while keeping you 'Hot.' With the mission to make fair fashion accessible to everyone, Reformation creates incredible investment pieces that would never go out of style.
Each and every product is made using responsible low-impact materials and rescued deadstock fabrics to reduce the brand's carbon footprint and eliminate waste generation. Reformation's collections are usually limited editions to ensure they don't overproduce. Also, all their products are made in Fair Labor Association's audited factories that put their workers' well-being first.
3. Outerknown
Place of origin: Culver City, California, United States
Founders: Kelly Slater and John Moore
Sustainable Materials Used: Merino wool, Hemp, GOTS certified organic cotton, Recycled polyester, Recycled nylon, etc.
Product Range: Coats, Shirt jackets, Blazers, Hooded puffers, Blanket shirts, etc.
Size Range: XS-XL for Women; S-XXL for Men
Price Range: $188–$318
Shipping: Worldwide
Founded by World Surfer Champion Kelly Slater and designer John Moore, Outerknown is a planet-friendly label that has all your 'Outerwear' needs sorted. The Californian brand designs its winterwear with the intention of high performance, using responsibly sourced materials like certified organic cotton, recycled fishing nets, and so on.
Outerknown's iconic blanket shirts are exactly what you need as the temperature drops, and their warm puffers work the best for super-chilly days. The brand is driven by a passion for responsible action and has set Fair Labor Program standards in its Code Of Conduct for its suppliers. Outerknown also embraces a circular model through its resale, repair, and recycling programs.
4. Eileen Fisher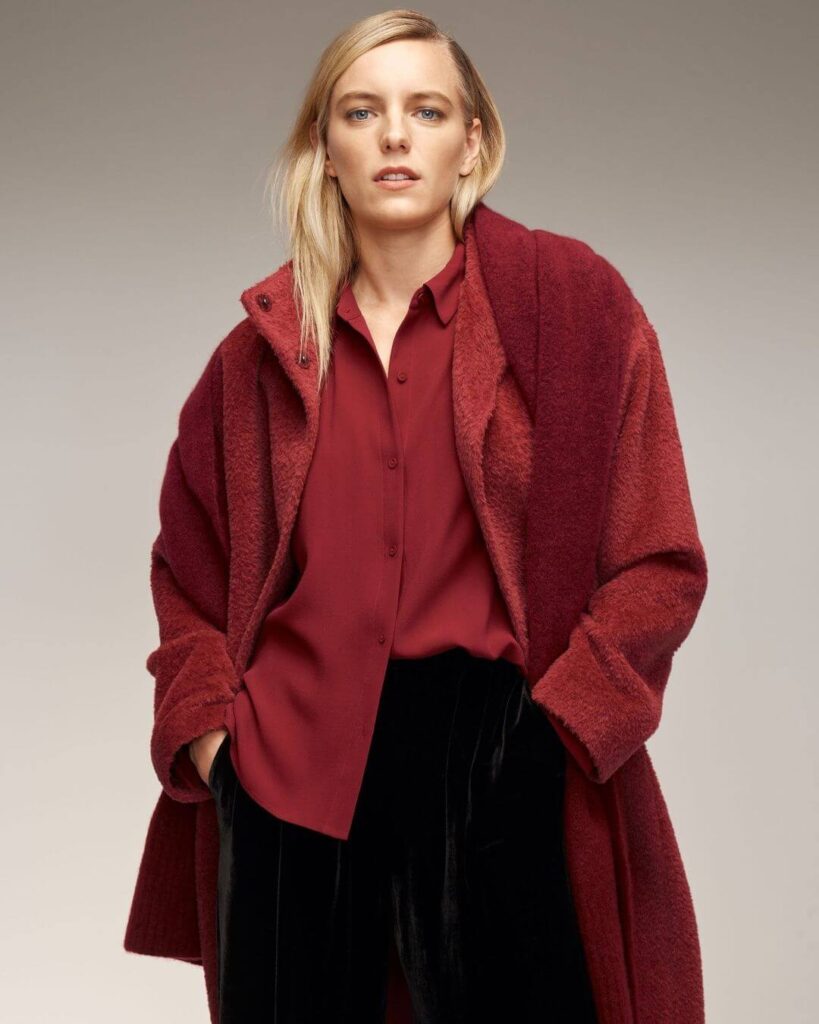 Place of origin: Irvington, New York, United States
Founder: Eileen Fisher
Sustainable Materials Used: Peruvian Organic cotton, Alpaca wool, Recycled cashmere, Recycled wool, etc.
Product Range: Hooded coats, Short coats, Stand-collar coats, Quilted jackets, Ponte long jackets, etc.
Size Range: XS-3XL
Price Range: $298-$698
Shipping: Worldwide
Designer Eileen Fisher launched her namesake slow-fashion label in 1984. The B-Corp brand's winter coats and jackets are made in minimalist and classic designs, ideal for layering and adding that extra warmth as the weather cools. Crafted in simple shapes and 'always-in-fashion' silhouettes, their outerwear are winter wardrobe staples that you'll return to season after season.
In addition, Eileen Fisher champions fair trade and is committed to protecting the planet by incorporating high-quality, eco-friendly materials in her collections. To create clothes that make a positive environmental impact, they follow a "Circular By Design" model by choosing regenerative fabrics that can be renewable and recyclable.
5. Girlfriend Collective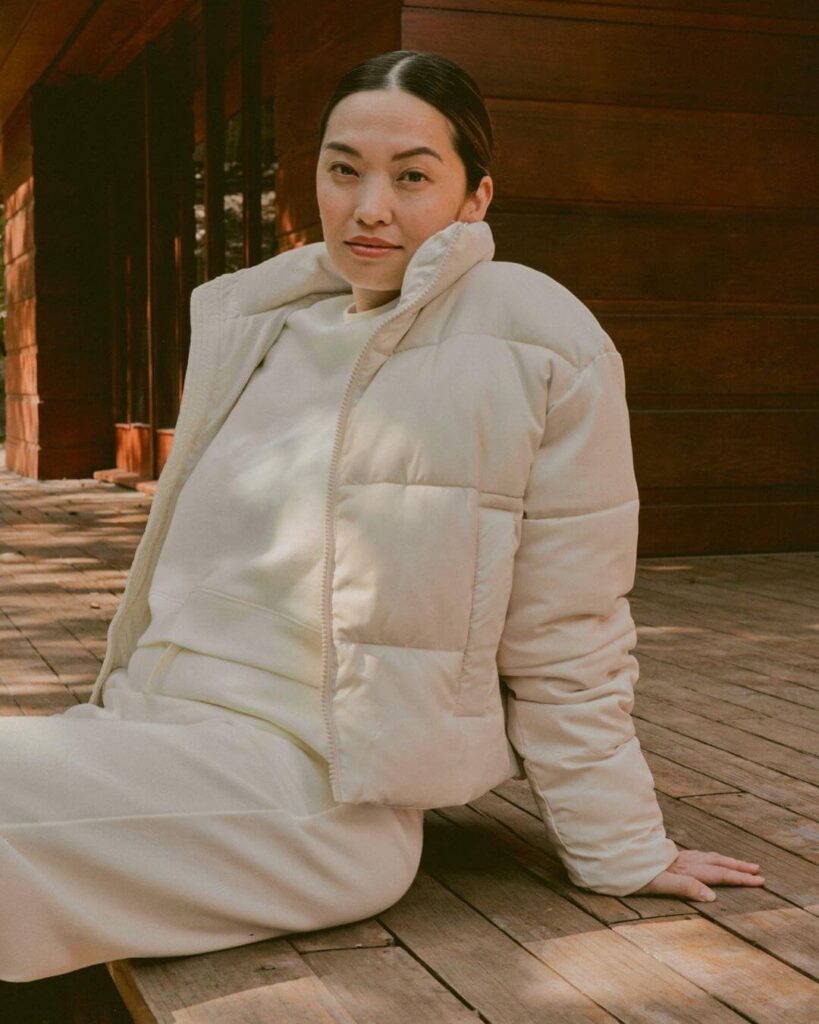 Place of origin: Seattle, Washington
Founders: Ellie and Quang Dinh
Sustainable Materials Used: Recycled polyester (RPET)
Product Range: Cropped puffers, Fleece hoodies, Microfleece jackets, Packable lightweight puffers, Puffer vests, etc.
Size Range: XXS-6XL. Check Size Guide
Price Range: $60-$110
Shipping: Worldwide
Girlfriend Collective is a go-to size-inclusive sustainable brand that you just can't miss out on. Their outerwear options might be limited, but they definitely have some good stuff up for you. From chic cropped puffers in cool colours to cozy fleeces and bombers, they've mastered the essentials. And the coolest thing? These outerwear are made from recycled plastic bottles and fishing nets that promise you toasty feels all winter long. Like, What!
And don't get tricked by the brand's name because Girlfriend Collective isn't exactly 'Girls' Exclusive,' they do have good options for men as well. In addition, to utilizing waste and converting them into clothes, Girlfriend Collective believes in ethical manufacturing and works with SA8000 and WRAP-certified factories only.
6. Sézane
Place of origin: Paris, France
Founder: Morgane Sézalory
Sustainable Materials Used: Responsible cashmere, Certified mohair, Merino wool, Organic cotton, etc.
Product Range: Medium-length and Long-length coats in solid colours and patterns as well, Trenches and Jackets
Size Range: XS-2XL. Up to US 14
Price Range: $380-$415
Shipping: Worldwide
Born in Paris in 2013, Sézane brings to you perfectly cut, structured luxury coats and jackets that are too tempting to resist. Made using high-quality sustainable materials, their outerwear collection comprises of timeless pieces tailored to make a statement. With the vision to make luxurious fair fashion accessible to everyone, Sézane's entire range is fairly priced for the looks they actually bring to the table. Honestly, so 'très magnifique' that it feels like a dreamy winter wonderland!
The B-Corp brand believes in creating heirloom clothes that can become the 'vintage of tomorrow'. Hence, all their pieces are crafted with expertise by their fair trade partner ateliers in India, Bulgaria, Italy, and more.
7. Monsoon
Place of origin: London, United Kingdom
Founder: Peter Simon
Sustainable Materials Used: Recycled Polyester
Product Range: Skirt coats, Long coats, Embroidered jackets, Quilted jackets, etc.
Size Range: S-2XL. Up to Size 24. Check Size Guide
Price Range: $880-$380
Shipping: Worldwide
Monsoon is a British lifestyle company that covers all of your family's clothing needs. Their stylish and cozy winter coats and jackets are created in vibrant colours and beautiful embroideries to make you all chirpy and cheerful during the gloomy winter days. Inspired by the cultural handloom crafts of India, Monsoon strives to keep these art forms alive by working close-knit with underprivileged artisanal communities.
Transparency and ethical production are maintained throughout the brand's supply chain to support the workers by offering them a source of income, education, and healthcare. Monsoon is also a founding member of the Ethical Trading Initiative (ETI), which works towards improving working conditions and livelihoods.
8. Peruvian Connection
Place of origin: Kansas, United States
Founders: Biddy Hurlbut and Annie Hurlbut Zander
Sustainable Materials Used: 100% Organic Pima Cotton, and Alpaca wool
Product Range: Shearling trenches, Alpaca coats, Reversible dusters, Shackets, Knit coats, etc.
Size Range: XS-XL. Check Size Guide
Price Range: $398-$3800
Shipping: Worldwide
One word that perfectly defines Peruvian Connection's outerwear is— "Showstopper." Launched in 1976, Peruvian Connection is one of the veteran sustainable fashion brands that stands tall to the claims of responsibly made exquisite clothing. Their collection of boho-chic winter coats and jackets is the best way to add personality to your winter looks. Made with luxurious, ultra-soft and durable alpaca wool, these pieces are designed to be worn forever and passed down as a legacy.
Peruvian Connection started with the founder's fascination with the ancient Andean textiles and their unique weaving traditions. And to popularise this exotic craft worldwide, the brand offers artisan-made outerwear native to Andean culture using fibers like alpaca wool, pima cotton, etc. Each piece is uniquely designed to celebrate the age-old art forms of the Incas. In this way, Peruvian Connection also supports the Inca communities towards a dignified livelihood.
9. Boden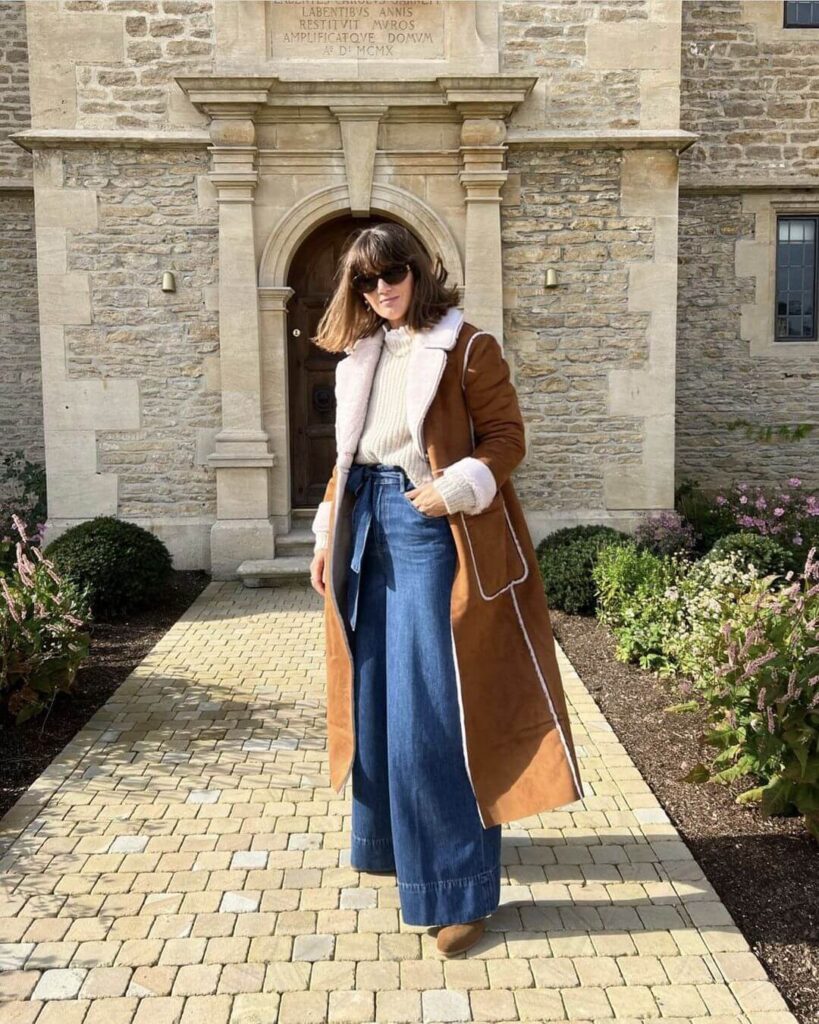 Place of origin: London, United Kingdom
Founder: Johnnie Boden
Sustainable Materials Used: Organic and Recycled fabrics
Product Range: Textured wool coats, Puffer jackets, Gilets, Colored coats, Puffer coats, Teddy coats, etc.
Size Range: XS-XL.Up to Size 22. Check Size Guide
Price Range: $147-$420
Shipping: Worldwide
Boden is a London-based sustainable clothing company offering superior quality, timeless styles for men, women and children. Whether you're looking for an edgy gilet, faux shearling coat or a cape coatigan, this brand has it all to help you confront the chills. And that too at reasonable prices. On a sustainable forefront, they use responsibly sourced fabrics in all their products and to ensure the longevity of their clothes, Boden hosts hours-long trials for garment assessments.
Every piece is designed in the brand's in-house site, which is then ethically produced in fair trade factories worldwide. The clothing label maintains transparency throughout its supply chain, and all its operations are mapped out on its website for consumers' reference. Boden also contributes to multiple charities supporting underserved families, educating young people, and so on.
10. Mother Of Pearl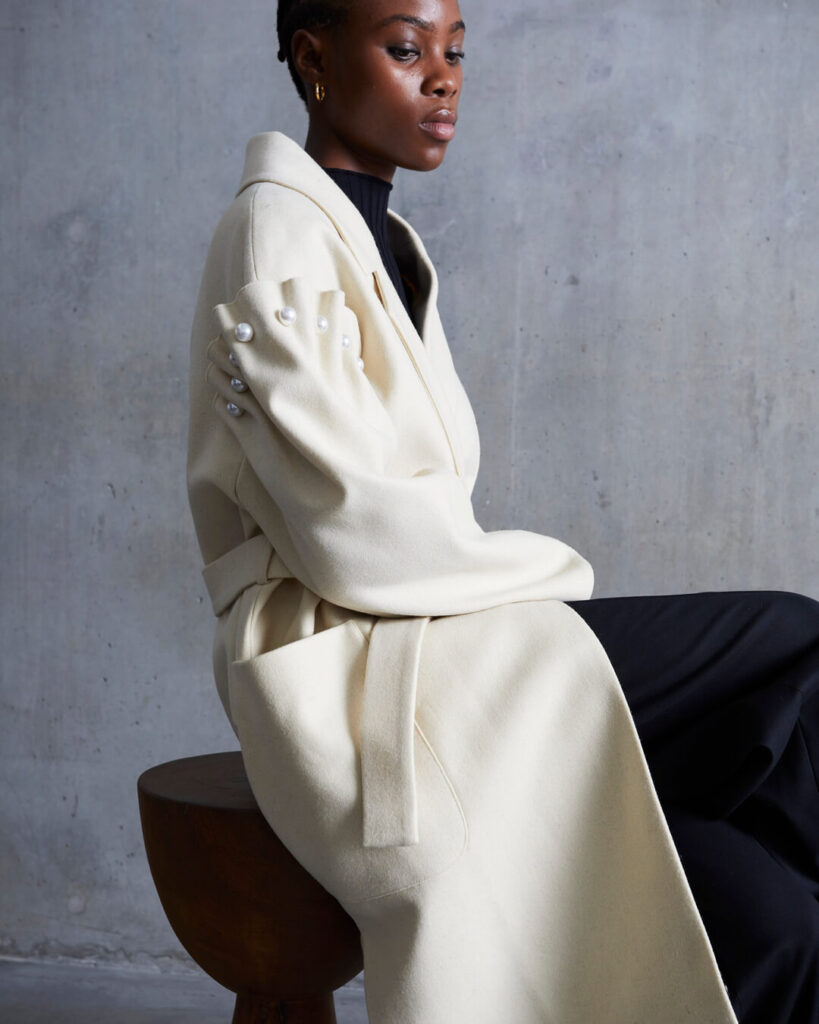 Place of origin: London, United Kingdom
Founder: Amy Powney
Sustainable Materials Used: 100% Organic fabrics, Mulesing-free wool, Recycled materials, etc.
Product Range: Statement long coats, Blazers, Quilted coats, etc.
Size Range: XS-XL
Price Range: $350-$650
Shipping: Worldwide
Talk about ethically made masterpiece luxury coats? Well, you got the fair fashion womenswear label Mother Of Pearl. Based in East London, this brand has quite a humorous approach to creating winter coats and jackets in masculine silhouettes fused with feminine detailing. MOP's pieces celebrate individuality, sustainability and authenticity and are created in responsible contemporary designs that you would return to season after season.
With sustainability at its heart, the designer brand maintains transparency by laying out all the aspects of its supply chain. Like, check any of their product, and you will be bombarded with super-detailed information to ease your doubts. The brand has also teamed up with "Curate & Rotate" for the launch of their Resale model, where you can buy preloved MOP pieces at a fraction of the cost.
11. prAna
Place of origin: Carlsbad, California, United States
Founders: Beaver & Pam Theodosakis
Sustainable Materials Used: Recycled polyester, Regenerated nylon, Organic cotton, RDS-certified down, etc.
Product Range: Puffer jackets, Parkas, Vests, Bomber jackets, etc.
Size Range: XS-2XL for Women and 2XS-3XL for Men. Check Size Guide
Price Range: $42-$172
Shipping: Worldwide
prAna comes from the Sanskrit meaning for Breath—a life-giving force. And with that inspiration, this brand creates conscious, stylish fashion for those who love to explore the outdoors and connect with Mother Nature. The sustainable brand's outerwear selections are made in remarkably sleek and classy designs with performance-level strength to resist harsh weather conditions.
Moreover, to create clothing for a positive change, prAna is Fair Trade Certified and generates a stable livelihood for 26000+ workers worldwide. Like most eco-friendly brands, they've incorporated a circular system to save worn-out clothes from ending up in landfills. Plus, prAna is also an honoured member of multiple organizations, including the Fair Labour Association, Textile Exchange, the Conservation Alliance and many more.
12. Thought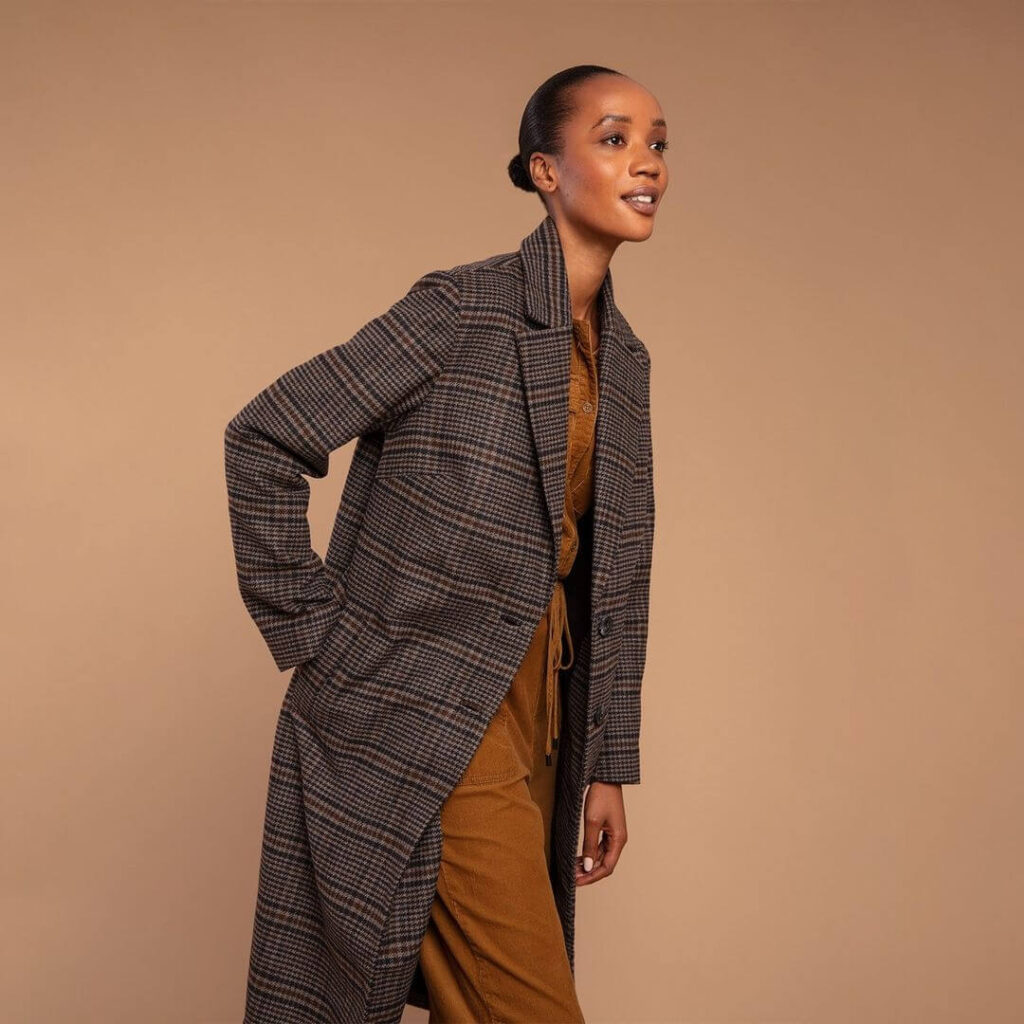 Place of origin: London, United Kingdom
Founders: John and Rachel Kelly
Sustainable Materials Used: GOTS Certified organic cotton, Responsible lambswool, Mercerised wool, Recycled polyester, etc.
Product Range: Quilted coats, Puffer jackets, Parkas, Car coats, Blazers, etc.
Size Range: XS-2XL.Up to size 20. Check Size Guide
Price Range: $125-$225
Shipping: Worldwide
The eco-conscious clothing brand Thought has been thoughtfully responsible with its practices since its launch in 1995. With the idea of creating clothes using responsibly sourced kinder fabrics, this brand brings to you sustainable winter coats and jackets to wrap up and beat the chills. Most jackets are attached with protective hoods and are made of weather-proof materials like recycled polyester to keep you dry and comfy.
Intentional, stylish and super-snug, these outerwear collections are designed with consideration and manufactured in certified fair trade facilities that prioritize workers' welfare. In addition, Thought has also partnered with Traid to close the gap in a circular fashion. All you got to do here is donate your preloved clothes, and the charity will pass them on to the needy for a chance at a second life.
13. Amour Vert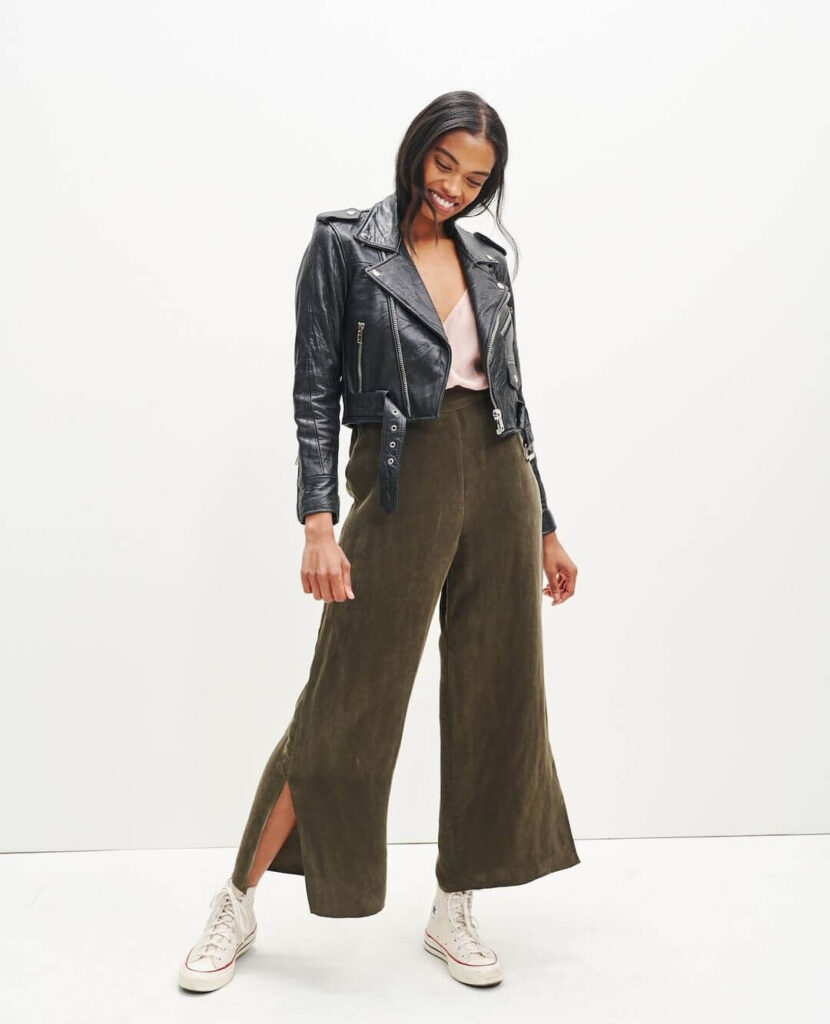 Place of origin: San Francisco, California
Founders: Linda Balti and Christoph Frehsee
Sustainable Materials Used: Non-mulesed Merino wool, Upcycled wool, Cupro blends, GOTS certified organic cotton, etc.
Product Range: Classic blazers, Sleek leather jackets, Cozy bombers, etc.
Size Range: XS-XL
Price Range: $178-$570
Shipping: Currently shipping in the U.S. and nearby countries
The planet-friendly brand Amour Vert is loved by sustainable chicks for its stunning clothing collections. And to set the bar, its super-chic, polished outerwear does not fail to amaze us as the temperature takes a dip. Whether it is their classic-casual jackets, sophisticated blazers or edgy biker jackets, this women's-only brand surely knows how to enhance wintertime styling. And did you know those super cool leather jackets are 100% vegan as they're made of responsibly harvested cactus. Dope, right?
Amour Vert is the French translation of "green love." Staying true to its roots, the brand uses low-impact materials in its artisan-made designs and conscious packaging with purpose. They also operate on a circular approach through 'ReAmour,' where you can buy preloved Amour Vert pieces. Plus, so far, they've planted 353,990 trees in North America in partnership with American Forests®.
14. Wuxly Movement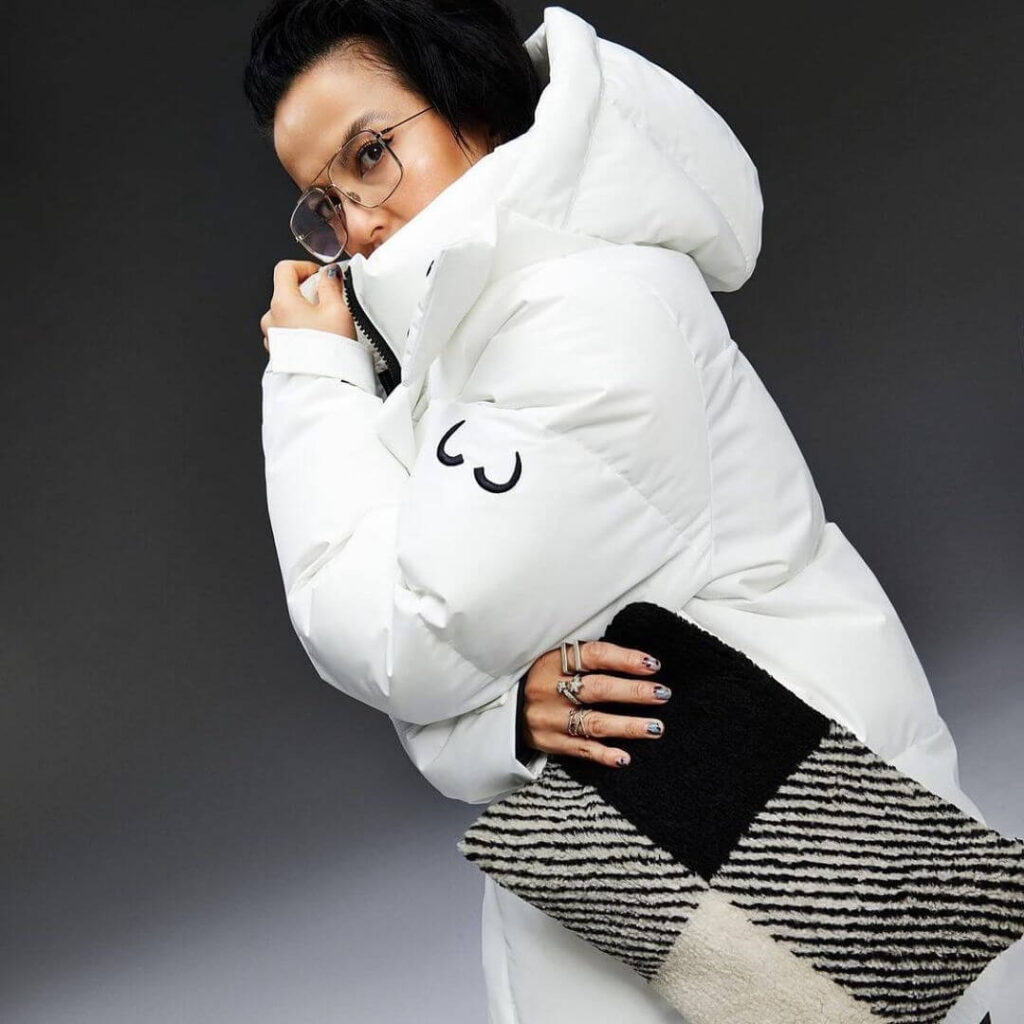 Place of origin: Ontario, Canada
Founder: James Yurichuk
Sustainable Materials Used: Sorona®, Recycled materials like Regenerative nylon and polyester
Product Range: Vests, Parkas, Fleece jackets, Bomber jackets, Puffer jackets, etc.
Size Range: XS-3XL for Women and Men. Check Size Guide
Price Range: $300-$897
Shipping: Worldwide
Wuxly Movement came into being when the founder, James Yurichuk, could not find the perfect winter coat for his wife to beat the harsh Canadian cold. The idea was to create the best winter parkas and jackets without harming animals. Hence, the B-Corp brand's outerwear are engineered in a combination of bio-based and recycled materials for exceptional performance while leaving animals out of the equation.
Specializing in all types of functional and dapper outerwear, Wuxly Movement pieces never fail to keep your looks soaring as the temperature goes dropping. Moreover, to recirculate used winter coats, Wuxly Movement runs a Trade Up program where you can donate your old outerwear and earn a credit of $100 in your next Wuxly Movement purchase.
15. LANIUS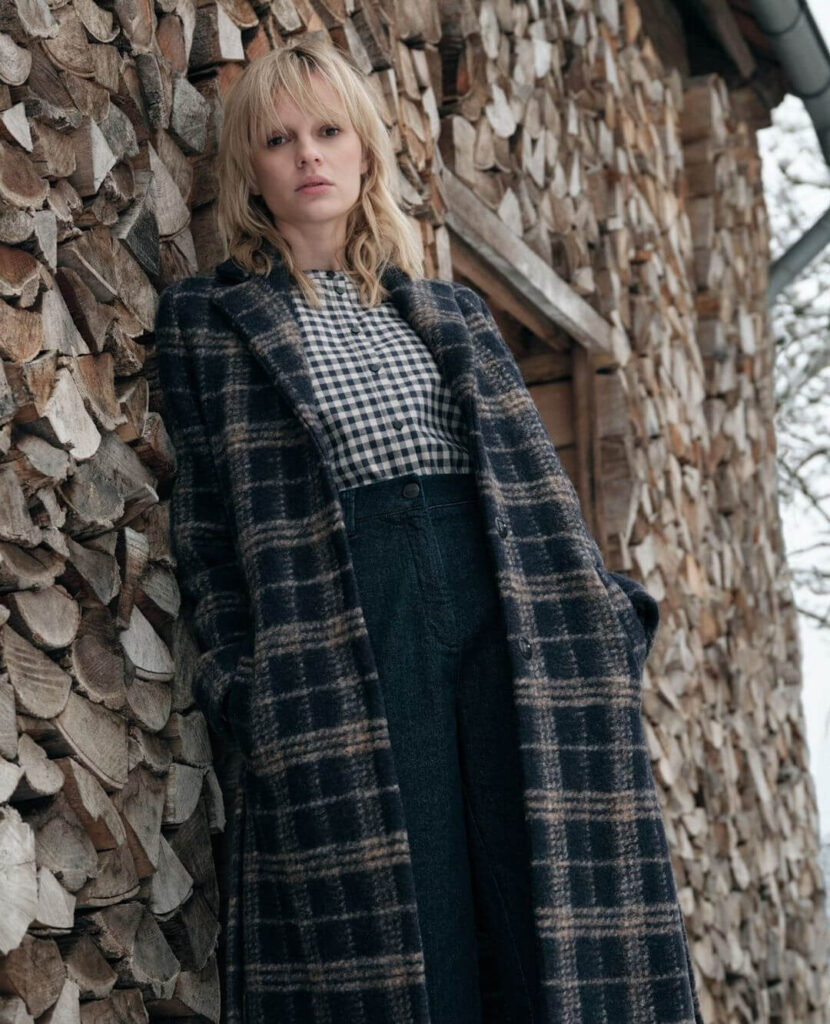 Place of origin: Cologne, Germany
Founder: Claudia Lanius
Sustainable Materials Used: Responsible wool, Organic cotton, Linen, Hemp, Recycled Polyester, Recycled nylon, etc.
Product Range: Padded coats, Quilted coats, Long checked jackets, Coated jackets, Blazers, etc.
Size Range: EU sizes from 34-44. Check Size Guide
Price Range: $179-$429
Shipping: Worldwide
Last but definitely not least is the 1999-born fair fashion brand LANIUS. The German brand is reaching milestones with its motto "Love Fashion, Think Organic, Be Responsible." What LANIUS offers is beautiful winter coats and jackets crafted in sophisticated cuts using certified eco-friendly materials, like GOTS organic cotton, non-mulesed wool, hemp and so on. Designed this season and made to last the next, their outerwear pieces are classic winter wardrobe staples that promise you the best of 'cozy yet cool' looks(pun intended).
Furthermore, to keep their clothing out of landfills, LANIUS operates a Care-Repair-Resell-Rent section which focuses on extending the garments' life. The brand is also a Fair Wear Foundation member for producing its apparel in certified SA8000 facilities.
Final Thoughts…
Supreme-quality outerwear made in structured designs with exceptional warmth will last you for decades if taken proper care of. Therefore, investing in the finest sustainable plus size winter coats and jackets might be the most effortless way to go.
Of course, we've sifted out these amazing brands to help you to build a functional and classy winter wardrobe, but it is always a good idea to dig into your existing heap of puffers and bombers for layering ideas. And if you need some new additions, well, seal the deal with these super-cool brands before the chills get the better of you. Happy Winters!
P.S.— Now that your size-inclusive winter coats and jackets are sorted, do check out sustainable plus size clothing brands to fix your other wardrobe essentials.