Disclosure:
Our editors handpick top-rated brands, vetted through our strict ratings. Purchases via our links may earn us a commission.
Learn more
The apparel industry is in dire need of innovative sustainable fabrics, and Lenzing EcoVero is showing promising qualities, fit to be considered as an eco-conscious textile. Designed to revolutionize the wasteful nature of the fast fashion industry, EcoVero aims to strike the perfect balance between style, comfort, and environmental responsibility. While it is a relatively new material, many affordable sustainable clothing brands and designers are already loving its luxurious vibe and premium-quality features, making it a popular textile choice.
But before you run out to buy garments made from this fabric, let's get a deeper understanding of What EcoVero actually is? How it is manufactured? And Is it even as sustainable as it claims to be?
What is Eco Vero Fabric?
EcoVero fabric is an improved version of viscose made from extracting cellulose from wood pulp, specifically sourced from sustainably managed, renewable forests. It falls under the category of semi-synthetic fibers, as it undergoes a chemical process to convert the wood pulp into usable yarn. The fabric has a sheen and shares the luxurious touch and feel of silk, making it a cruelty-free alternative in fashion. Considered as an eco-responsible viscose, its production process is more environmentally friendly compared to traditional regular viscose, as it boasts lower CO2 emissions and reduced water usage.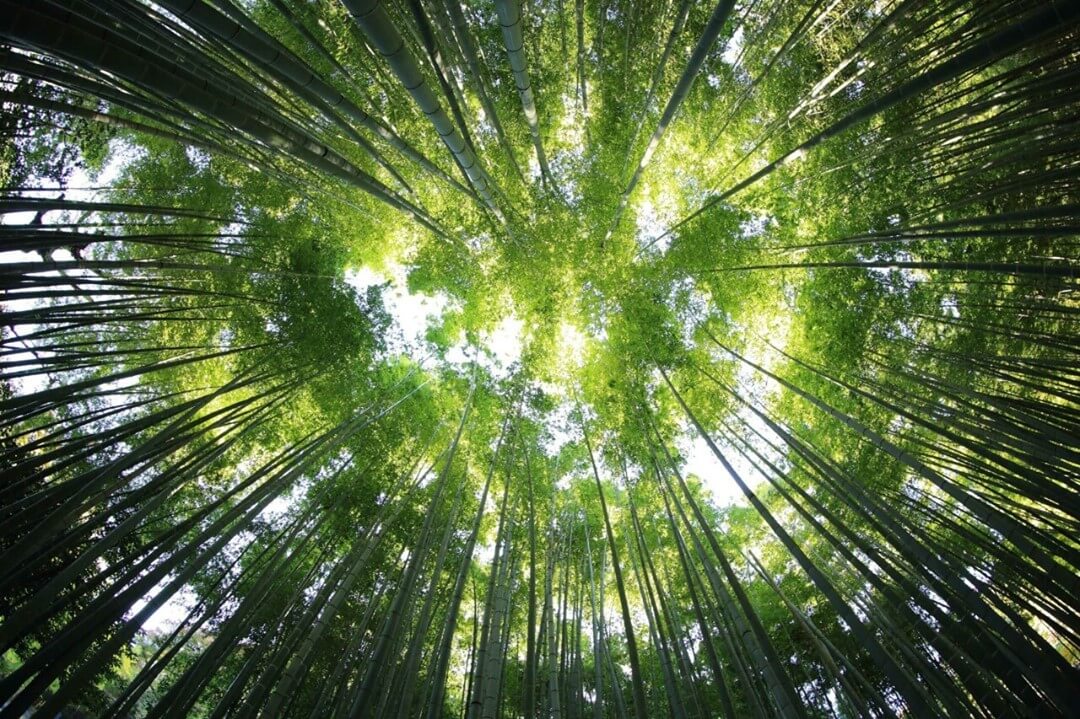 EcoVero was innovated in 2017 by Austrian conglomerate Lenzing AG, the pioneer of revolutionizing the textile industry with technological advancements. Presently, Lenzing stands as a prominent and reputable manufacturer of EcoVero, with 6.2% of the total fiber production globally.
What is EcoVero Fabric Made of and How is it Made?
EcoVero is produced from sustainably sourced wood pulp derived from certified and controlled forests, which ensures responsible forestry practices. Once extracted, the wood pulp is subjected to a specialized closed-loop manufacturing method where it is broken down into a purified white fluffy cellulose using special chemicals like carbon disulfide, sulfuric acid, acetone, ammonia, or caustic soda.
EcoVero, like other polymer fibers, is crafted using a spinning process. And as part of its sustainability commitments, Lenzing adopts the wet spinning technique, which is the oldest and most common form of spinning. In this process, the polymer is dissolved and then squeezed out through numerous tiny holes of spinnerets to get cellulosic fibers. After purification and extension to form long filaments, the fibers are ready to be spun into soft and smooth EcoVero Lenzing viscose threads.

Extending the filaments is a vital step in production, making the fibers much longer than their original length, leading to improved efficiency and cost-effectiveness. In this entire production technique, from extraction to production, the solvents used to dissolve the wood pulp are almost entirely recovered and recycled, making it a low-waste and eco-friendly process.
The full cycle from raw material extraction to the finished EcoVero viscose fibers may take several weeks, involving various stages of production and quality control. However, the closed-loop system allows for efficient use of resources. While Lenzing Group is the leading producer of EcoVero, various manufacturers across European countries and East-Asian nations, like the Philippines, Japan, and China, are producing their own version of this textile.
Is EcoVero Viscose Sustainable?
Yes, EcoVero viscose is significantly more sustainable than conventional viscose fabrics. To start with, it is made from renewable wood sources, with Lenzing sourcing the wood pulp from responsibly managed forests certified by the FSC (Forest Stewardship Council) or PEFC (Program for Endorsement of Forest Certification Schemes). This guarantees that the fabric's raw material is sustainably harvested, promoting forest conservation efforts. Plus, over 60% of the trees are situated in Austria and Bavaria, close to Lenzing's facilities, resulting in almost 50% lower CO2 emissions from transportation.
The conventional viscose production process is resource-intensive. Viscose producers usually make laborers work in unsafe facilities, risking their well-being. Besides, acidic and toxic chemicals used in these facilities easily seep into the local waterways, contaminating water sources. According to the non-profit organization Canopy, the production of viscose fiber is linked to mass deforestation and damaging to the environment in many ways.
Now, while EcoVero production too requires energy, water, and chemicals, it is far less compared to regular viscose. Lenzing uses a closed-loop manufacturing technique that is environmentally safe and 100% chlorine-free. This means that the chemicals used are carefully recycled, eliminating any threat to the environment, and reducing pollution and waste. In fact, according to Higg MSI (Higg Materials Sustainability Index) tool, EcoVero has a lower environmental impact on air and water.
Moreover, this fabric has earned the EU Ecolabel certification, which guarantees adherence to stringent environmental and sustainability standards throughout its life cycle. It also carries the Oeko-Tex Standard 100 certification, indicating that it is free from harmful substances and is completely biodegradable. Again, Lenzing's sophisticated tracing system enables 100% supply chain transparency, allowing customers to track the entire history of the fiber, from raw material sourcing, production, and distribution to disposal.
So, overall, EcoVero is a sustainable fabric that prioritizes environmental protection, responsible sourcing, and reduced ecological impact than generic viscose.
Is EcoVero Fabric Affordable?
EcoVero is more expensive than traditional cotton and viscose rayon due to its sustainable production methods and eco-friendly attributes. However, it is an affordable and sustainable alternative compared to organic cotton and high-quality cruelty-free silk.
Again, items crafted from EcoVero combined with other materials such as cotton or recycled polyester are usually offered at reasonable prices. While the price point varies, it is important to consider the long-term benefits and lower environmental impact of EcoVero when evaluating its affordability.
Lenzing EcoVero Certifications
Textile standards ensure that fabric production follows eco-friendly and sustainable practices, promoting socially responsible working conditions and efficient supply chains. They aim to minimize the impact on people, the environment, and animals, while using resources responsibly. As a biobased fiber, Lenzing EcoVero has several certifications to demonstrate its sustainable nature. Some of these certifications are:
Properties of EcoVero Fabric
EcoVero is gentle on the skin with a soft and smooth feel, similar to cotton.
It is an incredibly lightweight and breathable fabric.
It is a thermoregulating fabric that is super-comfortable to wear in warm weather
EcoVero fabric is strong and durable with good tenacity, providing long-lasting wear.
It absorbs moisture well but is not entirely stain-resistant.
EcoVero is generally less prone to shrinkage compared to traditional viscose fabrics.
It is hypoallergenic.
Ecovero offers stretchability between 2% to 3%, enhancing comfort and flexibility. For added flexibility, it is often blended with other fabrics.
It is easy to care for if proper care instructions are followed.
EcoVero is resistant to shrinkage.
Pros & Cons of EcoVero Fabric
Pros:
EcoVero is 100% biodegradable.
It is water-absorbent and dries quickly.
EcoVero is versatile in different weather conditions due to its breathability.
It has a flowy silhouette that can be draped effortlessly.
It has moisture-wicking properties that prevent sweat build-up and odor.
EcoVero viscose is resistant to wrinkling and pilling.
It is antibacterial, non-toxic, and suitable for all skin types.
It has a luxurious feel and is extremely comfortable.
EcoVero can be used for various applications. From clothing to bedding, this fabric offers versatility in product creation.
It is moth and mildew resistant.
It is more affordable than most natural low-impact materials.
It is manufactured under a sustainable and conscious production process.
EcoVero is made from renewable materials and releases a minimal amount of carbon emissions.
Cons:
EcoVero fabric cannot resist high temperatures and will lose longevity if exposed to direct sunlight for long hours.
It is not inherently waterproof but can be treated with coatings for water repellency.
It is not resistant to stains.
EcoVero is not exactly a stretchy fabric. The stretchability may vary depending on the specific blend of fibers.
It is not resistant to abrasions.
It may be unsuitable for cooler weather conditions, as it is more lightweight.
The rising demand for EcoVero in the fashion industry has prompted numerous manufacturers to produce it. But this could result in unsustainable sourcing and irresponsible manufacturing practices, ultimately compromising the fabric's eco-friendly qualities.
Uses of Eco Vero Fabric
Lenzing EcoVero fabric is widely used in the apparel industry for creating a variety of clothing items such as everyday essentials, dresses, blouses, suits, skirts, trousers, underwear, activewear, and so on.
It is utilized in the production of several home textile products like bed sheets, carpets, bathrobes, towels, curtains, and upholstery, adding eco-friendly elements to interior decor.
This fabric makes an amazing alternative to viscose and is also used in making accessories such as scarves and shawls.
Some conscious companies use EcoVero fabric for eco-friendly packaging solutions like reusable bags and pouches, reducing plastic waste.
How to Care for EcoVero Fabric
EcoVero is a delicate textile that needs proper care to extend the lifecycle of your garments.
In terms of cleaning, always follow the instructions available on the wash and care label to avoid mishandling.
The washing instructions can differ based on the fabric's composition. But usually, handwashing is recommended. For machine wash, use a gentle cycle with cold water, at a temperature lower than 40 ° Celcius.
Avoid using harsh detergents or bleach, as they contain toxic chemicals which may damage the fibers. Preferably use mild, eco-friendly detergents to reduce environmental impact.
Deal with stains promptly to avoid them setting into the fabric. Use natural stain removers or mild soap when spot-cleaning.
Air-drying in a shadowy area is the best method to preserve the fabric's integrity. Avoid using a tumble dryer for EcoVero fabrics as they have low thermal resistance and can melt at high temperatures.
EcoVero fabric is wrinkle-resistant. But if you want to iron your garments, do so by using the lowest temperature to avoid any potential damage. Consider using a damp pressing cloth to protect the fabric during ironing.
Finally, avoid hanging them on wire hangers, as they can stretch the fabric; use padded or wooden hangers instead.
Famous Brands that Use EcoVero Fabric
Best Sustainable Alternatives to EcoVero Fabric
Tencel Lyocell
Lyocell fabric is another eco-friendly fabric from the Lenzing Group. It is made from cellulose fibers sourced from certified forests, and its production process is similar to EcoVero. Tencel Lyocell has a soft silky texture, much like silk or cotton, making it comfortable to wear. It is highly absorbent, breathable, resistant to wear and tear, and biodegradable. Definitely, an excellent alternative to EcoVero, as it offers identical properties of being both planet-friendly and skin-friendly.
Modal
Modal fabric is a type of semi-synthetic textile known for its soft and smooth texture, often compared to luxurious materials like silk. It is highly absorbent, breathable, and resistant to shrinkage, pilling, and fading. Plus, its biodegradable nature makes it a perfect fabric for eco-conscious consumers. Due to its similarities with EcoVero in terms of comfort, feel, and sustainability, Modal can serve as an excellent alternative for those seeking a versatile and affordable fabric option.
Organic Cotton
Organic cotton is a natural fiber grown without the use of harmful pesticides and chemicals, making it safer for farmers, the environment, and consumers alike. It has a soft and breathable texture, providing comfort and durability in clothing. Organic cotton is also hypoallergenic, making it suitable for sensitive skin. Due to its natural properties and eco-friendly cultivation methods, it can be an ideal substitute for EcoVero.
In a Nutshell…
EcoVero is a promising fabric in the world of sustainable textiles. The Lenzing Group, with its certified and responsibly sourced production processes, ensures that EcoVero maintains its green nature with minimal environmental impact. However, as the popularity of this material grows, other manufacturers may start producing it without adhering to the same strict standards, leading to potential overproduction and compromising its sustainability credentials. So, always look for some sort of certification from reputable sources to ensure that your EcoVero products are consciously made.
FAQs
What is Ecovero Lenzing?
EcoVero Lenzing is a type of sustainable fabric that is produced with wood pulp, sourced in compliance with the highest environmental standards. Its production process has a lower water impact, and reduced greenhouse air emissions, making it a greener choice for fashion and textile industries.
Is Ecovero better than cotton?
EcoVero is certainly better than conventional cotton due to its low water requirements and eco-responsible production process. However, if compared with organic cotton, both stand at an equal value point, because they share some properties, like breathability, lightweight, hypoallergenic, and so on.
What kind of fabric is Lenzing Ecovero?
Lenzing EcoVero is an innovative viscose fabric manufactured under a low-impact, environmentally friendly production process. It has a lower carbon footprint compared to traditional viscose fabrics.
Is EcoVero fabric breathable?
Yes, EcoVero fabric is breathable. It offers excellent moisture-absorbing properties and allows air to flow through the fibers, keeping you cool and comfortable. The breathability of this fabric makes it an ideal choice for clothing items that are worn in warm weather or for active wear, as it helps regulate body temperature and prevents overheating.
What are the benefits of EcoVero?
EcoVero fabric is soft, breathable, and comfortable. It is suitable for people with skin sensitivities and has wrinkle, pilling, and fungus-resistance properties.
Does EcoVero material shrink?
EcoVero may shrink if exposed to high temperatures during washing or drying. To prevent shrinkage, it's best to follow the care instructions provided by the manufacturer and avoid using hot water or high heat settings when cleaning or drying garments. Hand washing or using cold water and air drying can help maintain the fabric's shape and size.
Is EcoVero viscose good?
Yes, EcoVero viscose is considered good due to its sustainable and eco-friendly attributes.