Disclosure:
Our editors handpick top-rated brands, vetted through our strict ratings. Purchases via our links may earn us a commission.
Learn more
If you're a 2000s kid, there's a good chance your closet has a piece of Hollister! This brand, part of the Abercrombie & Fitch family, burst onto the scene in 2000 and has been dishing out trendy fashion clothing ever since. But for those of us who remember the 1990s decade, browsing Hollister's website can feel like a blast from the past because of all the Y2K styles! The label offers super cool beachy casual wear at rock-bottom prices. Why? Because it can! And if that makes you wonder, Is Hollister fast fashion? Then the answer has to be a Big Yes!
With close to 5 million followers on Instagram, Hollister has a dedicated fanbase. But while the label proudly boosts to be all about "For you, for the community, and for the planet." Is Hollister truly committed to making the world a better place? Is it being fair to its workers and the planet? Does it have any well-planned environmental goals? Is Hollister sustainable? Let's explore just how responsible this brand really is!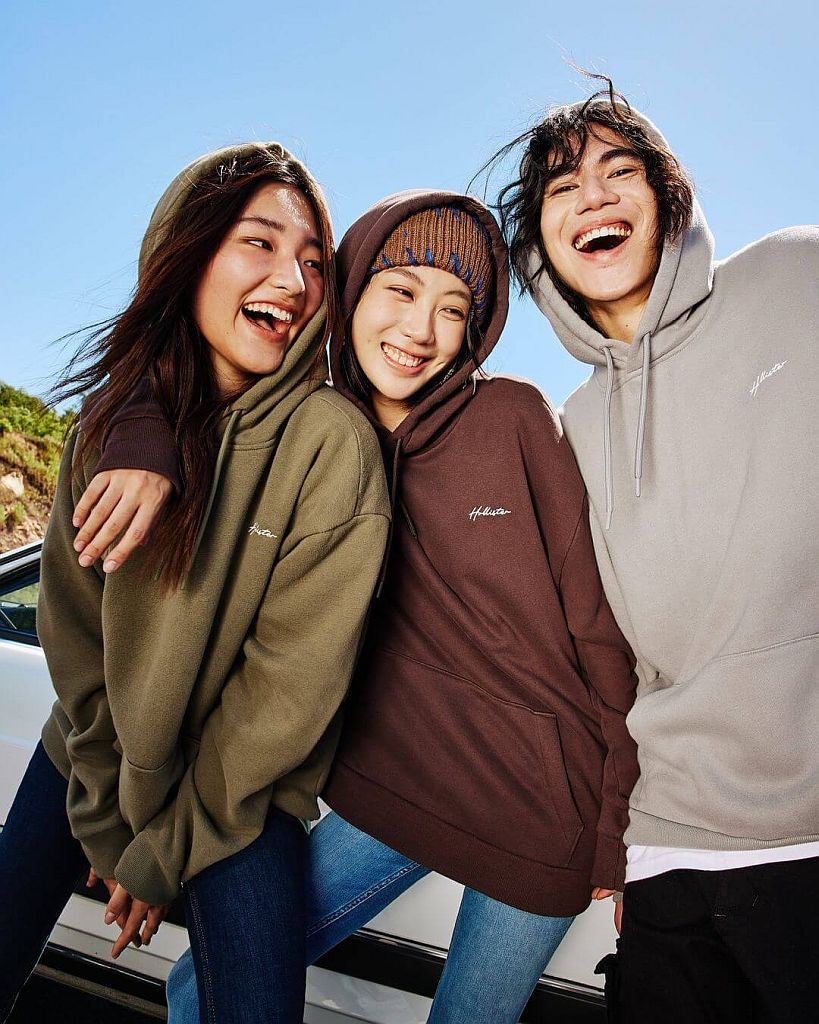 What is Hollister?
Hollister is an American clothing retailer renowned for its casualwear and accessories. Its product range spans jeans, graphic t-shirts, sweatshirts, activewear, swimwear, shoes, and so much more, all infused with a relaxed California-inspired style. The label's main clientele comprises teenagers and young adults, typically aged 14 to 18, who love to dress up in trendy, carefree fashionable clothes. However, depending on clothing preferences, it can also appeal to those in their early twenties.
In terms of pricing, Hollister offers competitive pricing, making its products accessible to a broad range of consumers. Plus, it frequently runs promotions and discounts, especially during seasonal sales events, to attract budget-conscious shoppers. Hollister is known for its relatively quick turnaround time in adopting the current fashion trends.
The brand strives to stay on top of the latest fashion traits, and it is not uncommon for it to introduce new collections in response to the changing preferences of its young customer base. This agility in adapting to fashion trends helps it to maintain its appeal among its target market.
When Was Hollister Founded?
Hollister Co., simply referred to as Hollister, was founded in 2000 in Columbus, Ohio, United States, as a subsidiary of Abercrombie & Fitch Co., a well-established American clothing giant. It was established to target a younger demographic with a beach-themed, casual, and laid-back style.
Hollister started its journey with the aim of capturing the spirit of Southern California, particularly the beachside culture of places like Hollister, California. Its stores were designed to resemble a surf shack, and this concept, combined with its relaxed clothing line, quickly appealed to teenagers and young adults.
Although Hollister was officially started in 2000, Abercrombie & Fitch decided to invent a fictional backstory for its founder. According to this made-up tale, a man named John Hollister, Sr. moved from New York City to the Dutch East Indies and then came back to the U.S., settling in California in 1922 to establish the company that bears his name. Whereas in reality, the company was founded in Ohio in 2000. An Abercrombie & Fitch spokesperson named Hampton Carney explained that Hollister's brand is more about capturing a lifestyle and inspiration rather than being solely focused on actual surfing activities.
The very first Hollister outlet opened its doors on July 27, 2000, at the Easton Town Center in Columbus, Ohio. Afterward, they launched four more test stores in different places: Overland Park, Kansas; Buford, Georgia; Canoga Park, California; and Paramus, New Jersey. Later, in mid-January 2006, Hollister stepped foot in the international markets, starting with setting up stores in Canada, followed by outlets across Europe.
Where is Hollister Located?
Hollister's corporate headquarters is based in New Albany, Ohio, USA. Its products are manufactured across the globe as the company has a vast supply chain and works with numerous partner factories in countries like China, Bangladesh, India, Vietnam, Guatemala, Indonesia, Philippines, Cambodia, and Sri Lanka. It has a strong global presence with 529 retail stores located worldwide, out of which 429 outlets can be found in the United States alone.
Where Does Hollister Ship From?
Hollister ships its products from multiple distribution centers located around the United States. It offers international shipping at a particular fee, and the mode of freight service available for specific countries can be found on its website. Delivery times can vary based on the destination, shipping method selected at checkout, and other factors like customs processing. However, U.S. packages are usually delivered within 4-9 days. The expected delivery times are provided during the online checkout process.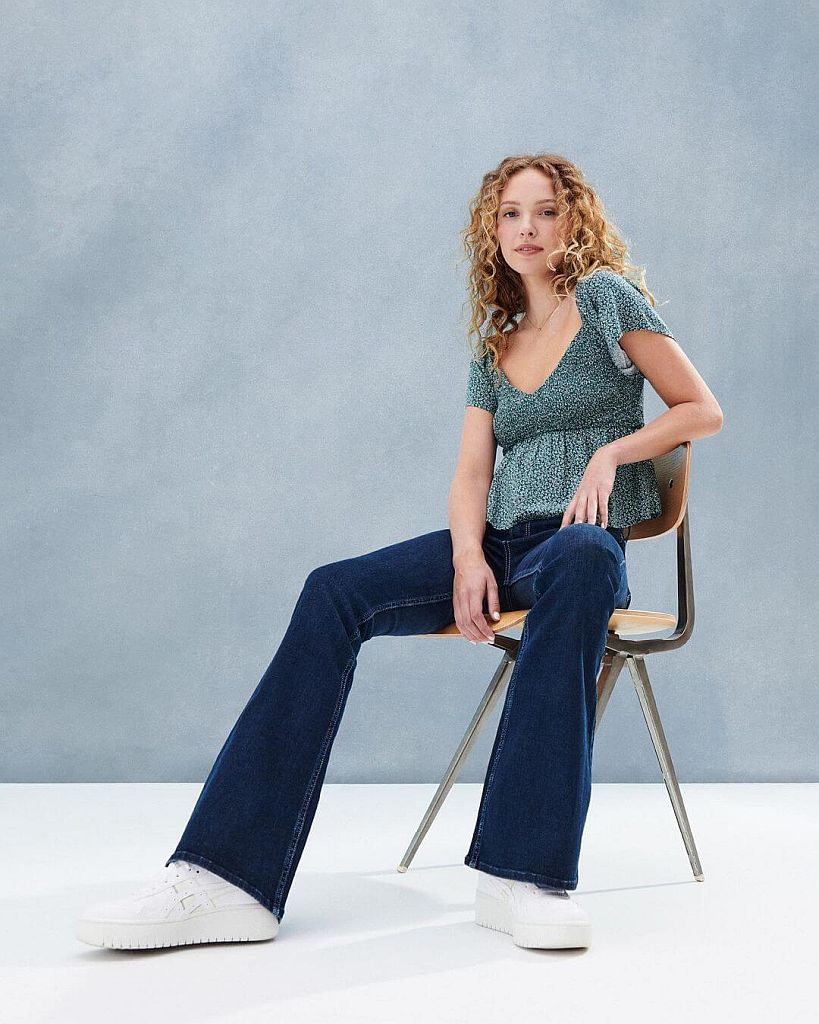 Is Hollister Ethical?
No, Hollister is not an ethical company, which can be said based on various aspects of its operations. Its lack of transparency is a major concern as the brand does not disclose its complete list of suppliers, making it difficult to trace the origin of its products. Moreover, none of its supply chains is certified by fair labor standards that ensure workers' health and safety, minimum living wages, and other labor rights. This absence of certification suggests a disregard for the well-being of the garment workers involved in the production process. Hollister received a low score of 21-30% on the Fashion Transparency Index, suggesting limited openness about its supplier policies and audit processes.
Now, Hollister's parent company, Abercrombie & Fitch Co., publishes a comprehensive list of its suppliers here and has an impressive Code of Conduct. But that's all! It doesn't provide substantial information about the working environment, duty hours, wages paid to garment workers, or steps to solve worker issues in these facilities. Most of Abercrombie & Fitch's partner factories are based in countries like Vietnam, China, and Bangladesh, where cheap labor is widely available, and labor laws are lenient. While the American fashion retailer does claim to audit 100% of its Tier 1 factories, there is no solid report to access its findings.
The vague attitude of not revealing its supplier audit scores and the absence of proof that confirms the fair treatment of workers in its supply chain further cast doubts on the company's ethical practices. Outsourcing manufacturing to developing countries is a common practice employed by fast fashion brands because this strategy drastically helps them to keep production costs low. But these are the exact reasons that give a whiff of sweatshop operations. Also, it's difficult to have confidence in the company's commitment to labor rights when it chose to not participate in the new Bangladesh Accord for worker safety in 2021. While Abercrombie & Fitch claims to work as per the fundamentals of Better Work and Sustainable Apparel Coalition, the reports of its achievements in making a fair and just supply chain are still due.
Hollister's limited transparency, lack of fair trade certification, and minimal information about working conditions and decent wages are objectives enough to question its commitment to ethical practices.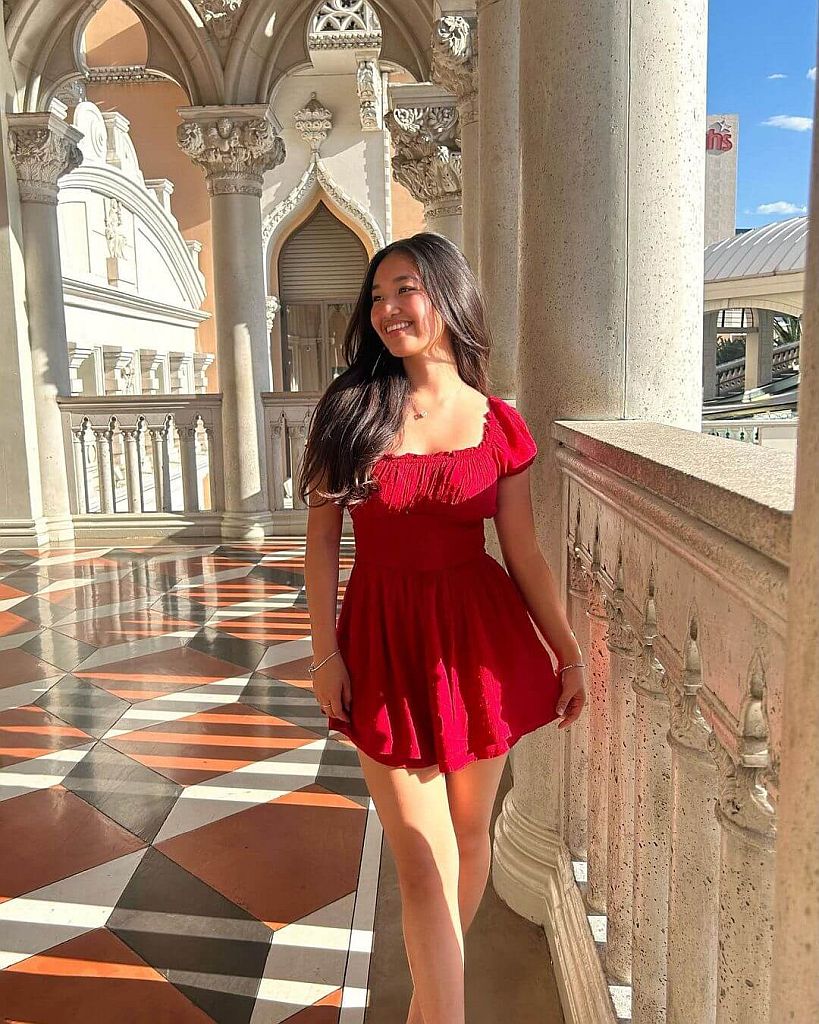 Does Hollister Use Child Labor?
Hollister states that it strictly prohibits human trafficking and the utilization of forced or child labor in any aspect of its operations, facilities, or by any of its vendors or subcontractors. However, in the past, it has been penalized for committing 51 violations by employing minors.
Agreed, such reports are alarming, but child labor in fast fashion sector has been prevalent for quite some time now. Reason? Employing children from vulnerable communities is way cheaper than employing adults. Regrettably, some notorious brands can go to every extent to make the most of this opportunity.
Hollister's Animal Welfare Policies
Hollister doesn't have a formal animal welfare policy that covers guidelines to reduce the suffering of animals bred for the fashion industry. While it doesn't use exotic animal hair, fur, angora, mink, and exotic animal skins, a lot of its garments are made from leather and wool. Unfortunately, the label doesn't trace the origins of these animal products from the first stage of production.
For now, the only responsible act is, Hollister uses Down accredited by the Responsible Down Standard. But as a global multinational, it certainly needs to do more and design a robust animal policy to ensure ethical sourcing of its animal-derived textiles.
Is Hollister Sustainable?
No, Hollister is not 100% sustainable. While the company has recognized the importance of adopting sustainable business practices, it has a long journey ahead to become end-to-end eco-friendly. To start with, Hollister's parent company has a dedicated Sustainability page on its website to keep track of its environmental plans. In order to lower its environmental impact on the planet, the brand has incorporated several initiatives in line with the UN Sustainable Development Goals 6, 12, 15, and 17.
Currently, a small portion of its garments are made up of eco-friendly materials like organic cotton, linen, and recycled materials. This means the majority of its fabrics consist of conventional cotton or synthetic materials derived from petroleum, like polyester, nylon, acrylic, and others. The production of such textiles are known to release insane amounts of greenhouse gas emissions, and the company hasn't shown significant efforts to minimize its environmental footprint. It neither reduces hazardous chemicals nor guarantees the treatment of wastewater in its supply chain.
On a positive note, Hollister reuses a portion of its textile scraps to minimize waste. It has also achieved water reduction targets in 30% of its denim production and has set sustainability goals to reduce its carbon footprint. It aims to partner with BCI Cotton and obtain 25% organic cotton from reliable sources by 2025. Other plans include decreasing its GHG emissions by 47% in Scope 1 and 2 by 2030 and use 100% renewable electricity in its offices and stores. While these efforts are commendable, Hollister has a lot of groundwork to cover before earning the "sustainable" label.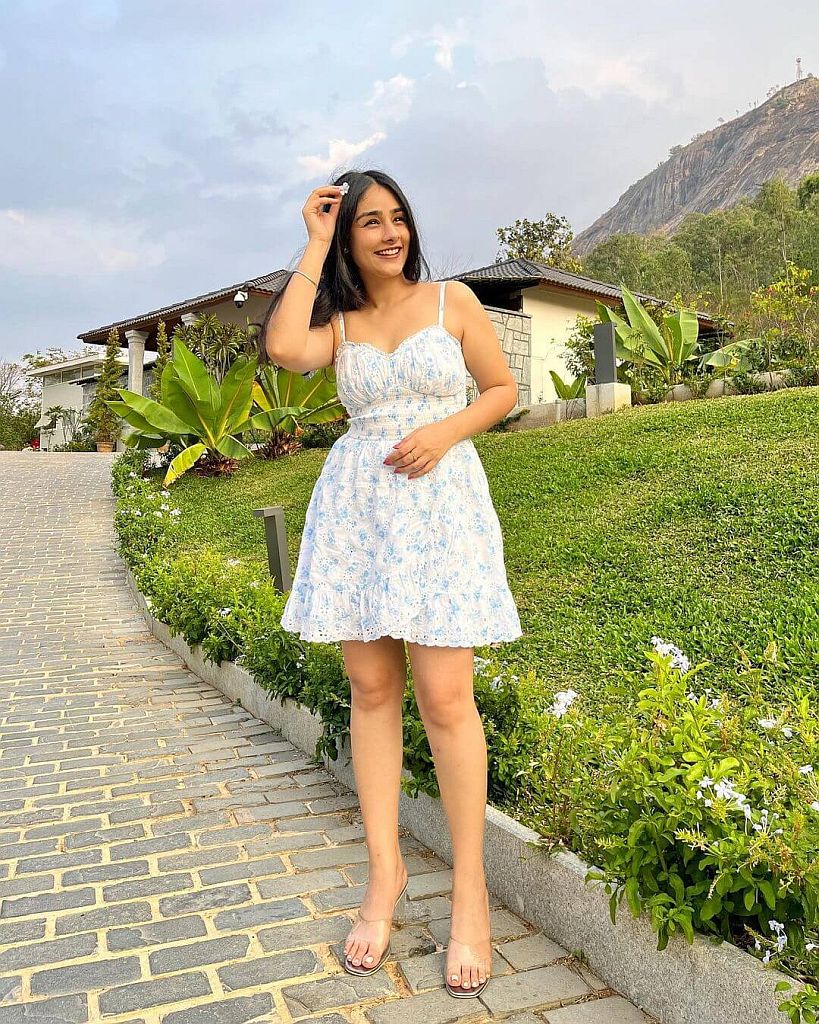 Is Hollister Fast Fashion?
Yes, Hollister is a fast fashion retailer. It manufactures large quantities of rapidly rotating seasonal trendy clothes at cheap prices made from unsustainable materials. Consequently, a substantial portion of the label's unsold clothes frequently ends up being discounted during end-of-season sales with crazy discount codes.
In addition, its collections are manufactured in countries with low labor costs, and since none of its factories are certified, there is no guarantee that laborers receive fair pay and are provided with safe working conditions. These practices reflect the typical fast fashion model of high turnover and quick clearance of excess inventory. This approach can lead to overproduction, increased waste, and environmental concerns associated with the fashion industry's unsustainable practices.
Is Hollister Legit?
Yes, Hollister is a legitimate shopping destination. The American clothing retailer has a 2.5-star rating on Trustpilot, where most consumers applaud the label's good quality, affordable clothing, fast delivery, and helpful customer service.
However, a good number of reviews are from dissatisfied shoppers who have complained about receiving smaller sizes, poor-quality yet high-priced items, and impractical return fees.
Some of the Worst Fast Fashion Brands Similar to Hollister
Fast fashion brands have been capitalizing on people's desires to own constantly changing styles. However, this rapid production comes at a significant cost to the environment, as it involves resource-intensive processes, generates excessive waste, and exploits cheap labor. These brands prioritize profit margins over ethical responsibility, so you should do your best to stay away from them. Some of these labels include American Eagle, Urban Outfitters, Banana Republic, Fashion Nova, and Nasty Gal.
Some of the Best Sustainable Alternatives to Hollister
Sustainable fashion brands like MATE The Label, Unspun, For Days, and Pact embody the elegance of thoughtful design, the dignity of fair employment, and the longevity of eco-friendly materials. Garments from these slow fashion labels are usually designed in classic styles that will stay with you beyond seasons, offering a more profound connection to the clothes you wear.
1. Pact
If you looove the touch and feel of organic cotton, then you're going to fall for Pact pieces. This label specializes in clothing solely made from organic cotton, offering a wide range of comfy and eco-conscious everyday wear, including basics like tees, hoodies, shorts, socks, underwear, and activewear. As a Fair Trade brand, it supports environmentally responsible farming methods to cultivate organic cotton and partners with factories that care for the well-being of their workers. Pact also uses non-toxic dyes in its ethical clothing and recycled packaging, contributing to a safer and cleaner environment. Additionally, it is Carbon Neutral, as it has collaborated with SimpliZero to neutralize the environmental impact of its supply chain's carbon dioxide emissions.
2. For Days
For Days offers a unique approach to sustainable wardrobe staples at affordable prices, with an emphasis on circular fashion. Its product range covers the clothing needs of your entire family and includes t-shirts, sweatshirts, swimwear, intimatewear, accessories, and so much more. And you might stumble upon some of your favorite brands as For Days is a conscious marketplace. The standout feature is its 'Take Back Bag', allowing customers to return their worn-out clothing for store credit. These garments are then upcycled by For Days into new products. This approach extends the life of existing fabrics, reducing overall textile waste in the fashion industry. For Days also places great importance on ethical production practices and sourcing sustainable materials, offering transparency and traceability throughout their supply chain.
3. MATE The Label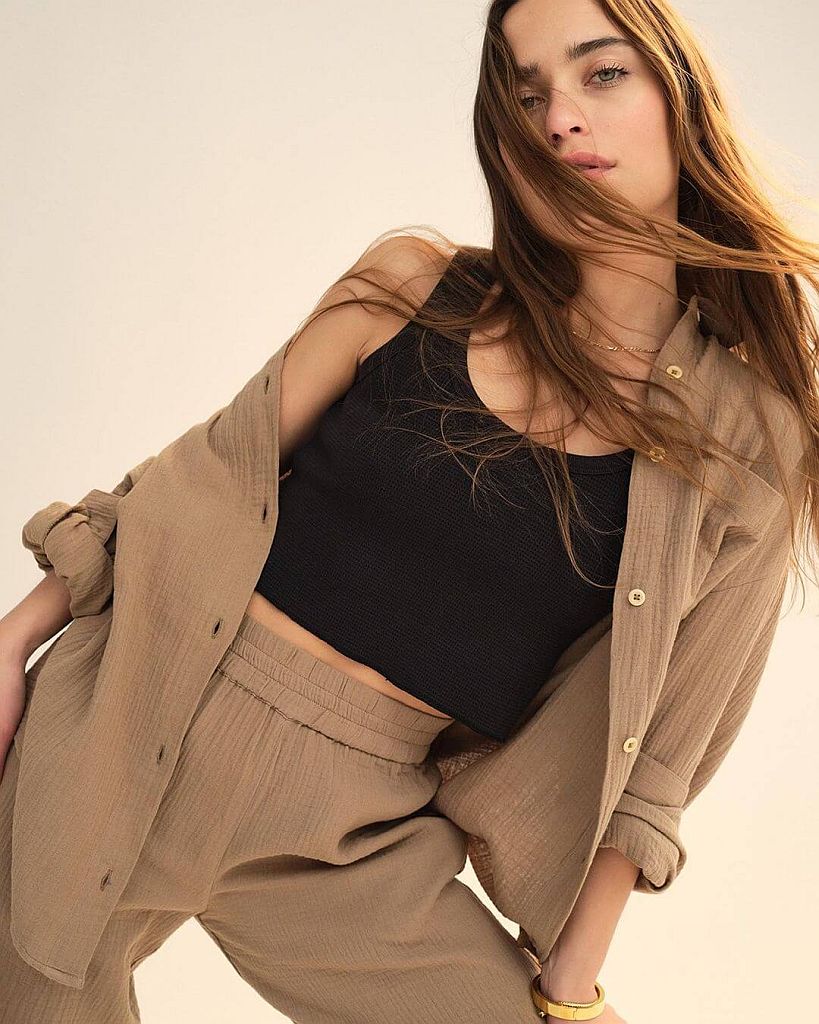 MATE The Label helps you to 'Dress Clean'! The women-owned brand is home to effortlessly chic and comfortable clothing, primarily focusing on essentials like t-shirts, loungewear, and casual dresses, along with activewear and intimatewear. Its commitment to ethical production practices involves partnering with factories that adhere to fair labor standards. MATE ensures the sustainability of its products by using non-toxic, eco-friendly dyes and sustainable materials in its garments. The Climate Neutral and B Corporation-certified label is determined to make a positive impact on people and excels in transparency by providing customers with insights into its supply chain.
4. Unspun
Unspun is here to revolutionize the denim world with its custom-fit jeans, crafted through cutting-edge 3D weaving technology. This innovation not only guarantees a perfect fit but also champions a 'zero-inventory' business model, which significantly helps reduce production waste and its environmental impact. Its vision is to foster intentionality in the fashion industry's design, production, and consumption processes. Unspun prioritizes ethical production by implementing a low-impact manufacturing process that conserves water and reduces carbon emissions. Beyond this, the B Corporation's commitment to sustainability and social responsibility can be observed through its circular approach, where it captures and transforms disposed yarns into brand-new denims.
To Conclude…
Hollister has taken commendable steps towards improving its sustainability efforts and supporting female workers in its supply chain through various programs. But these initiatives are not even nearly enough to counter its environmental footprint. Like, you can't overlook those humongous production levels, unverified factory conditions, utilization of harmful chemicals in its supply chain, and not doing anything to fix these practices. So, Hollister has a long journey ahead to become a true planet-friendly brand.
As consumers, we can collectively steer clear of this fast fashion devil and, instead, support affordable sustainable clothing brands that are responsible and conscious from the very start. Let's make way for fashion that is fair!
FAQs
Does Hollister use ethical labor?
No, there is no assurance that Hollister uses ethical labor. This is because its supply chain lacks certification for labor standards safeguarding worker health, safety, and labor rights. While the brand claims to oppose child labor, past incidents have raised concerns about its commitment to these principles.
What type of fashion is Hollister?
Hollister specializes in California-inspired casual fashion for both men and women, drawing inspiration from surf culture. Its clothing line features laid-back and beachy aesthetics, including jeans, t-shirts, hoodies, swimwear, and more, tailored to a youthful and relaxed lifestyle.
What is the controversy with Hollister?
Hollister faced controversy when an employee in one of its California stores accused the brand of discrimination, criticizing her for wearing a hijab on the job. The incident raised concerns about the company's treatment of employees, particularly in terms of religious accommodation and diversity.
Why is it so dark in Hollister?
The dim lighting inside Hollister stores is intentionally designed to create a cozy and immersive atmosphere. Its club-like environment encourages shoppers to relax, and check out clothing options comfortably, leading to longer stay times and increased spending, contributing to the overall shopping experience.
What is the sister brand of Hollister?
The popular American clothing company Abercrombie & Fitch (A&F) is the sister brand or parent company of Hollister.