Disclosure:
Our editors handpick top-rated brands, vetted through our strict ratings. Purchases via our links may earn us a commission.
Learn more
Is Dolls Kill Bad?
Attempting to sell rave fashion for the 'misfits, miss LEGITS, and EVERYTHING in between', Dolls Kill went too far in order to fit into the list of the hottest trends thus leaving a pile of Dolls Kill controversies in their wake ranging from art theft, selling poor quality fast-fashion products, and breaking all ethical practices by promoting rape culture, racism and mental illnesses. You name it, and they've done it all! So the question is not 'IF' Dolls Kill is bad, rather one must ask 'HOW' bad is Dolls Kill and 'Why' do we say so? Read on to find out!
What Is the Dolls Kill Controversy?
It all started during the 'black lives matter' movement when the CEO and Founder of Dolls Kill, Shoddy Lynn, put herself in a pickle by posting a picture of her store heavily guarded by police officers during the protest. The caption read, "Direct action in its glory. #blacklivesmatter." At a time when the whole world was waking up and joining the BlackLivesMatter movement, Lynn chose to support the actions of the police force and this generated so much hate for the brand that they ended up losing thousands of followers and customers overnight. The brand became the 'hot topic' just not in the way it wanted.
The huge fall in the company's customer base overnight led to Lynn posting an apology video on Twitter. However, the said apology was called out for being utterly fake and scripted because of the lack of sincerity in Shoddy's tone.
In the spotlight for promoting racism, the brand received strong backlash not just for not supporting the movement, but also for its previous deviations from ethical practices. People called out Dolls Kill for cultural appropriation, stealing designs from independent artists, glamourising rape culture and romanticizing mental illnesses. All its controversies over the years were dug up with ferociousness and #boycottdollskill gained huge support on Instagram and Twitter.
Why Is Dolls Kill Bad?
Known for its funky, saucy and edgy fashion, Dolls Kill is certainly one of those brands that shout for consumer attention from a mile away. It claims to sell products for the misfits and thus more often than not its range of products verges on punk, emo, goth and rebellious fashion. However, its attempts at standing out of the crowd often puts it on the hot seat. Since the 2010s, when the brand started skyrocketing, it has been simultaneously criticised repeatedly for its poor customer service, unethical practices, and selling tone-deaf apparel like "Goth Is White", "Dead Girls Can't Say No" shirts.
Art Theft
Although, stealing designs of small and independent artists in the fashion industry is not unheard of and often practised by many brands aside from Dolls Kill, yet it takes art theft to another level, blatantly and repeatedly stealing designs from independent artists despite being called out on social media a numerous times.
Even after this blatant theft, it shucks all responsibility by claiming that it acts as a retailer for other brands like "Lamoda," "Jaded London," "Sugar Thrillz," "Dark in Love," etc. and is thus, not directly responsible for any kind of art theft. Yet independent designers have often called its bluff by posting pictures on social media making a point that it even steals designs directly.
Racist Ideology
Dolls Kills' open support of the police force during the "Black Lives Matter" movement is criticised harshly over the internet. People claim how the brand promotes cultural appropriation, using black culture as a commodity for sale. Images of products that blatantly promote racism (like the "Goth Is White" shirt) have popped up after the scandal, proving how black lives really don't matter for brands like Dolls Kill.
Add to this the fact that it was called out by Huffpost in 2014 for selling Native American Headdress as a part of its Halloween collection of the year. When a customer mailed to show distress for the same, it denied all claims to be racist and told the customer to "take a chill pill."
Glamourising Rape Culture and Mental Illness
Rape and mental health have always been sensitive issues about which people have been actively vocal in today's day and age. The Woke Culture has pushed brands to follow ethical codes of conduct by showing sensitivity towards controversial subjects and even encourage inclusivity. For a brand to go against all that's held sacred in the modern day, is bound to spark controversy like fire.
By romanticising rape and glorifying mental health issues, Dolls Kill calls for open criticism. Breaking all codes of ethicality in the fashion industry never bodes well for a brand and so is the case with Dolls Kill too. Selling shirts like "Dead Girls Can't Say No" brought them immediate backlash as the community started boycotting its products.
Clothing articles like "ADHD", "A Cut Above The Rest", and its soap range claiming things like "Social anxiety smells like a list of pre-planned excuses", all become aggressive triggers for patients with actual disorders and mental health issues. The brand needs to understand that some jokes aren't funny!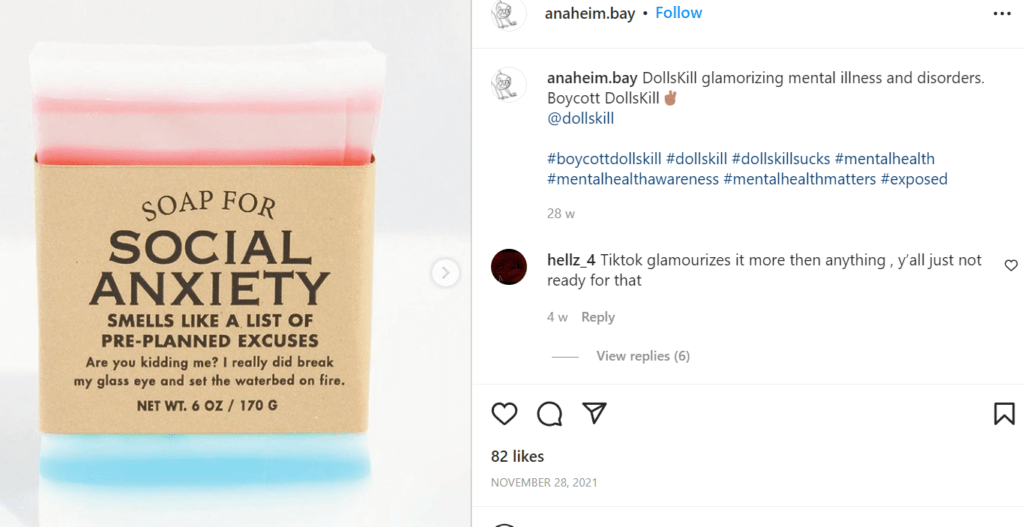 Is Dolls Kill Still Bad?
Although the brand has tried its best to do damage control by removing offending articles from their stores and website along with releasing an official apology by the CEO in lieu of what was said by her during the 'Black Lives Matter' Movement, yet all is not well with the brand's corrupted reputation.
Customer trust has been shaken because of their unethical practices and the recurrent controversies have only added fuel to the fire. They have very poor ratings when it comes to ethical selling and the buyers of the brand are advised "not to buy" from Dolls Kill. Same is the case with some other unethical and fast fashion brands like Demonia and Killstar.
Dolls Kill's Bad Customer Service
Like any other fast fashion brand, Dolls Kill is also infamous for selling articles with poor quality and refusing to disclose the brand's impact on environment, animals and humans. Customers have complained about the horrible quality of its products when compared to its pricing along with the bad customer support and poor response to returns/exchanges.
Conclusion
All brands have their alternatives no matter how unique their fashion statement is. It's our duty as responsible consumers to pick the right brand to purchase from. Modern day brings with it modern responsibilities both for consumers and buyers. While brands like Dolls Kill choose to avoid those, we as consumers must make vigilant choices by avoiding brands that support unethical practices like art theft, racism, rape culture, and sale of poor quality fast fashion products.