Disclosure:
Our editors handpick top-rated brands, vetted through our strict ratings. Purchases via our links may earn us a commission.
Learn more
The answer to Is Halara Ethical, Sustainable or Fast Fashion Brand, is yes, Halara is a fast fashion brand. While the brand has some really great fits and styles you would absolutely love, all of them are made of synthetic fabrics because they're durable. In addition, Halara sources its products from production facilities set up in labor-intensive third-world countries where unfair trade practices prevail.
This Tik-Tok and Instagram-obsessed activewear brand has been the talk of the town recently. And why not? Like, every time you open these apps you get bombarded with Halara ads or influencers flaunting their Halara haul. So all this brings us to the obvious question- What exactly is fast fashion?
Fast Fashion brands produce the latest fashion trends and excess fashion clothing, and all this excess production ends up in landfills because it is produced for cheap and doesn't leave a dent in the fast fashion brands' income and profits. 57% of the discarded fast fashion produce ends up in landfills!
The principles of fast fashion stand against every principle of humanity and the environment because of this conscious buyers have shifted to companies that produce less carbon footprint and more eco-friendly sustainable fashion. So why is Halara Fast Fashion?
What Is Halara?
Halara is a Hong-Kong based athleisure fashion company that manufactures activewear at large. Gaining fame thanks to the TikTok reel's "In My Feels" dress, Halara aims to promote its essence that's true to its meaning but with added creativity.
Halara is a greek word that stands for ' take it easy ' with the additional purpose of ' make it fun '. As an activewear brand, Halara wants its customers to work out in style. Halara ensures the customers of its quality clothing by getting its products manufactured from the same manufacturers as the big brands like Reebok, Addidas, and other clothing companies.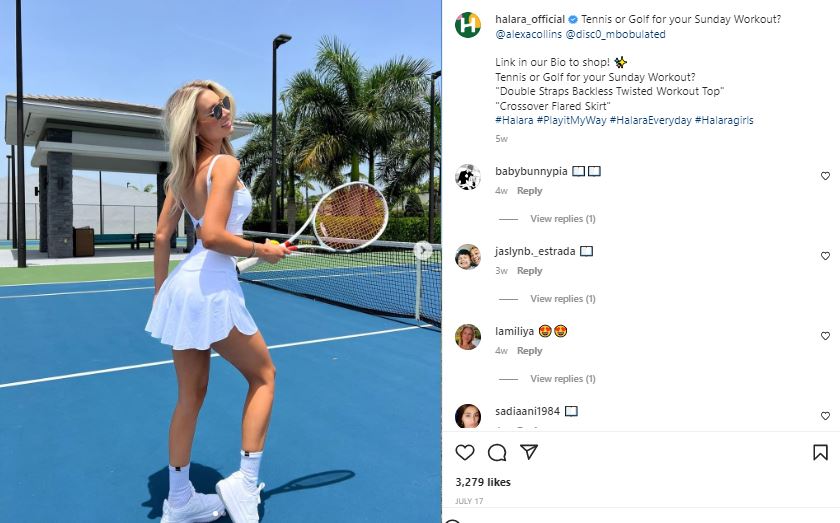 When Was Halara Founded?
Halara was founded by the founder and CEO Joyce Zhang back in 2020. As the pandemic hit the world in the March of 2020, with so little social interaction and too much "me-time" on their hands, people started to work out more and so the demand for athleisure outfits grew at a rapid pace which is when Halara entered the league alongside other fashion companies like Girlfriend Collective, Aerie, etc.
Where Is Halara Located?
The Halara headquarters are situated in Suite 603, 6/F Laws Comm Plaza, 788 Cheung Sha Wan Rd KLN, Hong Kong, China. The production units for this clothing brand are located in China, Vietnam, and the Philippines.
Is Halara Ethical?
No, Halara is not ethical. While Halara promises a healthy as well as fashionable lifestyle to its customers, it doesn't promote healthy work ethics. The brand does not recognize ethical sourcing of its products because its factories are set up in third-world countries like Vietnam, China, and the Philippines, where labor laws are considered a 'joke.' Unfair trade practices, minimum wages, and unsafe working conditions are the norm in such factories, of which Halara is one of the employers.
Just advertising to be a mindful brand isn't enough because if you inquire about Halara's ethical practices on its website, you'd find none. This brand needs to provide more information about how it is helping its workforce communities and the planet as a whole. Because every compassionate consumer has the right to know if their purchases are actually empowering the working communities and leaving behind a positive footprint on the environment or just doing the opposite.
Does Halara Use Child Labor?
It is hard to decide whether Halara engages in child labor or not. Its primary production units are uncertified and set up in third-world countries where children often accompany their parents to work to earn a few extra pennies. And factories take advantage by employing underage workers as it helps to keep manufacturing costs down. Besides, Halara doesn't provide any information on its labor policies and overall supply chain.
As you know the production units in third-world countries like Vietnam, the Philippines, and especially in a country like China favored by brands that use sweatshops, the labor laws are too convenient for the manufacturers but not so much for the labor itself.
There is no policy against unfair trade practices and no laws against the lack of minimum wage payment or extra hours. Halara's production units are situated in countries like these. While the clothing brand claims to monitor its production units' supply chain, it doesn't provide any transparency for its labor policies and its supply chain monitoring reports on its website.
Moreover, it's a worldwide known fact that labor is available for cheap in these countries. So when Halara says it gets its apparel manufactured from the same manufacturers as big brands in the fashion industry but for cheap, it's proving itself to be just as much fast fashion as those other big fast fashion brands!
Halara's Animal Welfare Policies
Since Halara is an athleisure brand and uses synthetic fibers like polyester, spandex, nylon, elastane, cotton, etc. there is no need for animal skin, fur, or other animal-based products. Therefore, animal welfare doesn't apply as a criterion for this brand. However, we can still say that Halara is cruelty-free.
Is Halara Sustainable?
Halara can be called a semi-sustainable brand. The brand doesn't drop new styles every week and has in fact a curated set of classic activewear designs that you can continue to use without the fear of missing out on the latest activewear fashion. Like most activewear, Halara's clothes are made of synthetic fabrics as well. These fabrics are perfect for making activewear because they have a longer shelf-life and can sustain the hardships of workouts or other physical activities without wear and tear. So by offering long-lasting and quality products, Halara has taken a step toward reducing the brand's carbon footprint.
But at the same time, Halara doesn't have any 'recycling or repair' policy for when the apparel is worn out. So despite the fact that synthetic fabrics consume high levels of energy, go through multiple toxic chemical processing and generate a massive amount of wastewater, Halara doesn't recycle and its clothes are bound to end up in landfills sooner or later. Being non-biodegradable in nature, they are indeed hazardous to the environment. Hence, even if the brand claims to be sustainable, there is no transparency about it because of a lack of reports.
Most certainly, the manufacturing process for its "quality clothing" doesn't use sustainable fabrics and generates a lot of waste that makes it fast fashion!
Who Owns Halara?
Halara is owned by HK DFS Limited and the CEO is Joyce Zhang.
Where Does Halara Ship From?
Halara is an online activewear brand and therefore doesn't have physical stores. Its factories are situated in Vietnam, China, and the Philippines. After the products are manufactured in the factories, a quality clothing check is carried out, and then the orders are shipped directly from these factories to the respective addresses.
Is Halara Fast Fashion?
Yes, as previously stated. The brand produces a large quantity of activewear clothing quickly and at a low cost. This business strategy of quick turnaround time for brand-new arrivals, getting ready-to-wear garments manufactured from labor resource-rich countries with low restrictions and not-so-strict regulations is very similar to other popular fast fashion brands.
Is Halara Legit?
Yes, Halara is a legit brand. Its activewear collection is always-in-trend stylish athleisure pieces that are quite comfortable, made of durable fabrics, and secure just in the right places. For example, Halara's most famous piece of High waisted pleated mini skirt is actually a skort, so you don't have to worry about flashing issues while working out or playing a game of tennis in them. However, the brand's size chart is pretty exclusive. The max size they have available is an XL, that too feels more like a standard L, honestly. Halara, let's see some plus sizes, Can we?
Add to that, Halara's collection is quite expensive irrespective of it being a new entry in the fashion world and its clothes being manufactured in third-world countries. But like every new brand's trick these days, Halara too gives discounts left and right, and ultimately you get the pieces at a reasonable price. So no complaints about that.
Some of the Best Alternatives to Halara
Working on the self is important. Working on the self with consciousness and confidence even more so! Consciousness is avoiding fast fashion brands like Ted Baker, Buckle and Emmiol, and confidence is wearing the right attitude with the right clothes. That's why we bring to you a list of ethical brands that follow up on the latest fashion trends while also manufacturing sustainable clothing.
1. Girlfriend Collective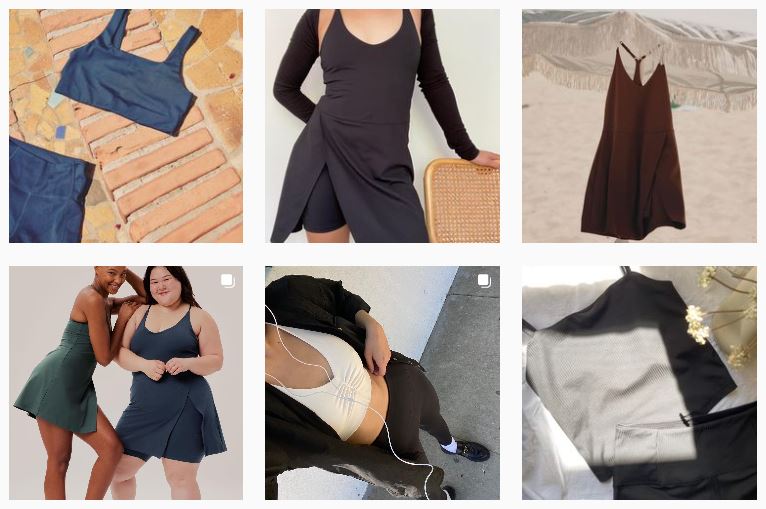 Topping our list of sustainable activewear brands is the Girlfriend Collective as it uses sustainable fabrics like recycled polyester and recycled plastic too! Definitely an upper because it falls in the price range of every woman and man, this Seattle-based ethical brand manufactures activewear, swimwear, underwear, and much more while being size-inclusive.
Displaying models of every size and color, Girlfriend Collective gives us major community goals and hints at its brand ethicality at the same time. And let's not forget, it's very no less than other fashion companies in the athleisure fashion industry!
2. Pact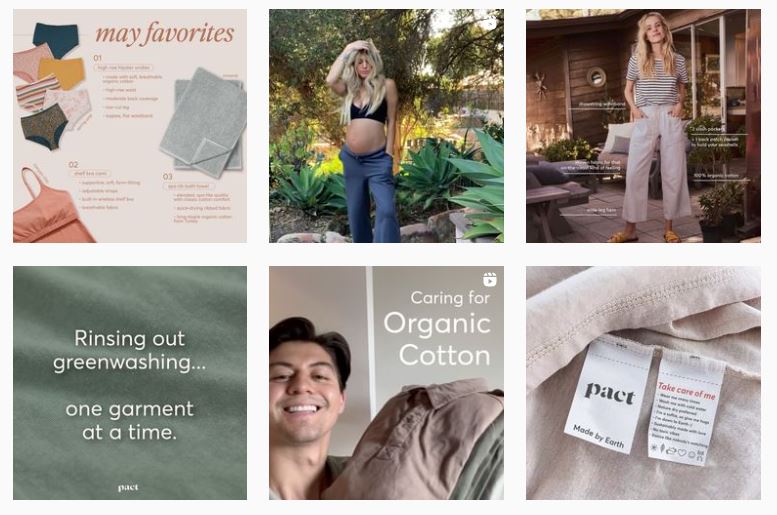 A gender-inclusive sustainable brand, Pact sells outerwear, activewear, tops, bottoms, socks, and underwear that are the epitome of sustainable clothing. This clothing brand uses sustainable fabric like GOTS-certified cotton and ensures fair trade practices to help its customers choose a fashion company that eases their eco-friendly conscience.
3. Organic Basics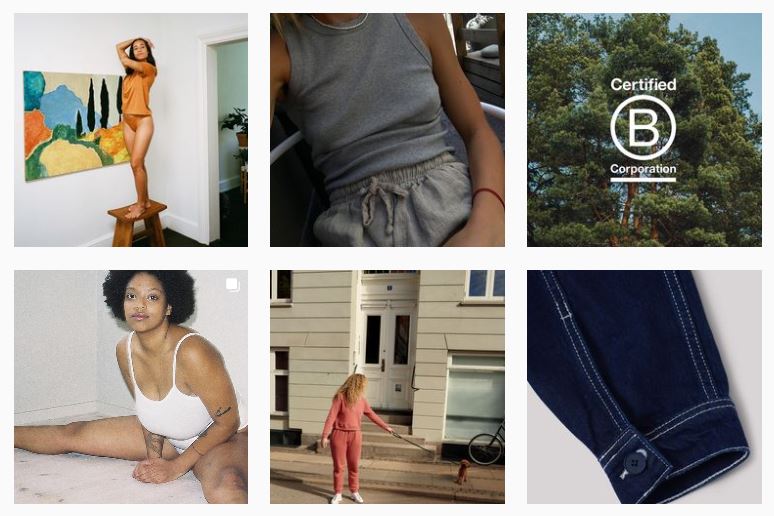 Why do we love Organic Basics? Easy breezy! Because it's B-Corp certified. So the customers can expect full transparency on factors like supply chain monitoring and payment of living wages, employee benefits, and fabrics for apparel.
Organic Basics covers apparel bases like Adult activewear, swimwear, underwear, tops, bottoms, and much more made from recycled, biodegradable, and low-impact textiles at large.
4. Allbirds
What sells Allbirds? It's the fact that Allbirds is carbon-neutral! Plus B-Corp certified plus affordable plus eco-friendly all in one! This athleisure sustainable brand manufactures adult shoes, activewear, underwear, socks, and layering basics with carbon-neutral sustainable materials.
Conclusion
According to the New York Times, we have reached "peak exercise dress" and so Halara continues to bring new fashion trends within the activewear clothing catering to American women. However, there are ample blogs by American women that complain about the authenticity of Halara's size charts!
Also, as there isn't any fashion store for this fast fashion brand, it is really unhelpful for women of all sizes to get the right fit in the first go without a fashion store. Their online customer service is to no avail either.
Moreover, the brand's sustainability and ethicality are put into question because of major doubts and reasons. But we ask our readers to make fashion choices based on their understanding and hope they hold our words into consideration to become more sustainable fashionistas!