Disclosure:
Your Sustainable Guide is supported by our readers. We might receive an affiliate commission if you make a purchase using links on our website, at no cost to you.
Learn more
Do you ever wonder how those plus size models and fashion enthusiasts look so chic and professional? Do you feel intimidated by the drab-looking clothes usually available in the stores' 'extended sizing' line? Do you desire to own clothes that instill pride in your curvy figure? Then building a plus-size capsule wardrobe is the answer to your prayers.
Curvy women tend to design capsule wardrobe for plus size for a multitude of reasons. But the core benefits remain the same for all— To dress up effortlessly without any stress and to become more sustainable with clothing choices. The concept of a capsule wardrobe isn't new, but recently the fashion industry started taking significant strides towards sustainability by popularizing the idea of owning a limited selection of clothing.
However, most of these discussions overlook the needs of plus-size individuals who have specific clothing requirements. True, finding beautiful clothes for voluptuous bodies is challenging, but designing a minimalist plus size capsule wardrobe doesn't have to be a challenge. All you have to do is stick to neutrals, know your preferred colors, and pick clothes that are versatile, timeless, and sculpt your body. And Voilà! You're ready to slay!
Hey, before you scroll further— Did I mention if you live in a four seasons region, you'll need separate spring/summer and autumn/winter capsule wardrobes? Also, a capsule collection for a corporate woman is poles apart from a stay-at-home mom capsule wardrobe. So do remember to check out the details. Now, carry on, Bubs!

Add a header to begin generating the table of contents
32 Piece Plus Size Capsule Wardrobe
Grasping the Concept of a Minimalist Plus Size Capsule Wardrobe
The idea of designing a sustainable plus size capsule wardrobe that flatters your curves while keeping you comfy is perfect in every sense. It aims to provide a practical and stylish solution for curvy individuals looking to own a collection that is sustainable, versatile, and makes decision-making easy.
Like, imagine— A curated selection of versatile clothing pieces that are easily interchangeable to create an infinite number of outfits! Isn't that magical? And at the end of it, You look BOMB— with the tiniest bit of effort! So cool! 
Check out the video to get a clearer idea:
Now that you're hooked on to the idea, let me walk you through all the additional perks of building capsule wardrobe that is 100% YOU.
Having a few key pieces in your wardrobe is the best way to ensure you look great every time you play 'dress-up.' The core idea of a plus size capsule wardrobe is to provide you with endless styling options. Capsule pieces are always designed to be versatile and seasonless. Hence they can be easily mixed and matched to create a variety of minimalist and statement looks, as the occasion calls for.
Is decreasing your decision-making time when getting dressed worth it? If Yes, then a capsule wardrobe is your solution, because it is the representation of your personal style and timeless fashion guidelines. When your closet consists of pieces you love and those that complement you, getting ready every day feels like a piece of cake. No more fretting over 'what to wear,' despite of a closet full of clothes, because your capsule wardrobe is your own little shopping mall. 
An important aspect of a capsule wardrobe is to choose superior quality pieces that look tailor-made and hug your curves like a glove. Stick to classic silhouettes and neutral colors as they never go out of style. But Hey! Don't forget to have fun with 'mixing and matching' and experimenting with pops of color to create outfits you feel Yourself.
Rule of Thumb— Always go for organic and eco-friendly fabrics. Low-impact materials like organic cotton, hemp, linen, lyocell, modal, merino wool, and alpaca wool, are not only sustainable, but they're extremely breathable and gentle on your skin. Moreover, these fabrics are incredibly sturdy and long-lasting, so you can wear them repeatedly season after season.
Agreed, sustainably-made plus size capsule pieces are expensive! But if you've had a curvy body for some time now, it's best to appreciate your figure and dress to elevate your confidence. Investing in quality pieces means that the outfits will last you for years. So, calculate your total wardrobe cost and disburse it over, say, 10 -15 years. See, the annual investment does make sense now, right? Of course, you can keep adding items to your minimalist wardrobe from time to time to keep it fresh and captivating.
Advocating a capsule wardrobe means you automatically make informed choices and do not 'overconsume.' Because when you invest in thoughtfully-designed clothing and accessories, you plan to use them for a longer period in comparison to the 'throw-away' culture of fast fashion. Ultimately, you discard fewer garments by embracing circular fashion and restricting impulse shopping.
Love Your Body... Your Curves are Beautiful!
The mindset of a plus-size woman can be significantly influenced by societal norms surrounding body size. Feelings of insecurity and anxiety, particularly when it comes to clothing choices, are normal. Plus-size individuals often face limited options when it comes to fashion, as they have specific clothing requirements.
As a result, building a wardrobe that fits well, flatters your body, and reflects your personal style might be a challenging task. But trust me, once you get the hang of it, there's no turning back! Because with a capsule wardrobe at your disposal, you step out in style, every time. 
Example of a 32 piece Plus Size Capsule Wardrobe
Some serious deep thinking and a lot of label searching go into building a plus size capsule wardrobe. Majority of retailers take the easy road to success by offering a narrow range of sizes for what they call 'The Ideal Body Size.' So what works for a regular-sized woman might not work for you. But that can't keep you away from enjoying the benefits of a capsule wardrobe. Because the basics of this concept remain the same.
Start by decluttering your existing closet, pick your favorite base color from a neutral palette, and build the collection from there. Analyze your personal style. If you love colors, experiment by adding 2-3 pieces at a time and see what works. Remember, the goal is to design a limited selection of clothes that eases your everyday dressing-up process and make you look like a fortune.
Check out our hand-picked capsule wardrobe checklist of 32 clothing and accessories items, which is ideal to help you build a sustainable plus size capsule wardrobe.
Look for t-shirts in neutral colors that can be worn alone with a versatile bottom or layered under other pieces.
Phoenix Burn-out V-neck Tee
Shirts are a classic, no matter your body size. Add variety by going for blouses in soft feminine silhouettes and tiny prints.
Well-fitting jeans that hug your hips and shape your tummy area are must haves. They can be easily dressed up or down to get you through small gatherings, work days, traveling, etc.
Mia High Rise Flared Denim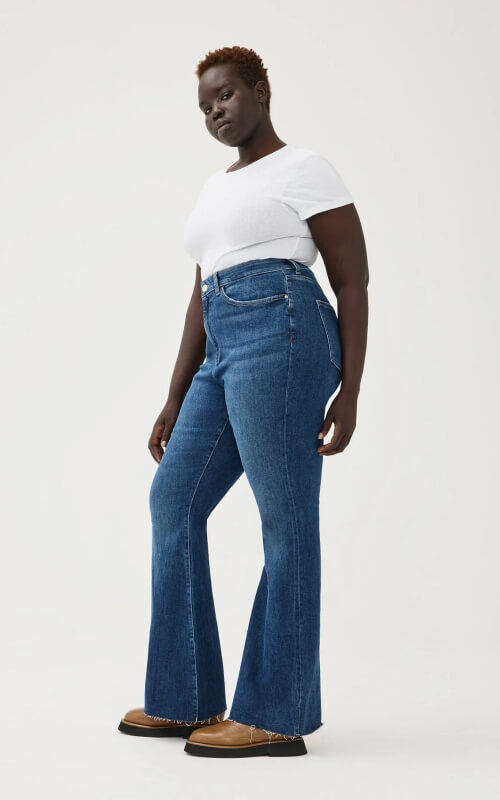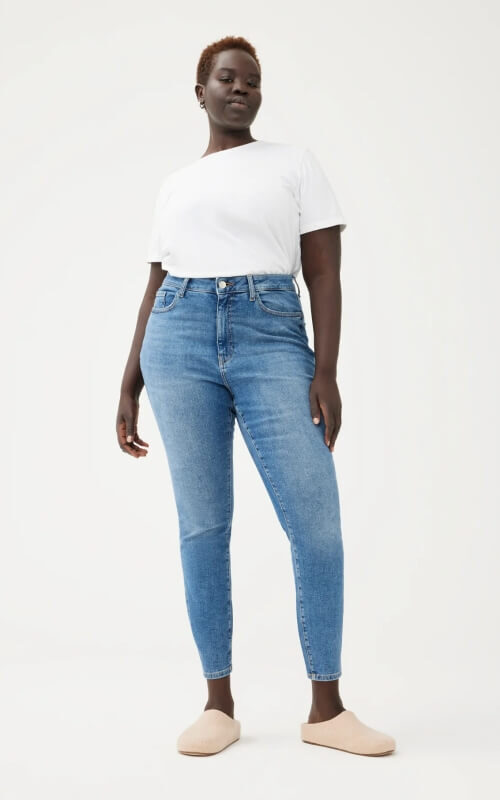 Leggings are a good athletic wear that can be dressed up or down. Its a comfortable choice for your morning runs, lounging around the house, running errands, and so much more.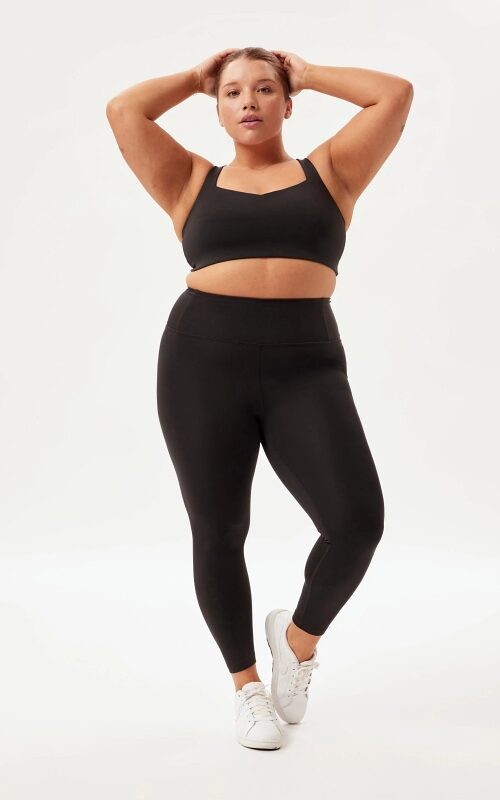 Monica Pocket High Rise Legging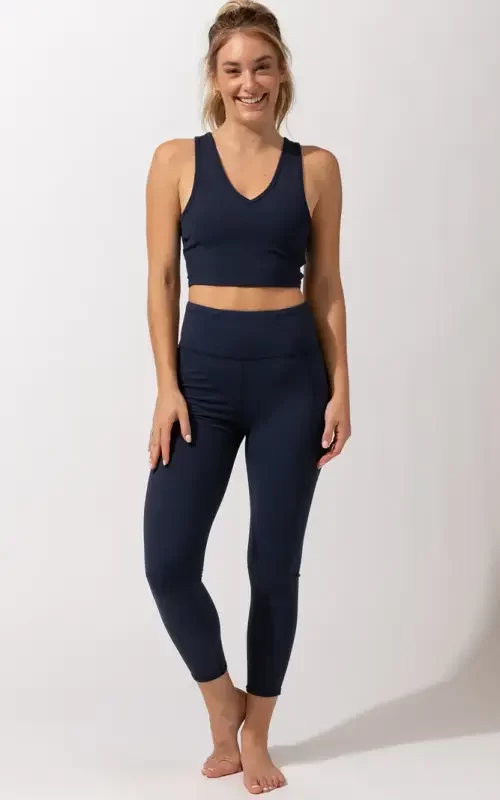 Tailored trousers and feminine skirts can take your entire look to a whole new level. Can be flawlessly paired with a basic tee or an elegant blouse.
Every woman needs a classic little black dress and a fun flowy piece to effortlessly get through dinner dates, romantic picnics, black tie events, and more.
Peacock Feather Wrap Dress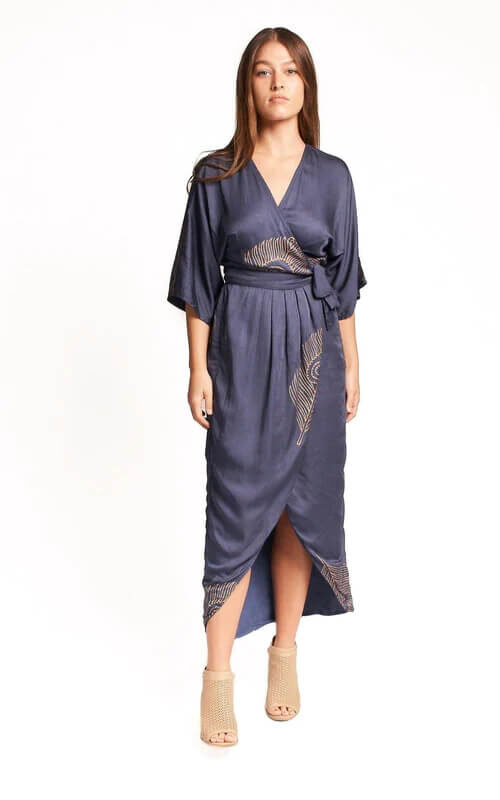 Whether it is lounging around the house or running errands, nothing beats the comfort of snug cardigans and sweaters when the temperature drops.
Luxe Boucle Knit Cardigan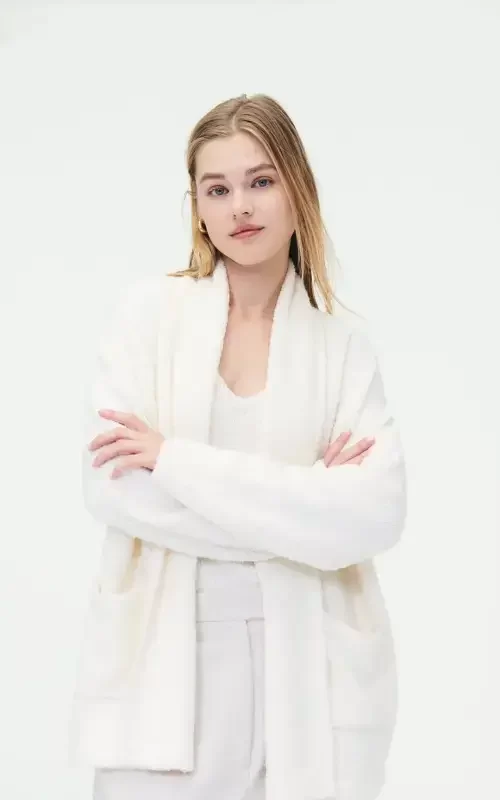 Ultrafine Merino Wool Long Cardigan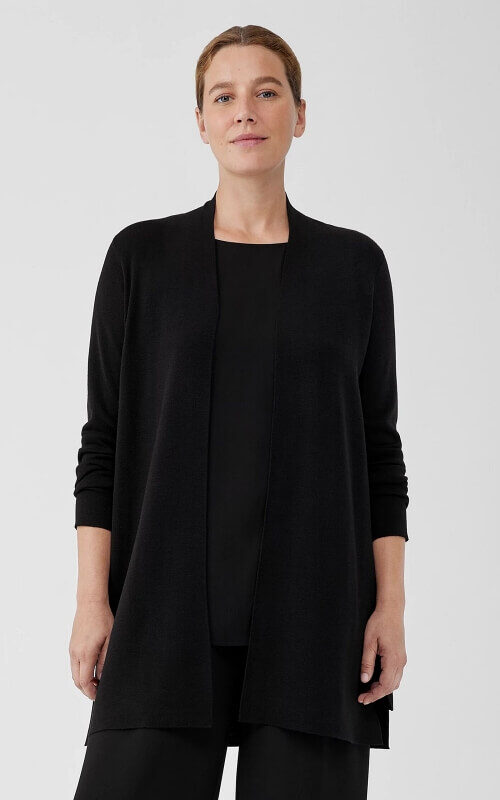 A classic black blazer is a 'go-anywhere' wear. Throw it over any basic tee, shirt, or blouse, and paired with a well-fitted bottom, you're all set to go. 
Davis Tailored Black Blazer
Scarves are good way to add life to your otherwise neutral looks. You can either go for a soft color that will match every outfit or throw in a poppy shade.
4 Pairs of Comfortable Shoes
Invest in a few pairs of comfortable shoes, such as flats, sneakers, and ankle boots, that can be worn with a variety of outfits.
Lili Mule in Noir Leather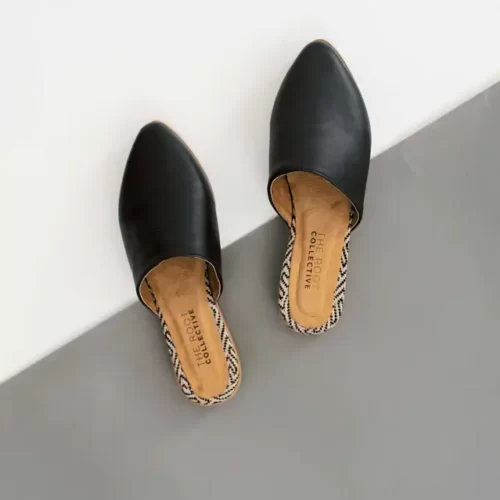 4 Essential Jewelry Pieces
Accessorising every outfit with earrings, a bracelet, or a necklace is a must for taking the look a notch higher. Look for delicate pieces for everyday use and some statement items for special occasions.
A sturdy belt not only lasts for years but is a perfect hack to fix a loose pair of denim or trousers.
A plus size capsule wardrobe for women who own a full-figure is an excellent way to ensure fashionable and stylish looks at all times. This approach is not only easy on your pocket but also saves so much time and efforts. And let's not forget the mindfulness behind the whole idea.
Every women should have access to beautiful feminine clothes, regardless of body size. You can refer to the above-mentioned capsule wardrobe outfit ideas to build your own. Just remember— It's important to dress for your body type with well-made clothes that fit you in all the right places. The right wardrobe staples will have you looking fabulous all year round. Stay Beautiful!