Disclosure:
Our editors handpick top-rated brands, vetted through our strict ratings. Purchases via our links may earn us a commission.
Learn more
Vetta is closing down, and we can't keep calm! The Fair Trade and sustainable clothing brand has a separate fanbase altogether and is a hot-shot among conscious consumers. I mean, why not? After all, it specializes in offering capsule collections items that are extremely helpful in building a responsible capsule wardrobe. Vetta is literally nailing the idea of giving life to a minimalist alternative to fast fashion!
The capsule style clothing label was born with the goal of making fashion thoughtful, intentional, and, above all, sustainable. It always prioritized the well-being of People and the Planet over profits. But what happened to Vetta Capsule all of a sudden? What went wrong? Why is Vetta closing down? Was it actually operating on honest terms, or was it all a facade? Continue reading to know what went wrong.
What Happened to Vetta Capsule?
Vetta is closing down business at the end of March. The founder has addressed the decision through a letter where she mentioned that being a sole owner of a growing company, the endless list of responsibilities is taking a toll on her mental and physical health. Therefore, she's choosing to wrap up Vetta so that she can focus on her health and well-being.
While the founder plans to take some time to rest, reflect, and decide on future possibilities, there's still a glimmer of hope that VETTA would return in another form when the time is right. Or this could very well be the end.
Letter from The Founder
A heartfelt letter by Cara Bartlett on wrapping up Vetta reads – "It's with a heavy heart that I announce that VETTA will be closing at the end of March. I am so grateful for our amazing team, suppliers, and customers, and so honored to have been a part of something so special…..
No matter what happens, I want to thank you so much for your support. I'm so proud of all we've built together. I will never forget this season of my life, and how you so generously poured out your support for VETTA. What an incredible thing for so many people to choose to buy sustainably and thoughtfully….."
Who is the Founder of Vetta Capsule?
Vetta was launched by Cara Bartlett in 2016. The label is headquartered in Boston, Massachusetts. Majority of its production takes place locally in ethical factories in the United States, including a family-run facility in NYC. Its international suppliers are located in India and Peru, which are again Fair Trade Certified factories.
Journey of Vetta as a Sustainable Fashion Brand
VETTA was born with the purpose of integrating fashion more thoughtfully into our everyday life. It believed in creating better clothing with a conscious approach that challenged the fashion industry's status quo of exploiting people and the planet. From the very start, the idea that fuelled Vetta was to design a curated and versatile apparel line that people can 'buy less and wear more.'
During its initial days, Vetta's operations started in the founder's living room, sewing multi-wear pieces that could be easily mixed and matched. Then it was launched on Kickstarter, and waves of customers supported the idea.
Unlike fast fashion labels that drop micro-seasonal collections, Vetta houses stable categories, and production is done in small runs. In addition, it is committed to sustainable fabrics like Tencel and Global Organic Textile Standard organic cotton, that are gentle on the skin and kind on the Earth. It also uses deadstock fabric, leftover scraps from the apparel industry, to help reduce textile waste.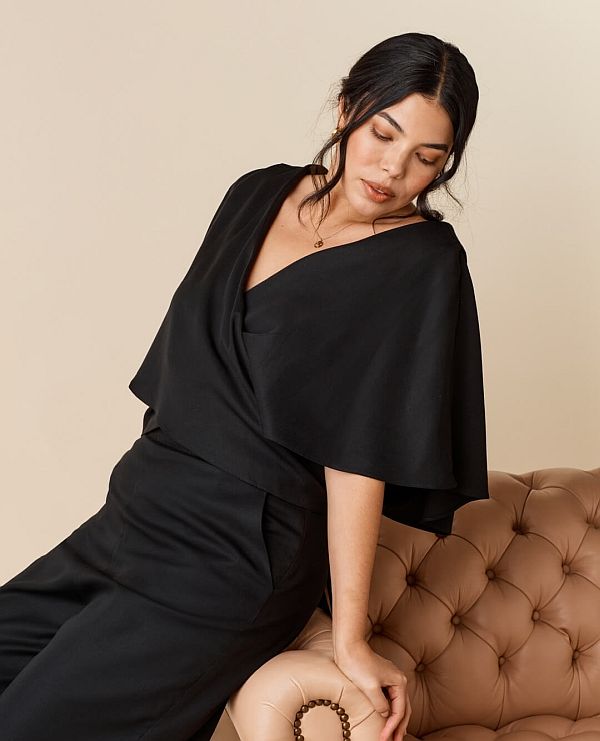 What Made Vetta Different?
Vetta creates mini capsule wardrobes. Its collections are made up of 5 versatile pieces that can be effortlessly swapped to create 30 different looks. That's like a month's worth of outfits just got sorted. Sick! Seeing how a limited selection of adaptable clothes can elevate your 'dress-up' game is amazing. And Vetta is taking this concept to the next level by offering categorized capsule collections to match every woman's personality. Yes, You read that right!
Vetta's capsule collections are categorized under— The Classic Capsule, The Edgy Capsule, The Minimal Capsule, The Haven Capsule, The Tuscan Capsule, and so much more. So based on the designs that sing to you, babe, take your pick! Who knew getting dressed with a few pieces could be so fun and easy?
Vetta Capsule Closing Sale
To end things sustainably, Vetta will be selling the rest of its inventory till the last day of March (31.03.2023), at mind-blowing offers. So if your eyes were hooked on any of its pieces, this might be the best time. Show your love by purchasing a capsule style piece and supporting the label in its final chapter. I assure you, you'll cherish these pieces for years to come. Some of our recommendations are—
The Blazer Dress – Not your regular oversized blazer – it's a blazer, a dress, and a vest – all in one! If you want to wear it like a vest, just zip off the sleeves. For the blazer dress look, its opening has hidden buttons. Pair it up with heels, or dress it down with a casual tee. This classic wardrobe staple can jazz up any outfit.
The Convertible Tie Tank – Tanks are extremely versatile and this convertible tank top can be wrapped in multiple ways. It has two long ties and two loops at the back, so get creative and tie them the way you want! Ideal for Sunday picnics, romantic date nights and everything in between. Think out of the box and create a multitude of spring looks.
The Reversible Wide Leg Pant – Reversible pants are terrific. And this piece specifically has satin on one side and a textured Tencel on the other. So cool! It has a full-length, wide-leg silhouette and an elastic waist, so comfort like your PJs is guaranteed. Dress them up or down with the choice of your top, and you're good to go from work to the weekend in a flash.
The Convertible Polka Dot Dress – Sustainable clothing doesn't have to be basic, and this dress proves that. Serving up some real glam aesthetic, this dress is super flowy and made from 100% recycled materials. Convert it into three looks by wearing it as it is, unbuttoning from the shoulders to wear it open as a duster, or tucking in the sides for a wrap dress look. Bonus, this piece comes with a slip dress!
The Chunky Cropped Cardigan – Perfect for the 'sweater weather,' this cardigan is going to steal your heart! You can wear it buttoned up as a sweater or keep it open as a cardigan. You can also swap the V-neck in front or back. Ideal for layering over your favorite top or tee, this cropped sweater is built to keep you warm and cozy anytime, anywhere.
Loyal consumers from far and wide have backed Vetta for its innovative and thoughtful designs. It's great to see all the appreciation and love the brand is receiving for staying true to its vision of offering sustainable capsule style fashion. On the other hand, it's sad to know that many consumers share the sentiment of witnessing this beautiful brand's closure. Vetta, you will be deeply missed by the sustainable community!
Goodbye Vetta…
As an advocate of slow fashion and capsule wardrobes, I absolutely loved Vetta's pieces. I mean, what's not to love about them? They are versatile, multi-functional, come in neutral shades and everything capsule-worthy. With the intention to disrupt the never-ending loop of fast fashion, Vetta was literally helping tasteful women with a clutter-free and sustainable wardrobe. And it's a shame to see Vetta ending its era. However, we're thankful to Cara Bartlett for introducing this beautiful label to the masses and wish her good health and prosperity in future endeavours.
FAQs
Is Vetta Capsule really closing?
Yes, VETTA will be closing at the end of March 2023. In the coming weeks they will be working to sell the rest of their inventory and bring things to a thoughtful close. Their team will be available to answer questions and help with anything that is needed. 
Are Vetta's return policies changing?
Yes, Vetta's new return policies as of 2/7/23 are as under:
U.S.: FINAL SALE items are not eligible for return or exchange. Full price items can be returned within 14 days of fullfillment. Items must be unworn and have all tags attached in order for their team to process the returns. There are three return outcomes available: Refund (less processing fee), Exchange (no fee), and Shop Now (no fee).
Intl: Any orders placed as of 2/7/23 are final sale and not eligible for any return outcomes, including refunds or exchanges.
What to do if I want to complete my capsule?
Though Vetta can't guarantee to make available the exact size and color that loyal customers may be desiring, they will still be restocking returns as they receive them. They also recommend visiting their Archive Shop (https://vetta.treet.co) where pieces from other customers can be bought.
Is the VETTA Archive Shop going to remain open?
Yes, Vetta is planning to keep their Archive Shop open for at least 6 months after closing, so that customers can continue to buy and sell VETTA pieces.