Disclosure:
Our editors handpick top-rated brands, vetted through our strict ratings. Purchases via our links may earn us a commission.
Learn more
Footwear is an essential part of our daily life and an important fashion statement for many. Women, in particular, are known to have an obsession with footwear and are always on the lookout for the latest styles and trends.
However, behind the glamour and style of the footwear industry lies a dark reality. The footwear manufacturing industry is known for its unethical practices and negative impact on the environment. According to a recent report by Future Markets Insights, the footwear market is expected to grow significantly in the coming years. Just imagine the impact it'd be making!
The silver lining is, consumers have become more aware of the impact of their purchases and are seeking eco-friendly and sustainable options. In this article, with a focus on mindful shopping, we aim to provide an overview of the most eco-friendly and sustainable shoe brands available today.
How We Chose the Best Brands
The rise of mindful consumers has brought forth an infinite number of brands that call themselves environmentally conscious. So making an informed choice in opting for the best labels does become overwhelming. And that's why we're here to help!
The brands featured in our articles are researched thoroughly by our team for verified sustainability and fair trade practices. Next, products from these labels are personally tested for quality-check by our team members who use them for a particular period. After honestly reviewing the items, if we feel they are not up to the mark, the brands never make it to our site. Therefore, be assured! With a group of sustainability enthusiasts backing these brands, you're good to go with your purchases.
Top 20 Sustainable Shoe Brands for Women
Sustainable Shoes To Walk Towards A More Sustainable Future
Remember, 'Our actions have the POWER to bring change'. Today many footwear companies have absorbed the importance of sustainable and ethical practices to their business's core values.
Sustainable footwear companies strive for more remarkable change from organically harvesting materials and ethically sourcing recyclable and eco-friendly materials to engaging in humane employee working conditions, fair wages, and fair trade practices. Sustainable shoe brands are trying their best to reduce their carbon footprint.
20 Best Eco-friendly & Sustainable Shoe Brands That Women Will Love to Wear
The task of finding the perfect pair of sustainable shoes that suit your colorful sustainable clothing well can be downright overwhelming. But fear not! Because we've got you covered. Here are some of the best sustainable shoe brands we absolutely admire, ABLE, TOMS, All Birds, Nisolo, Veja, The Root Collective, Rothy's, and Cariuma, Veerah, and Reformation. Let's check them out!
1. ABLE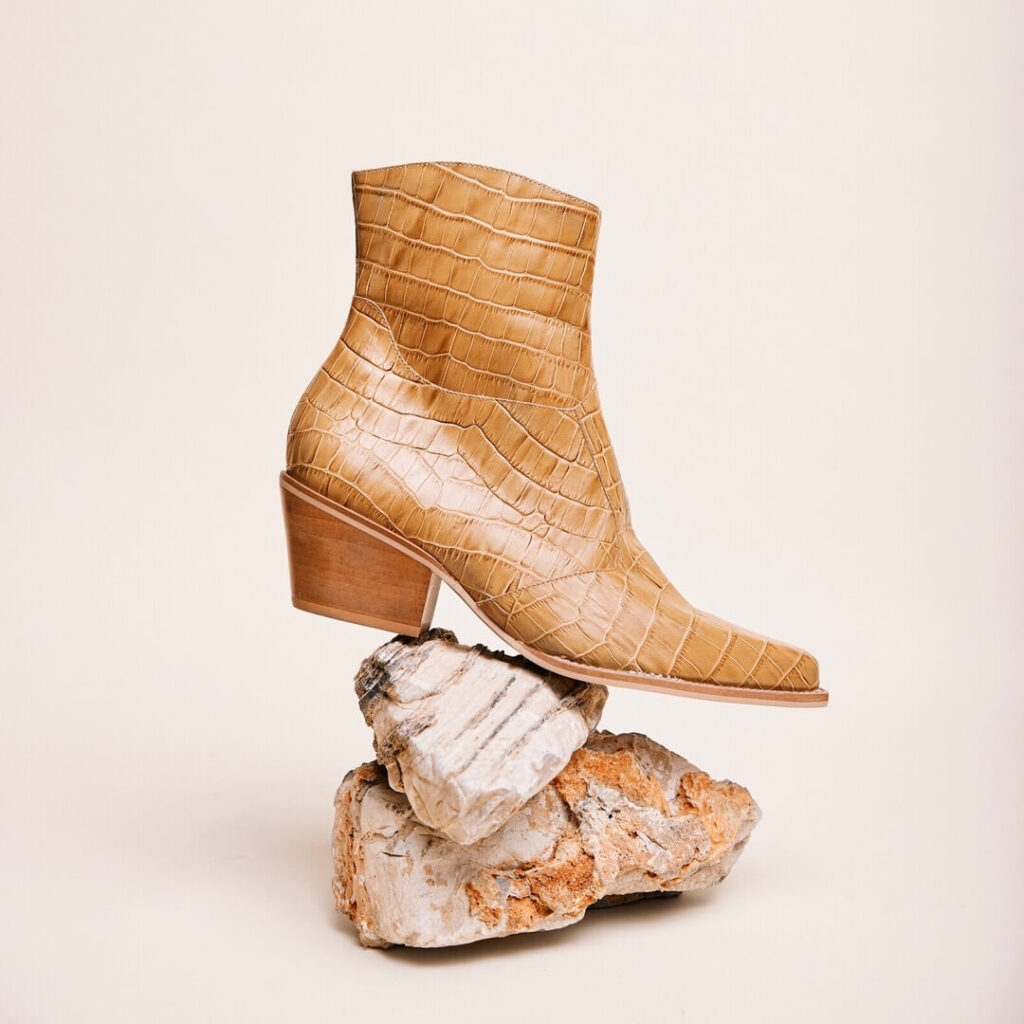 Place of Origin: Nashville, Tennessee.
Founder: Barrett Ward.
Ethics: Women empowerment, Certified B Corp, Sustainably sourced materials, Fair Trade practices, Fair Wages, Eco-friendly packaging.
Range: Women's sandals, heels, flats, sneakers, boots, loafers.
Price Range: $70 – $155
Excellent for: Daily wear, Work wear, or Casual Occasions.
Materials used: Certified Organic Cotton, Sustainably sourced leather.
We're in awe and for all good reasons. Make way for ABLE, a women-centric sustainable brand that offers amazing go-to-wardrobe essentials, be it footwear or clothing. Minimalist designs and a neutral color palette of ABLE's footwear are what makes them versatile and slow fashion. Moreover, 90% of the brand's employees are women, as ABLE has been on a mission to provide sustainable jobs to women artisans around and in developing countries to lead respectable lives. The products are handcrafted to reduce carbon emissions and are made with sustainable materials sourced ethically.
2. TOMS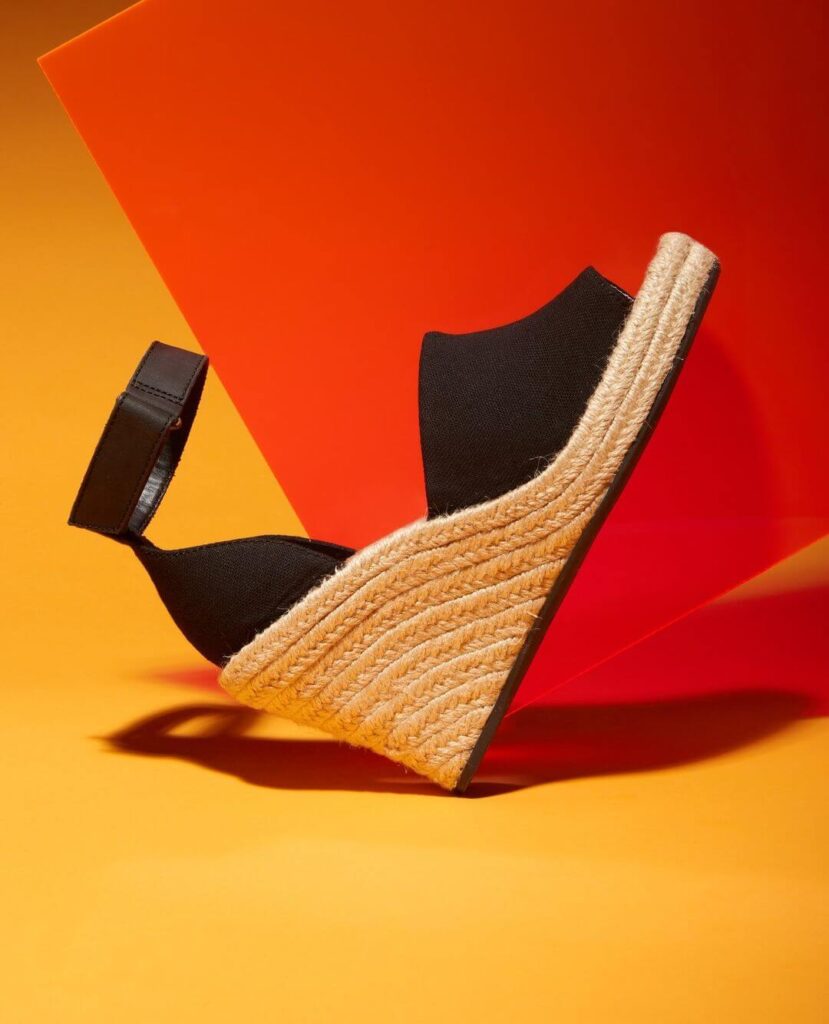 Place of Origin: Los Angeles, California.
Founder: Blake Mycoskie.
Ethics: Fair Trade practices, Fair labor wages, Certified B Corp, Donates 1/3 profits to Grassroots Good, Strong advocator of Mental Health Wellness, Green packaging.
Range: Assorted range of women's boots, sandals, wedges, flats, etc. Wide range of Men's and Kids' shoes.
Price Range: $32 -$169
Excellent for: Daily wear, work wear, casual occasions, etc.
Materials used: Organic Cotton, Recycled materials like Cotton, Rubber, PU Foam, and Canvas made of cotton and plastic waste.
TOMS, this popular sustainable footwear brand tops our list of stylish and sustainable shoe brands for women. Offering a variety of footwear in both Adult and Children's categories, the brand's footwears are designed and manufactured with sustainable materials and under ethical practices.
TOMS has so far donated 100 million pairs of shoes to needful people in developing countries, under their initiative "One For One". TOMS is dedicated to increasing the use of sustainably harvested organic cotton in its footwear. Furthermore, they also aim to reach their carbon emission reduction targets by 2025.
3. AllBirds
Place of Origin: San Francisco, California.
Founders: Tim Brown, and Joey Zwillinger.
Ethics: Certified B Corp, Carbon Neutral, Organic & Recycled materials, WRAP- & SMETA-Certified production, Carbon Offset.
Range: Women's and men's sneakers, loafers, slip-on, flats, weather-repellent shoes.
Price Range: $98 -$148
Excellent for: Daily wear, Trekking, etc.
Materials used: FSC-Certified Tencel lyocell, Merino wool, Recycled plastic bottles.
Albirds was born with Mother Nature as the core of its inspiration. We admire how the brand circles around one simple motto- To build its line of products only with raw materials that exist naturally, along with other eco-friendly and sustainable materials. As simple as that.
The brand holds the reduction of greenhouse gas emissions a priority and follows a transparent supply chain system using renewable energy to minimize the impact. Straightforward minimalist designs without unnecessary flashy logos, Allbirds footwear is all about keeping your feet cozy throughout the day.
4. Nisolo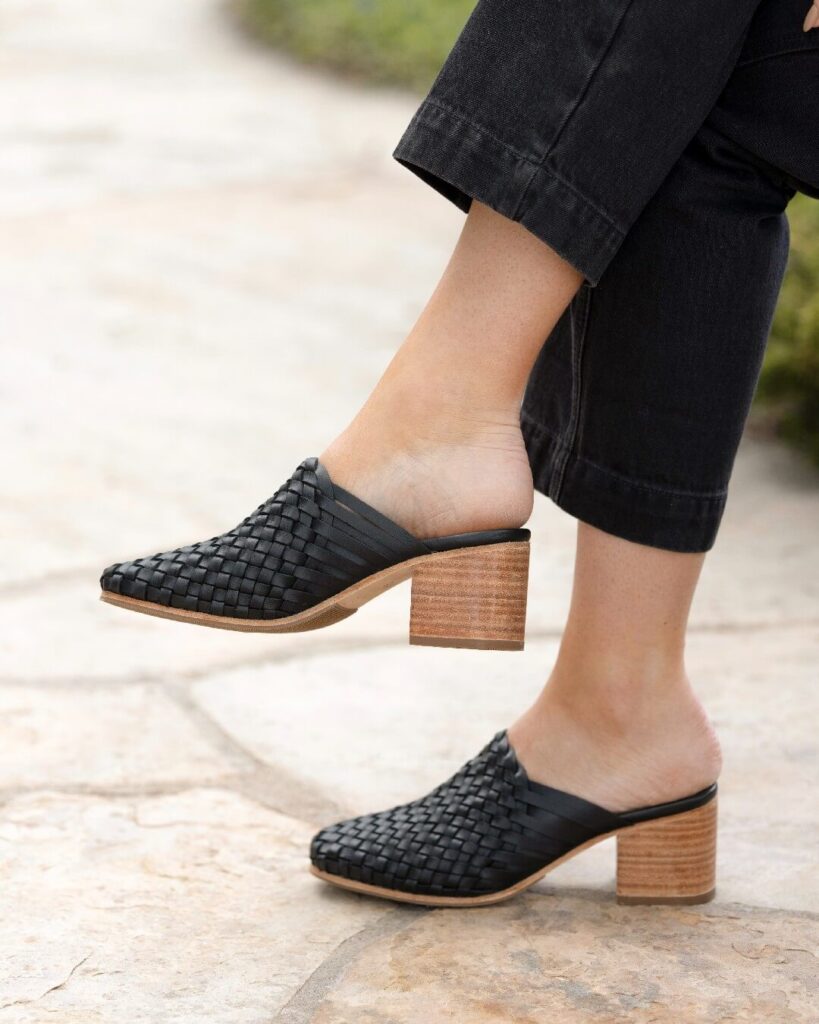 Place of Origin: Nashville, Tennessee.
Founder: Patrick Woodyard.
Ethics: Certified B Corp, Handcrafted artisan-made, Fair labor standards & Fair wages, Vegetable-Tanned leather, Climate-neutral Certified, Leather Working Group Certified Leather.
Range: Women's chukkas, boots, loafers, oxfords and mules, slip-on, and flats. Men's oxfords, sneakers, flats, slip-on, loafers, flats, etc.
Price Range: $90 -$255
Excellent for: Daily wear, Work wear, Formal events, Trekking, Casual occasions, etc.
Materials used: FSC-Certified Tencel lyocell and Merino wool, Recycled plastic bottles.
Beautifully intentional and simplistic designs, Nisolo's footwears are a vibe in itself. A stunning collection of well-designed shoes handcrafted by the local artisans in Peru, the brand prioritizes 100% ethical fair trade practices and is Carbon Neutral.
Honored as 'Real Leaders' in Top 100 Impact Brands, Nisolo also ensures the generation of wastes incurred, wastewater treatment, and recycling in its production system. The leather used as a raw material for its footwear is the converted version of meat by-products that would end up in landfills otherwise.
5. Veja
Place of Origin: Brazil.
Founders: Sébastien Kopp and François-Ghislain Morillion.
Ethics: Certified B Corp, Fair trade practices, Reducing Carbon emissions, Ethically sourced leather, Vegan options available.
Range: Wide range of sneakers for Women and Men.
Price Range: $72 -$239.
Excellent for: Daily wear.
Materials used: Amazonian rubber, Certified Brazilian leather, Organic Cotton, Recycled Cotton, Plastic bottles, Recycled polyester, and B-Mesh fabric.
Veja, known to be the first sustainable sneaker brand, focus primarily on recycling waste and turning them into superior quality valuable sneakers. The brand sources organic and eco-friendly materials through fair trade practices from Brazil and Amazon.
Veja ensures zero-waste practices, recycling, and low energy usage in its production. With leather products emitting huge amounts of carbon compared to other materials, the brand has also been actively working on finding out improved ways in the leather chain system since 2008.
6. The Root Collective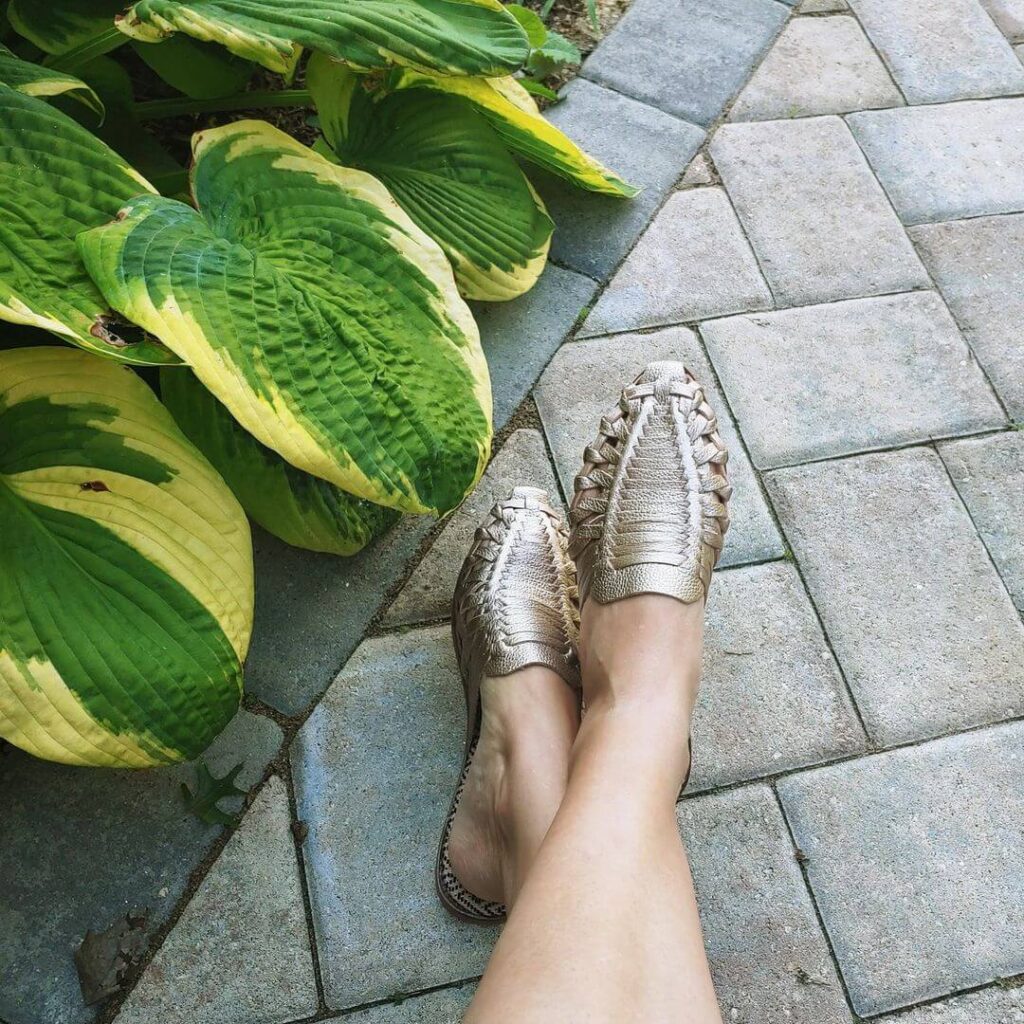 Place of Origin: Headquarters in the USA, Made in Guatemala.
Founders: Bethany Tran.
Ethics: Fair trade practices, Fair wages, Employment opportunities for women artisans, Ethically sourced textiles and leather for raw materials.
Range: Assorted collection of women's shoes and bags.
Price Range: $128 -$348.
Excellent for: Daily wear, Occasional wear.
Materials used: Leather Working Group Certified leather, Organic cotton, EVA, Rubber, Recycled and sustainable materials.
Handcrafted by skilled artisans in small batches, The Root Collective is a sustainable shoe brand for women that we absolutely adore. Although we love their entire shoe collection, our top picks would be their sandals and wedges which are a must-have and oh-so-perfect for the summers.
Exquisitely designed, fun and colorful, The Root Collective's shoes are ethically made by master shoemakers in Guatemala with a vision to improve the lives of artisans who find it hard to provide for themselves in this current world of sweatshops and unethical trade practices. What's more? They also buy and sell pre-loved footwear.
7. Rothy's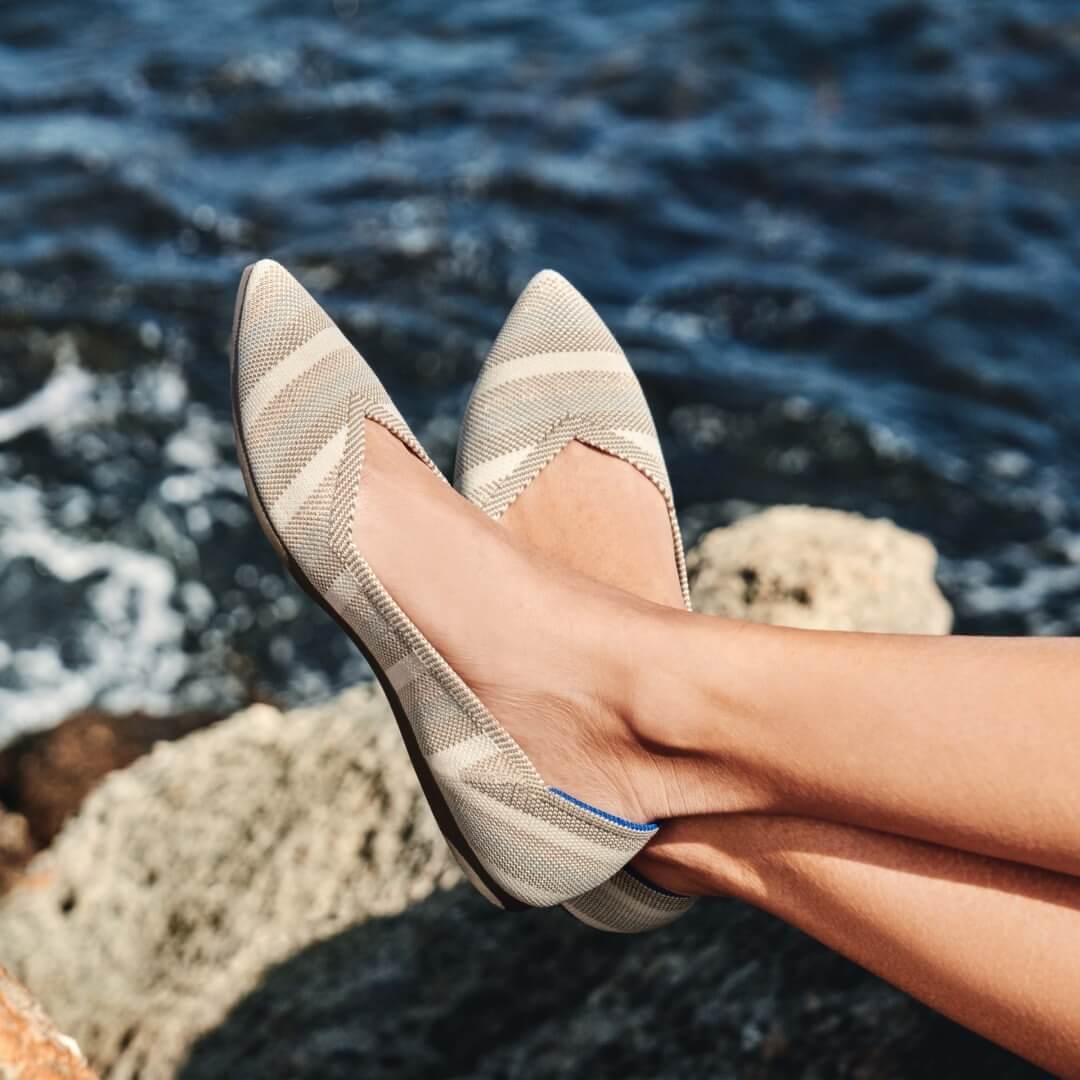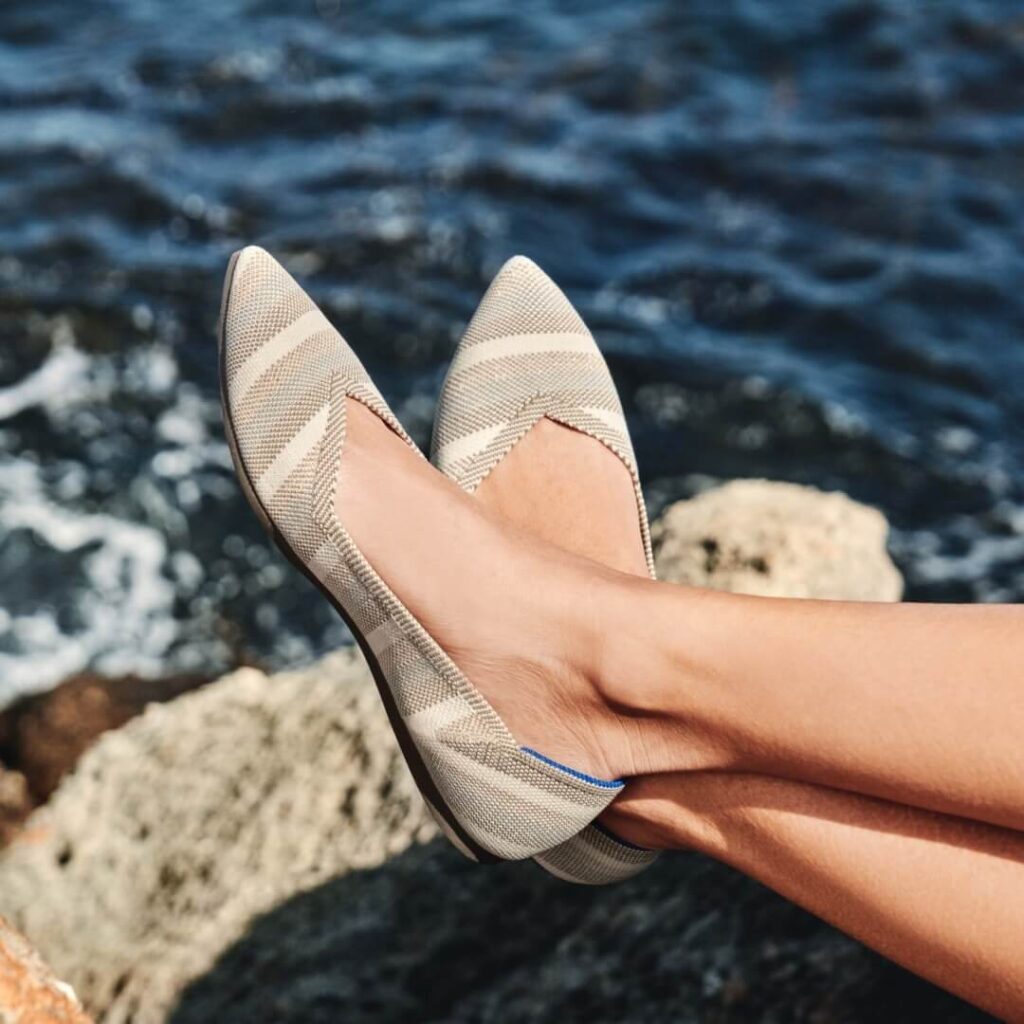 Place of Origin: San Francisco, California.
Founders: Roth Martin and Stephen Hawthornthwaite.
Ethics: Fair trade practices, Recycled packaging, Recycled materials
Range: Women's boots, ballet pumps, loafers, slippers, sneakers, bags. A range of Mens' and Kids' footwear is available as well.
Price Range: $125 -$195.
Excellent for: Daily wear, Occasional wear.
Materials used: Recycled single-use plastic bottles.
Ladies, if you feel you've seen it all? Hold your heart and make way for Rothy's. We mean luxurious, comfortable, and chic shoes made out of used plastic bottles. Like really!
So far Rothy's have recycled and converted 125 million of plastic bottles using 3D Knit Technology which acts as the sole raw material of their shoes. Available in all possible colors Rothy's shoes are super sturdy, fully machine-made, and a perfect addition to your sustainable shoe wardrobe for that instant flush of joy.
8. Veerah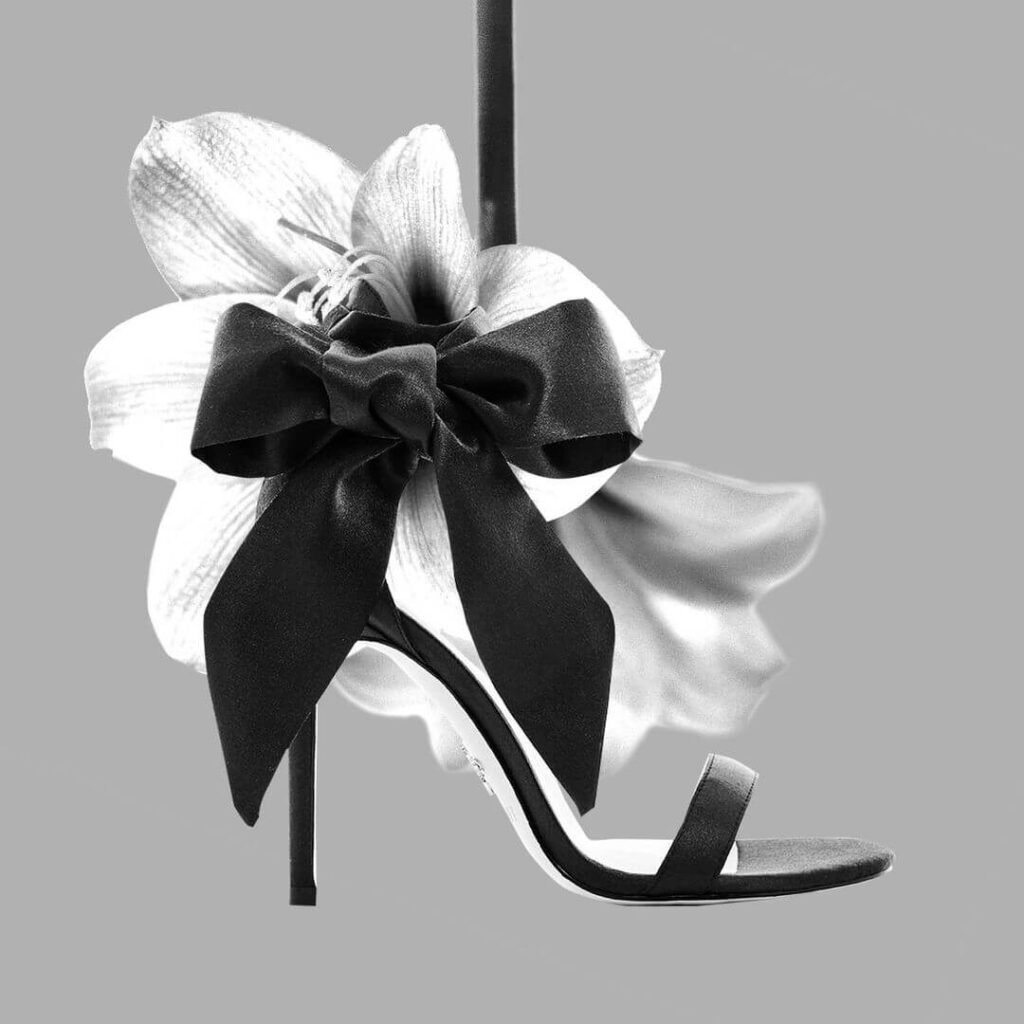 Place of Origin: New York, United States
Founder: Stacey Chang
Ethics: Operates a 1-10-100 action, where 1% of its revenue goes to social impact causes, and 10 paid hours are offered to employees for taking self-improvement courses. For every 100 customer feedback, a girl child receives a 1-year scholarship from the brand
Range: Boots, Stilettos, Pumps, Mules, Bridal shoes, and Sandals
Price Range: $228 -$398
Excellent for: Daily wear, Occasional wear
Materials used: Apple leather, Renewed plastic textiles, and Algae foam cushion
Certifications: PETA Approved Vegan Brand
Veerah's story is "Inspired by Women. Made For Warriors." The sustainable cruelty-free footwear label started out with the goal to offer designer vegan shoes so that you never have to compromise on style. Home to some of the most stunning heels, Veerah is like a fairy godmother, all set to make your feet the talk of the town.
Each collection is thoughtfully designed and ethically made using innovative vegan materials that are kind to the planet. The shoes come in classic shapes and detachable jewelry-like accessories that you can easily remove to match your outfit. So invest in 1, yet get many looks! Cool, right?
9. Reformation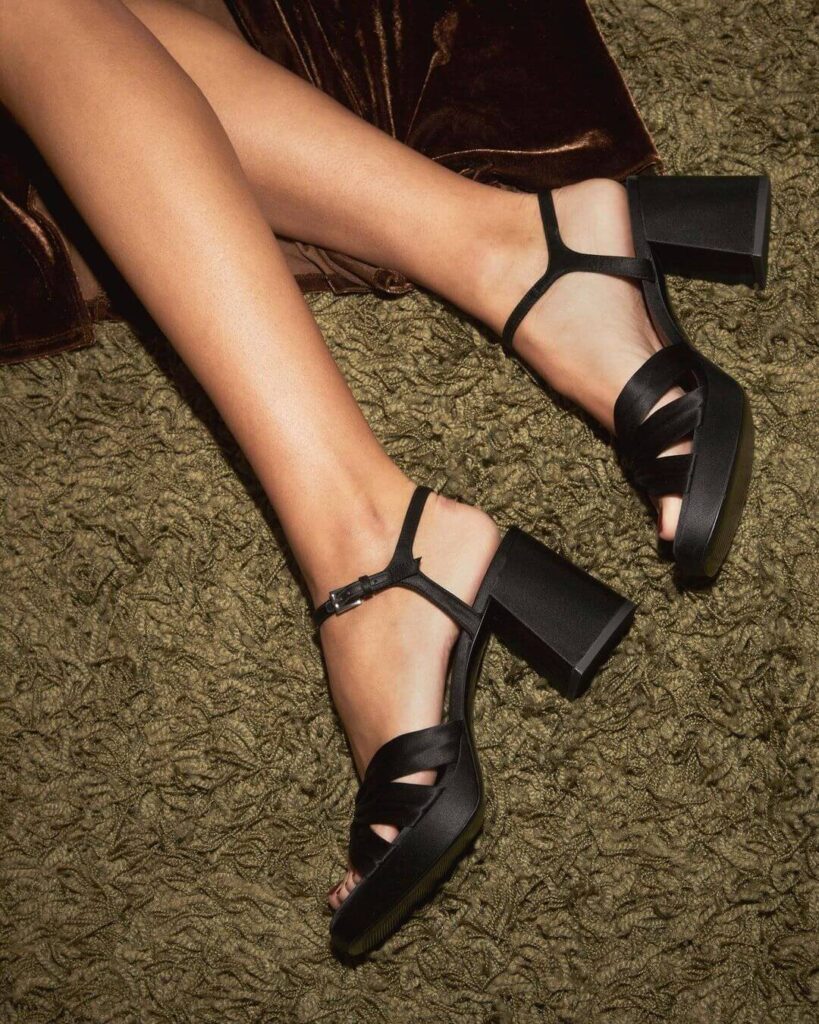 Place of Origin: Los Angeles, California, United States
Founder: Yael Aflalo
Ethics: Ethical factory in partnership with Fair Labor Association, Uses renewable energy, Recycles or donates textile scraps
Range: Boots, Flats, Loafers, Sneakers, Pumps, Mules, and Sandals
Price Range: $108 -$548
Excellent for: Daily wear, Occasional wear
Materials used: Responsibly sourced leather from Leather Working Groups
Certifications: Climate Positive and Carbon Neutral.
Super-sustainable and stylish, Reformation is a cult favorite among our eco-conscious fashionistas. Its shoes are crafted in chic designs that will always remain in style, season after season. If standing out in the crowd is what you always aim for, then choose one of Reformation's fair trade shoes without second thoughts.
Sustainable materials like leather from Leather Working Group gold and silver audited tanneries are used to create its footwear range. And the brand constantly strives towards getting more and more eco-friendly with its knack for innovation.
10. VIVAIA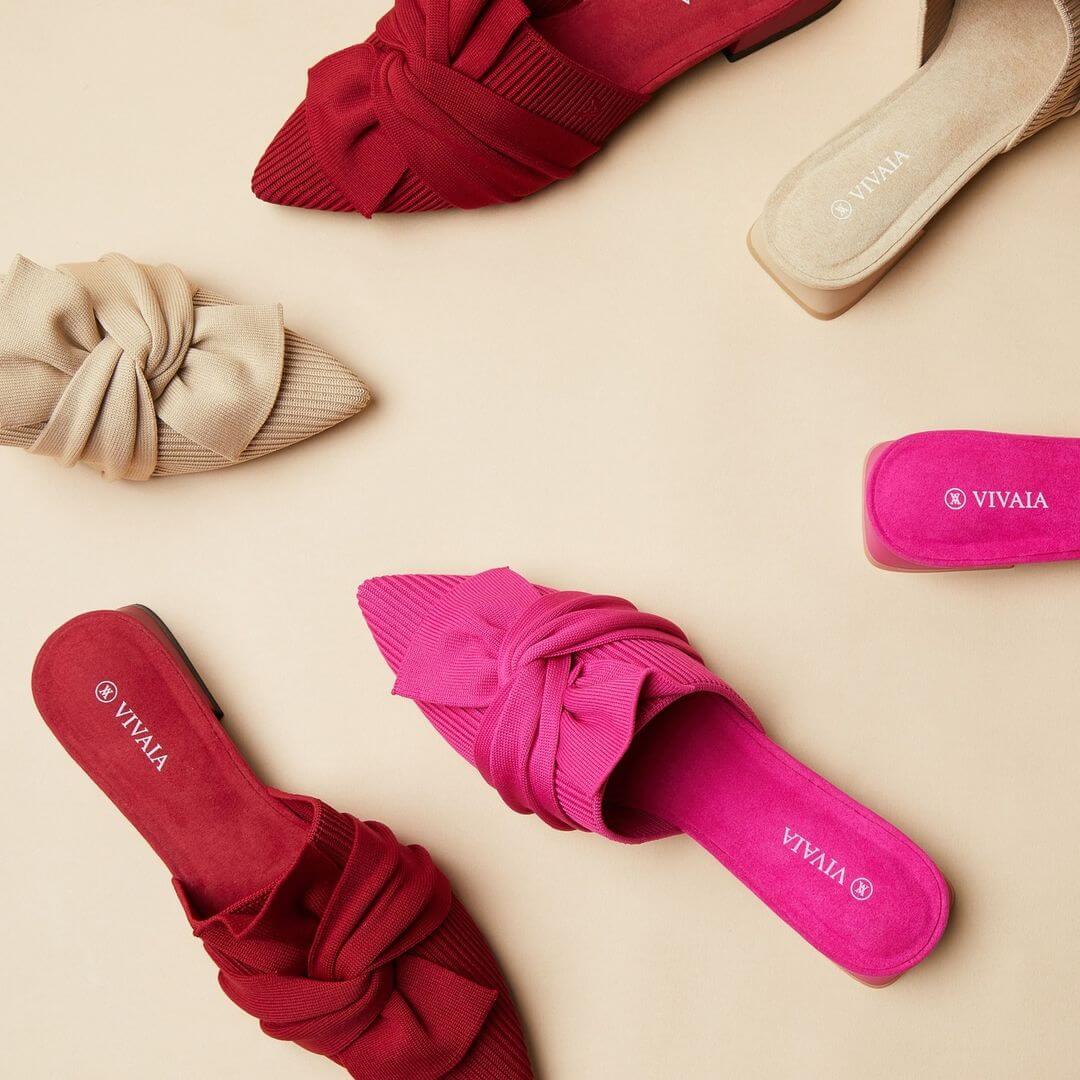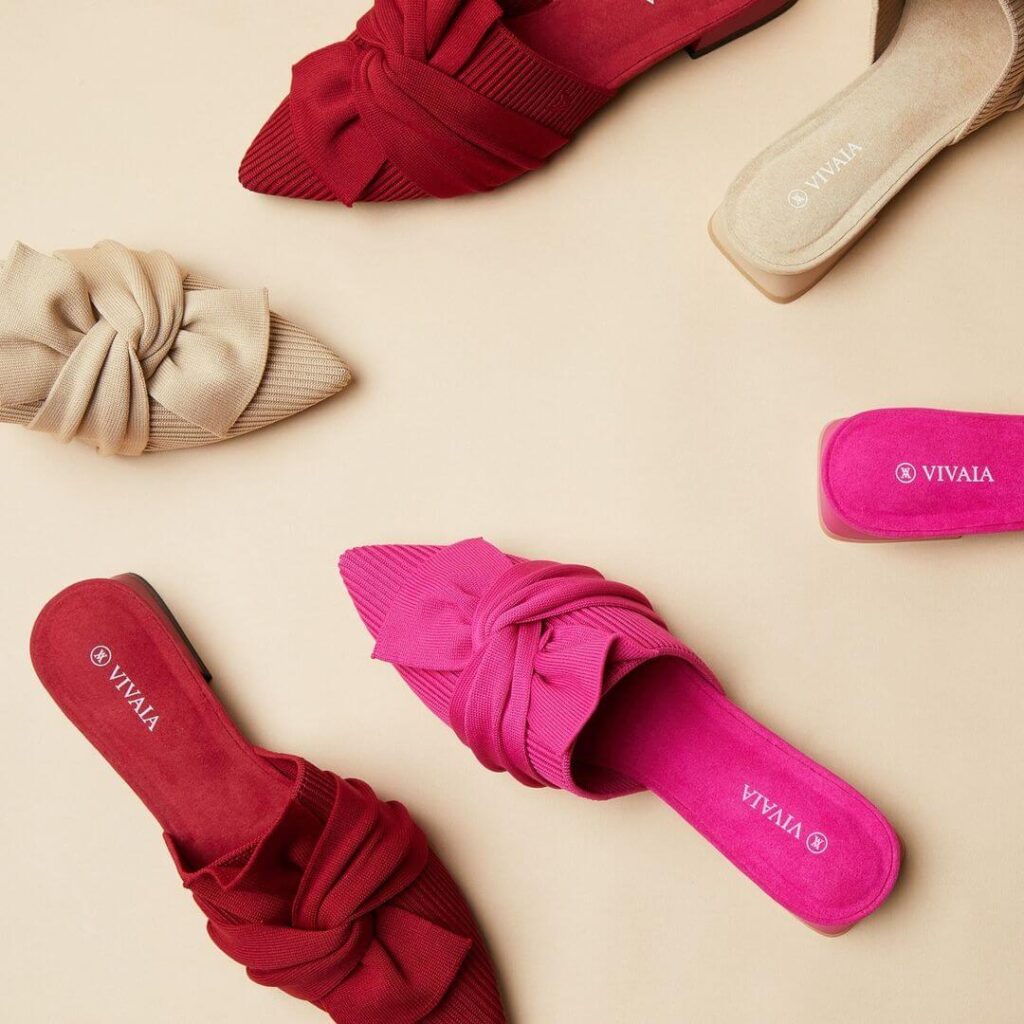 Place of Origin: London, England (Headquartered in the United States)
Co-Founder: Marina Chen
Ethics: Uses a variety of recycled materials to minimize environmental impact, Ethical production in a fair trade Chinese factory, Zero-waste approach, Carbon-neutral shipping
Range: Heels, Loafers, Boots, Sandals, Mules, Sneakers, etc.
Price Range: $75 – $199
Excellent for: Daily wear, Work wear, Occasional wear
Materials used: Recycled PET, Hemp, Recycled Faux fur, Rice husks, Herbal insoles, Natural rubber, ABS, and TPE
Certifications: Global Recycled Standard, FSC Certified, Intertek
VIVAIA prides itself in creating shoes that are made with the lowest impact on the planet. Its comfortable, fashion-forward, and affordable footwear collection is manufactured using a pool of recycled materials, including used plastic bottles. The brand uses a special 3D knit technology that transforms plastics into threads, ready to be spun into footwear.
In addition, they use a blend of natural herbal and PU foam, making the insoles cushiony, breathable, and moisture-wicking. Therefore, with VIVAIA shoes, you can bid goodbye to smelly feet even in the heat and humidity. Plus, you can easily handwash them when dirty. To date, VIVAIA has recycled over 3,475,206 PET bottles.
11. Bhava Studio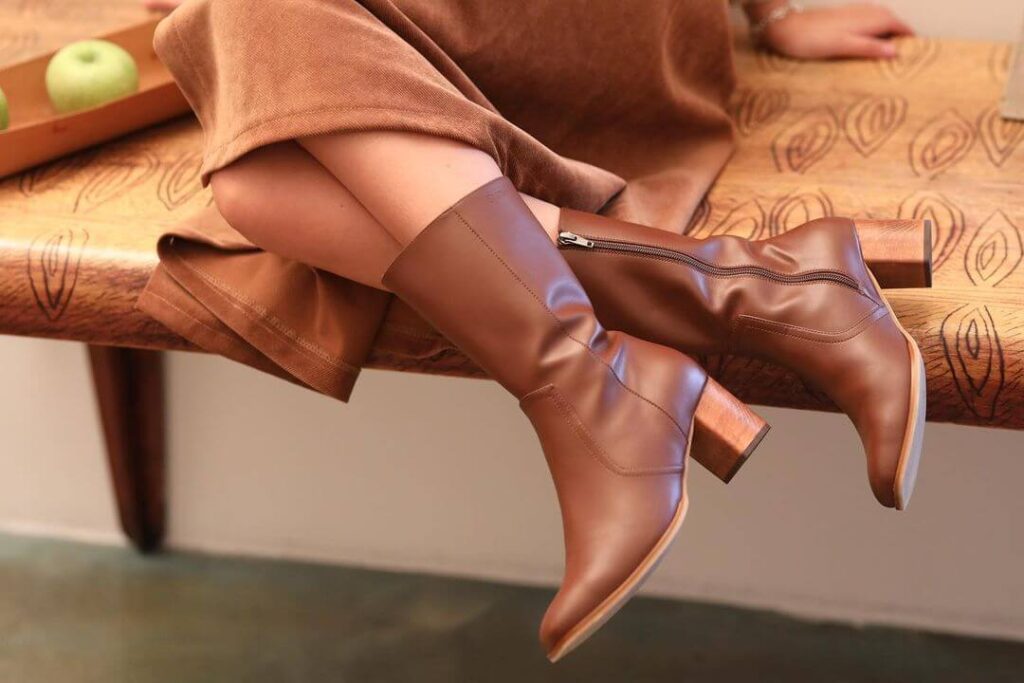 Place of Origin: New York, USA
Founder: Francisca Pineda
Ethics: Fair Trade manufacturing, Advocates workers' well-being, 100% Vegan materials, and Environmentally-conscious designs
Range: Booties, Boots, Hikers, Heels, Clogs, Sandals, etc.
Price Range: $155 – $275
Excellent for: Daily wear, Occasional wear
Materials used: Eco-friendly vegan materials, including Organic Cotton, Hand-painted embossed cork, and Premium Recycled microfibers
"Thoughtful By Design," Bhava Studio is a premium vegan footwear brand that has a kindhearted approach to crafting its range of shoes. Its innovative collection represents timeless elegance with a hint of ingénue charm, which is ideal to be paired with any outfit. Bhava works with two manufacturing partners in India and Spain, which are personally vetted for fair trade and the highest quality craftsmanship.
In addition, the label is committed to using organic, recycled, and cruelty-free components, which are the best 100% vegan alternatives. Fused with comfort and beauty, Bhava's shoes feel just as wonderful as they look!
12. Fortress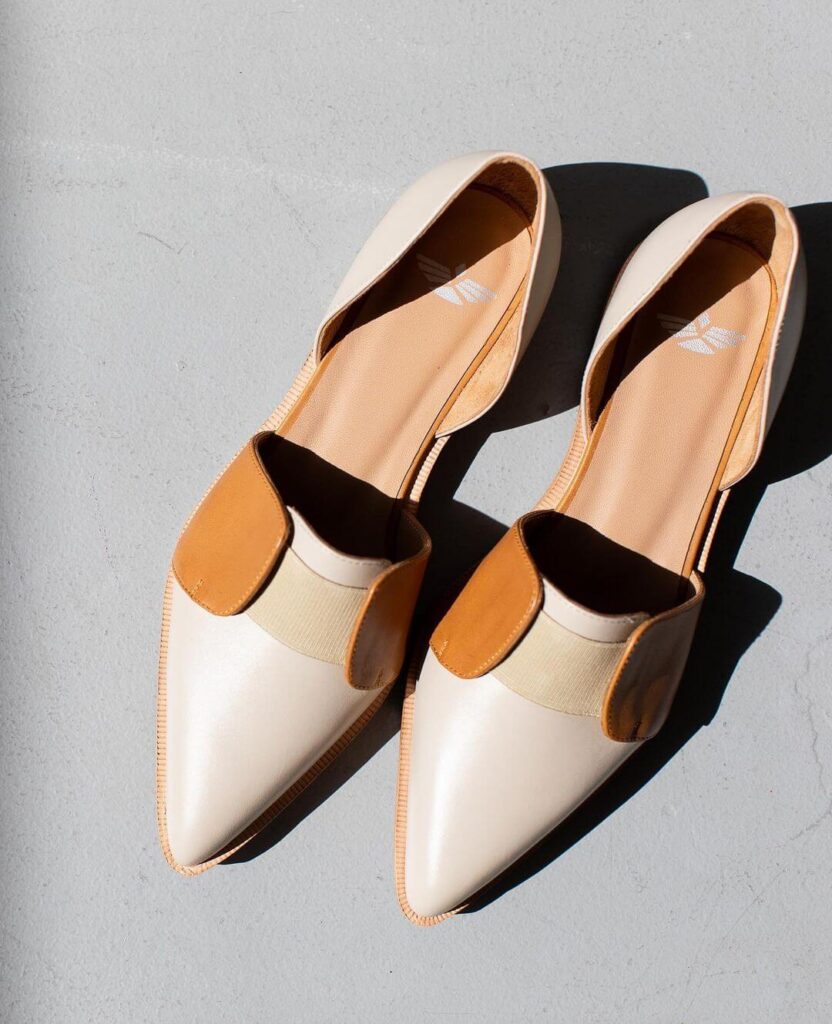 Place of Origin: Austin, Texas, United States
Founder: Evan Streusand
Ethics: Handmade by local artisans, Natural and low-impact materials, Fair-trade production, Ethically sourced leather
Range: Boots, Booties, Mules, Heels, Sneakers, Flats, etc.
Price Range: $135 – $290
Excellent for: Daily wear, Occasional wear
Materials used: Natural materials, including responsibly sourced leather
With versatile styles and classic shapes, Fortress offers sustainable footwear made from 100% natural materials. Hands down to some of the most exquisite designs, their collection ranges from boots to flats that can work as a great wardrobe staple. As an effort to extend the life of its gently-used footwear, the label also has a 'Pre-loved' section.
Dedicated to sustainability and ethical practices, Fortress partners with the best Peruvian shoemakers by working with family-owned and operated factories and workshops. To maintain superior quality, every pair of footwear is handcrafted to perfection by skilled artisans who are ensured safe working conditions and are paid fair wages.
13. Alohas
Place of Origin: Hawaii
Founder: Alejandro Porras
Ethics: On-Demand Production, Vegan options available, Leather used is sourced from Leather Working Groups, Locally made in Spain, Toxin-free low-impact dyes, Fair Wages, Eco-friendly Packaging
Range: Espadrilles, Ballet flats, Loafers, Pumps, Sandals, Boots, etc.
Price Range: $135 – $415
Excellent for: Daily wear, Vacation wear, Occasional wear
Materials used: Plant-based leather, Responsible Leather from Certified Leather Working Groups, and other natural materials
Nothing can be more sustainable than operating on a made-to-order business model— And Alohas does just that! The eco-friendly footwear label was launched with the idea to bring a twist on the 'classic espadrilles' and carries a vast selection of sustainable shoes made from plant-based and responsibly sourced leather.
Committed to uplifting local economic growth, all their shoes are designed in Barcelona and handcrafted in Alicante. Alohas has tied up with factories and workshops that align with the brand's ethical practices, where values like labor conditions and quality standards are prioritized. Taking care of your feet and helping you stand out in a crowd, Alohas can be your go-to in all seasons with zero 'break-in' time.
14. Poppy Barley
Place of Origin: Edmonton, Alberta, Canada
Founders: Justine and Kendall Barber
Ethics: Transparent supply chain, Ethical manufacturing, Sustainable materials, Advocating size-inclusivity by offering made-to-order footwear, Publishes annual 'People and Planet Report' to share their sustainability goals and achievements
Range: Collection for Men and Women, including Ankle boots, Tall boots, House shoes, Heels, Chelsea boots, etc.
Price Range: $178 – $385
Excellent for: Daily wear, Work wear, Occasional wear
Materials used: Leather from Certified Leather Working Groups, PB PLNT, Cotton Canvas, and Desserto®
Certifications: B Corporation
Designed in Canada, Poppy Barley is one of the most mindful footwear brands offering polished, everyday shoes for kick-ass people who care for the planet. Ethically crafted in family-owned factories, its shoes are incredibly comfortable and made with super-cool materials with the lowest environmental impact.
Certified as a B Corporation, Poppy Barley meets the highest social and environmental performance standards and transparency in its operations. It is dedicated to helping you take every step towards a sustainable future with its fairly-priced products. What's best? You can wear its shoes on repeat without worrying about signs of 'wear and tear.'
15. Baabuk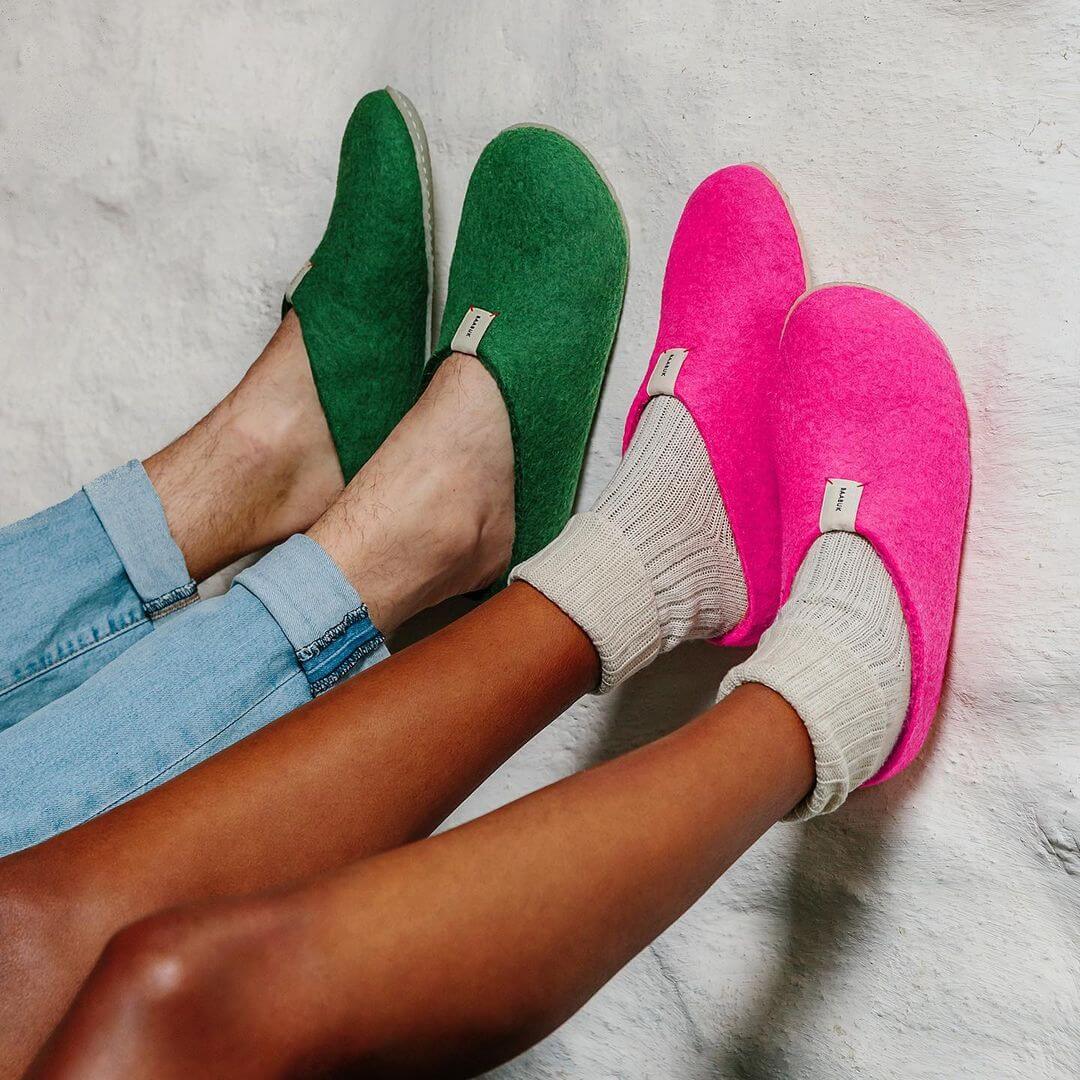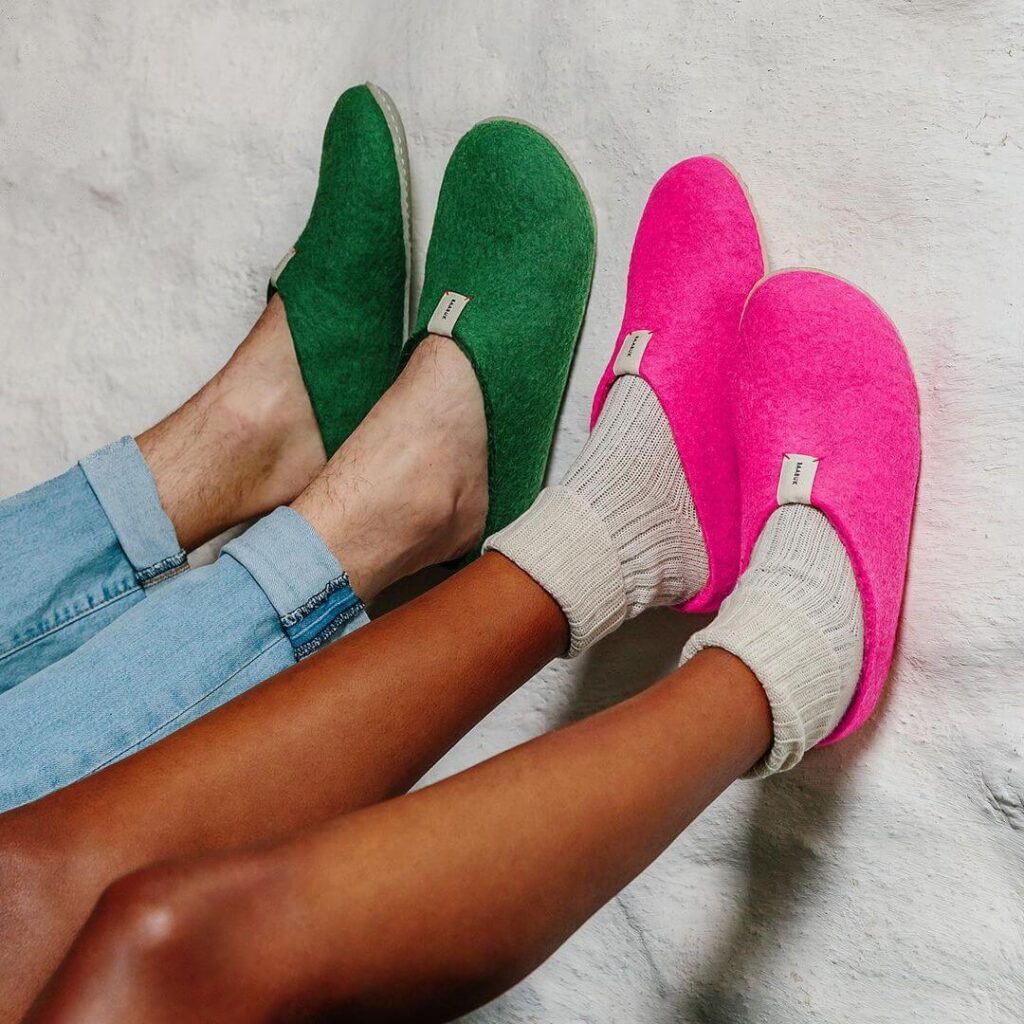 Place of Origin: Renens, Vaud, Switzerland
Founders: Galina and Dan Witting
Ethics: Fair trade manufacturing and distribution process, Wastewater treatment, Ethical sourcing of wool from compassionate breeders
Range: Sneakers, Ballerina flats, Wool boots, Slip-in slippers, Low-cut slippers, etc.
Price Range: $85 – $155
Excellent for: Daily wear, Occasional wear
Materials used: Mulesing-free high-quality wool
Certifications: B Corporation
Environmentally-conscious footwear label Baabuk is unique in its own way because it offers shoes entirely made from WOOL. Yes, you read that right! And the best thing is— you can comfortably wear its woolen footwear all year long! Why? Well, wool works perfectly for footwear because its moisture-wicking properties keep your feet snug at the perfect temperature.
Baabuk uses responsibly sourced wool from ethical breeders across the world. Its products are designed in Switzerland and ethically crafted in its factories in Nepal and Portugal.
As a B Corporation, Baabuk has complete control over its entire manufacturing and distribution process and is pretty transparent about its supply chain. The label was also honored with the ISPO Gold Winner award in 2017.
16. Nomasei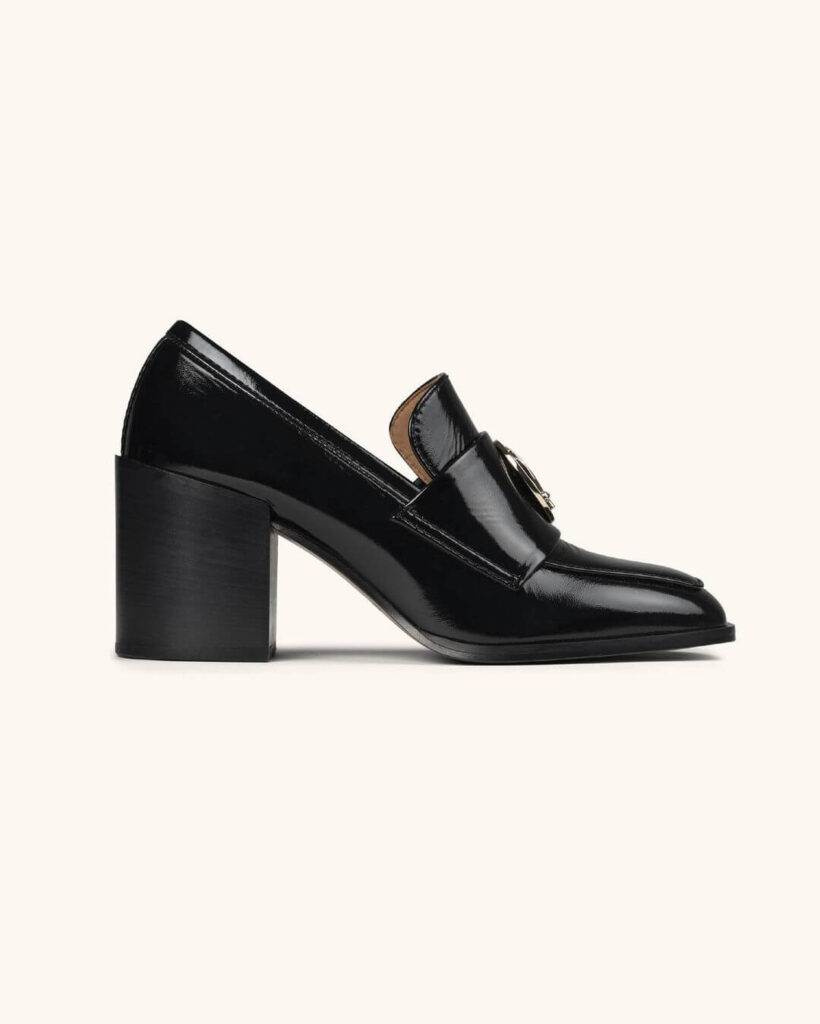 Place of Origin: Tuscany, Italy
Founders: Paule Tenaillon and Marine Braquet
Ethics: Transparent supply chain, Ethical manufacturing, Water regulation, Upcycling, Advocates slow fashion, Raw materials sourced from across Europe to lower carbon emissions, Plastic-free packaging
Range: Moccasins, Derbies, Mules, Bridal shoes, Boots, etc.
Price Range: $200 – $435
Excellent for: Daily wear, Occasional wear
Materials used: GOTS Certified Organic Cotton, Responsible Vegetable tanned leather, and other eco-friendly materials
Sustainable luxury label Nomasei creates beautiful classic shoes designed to make you feel confident and stunning every time you step out. Handcrafted in a small private factory in the village of Montopoli, Tuscany, Nomasei's shoes are a responsible alternative for your wardrobe and are built to last for years.
Founded by Paule and Marine, who've formerly worked for luxury houses like Dior, Chloé, Givenchy, etc., this brand has an eye-catching collection that won't fade with time. The label was born to offer high-quality products at a fair price, produced under a controlled human and environmental impact. For being a label that is both ethically engaged and transparent, Nomasei was featured in Vogue, Vanity Fair, Bazaar, InStyle, and more.
17. Thousand fell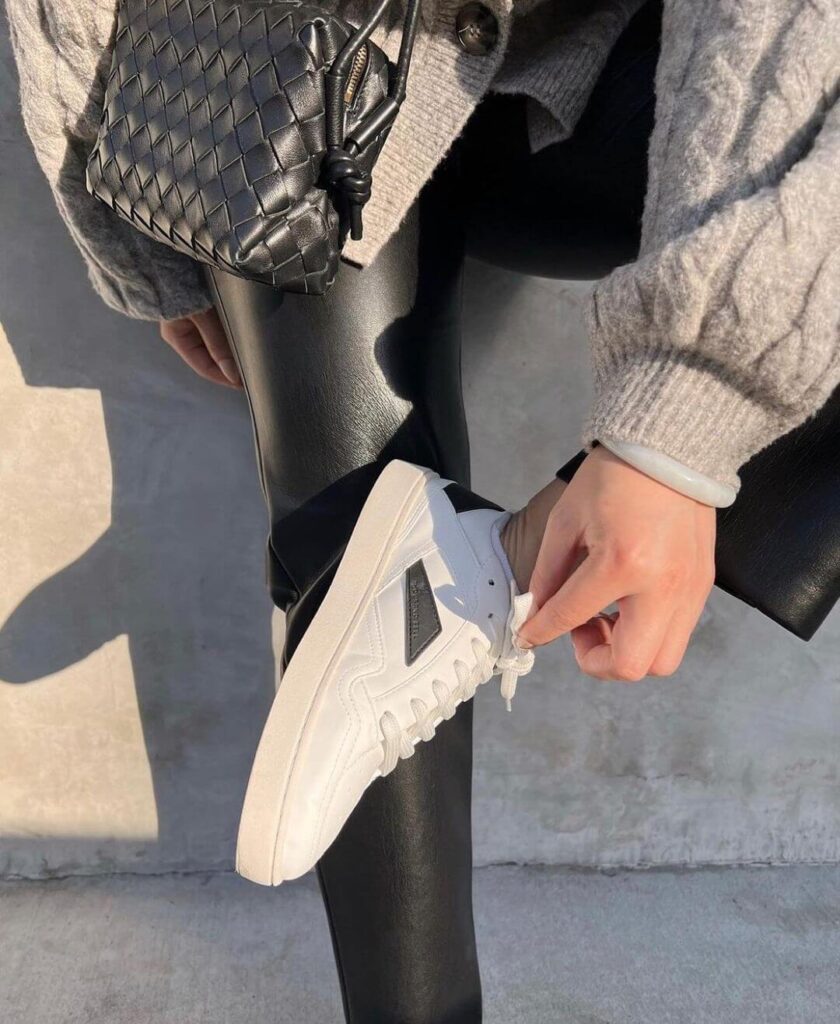 Place of Origin: New York, United States
Founder: Chloe Songer and Stuart Ahlum
Ethics: Circular fashion, Closed loop production, Responsible designs, Recycling, Plastic-free packaging, Sustainable and vegan materials, Lower energy and water usage
Range: Sneakers
Price Range: $125 – $135
Excellent for: Daily wear
Materials used: Recycled plastic, Rubber, Palm leaf fibers, Corn waste, Coconut husks
Super comfortable and breathable, Thousand Fell makes everyday sneakers using sustainable materials. Built to last and designed to be recycled, its products are available for both men and women. Every Thousand Fell sneaker is designed in New York and manufactured in a family-owned factory in Brazil.
With the goal to create zero-waste footwear, this brand's footwear champions circular fashion by using mindful materials that can be recycled multiple times— meaning nothing ends up in landfills. In addition, Thousand Fell happily takes your old sneakers back once you're done, refurbishes them, and donates them to someone in need. Plus, you get a $20 credit on your next purchase. Thousand Fell is also a proud member of the 1% for the Planet initiative.
18. Thesus Outdoors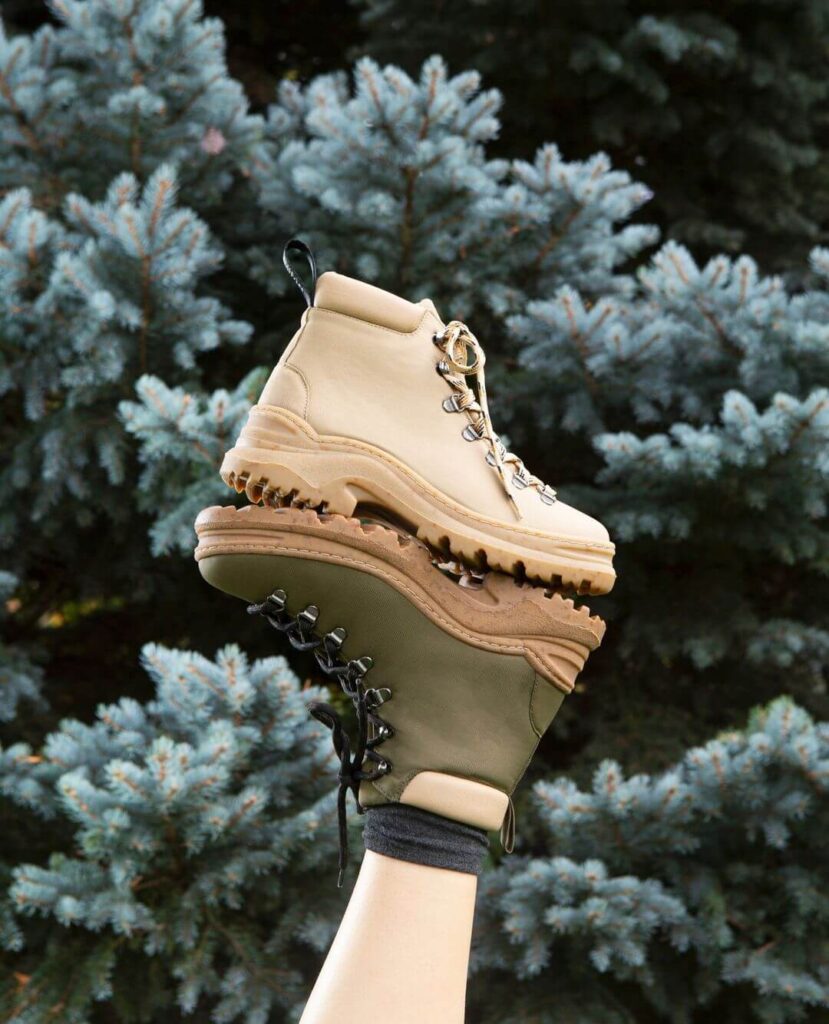 Place of Origin: Toronto, Canada
Founder: Sofi Khwaja
Ethics: Commitment to the People and the Planet, Thoughtful designs and strongly built to reduce waste, Climate Positive, Diversity in all ranks, 100% living wage. Ethical production
Range: Weekend Boot, Waterproof rain boots, and Terrus clogs
Price Range: $89 – $199
Excellent for: Outdoor shoes, Hiking wear
Materials used: Recycled Rubber, Post-Industrial Car Seat Leather
Love frequenting outdoors? Then Thesus Outdoor's footwear is a must-have for your shoe wardrobe. Made from tough materials like recycled nylon and natural rubber, its shoes are designed for durability and to resist wear and tear. They are extremely versatile, comfortable, and manufactured with the lowest environmental and social impact.
Thesus Outdoors' entire production occurs in a fair trade factory in Portugal where everything from its popular waterproof rainboots and other shoe categories are ethically crafted. It has aligned itself with the United Nations Sustainable Development Goals to ensure that critical issues like Ocean Pollution, Climate Change, and Economic Inequalities are always addressed.
19. KOIO
Place of Origin: New York, United States
Founders: Johannes Quodt and Chris Wichert
Ethics: Advocating slow fashion, Climate Beneficial approach, Ethically made & responsibly sourced, Restoring ecosystem by using regenerative materials
Range: Collection for men and women includes Sneakers, Boots, Slides, High-tops, Low-tops
Price Range: $155 – 375
Excellent for: Daily wear
Materials used: FSC®-certified natural rubber, Leather from Certified Leather Working Groups
A contemporary and modern take on luxury footwear— KOIO houses a collection of timeless leather sneakers, slides, and boots to assist you comfortably in your day-to-day life. Handcrafted in Italy, its products perfectly represent extraordinary Italian craftsmanship and are built to last for years.
Every pair is crafted in a family-owned factory and undergoes the keen eyes of 42 skilled master shoemakers to ensure perfection, even in the smallest details. KOIO's footwear are designed to be clean and minimal so that they transcend trends and seasons. In its effort to become Climate Beneficial, the label uses luxuriously sustainable and regenerative materials sourced from the Swiss Alps and certified Leather Working Groups.
20. Cariuma
Place of Origin: Rio, Brazil.
Founders: David Python and Fernando Porto.
Ethics: Certified B Corp, Vegan shoes, Reforestation programs, Fair trade practices, Carbon neutral
Range: Specializes in Sneakers for Women and Men.
Price Range: $125 -$195.
Excellent for: Daily wear, Occasional wear.
Materials used: 100% GOTS Certified Organic Cotton, Bamboo, Rubber, Sugarcane, Leather Working Group Certified leather, Recycled PET, Certified suede, Certified low-impact dyes.
Certifications: GOTS Certified, Global Recycled Standard, I'm Green, OCIA International, Oeko Tex, Leather Working Group.
Last but not the least on the list is, Cariuma, a brand that stands tall and strong amongst other sustainable shoe brands for women. Stylish and versatile, Cariuma's shoes are a must-have, because they are crafted with finesse with a huge variety of recycled and organic materials.
The brand takes its social responsibility quite seriously and works effortlessly to make shoes that are better for the planet and for the people. Whether you're a sneaker-head or just a sustainable shoe hoarder the FSC Certified brand Cariuma won't let you down.
Conclusion
The footwear industry contributes majorly to global warming, but the above-discussed brands are setting up as leaders in this growing world of sustainable shoe brands for women. Although not all of the brands steer clear of using leather, but they just work with leather that would otherwise end up in landfills and cause more harm than good.
Concluding, we congratulate you for making a move towards better and more mindful choices of shoes to pair with your affordable sustainable clothing.