Disclosure:
Our editors handpick top-rated brands, vetted through our strict ratings. Purchases via our links may earn us a commission.
Learn more
Weddings today have come a long way, and the high pressure of making the 'Big Day,' a unique and memorable experience, can be extremely daunting. A lot goes into planning the fairytale wedding, from the perfect venue and curated menu, to writing your own vows. But the priority of every Bride-to-Be will always be to find a gorgeous wedding dress that gives all the 'Goddess' feels.
The sustainable fashion market is already a niche but with consumers' consciousness on the rise, this market is expanding. Bridal wear brands are also jumping on the sustainability bandwagon to assist their brides with the most eco-friendly gowns. However, brands that offer sustainable plus size wedding dresses are like a 'niche within a niche.' Like, you found the perfect man who loves your curves but getting that planet-friendly wedding dress is stressing you out? Not fair!
But we are here to help. So sit back and scroll through these amazing brands that celebrate your curves and introduce the best plus size sustainable wedding dresses.
Oh! And while you're at it, let's not forget you'd also need the perfect sustainable plus size cocktail dress for your reception, along with beautiful sustainable plus size bridesmaid dresses for your girlies.
15 Best Sustainable Plus Size Wedding Dresses for Conscious Brides
1. Wear Your Love
2. Once Wed
3. Borrowing Magnolia
4. Indiebride
5. Etsy
6. Rita Colson
7. Pure Magnolia
8. Whimsy + Row
9. Dressarte Paris
10. Reformation
11. Leila Hafzi
12. Tara Lynn Bridal
13. The Cotton Bride
14. Leanna Marshall
15. Christy Dawn
Hey, curvey queens, your body waves make you who you are. And we love you for adopting a mindful lifestyle. Your wedding dress shopping just got easier because we have done the sifting and compiled a list of our favorite plus size sustainable wedding dress brands. Check them out…
1. Wear Your Love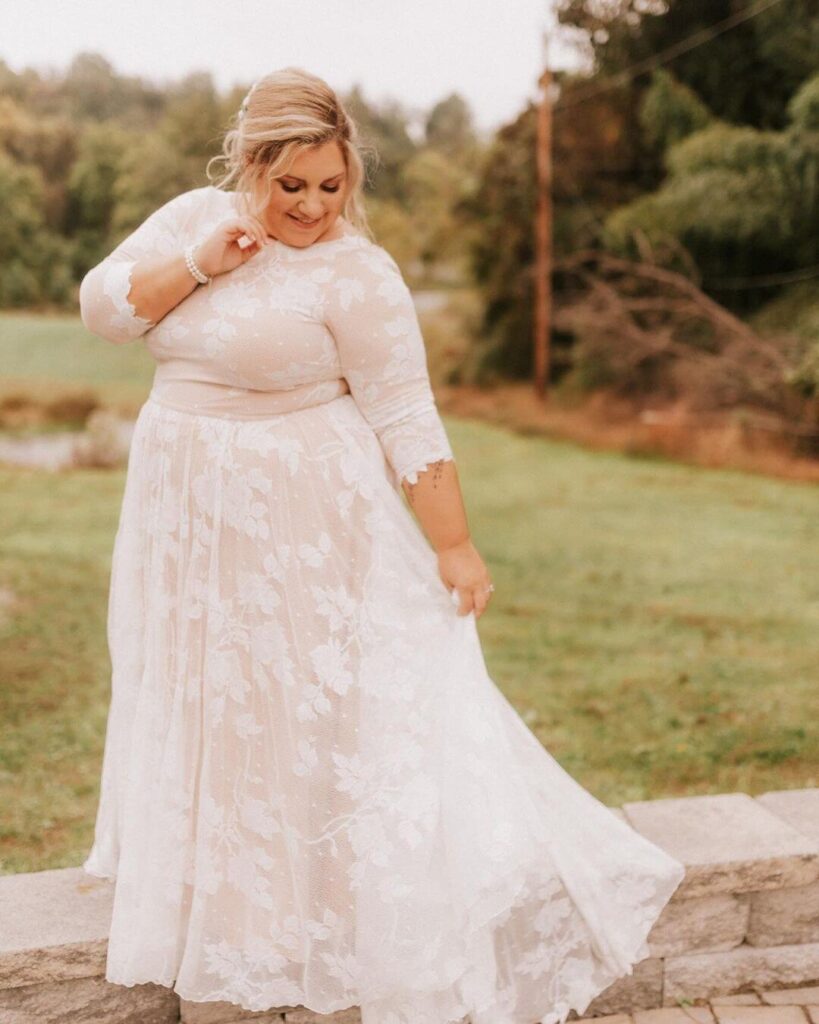 Place of origin: California, United States
Founder: Jillian Leigh
Sustainable Materials Used: Organic cotton, Organic silk, Vegan chiffon & Bamboo fabrics, Recycled Packaging
Size Range: Ready-to-wear includes XXS to XXL. Extended sizes are available on Made-to-measure. Check Size Guide
Price Range: $1,020–$1,880
Shipping: Worldwide
Wear Your Love is an online bridalwear store that allows brides-to-be to shop with ease without the drama of regular wedding dress stores. Its gowns are uniquely designed to reflect your personal style with beautiful organic fabrics that promise a comfortable, high-quality, and convenient experience.
Made with planet-friendly materials, Wear Your Love's wedding dresses are ethically handmade with skilled craftsmanship in their Northern California studio. The brand offers ready-to-wear and made-to-measure options, so you don't have to worry about sizing. All you need to do is fall in love with their designs and contact them to get your dream dress crafted as per your size.
2. Once Wed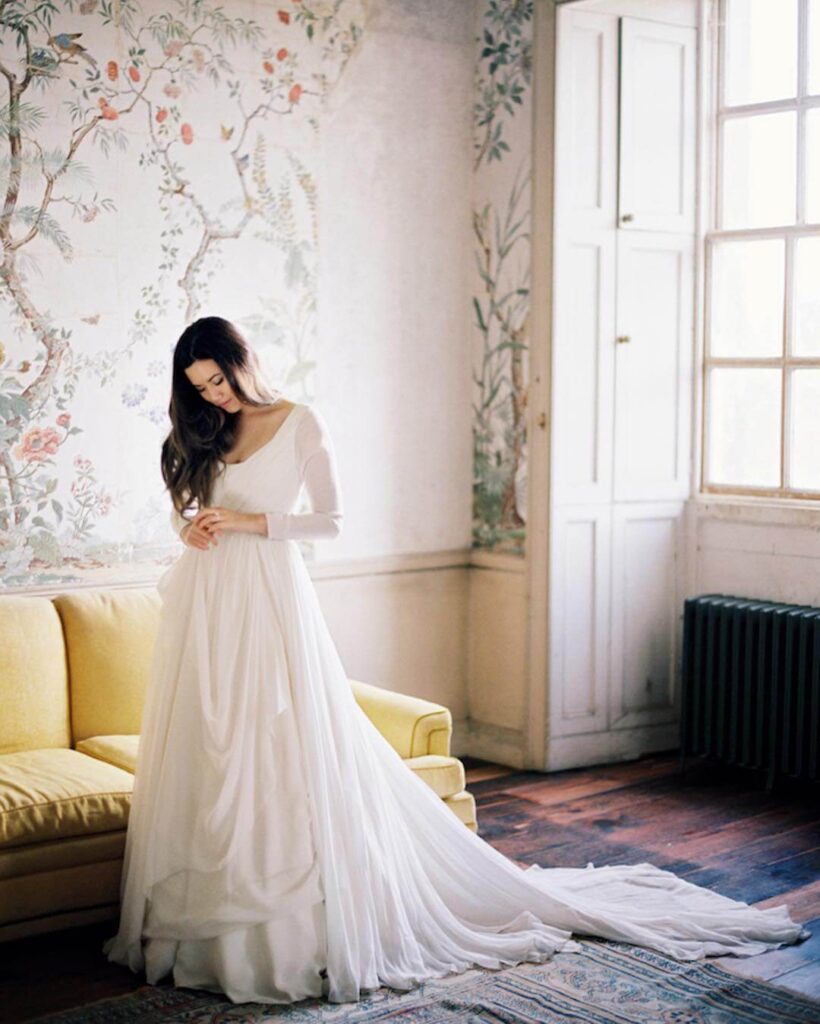 Place of origin: Atlanta, Georgia, United States
Founder: Emily Newman
Size Range: Sizes up to 36W, Will vary as per design availability
Price Range: $400–$3,800
Shipping: Worldwide
Launched in 2008 and honored as one of the top wedding website worldwide, Once Wed is an online-listing wedding dress service that deals in both new and second-hand dreamy bridalwear. The brand believes in classic designs with a modern twist that goes beyond tradition and trends. It houses over 5000 designs made of quality fabrics.
The brand brings in buyers and sellers on this platform, where you can directly connect with a seller once you zero-in on a dress. All you have to do is add in filters as per your location, price point, height and sizing and get a vast collection of used and brand-new designer dresses to choose from. In addition, Once Wed also has many resources that offer real-life wedding and DIY ideas to inspire beautiful brides-to-be in their wedding planning.
3. Borrowing Magnolia
Place of origin: Charlottesville, Virginia, United States
Founders: Stephanie Olvey, Cali Brutz, and Ashley Steele
Sustainable Materials Used: Organic cotton, Organic silk, Vegan chiffon & Bamboo fabrics, Recycled Packaging
Size Range: Sizes from 0–20
Price Range: $455–$5,900
Shipping: Shipping Worldwide for sold items. Rentals are shipped within the U.S.
Borrowing Magnolia is a boon for brides-to-be who want to get that million-dollar bridal look without paying the retail price! It is a bridalwear boutique store that collects pre-loved wedding dresses and lists them for sale or on rental. You can find wedding dresses from famous designers, including Vera Wang, Mori Lee, Sottero & Midgley, and so on, at up to 70% off the original price.
With thousands of dresses to choose from, you can narrow your search by adding filters of your desired specifics like fabric, size, sleeve, train, and silhouette. And Voila! You get your dream gown at a fraction of the price. Sustainability has been Borrowing Magnolia's mission's cornerstone, ensuring the brand's environmental impact. Plus, shopping second-hand for a one-time wear wedding dress is such a sustainable option for our eco-conscious plus-sized beauties.
4. Indiebride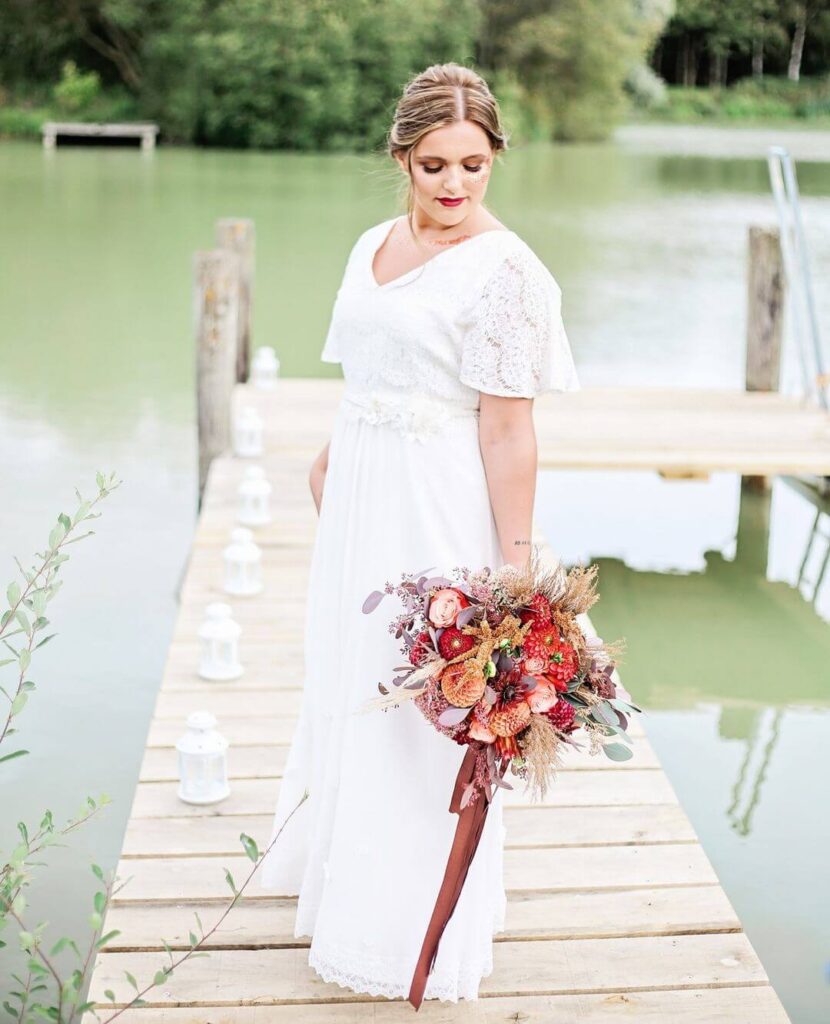 Place of origin: London, United Kingdom
Founder: Miina Laitsaari
Sustainable Materials Used: Organic cotton, Ramie fabric, Eco-friendly laces, Organic silk, and Deadstock materials
Size Range: Sizes from 6–20. Check Size Guide. Made-to-measure
Price Range: $650–$1,800
Shipping: Worldwide
Indiebride London is a sustainable wedding dress brand that makes vintage-inspired and bohemian-styled bridalwear. Its dresses are simply exquisite and transport you to an era of timeless elegance. The brand is a made-to-order boutique, so you can easily contact them with your size to get you 'Big-Day' ready.
The London-based brand creates heirloom gowns with organic material and gorgeous laces in classic silhouettes with a touch of individuality as a priority. The dresses are handcrafted in the brand's studio by skilled seamstresses and make you feel like a fortune without paying an excessive price. Among other news, Indiebride was recently honored with the Parent & Baby Award by Lux Life Magazine for assisting pregnant brides.
5. Etsy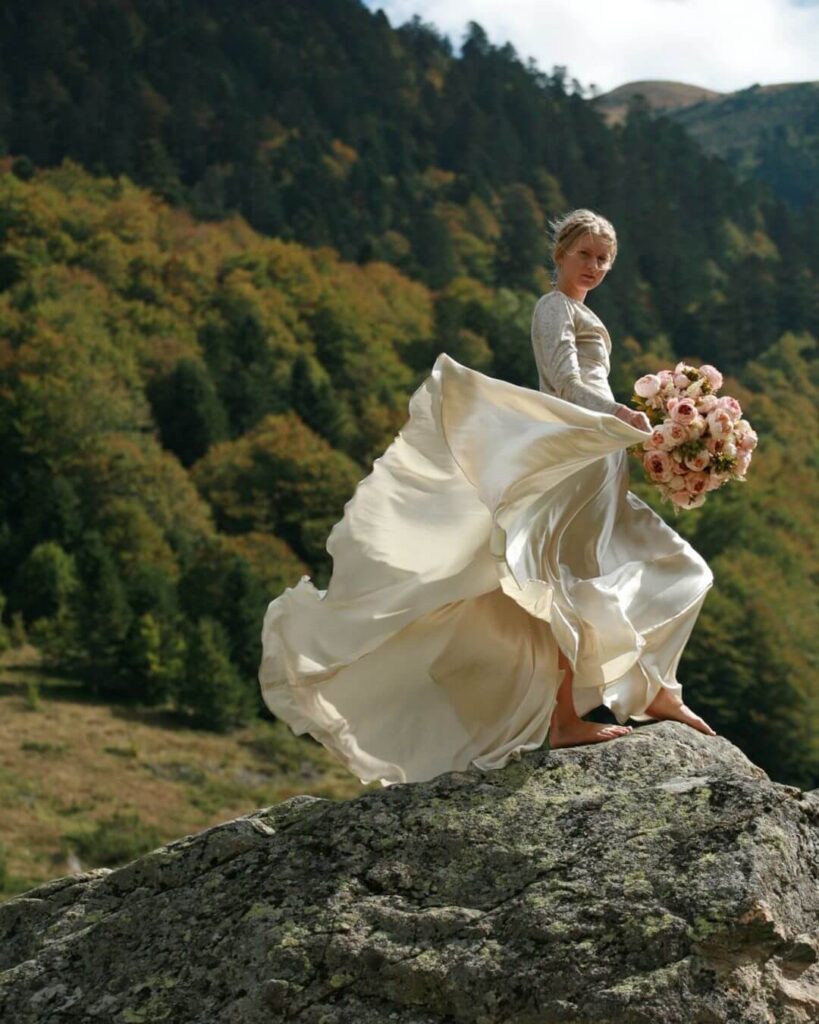 Place of origin (Headquarters): Brooklyn, New York
Founders: Chris Maguire, Jared Tarbell, Rob Kalin, and Haim Schoppik
Sustainable Materials Used: Organic cotton, Eco-friendly laces, Organic silk, and other Upcycled fabrics
Size Range: Made-to-measure
Price Range: Varies as per seller and design requested
Shipping: Worldwide
Etsy houses many independent businesses, bridalwear designers, and skilled artisans whom you can check up on this online marketplace. When it comes to hunting for the perfect wedding dress and bridesmaid dresses, you can easily shop from Etsy's collection of vintage, upcycled, or handmade gowns and accessories. And our mindful curvy brides, can either choose a sustainable plus size wedding dress brand or connect with a designer to get their dream gown on a made-to-order basis.
So whether you're looking for a custom-made piece reflecting your individuality or a timeless wedding dress of the 20th-century vibe, Etsy has something for every bride-to-be. SisterOrganics and Larimeloom are our favorite sustainable brands under this B-Corp-certified platform dealing in affordable organic bridalwear.
6. Rita Colson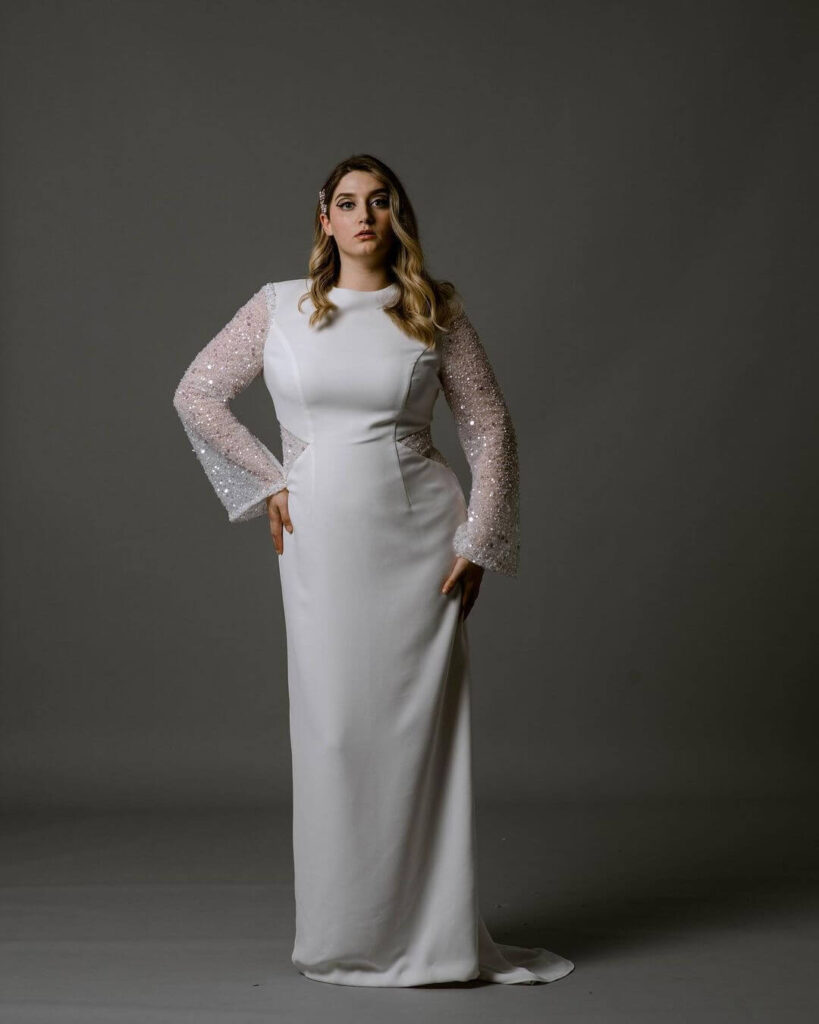 Place of origin: London, United Kingdom
Founder: Rita Colson
Sustainable Materials Used: Deadstock materials, Organic fabrics, Upcycled vintage fabrics, and laces
Size Range: Size varies. Made-to-order
Price Range: $1,500–$4,000
Shipping: Worldwide
If your style is bespoke and contemporary, then a Rita Colson wedding dress is what you need. The Ghanaian-British designer launched her bridal-wear brand in the late 2010s. Since then, her wedding gowns have been renowned for being stylish, sophisticated, and oh-so-dreamy all at the same time. A huge supporter of sustainability, Rita uses responsibly sourced organic and deadstock materials for her dresses.
Colson creates sustainable and ethical wedding dresses that will delight every thoughtful bride, by reusing vintage fabrics from decades-old gowns. Her designs even include 3D-printed flowers from vintage bridalwear of the 1980s. Every detail of a bridal piece is ethically made in the brand's West London studio with the least amount of waste possible. She is widely popular among plus sized brides because while you can find the designer's collection in several stores, you can also get your dress custom-made for your size.
7. Pure Magnolia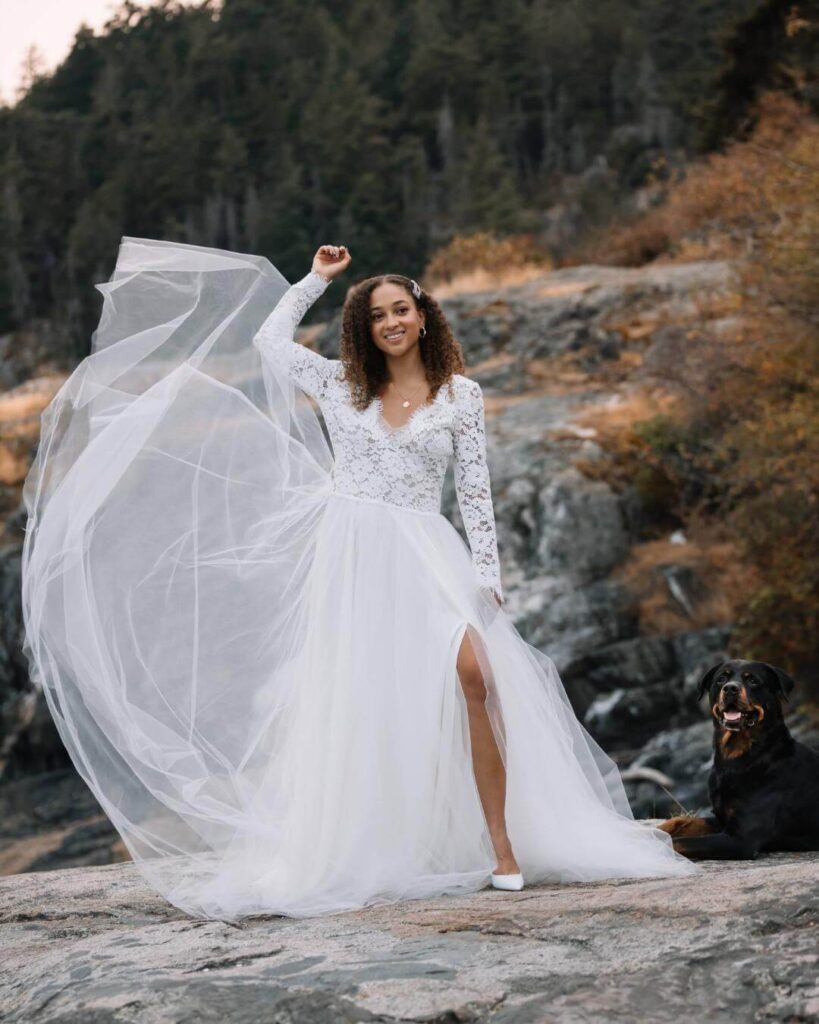 Place of origin: Vancouver, British Columbia, Canada
Founder: Vianney Cabrera
Sustainable Materials Used: Organic cotton, Silk, Hemp, Recycled Fabrics, etc.
Size Range: Sizes up to 0-28. Made-to-measure
Price Range: $550–$3,500
Shipping: Worldwide
Pure Magnolia is an eco-friendly wedding dress brand with a mission to create dreamlike gowns for brides-to-be without compromising sustainability. Dresses by this brand defy the traditional bridal look by incorporating European laces, Indian silks, organic cotton, vintage and recycled fabrics into classic designs. So every compassionate bride looking for something extra, Fear Not! Because Pure Magnolia's got you.
This brand proves that your 'Big Day' can be wholesome by being centered around responsible sourcing of materials, using natural fabrics, reducing waste, and paying fair wages. With sizes up to 28, each of this brand's dresses is tailor-made to fit your curves and style, making you look like a BOMB!
8. Whimsy + Row
Place of origin: West Los Angeles, California
Founder: Rachel Temko
Sustainable Materials Used: Certified Organic Cotton, Linen, Cupro, Silk, TENCEL™ Lyocell, Deadstock and Upcycled Fabric
Size Range: XS-XL
Price Range: $218-$1800
Shipping: Worldwide
Launched in 2014, Whimsy + Row is a sustainable and ethical wedding dress and lifestyle brand born out of the love for creating high-quality clothing through sustainable practices. Its mission is to ease the wedding shopping experience of every modern and eco-conscious woman by providing elegant and sophisticated wedding dresses and bridesmaid dresses.
The Whimsy + Row clothing line is produced in a limited run to avoid overproduction and uses deadstock fabric, reduces packaging waste, and conserves water. The brand is perfect for every bride on a budget and has sizes available till XL.
9. Dressarte Paris
Place of origin: Paris, France
Founder: Nathalie Neuilly
Sustainable Materials Used: Bio-degradable eco-friendly fabrics, Deadstock and Surplusfabrics
Size Range: XXS-XXL. Made-to-measure. Check Size Guide
Price Range: $250- $1850. Price varies as per designs and package
Shipping: Worldwide
If uniquely-designed eco friendly wedding dresses are your style, then Dressarte Paris is for you, Babe. This custom-made clothing label caters to a worldwide clientele with stunning designs not only for the bride but also for the bridal party. The brand responsibly sources surplus and sustainable fabrics to create designs that would get you wedding ready.
Dressarte Paris is strict about its ethical and sustainable approach, leading to its unique operating method, its 'Digital Wedding Collection'. This collection showcases the latest styles without creating them, thus minimizing textile waste. You can select any design you love and choose from the existing sizes or add in your precise measurements to make your dress custom-made.
The brand also has a 'Wedding Outfit Package' where customers (regardless of sizing) can get their dream dress made by working remotely with a designer. This package offers unlimited design revisions and takes measurement virtually, along with your choice of luxurious yet sustainable fabrics.
10. Reformation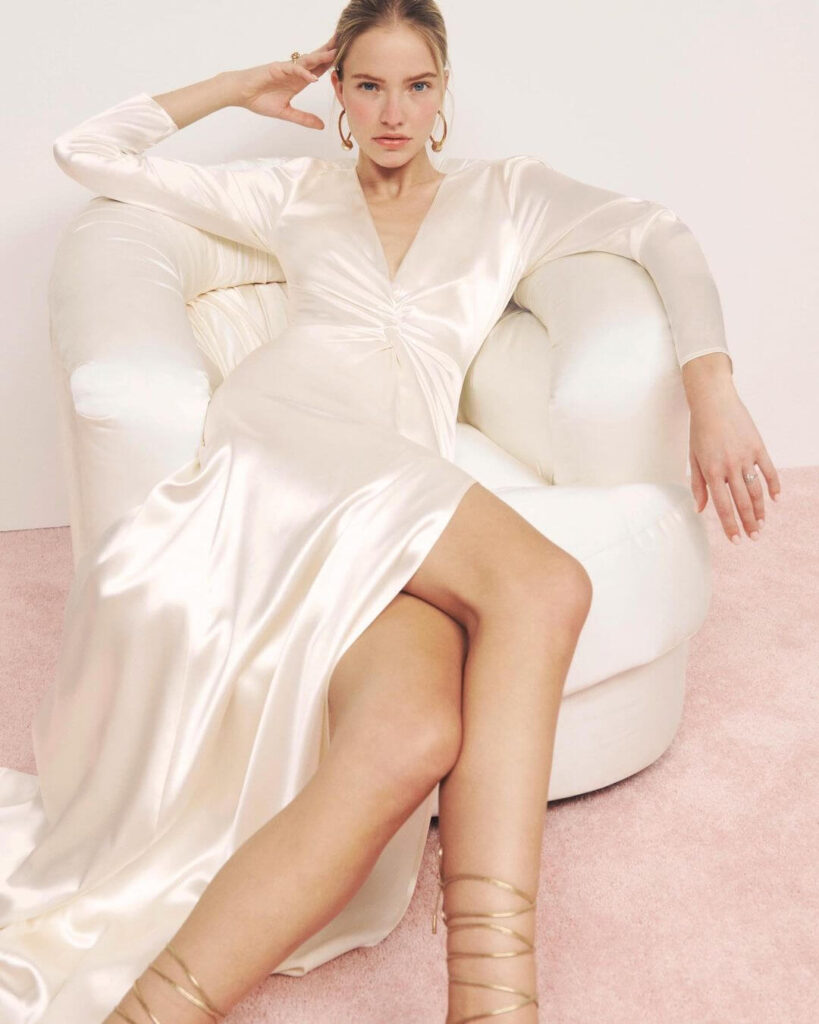 Place of origin: Los Angeles, California
Founder: Yael Aflalo
Sustainable Materials Used: Eco-friendly fabrics, Organic cotton, Organic silk, Deadstockand Vintagefabrics
Size Range: 0-24. Extended & DD cup collections are available
Price Range: $280–$800
Shipping: Worldwide
Reformation is an iconic sustainable brand with eco-friendly & pro-social practices as its priority. Its line of effortless and chic bridal wear and bridesmaid dresses is designed for the unconventional women of today. This brand is loved for its size-inclusivity, as it celebrates feminity with elegant silhouettes that flatter one's natural curves. So no matter your size, you'll always feel confident in a Reformation wedding dress as the brand never settles for anything less than 'The perfect fit.'
The Carbon Neutral brand is committed to using sustainable fabrics and ethical production practices with a focus on minimizing waste. Plus, their website maps a transparent supply chain to educate you about the sustainability impact of the dress you choose.
11. Leila Hafzi
Place of origin: Stavanger, Norway
Founder: Leila Hafzi
Sustainable Materials Used: Eco-friendly fabrics, Organic silk, etc.
Size Range: Varies. Made-to-measure
Price Range: $1600–$3600
Shipping: Worldwide
The Norwegian designer Leila Hafzi launched her luxurious line of wedding gowns in 1997. Her delicate designs are perfect for the elegant bohemian bride-to-be. Imagine light and flowy dresses, floral detailing, ruffles, and a long train; that's Leila Hafzi. Her creations are romantic, feminine, and timeless, inspired by the cultures of Norway, Persia, Greece, and Nepal.
The designer is renowned for her commitment to planet-friendly fashion and female empowerment. Leila Hafzi is celebrated for supporting underprivileged women artisans and craftsmen of Nepal. In addition, her label is distinguished as the first high-end sustainable, and ethical wedding dress brand. While the brand has a sizing guide, the designer also offers bespoke services for custom-made-to-measure dresses for extended sizes.
12. Tara Lynn Bridal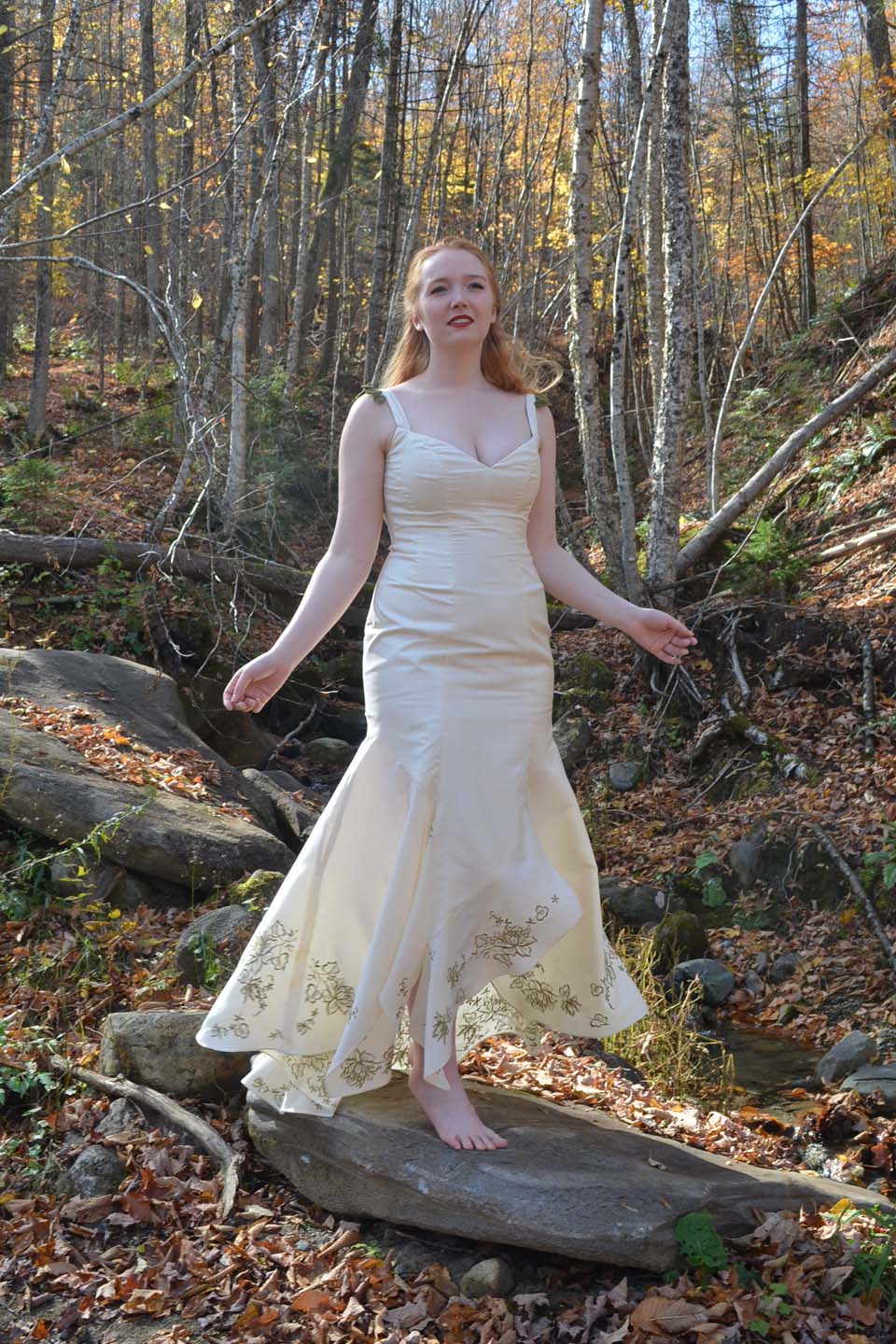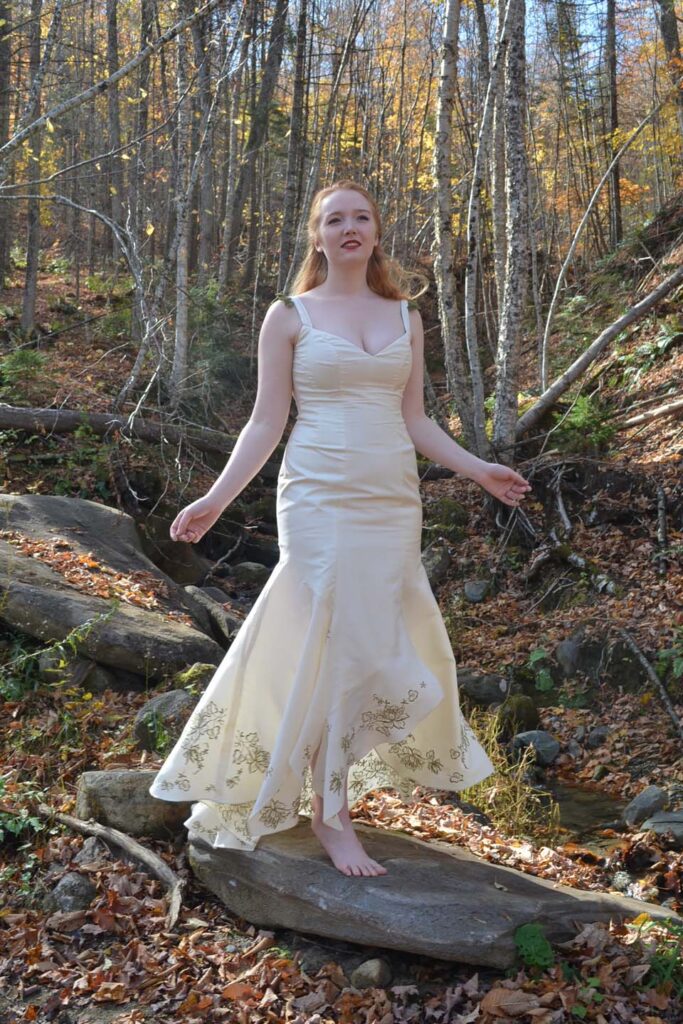 Place of origin: Vermont, USA
Founder: Tara Lynn
Sustainable Materials Used: Peace silk, Organic silk, Organic Cotton, Linen, Hemp, Vintage laces, etc.
Size Range: XS-6XL
Price Range: $1000-$15000
Shipping: Worldwide.
Tara Lynn Bridal is an outstanding eco-friendly wedding label for sustainable brides and grooms. The designer comes to the rescue of brides-to-be in every size by offering unique and elegant wedding dresses, custom-made to accentuate one's curves. All her designs are on a made-to-order basis, where you can add your personal touch by requesting various style modifications like necklines, fabrics, and so on.
So curvy brides-to-be Fret not! Because Tara Lynn Bridal has some of the best sustainable plus sized wedding dresses to make you look like a million bucks. Her wedding gowns are crafted intricately with soft embellishments, embroidery, and vintage laces that you would love. Inspired by nature, the designer specializes in bespoke styles that reflect a bride's personality, making each dress one-of-a-kind. In addition, sustainable buffs love Tara Lynn for her commitment to producing ethical wedding dresses using the most eco-friendly fabrics.
13. The Cotton Bride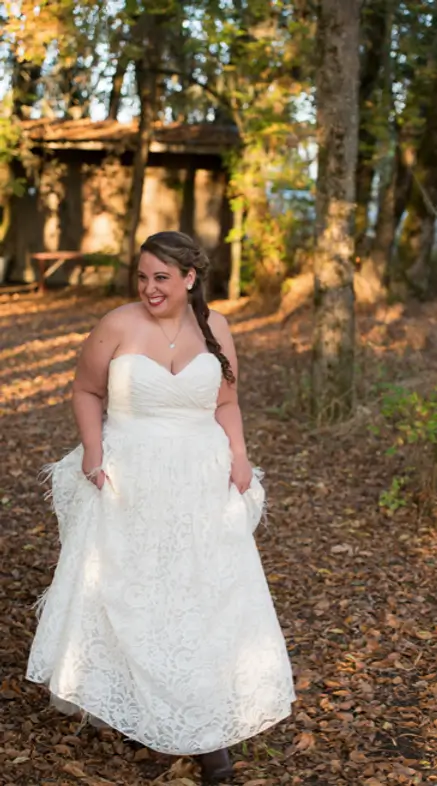 Place of origin: New York City, USA
Founder: Fikre Selassie Ayele
Sustainable Materials Used: Organic Cotton, Linen, Organic silk
Size Range: 2-30. Made-to-order
Price Range: $2160-$2800
Shipping: Worldwide
The Cotton Bride is a sustainable bridalwear studio specializing in classic and dreamy dresses made from luxurious all-natural fabrics. With the mission to make you look effortlessly chic yet comfortable, this brand's dresses are versatile, breathable, and oh-so-easy to move around. So if you're looking for an ethereal wedding attire that won't stop you from hitting the dance floor, The Cotton Bride is your savior.
With sizes up to 30, this brand celebrates women of all sizes while being kind to the planet with its wide collection of vegan, eco-conscious, and handmade ethical wedding dresses. Plus, they also offer made-to-order service if you don't fit in their sizing, without extra charges.
14. Leanna Marshall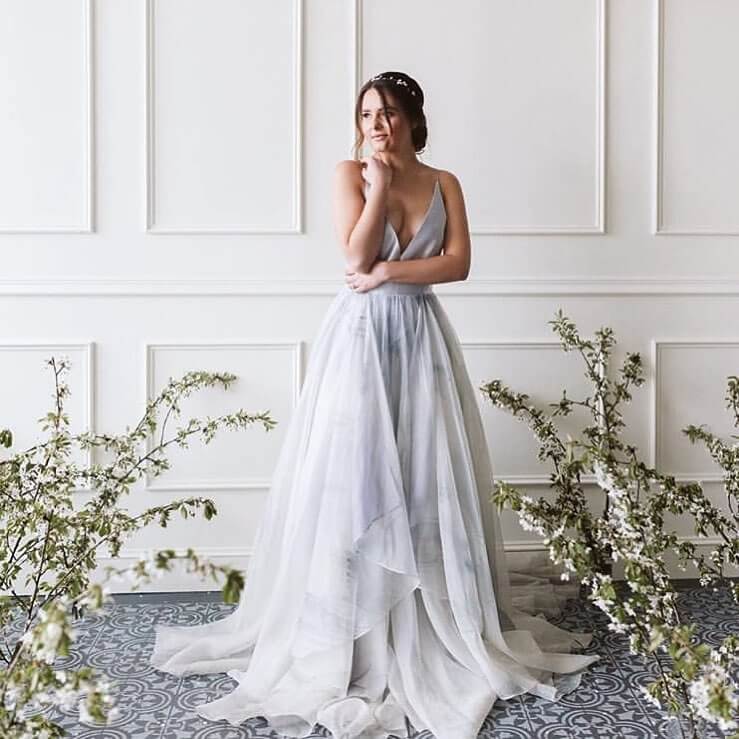 Place of origin: New York, USA
Founder: Leanna Marshall
Sustainable Materials Used: Certified sustainable and natural fabrics
Size Range: 0-20
Price Range: $280-$3100
Shipping: Worldwide
Most of you might already know Leanna Marshall from her contestant days on Project Runway's Season 5. Her bridalwear designs are simply exquisite, with flowing lines, timelessness, and soft feminine detailing. With swirling skirts and ombre dyes, the designer creates pieces complimenting every bride's personality. Leanna Marshall is praised for her talent of draping fabrics so delicately that the dresses look like beautiful puffs of cloud.
Her designs are so stylish that they've been constantly featured in The New York Times, Martha Stewart Weddings, US Weekly, Elle, and LIFE, to name a few. Moreover, the designer advocates sustainability and ethical practices and uses responsibly sourced eco-friendly fabrics in her ethically-made collection. Although Leanna Marshall has a ready-to-wear collection, but the team is happy to help you with bespoke, made-to-measure service.
15. Christy Dawn
Place of origin: Los Angeles, California
Founder: Christy Dawn
Sustainable Materials Used: Organic, Recycled, and Deadstock fabrics
Size Range: XS-XXL. Extended sizes are available
Price Range: $320–$558
Shipping: Worldwide
Christy Dawn is a popular name among sustainable plus sized beauties. Her designs are boho-chic, easy-to-wear, and timeless, inspired by Mother Earth and the landscapes of her hometown, California. With longevity in mind, the designer creates minimalist pieces with sustainable fabrics, that any bride would cherish forever.
Moreover, to minimize their environmental footprint, each piece is ethically crafted locally by skilled artisans using organic or deadstock fabrics. Christy Dawn produces limited pieces of each design to minimize textile waste and also offers tailor-made fits to plus sized brides-to-be.
A Final Word…
Levelling up to the standards set by today's fashion and wedding industry can be overwhelming in many ways. But Remember! It's your 'Special Day.' So plan this day around values that truly matter to you. And as you embark on this exciting new chapter of life, organizing the day sustainably will help you get off on the right foot.
'You're beautiful in every size and every color;' the brands mentioned above believe the same. With a pool of amazing sustainable plus size wedding dresses to offer, we love these brands and are sure you'd adore them too. So brides-to-be, what are you waiting for? Get that dream dress, walk down the aisle and stun your partner with those gorgeously flaunting curves.