Disclosure:
Our editors handpick top-rated brands, vetted through our strict ratings. Purchases via our links may earn us a commission.
Learn more
Celebrating love by 'Tying the knot' with your Prince Charming. Don't we all dream of this day? Of course, weddings are heavenly, but for every engaged couple believing in a conscious approach, planning for a sustainable wedding can be super-overwhelming. And while curvy brides-to-be are already full with hunting for that 'Dream Dress,' amidst a pool of sustainable plus size wedding dresses— deciding on the perfect bridesmaid dresses can again be a challenge. Because not only do these dresses need to fit into your wedding's theme, but the girls got to love them too!
If that wasn't enough, count in size-inclusivity into the sustainability mix, and things get even more complex. But thankfully, more and more planet-friendly inclusive brands are coming in for our rescue with an incredible collection of sustainable plus size bridesmaid dresses. With elegance, style, and longevity in mind, these pieces are designed by brands, most of which offer sustainable plus size cocktail dresses and plus size wedding guest dresses too. All these pieces are created in classic silhouettes to be worn time and again, even after the wedding.
Excited enough? Well, let's check these brands!
15 Best Sustainable Plus Size Bridesmaid Dresses for Stealing Glances
1. Mara Hoffman
2. Whimsy + Row
3. Baacal
4. Etsy
5. LOUD BODIES
6. Symbology
7. Bastet Noir
8. Dear Cleo
9. Reformation
10. Kaela Kay
11. Christy Dawn
12. Amour Vert
13. GUARDI
14. Monsoon
15. Velvety
These sustainable brands are doing a phenomenal job in bringing out ethically made beautiful plus size sustainable bridesmaid dresses. Do check them out…
1. Mara Hoffman
Place of origin: Los Angeles, California, United States
Founder: Mara Hoffman
Sustainable Materials Used: Certified organic cotton, Organic hemp, Regenerative materials, TENCEL™ Lyocell, etc.
Product Range: Statement dresses
Size Range: 2XS-3XL. Check Size Guide
Price Range: $325-$795
Shipping: Worldwide
Mara Hoffman is a sustainable luxury designer brand launched by the namesake designer in 2000. If you're looking for over-the-top statement bridesmaids' dresses that your girls would love, then this designer label won't fail to amaze you. Plus, they're crafted in timeless designs, making them reusable beyond that special day celebration.
The Climate Neutral certified brand diligently works towards reducing its carbon footprint by using responsibly sourced sustainable materials. In addition, they strive to create a transparent supply chain and make the fashion industry less harmful and more compassionate towards garment workers.
2. Whimsy + Row
Place of origin: Los Angeles, California, United States
Founder: Rachel Temko
Sustainable Materials Used: TENCEL™ Lyocell, Cupro, Organic silk, Deadstock or Recycled materials
Product Range: Wrap dresses, Backless silk dresses, Slip dresses, Floral dresses, etc.
Size Range: XS-3XL. Check Size Guide
Price Range: $186-$278
Shipping: Worldwide
Dreamy, graceful, yet minimalist, and that's Whimsy+Row for you. This sustainable brand has those beautiful relaxed bridesmaid dresses perfect for laid-back nuptials. Made with eco-friendly fabrics in classic shades of black, rust, champagne, and so on, Whimsy+Row's pieces are crafted to accentuate your curves and work as a capsule piece in your wardrobe.
In addition, the brand is high on eliminating waste and reducing carbon emissions. Hence all its products are locally produced in small batches, ensuring rare designs for your girls while supporting the domestic economy. And if you fail to find your required bridesmaids' sizes, just wishlist them so that you get notified when they're back in stock.
3. Baacal
Place of origin: Los Angeles, California, United States
Founder: Cynthia Vincent
Sustainable Materials Used: TENCEL™ Lyocell, Organic cotton, Upcycled and vintage materials
Product Range: Slip dresses, Midi dresses, Wrap dresses, Smocked dresses, Floral maxi dresses, etc.
Size Range: 10-22. Check Size Guide
Price Range: $178-$396
Shipping: Worldwide
Just with that right amount of oomph, Baacal's dresses are created to bring out your inner Goddess. The size-inclusive label strongly promotes body positivity and celebrates women of extended sizes, considered as "The True Majority". With perfect cuts, high-end designs and seamless fits, this brand's line of sustainable plus size bridesmaid dresses are made with super-green fabrics like recycled and vintage materials.
Designed to align with any event, Baacal's pieces are versatile and can be worn multiple times, making them waste-free purchases. Their entire collection is made by women for women in local Los Angeles fair trade factories.
4. Etsy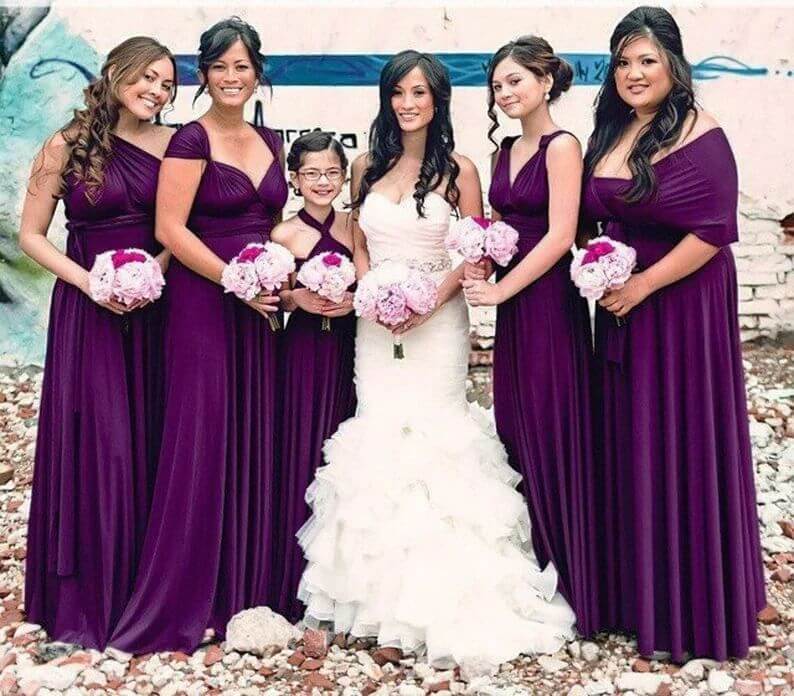 Place of origin: Brooklyn, New York
Founders: Chris Maguire, Jared Tarbell, Rob Kalin, and Haim Schoppik
Sustainable Materials Used: Organic cotton, Eco-friendly laces, Organic silk, and other Upcycled fabrics
Product Range: Elegant bridesmaid dresses in desired shades
Size Range: Made-to-measure
Price Range: Varies as per seller and design requested
Shipping: Worldwide
Etsy is a global online marketplace that houses many independent brands, skilled seamstresses, bridal designers and small businesses. From vintage and custom to contemporary and everything unique, Etsy introduces you to a ton of styles to choose from to get your bridesmaids 'D-Day' ready. Here, you can directly connect with boutiques or designers of your choice and order your requirements, like the number of dresses required, desired colours, designs, and of course, sizing.
This B-Corp certified brand is not only a saviour for consumers looking for made-to-measure custom bridesmaid pieces but also helps small businesses and independent artists grow. A win-win for all!
5. LOUD BODIES
Place of origin: Cluj-Napoca, Romania
Founder: Patricia Luiza Blaj
Sustainable Materials Used: TENCEL™ Lyocell, Organic cotton, Cupro, Linen, etc.
Product Range: Romantic dresses, Statement dresses, Maxi dresses, Floral dresses, etc.
Size Range: XXS-10XL. Check Size Guide
Price Range: $80-$184
Shipping: Worldwide
As the name goes by, LOUD BODIES is a loud and unapologetic size-inclusive sustainable fashion brand. Launched in 2018, this brand firmly believes that "Real Style Has No Size." From the very start, its driving factor has been to dress curvy women in ethically made stylish and comfortable clothes. With sizes ranging up to a whooping 10XL, they guarantee you super-chic sustainable plus size bridesmaid dresses reflecting romantic and understated charms to perfectly align with any wedding's theme.
Furthermore, in an effort to reduce their carbon emissions, LOUD BODIES' pieces are handmade from scratch by the founder and her two skilled employees using kind-on-the-earth fabrics.
6. Symbology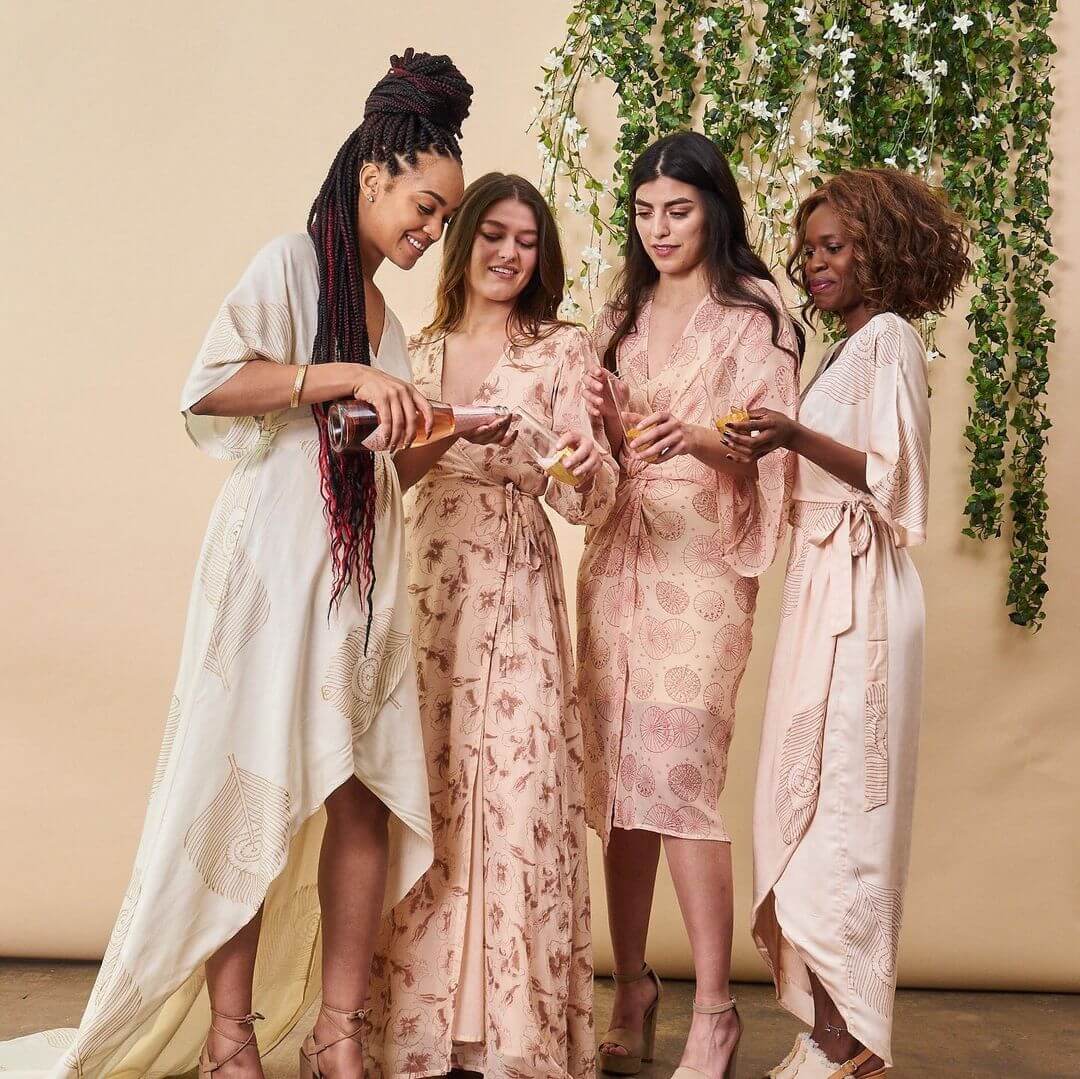 Place of origin: Dallas, Texas, United States
Founder: Marissa Heyl
Sustainable Materials Used: Tencel modal, Organic cotton, Hemp, etc.
Product Range: Maxi dresses, Twisted midi dresses, Wrap dresses, Shift dresses, etc.
Size Range: XS-3XL. Check Size Guide
Price Range: $140-$355
Shipping: Worldwide
Symbology is here to make fair trade sexy, and so far, we're loving it! The size-inclusive fashion label creates unique pieces celebrating cultural art forms like block printing, tie-dye and embroidery. Inspired to merge fashion, tradition and inclusivity, Symbology dresses are designed to be one-of-a-kind and perfectly work as bridesmaid dresses, flattering every body type.
Moreover, the brand intensely practices women empowerment by employing marginalized female artisans in developing countries and helping them earn a respectable livelihood. Every Symbology dress is handcrafted with love using sustainable fabrics and low-impact dyes, so you know your purchases are being put to good use.
7. Bastet Noir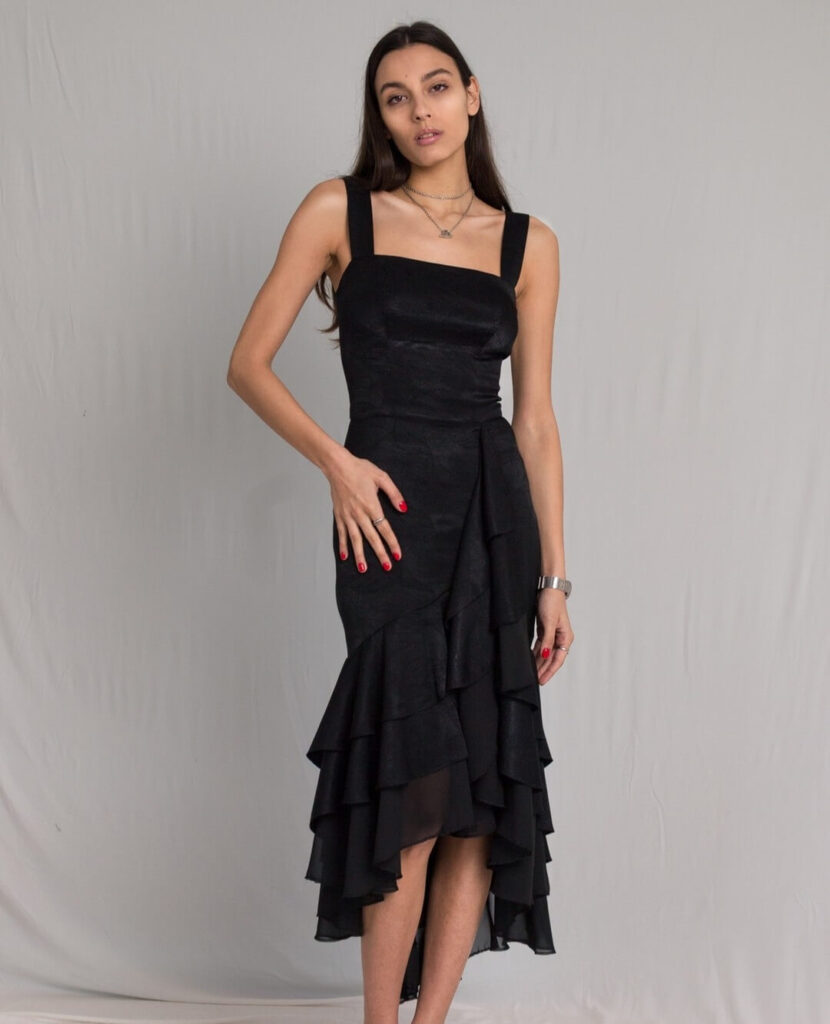 Place of origin: Ohrid,Macedonia
Founder: Daniela Milosheska
Sustainable Materials Used: Organic cotton, Responsible silk, Cupro silk, Linen, Satin silk, French terry cotton, etc.
Product Range: Front knot dresses, Mini dresses, High slit maxi dresses, Silk gowns, etc.
Size Range: Up to UK 24, Or US 20. Made-to-order. Check Size Guide
Price Range: $150-$219
Shipping: Worldwide
Bastet Noir dresses are what dreams are made of. This fashion-forward zero-waste clothing label has an incredible collection of elegant and classic dresses for brides-to-be and their bridal party. They operate on a made-to-order basis and create clothes as per your measurements ensuring supreme fits specifically made to hug your curves. Moreover, they gladly accept customization preferences like desired colours, necklines and altered designs to fit into your vision of personalized pieces.
Each Bastet Noir piece is handmade using organic fabrics and deadstock materials by a community of single women parents in North Macedonia. For the upliftment of these women artisans, the brand has also opened up "The Women Fund" section, where you can leave a tip after every purchase.
8. Dear Cleo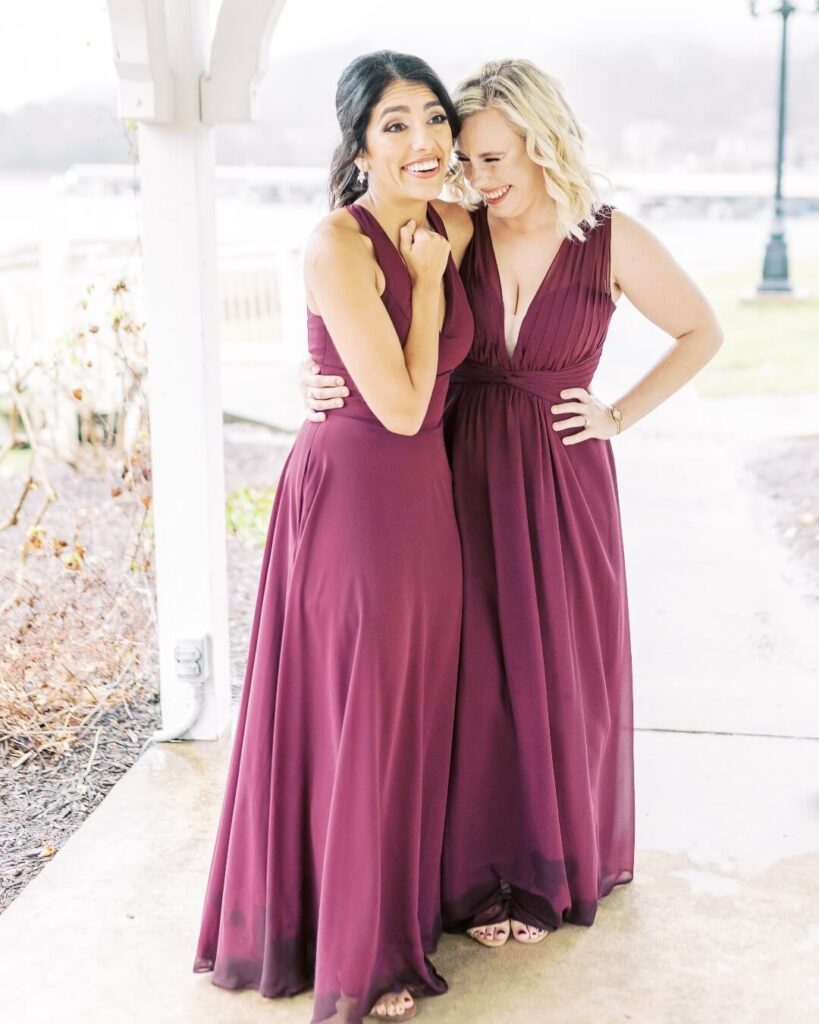 Place of origin: Seattle, Washington, United States
Founder: King & Partners is the parent company of Dear Cleo
Sustainable Materials Used: Recycled yarns
Product Range: Off-shoulder gowns, Dresses with sweetheart, bateau, empire necklines, A-line dresses, Strapless and halterneck dresses, etc.
Size Range: 00-32. Check Size Guide
Price Range: $139
Shipping: Currently shipping across the United States
Oh my God! Hold your breath! Because Dear Cleo is going to leave you mesmerized. This occasion-wear brand will surely be a hot favorite amongst the new-age bridal party because why not? I mean, look at their extensive range of gorgeous, ethereal bridesmaid dresses, including styles like bateau and sweetheart necklines, fluttery sleeves, high slits and flowy skirts. Like, they've got it all.
And if Dear Cleo was not done with the awesomeness, take this, they are size-inclusive up to 32 and have 53 color options to choose from. So undeniably, whatever shade has been in your wildest imagination, they've got it. Plus, Dear Cleo is a sustainable made-to-order bridesmaid dress brand, so there are no wardrobe malfunctions. And did I mention it? They're pretty affordable.
9. Reformation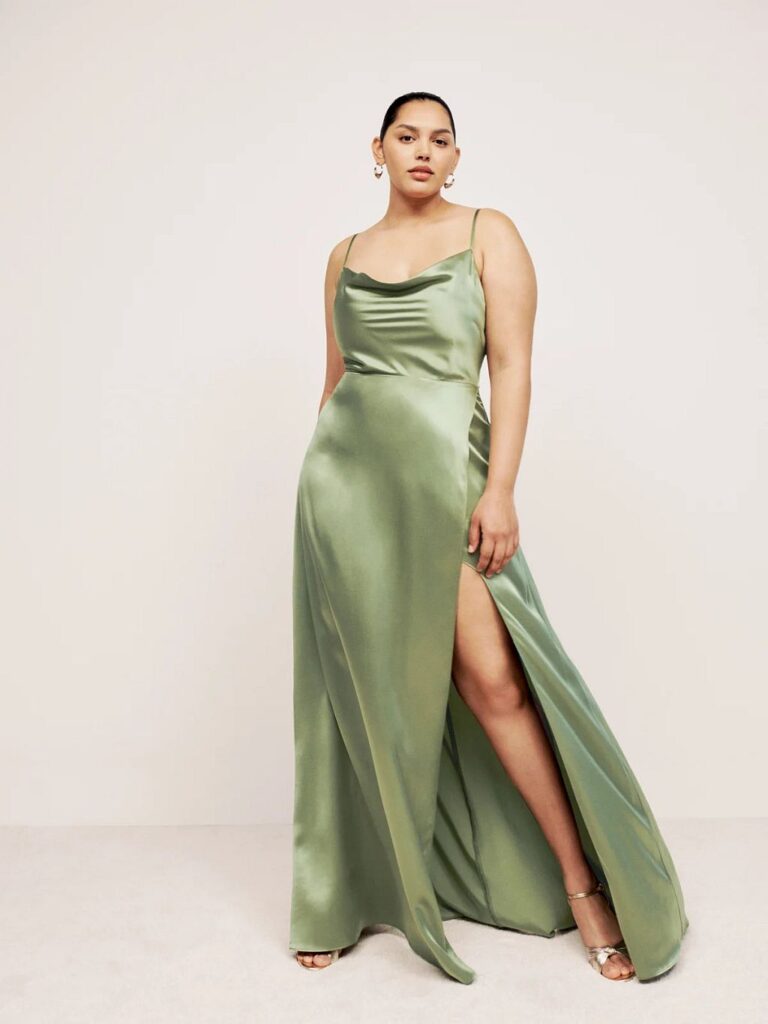 Place of origin: Los Angeles, California, United States
Founder: Yael Aflalo
Sustainable Materials Used: Organic silk, Organic cotton, TENCEL™ Lyocell, Deadstock fabrics, etc.
Product Range: Silk dresses, Balloon sleeved dresses, Halterneck dresses, Slit dresses, Wrap dresses, etc.
Size Range: XS-XL. Up to Size 24. Check Size Guide
Price Range: $135-$268
Shipping: Worldwide
Discussions about planet-friendly brands offering super-chic and incredible clothing can never be complete without the mention of Reformation. Launched in 2009, this Climate Neutral brand uses responsibly sourced eco-friendly materials in its entire collection, showcasing a perfect blend of style and sustainability.
With multiple sections dedicated to an array of 'love at first sight' outfits, Reformation's wedding dresses section has got everything for a sustainable wedding. Be it your bachelorette or rehearsal dinner outfits or your bridesmaids' dresses. You name it, and they have it. So, if bold, contemporary, and effortless silhouettes are what you're looking for, then you've come across the ultimate brand.
10. Kaela Kay
Place of origin: Toronto, Canada
Founder: Catherine Addai
Sustainable Materials Used: Ankara textiles, native to Africa
Product Range: Romantic maxi dresses, Sleek shift dresses, Fit and flare styles, etc, in bold colors and fun prints
Size Range: XS-3XL. Check Size Guide
Price Range: $219-$279
Shipping: Worldwide
Are you one of those fabulous badass women with plans to go all unconventional and over-the-top with your bridal party dresses? Then Kaela Kay is for you, Babe! Imagine vibrant colours, bold prints, and sexy flares, and that's what awaits you with this brand's collection of modern and stunning dresses. With its signature cuts and African prints, this brand strives to make all size-inclusive women feel beautiful and find their personal style.
Moreover, all Kaela Kay products are on a made-to-order basis to eliminate waste and are ethically produced in Canada using sustainable fabrics. And if you're unable to find your desired size, they're more than happy to help you with custom fits.
11. Christy Dawn
Place of origin: Los Angeles, California
Founder: Christy Dawn
Sustainable Materials Used: Organic cotton, Recycled and Deadstock fabrics
Product Range: Velvet midi dresses, Deep V-neck dresses, Floral dresses, etc.
Size Range:XS-2XL. Extended sizes up to 3XL are available
Price Range: $320–$558
Shipping: Worldwide
Christy Dawn is an eco-conscious clothing label that will work perfectly for a laid-back, earthy, sustainable wedding. The brand has an amazing selection of minimalist, boho-esque and classy dresses fit for your bridal party. Made with mindful fabrics like regenerative cotton and other deadstock fabrics, each piece is elegantly designed with timelessness and versatility in mind so that you can wear them repeatedly.
With sustainability as its foundation, Christy Dawn is dedicated to practices that honour Mother Earth and our society. The brand has also recently launched a Farm-To-Closet initiative where you can learn and shop for regenerative cotton, alpaca, and much more.
12. Amour Vert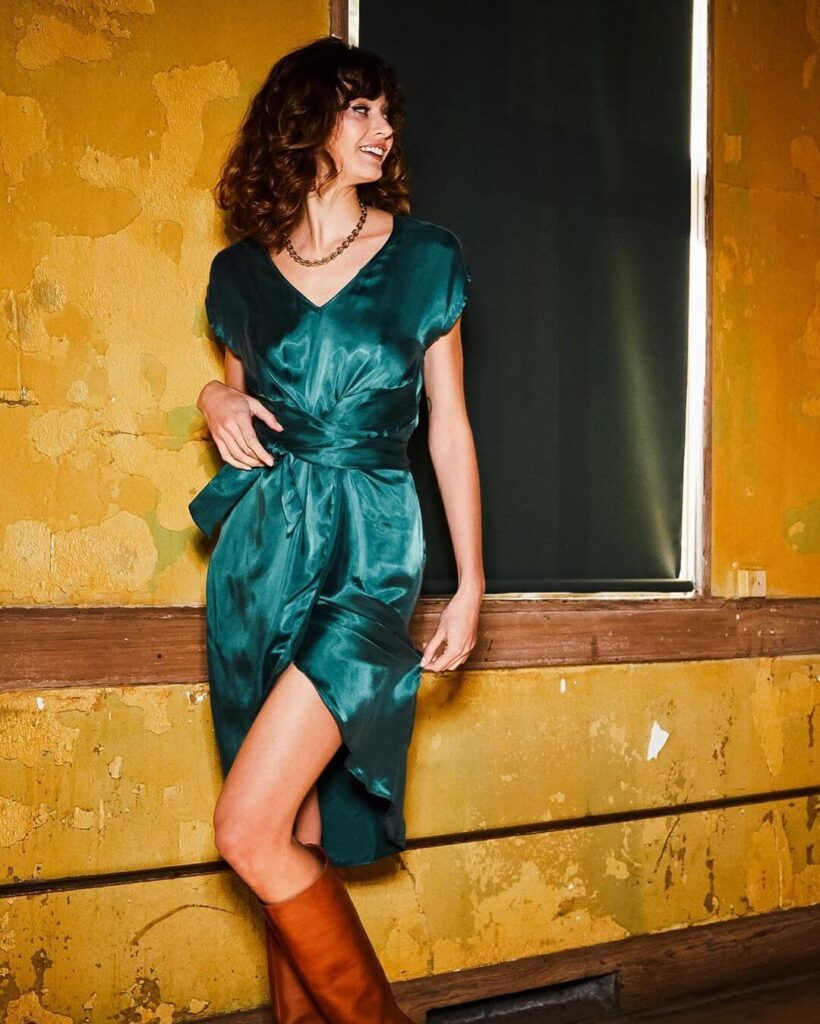 Place of origin: San Francisco, California
Founders: Linda Balti and Christoph Frehsee
Sustainable Materials Used: Organic cotton, Cottonseed cupro, Ecovero, Washable silk, TENCEL™ Lyocell, etc.
Product Range: Silk dresses, Wrap dresses, Maxi dresses, Midi dresses, etc.
Size Range: XS-XL
Price Range: $102-$228
Shipping: Currently shipping in the U.S. and nearby countries
Amour Vert is another go-to sustainable fashion brand that creates versatile, chic and classic apparel. For something casual and fun yet graceful, this brand's dresses are designed in modern cuts with functionality in mind. Made with superior quality sustainable fabrics like wrinkle-free cupro, Tencel, silk, etc., their dress collection has many lovely options that will work great for your bridesmaids.
Designed to last, these dresses will surely get a lot of use even after the wedding because they're a whole bunch of capsule pieces. Amour Vert stands for 'green love' in French and staying true to its name, the brand addresses eco-friendly practices in its entire supply chain.
13. GUARDI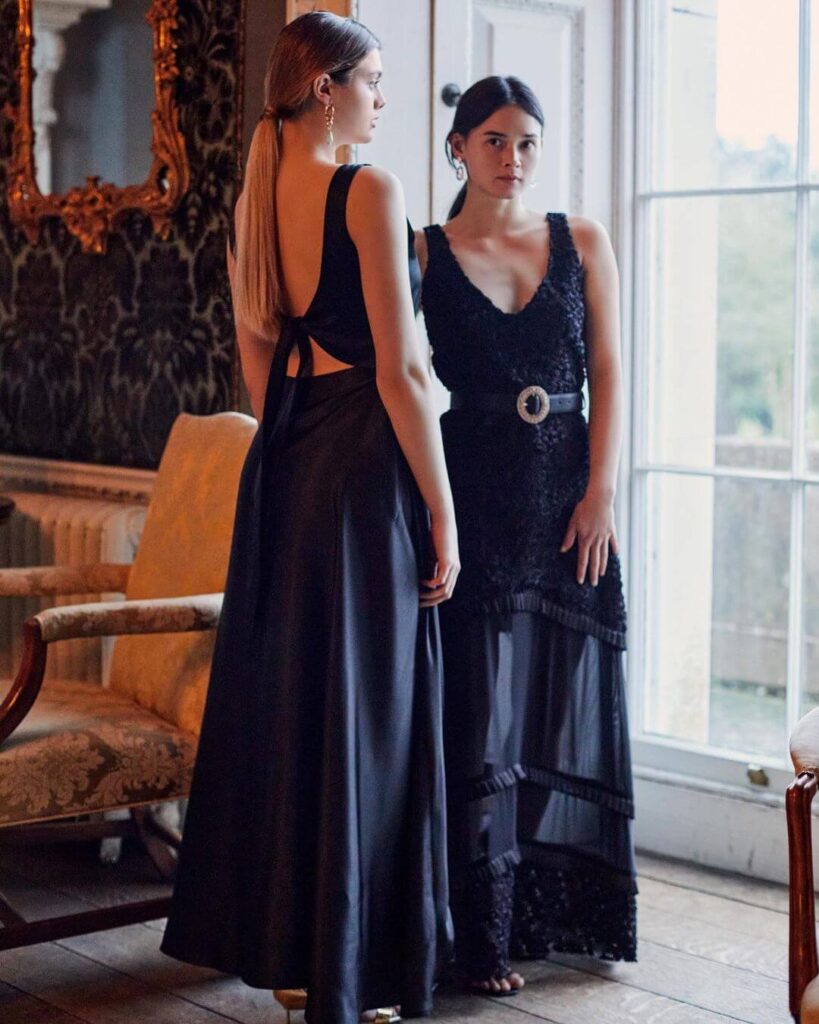 Place of origin: London, United Kingdom
Founder: Veronika Guardi
Sustainable Materials Used: Deadstock Fabrics, Organic Cotton, Recycled Polyester, Organic Silk, Modal, and Bamboo
Product Range: A-line dresses, Silk gowns, High-low dresses, Drape dresses, etc.
Size Range: S-XL. Check Size Guide
Price Range: $154-$228
Shipping: Worldwide
Launched in 2020, GUARDI is a recent entrant in the sustainable affordable luxury market. The designer-owned high-fashion brand creates vintage-inspired stunning designs blended with easy-to-wear flattering shapes for women. If luxurious showstopper dresses are your imagination for a bridal party, then GUARDI won't disappoint you. Think tulip skirts, laces, silky drapes, and high necklines, and that's GUARDI's level of detail.
Dresses from this brand scream sophistication and elegance and are made using earth-friendly organic or deadstock materials. In addition, the brand strongly incorporates sustainable practices by creating limited-run products and reusing its fabric scraps into smaller garments to eliminate waste.
14. Monsoon
Place of origin: London, United Kingdom
Founder: Peter Simon
Sustainable Materials Used: Organic cotton, Recycled polyester, Vintage laces, etc.
Product Range: Satin maxi dresses, Lace midi dresses, Embellished dresses, etc.
Size Range: S-2XL. Up to Size 24. Check Size Guide
Price Range: $130-$175
Shipping: Worldwide
Sustainable clothing brand Monsoon has got all your bridal and bridesmaids' needs sorted. Be it flattering and flowy styles in a variety of colours or intricate embroideries and embellishments, options for your bridal party dresses are unlimited. The brand's ready-to-wear collection is pretty affordable and ranges up to Size 24, so no more long lead times or eye-watering bills. Just lovely dresses to swirl around the wedding.
Monsoon is very transparent about its supply chain and majorly uses eco-friendly materials in its collection. They further pledge that 90% of their entire range would be sustainable by 2025. The traditional crafts of India heavily inspire Monsoon's collection. They closely work with small Indian communities to keep the artwork alive while providing them with a decent livelihood.
15. Velvety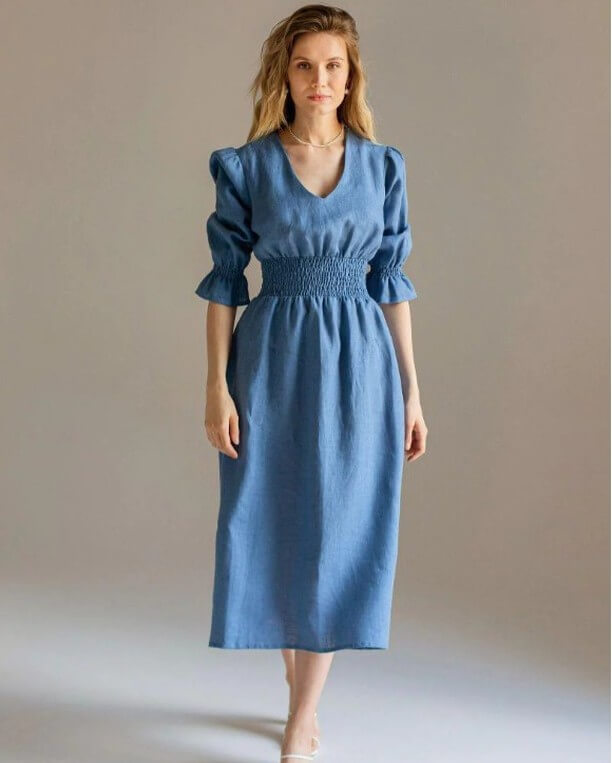 Place of origin: Australia
Founder: Lorena Estelle
Sustainable Materials Used: Organic linen and Upcycled fabrics
Product Range: Kimono dresses, Belted linen dresses, Wrap dresses, Maxi linen dresses, etc.
Size Range: XS-3XL
Price Range: $199-$270
Shipping: Worldwide
Australian label Velvety is an online marketplace that brings together many independent, fair fashion brands to operate under its belt. Launched with a passion for offering ethically made, sustainable vegan fashion, this brand has a line of beautiful and classy bridesmaid dresses designed in timeless silhouettes. Perfect for garden weddings or beach affairs, these dresses are incredibly comfortable as they're primarily made of linen. With looks that are oh-so-feminine, classy and comfortable, these pieces are created to last long as your wardrobe staples.
Everything at Velvety is vegan and cruelty-free, and the brand strives to create a responsible, fair and conscious lifestyle without compromising on timeless artistic styles. They also donate generously to animal rescue organizations like Big Sky Sanctuary.
Final Thoughts….
Shopping for bridesmaid dresses that all your girls would approve of can be tricky and extremely wasteful if they're designed to be only worn once and never again in the future. Sustainable weddings call for a more sustainable and sometimes even unconventional approach. A mindful thing to do can be, to let your bridesmaids choose their own dress. You can also pick vintage pieces from thrift stores or even rent a dress. And if you want to invest in quality and classic bridesmaid dresses that forever remain in fashion, then make sure to check out these amazing brands. We promise you won't be disappointed.