Disclosure:
Our editors handpick top-rated brands, vetted through our strict ratings. Purchases via our links may earn us a commission.
Learn more
Homecoming season is approaching, and the excitement among Americans is getting real! After all, it's that time of the year when we dust off our dancing shoes, rehearse our favorite moves, and prepare for a night of magic and memories. Because 'Homecoming' isn't just an event; it's a cherished tradition, a night when our High School spirit meets Hollywood glamour. And the celebrations just get better when you choose to step out in sustainable homecoming dresses.
However, the truth is most partywear or formal gowns worn at such special occassions are crafted from unsustainable fabrics, like fake silk, polyester, or acetate. Reason? These materials are cheap to produce by the fast fashion industry, making them ideal for one-time wear. It's high time we change this pattern! In this guide, we'll take you through a selection of sustainable homecoming dresses that not only make you look stunning but also make a positive impact. Time to dance the night away in ethical slow fashion brands that offer a dazzling fusion of style and sustainability.
12 Best Sustainable Homecoming Dresses
How We Chose the Best Sustainable Homecoming Dresses for You
Homecoming dresses are typically elegant and jazzy outfits worn by people attending homecoming events held in high schools or colleges. These attires are designed to make a statement, because of which intricate detailing and eye-catching designs are most common. But unfortunately, the majority of such traditional homecoming dresses are made using materials and production methods that are not environmentally friendly. These practices have resulted in horrifying fashion industry pollution, as they contribute to an immense level of textile waste, pollution, and unethical labor practices. However, in response to the growing demand for mindful fashion, we have curated a list of the best eco-conscious brands that offer fab sustainable homecoming dresses. The coolest part? You can wear them on several occasions instead of just wearing once at a homecoming event.
Sustainable Materials
We love dresses that are kind on the planet and made from the most responsible green textiles. Your best bet for sustainable materials are organic cotton, Tencel Lyocell, Modal, Linen, and EcoVero, to name a few. These low-impact fabrics not only lessen the strain on the environment but also feel luxurious on the skin.
Ethical Production Practices
Brands that made it to our list prioritize the well-being of their workers. They stand by ethical practices such as paying fair wages, providing safe working conditions, and ensuring reasonable working hours. These labels are committed to ethical production and typically engage with factories that adhere to Fair Trade principles.
Designed for Longevity
Sustainable homecoming dresses are designed to last. They feature timeless styles that can be worn for multiple occasions, allowing you to get more wear out of a single garment. So, the goal is to always look for high-quality craftsmanship and durable fabrication to make sure your dress stands the test of time.
Transparency
Brands that are committed to sustainability are usually transparent about their efforts. They provide information about the materials they use, their sourcing practices, and their production processes. This transparency will help you make full-proof informed choices.
Local or Small-scale Production
Supporting local or small-scale production can reduce the carbon footprint associated with long-distance shipping. Additionally, this approach empowers local communities and artisans, contributing to sustainable economic development.
Low-impact Dyes
Dyeing textiles can be environmentally harmful due to the involvement of synthetic chemicals and sizeable water usage. But sustainable dresses have low-impact dyes, which consume less water, produce fewer toxins and have a lower carbon footprint.
Minimal Packaging
Responsible brands minimize packaging waste. They use recycled or biodegradable materials and avoid excessive packaging to control their environmental impact further.
12 Best Brands that Offer Sustainable Homecoming Dresses
Yes, the Homecoming event is electrifying and giving you all the butterflies. We totally get it that this is the time to make heads turn and be the star of the show. So come check out AMUR, Bastet Noir, Reformation, Whimsy + Row, Mara Hoffman, AGAATI, Rare & Fair, Hope For Flowers, Monsoon, Vestiaire Collective, Sézane, and Rent The Runway, who are here with some of the most exquisite sustainable homecoming dresses.
1. Rent The Runway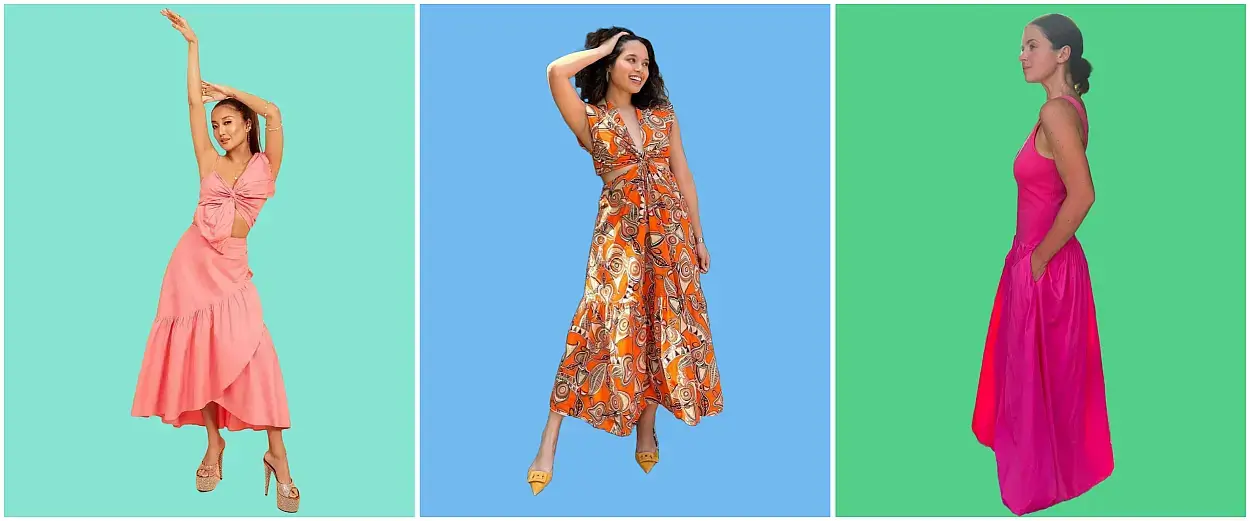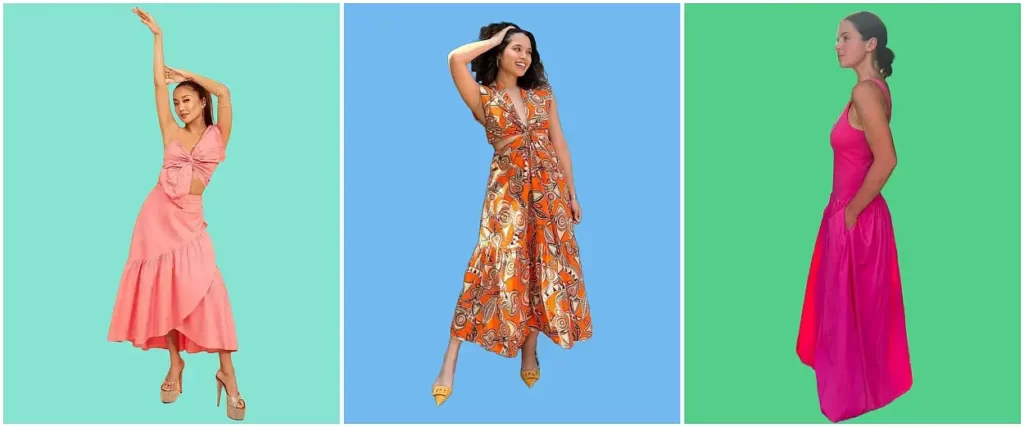 Why spend a fortune on high-end designer outfits when you can rent them for a fraction of the cost? Rent The Runway is your go-to subscription-based rental marketplace, where you can borrow special occasion dresses that will get you going from homecoming events to prom nights and more. Their line of feminine dresses are not just gorgeous but designed to accentuate your curves and make you feel like royalty. Finding your perfect look is a breeze with Rent The Runway's wide range of filters, allowing you to rent outfits for specific durations. Their mission is to empower women with endless fashion choices for every event without contributing to fast fashion and excessive consumption. On average, women toss away 82 pounds of clothes each year, polluting the environment. But Rent The Runway is making a difference by offering affordable choices, minimizing clothing waste, and transforming the fashion industry.
2. Bastet Noir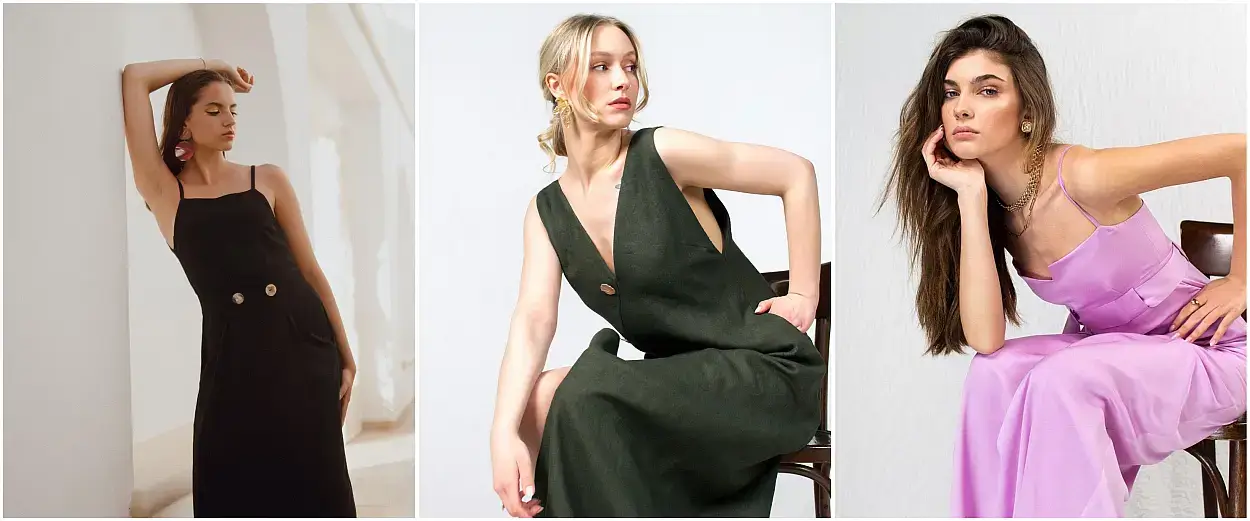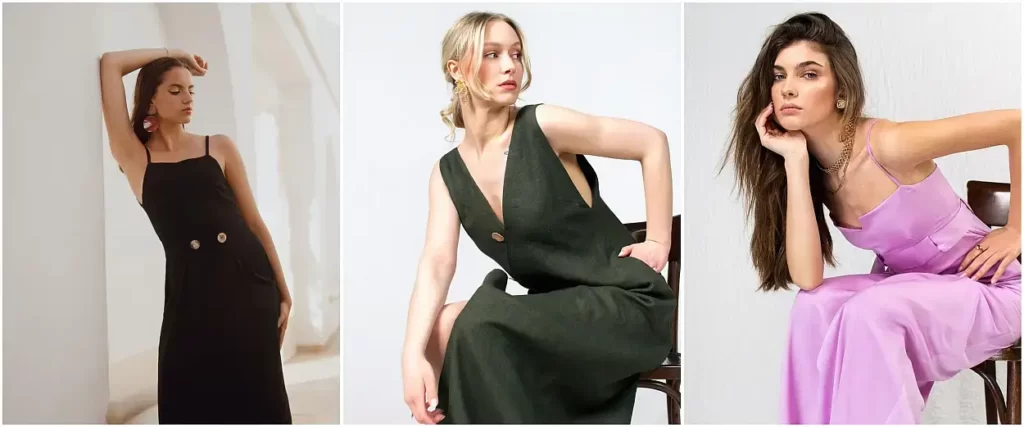 Imagine a fashion brand that not only makes you feel like a Greek Goddess in their elegant formal dresses but also takes sustainability to a whole new level. That's Bastet Noir for you! This Macedonian label is all about bespoke, tailor-made dresses that fit you like a dream, no matter your size. The exciting twist? They operate on a zero-waste business model. In its commitment to minimizing waste and overproduction, Bastet Noir works on a made-to-order basis, ensuring excellent one-of-a-kind fits. These special event dresses are made from deadstock fabrics and come to life through the skilled hands of a community of single women parents in North Macedonia. But that's not all; Bastet Noir is dedicated to uplifting these underprivileged women and supporting their children's education. 100% of their profits are reinvested into these women's businesses and their children's futures.
3. Mara Hoffman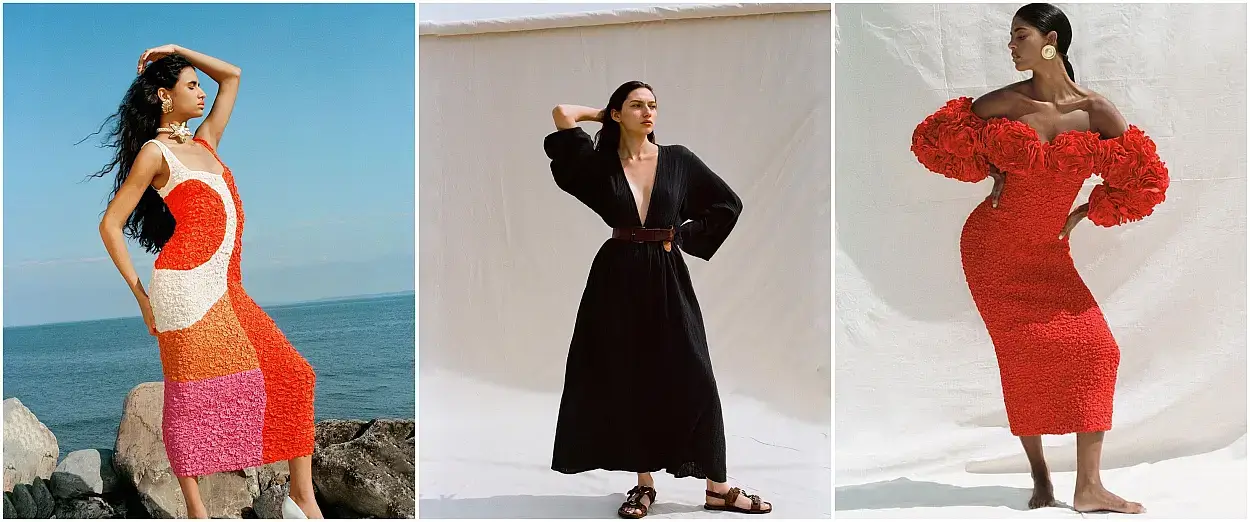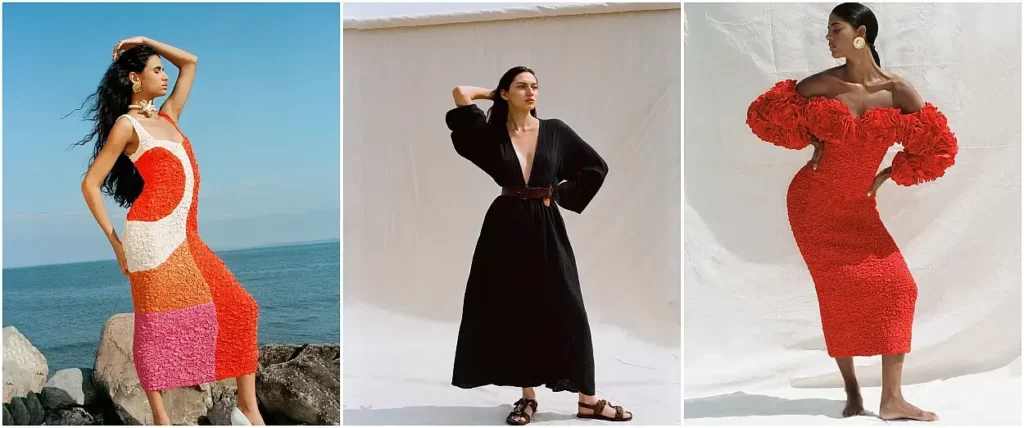 How does the idea of making a statement in the homecoming event sound to you? I'm sure it's exciting. And Mara Hoffman can help you achieve such looks. This luxury fashion brand doesn't hold back when it comes to style, offering a wide range of bold colors and dramatic prints that are simply over-the-top in the best way possible. Its commitment to inclusivity is remarkable, with sizes ranging up to 3XL, to make sure that everyone can rock these stunning designs. Launched in 2000, the label didn't have a strong eco-conscious stance in its starting years. However, in 2015, it went through significant change and transformed into a clean and environmentally positive brand. Today, everything at Mara Hoffman is made from organic and eco-friendly fabrics like linen, hemp, and TENCEL. Its garments are skillfully crafted in fair-trade facilities spanning across India, Peru, China, and the United States.
4. Sézane
Bonjour from Sézane—  a Parisian fashion brand that is literally a treasure trove of sophisticated apparel. And their dresses are nothing short of super gorgeous. From flowing maxi dresses to tailored midi dresses, it offers a diverse selection of evening wear to get you through various events. Certified as a B Corporation, Sézane uses eco-friendly materials in its collections, takes strides to minimize waste, and employs responsible manufacturing processes. With ethics at its core, the company works with ateliers from all over the world that guarantee fair wages and safe working conditions. Sezane actively engages in philanthropic initiatives, such as raising awareness for breast cancer, supporting education, and other worthy social causes. I absolutely adore Sézane because this label surely knows how to win the fashion game responsibly.
5. Vestiaire Collective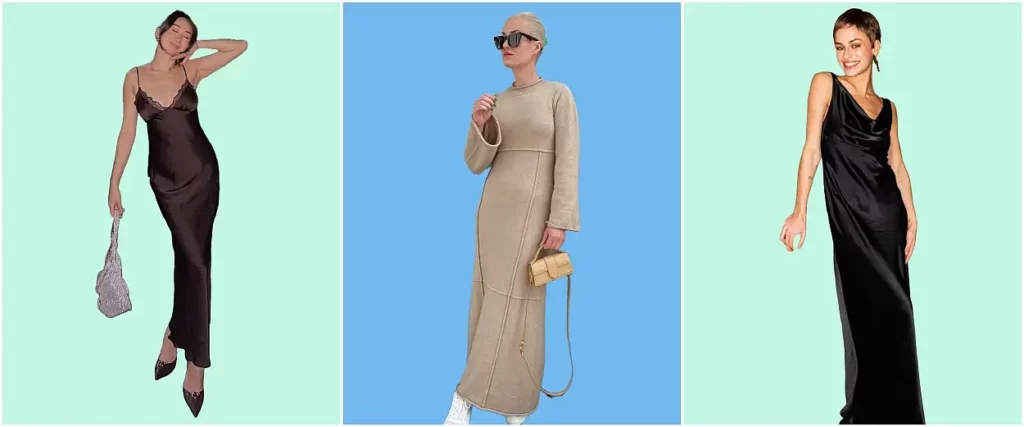 Do you fancy looks from designer labels for fun or formal occasions? Then, be the smart shopper and get couture dresses at a reasonable rate from Vestiaire Collective. As a globally reputed resale platform for luxury fashion aficionados, this marketplace is the ultimate destination to shop for discounted designer treasures. It has an exquisite collection of vintage dresses and jewelry from esteemed labels like Chanel, Dior, Versace, Celine, Valentino, and more. Plus, their curation team checks every product listing with meticulous standards. So before your order reaches you, it undergoes a rigorous inspection to ensure both its authenticity and quality. While this inspection service comes at a cost, it's a testament to their dedication to delivering 100% genuine products, fostering trust and reliability among consumers.
6. AMUR
AMUR, which stands for "A Mindful Use of Resources," aspires to redefine a fresh and sustainable version of femininity with its expressive, ready-to-wear fashion designed for confident women who care about sustainability. Its collection is a treat for the eyes, showcasing swoon-worthy ensembles that make for the perfect sustainable homecoming dress or prom dress. Everything is crafted from eco-conscious materials like hemp, linen, cupro, modal, and recycled polyester, which carry a lower carbon footprint. The designs are not only dreamy but also environmentally conscious, allowing you to make a style statement while reducing your fashion's impact on the planet. While AMUR could definitely provide more details about its labor standards and production practices, it's commendable to see a new fashion house taking strides towards sustainability.
7. Whimsy + Row
If you're aiming to ooze out those Fairy Tale vibes this homecoming season, then Whimsy + Row has your back! This brand has mastered the art of making you the best-dressed guest with its stunning fun and formal dresses that come in beautiful feminine colors and impeccable silhouettes. Each garment is produced in limited quantities to reduce their carbon footprint while ensuring they are unique. Their waitlist feature is built to help them gauge demand accurately, so they never overproduce or fall short of materials. So, if you ever spot your dream dress out of stock, don't fret—just add it to your wishlist, and they'll notify you when it's back in stock. Moreover, Whimsy+Row partners with small-scale factories that are just a stone's throw away from their office, and the brand's team makes regular visits to ensure fair trade practices are upheld.
8. Reformation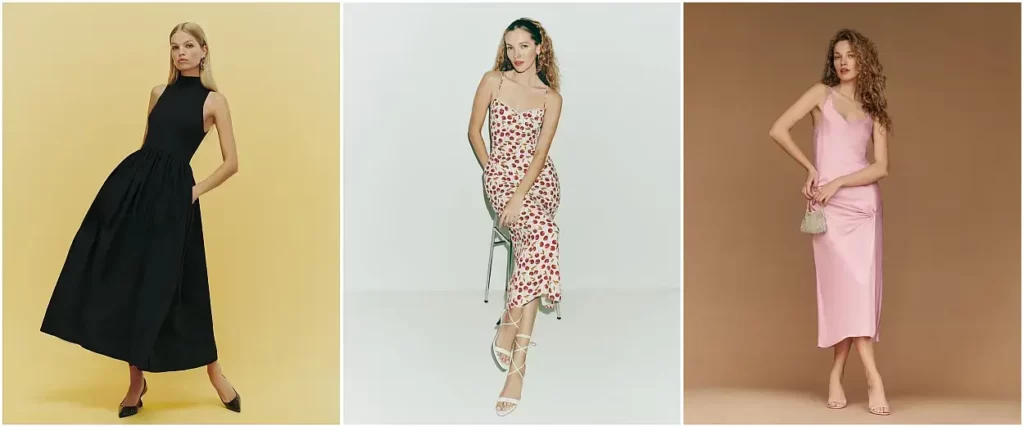 When it comes to chic yet conscious fashion, Reformation has never failed us! This fabulous brand has some seriously stunning sustainable dresses that will steal your heart. Whether you're into flowy florals or curve-hugging cuts, their partywear collection houses evening dresses, cocktail dresses, formal ensembles, and homecoming dresses that are pure fashion magic. What's even better? Reformation is rooted in sustainability and uses non-toxic dyes along with eco-friendly materials like silk, Tencel, organic cotton, and more to create these beauties. Plus, they tell you exactly how much water and carbon emissions they've saved while making each piece. Reformation implements a set of guidelines for its suppliers and manufacturers, drawing from the FLA Workplace Code of Conduct and Compliance Benchmarks. This ensures the adoption of ethical labor practices across its entire supply chain.
9. AGAATI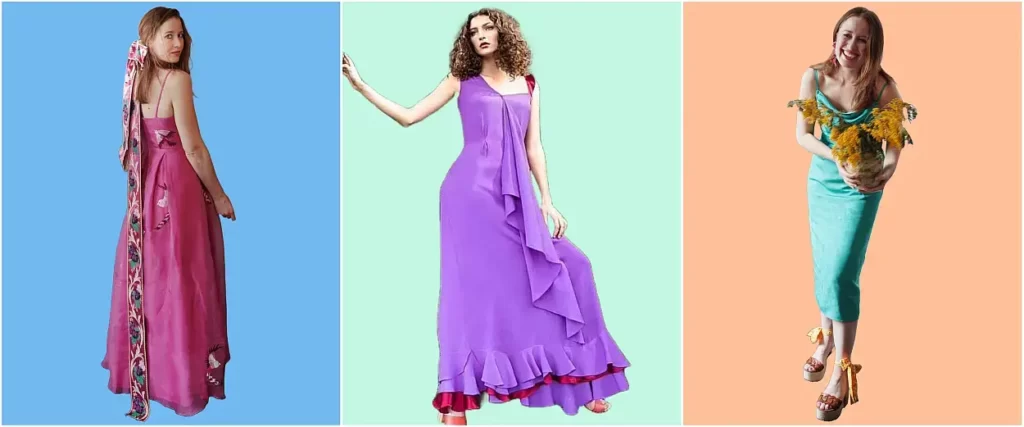 Dressing to impress someone special at the homecoming event has never been easier, all thanks to AGAATI's exquisite flirty and formal dress range. This label is home to unique and inspiring designs that not only elevate your style but also connect communities, empower women, and promote sustainable fashion. What really sets AGAATI apart is its unwavering commitment to a zero-waste philosophy. Each attire is thoughtfully produced with minimal waste generation in mind. Garment workers are skillfully trained to reduce, recycle, and upcycle textile waste during the entire manufacturing process – from pattern making to cutting and sewing. Not to mention, it utilizes earth-minded fabrics and non-toxic dyes that have the lowest environmental impact. And if you're wondering if AGAATI is expensive, then chill, because this brand is here to make sustainable fashion accessible.
10. Rare & Fair

Rare & Fair is a boutique slow fashion brand that captures the essence of elegance and beauty in its whimsical dresses. Its limited yet awesome collection consists of pieces that are not just stylish but come with beautiful stories behind them. In order to create employment opportunities for the less privileged, Rare & Fair partners with artisans in Thailand, working with village co-operatives and small family businesses. Based in the UK, this sustainable clothing brand goes the extra mile in sourcing materials ethically. It uses natural cotton grown by small-scale farmers following traditional agricultural practices and sustainable silk sourced from Thai communities using ancient techniques. And every dress is a labor of love, handcrafted in traditional looms. When you choose to buy from Rare & Fair, you ultimately help preserve artisans' culture and traditions and uplift the working communities of rural Thailand.
11. Hope for Flowers
Hold your ground because Hope for Flowers is here to sweep you away! Founded by Tracy Reese, this fashion house is tailored for women who find inspiration in beauty and wield their consumer power for positive global impact. From the adored cottagecore fairy dress to classy midi dresses- this shopping spot will give life to your wildest dreams. Fueled by the determination to do things right, it operates on three core principles: the well-being of people, safeguarding the planet, and advocating for equitable profit. With a focus on creating head-turning party dresses and other apparel, Hope for Flowers carefully selects materials like organic cotton, organic linen, and Tencel. Additionally, it exclusively collaborates with factories that abide by fair labor practices, decent living wages, and safe working conditions. This dedication to fairness and safety reflects its holistic approach to creating sustainable and ethical fashion.
12. Monsoon
Monsoon's party dress collection has got your homecoming looks sorted in style. Whether you're seeking flattering, flowing dresses in a plethora of hues or intricately adorned attires, the options for your sustainable homecoming dresses are boundless. The best bet? Its ready-to-wear range is not only stunning but also super affordable for the quality you get, and available in sizes up to 24. No more waiting in dress shops or facing sky-high bills; just slip into these beautiful dresses and twirl the night away. Monsoon maintains transparency about its supply chain and prioritizes the use of eco-minded fabrics, including both upcycled materials and organic materials. The label has announced that 90% of its entire product portfolio will be sustainable by 2025. Inspired by the traditional textile crafts of India, Monsoon collaborates closely with small Indian communities. It is determined to help this age-old artistry thrive and provide these artisans with a dignified livelihood.
The Case for Sustainable Homecoming Dresses
Traditional Homecoming Dresses: A Fashion Fright!
Homecoming dresses are generally crafted from synthetic, non-biodegradable materials, resulting in the fashion waste crisis. The fast fashion industry's rapid production and disposal model encourages consumers to buy such inexpensive, trendy attires and discard them after 1-2 wears. These dresses, ultimately, end up in landfills, where they decompose slowly, releasing harmful chemicals into the ecosystem. Moreover, the energy-intensive manufacturing processes and excessive water consumption in the production of unsustainable materials take a heavy toll on the environment.
Environmental and Social Impact of Fast Fashion
The fast fashion industry churns out cheap and trendy clothing at breakneck speed, leading to severe environmental and social consequences. From excessive water consumption and chemical pollution in textile production to exploitative labor practices in low-wage countries, fast fashion has a detrimental impact. It contributes to deforestation, greenhouse gas emissions, and water pollution while also perpetuating unethical working conditions in many parts of the world. This 'money-hungry' industry has for long prioritized profit over ethics and sustainability, creating a significant global problem that needs addressing.
The Need for Sustainable Homecoming Dresses
Given the dire consequences of traditional homecoming dresses, there's a pressing need for sustainable alternatives. Sustainable homecoming dresses are a responsible choice that minimizes harm to the planet and respects the rights and well-being of workers. These sustainable options focus on eco-friendly materials, reduce waste through ethical production practices, and are curated in classic designs so that you can wear them multiple times. So choosing such sustainable party dresses not only helps you make a personal style statement but also supports a more responsible future for fashion.
Tips for Celebrating 'Homecoming' the Sustainable Way
Renting and Swapping Options
Renting dresses and accessories from rental services or swapping outfits with friends allows you to enjoy a fresh look without adding to clothing waste. It's a cost-effective way to dress sustainably and reduce the demand for new garments.
Secondhand and Vintage Finds
Thrifting for secondhand or vintage garments adds a unique touch to your homecoming look while lessening the resource-intensive effects of clothing production.
DIY and Upcycling
What is better than crafting your own homecoming ensemble? You can easily do so by upcycling your existing pieces. So go, give wings to your creativity, and eliminate the need for new purchases. It's a sustainable way to personalize your outfit, and there are loads of ideas on the internet to take inspiration from.
Eco-friendly Beauty Products
Can't attend any event without that touch of make-up, right? Opt for eco-conscious beauty products that use natural, cruelty-free ingredients and sustainable packaging. Look for brands committed to eliminating their environmental footprint in the cosmetics industry.
Donation or Reuse
After the event, consider donating or reusing outfits and accessories. This approach extends the lifespan of these items and reduces waste
To Conclude…
Amidst the myriad of choices you have for the perfect dress, your decision to don a sustainable homecoming dress holds the potential for meaningful change. As we wrap up our journey through a list of eco-conscious options, remember that every dress has a story— one that unfolds in your closet and beyond. Summing it up, choose with care, make the best of rental services, secondhand treasures, or go creative with some DIY magic. Remember, each decision matters— not just for showcasing your individual flair but also for the health of our planet. Let your homecoming dress be more than just a beautiful garment; let it be a symbol of your commitment to a Fair and Just fashion industry!