Disclosure:
Your Sustainable Guide is supported by our readers. We might receive an affiliate commission if you make a purchase using links on our website, at no cost to you.
Learn more
All dressed to slay the world? But wait! What's with that handbag? I know a classy crossbody, a clutch, or a shoulder bag is an essential accessory for every fashionista, but have you ever considered their environmental impact? The bag industry is the most problematic sector in the whole fashion universe, with almost $13 million sales generated in 2021 alone. All thanks to unethically sourced leather and toxic materials like synthetic plastic fabrics, bag production houses are causing more harm to the planet than you could ever imagine. The solution? Sustainable handbags.
These bags are thoughtfully designed to be classic pieces that you can use over and over again— with every outfit. Plus, they are crafted in ethical facilities with eco-friendly materials like PVC-free vegan leather, responsible veggie-tanned leather, natural textiles, sustainable alternative to leather like Pinatex and recycled polyester that don't harm Mother Earth. If you're wondering where to find the best sustainable handbags, you've landed at the right place!
We've rounded up a list of our favourite ethical and sustainable handbag brands that make everything with the well-being of the planet in mind, while helping you slay! Are you ready?
Best Sustainable Handbags
1. NICASCONCEPT
2. Allégorie
3. ALOHAS
4. ABLE
5. Angela Roi
6. Bellroy
7. Behno
8. Cuyana
9. GUNAS
10. HYER Goods
11. Luxtra
12. Nisolo
13. Pixie Mood
14. Parker Clay
15. Sézane
16. Svala
What is a Sustainable Handbag?
Sustainable handbags primarily check for two key things— manufacturing and materials. First and foremost, these bags are made from eco-friendly and ethically sourced materials like organic textiles, recycled plastic, responsibly sourced animal leather and vegan leather. These materials are produced using green manufacturing processes, such as renewable energy, water conservation, waste reduction and low carbon emission techniques.
Next, sustainable bags are designed in timeless styles that are not influenced by fleeting trends. Seasonless designs paired with kind-on-the-earth, durable fabrics, these bags not only help reduce greenhouse gas emissions but also last longer, so you can use them for years to come.
Furthermore, transparency is crucial. Consumers have the right to know who are making their bags or in what conditions they are being produced. Sustainable handbags are crafted in transparent supply chains. Manufacturing takes place in fair trade factories where observation of ethical labour practices is the norm. Workers in these facilities are supported with fair wages, a safe working environment, reasonable working hours and overall development. 
To sum it up, sustainable handbags are made with the least social and environmental damage.
16 Eco-friendly and Sustainable Handbags to Reduce Your Fashion Footprint
From gorgeous eco-friendly totes, handbags, and weekenders to satchels, bucket bags, laptop cases and more. Sustainable bag brands like Allégorie, ALOHAS, ABLE, Angela Roi, Bellroy, Behno, Cuyana, GUNAS, HYER Goods, Luxtra, Nisolo, Pixie Mood, Parker Clay, Sézane, and Svala, have got everything in store for the conscious consumers. 
1. NICASCONCEPT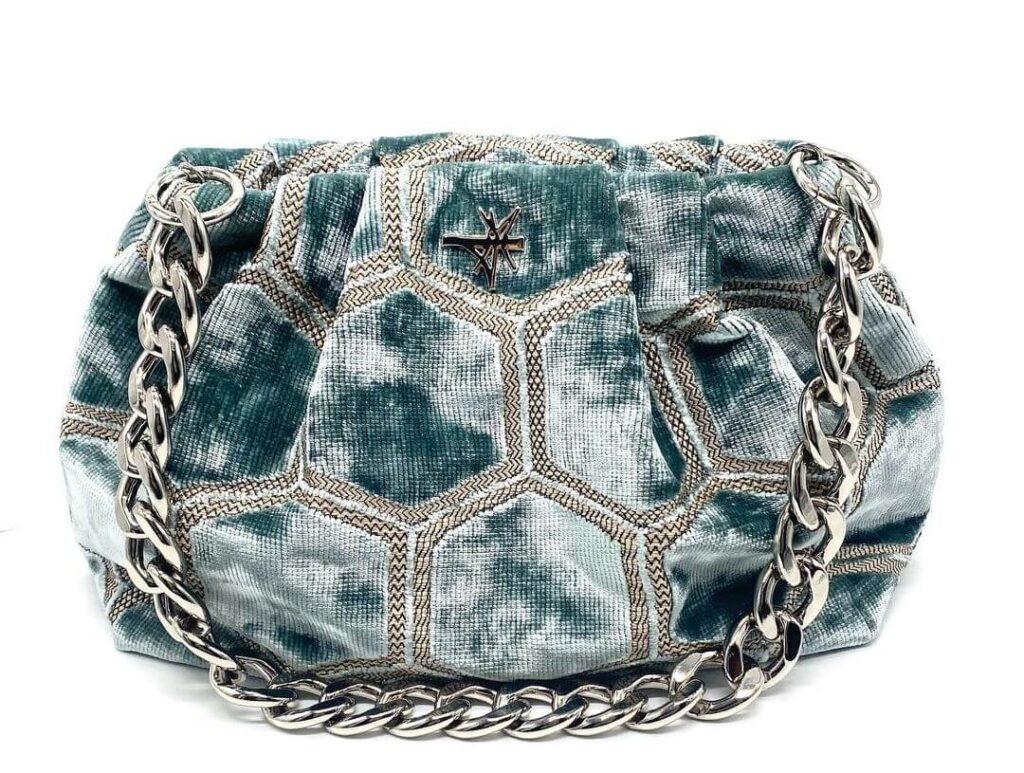 Values/ethics: Ethical production, Recycling and Waste-free ideology, Donates to philanthropic causes like Frontotemporal dementia research
Availability: Shoppers, Pouches and Crossbodies in Maxi, Midi, Mini, Teeny and Baby versions
Materials: Leftover fabrics from the Interior Design studios
Best for: Beautifully structured shapes in vibrant prints ideal for night-outs, special occasions, or a usual day-out
Shipping: Worldwide
Price Range: $140-$322
Hold your Heart, as you're going to fall in love! Because that's how stunning NICASCONCEPT handbags are! Born in Berlin, this sustainable fashion label is the brainchild of a creative sister duo, Nika and Carolina, who strongly believe in the approach of "Using what we've already got and being creative with it." The idea behind creating the brand was to help consumers move away from fast fashion and own unique handbags that are made from old and unused fabrics. Yes, you read that right!
NICA collaborates with European interior designers to responsibly source premium leftover fabrics that are given a second life in the form of gorgeous handbags. Each bag is hand-made in a fair trade facility in Istanbul, using only 1-2 textile pieces to preserve a sense of uniqueness and exclusivity. Prioritizing Quality over Quantity, every piece is a work of art that is intended to be treasured by you over seasons and years to come. Additionally, for every sale made, the label supports the research on Frontotemporal Dementia. Impressive, right?
2. Allégorie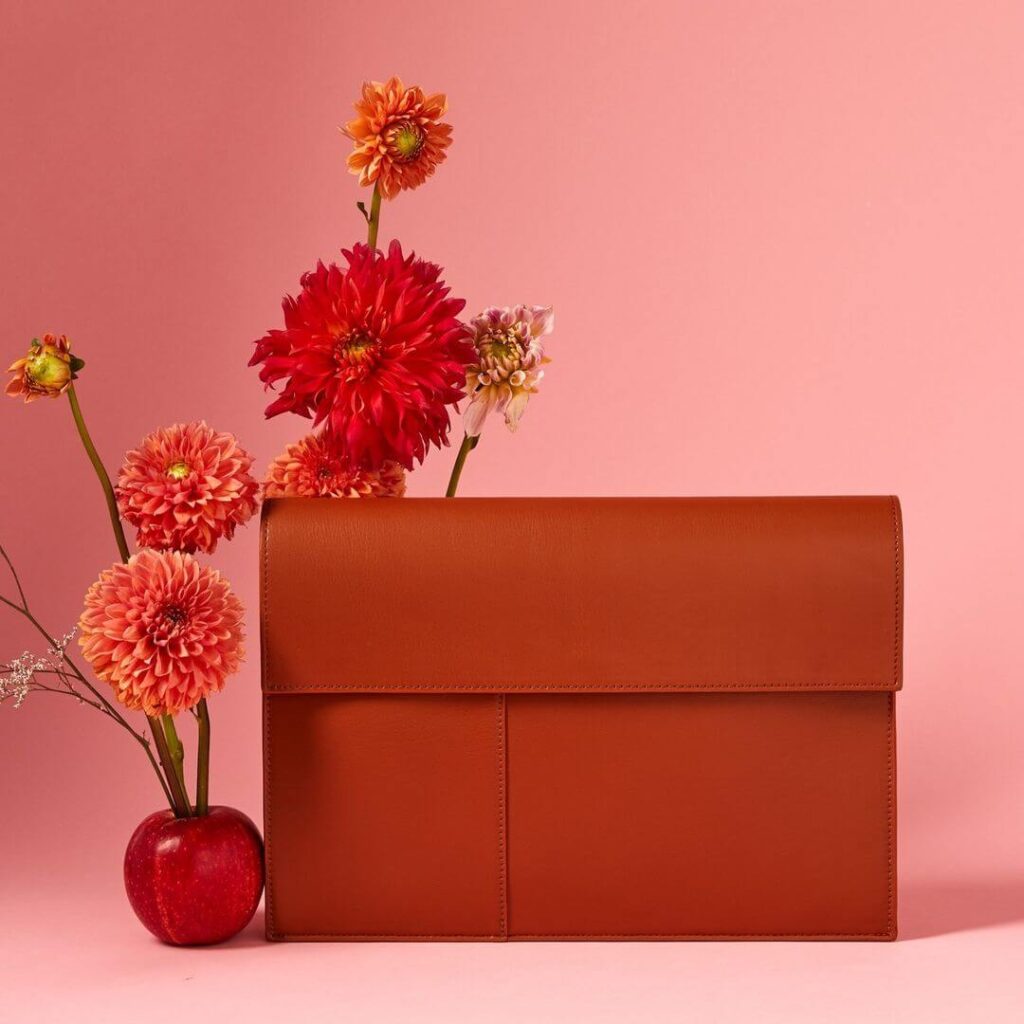 Values/ethics: Ethical values and best workplace practices, Zero waste by transforming discarded fruits into sustainable materials, Cruelty free products, Educates on reducing food waste
Availability: Card holders, Wallets, Backpacks, Laptop sleeves, Crossbody bags, Cruisers, Clutches, and Totes
Materials: Vegan leather made from apples, mangoes, pineapples, and cacti
Best for: Classic shapes for Work use, Travelling, and Usual day out.
Shipping: Worldwide
Price Range: $96-$575
Allégorie is one of the best bag brands determined to create sustainable fashion and curb the food waste problem, all at the same time. How? Well, all of its products are made from fruits and agricultural waste discarded by the food industry. Shocking, right? But Allégorie is making it possible! The women-owned brand's stunning collection of luxuriously crafted minimalistic bags, includes everything from backpacks, card holders, totes and more. And its laptop sleeve has got me hooked big time! Why so chic?
Allégorie believes "Real change, enduring change, happens one step at a time." Therefore, its quest for eco-friendly materials has led the brand to incorporate bio-based leather as a sustainable alternative to animal leather. What's best is all of its materials are USDA-certified and 100% PVC-free. In addition, Allégorie is certified by the World Fair Trade Organization as it has partnered with Fair Trade factories, ensuring an ethical value chain and sustainable development.
3. ALOHAS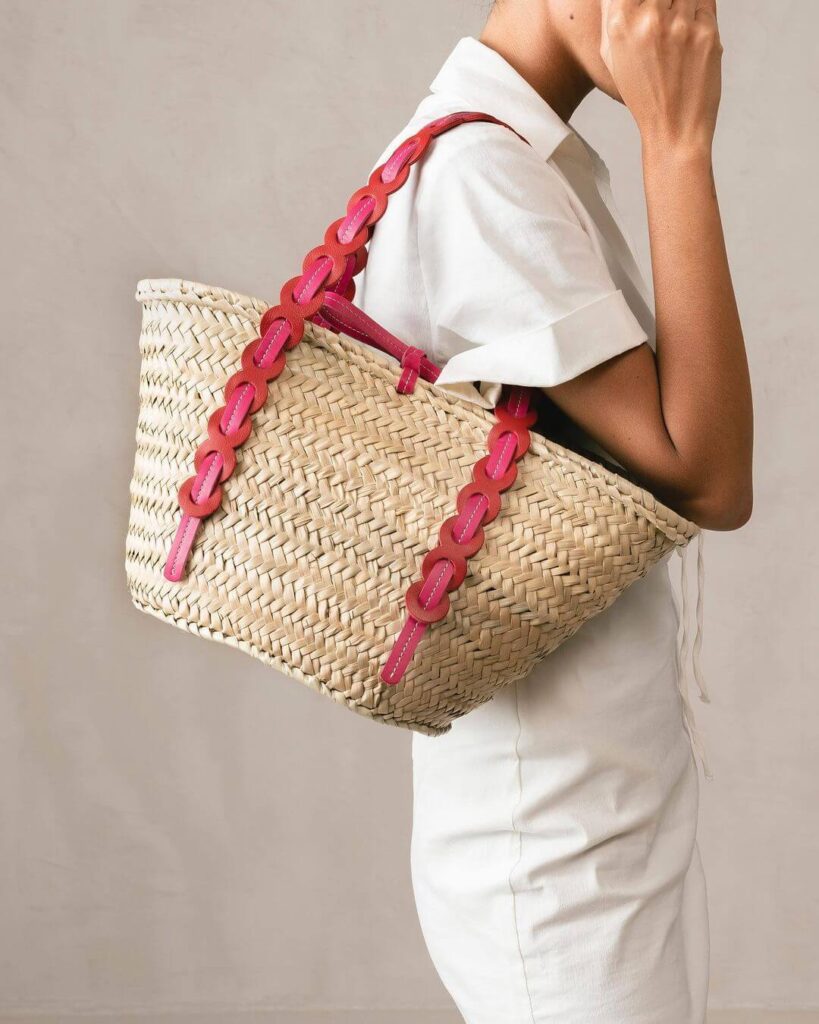 Values/ethics: On-demand production model, Leather Working Group certified suppliers, low waste approach, Local production in Spain
Availability: Handbags, Totes, Pouch bags, Crossbody bags, Laptop cases, and Clutches
Material(s): Certified leather from Leather Working Group, Vegan leather, Palm fiber, Organic cotton, etc
Best for: Bags in Unique shapes that go well for Work use, Night outs, Special occasions, etc
Shipping: Worldwide
Price Range: $115–$450
Born in Hawaii, ALOHAS is championing the 'on-demand' manufacturing system to disrupt the culture of overconsumption. The brand believes that "good things come to those who wait and don't waste!" Hence, their pre-order business model works by releasing new designs at decent discounts, and based on the forecasted demands, their bags and other products are manufactured. However, if waiting isn't your thing, you can easily shop some of their bestsellers, which are available in small batches in the Ready-To-Ship section.
From checkered satchels to sculptured bags in geometric silhouettes, ALOHAS' bags are sustainable fashion pieces at their finest. And I can't get more of its bicolour baskets that scream all things beachy! Production takes place locally in Alicante, Spain. This not only helps the brand to keep control over the quality, quantity and ethical practices but also keeps a check on carbon emissions. 
4. ABLE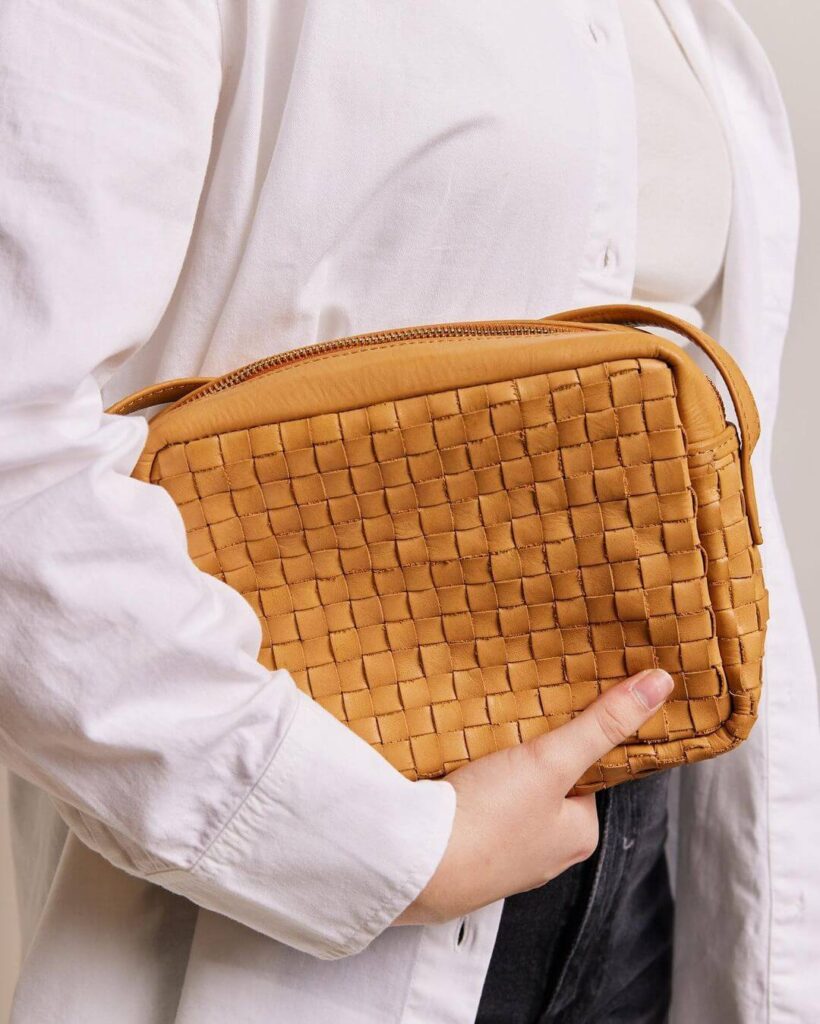 Values/ethics: Diversity and Inclusivity, Women empowerment, Lifetime guarantee on products, Classic slow fashion designs, Transparent practices and standard wages, 100% recycled and closed-loop water system, Compostable packaging
Availability: Backpacks, Totes, Crossbody bags, Wallets, Clutches, Shoulder bags, and Weekenders
Materials: Upcycled leather from discarded animal hides
Best for: Regular everyday use
Shipping: Worldwide
Price Range: $135-$385
ABLE is on a mission to "Moving Fashion Forward!" Home to undoubtedly the best sustainable fashion handbags, it believes in empowering both the women who wear its pieces and those who make them. All of its affordable leather bags are designed in timeless structures and versatile colours, making them perfect wardrobe staples that can be effortlessly paired with any outfit. What more can we ask for?
With sustainability in its DNA, ABLE takes full responsibility for its impact on both the people and the planet. Therefore, every piece of merchandise they offer are investment items that come with a lifetime guarantee. And if that wasn't enough, they will happily repair or replace any product that didn't live up to your expectation. ABLE is deeply focused on women's empowerment. At present, 90% of their staff comprises of women who come from all experiences of life and are provided with safe dignified livelihoods for a better life.
5. Angela Roi
Values/ethics: PETA approved vegan & eco-friendly materials, Fair Trade production, Uncompromised fashionable pieces, Compostable tags, Oeko-Tex certified organic cotton dust bag, Biodegradable packaging
Availability: Handbags, Totes, Crossbodies, Bucket bags, Satchels, Shoulder bag
Materials: Plant-based vegan leather, like Cactus leather
Best for: Regular everyday use
Shipping: Free Shipping in 50 states across the U.S., including Hawaii and Alaska
Price Range: $205-$375
Designer Angela Roi owns this 'no-sacrifice' luxury handbag brand that strongly believes personal style should not come at the cost of personal values. Mastering the art of timeless uncompromised elegance, its designer bags are handcrafted by skilled artisans using high-quality sustainable materials. What I love about them is, every shoulder bag is made with impeccable detailing to be fuss-free and functional, and of course, super chic. With organized compartments, sturdy straps, and a textured finish, these bags are a perfect blend of modern and minimalistic fashion.
Advocating fair trade practices, every bag is designed by Angela Roi and her team in New York and ethically made by craftsmen who are provided with a safe workplace and fair wages. And the mindful label continues to explore new ethical and sustainable initiatives to improve its standards. 
6. Bellroy
Values/ethics: Certified B Corp, Leather Working Group certified, Recycled and sustainable  materials, Gives back to various worthy causes, Inspired by Cradle-To-Cradle principles, Reduce greenhouse gas emissions, Recyclable packaging
Availability: Tech-friendly Backpacks, Crossbodies, Totes, Weekenders, Slings, RFID-equipped wallets
Materials: Certified Eco-tanned leather by Leather Working Group, Recycled nylon, Recycled Polyester, Tencel, Bio-based Polymer, MIRUM® (mushroom-based leather)
Best for: Everyday use, Travelling
Shipping: Worldwide
Price Range: $45–$469
If you love high-performance, hassle-free bags, then Bellroy is here to help you move through the world with ease. The brand puts its heart and soul and endless designing hours into creating its extremely functional collection in which you can effortlessly carry your everyday essentials. The Australian brand tirelessly strives to develop the best sustainable materials, such as certified leather, plant-based leather, recycled industrial nylon, etc.
Certified as a B Corporation, Bellroy is undoubtedly one of the best sustainable handbag brands that create long-lasting products which have a positive impact on the planet. To limit overconsumption, their products come with a 3-year warranty that covers any faults in materials and workmanship. Additionally, their supplier Code of Conduct and audit process guarantees that workers are treated with respect, earn fair wages and are given safe working conditions.
7. Behno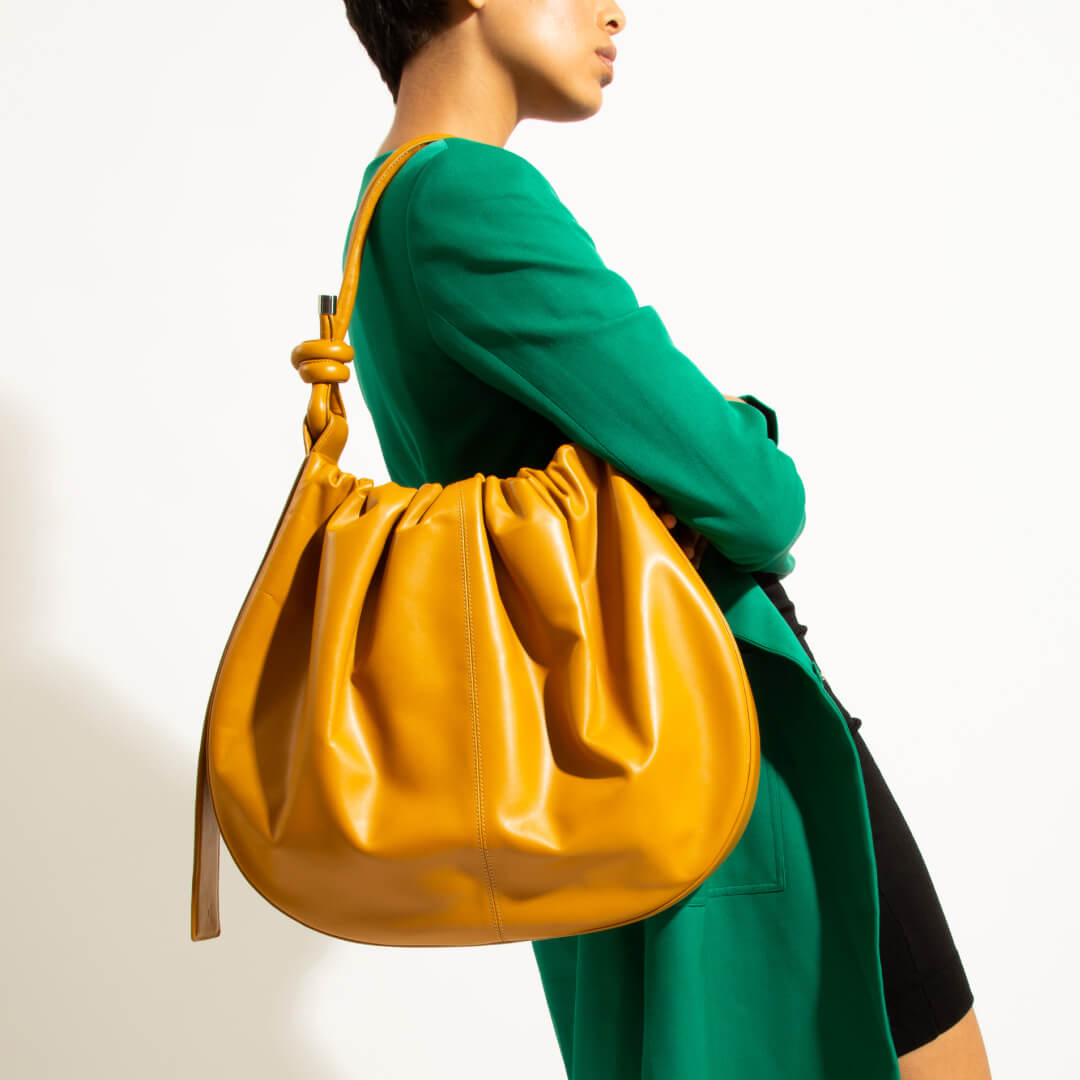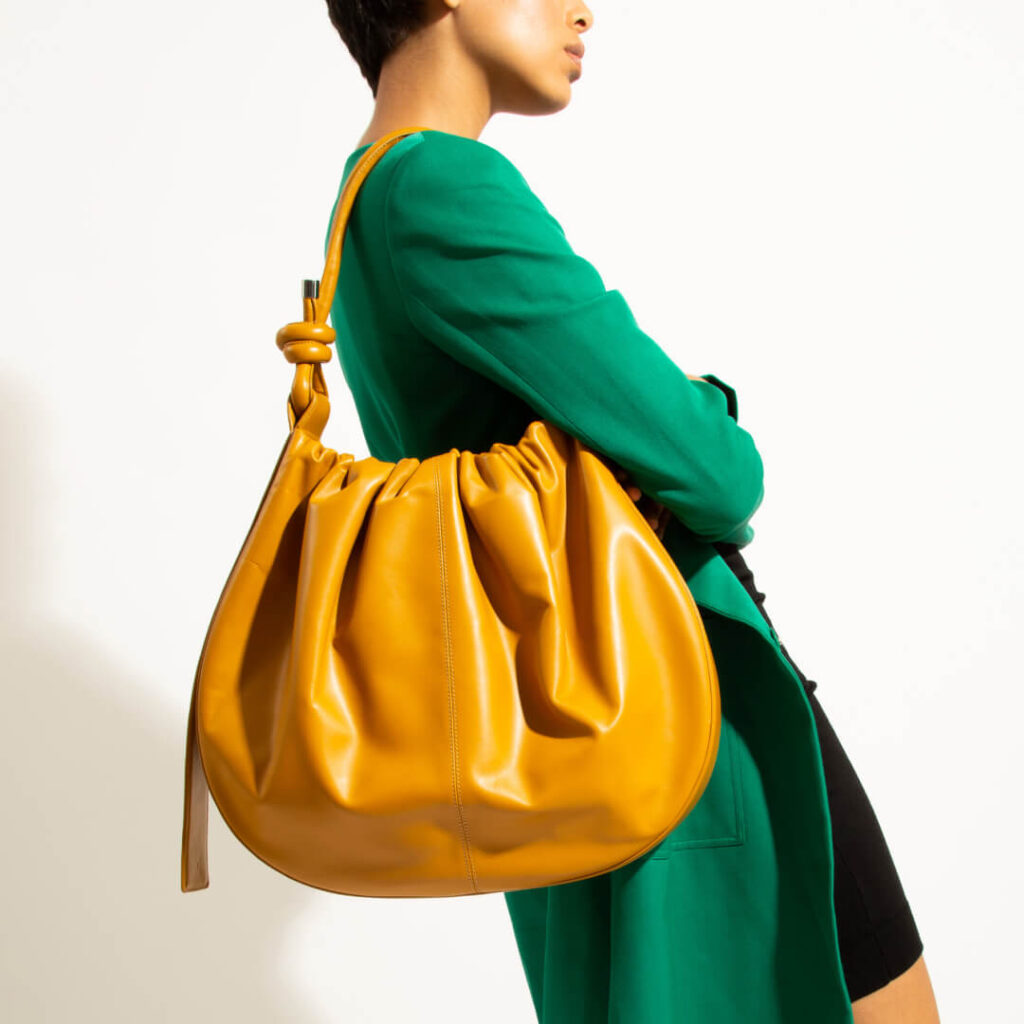 Values/ethics: Handcrafted ethical production, Prioritizes workers welfare, Women empowerment, Follows the principles of the MSA Standard,Partners with certified tanneries,Support nonprofits such as the National Down Syndrome Society and the Boys & Girls Clubs of America, Protects forests and biodiversity
Availability: Shoulder bag, Wallets, Bucket bags, Totes, Baguettes, Pouchettes, Crossbody bags
Materials: Leather Working Group Certified leather 
Best for: Everyday use and Special occasions
Shipping: Worldwide
Price Range: $90–$955
Based in New York, Behno offers a classic collection of structured luxury bags in exquisite shades to get you through every step of the day. Every bag is the epitome of skilled craftsmanship and is designed to be stylish with accents like sharp edges, knots and more to make a statement. Redefining ethical fashion, their vision is to bring change in the back-end life of factory workers. Therefore, Behno has partnered with factories across India that share their values of humane treatment and the overall development of workers.
Behno stands for the Hindi-translated version of 'sister.' True to its name, it works towards women's empowerment by providing jobs to underserved females. Constructing the MSA ethos, "The behno Standard" also focuses on health, women's rights, family planning support, fair wages, and more for all of its factory employees. For its amazing products, Behno has also won the Fashion Group International Rising Star Award.
8. Cuyana
Values/ethics: Promotes 'fewer, better' closet, Women employment, Durable goods that lasts longer, Certified sustainable materials, Supplier compliance with ethical and environmental responsibility, Lean Closet Program that gives a second life to products, Advantage repair services
Availability: Totes, Backpacks, Shoulder bag, Messenger bags, Sling bags, Crossbody bags, Belt bags
Materials: Canvas, Leather Working Group Certified leather
Best for: Everyday use, Travelling and Special occasions
Shipping: Worldwide
Price Range: $128-$448
Cuyana is a women-built company with a simple mantra— "Fewer, better." The heritage-led label offers timeless design and luxurious quality, empowering the modern woman to live smartly even with fewer fashion pieces. From totes to travel bags and backpacks, each piece is crafted with high-quality sustainable materials to serve in your wardrobe for years to come. In fact, I own a beige leather shoulder bag from Cuyana, and trust me, I just can't do without it. So versatile and tucks in almost everything!
Cuyana is proudly championing the voices and skills of women. It has partnered with standardized factories across the globe and works closely with skilled craftswomen. Even their internal team is principally female-led. Additionally, the brand goes beyond its sustainability practices by not only offering long-lasting products but also providing care and guide solutions. And they also facilitate repairs for your Cuyana pieces. Now that's what we call true circularity!
9. GUNAS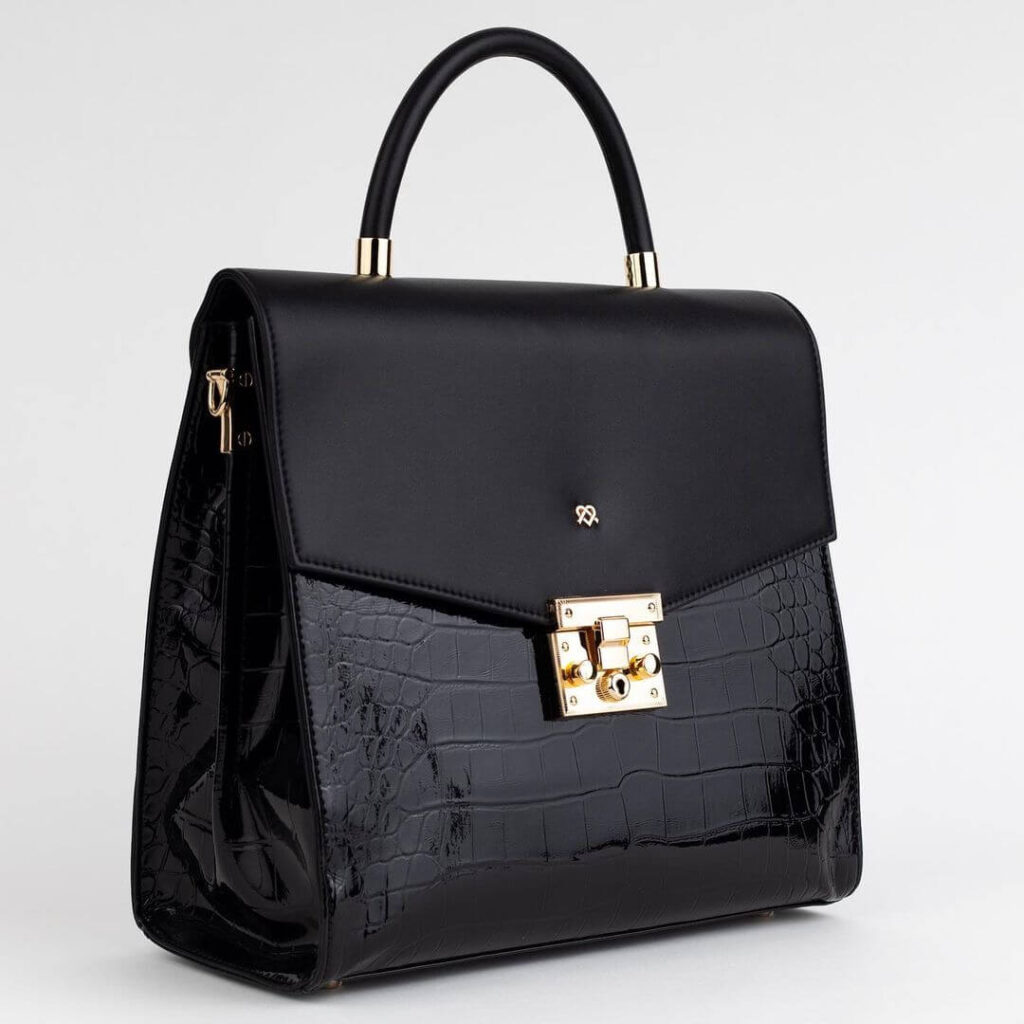 Values/ethics: Mission— To love people, animals and the planet, Cruelty-free products, Factory 'direct to your doorstep' model, Affordable leather bags, Transparent supply chain, Reduce greenhouse gas emissions to minimize carbon footprint
Availability: Canvas bags, Basket bags, Vegan leather totes and handbags, Totes, Clutches, Crossbody bags
Materials: CertifiedVegan leather, Canvas, Recycled polyester and nylon lining fabrics, Recycled metals
Best for: Everyday use, Travelling and Special events
Shipping: Worldwide
Price Range: $105–$295
America's first 100% vegan handbag brand, here's presenting GUNAS— the ultimate symbol of luxury in a compassionate and sustainable fashion. As an intentionally vegan label, it channels the idea that animals don't have to be part of fashion. Hence, its bags are crafted using PETA-approved cruelty-free materials that can stand the test of time. Whether it is their canvas bag, basket bag, or structured handbag, every piece is designed in practical silhouettes with vibrant colours and is free of PVC.
GUNAS products are manufactured globally in fair trade factories prioritising workers' welfare and all-round development. The factories are regularly audited by their team members, who personally make visits to ensure all ethical standards are observed. While the brand constantly experiments with innovative, durable materials, it also incorporates upcycled, and vintage fabrics whenever possible. GUNAS has been honoured with multiple reputed awards to date.
10. HYER Goods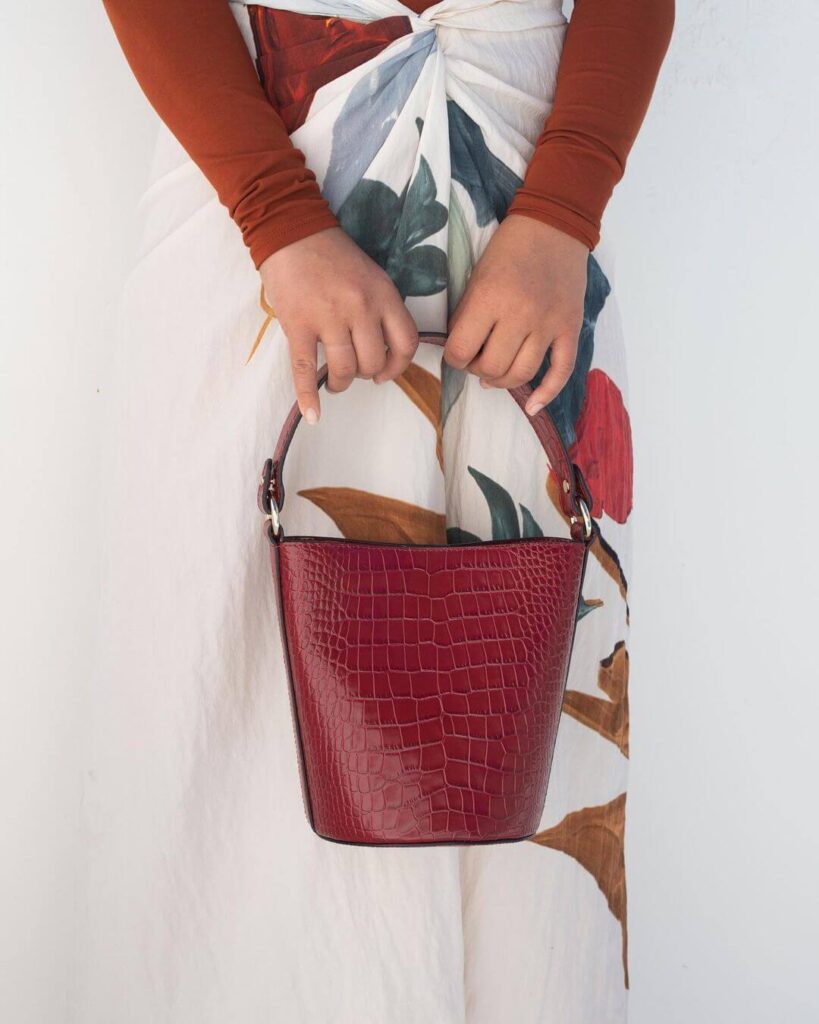 Values/ethics: Upcycles textile waste and transforms them into products, Deadstock leathers sourced from fashion industry leftovers in India. No new fabric production means no extra carbon emissions, Circular Resale section, Partnered with female-owned factory in India, SEDEX-compliant factories
Availability: Bucket bags, Shoulder bag, Wallets, Crossbody bags, Fanny and Belt Packs
Materials: Deadstock materials, Luxury leftover leather
Best for: Regular use
Shipping: Worldwide
Price Range: $155–$395
HYER GOODS is a bag and accessories brand fueled by the passion for creating beautiful things out of fabric waste. Yes, You read that right! Its entire collection consists of super cute bags in sophisticated colours, and it's unbelievable how everything is solely made from deadstock materials. This approach not only helps keep useful materials out of landfills but also reduce greenhouse gas emissions, lowering environmental impact!
In their sustainability effort of keeping a check on carbon footprint, HYER Goods takes responsibility for the wasteful fashion industry and is proud of rescuing and upcycling luxury leftover cuts and fabric scraps. The brand has combined state-of-the-art SEDEX-compliant manufacturing with gripping quality control to bring you the Best of Better Leather. And since everything is made from waste fabrics, it's all limited edition pieces! To minimize waste at every step, the brand promotes circularity by encouraging customers to re-sell their preloved handbags on their resale platform.
11. Luxtra
Values/ethics: B Corporation, 100% cruelty-free products, Frequently donates to worthy social and environmental causes,Italian craftsmanship, Ethical production
Availability: Tote bags, Backpacks, Top-handle handbags, Crossbody bags, Bucket Bags, Wallets
Materials: Apple Skin, Piñatex, Desserto (Cactus leather), e-ULTRA (Corn leather, Fruit Leather Rotterdam (Mango Leather)
Best for: Regular use, Special events
Shipping: Worldwide
Price Range: $245-$475
Looking for premium quality vegan leather luxury bags? Then Luxtra is going to be your saviour! This London-based cruelty-free label is here to shake up your style game with an impeccable collection of bags in all sizes and shapes. And everything is made from high-end plant-based leather— no animals harmed! Founded by a compassionate entrepreneur in 2018, this conscious luxury brand's purpose is to make people understand the possibility of owning cruelty-free and sustainability-focused items.
Certified as a B Corporation, Luxtra's values don't simply limit to animals. They also celebrate luxury through the quest to fulfil the highest ethical, environmental and welfare standards. As a business force for good, it sources its eco-friendly vegan materials from certified plant-based leather makers who are notable names in the sustainable fashion industry. Luxtra maintains a transparent fair trade supply chain and has been honoured with significant awards in this short span. As a Luxtra user, I personally vouch for this brand.
12. Nisolo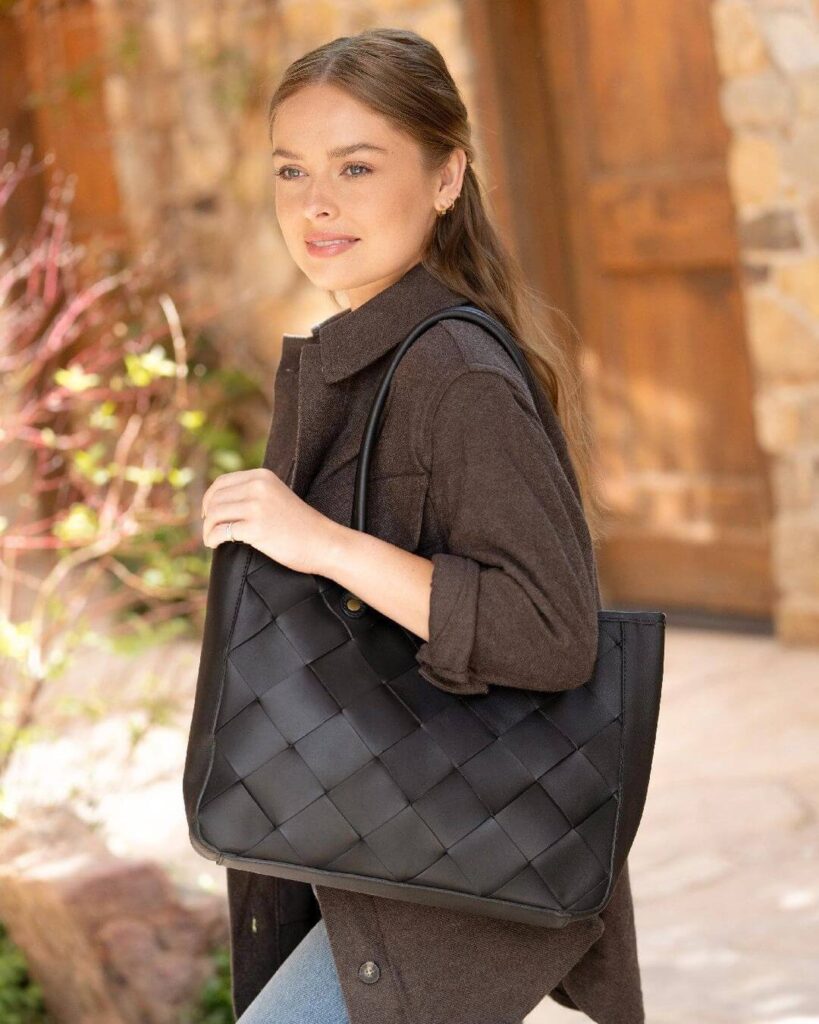 Values/ethics: B Corporation, Climate Neutral, Donates to multiple causes, Practices fair trade and is super-transparent, 100% fair wages, Leather Working Group Certified, Circular fashion, 'Donate your old shoes' program, 0% Net carbon, Prioritizes worker's rights and safety, Affordable leather bags
Availability: Convertible crossbody bags, Satchels, Wallets, Shoppers, Totes, Wristlets, Weekenders
Materials: Leather from Leather Working Group Certified tanneries, Upcycled materials
Best for: Everyday regular use and Travelling
Shipping: Worldwide
Price Range: $60-$350
Established in 2011, Nisolo is one of the best sustainable handbag brands housing a curated selection of contemporary bags, that can be seamlessly paired with any outfit. Rooted in versatility, elegance, and quality, its leather bags are handcrafted by artisans in Peru and Mexico, and is both dainty and durable, sure to pull in loads of compliments. My personal favourites are its clutches and crossbody bags, which are adequately sized to fit in your wallet, phone and keys when you're out and about.
As a Certified B Corporation, Nisolo meets the highest standards of verified transparency, accountability, social and environmental performance. Observing an ethical supply chain, it has pledged 100% living wages to its factory workers. For being a Climate Neutral Certified label, it strives to reduce its greenhouse gas emissions by advocating a "circular fashion" approach. In addition, Nisolo uses upcycled and recycled materials in its design process and packaging to further limit its carbon footprint.
13. Pixie Mood
Values/ethics: Biodegradable packaging, Offsets Carbon, Cruelty-free products, Member of 1% for the Planet program, Gives back and supports various social and environmental causes. Partners with One Tree Planted and Humane Society to bring positive change
Availability: Totes, Waist bags, Shoulder bags, Crossbody bags, Clutches, Bucket bags, Backpacks, Travel organizers
Materials: Solvent-free vegan leather, Recycled vegan leather, Recycled Canvas, Recycled vegan wool, Cork, Recycled bottle linings
Best for: Everyday regular use, Day out, Travelling and Special events
Shipping: Currently ships across the U.S. & Canada
Price Range: $55—$230
Pixie Mood has been crafting PETA-approved vegan bags and accessories since its beginning. Its wide range of affordable leather bags are super cute and comes in a myriad of colours, that I guarantee you'll fall in love at one glance!Plus, everything is made from upcycled and solvent-free PU vegan materials, including 100% recycled bottle yarns as linings. From monogrammed pouches to RFID-blocking technology wallets, and bubbly clutches, you name it, and they have it!
Featured in Vogue, Refinery29, Forbes and many such prominent pages, Pixie Mood has gained worldwide recognition for its extraordinary merchandise.  Consciously leather-less, the Canadian brand uses responsibly sourced innovative and sustainable materials and is proud to be a climate-positive company. It also works on minimizing its environmental impact through carbon offsets, biodegradable packaging and remaining transparent in every step of sustainability.
14. Parker Clay
Values/ethics: Provides employment to Ethiopian women in the sex industry, Traditional tanning methods to make long-lasting products, Responsible leather sourcing as a by-product of the food industry, Women empowerment, Living wages and workplace safety, 100% Made in Ethiopia 
Availability: Belt bags, Crossbody bags, Handbags, Laptop bags and Sleeves, Backpacks, Pouches, Totes, Wallets, Purses, Satchels, Messenger bags
Materials: Sustainable leather
Best for: Everyday regular use, Travelling
Shipping: Worldwide
Price Range: $115-$558
B Corporation certified, Parker Clay, is on a mission to create "A Better Bag For A Better World". Their classic collection of sustainable and tech-compatible handbags is living proof that leather can be better. Every bag at Parker Clay is handcrafted by underprivileged women of Ethiopia who formerly worked in the commercial sex industry. So, each order fulfilled, counts in as a step towards empowering these needful women with stable jobs to lead a dignified life.
Parker Clay uses the world's finest full-grained, end-of-life leather, sustainably sourced from animals farmed for the food industry. The tanning process is taken care of by experienced leather craftsmen who use traditional vegetable tanning techniques and recycles water, thereby cutting on wastewater generation. Built to last, bags made from such sustainable leather develops a unique sheen and rich colour as they age. So the older your bag gets, the sleeker it will become. How cool is that!
15. Sézane
Values/ethics: B Corporation, Donates to worthy causes like programs that support children with access to education and equal opportunities worldwide, recycling programs, Eco-friendly materials, Traceable products, Responsible production model
Availability: Bucket bags, Totes, Sling bags, Baskets, Handbags, Wallets
Materials: Natural Heritage leather, Natural Raffia, Cotton linings
Best for: Everyday use, Travelling, Day out
Shipping: Worldwide
Price Range: $125-$315
Pioneering oh-so-chic Parisian fashion, sustainable brand Sézane's iconic bags are what dreams are made of! Its curated edition of bucket bags, satchels and totes are made in classic silhouettes and versatile shades to add sophistication in any look you create. With delicate and uncomplex detailing, these bags are the result of master craftsmanship as the brand partners with the best ateliers to design its products.
Dedicated to creating timeless pieces that will forever remain in vogue, Sézane has become a certified B Corporation for its choice of production methods and raw materials to reduce its environmental footprint. In addition, the brand has partnered with fair trade atelier workshops worldwide that share its passion for safe working conditions, decent wages, employee development and sustainable practices. What's incredible is all of their pieces are certified by the industry's 5 most recognized bodies.
16. Svala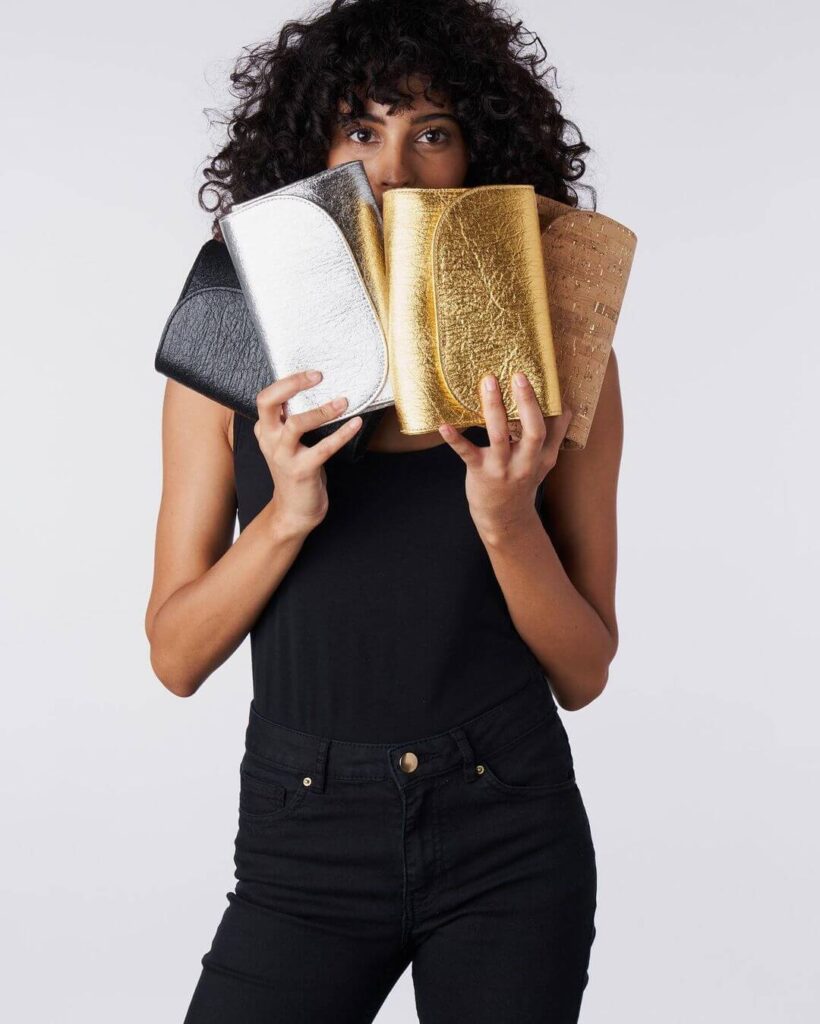 Values/ethics: Cruelty-free brand, Donates 10% of profits to various charities and organizations, including Wild Aid, Carbon offset programs to reduce carbon footprint, Sustainable vegan materials, Local production
Availability: Purses, Handbags, Totes, Backpacks, Clutches and Wallets
Materials: Vegan leather such as Apple Skin, Piñatex. Organic cotton and Recycled polyester lining, Cork
Best for: Everyday use, Day out, Special occasions
Shipping: Worldwide
Price Range: $195-$295
Last, but definitely not the least, here's presenting Svala— an amazing luxury vegan handbag brand for compassionate consumers. Translated as 'sparrow' in Scandinavian, Svala is home to handcrafted goodies using the finest materials. The label was founded on the idea of creating stylish and stunning versatile pieces that are animal-friendly and kind on the planet. 
Driven by sustainability inside out, every bag at Svala is made from innovative, European PVC-free materials such as Italian vegan leather, Pinatex®, and cork from Portugal. Manufacturing takes place locally in one of LA's world-class factory, which guarantees that workers are paid standard wages and have comfortable working conditions. The label has been featured in publications such as Vogue, Forbes, Purist, and LA Times, and has also been honoured with multiple awards. 
Your Single-point Guide to Choosing Sustainable Handbags
Environmental Impact
Handbags are usually made of conventional leather or plastic-base virgin materials. Unfortunately, the chemicals used to tan commercial leather and process synthetic textiles are super toxic and contaminate both water and the atmosphere. Leather comes from the meat industry, where animal hides (typically cows) are a by-product. However, it is a known fact that animals are often just farmed for their hides. After skillfully extracting the skins, the rest of the bodies are left to rot in pits.
Today, about 85% of the world's leather is chrome-tanned. While this process is smooth, it is so chemical-heavy that The Environmental Protection Agency has labelled the chromium waste as hazardous to our ecosystem. According to a PETA study, a chrome-tanning facility uses about 15,000 gallons of water and generates up to 2,200 pounds of solid waste for every ton of animal hides processed. 
Virgin synthetic materials, like polyester, and nylon, also require intense amounts of energy and natural resources. It is estimated that over 90% of plastics are produced from fossil feedstocks, which sums up to nearly 6% of global oil consumption. So, the production of such materials not only releases massive amounts of carbon emissions but is also a health hazard for factory workers manufacturing them.
Benefits of Sustainable Handbags
As already mentioned, sustainable fashion handbags are reasonably produced, ensuring no harm is caused to people and the planet. These bags are designed in classic shapes and have a longer shelf life, so you can use them throughout the seasons and years without having the thought of replacing them.
Durable, green materials, such as organic cotton, hemp, jute, cork, bamboo, recycled plastic, vegetable-tanned leather, and vegan fruit leather, are used to produce these eco-friendly bags. These textiles are sustainable because they are renewable, biodegradable, and recyclable. 
How Sustainable Handbags Support Ethical & Sustainable Fashion
A primary factor that makes any bag sustainable is its production criteria. As a part of ethical fashion, sustainable laptop bags, handbags and backpacks are produced in fair trade factories that abide by the international standards of labour laws. Workers in these production units are entitled to decent pay, clean and healthy working conditions, reasonable work hours, development programs and more.
Ethical brands are dedicated to bringing positive change in the lives of underprivileged working communities instead of exploiting them. Many conscious brands work particularly towards employing destitute women. Then there are others who focus on providing respectable jobs to artisan communities to keep ancient crafts alive. Whatever the approach is, the focus remains the same— Uplifting underserved people with a chance at a better life.
Types of Sustainable Handbags
Purses or Wallets or Pouches– These bags are smaller in size. They are particularly designed to hold cash, coins, and cards.
Satchels or Crossbody or Sling bags – These bag categories are a level bigger than purses and wallets. They come with adjustable straps, and you can easily fit in your wallet, card holder and your phone, along with maybe a lipstick and mascara while you're on a date or brunch-ing with friends or attending a casual event.
Clutches – These bags are quite decorative, making them ideal for date nights, parties or special events. Based on the size and shape of your clutch, you may be able to push in your phone, and a little bit of makeup.
Shoulder bags or Handbags – Bigger than sling bags, shoulder bags or handbags can tuck in quite a lot of your essentials, from wallet and phone to makeup, some cosmetics and maybe even a water bottle while you're on the go to the office or simply a long day out.
Totes – These bags are super roomy and can easily cover all your essentials. Perfect for running shopping errands, or taking a trip outdoors to spend the entire day. Possibilities with a tote are endless.
Messenger bags – These sustainable bags are rectangularly structured and come with adjustable straps as they are solely carried over your shoulder. Messenger bags have separate compartments to fit in a laptop, a notebook and other essentials. It has a sizeable flap attached with a clasp or buckles for the enclosure.
Weekenders – These bags are shaped like sacks and are literally 'carry-alls.' Weekenders are mostly used for short trips as they are designed to effortlessly stuff in a pair of clothes along with all your important stuff like cosmetics, makeup, laptop, etc.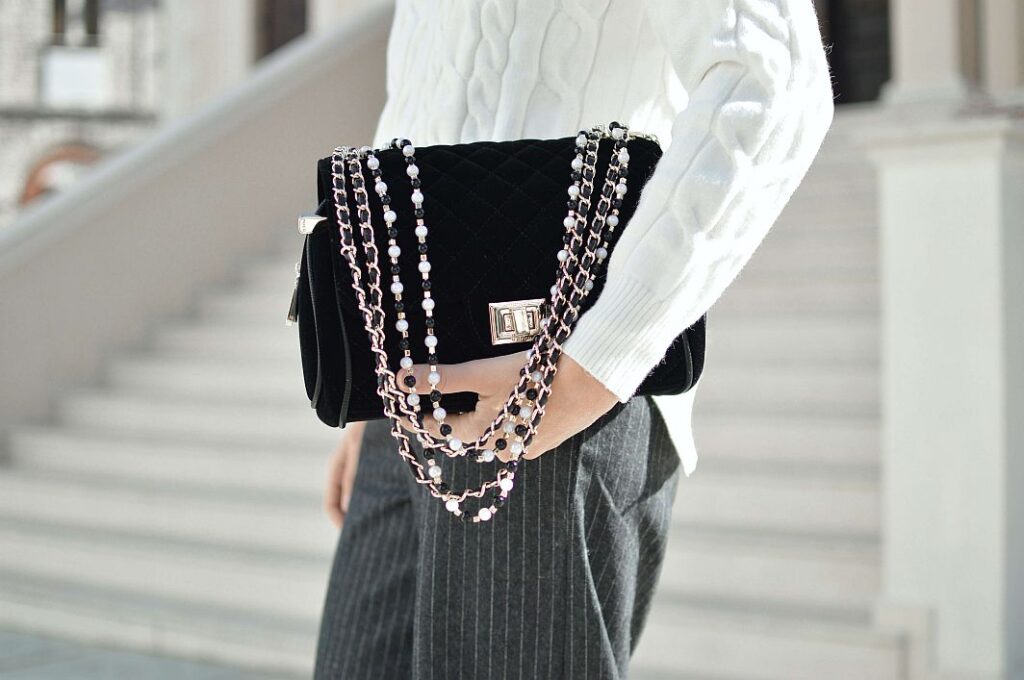 How to be a Conscious Consumer of Sustainable Handbags
You know the drill! The idea is to always look for brands that adhere to the values of sustainability and ethical practices.
Check for transparency. Conscious brands are always transparent about their production processes, raw materials, and sustainability goals. If in doubt, raise a query for clarification.
Try to go for brands that give back to the world in some way. 
Sustainable handbags are not influenced by trends. Instead, they are made in minimalist classic styles and versatile shades that will seamlessly complement any outfit.
There are a lot of bag sizes, but it's not necessary that you would need all of them. Analyze your lifestyle to determine which bags would suit you the most.
Always take good care of your bags. Nothing lasts forever, but you can extend the life of your bags by following proper care instructions. Buy 'clean and care' solutions provide by eco-friendly bag brands to keep your pieces new-like for long.
For small damages or tears, don't give up on your bags. Instead, take them to a cobbler. They can easily fix minor tears, zippers, handle breaks, etc.
Shopping for pre-loved handbags from your nearest thrift store or trusted online app is another great way of being a conscious handbag consumer.
How to Style Sustainable Handbags
Sustainable handbags can be styled in countless ways as they are versatile and designed in timeless silhouettes to amp up every look. Explore the versatility of sustainable clothing from your wardobe and pair it with a trusty handbag to take you places from the office to the club.
To Wrap it Up…
Sustainable handbags are not only fashion-forward but also a responsible choice for our entire ecosystem. By shopping from the best sustainable handbag brands mentioned above, you can reduce your carbon footprint and contribute to a better future. These labels are passionately working to make the fashion industry planet-friendly and fairer for the workers. As a conscious consumer, you play a vital role in supporting ethical fashion while enjoying a wide range of options without hurting Mother Earth.
FAQs
What is the most sustainable bag?
The most sustainable bags are those which are made without causing any harm to the environment or the people making them. They are also sturdy as they are built to last for long.
Are sustainable handbags more expensive than traditional handbags?
Yes, sustainable handbags are more expensive than traditional handbags, because everybody in the supply chain was paid fair wages, and the materials used were made in the most eco-friendly way possible. But while sustainable handbags feel pricey at the first go, they are actually more cost-effective, as they last longer, can be styled in multiple ways, and you can get maximum wear from them.
What are the most commonly used materials for sustainable handbags?
The most sustainable materials for handbags are Vegetable tanned leather, Responsible leather from Leather Working Group Certified tanneries, Recycled plastic, Jute, Hemp, Organic cotton canvas, Cork, Bamboo, and PVC-free vegan leather.
Can leather bags be sustainable?
Yes, leather bags can be sustainable if they are processed through the traditional vegetable tanning method or ethically sourced from Leather Working Group Certified tanneries.
How do sustainable handbags differ from traditional handbags in terms of durability?
Many mainstream bag brands design handbags inspired by trends. Chrome leather and virgin plastic base materials are a popular choice. These bags are mass-produced, so a superior level of craftsmanship is hard to find, resulting in the unravelling of stitches and unstructured looks after a few wears. On the other hand, sustainable handbags are made from durable materials and always handcrafted, so they last longer.
Can sustainable handbags be stylish and fashionable?
Yes, absolutely. Sustainable handbags come in evergreen styles, with many brands offering unique designs that are statement pieces. So gone are the days when being eco-friendly meant boring, faded looks, as you can now enjoy sustainable handbags that are both stylish and fashionable.
Can sustainable handbags be recycled?
Yes, sustainable bags can be recycled to create something new out of them. This approach of circularity is a vital point of sustainability.