Disclosure:
Our editors handpick top-rated brands, vetted through our strict ratings. Purchases via our links may earn us a commission.
Learn more
Good athletic fits are love. And Girlfriend Collective is trending as the new hip in the activewear market. This feature tries to examine their approach towards fast fashion, sustainability, and yes, whether the brand is ethical or not. With a website as colorful as a candy shop, this brand strives to bring happiness to people and the planet. Because c'mon, sporty fits are not just perfect for a run but also for running errands while feeling cute!
Girlfriend Collective has taken upon the duty to help women of every size dress in the best activewear designed with slow fashion in mind. And the entire range is made from recycled post-consumer plastic waste using renewable resources. Cool, isn't it? So yes, Girlfriend Collective is a sustainable brand. But is it really doing things right for the people laboring hard in production units? Or just greenwashing? Only one way to find out. Let's dig in!
What is Girlfriend Collective?
Girlfriend Collective is a US-based eco-conscious athleisure brand offering a pool of activewear, including tights, sports bras, skorts, biker shorts, and everything in between. The brand was launched as a solution for eco-friendly and durable activewear for a sustainable consumer base. With size-inclusivity as an aspect, GC also caters to plus-size women who face difficulty searching for chic and high-quality activewear.
A colorful palette and timeless silhouettes make this brand stand out and become one of the most loved athleisure brands. Whether it is just chilling on the couch or hitting the gym for an intense workout, GC hits the right spots with its classic pieces that are incredibly comfortable, lightweight, and breathable.
In addition, every item is produced in a limited run to eliminate waste and is priced at an affordable premium category which is justified considering the supreme quality you receive. And did I mention their entire collection is made of rPET and ECONYL®, which are basically recycled versions of plastic waste? Impressive! While Girlfriend Collective specializes in activewear, its range also includes outerwear, swimwear, and intimate wear.
When Was Girlfriend Collective Founded?
Girlfriend Collective was launched in 2016 by Quang and Ellie Dinh in Seattle, Washington. The athleisure brand was born when Ellie Dinh struggled to find ethically made eco-friendly leggings. Sensing a huge market opportunity for sustainable activewear, the husband-wife duo built Girlfriend Collective.
The brand started with black leggings as its first product. These leggings were sewn in a fair trade factory in Hanoi, Vietnam, using rPET yarn made from recycled water bottles. For a single pair of leggings, 25 plastic bottles were recycled. To promote the brand, Girlfriend Collective initiated a marketing campaign in which these black leggings were offered free of cost. The customers were only asked to incur the shipping charges.
This word-of-mouth kind of marketing approach created a sensation overnight. Once the customers experienced the high quality consciously made activewear, there was no turning back for Girlfriend Collective. Girlfriend Collective's annual revenue in 2021 & 2022 ranges between $25M-$50M, which is calculated on a gross merchandise value basis.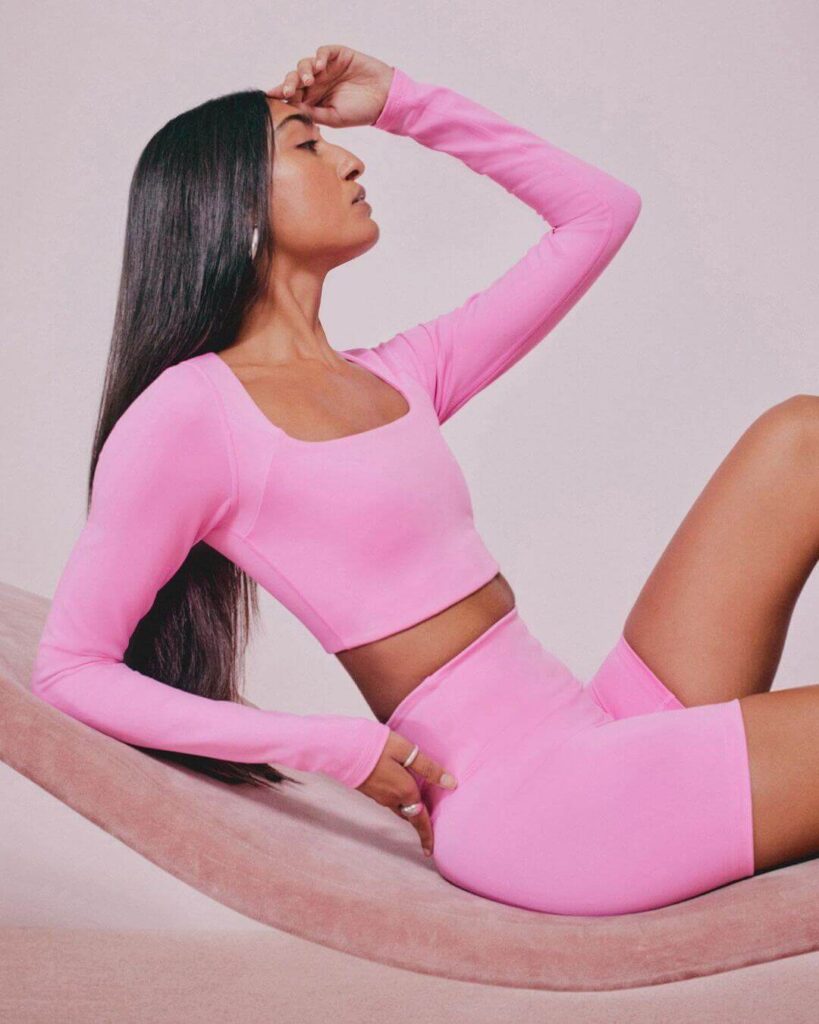 Where is Girlfriend Collective Located?
Girlfriend Collective is headquartered at 1414 NE 42nd St, Suite 400, Seattle, Washington, United States. Their chief recycling partner operates in Taiwan, and production takes place in SA8000 and WRAP certified factories in Hanoi, Vietnam.
Where Does Girlfriend Collective Ship From?
To maintain a low CO2 emission supply chain, Girlfriend Collective's finished products are stored in a fulfillment center located near their main factory in Vietnam. All items are shipped from this center within 1-4 business days of the order date.
At present, they offer shipping to the United States, Canada, the United Kingdom, and Australia. However, they are available worldwide via nordstrom.com. Another point to be noted, Girlfriend Collective has a return and exchange policy for their US customers but doesn't offer exchanges for an international clientele. Their packaging is 100% recycled and recyclable.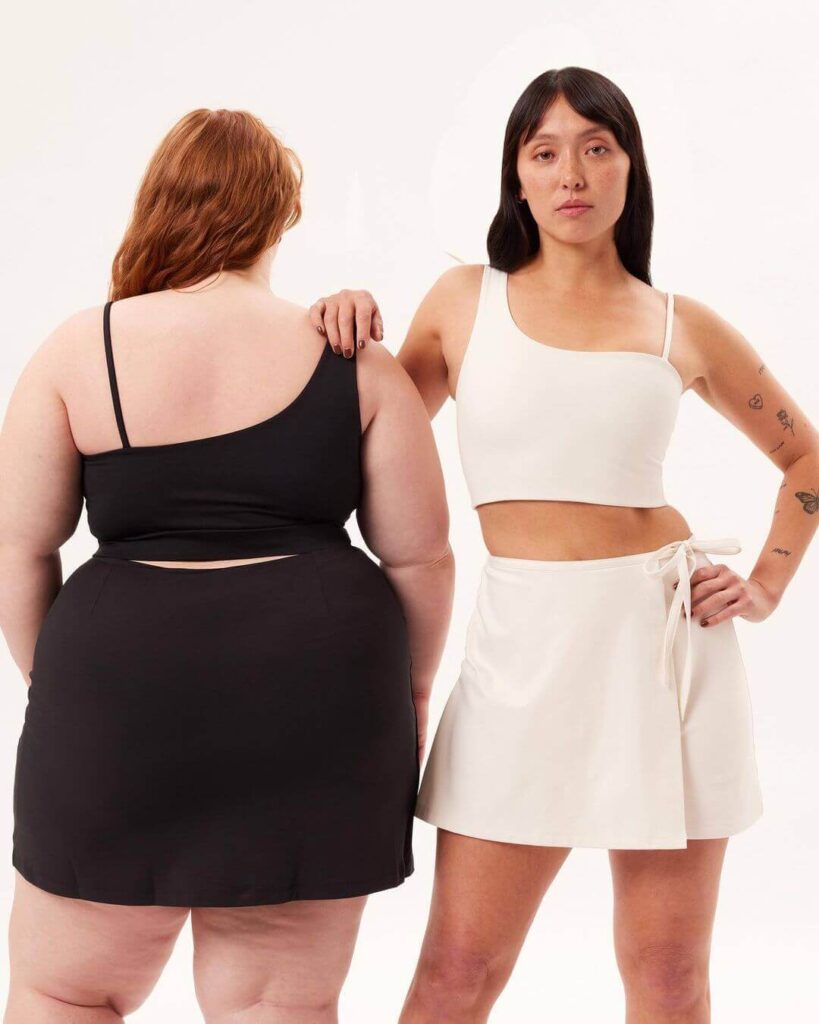 Is Girlfriend Collective Ethical?
Yes, Girlfriend Collective is ethical. In fact, sustainability and ethical practices were the prime inspiration for this brand. From responsible sourcing of recycled materials to producing finished products, every step in its supply chain is done in a closed-loop system under an ethical work environment. Workers are fairly compensated and are provided with a healthy work environment.
Not only does GC practice social accountability towards its workforce, but also promotes diversity by offering a size-inclusive collection. People of all shapes, sizes, and colors connect with this brand because it doesn't differentiate. With a size range of up to a whopping 6XL, Girlfriend Collective is doing what every brand should do for its customers. And that is to empower people, regardless of their appearance and status.
Does Girlfriend Collective Use Child Labor?
No, Girlfriend Collective does not use child labor. It is a compassionate brand that operates with the people and the planet's welfare in mind. Its core factory is SA8000 certified, meaning fair trade standards are strictly followed, ensuring no forced or child labor.
Girlfriend Collective operates by prioritizing the well-being of people and the planet. Its core production unit is certified by Social Accountability International– SA8000 and follows the Code of Conduct designed by the ILO Four Fundamental Freedoms principles. This certification guarantees safe working conditions, fair wages, reasonable working hours, and the right to unionize. Girlfriend Collective is definitely NOT one of the brands that use sweatshops.
The workers are also provided with benefits like free catered lunches, health checkups every six months, and health insurance. Nothing can be more ethical than such a disciplined and compassionate approach.
Is Girlfriend Collective's Animal Welfare Policies
Girlfriend Collective is an activewear brand that uses synthetic-based recycled materials like rPET and ECONYL® in their entire collection. Since these fabrics are made from waste like single-use plastic bottles and abandoned fishing nets, there's no chance of incorporating any type of animal-based products. Therefore, it is a completely vegan brand.
Is Girlfriend Collective Sustainable?
Yes, Girlfriend Collective is sustainable. This brand has become a darling for the activewear community with a sustainable mindset. They're like "the earth's number one fan," and being eco-friendly is their top priority.
Recycled materials like rPET and ECONYL are the core materials used for producing every GC piece. These materials are made by transforming used plastic bottles and abandoned fishing nets into regenerative yarn. Recycled synthetic yarns are not only perfect to bear the rigors of an active lifestyle but also help unclog the oceans and landfills. Modal and organic cotton are two other fabrics used in some of GC's products, but these materials are eco-friendly as well. A win-win for us and the planet!
In addition, OEKO-TEX-certified eco-friendly dyes are used in its entire collection, and Girlfriend Collective also treats the wastewater generated. To further reduce its carbon emissions, finished products are consolidated in a warehouse near its main factory in Vietnam instead of shipping them back to the U.S.
And if you feel they're not doing enough, take this— They have a ReGirlfriend program built for circularity. Through this initiative, they take back your used and worn-out Girlfriend Collective pieces only to upcycle them into new ones. While the brand is fairly transparent in its operations, it doesn't have any clear goals or science-based targets for further improvements. However, with all the efforts toward sustainability, it can be expected that GC will soon come out with future plans.
Is Girlfriend Collective Fast Fashion?
No, Girlfriend Collective is not a fast fashion brand. It is, in fact, a slow-fashion athleisure label that was brought to life with the goal of combating the negative image of the fashion world. Each GC piece is carefully designed with a minimalist approach by incorporating classic designs that will make you look chic all year round. The focus has always been to create activewear that can sustain the wear and tear of an active lifestyle while you remain comfortable and feel luxurious.
In addition, their business model is built around the concept of reducing carbon footprint by diverting plastic waste from landfills and transforming them into something super awesome and fresh. Plus, production takes place in small batches to ensure minimal waste. Doesn't sound fast fashion to me!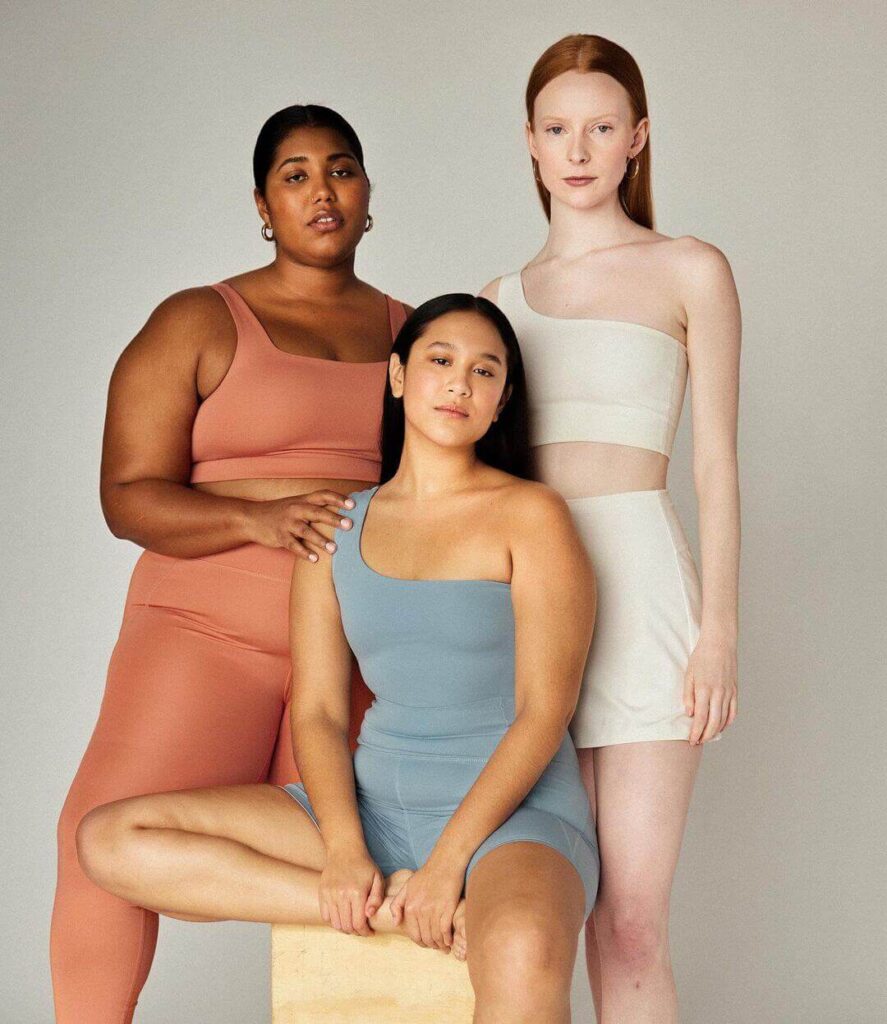 Is Girlfriend Collective Legit?
Yes, Girlfriend Collective is absolutely legit. Their entire collection is well-made with high-quality recycled polyester, which is extremely soft, comfortable, and durable. Girlfriend Collective falls under the affordable premium price range category for activewear, but customers are happy to incur the cost for the incredible quality that this brand offers.
While there are some reviews indicating late deliveries and terrible customer service. But then again, small mishaps are bound to happen when you run a big business. Complaints were also raised regarding the support quality of their sports bra. Nevertheless, it will be great if Girlfriend Collective takes notice of these faults and fix things up to serve better.
Some of the Best Sustainable Alternatives Similar to Girlfriend Collective
While Girlfriend Collective checks all points of being a planet-friendly brand with offering some best deals at the moment, it is always a good idea to have more brand options that operate under the same ideology. Tentree, Allbirds, Threads 4 Thought, and Outdoor Voices are some other thoughtful brands that you can definitely consider for quality activewear.
1. Tentree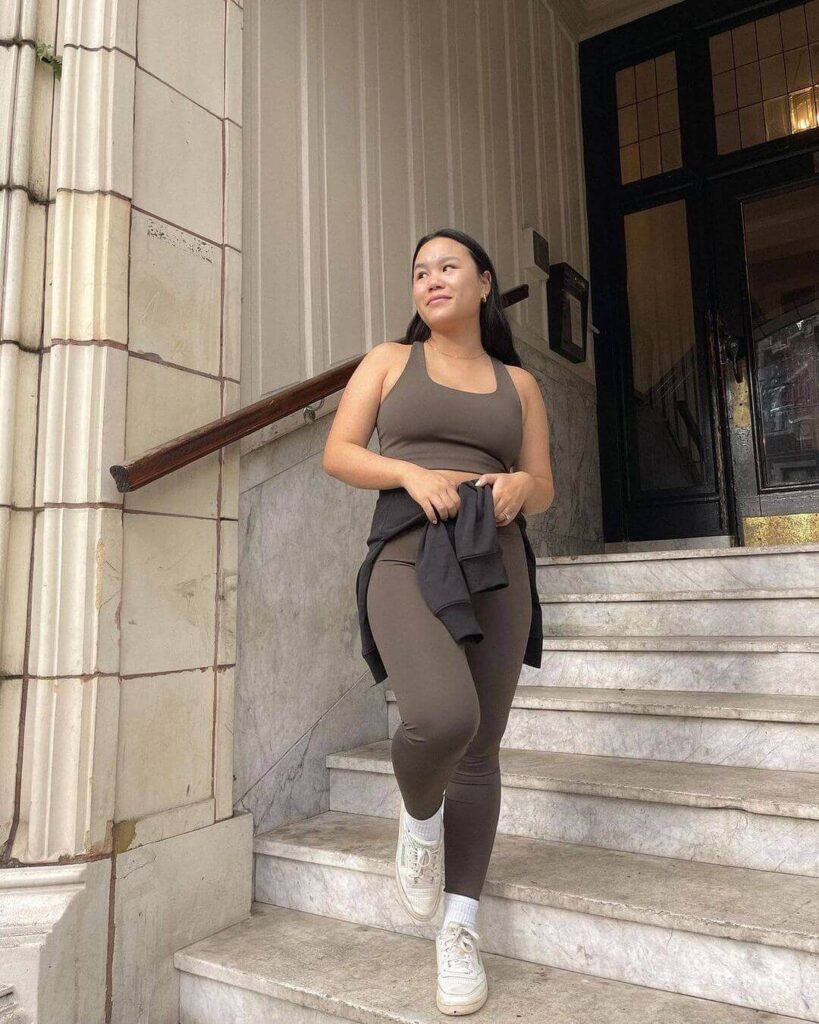 Tentree is a super-sustainable clothing brand with an amazing activewear collection. Based in Canada, this brand plants ten trees for every purchase you make (some serious dedication!). The B Corp certified company observes a transparent approach and has mapped its operations to assure you of a conscious shopping experience. So far, the brand has planted 91,662,817 trees and aims to raise this number up to 1 billion by 2030. Tentree is also Climate Neutral certified, uses responsibly sourced materials, and ships its products in responsible packaging that is 100% recyclable.
2. Allbirds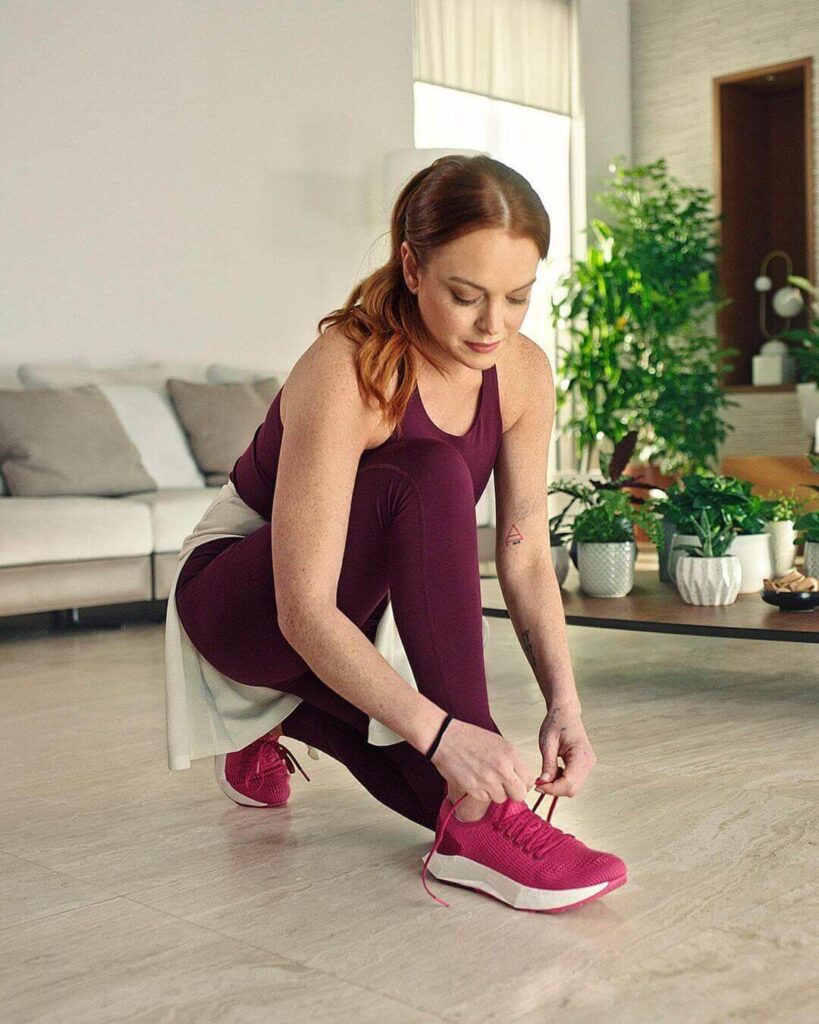 Allbirds is here to up your shoe game with a wide range of everyday sneakers, running shoes, slip-ons, and so much more. However, you cannot miss its activewear range made using renewable and organic materials in timeless designs and a sophisticated color palette. From leggings and shorts to tees and sweatpants, Allbirds dresses you up from head to toe in sustainability. The B Corp brand works vigorously to reduce its carbon footprint and is committed to concrete changes by 2025.
3. Threads 4 Thought
Threads 4 Thought definitely had to make it to the list for being so thoughtful with its operations. The brand has been advocating sustainability and maintaining transparency since its very start. Its activewear range is a treat to the eyes and perfectly fits your curves, making you feel confident and a good workout-ready. Sustainable, ethical, and impactful— Threads 4 Thought's pieces are designed in Los Angeles, after which they're produced in fair trade factories across the globe. Also, all their products are CO2 neutral and shipped in recycled packaging.
4. Outdoor Voices
Crushing over Outdoor Voices' collection because why not? These athletic pieces are here to get you through everything, be it dog jogs or dodgeball, gym-life or, well, lounge-life. And their unisex fits are your perfect excuse to steal your partner's sweatshirt! Outdoor Voices is committed to sustainability and protecting the playground. Hence, their outfits are built for a lifetime of use by incorporating sustainably sourced innovative materials.
Final Thoughts…
Girlfriend Collective practices what it preaches. And this brand definitely deserves to be on your sustainable athletic wear list for being conscious in all its operations. Plus, their outfits are super comfortable and breathable despite being made from synthetics. So, you're in for a bargain. While it would be best to ditch synthetic clothing altogether for a truly eco-friendly lifestyle, it can't be denied that it would take years of innovation. So until then, let GC be your athleisure BFF. And since there's room for betterment, we are optimistic that GC will fix all the loopholes in the near future.