Disclosure:
Our editors handpick top-rated brands, vetted through our strict ratings. Purchases via our links may earn us a commission.
Learn more
Fast Fashion is the 'buzzword' that in simple terms means 'Fast to hit the stores' and 'Cheap'. 'On-trend' designs are rapidly picked from catwalks and pop culture converted into clothes in huge volumes at lightening-speed for increased profits, and disposed off after being worn a few times. While trending fashion at an affordable price feels like a dream come true, the horrors behind every fast fashion brand are a series of dreadful practices that impact both the workforce and the environment. A story for another time maybe!
Japan is one such country that has given birth to some major fast fashion brands that have flourished greatly over time, and successfully operate with stores all over South Asia and abroad as well. 'Look Rich But Shop Cheap' is the mission of Japanese fast fashion brands. A savior for the high-fashion Japanese youth.
Japanese Fast Fashion Brands to Avoid
Aesthetics of Japanese Fast Fashion Brands
The clothing aesthetics of the Japanese fast fashion brands differ a great deal from the designs that do really well in Europe and the U.S. market. While International fast fashion brands like GAP and Zara are quite a hit amongst the Japanese populace, they otherwise very much like to stick to Japanese clothing brands.
Alternatively, second-hand clothing brands are still prevalent in Japan. While brands that stick to the fast fashion business model will forever remain a controversial topic, just think who wouldn't enjoy getting their hands on fresh, in-trend clothes at the same price as preloved clothing?
Not from Japan?
You may want to steer clear of these Fast Fashion Brands from other countries:
5 Top Fast Fashion Brands from Japan to Avoid in 2023
To navigate you through the world of popular Japanese fast fashion brands, we've compiled a list that includes brands like Uniqlo, GU, Shimamura, WEGO, and HONEYS. From the latest fashion to classic designs, these brands have got it all. Though we are sure of 'that' strong temptation, we urge you to control it and think about the negative impact of the fast fashion industry on the planet and support sustainable clothing instead.
1. UNIQLO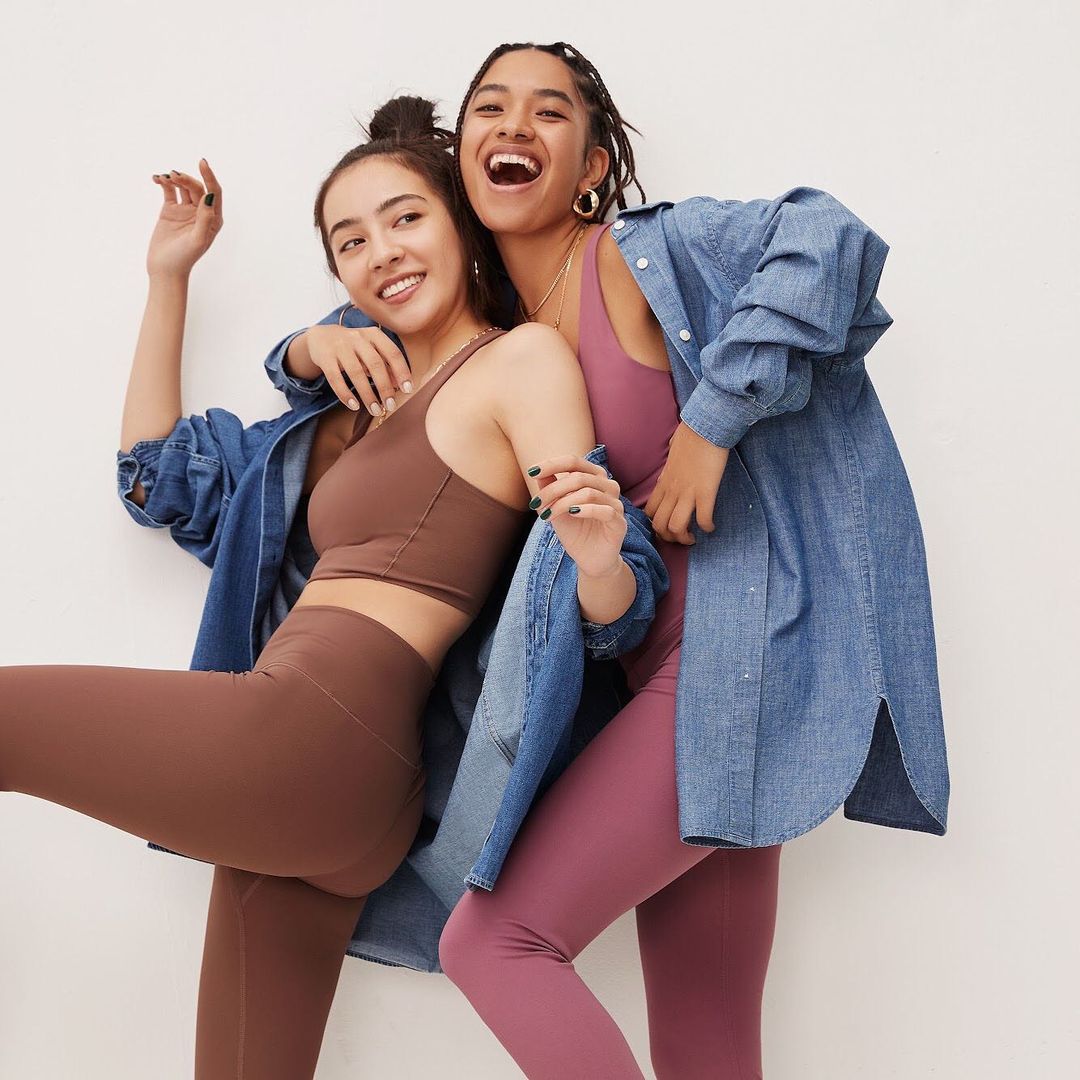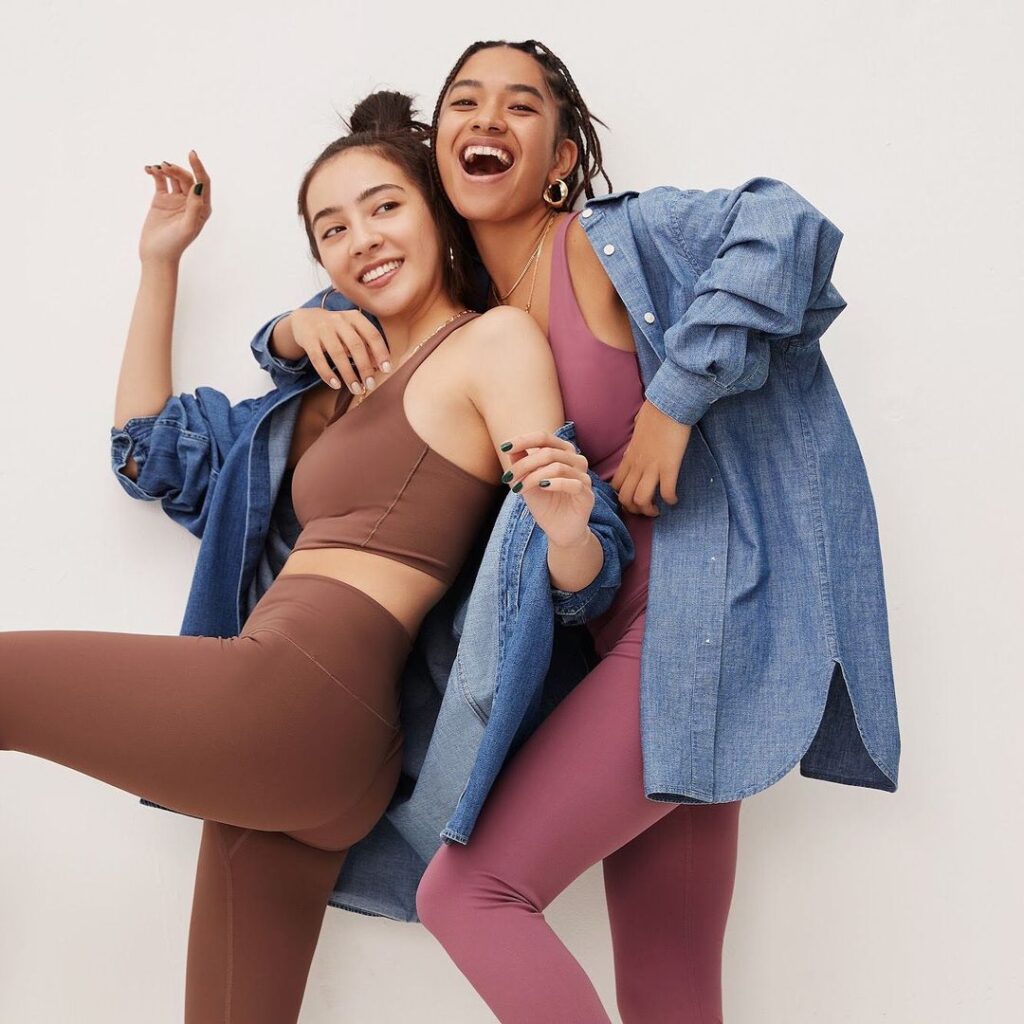 Place of origin: Ube, Yamaguchi, Japan
Founders: Tadashi Yanai
Unique features / USP: Unique high fashion
Celebrity Endorsements & Collaborations: Roger Federer, Ashley Park, Orlando Bloom, Darren Criss, Music Superstar Pharrell, and many more
Price Range: $19 -$349.
Founded in 1949, UNIQLO is the mogul of Japanese fast fashion brands! The Japanese everyday wear designer and retailer owns 800+ stores in Japan and 900+ stores abroad in other Asian countries, Europe, and the USA. The brand is an immediate hit with the international audience, as its products are primarily simple and everyday go-to designs that are always in trend and seasonal. What's better? They're so economical.
UNIQLO's offerings include men's and womenswear, activewear, infants & kids wear, office wear, etc. UNIQLO doesn't hold flashy, trendy clothes; instead, more direct and reasonable items for multiple uses. In addition, weekends are often a time for Sale, so if you want to shop at an even lower cost, shop on a Saturday or Sunday to get the best prices!
2. GU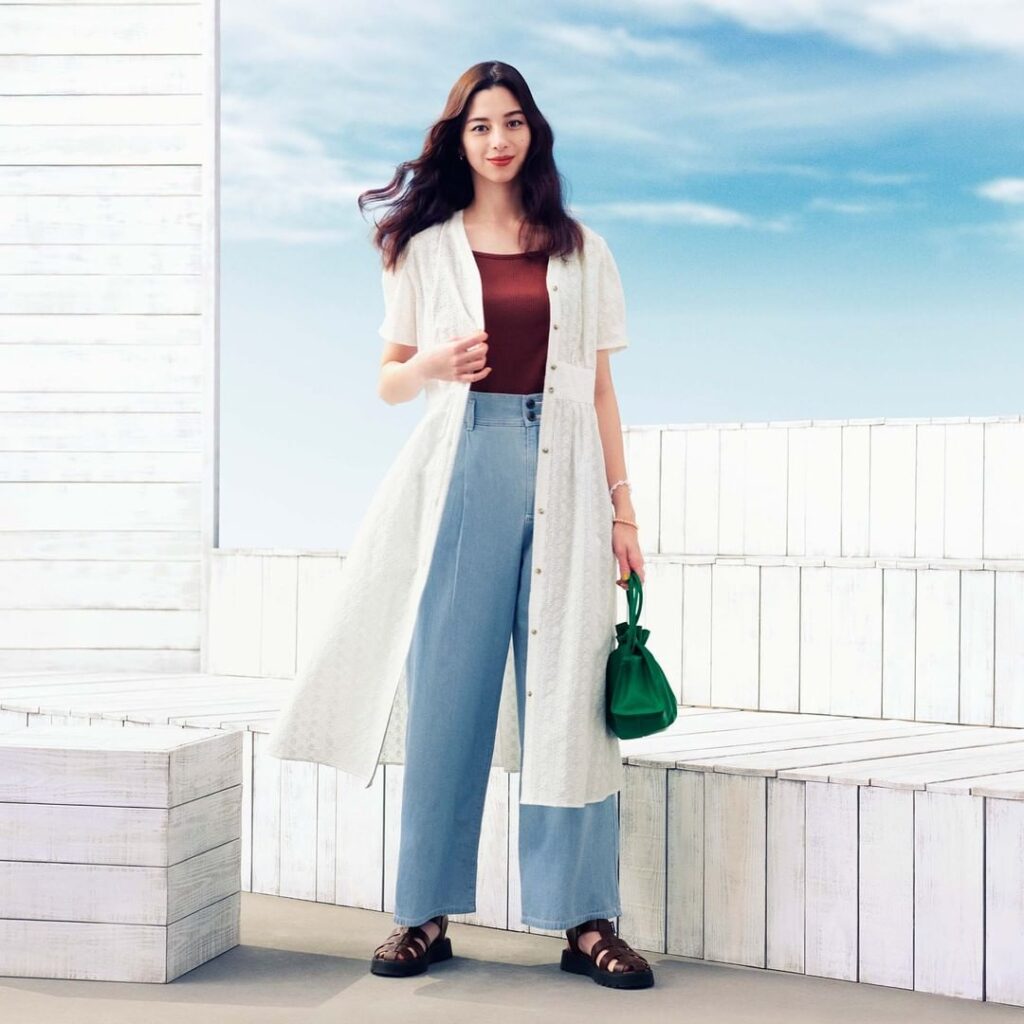 Place of Origin: Minato, Tokyo, Japan
Founders: Owned by UNIQLO, The CEO Of GU is Osamu Yunoki
Unique features: Gender- Neutral, amazing quality clothing at discounted prices throughout
Price Range: $9 -$189
Founded in 1973, GU is a popular Japanese clothing brand that operates as a discounted casual wear designer and retailer. Wholly owned by the fast fashion retail giant UNIQLO, GU means Freedom in Japanese. In this case, 'Freedom from High Prices.' Although the brand's clothing line can be worn by women and men of all ages, GU mainly targets teenagers and men and women in their 30s.
GU operates in designing and manufacturing minimalist and casual wardrobe essentials, which are the base of Japanese fashion. What's so different about it? The brand's clothing line is Gender-Neutral and is available throughout all seasons at affordable prices. After all, isn't affordability the whole reason for GU'S launch? Currently, the brand has over 420 stores located mainly around Japan, South Korea, China, Taiwan, and Hong Kong. Our top favorites from GU have to be their Ribbed Turtleneck Sweaters, Long Cardigans, Side Gore Boots, and Denims.
3. Shimamura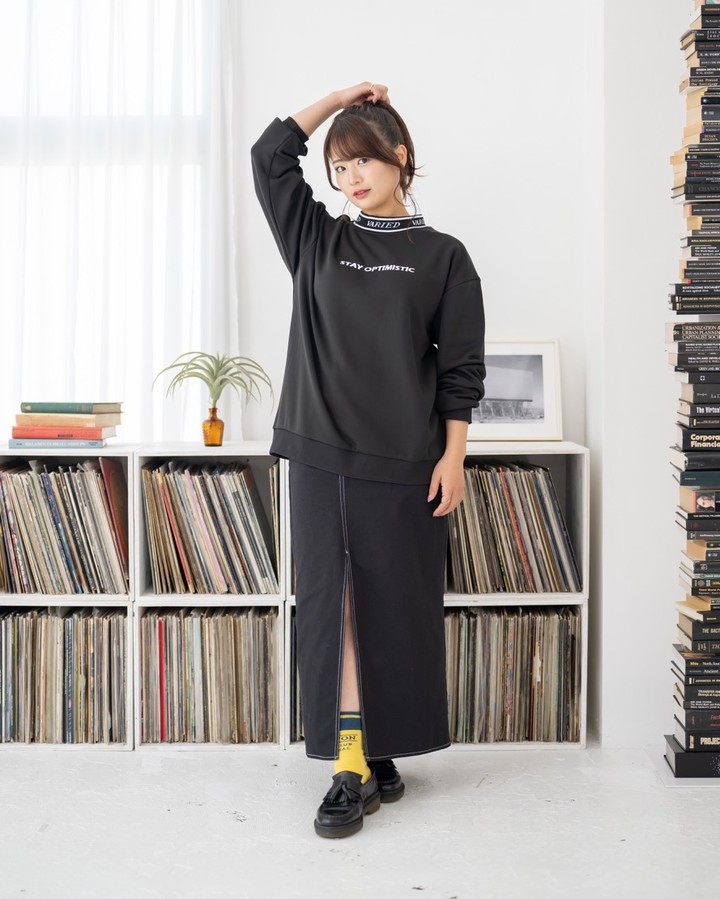 Place of Origin: Saitama, Japan
Founders: Nobutoshi Shimamura
Unique features: Good quality casual wear primarily for women at affordable prices. Also deals in Men's and Children's clothing
Price: $8 – $29
Shimamura, launched in 1953, is ranked as the 2nd largest fashion retailer brand in Japan, catering to Japanese fashion. With over 2000 stores across Asia, the brand is a pioneer of always-in-fashion everyday clothing staples, majorly for women. Initially considered a "cheap and low-quality" clothing brand, Shimamura got a face-lift and made a massive leap in the last decade by introducing comfortable and trendy clothing basics for women, men and children at affordable prices.
A clothing brand as huge as this, Shimamura takes its CSR policies quite seriously and has been working tirelessly towards manufacturing under more ethical and sustainable processes. A best-selling brand in Japan, Shimamura is a one-stop solution for your entire family. Apart from everyday clothing, the brand's categories also include formal ball gowns, socks, suits underwear, accessories, etc. This Japanese clothing brand's core mantra is looking stylish without spending a fortune. Plus, there's always a sale section in their store for cheaper options, and their year-end sale is all about heavy discounts across all old stock.
4. WEGO
Place of Origin: Osaka, Japan
Founder: Masashi Nakazawa
Unique features: Everyday casual clothing inspired by the street styles of the fashion districts of Japan
Collaborations: Six Stones, Disney, K-Pop group Red Velvet, and Kappa amongst others
Price Range: $15 -$65
With over 150 stores around Japan, WEGO is another fast fashion clothing brand that is making its mark in the affordable high fashion world of Japanese fashion. Initially started as a secondhand clothing store in 1994, WEGO soon climbed the stairs to exponential success and started manufacturing its own designs. The brand focuses mainly on catering to teenagers and younger women interested in always keeping up with the dynamics of fast fashion.
Immensely popular among the youth of Japan, WEGO's designs are a blend of trending street styles picked across the streets of the most fashionable districts of Tokyo, like Shibuya, Harajuku, and other iconic youth-driven places of Japan. An excellent way to stay in vogue and a hit amongst the youth of Japan, WEGO is all about high fashion at super affordable prices. Our recommendations? Well, We absolutely adore their current autumn-winter collection, it's perfect for keeping you cozy for the slight chill in the air, and we promise you'd look oh-so kawaii!
5. HONEYS
Place of Origin: Fukushima, Japan
Chairman: Yoshihisa Ejiri
Unique features: Cute and always in trend women's clothing at low prices. Houses multiple self-brands for category and price distribution
Price Range: $12 – $31
Founded in 1986, Honeys is one of the top shots among fast fashion brands in the Japanese fashion world. Owned by Honeys Holding Co., the brand deals in casual, trendy, and Kirei womenswear at amazingly low prices.
With over 8oo stores in Japan and 180+ in Mainland China, Honeys is already a huge name amongst Japan's affordable, fast fashion brands. The brand has several clothing lines under its belt, namely Cinema, Honeys Club, Colza, Glacier, etc. Honeys apparel can be bought online through the biggest e-commerce retailer in Japan, Rakuten. But in case you feel like hitting the streets for your shopping spree, you can easily find Honeys stores located in AEON group shopping malls.
Best Alternatives to Fast Fashion Brands in Japan
1. Casa Fline
Casa Fline is a sustainable Japanese clothing brand located in Shibuya, Kanagawa. The brand offers a wide range of womenswear in slow-fashion urban designs, made with 100% locally grown and sustainably sourced raw materials. The brand's clothing is eco-friendly and recyclable and their products are designed with a philosophy based on the founder's beliefs and environmental concerns.
2. Takarajima Senkou
Founded in 2001, Takarajima Senkou is a conscious clothing company that runs a medium-sized dying workshop in the countryside of Fukuoka. The label specializes in creating designs that are simple, gender-free and ageless. Furthermore, it only uses traditional hand-dyeing methods and kind-on-the-earth dyes made from botanicals. While it houses its own collection, it also takes orders from various garments and other brands to dye their product.
3. People Tree
People Tree was established in the year 1991 in Tokyo and soon became famous for being a fairtrade fashion pioneer in Japan as well as overseas. The brand offers a beautiful collection of womenswear and is committed to manufacturing its products in accordance with ethical and ecological standards, as well as helping its local partners in developing countries achieve economic independence.
4. Nagie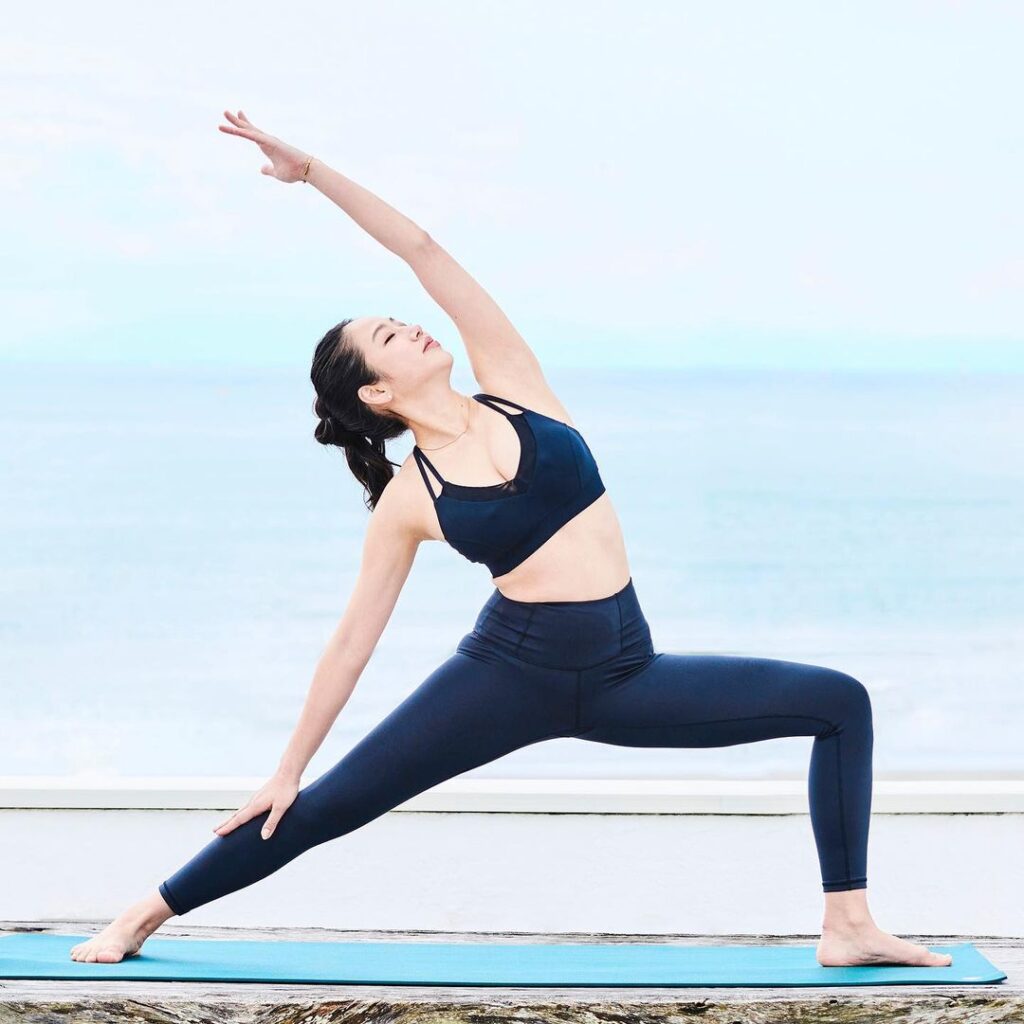 Nagie is yet another sustainable Japanese clothing brand that focuses on transforming recycled materials into functional and comfortable clothing. The brand's collection is intentionally kept limited as they believe their designs are versatile and can be re-worn in multiple ways, each time giving you a fresh and classic look.
5. Ashuhari
Based in Tokyo, Ashuhari has sustainability practices at its core and creates clothing that melds into everyday life in the most natural and unpretentious way that resonates with women of all ages. Slow and ethical approach are incorporated into their concept of using mostly sustainable organic materials in their collection.
Conclusion
The cost of living in Japan is quite expensive. For Japan's apparel industry, even a couple of decades back the buying and selling of secondhand clothing was the way to go. With the costs of living being too high to bear for teenagers and young professionals, brands like UNIQLO, GU, Shimamura, WEGO, and Honeys, turn out to be their salvation. However, conscious efforts need to be done so as to turn the tide in favor of slow fashion; in other words, sustainable and ethical clothing from the Kawaii clothing options.