Disclosure:
Our editors handpick top-rated brands, vetted through our strict ratings. Purchases via our links may earn us a commission.
Learn more
Yes, Faherty is sustainable. The company has been capturing the hearts of consumers with its casual eco-conscious clothing line that has all the easy-going and beachy vibes. However, while it uses sustainable materials in crafting its merchandise, it doesn't have any wastewater treatment plans or CO2 reduction goals. So, it's true that the label has a thoughtful mindset, but it can definitely strive to do better.
Through tactful marketing, this US-based brand has cultivated a strong community who have a shared love for its products. It has utilized the power of social media platforms to connect with its audience on a more personal level. But is it working at the same pace to prove rightful to its workers? Is Faherty ethical? Let's explore the label from the ground up!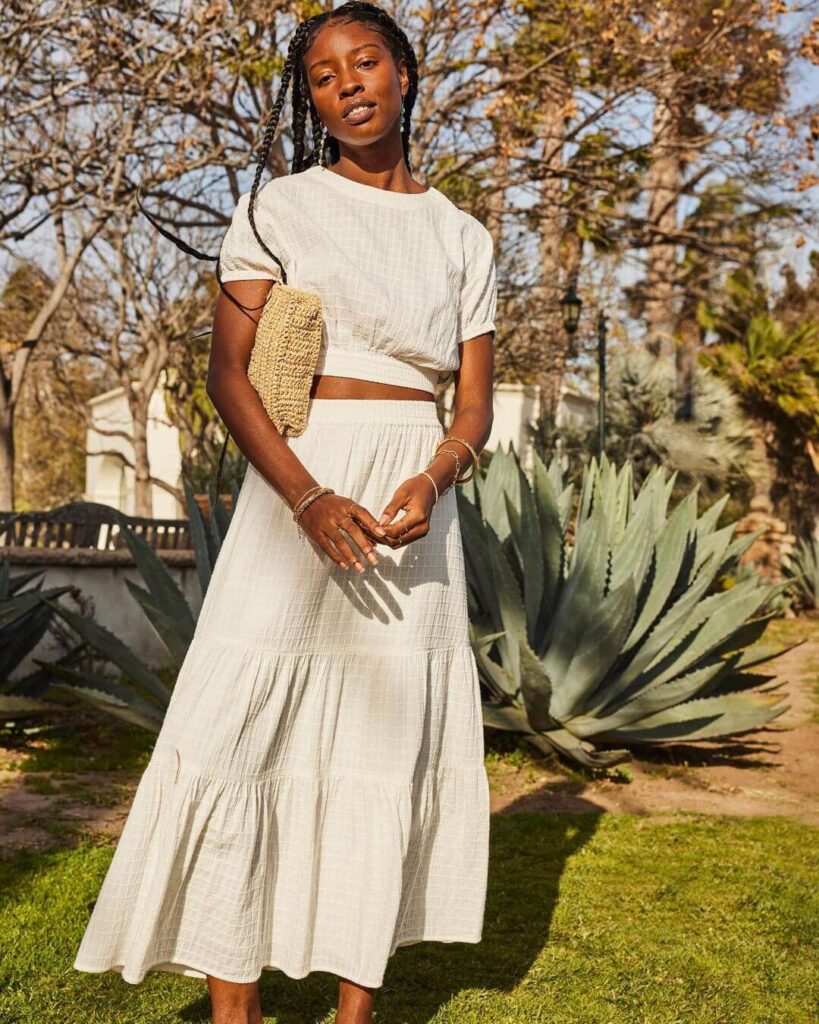 What is Faherty?
Faherty is a popular apparel and lifestyle brand that offers a wide range of casual and well-crafted clothing for men, women and kids. Made from a proportion of sustainable materials, its collection exudes a laid-back vibe and is designed in a way that captures the spirit of beach living. The product range covers various categories, including T-shirts, sweaters, bottoms, swimwear, outerwear, dresses, accessories, and so much more. The label makes it a point to incorporate unique patterns, prints, and textures into their designs, giving them a distinctive cool aesthetic.
The family-led company positions itself in a mid to premium range category with a higher price point. While it has a broad customer base, it primarily targets millennials who appreciate superior-quality merchandise for an elevated lifestyle. Its clothing and home goods appeal to individuals who value comfort without sacrificing style and seek versatile pieces that can be used in various settings. The pricing strategy reflects the brand's commitment to using the finest materials and attention to detail in every style.
Faherty introduces seasonal collections and often releases new designs to align with changing trends and customer preferences. However, it also focuses on timeless styles, meaning that some of its signature pieces remain consistent throughout the year. In 2022, the company successfully garnered global net sales of $18 million.
When Was Faherty Founded?
Faherty Brand was founded in 2013 by twin brothers Mike and Alex Faherty in New York City, United States. It was launched with the vision of creating high-quality clothing inspired by surf culture and the relaxed lifestyle of coastal communities.
The Faherty brothers drew experience from their backgrounds in the fashion and private equity industries, where Mike had previously worked as a designer for Ralph Lauren and Alex at a Wall Street equity firm Cerberus. Together, they sought to build a brand that combined their passion for quality craftsmanship in comfort clothing to enjoy life's greatest moments.
In its earliest year, the label only offered swim trunks, but soon expanded its product line into apparel for men and women, swimwear, accessories, and even home goods. It quickly gained recognition for its surf-inspired clothing crafted from ethically sourced and eco-friendly materials. Its signature focus on sustainability and a commitment to clean manufacturing practices further helped to stand out in the crowded fashion market.
As the company grew, it garnered a dedicated customer base and a strong presence both online and through its brick-and-mortar stores. It has expanded its retail footprint to several locations across the United States as well. Currently, Alex Faherty acts as the company's Chief Executive Officer, with Mike Faherty as the Chief Creative Officer and Kerry Docherty (Alex's wife) as the Chief Impact Officer.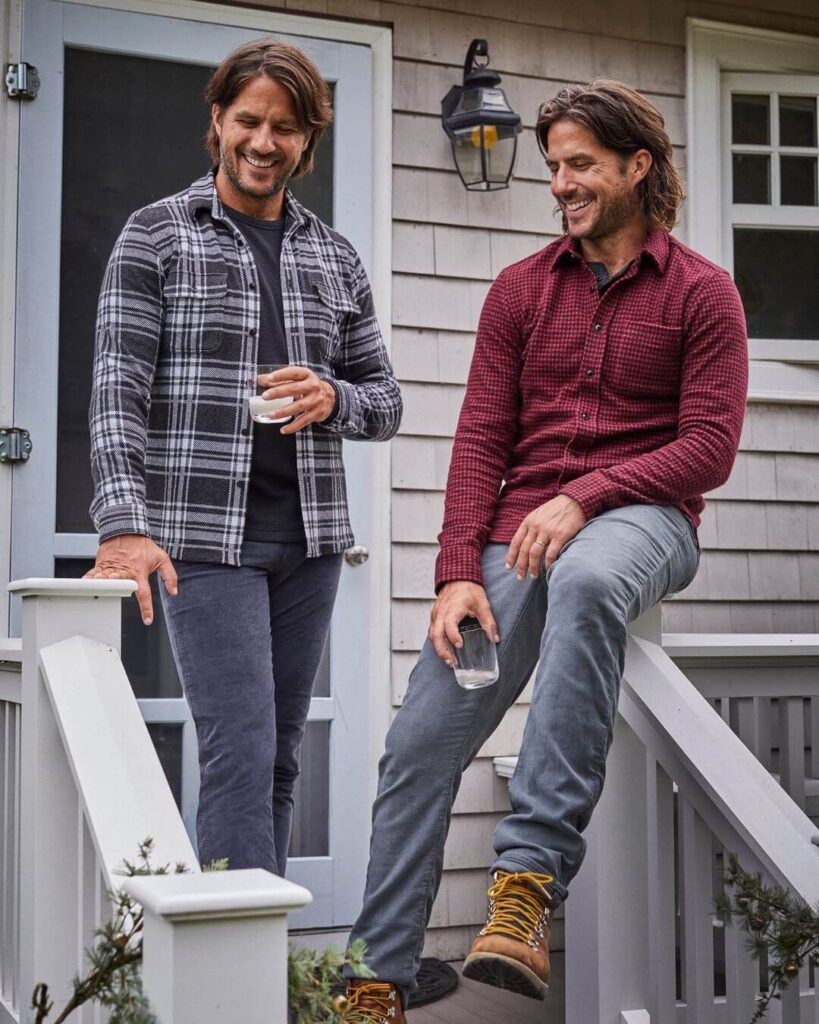 Where is Faherty Located?
Faherty is headquartered in Greater New York Area, New York City, East Coast, United States. This is where the brand's administrative, design, and creative teams are based, overseeing various aspects of the company's operations. It has 47 directly operated flagship stores in New York City, Boston, New Jersey, Los Angeles, and other parts of the US.
Where Does Faherty Ship From?
All orders are shipped within 1-2 business days from its warehouse located close to the HQ. The brand has partnered with FedEx as its shipping carrier, and applicable rates are calculated on the shipping page during checkout. Product availability displayed on its website accurately reflects both in-store and fulfilment centre inventory. But, some specialty items are only available at particular store locations.
Is Faherty Ethical?
It is hard to comment on Faherty Brand's dedication to being ethical. This is for the fact that it doesn't disclose its factory locations or give you a peek at its supply chain. While the label does mention it has a Code of Conduct that all of its vendors are required to sign, it doesn't publicly share the issues addressed in these guidelines.
The company claims to stand by the values of human and labor rights and conducts annual audits to ensure ethical standards are maintained. However, it doesn't provide any information starting from the sourcing of raw materials in the first stage of manufacturing to finished goods at the final stage of production. So, there's no way of knowing whether the label is working with suppliers located in the US or outsourcing the production process abroad. This gives rise to questions such as what are the company's factory conditions or are the workers even receiving fair living wages?
Faherty states that their manufacturing partners share their values regarding the ethical treatment of workers and adherence to labor laws. But without any evidence, it becomes difficult to verify if the label truly meets the desired standards of ethical manufacturing, fair wages, and safe working environments. All in all, the brand definitely needs to work on being more transparent.
The good news is it collaborates with Native indigenous designers, employs Native interns, hosts a Native Board member, and works with several Native-led non-profit organizations to uplift these communities and restore their rightful place. It has also partnered with A Second U Foundation, which offers employment opportunities to formerly incarcerated women and men in the personal training industry.
Does Faherty Use Child Labor?
As already mentioned, this United States-based casual apparel retailer neither reveals its factory details nor its Code of Conduct. So it's hard to determine what are its actions against child labor. It's a relief that, to date, there have been no widely reported instances or allegations of the label benefitting from child labor in its supply chain. However, the lack of transparency does make it challenging to come up with definitive statements about its labor practices.
Faherty's Animal Welfare Policies
Faherty Brand's animal welfare policies are quite poor. In fact, they didn't even bother to address this concern. While its product line doesn't use animal-based materials such as angora, fur, or exotic animal skin and hair, it does use leather, cashmere, and wool, both virgin and recycled variants. The brand states that it ethically sources all of its raw materials, but it would really make sense if it doesn't keep the deets under wraps.
It is crucial to keep in mind that animals raised for the fashion industry undergo brutal handling, so while recycled animal-derived textiles are a good option to limit animal agriculture, the virgin counterparts should be avoided at all costs.
Is Faherty Sustainable?
Yes, Faherty can be safely tagged as a sustainable brand. Since it started operations, the brand has shown an incredible level of commitment to sustainability and incorporates various practices and initiatives to promote environmental responsibility.
The beach-worthy apparel label uses a wide range of eco-friendly materials in its collections. This includes recycled materials and sustainable fibers like organic cotton, Tencel Lyocell, Tencel EcoVero, linen, and hemp. By incorporating these green materials, the brand aims to reduce its environmental impact and incorporate more responsible production processes. It is a proud member of The Textile Exchange and BLUESIGN, ensuring it chooses partners that offer traceable raw materials, sustainably-minded fabrics and low-impact dyes.
Furthermore, the United States-based casual apparel retailer focuses on creating durable eco-conscious clothing that is designed to last. It uses industry tools introduced by the Sustainable Apparel Coalition and Textile Exchange to improve its uptake of preferred materials. In order to negate its retail stores' and HQ's energy usage, it purchases Renewable Energy Certificates (RECs). Plus, since 2021, it has converted 85% of packaging bags to Vela bags which are made from biodegradable FSC-certified and recyclable paper.
To top it all, the company actively participates in sustainable community initiatives. It has partnered with organizations such as the Surfrider Foundation to conserve the world's oceans. Also, it is a member of the 1% for the Planet program and donates 1% of its annual swim sales to worthy environmental organizations.
Is Faherty Fast Fashion?
No, Faherty does not follow the fast fashion business model. It offers timeless styles and encourages consumers to invest in premium-quality, long-lasting pieces rather than subscribing to fast fashion trends. While the brand does introduce seasonal styles, most of its collection consists of pieces that you can wear again and again. This approach promotes a more sustainable and less wasteful perspective to fashion consumption.
Additionally, its product line is fairly expensive, catering to a certain section of people who value quality over quantity. Also, it doesn't launch huge volumes of the latest styles every week, which is a common practice that fast fashion companies swear by. The only doubtful aspect about the brand is it remains shut about its production process and manufacturing units. But hopefully, it will work towards sorting this out in the near future.
Is Faherty Legit?
Yes, Faherty is absolutely legit. It has an impressive clientele where everyone who shopped from the label has complimented it for the beautiful quality of its clothing, blankets and other products. Consumers have even mentioned that there is hardly any downside in buying their merchandise.
Some of the Best Sustainable Brands Similar to Faherty
Sustainable brands such as Miik, Eileen Fisher, ReCreate, and Kampos stand as a testament to the idea that fashion can be a force for positive change. These labels are pushing boundaries and inspiring others to reimagine the possibilities of sustainable style by standing for responsible production practices.
1. ABLE
ABLE is a Nashvilled-based sustainable clothing brand that specializes in creating timeless wardrobe pieces like tops and dresses, denims and jackets, shoes and handbags, and so much more, that comes with a lifetime guarantee. Yes, they are such superior-quality, well-made items! And guess what? They even offer free virtual fashion advice to improve your shopping experience. ABLE uses low-impact materials that are kind to the environment and can be worn for many years. But what really sets them apart is they are passionate about providing employment opportunities to underprivileged women. Today, 96% of their Nashville staff are women, and they have formed long-term partnerships with several female-owned and operated ethical factories worldwide.
2. Miik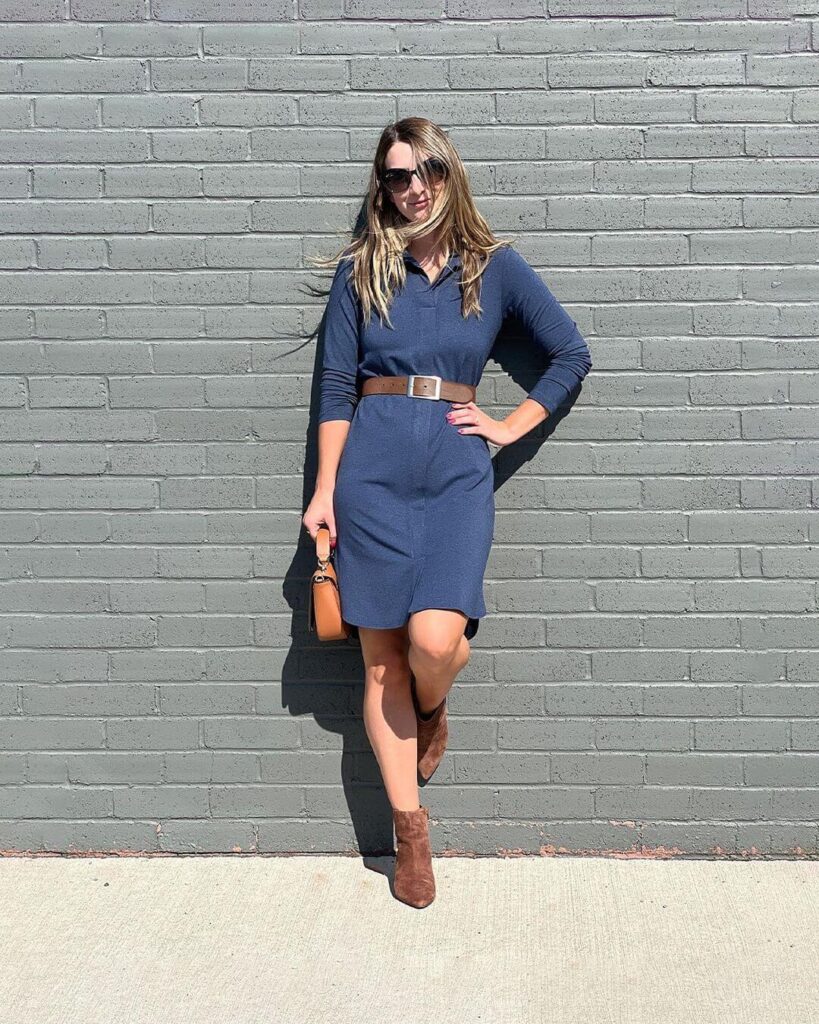 From leggings for workouts to tailored blazers for the workplace, Miik is home to all your everyday clothes and more. The Canadian woman-owned label is proud to create sustainable clothing designed for women by women. To responsibly conduct business, it solely uses kind-on-the-earth fabrics, ethical manufacturing and offers garments with lasting quality. Miik products are proudly made in the label's home ground, where they custom mill and dye their fabrics and cut and sew each piece locally in Toronto.
3. Eileen Fisher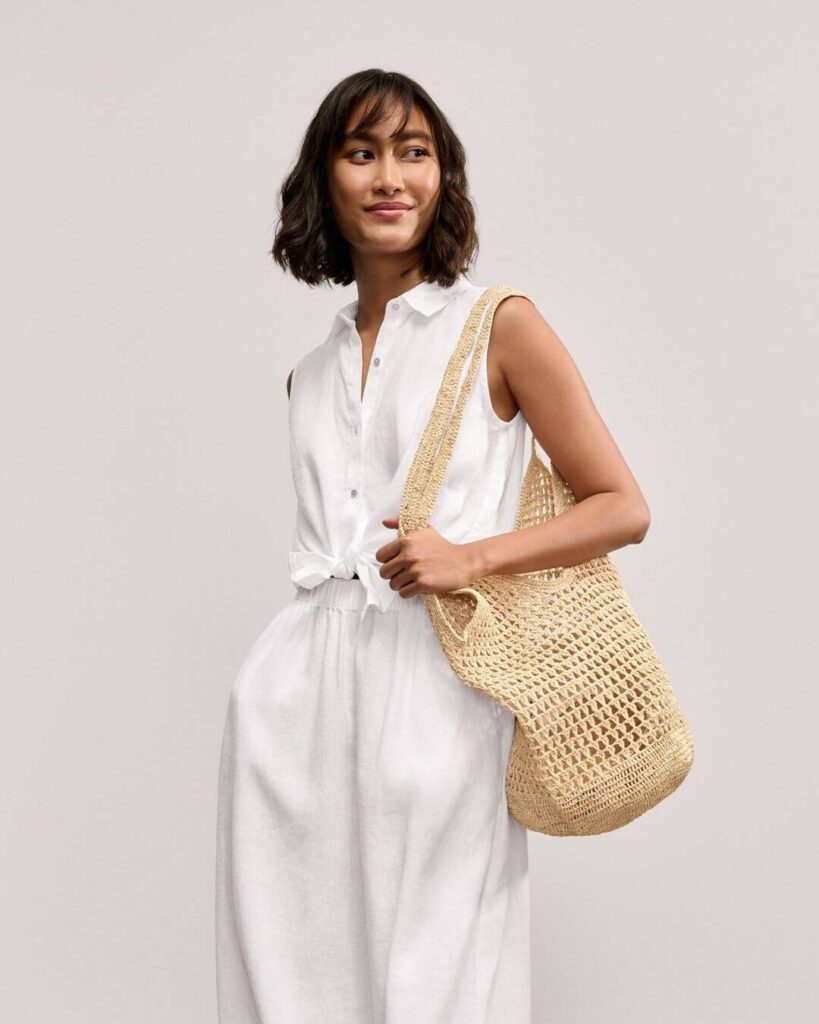 Sustainable luxury designer Eileen Fisher is recognized for her classic and sophisticated designs. The namesake label's product line offers a curated selection of womenswear that radiates minimalist aesthetic, luxurious fabrics and versatile silhouettes. Eileen Fisher takes a holistic approach to sustainability by implementing innovative practices to minimize waste and encourage circularity. Plus, as a B Corporation, the brand works closely with its suppliers and partners to ensure fair labor practices, safe working conditions throughout its supply chain.
4. ReCreate
ReCreate is a boutique streetwear label in New Zealand that offers a range of unique and contemporary clothing for women. Championing the circularity model, every piece is consciously designed to be slow fashion using quality and vegan materials such as organic cotton. The brand was brought to life with the idea to provide fair employment to women belonging to the marginalized community of Dey Tmey, Cambodia. It's rewarding to witness how the brand is transforming lives through its ethically and sustainably crafted clothing line.
5. Kampos
Kampos is redefining beachwear by transforming marine pollutants into sizzling swimsuits, bikinis, trunks, and more. All of its products are 100% Made in Italy under ethical conditions, and the label maintains incredible transparency about its suppliers. With a commitment to sustainability, this B Corporation uses recycled plastic bottles, abandoned fishing nets, or other recycled materials to craft its clothing line. Plus, every design focuses on raising awareness on over-fishing and ocean pollution that is threatening the Mediterranean Sea and our entire planet. The brand is also an official partner of the Coral Conservation Project.
Concluding Thoughts…
Faherty has garnered recognition for its commitment to sustainability by offering timeless eco-friendly clothing and teaming up with various social causes. However, there is a need for the brand to prioritize and improve its ethical practices, particularly in terms of being transparent about its supply chain. Moreover, it also needs to address its animal welfare policies to confirm that no animal was cruelly treated while sourcing raw materials. By starting with just being accountable for its actions, the label can align its sustainability efforts with ethical considerations and strengthen its position as a conscious business.
FAQs
Who owns Faherty clothing?
Faherty clothing is a family-owned fashion company owned by twin brothers Alex and Mike Faherty.
Where is Faherty based?
It is based in New York, United States and has multiple physical stores across the country.
How long has Faherty been in business?
The brand was established in 2013. So it's been ten years since it has been in business.