Disclosure:
Our editors handpick top-rated brands, vetted through our strict ratings. Purchases via our links may earn us a commission.
Learn more
Boo! Spooky season is creeping in, and it's time to get bewitchingly creative! For countless American households, Halloween is an enchanting affair, especially for our little witches and wizards who eagerly await the thrill of dressing up and collecting treats. But amidst the fun and festivities, there's a ghastly concern— the environmental impact of commercialized holiday decors. Fear not, for we've brewed up a cauldron of eco friendly Halloween decorations to transform your home into a bone-chilling spectacle that'll give everyone the hair-raising heebie-jeebies!
From DIY delights to earth-friendly tricks, get ready to dive into the world of eco-friendly Halloween decor ideas that'll charm both young and old alike! It's time to don your eco friendly Halloween costumes and cast a spell of sustainability to turn this spooky season into an eco-treat for all. Trick or Treat— the wickedly cool green way! Let the fun begin!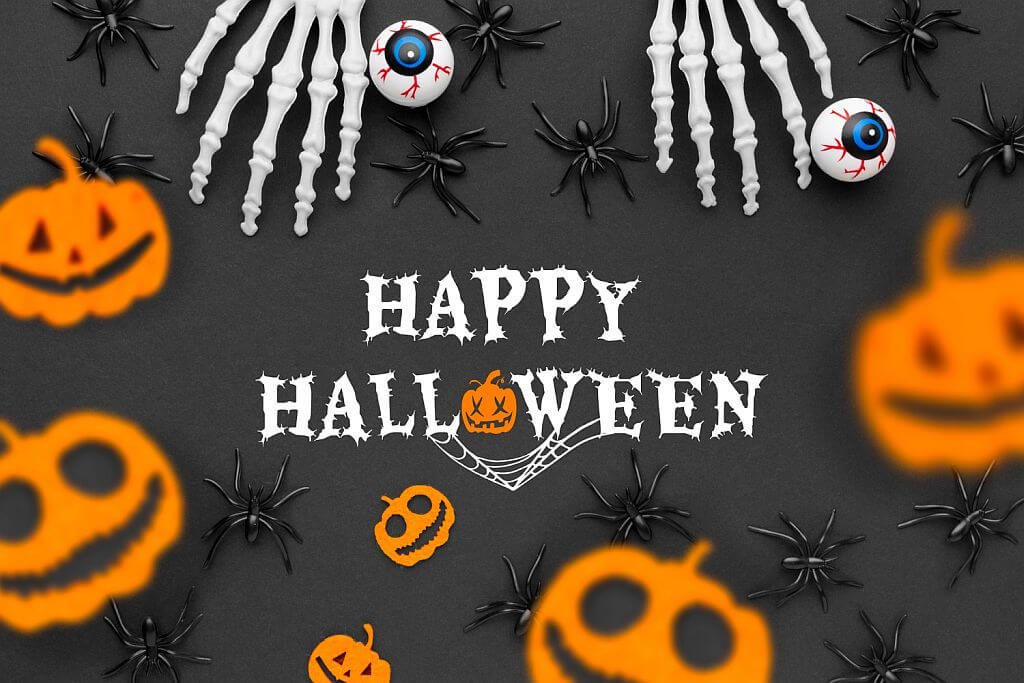 13 Boo-tiful Eco Friendly Halloween Décor Ideas
Every year, retail stores fill their racks with goofy Halloween decor, months before the holiday approaches. While that's a great marketing tactic to tempt customers, most of the time, the products are single-use plastics or disposables. As a result, you can never make the most of them. Plus, these accessories and decorations are non-recyclable and non-biodegradable, which end up creating piles of toxic waste scarring the planet once the season of thrills gets over. Nope! Not cool!
So why not celebrate the holiday the right way? Give your pocket a break and craft your own DIY eco friendly Halloween decorations with materials that you'll easily find lying around your house. Are you ready for some spooky ideas?
1. Pumpkin Jack-O'-lanterns
Pumpkin jack-o'-lanterns are the quintessential part of Halloween. Feel free to style your pumpkin just the way you fancy! You can apply some non-toxic paint for imaginative designs, glam it up with chic gold studs, or opt for the classic carving. Pumpkins rank high as eco friendly Halloween décor. And it just gets better when you harvest them from your pumpkin patch or source them from your nearest farmer's market to reduce transportation emissions. After the spooky season is over, you can compost them or use the insides for whipping up delectable pumpkin pies and roasted seeds ensures a sustainable and scrumptious way to bid farewell to Halloween's harvest delight. Let creativity and sustainability blend with your jack-o'-lanterns.
2. DIY Hanging Ghosts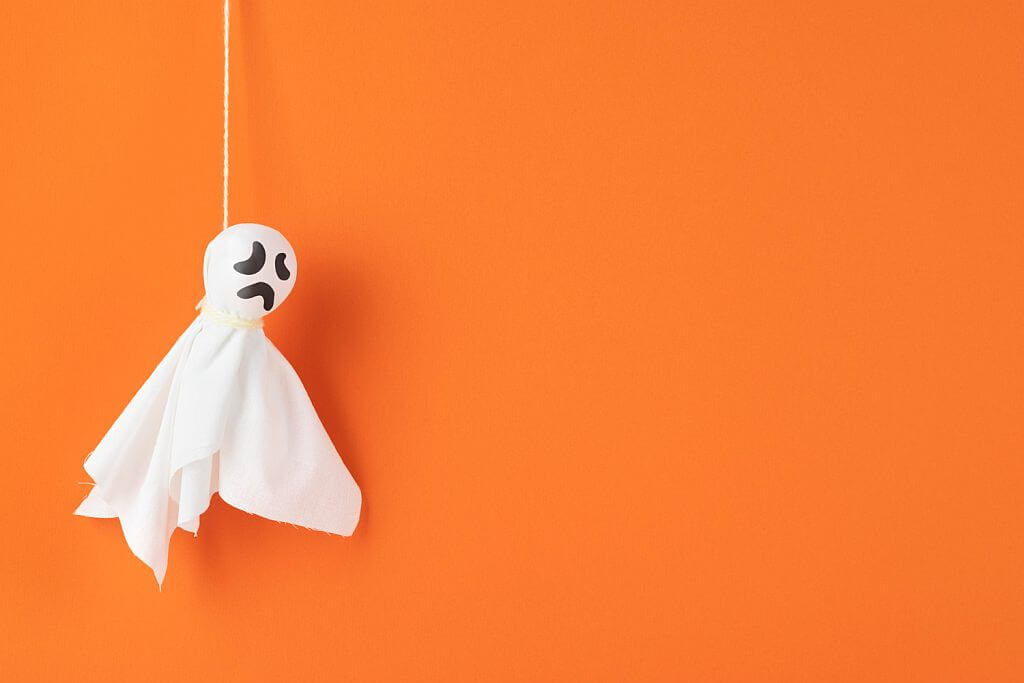 No Halloween is complete without ghosts set up here and there. So time to make good use of those old white sheets or fabric pieces into looming ghosts to enchant your festivities. With a little imagination and some crafting skills, these friendly phantoms will add a ghostly charm to your home without haunting the environment. By repurposing materials, you'll reduce waste and conjure up a sustainable Halloween that's both frightful and delightfully green! So get ready to summon smiles and scares with these ghosts.
3. Spooky Spiders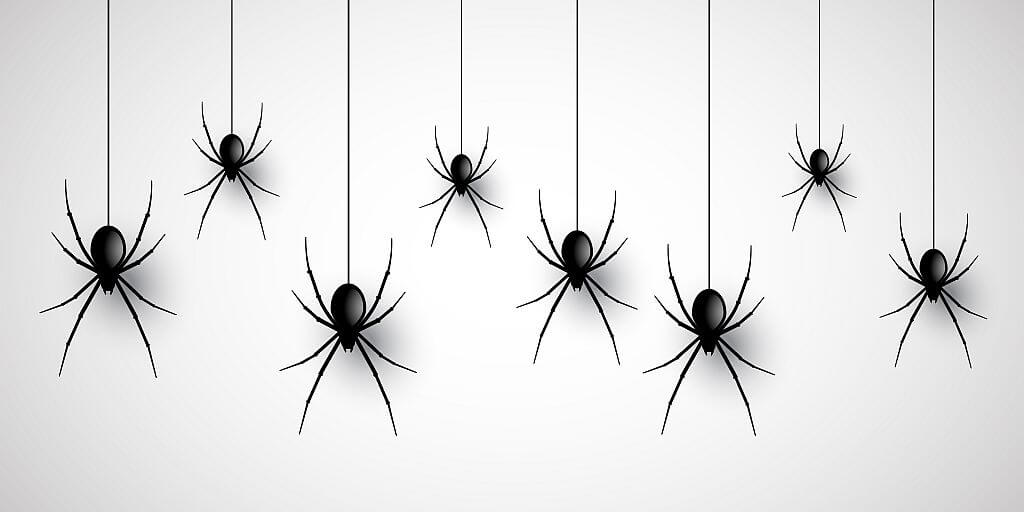 Spiders are spooky creatures in themselves. Therefore, they make the perfect addition to your list of DIY eco friendly Halloween decorations. But instead of buying those commercialized plastic spiders, create your own batch by using simple materials! Grab some yarn, recycled cardboard, and old pipe cleaners, then add a touch of black paint to bring these critters to life. Weave your imagination to spin these DIY decorations that will charm and creep in equal measure. These eco-friendly spiders are a fantastic way to get into the Halloween spirit while reducing your environmental impact.
4. Creepy Cobwebs
Got an old net curtain lying around? Then use it to craft a spider web. Simply cut the lace curtain to create a spider web and hang it up in a dimly lit corner of your room. For a chilling touch, add those DIY spiders! No worries if your net curtain isn't perfect; low lighting sets the eerie mood just right. Feeling crafty? Grab an old white sheet or eco-friendly fabric pen and draw a web pattern for a sheet of spookiness! In case, you don't have something like net fabric scraps, then visit your nearest thrift store; they tend to have such old net pieces.
5. Recycled Lanterns
Upcycling glass jars into whimsical lanterns with eerie faces is a great idea to light up the night. You can transform old jars by painting them with wicked expressions and creating unique recycled lanterns that glow with a haunting charm. It's a fun DIY project that helps the environment while adding a touch of magic to your Halloween celebrations.
6. Floating Toilet Paper Roll Candles
Go creative with ordinary toilet paper rolls and turn them into enchanting floating candles to get all the Harry Potter feels! You can gather empty rolls, wrap them with paper towels and use an eco-friendly adhesive to create the illusion of wax dripping down the sides. Now add a flickering LED tea light inside. Hang them with a string to create a mesmerizing Hogwarts ceiling display. These upcycled wonders will illuminate your haunted house with a ghostly glow, delighting both guests and the environment.
7. Paper Bats
Gather your crafting wings and create a dozen of black paper bats to spook up your decor! Grab some recycled paper or old soft cardboard and cut out bat shapes of all sizes. Now, draw on those batty faces with non-toxic markers. Once done, hang them up with eco-friendly twine or reusable adhesive strips to create a fluttering bat colony around your home. These DIY paper crafts are budget-friendly, planet-friendly, and will make your Halloween celebrations battier than ever!
8. Scary Window Silhouettes
Get crafty with cardboard boxes that were a part of your online order packaging. Cut out shapes like bats, ghosts, and pumpkins in those cardboard pieces and hang them in your windows to create mysterious silhouettes that come to life at night. Take it up a notch by adding a white drape behind the shapes, making your windows the talk of the town! It's a wickedly fun way to incorporate eco-friendly Halloween decorations and spook up your home with creativity.
9. DIY Wreaths
A witchy wreath that's hauntingly beautiful and sustainable? Yes, please! For this DIY project, you can start by rolling ordinary brown grocery bags into the usual round wreath shape. For the perfect eco-touch, opt for natural raffia or jute wreath bases! Now, use toxin-free craft paints to add weird hues. Add 'autumn special' fallen branches, dried leaves, and reusable ribbons for an extra charm in the autumnal wreath. This handmade masterpiece will undoubtedly bewitch your guests and Mother Earth alike!
10. Milk Jug Ghost Lanterns
Milk jugs are an inevitable part of our refrigerator. And it's just wasteful to throw them away. So plan for Halloween beforehand and store the empty jars only to be remodeled later into supernatural lanterns to light up your porch. Draw quirky or scary faces with a black marker, and let your creativity flow by coloring them. Cut a hole in the backside and line them up like a ghostly parade. Now, here's the magic: fill them with twinkling lights to cast a haunting glow on your walkway. (Bonus: kids will love this DIY project!).
11. Mysterious Mummy Jars
Time to mummify some mason jars! Start by wrapping and gluing gauze around glass jars, add googly eyes, and place beeswax candles or LED lights inside. Voila! Your very own Egyptian mummies will glow up the night. Plus, kids will love getting involved in this crafty fun! Oh, and for a safer, more eco-friendly option, opt for solar fairy lights instead. Let's get mummified!
12. Ghastly Graveyards
Turn your front yard into a spine-chilling spectacle by setting up a graveyard! Grab some cardboard and release your inner ghoul as you create unearthly tombstones. Let your imagination run wild with wicked inscriptions like "Trick or Treat" or "Beware the Haunted Grounds!" or better yet, write the initials of famous haunted movie characters like "Annabelle Rests Here!" The best part? You can put as much or as little effort as you like— Of course, the scarier, the better!
13. Petrifying Potion Bottles
Turn your home witchy by arranging a cauldron of spooky potions. Raid your recycling bin for old pill bottles, vanilla glass bottles, and glass jars, and let the magic begin! Clean them up, fill them with colored water, and toss in some gross-looking ingredients like kombucha scoby or squishy eyeballs. Time to concoct some blood-curdling potions and poisons! Don't forget to label them with creepy names like "Hemlock Tea," "Lizard's Tails," and "Zombie Brains" for extra chills. And yeah, coffee dye gives them that aged, haunted look. These zero-waste Halloween decorations are frightfully simple and incredibly awesome!

Why Eco Friendly Halloween Decorations?
Choosing eco-friendly Halloween décor is not just a trend but a responsible way to celebrate the festivity without harming our planet's well-being. Moreover, implementing green decoration ideas comes with a host of benefits that go beyond just creating a fun-filled ambiance.
Opting for eco-friendly Halloween crafts means using materials that have been recycled or upcycled, reducing the need for new resources and minimizing waste generation. By repurposing items like cardboard, glass jars, or old sheets, we divert them from landfills and give them a new life, contributing to a more sustainable and circular economy.
Traditional Halloween decorations often contain harmful chemicals, like PVC in plastic decor, and volatile organic compounds (VOCs) in certain paints. Choosing green options means selecting products made from natural and non-toxic materials, which improves indoor air quality and safeguards our health and well-being, especially in homes with children or individuals with sensitivities.
When consumers look for eco-friendly Halloween decors, manufacturers and retailers get a clear message that there is demand for environmentally conscious products. By making more informed choices, we contribute to a positive shift in the market and encourage businesses to adopt more sustainable practices in their offerings, contributing to a greener Halloween.
For every conscious individual, leading a low-impact life is the ultimate goal. Whether it's a regular day or a special occasion day— limiting our consumption habits and learning to live happily with whatever we already own is an art that might feel difficult at first but is truly rewarding. What's best is, there are enough resources, like sustainability blogs, sustainability apps, sustainability books, and so much more, to guide you in your journey of being more mindful.
Tips for Eco-friendly Halloween Decorations
Get Creative by Upcycling Household Items
Transform old cardboard boxes, worn-out white bedsheets, newspapers, and milk jugs into creepy yet cool masterpieces. Think out of the box and research for simple DIY decor tutorials with upcycled materials. This way, you can repurpose everyday items while reducing waste.
Embrace Nature's Seasonal Bounty
Deck up your house with the beauty of autumn by incorporating dried leaves, pumpkins, gourds, corn husks, and twigs into your decor. Nature already provides a vibrant and sustainable palette that complements the Halloween spirit perfectly.
Light Up Responsibly
Opt for energy-efficient LED lights or solar-powered options to illuminate your house for the festivities. Save energy while adding an eco-friendly glow to your spooky scenes.
Choose Sustainable Brands
For products that you absolutely need to buy, do your research and purchase them from eco-friendly brands that prioritize sustainable practices and materials. Be a conscious consumer and vote with your dollar for a greener Halloween.
Select Sustainable Materials
Choose decorations made from renewable and natural materials like bamboo, hemp, or organic cotton. These eco-friendly alternatives ensure you celebrate with a clear conscience.
Reuse & Biodegrade
Go for decorations that can be reused year after year or items that biodegrade naturally, reducing your environmental impact and keeping waste to a minimum.
Natural Outdoor Displays
Incorporate native plants and natural elements in your outdoor displays, adding a touch of uncanny ancient-era vibes to your Halloween haunt.
Conserve Energy & Light
Avoid excessive energy consumption and light pollution by limiting the use of electricity during your celebrations. Enjoy the eerie charm of the dark while saving energy.
Teach Eco-Responsibility
Use Halloween as an opportunity to educate kids about sustainability and environmental responsibility around your neighborhood and community. Instill eco-consciousness in the younger generation through fun and engaging activities.
DIY and Reuse
Encourage DIY craft projects and creative reuse of materials. Inspiring resourcefulness helps you connect with yourself and reduces the need for new store-bought decorations.
Celebrate a Harmless Halloween
Infuse environmental awareness into every aspect of your ghosty festivities, making sustainability the highlight of your frightfully fun event.
Upcycling and Repurposing Halloween Decorations
You really don't need to spend on a fresh batch of Halloween decorations every single year. Just turn your old knick-knacks into brand-new gruesome showpieces! Reimagine those tired trinkets and revamp them into something truly fearsome and fun. It's amazing how you can bring a fresh spark to your old favorite decor pieces with a touch of creativity and a sprinkle of crafty voodoo.
Set your artistic powers free by giving new purpose to everyday items for your Halloween-themed decorations. From turning glass bottles into potions and carving out black paper bats to bundling old clothes into scarecrows and fixing scary shapes from recycled cardboard on your windows. The possibilities of DIY ideas are endless when you take a closer look at the potential hidden within ordinary objects.
Give discarded materials a second chance to shine with spine-chilling upcycling! Rescue and rejuvenate items that would otherwise end up in the landfill. This approach not only cuts on excess holiday waste but also adds a personal touch to your creations. Plus, it's a perfect opportunity to get the whole family involved in crafting their own decorations.
To Conclude…
As we get ready for the upcoming Haunting Holiday, let's take a moment to reflect on the significance of eco friendly Halloween decorations. Adopting sustainable practices during this scream-worthy season not only adds a ghoulish charm to your festivities but also plays a crucial role in protecting our precious planet. From upcycling old items to incorporating natural elements, each choice we make can create a positive impact on the environment. Remember, it's our collective effort that can lead to a waste-free and more sustainable Halloween. Let's make this celebration a howling success by having a gala time while preserving our beautiful planet for generations to come! Happy Halloween!
FAQs
How do you decorate for Halloween sustainably?
For Halloween, you can decorate sustainably by repurposing household items, choosing eco-friendly materials, avoiding single-use decorations, and using energy-efficient lighting options.
How can I decorate my house for Halloween creatively?
You can easily decorate your house for Halloween by taking inspiration from the above ideas and giving your home a unique touch.
How can I decorate for Halloween without being tacky?
Avoid cheap single-use commercialized items, because, honestly, they are tacky. And since they're available everywhere, everyone in your neighborhood ends up having the same decoration. Instead, do DIY decor projects. It's not only a great way to spend quality time with your family, but also, your decoration will be one-of-a-kind, way different than others.
How to make cheap Halloween decorations?
Repurpose old and unused household items, and go thrifting for materials like old nets, frames, and other trinkets that you don't have. This way, you can decorate your home for the ghostly holiday without making a hole in your pocket. Store them properly to use next year.