Disclosure:
Our editors handpick top-rated brands, vetted through our strict ratings. Purchases via our links may earn us a commission.
Learn more
Ah, the air is crisp, the leaves are painted in hues of red and gold, and the scent of pumpkin spice lingers on every corner. That can only mean one thing: Fall is upon us! And so is Halloween! It's the season of creativity and imagination that our little ghouls and goblins wait for the entire year. However, amidst the excitement of carving Jack-O'-Lanterns and planning for the perfect costume, there's an eerie shadow that looms over this spooky celebration – the environmental impact it leaves behind. But fear not, for there's a way to make Halloween a sustainable yet super-fun holiday. From eco-friendly Halloween treats to eco-friendly Halloween decorations and sustainable Halloween costumes, we've sorted everything to help you enjoy a low-waste horror holiday!
Agreed, Halloween can be a season of waste, filled with single-use candy wrappers, disposable costumes, and decorations that end up haunting landfills long after the festivities have faded. It's time to take the nasties out of the picture and make a pact to keep the day both thrilling and sustainable. Let's transform Halloween from a sinister wasteful festivity to a spooktacular one!
Best Eco-friendly Halloween Treats
1. UNREAL Candy
2. Nature's Garden Organic Trail Mix
3. The Honey Jar Honey Sticks
4. Torie & Howard Candies
5. Junior Mints
6. Temporary Tattoos, Pencils and Erasers
7. Fastpro Mini Flashlights
8. Alter Eco
9. Endangered Species Chocolate
10. Glee Gum
11. Equal Exchange Chocolates
12. Yum Earth
13. Divine Chocolates
14. Cascadian Farm's Granola Bars
15. Honest Organic Juice
16. Black Forest Organics
17. Thompson Chocolate
18. DIY Fruit Treats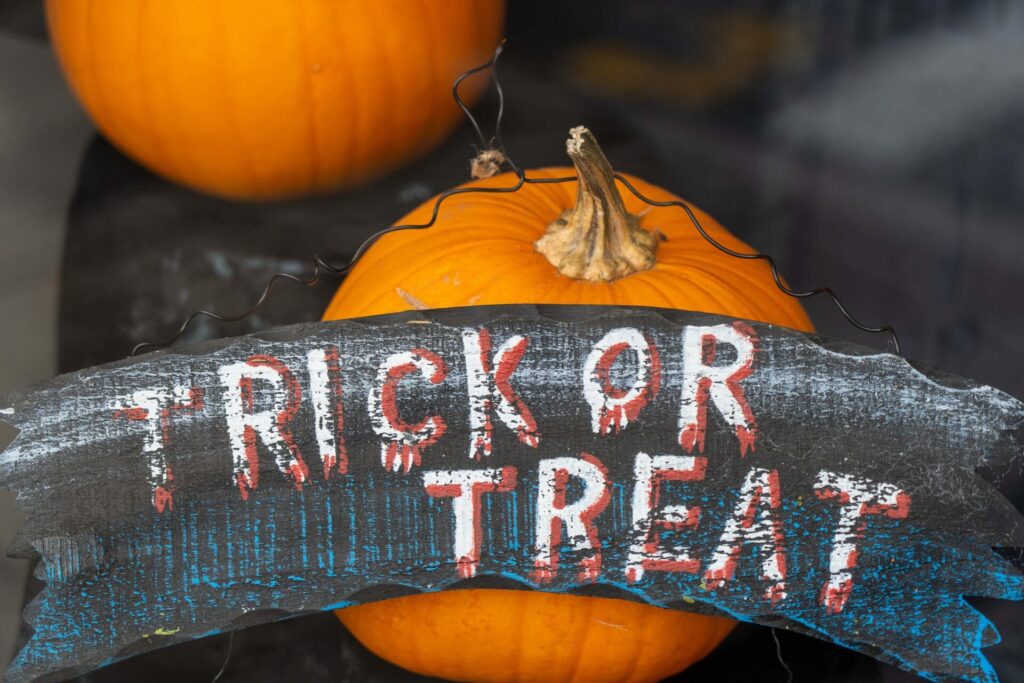 How to Choose Eco Friendly Halloween Treats
Opt for Organic Candy
Look for eco-friendly Halloween candies and chocolates that are certified organic, fair trade, or labeled as non-GMO. These certifications ensure that the products are made using environmentally friendly and socially responsible practices.
Local and Artisanal Treats
Choosing local or artisanal treats will result in shorter supply chains, reducing the carbon emissions associated with transportation. Plus, supporting local businesses also uplifts the economy of your community.
Avoid Excessive Packaged Treats
Choose Bulk Candy Options
Excessive packaging contributes to environmental waste. So always try to buy candies in bulk and use reusable containers or cloth bags to distribute treats to trick-or-treaters. Smaller portions also encourage moderation and reduce food waste.
Environmentally Friendly Packaging
Some treats come in wrappers that are biodegradable or compostable, or they are made from recycled paper. Choosing these options minimizes the environmental impact of packaging waste.
Consider Non-Food Treats
Many children are allergic to certain ingredients used in candies and chocolates. So it's a good idea to keep some non-food treat options like small toys, stickers, pencils, or temporary tattoos, which are perfect for kids with food allergies. These items can be reused and don't contribute to food waste.
Support Sustainable Brands
Look for candy brands that prioritize sustainability. Many labels now are focusing on reducing their environmental footprint by using eco-friendly practices in their production processes.
DIY or Homemade Treats
When you make treats at home, you have control over the ingredients. Use organic and locally sourced components to create homemade candies and snacks, minimizing the negative impact associated with manufacturing and transportation.
Be Allergy-Conscious
Participate in the Teal Pumpkin Project by offering non-food treats for children with allergies. You can do so by just displaying a teal pumpkin outside your home, which indicates that you have allergy-friendly treats available.
Educational Opportunity
Use Halloween as a chance to teach children about making eco-friendly choices. Explain the importance of reducing waste and selecting treats with minimal environmental impact, fostering an understanding of sustainability from a young age.
18 Best Eco-friendly Halloween Treats
Make your Halloween trick-or-treat night fun, eco-friendly, and safe for the kids without generating loads of waste. Just opt for these top sustainable Halloween treats and be the mindful witch or wizard we all deserve!
1. UNREAL Candy
UNREAL is set out to make your beloved candy treats healthier by reducing the sugar content. They craft their products using scrumptious fair trade chocolate and simple, organic, non-GMO verified natural ingredients. Now, you might wonder, aren't candies just loaded with sugar? Well, not this one! UNREAL uses up to 51% less sugar compared to the leading brands and doesn't resort to shortcuts like adding corn syrup, sugar alcohols, erythritol, stevia, or IMOs. So, when you want to treat little witches and wizards with candies but prefer something with less sugar than typical bars, UNREAL Candy will be at your rescue. Some of their candy for kids contain as little as 3 grams of sugar per piece, and they're vegan and gluten-free to boot. This Halloween, enjoy delicious treats that are mindful of your sugar intake!
2. Nature's Garden Organic Trail Mix
What's the secret to making an incredibly tasty, super healthy, and unbelievably easy snack even more amazing? It's gifting them as a healthy Halloween treat by buying them in bulk and enjoying it on a budget! That's why we bring you Nature's Garden Organic Trail Mix Packs in a generous bundle of 24 individual packets, each holding a snack sensation. Inside this bewitching assortment, you'll discover three of the most beloved trail mixes, all adorned with the "healthy heart" badge – a sign that says, "Snack without regrets!" To top it all, they are USDA certified organic. Definitely a treat that the mommies of the tiny trick-or-treaters will love you for.
3. The Honey Jar Honey Sticks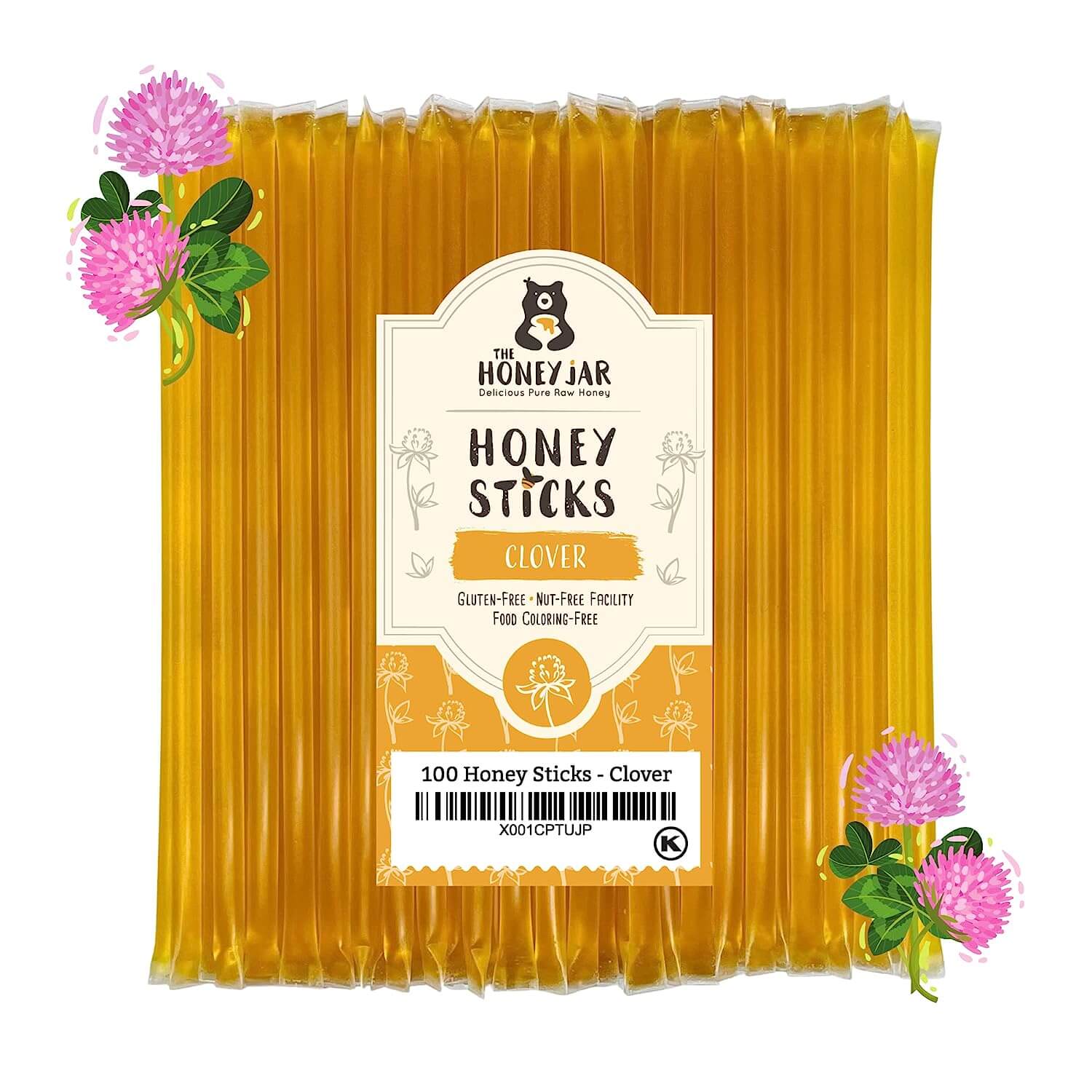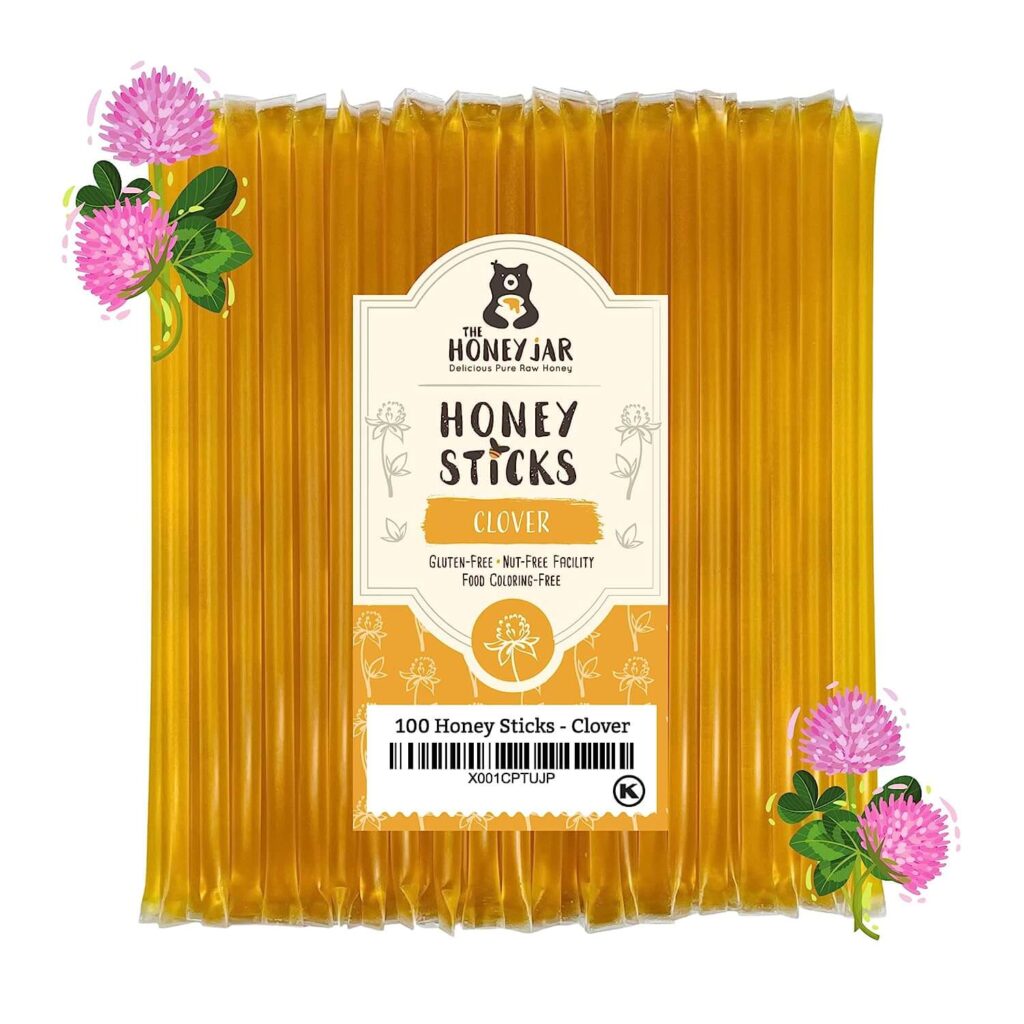 Get ready to be the star of your neighbourhood by offering honey sticks as treats straight from the beehive state of Ogden, Utah! The Honey Jar's top-tier raw honey sticks deliver a premium product you can rely on. These sticks are filled with the goodness of clover honey, and they come in BPA-free packaging to keep your wellness in mind. With 5 grams of honey and just 15 calories per stick, you're getting pure sweetness without any added sugar or colors. Plus, they are 100% vegetarian, kosher, and gluten-free – perfect for everyone. What's more? These BPA-free honey packs are designed for easy opening with just a single pop, so the little ones can grab them and enjoy anytime they please. Get ready to savor the sweetness, no scissors required!
4. Torie & Howard Candies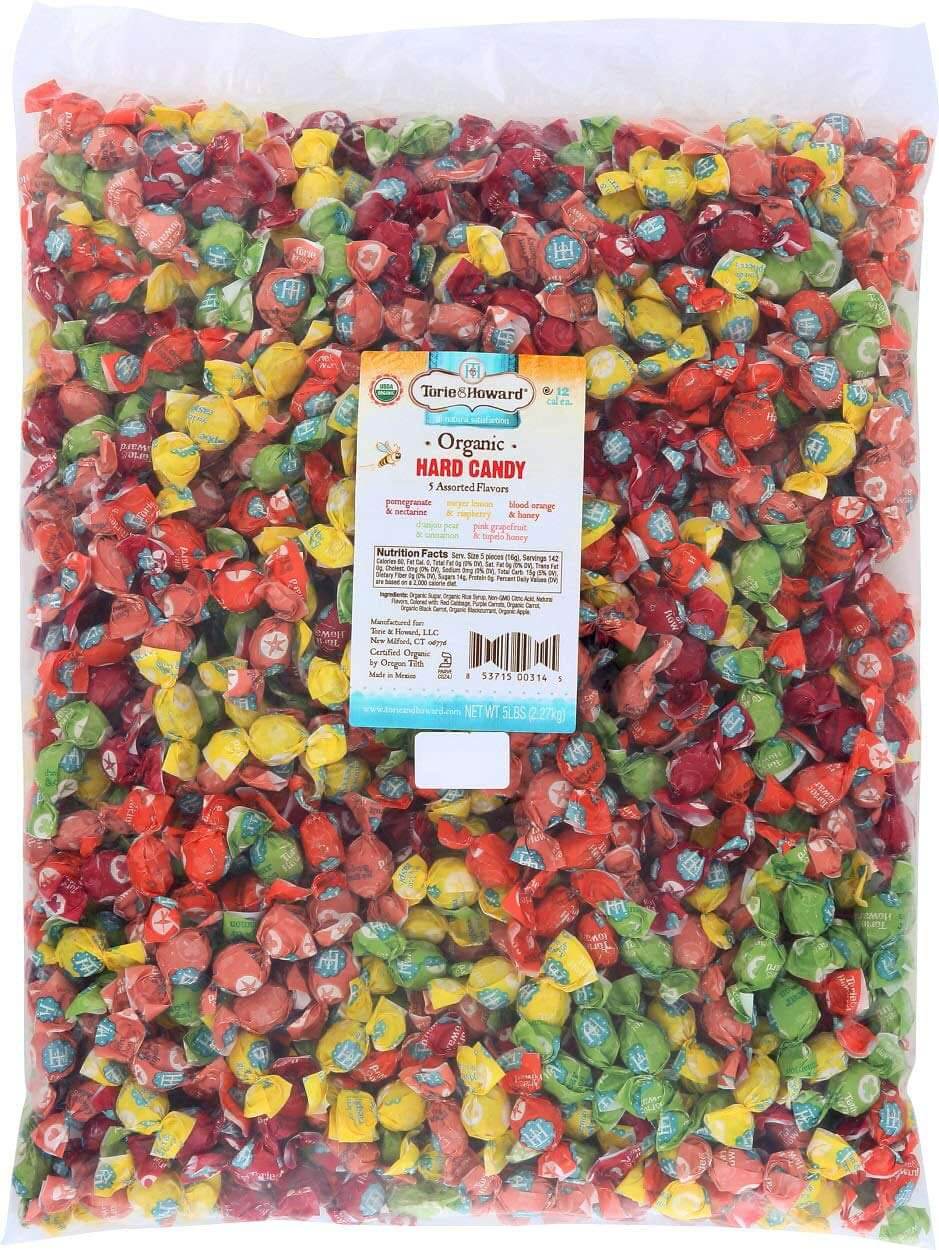 Torie & Howard, hailing from Milford, Connecticut, firmly believe that food becomes more delicious when it's crafted with organic, natural ingredients and mindful values. They whip up appetizing chewie fruities and hard candies that are designed to be health-conscious, eco-friendly, and socially responsible. With a guarantee to win the hearts of little ghouls, Torie and Howard's eco-friendly candy is non-GMO, Kosher, gluten-free, and allergy-friendly. Offering an array of fruity flavor combinations, these treats are a wholesome indulgence for everyone! The label is committed to responsible practices, incorporating natural ingredients and production methods that benefit both your kids' well-being and the environment.
5. Junior Mints
For a touch of classic candies with an eco-friendly twist, check out treats from companies that wrap their candy in individual mini boxes instead of plastic. Junior Mints offers these small boxes of choco treats that are perfect for Halloween sharing. Plus, they're peanut- and gluten-free, making them an allergy-conscious choice. The best thing about their packaging is once these cardboard boxes are empty, they're a breeze to recycle!
6. Temporary Tattoos, Pencils and Erasers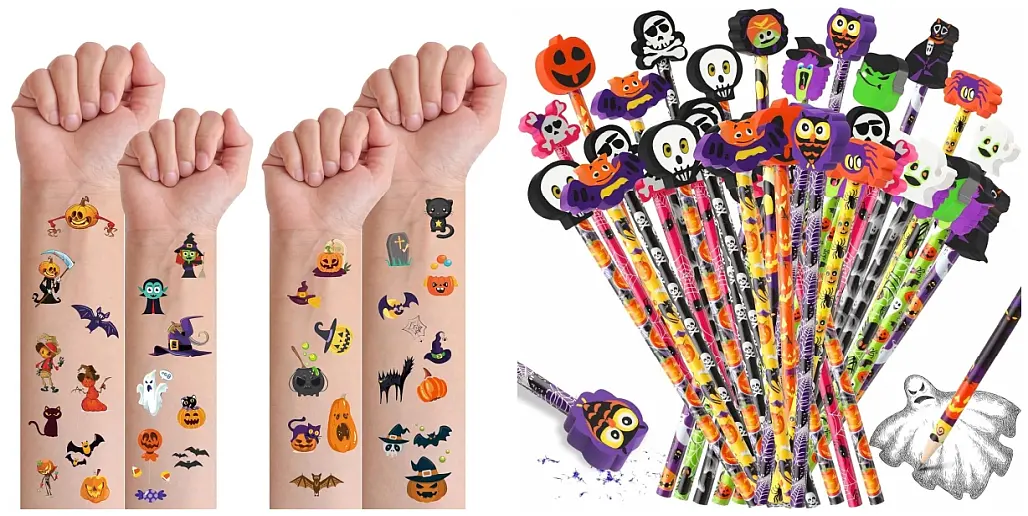 If you're looking to skip the food treats this Halloween, why not share some fun stationery items that the little tricks-or-treaters will love? Consider Temporary Halloween Tattoos as a fang-tastic choice because they're concocted of non-toxic ink and kids have a blast applying them. You can also go for Halloween-themed pencils and erasers, which are not only eco-friendly but practical too. These items are not just for Halloween; kids can use them, especially if they're in school. Plus, they come in exciting designs that children will find chillingly fun!
7. Fastpro Mini Flashlights
Illuminate Halloween night with FASTPRO mini flashlights! These flashlights are a spooky spin on trick-or-treating and a candy alternative for quieter neighborhoods. You get a bundle of 10 vibrant LED flashlights for all your Halloween adventures. They're compact, durable, and feature a comfortable rubber-coated handle. Each flashlight boasts 9 LED bulbs, producing 30 lumens of eerie illumination. Moreover, they've got you covered with 30 AAA batteries already pre-installed. Just a flick of the switch, and the kids will be ready for a ghostly good time!
8. Alter Eco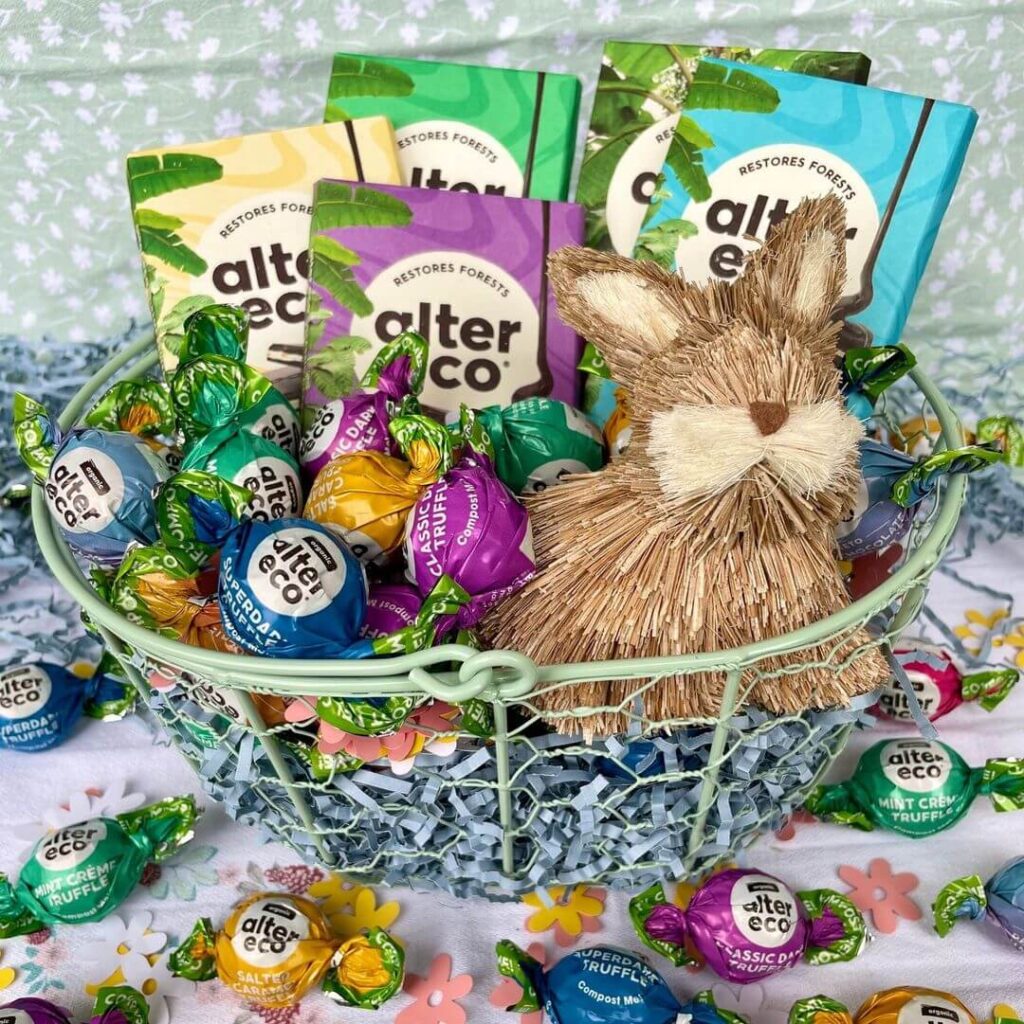 Meet Alter Eco, the B Corporation chocolate wizard you'll spot in every corner store. Their mission? Brewing up 'The Greenest, Cleanest Chocolate' with an eco-friendly twist, for every celebration of the year. Instead of spooky ingredients like preservatives, soy, or palm kernel oil, their truffles and chocolate bars are packed with the goodness of nutrient-rich coconut oil. These scrumptious bites aren't just a treat for your taste buds; they're also a treat for the environment. Alter Eco is proudly Fair Trade certified, tackling the issue of inequality in the cacao supply chain. They pay fair wages and help cacao farming communities transition to regenerative agriculture. Crafting small batches to maintain top-notch quality, their 100% organic and non-GMO products are your guilt-free Halloween indulgence, with a dash of sweet ethics!
9. Endangered Species Chocolate
This Halloween, if you're planning to support a 'boo-tifully' sweet treat brand that is associated with a worthy cause? Then Endangered Species Chocolate is going to be your best pick! Not only do they make delicious chocolate, but they're also champions of the environment and fair trade. They craft their chocolates without any tricks like artificial additives, using responsibly sourced cacao beans from fair trade farmers in West Africa. While handing out big chocolate bars might not be in the cards for Halloween night, fear not! Their chocolate bites and chips in exotic flavors are here to save the day. Each piece is individually wrapped and made with the same sustainable practices as the large bars. So far, they've donated over $2.6 million to Give Back Partners like the Wolf Conservation Center, supporting wildlife conservation. So, when you choose their chocolate, you're not just treating yourself; you're honoring farmers, and helping protect every endangered creature.
10. Glee Gum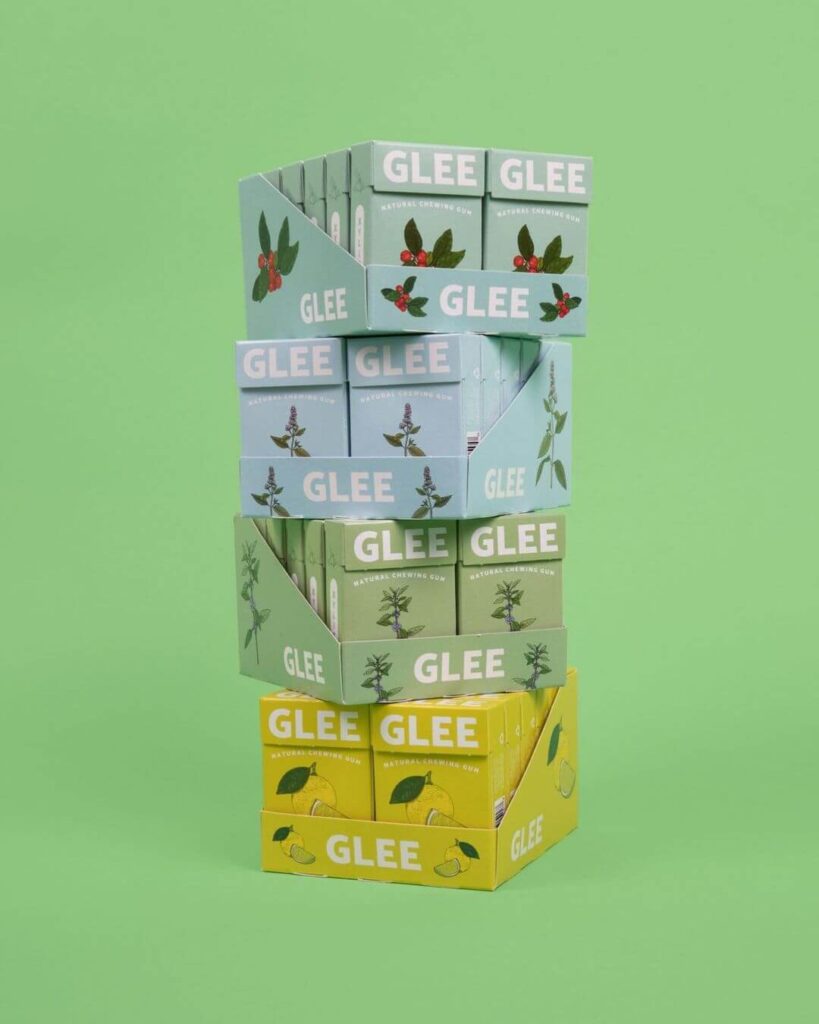 On the hunt for eco-friendly gum that won't haunt the planet? Glee Gum has got you covered! Their delicious all-natural chewing gum is a green dream, crafted from sustainably harvested chicle (tree sap) rather than a scary mix of synthetics and plastics. What's more, these goodies are Non-GMO Project Verified and free from any eerie artificial colors, flavors, refined sugar, or preservatives. The creators of Glee Gum operate from a solar-powered lair, championing environmental and social justice causes. And, the gum is packaged in recyclable cardboard, making it a treat for the planet too. With twelve fang-tastic flavors like bubblegum, mixed berry, tangerine, peppermint, cinnamon, spearmint, sugar-free lemon-lime, and more, there's something to bewitch every taste bud at your Halloween haunt.
11. Equal Exchange Chocolates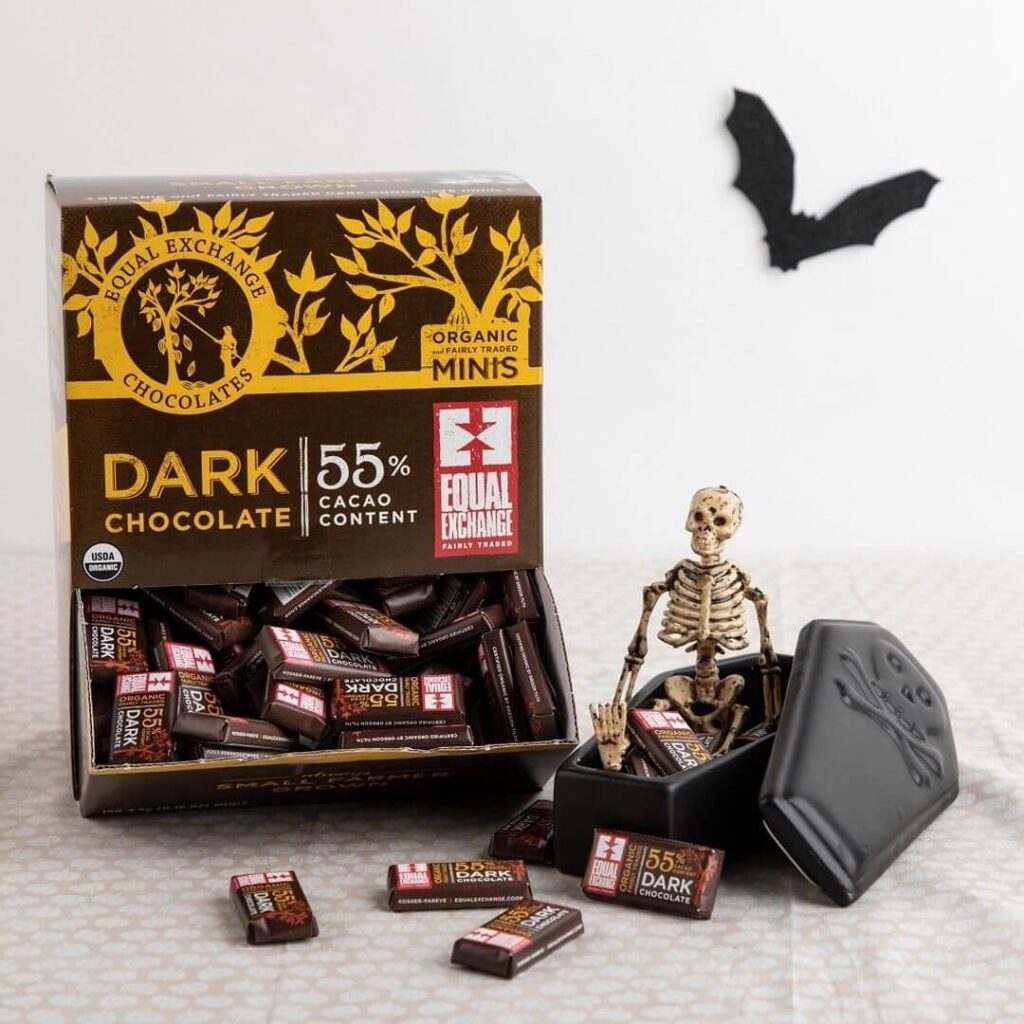 Equal Exchange chocolates are a spooky-good choice for Halloween treats! This Fair Trade company is more than just a chocolate brand; it's a movement for fair and ethical trade practices. Their chocolates are sourced from democratic co-operatives, which means they prioritize fair wages and equitable supply chains for small-scale farmers in Latin America. With a strong commitment to ethical practices, they believe in building a supply chain that benefits everyone involved, from the farmers who grow the cacao to the consumers who savor their chocolates. Whether you prefer large bars or mini bites, you'll find low-waste Halloween candy flavors loved by both young ghouls and grown-up ghosts.
12. Yum Earth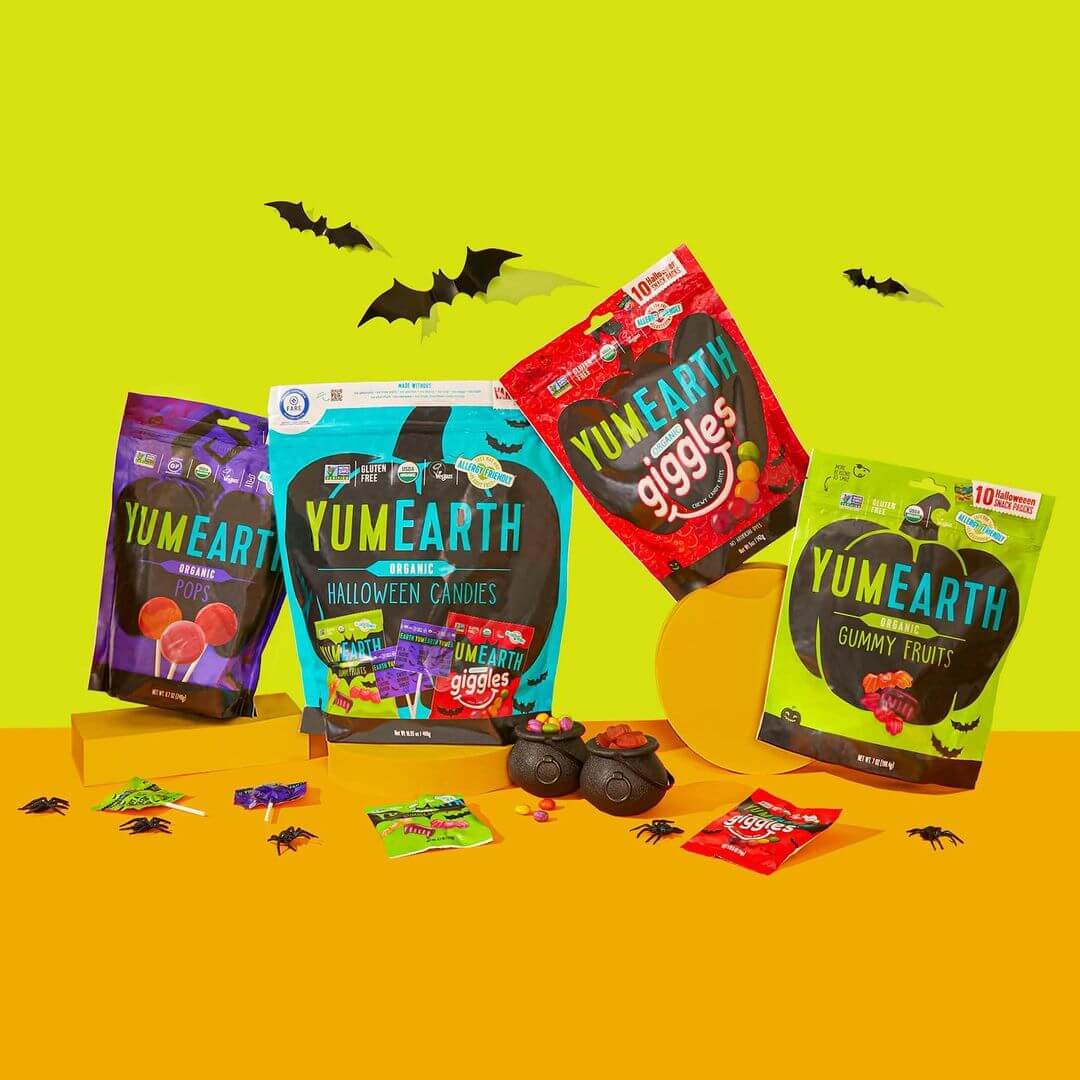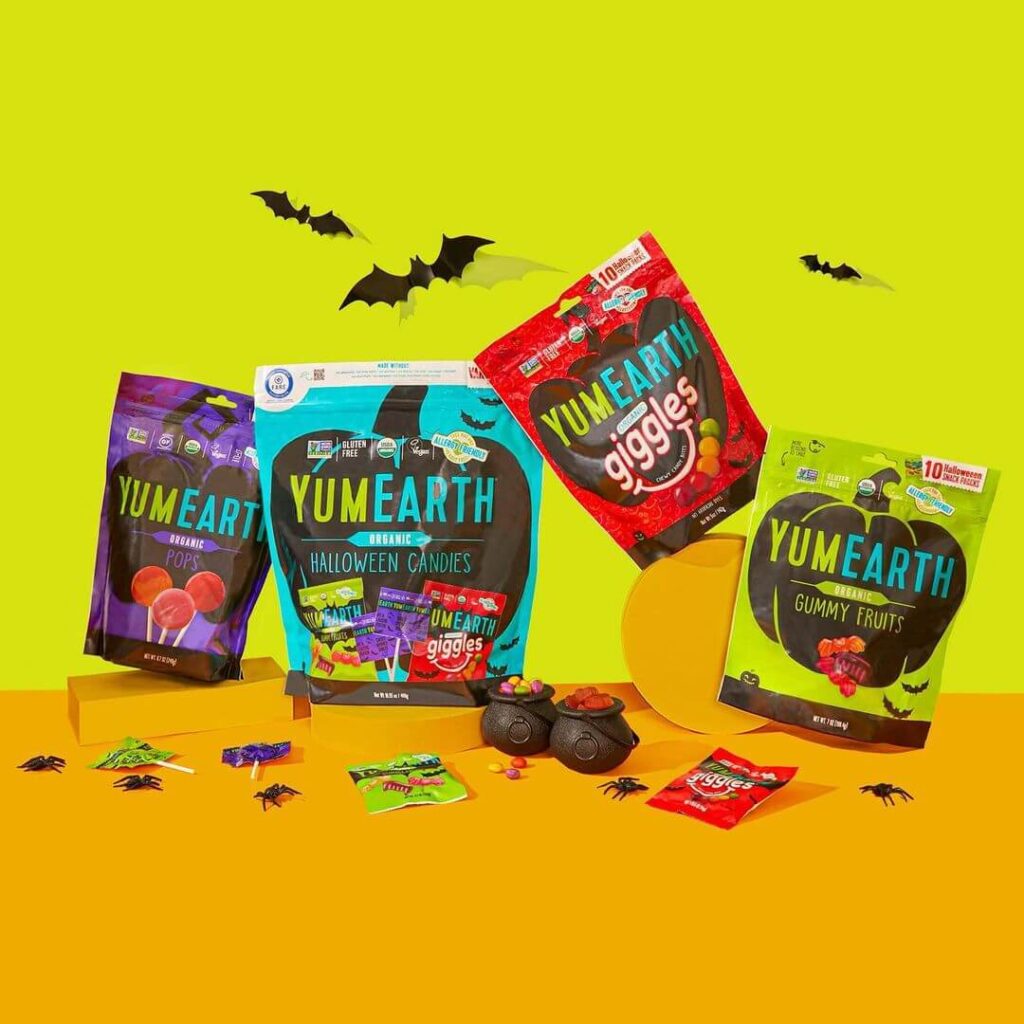 Yum Earth is an excellent choice for a pool of healthier treats that are both delicious and safe for everyone to savor. This label is particularly special because they create allergy-friendly treats that parents and kids can feel great about on Halloween night. If you're a popular house among trick-or-treaters, Yum Earth Organic Lollipops in bulk bags are a fantastic and budget-friendly option. These lollipops are USDA Organic certified, gluten-free, vegan, kosher, and free from GMOs, dairy, nuts, and artificial flavors. Their delightful flavors and colors come from real fruit juice, not synthetic additives. Even more reassuring, these lollipops are crafted and packaged in a peanut-free and tree nut-free facility.
Another fantastic choice from Yum Earth is their Organic Fruit Snacks, which share the same allergy-friendly qualities. These vegan options are free from the top 8 allergens, making them a tasty and safe indulgence for all your trick-or-treaters. With a variety of mouthwatering flavors, you can be sure that these allergy-friendly snacks will be a hit!
13. Divine Chocolates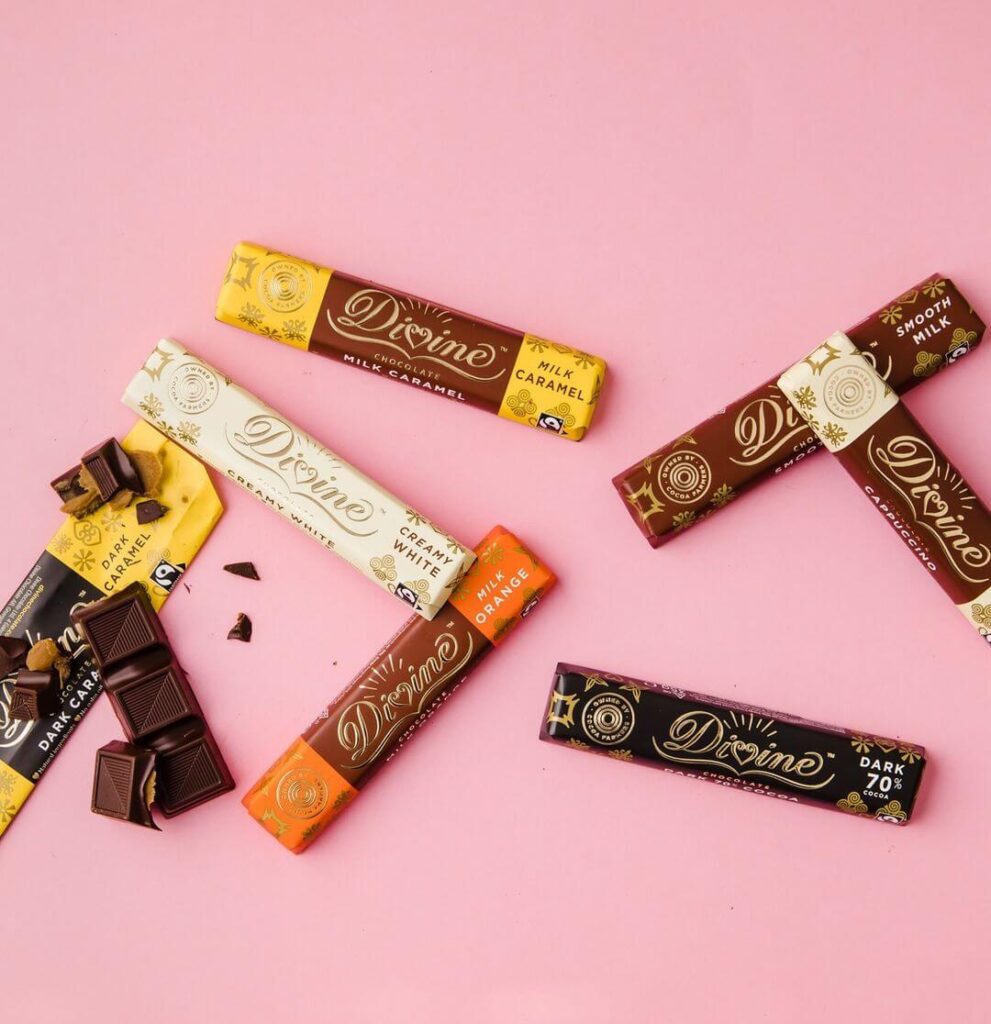 Divine Chocolate is, well, truly divine! They're the pioneers of farmer-owned fair trade chocolate, driven by a mission to end cocoa farmer exploitation. An ideal addition to your Halloween Treat basket, they offer delectable Small bars to Sharing bars in dark, milk, and white chocolate, that everybody will love. And here's a sweet bonus – all their products are palm oil-free! Certified as a B Corporation, Divine Chocolate's bean-to-bar treats are made from cacao beans sourced from farmers in Ghana and São Tomé. Their unique approach enhances the transparency of raw material sourcing, ensuring fair compensation for farmers. Plus, over 1/3 of Divine Chocolate's 100,000 farmers are women cacao growers. Now that's some real witchy business we absolutely applaud!
14. Cascadian Farm's Granola Bars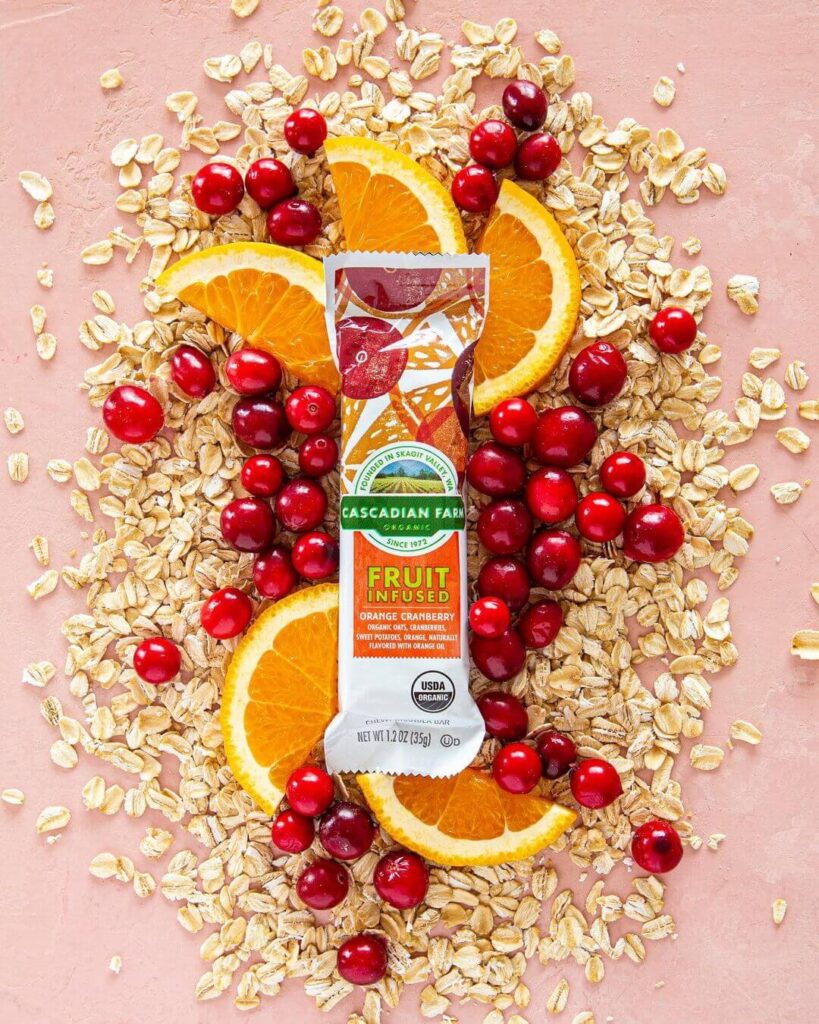 For a wholesome Halloween treat, consider sharing Cascadian Farm Granola Bars. These bars are whipped up from USDA-certified and non-GMO organic ingredients, with no synthetic colors or flavors. The Fair Trade chocolate adds just the right touch of sweetness, and the 11 grams of whole grain provide valuable nutrition. So undoubtedly, parents of little trick-or-treaters will appreciate this healthy addition to their kids' treat baskets. And since everything is made in a peanut-free facility, there is no chance of any allergic reaction. Moreover, when you support Cascadian Farm, you're contributing to projects like Cascading Change. Through Cascading Change, Cascadian Farm collaborates with The Nature Conservancy to safeguard precious resources such as groundwater and wildlife habitats, fostering greater resilience and sustainability in farming.
15. Honest Organic Juice
What do you think about serving up organic fruit juices this spooky season? Sounds unique, right? And HONEST can help you with that! This mindful brand is on a mission to brew delectable, health-conscious, and organic beverages made from the most natural ingredients. They're dedicated to expanding their business with the same sincerity and ethics they pour into their recipes, all while prioritizing sustainability and exceptional taste. With delicious flavors like Appley Ever After, Super Fruit Punch, Goodness Grapeness, and more, kids are in for a treat. Rooting for HONEST isn't just about savoring an organic, refreshing drink; it's about making a positive impact on your life, your family, and global well-being. They carefully source their ingredients from organic farms and tirelessly strive to make their products accessible across the nation, be it your local store, beloved eatery, or corner shop. And all at an affordable price. Come share the potion goodness with HONEST!
16. Black Forest Organics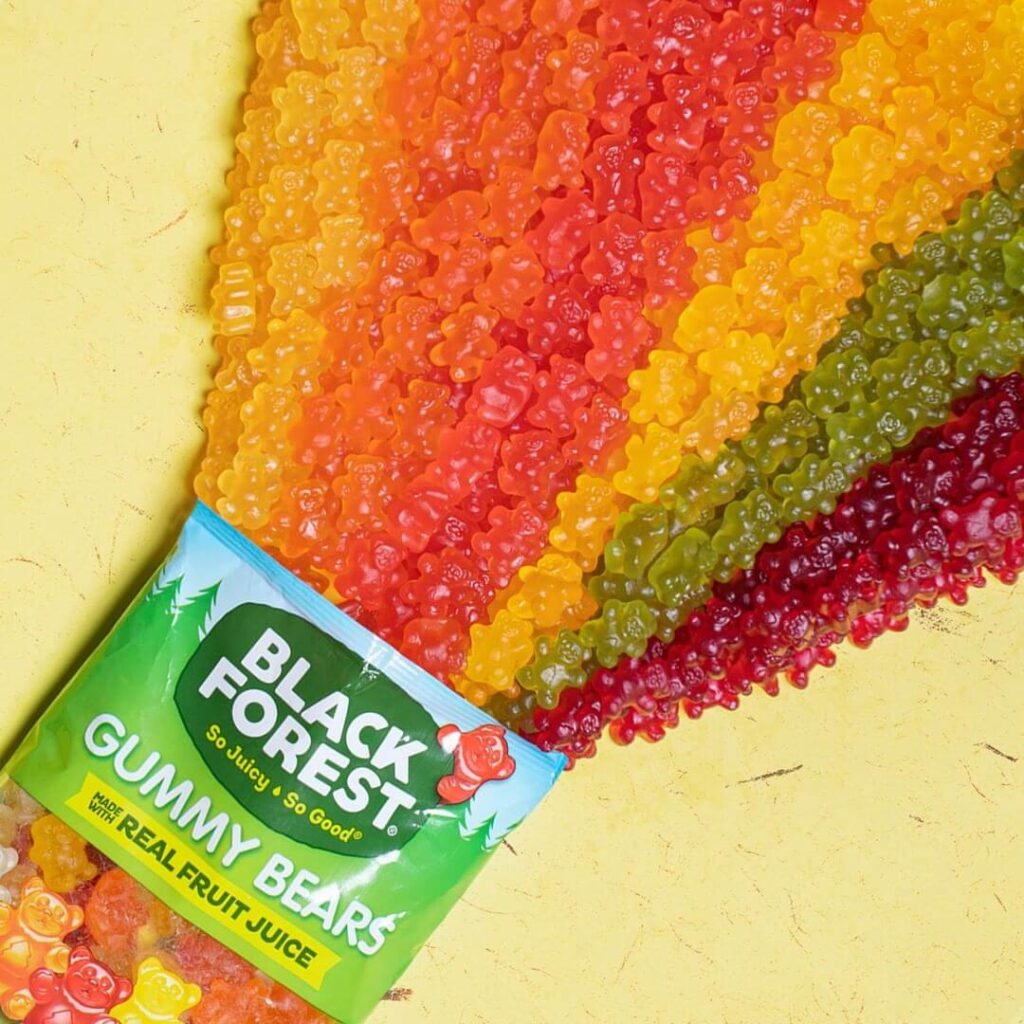 Black Forest presents Real Juicy Real Good Gummies and Fruit snacks that are sure to delight kids this Halloween. These wholesome candies feature liquid centers brimming with grape, apple, lemon, and cherry flavors. What's more, these yummy treats are both gluten-free and fat-free. Made with real fruit juice, they pack a punch of vitamin C that will refresh your palate. And if you're wondering about the vibrant colors? Then hear this – They're derived from natural plant sources like carrots, blueberries, spirulina extract, and turmeric. The best part is? Every Gummy Bear, Gummy Worms, and Fruit Snacks packet is Certified USDA Organic, non-GMO, and fair trade certified. How awesome is that for guilt-free festive indulgence?
17. Thompson Chocolate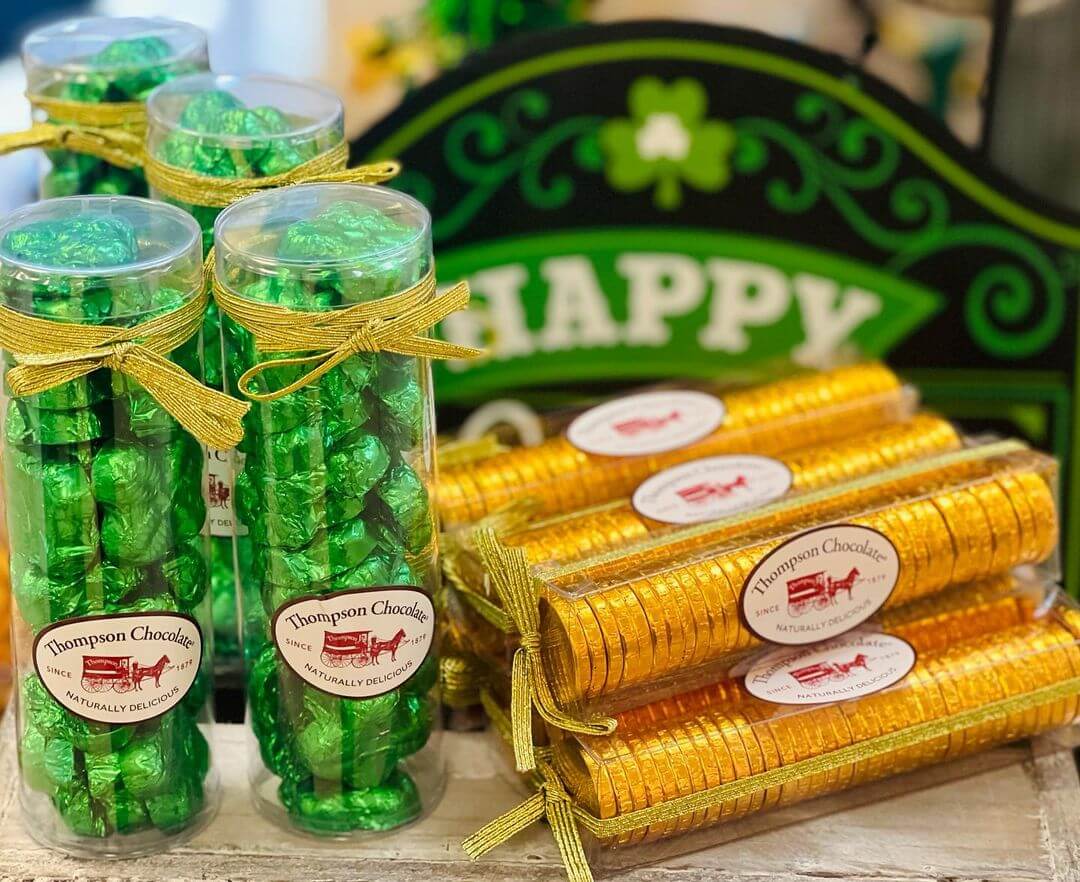 Established in 1879, Thompson Chocolate is one of America's oldest chocolate makers that curates foil-wrapped melt-in-mouth choco goodies. From pumpkin marbles to chocolate coins, their artfully crafted sweet treats are a delight to watch as they are free from those horrid plastic wrappers. With over a century of being in the chocolate-making business, Thompson Chocolate has maintained its traditional charm making it a hit among people who love things old-school. Even the undead can agree that there's nothing frightening about these yummilicious, all-natural creamy milk chocolates that are molded from Non-GMO ingredients!
18. DIY Fruit Treats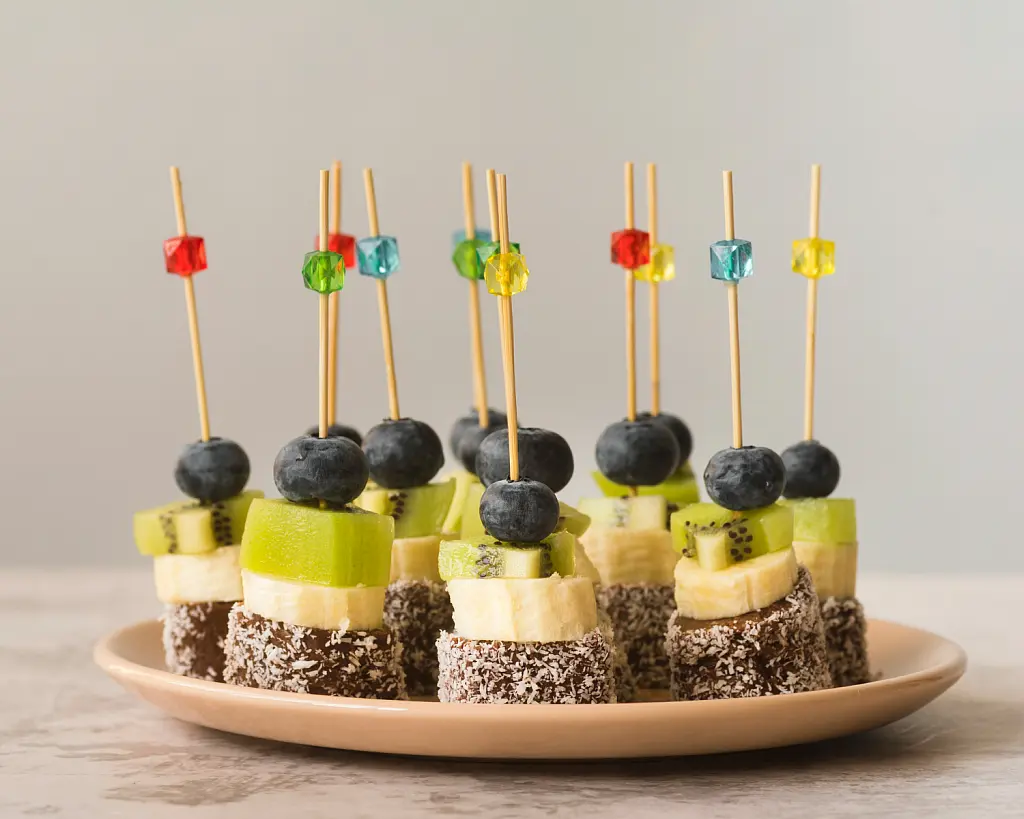 For a spooky twist on fresh fruit treats, try adding some DIY "Poison Apples" in the Trick or Treating Baskets. These are simply apples half-dipped in melted chocolate with eerie, cracked lines drawn in milk chocolate from the apple tops. The kids literally squeal at the sight of them, especially when you add a scary message at the bottom of the platter. You can also make banana ghosts by cutting bananas into halves and making ghostly faces with choco chips or melted chocolate. If you're feeling creative, craft little orange witches by attaching a black craft paper hat to an orange or clementine with hot glue and giving them faces using cloves, chocolate chips, paper, or markers. These fruit treats are not only delicious but also eco-friendly – you can compost the skins and cores for a truly zero-waste Halloween!
Plan Ahead and Avoid Halloween Treats Waste
Managing Halloween treats and food waste effectively involves a combination of creativity, planning, and responsible disposal methods. If you follow these strategies, you can substantially reduce waste and minimize the environmental impact of your Halloween celebrations. Here's what you can do–
Plan Ahead
Planning ahead means estimating the number of trick-or-treaters you expect and buying candy accordingly. When you purchase only what you need, you reduce the likelihood of having leftover treats that might go to waste. Consider factors like your neighborhood's trick-or-treating activity to make an informed estimate.
Composting
Composting is an eco-friendly way to dispose of organic Halloween treats like apple cores, fruit peels, or biodegradable candy wrappers. Composting not only lowers waste but also creates nutrient-rich compost that can benefit your garden or plants.
Share with Others
If you find yourself with extra treats after Halloween, consider sharing them with friends, family, or neighbors. Hosting a treat exchange or simply giving away the excess can ensure that treats are enjoyed rather than wasted.
Donate to Food Banks
Donating unopened and non-perishable Halloween treats to food banks supports those in need. Many food banks accept candy donations, especially during the holiday season. Check with local charities or food banks for their specific requirements and drop-off locations.
DIY Crafts
Repurposing candy in DIY crafts allows you to get creative while reducing waste. You can use candy in various craft projects, such as making candy wreaths, decorating gingerbread houses, or creating edible centerpieces as part of your festive decorations.
Freeze Perishables
Store Properly
If you have perishable treats like unwrapped loose candies, chocolate squares, or baked goods, freezing them is an effective way to prevent spoilage. You can seal them properly in biodegradable candy bags or containers ensuring treats remain fresh for an extended period.
Reuse Wrappers
Candy wrappers, particularly those made of foil or colorful materials, can be cleaned and repurposed for various craft projects. From creating jewelry to decorating greeting cards, these wrappers can add a unique touch to your creative endeavors.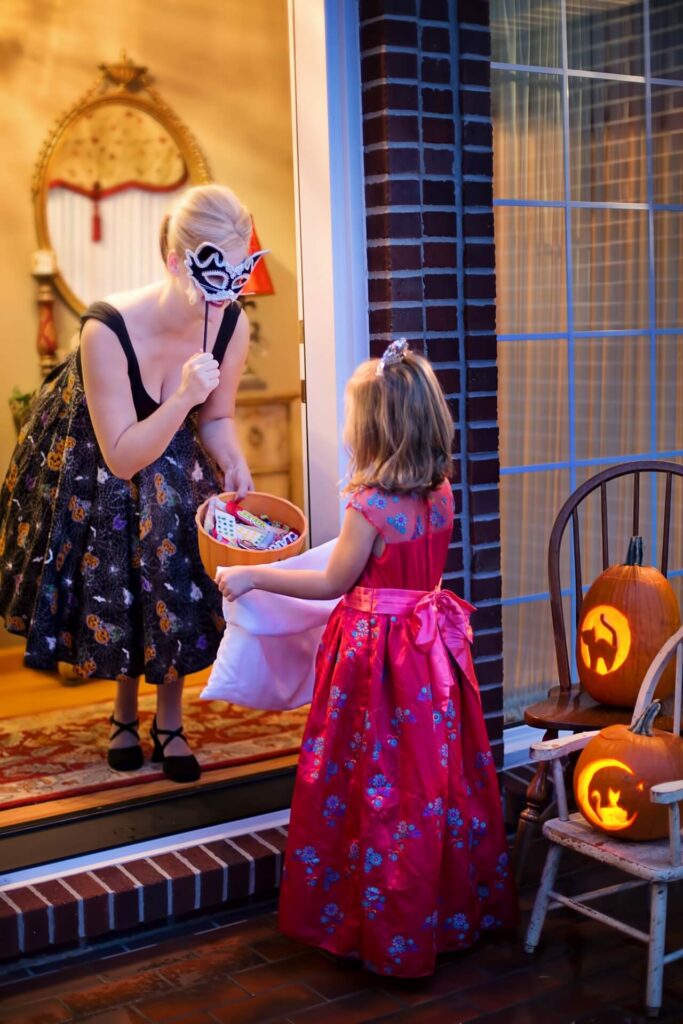 Create Desserts
Using leftover Halloween candy in desserts like cookies or brownies is an enjoyable way to cut on waste. Incorporate broken candy pieces into the batter for added flavor and texture.
Use as Baking Ingredients
Halloween candy, such as chocolates and gummies, can be chopped or melted and used as ingredients in baking recipes. They can infuse your baked goods with delicious flavors.
Candy Buyback Programs
Some dental offices or organizations run candy buyback programs. Children can trade their excess Halloween candy for small rewards or even donate it to be sent to troops overseas. These programs encourage moderation, compassion, and control of candy waste.
Be Mindful of Expiry Dates
Checking the expiry dates on Halloween treats is essential to make sure they are consumed before they go bad. Properly managing treat quantities and storage can help avoid unnecessary waste.
Create a Treat Jar
A treat jar filled with a variety of Halloween candies can serve as a delightful snack option for family and guests even after the festivities are over. It provides a convenient and accessible way for people to enjoy treats.
Sustainable Party Favors
Using leftover Halloween treats as party favors for future celebrations is another mindful way to eliminate waste. Plus, it allows guests to take home a sweet reminder of the event. Just ensure that the treats are properly packaged in cute and minimal packaging and presented as favors.
Concluding Thoughts…
In the spirit of the spooky season, we've unveiled a bag full of eco-friendly Halloween treats for both your conscience and the planet. These sustainable holiday favors not only delight the taste buds but also cast a spell of positivity on the environment. By choosing compostable wrappers, healthier ingredients, and responsible brands, you're ensuring that the ghoulish celebrations don't leave a frightful trail of waste behind.
As the bats take to the skies and the ghosts come out to play, let's remember that our choices can make this holiday greener for generations to come. From candy buyback programs to repurposing wrappers in creative crafts, there are countless ways to minimize Halloween's environmental impact. So, this year, let's unite to make Halloween a holiday that doesn't trick the planet but treats it with the kindness it deserves. Happy Haunting!
FAQs
What is a healthy Halloween treat alternative?
Cascadian Farms Granola Bars, Nature's Garden Organic Trail Mix, The Honey Jar's Honey Sticks, UNREAL Candies, Honest Organic Fruit Juice, Alter Eco Chocolates, etc., are some healthy Halloween treat alternatives.
What Halloween candy is not in plastic?
Opt for loose candy bought in bulk and repackage them in small paper bags to avoid plastic. Options like gummy worms, sour keys, candy corn, etc., can be great plastic-free choices. Homemade caramel corn is another plastic-free Halloween treat worth considering.
What can you give trick-or-treaters that are not candy?
Non-candy items that you can gift trick-or-treaters include mini flashlights, temporary tattoos, pencils and erasers, beaded bands, organic pumpkin soaps, pumpkin seed pouches, and so much more.
What Halloween candy is safe for kids?
The safest Halloween candy for kids, especially toddlers, are those that are soft and melt quickly and easily in the mouth. This reduces the risk of choking and makes it safer for young children to enjoy their treats.
How do you celebrate Halloween without candy?
You can celebrate Halloween in several ways without indulging in sugar-filled candies. Some activities that you can do are-
– Enjoy spooky and entertaining movie marathons.
– Get creative with pumpkin carving.
– Visit a nearby orchard for cider sipping with your family and friends.
– Get crafty with Halloween-themed DIY projects.
– Have a blast playing enjoyable games with your family.