Disclosure:
Our editors handpick top-rated brands, vetted through our strict ratings. Purchases via our links may earn us a commission.
Learn more
In a study conducted by Ellen MacArthur Foundation, it was found that with the way we are generating waste, by 2050 there's bound to be more plastic than fish in the seas. Crazy, isn't it? To think that 2050 is not too far in the future and to know that when that day comes, we might find ourselves sailing through a sea of plastic. What if we tell you that a simple query like "is there a zero waste store near me" can change your outlook and give you a whole list of zero waste stores in Seattle? Yes, it's that easy!
For a modern day reader to come across such environmental reports of immediate concern is no more shocking. It's become a part of our everyday tête-à-tête, which is probably why awareness has risen in recent years. As a result, the upcoming generation has found coping strategies to reduce waste and enable prevention. One such framework for waste management is the creation of zero waste practices and following those, the development of zero waste grocery stores, cafes, compost sites, etc.
The government of Seattle actually came up with a strategic business plan that keeps waste prevention at its centre and is working toward achieving a zero waste society. Accordingly, Seattle's vision is to reduce waste and conserve resources by following zero waste practices. Now as an inhabitant of Seattle, you might ask "Can I shop package free in Seattle?" or "Are there zero waste stores in Seattle?" Well yes! There are many. Today if you search "zero waste store Seattle", you'll have a great number of options available. The aim of writing this article is to make you aware of all those options!
Best Zero Waste Stores in Seattle
1. Scoop Marketplace
2. Mimi's Zero Waste Market
3. Public Goods & Services
4. Eco Collective
5. Zenith Supplies
6. Haus Mylk
7. Footprint Wine Tap
8. Lulumiere
9. Frayed Threads Mending
What Are Zero Waste Stores?
While the name might suggest an impossible goal, Zero Waste doesn't really mean "ZERO." Rather zero waste stores are an effort to get as close as possible to the benchmark of "no waste." No waste can only be achieved with big structural changes which are almost impossible. Yet, what zero waste stores aim at is to make individual efforts towards minimising waste and waste management so that in the future we can reach the "no waste" goal.
Why Do We Need Zero Waste Grocery Stores?
Landfills filled with heaps of waste lying around untreated are signal enough for us to buckle-up into action and do what's due for the planet. With tons of waste being generated on a daily basis in America, we need to realise the importance of waste prevention and acknowledge that recycling alone will not solve the problem. We need to Reduce and Reuse as well! Zero Waste Grocery stores teach us the important lesson of reusing, reducing and minimising.
Not from Seattle?
Check out our favorite lists of:
Zero Waste Stores In Seattle
1. Scoop Marketplace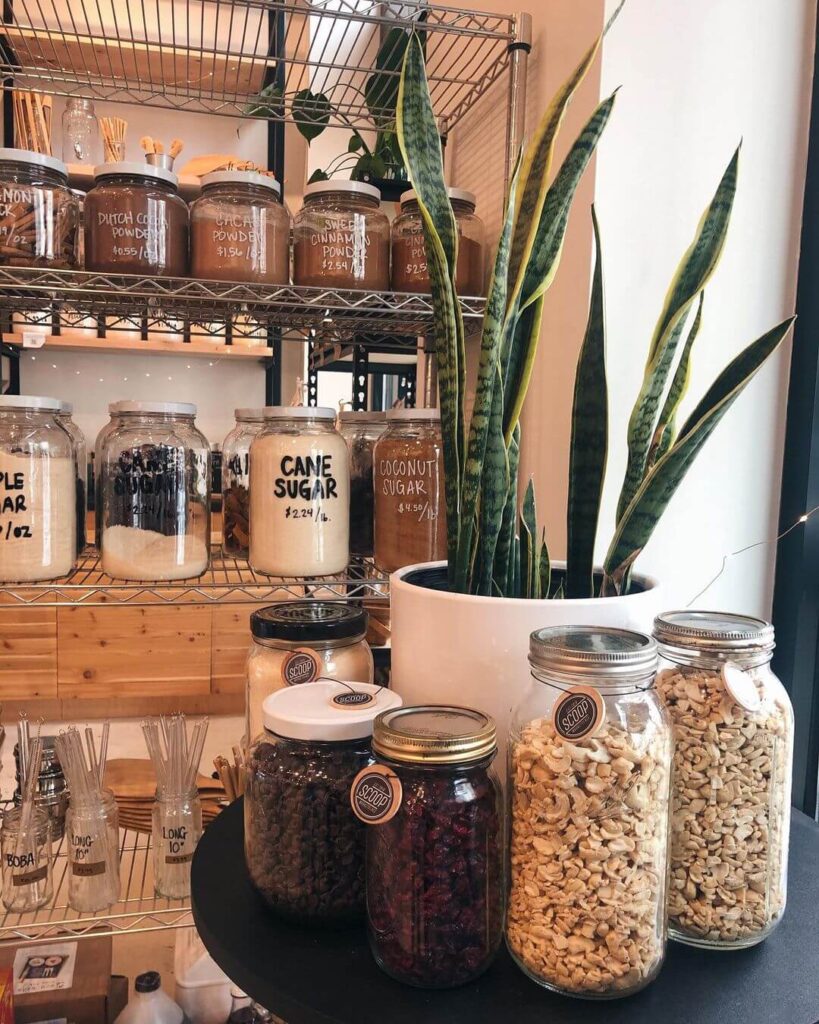 If you ever put "zero waste grocery store Seattle" in the search bar, Scoop Marketplace is probably the first suggestion that pops up! One of the most acclaimed zero waste grocery stores in Seattle, Scoop Marketplace offers bulk goods and reusable products like basic food staples, essential oils, herbs, spices, coffee, tea, and other dry goods so that you can shop with a clean conscience!
They source products locally, store them using zero waste cleaning practices and follow fair labor practices. So the next time you visit Scoop Marketplace don't forget to carry your empty jars in need of refills and remember that you are reducing your carbon footprint and doing what's due for the planet.
In need of zero waste essentials? Visit Scoop Marketplace to stock up on sustainable package free goods!
Store Address: 9743 NE 119th Way, Kirkland, WA 98034, USA
Store Hours: 12 – 6pm on Thursdays and Fridays; 10am – 6pm on Saturdays and Sundays
Phone Number: +1 206-339-1383
2. Mimi's Zero Waste Market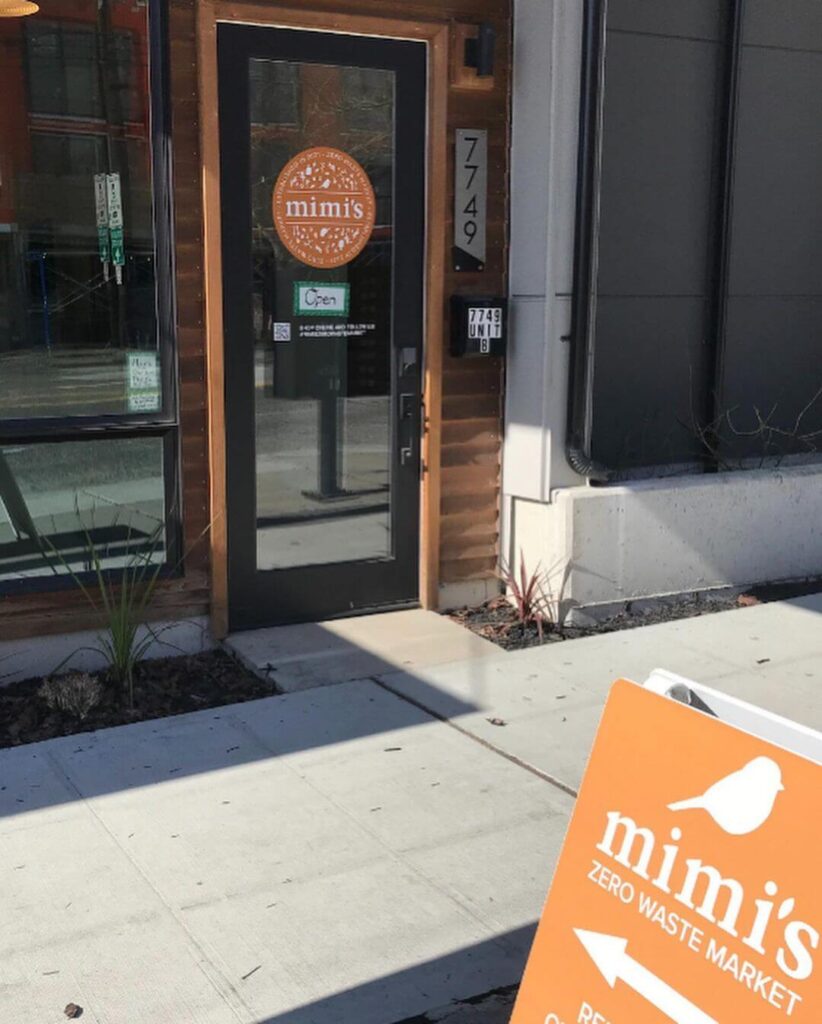 Another one among the long list of Seattle's Zero Waste Stores, is Mimi's Zero Waste Market located at 7749 15th Ave NW, Unit B Seattle, WA 98117. They also offer online deliveries, so those of you who like to shop online can buy their goods here.
They sell organic pantry staples in bulk and offer refill services so that you can reuse your containers instead of generating waste. Their collection includes a wide variety of zero waste products ranging from grains, herbs, spices, tea, coffee, skin care products and even gluten free varieties of oats. Their vision is to reduce waste, and establish ethical selling practices.
They acknowledge that they are operating on tribal land and thus source their materials from local and BIPOC-owned suppliers.
Store Address: 7749 15th Ave NW Unit B, Seattle, WA 98117, United States
Store Hours: Thursday – Sunday 10 am – 6 pm; Monday, Tuesday and Wednesday by appointment
Contact at: heather@mimiszerowastemarket.com
3. Public Goods & Services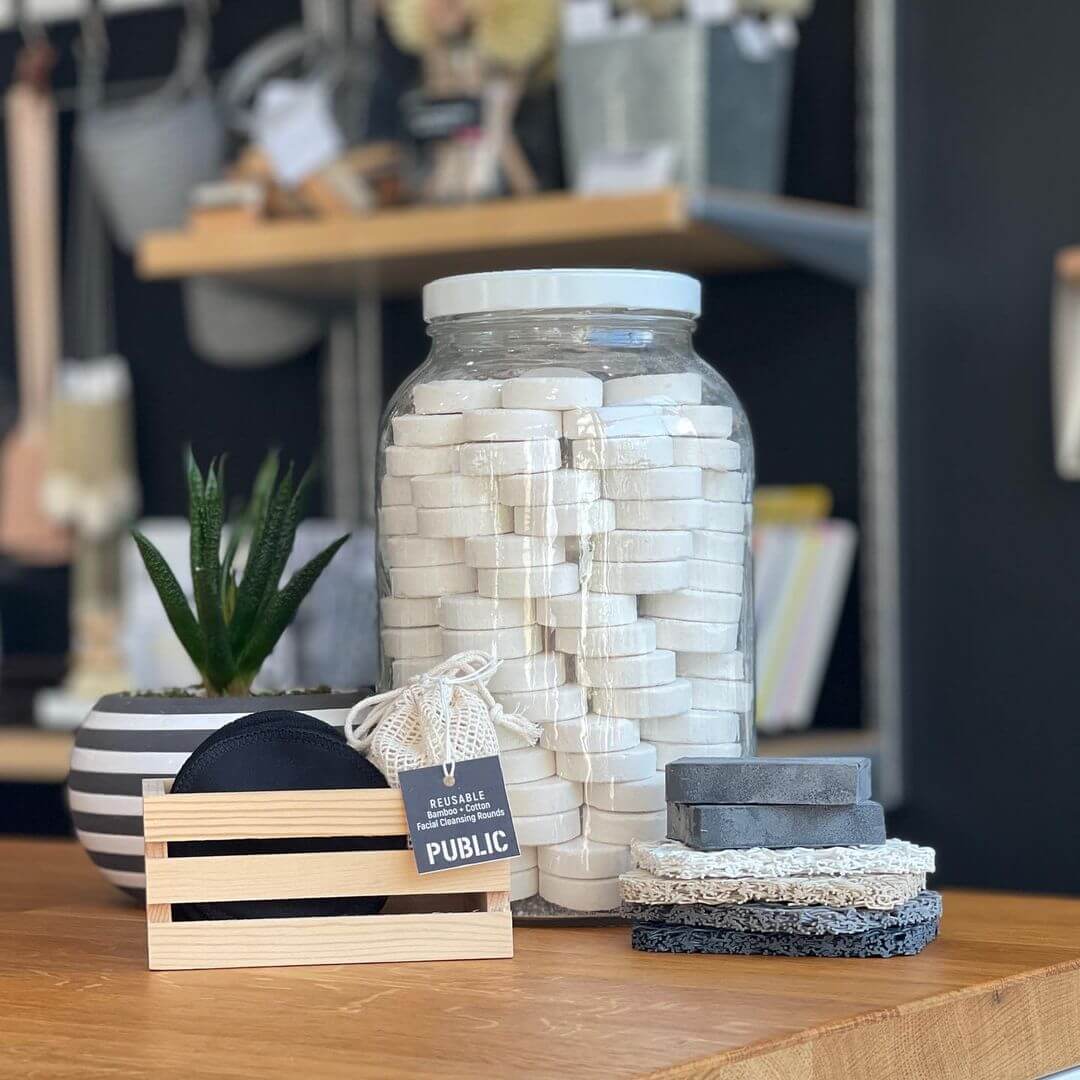 If you are a beginner at waste management, Public Goods & Services is a must visit! They offer refills for you daily necessities and sustainable alternatives for daily essentials. If you want to go package and plastic free, you need to visit this store now!
They have officially discontinued liquid laundry from February 2022, and instead offer Laundry sheets and powder. To encourage people to swap, they introduced a Laundry Swap Test Kit where you can compare the Liquid VS Sheets & Powder just under 10 bucks!
They have a range of products to shop from, including SLS and Paraben free products for kids, no waste body and skin care products, etc.
Store Address: 3836 California Ave SW, Seattle, WA 98116, United States
Store Hours: Tuesday, Wednesday, Friday 11am – 6pm; Saturday, Sunday 11am – 5pm.
Contact at: hello@apublicshop.com
4. Eco Collective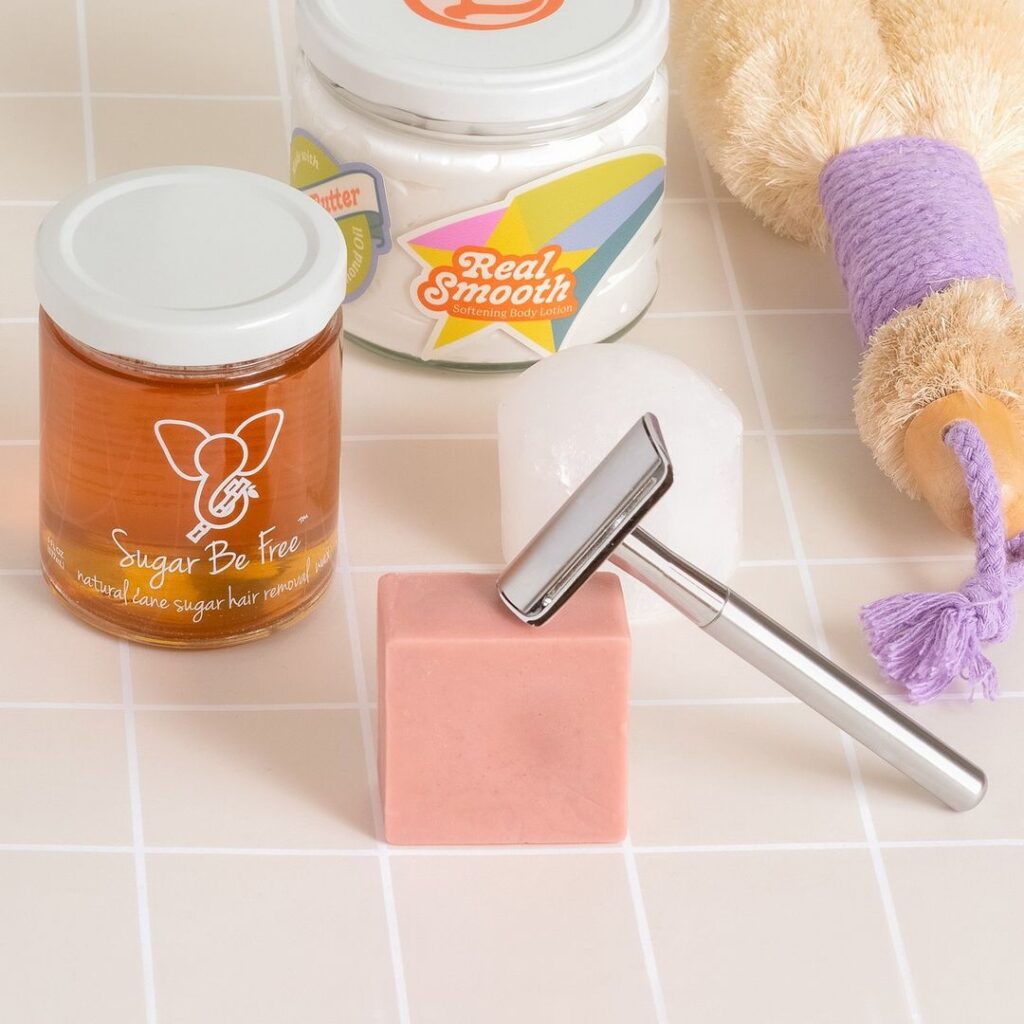 Eco Collective is a self-care brand that offers sustainable alternatives for self care products. They believe that "self-care isn't selfish" and stress the importance of skincare, haircare and wellness routines. Their products are thus designed to meet the zero waste goal while also incorporating self-care practices. Reduce waste by shopping plastic free, zero waste, self-care essentials from Eco Collective by ordering online now!
Store Address: Online only.
Phone Number: +1 206-607-4696
5. Zenith Supplies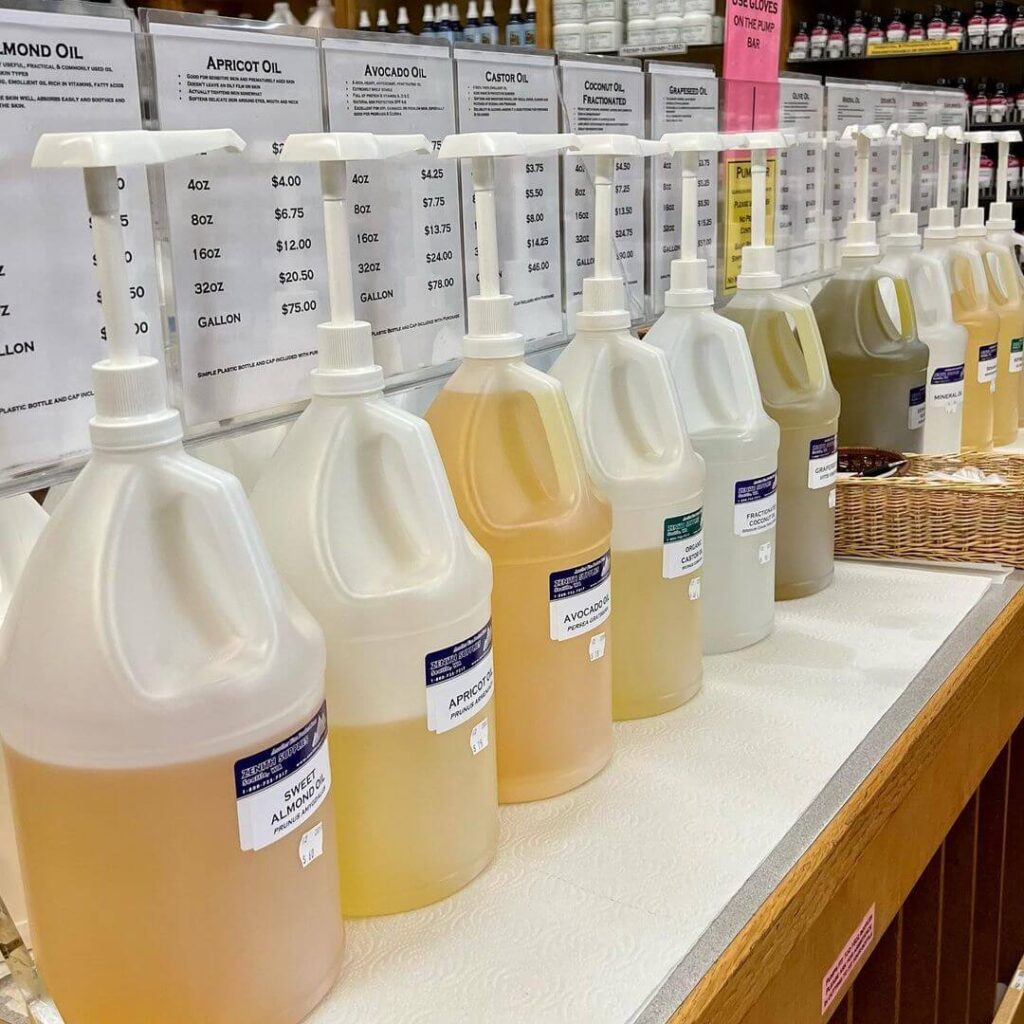 If you are looking to visit some fun-loving zero waste stores in Seattle, then you must not miss out on a trip to Zenith Supplies. They offer be"witching" stuff (pun intended) in bulk like essential oils, creams, lotions, funky accessories, candle and soap making essentials, tarot cards, etc. They use pure and unadulterated materials and keep the spoilage to a minimum.
So order online or visit their store now!
Store Address: 6300 Roosevelt Way NE Seattle, WA 98115.
Store Hours: Monday to Sunday 10am – 6pm
Phone Number: +1 206-525-7997
6. Haus Mylk
Haus Mylk offers you a range of home-made flavoured milks made using plant-based ingredients and farm-direct nuts. They firmly believe that what goes into their milk is as important as what does NOT get into it. They avoid the use of preservatives and thickeners and prefer to use more nuts to thicken their final product.
They also sell their milk in reusable glass containers in order to go plastic free! What more does one want as a zero-waste lover? So order online or find their milk at 5633 Airport Way S, Seattle, WA 98108, United States.
Store Address: 5633 Airport Way S, Seattle, WA 98108, United States.
Store Hours: Temporarily Closed; Tuesday – Friday 11 AM to 3 PM, Saturday 11:00 AM – 3:00 PM, 5:00 – 9:00 PM
Phone Number: +1 206-257-4787
Other Must Visit Zero Waste Places In Seattle
7. Footprint Wine Tap
Footprint Wine Tap is on its way to become Seattle's first and only keg wine on tap bar. The very fact that they offer keg wines on tap enables them to reduce their carbon footprint significantly. They also have a Footprint Fill Up Program where you can buy a 64oz growler once and have it refilled every time you visit. They charge the refill by the ounce.
Store Address: 1222 E Madison St suite c, Seattle, WA 98122, United States
Store Hours: Monday to Thursday 4 – 9 PM; Friday and Saturday 4 – 10 PM
Phone Number: +1 206-485-7175
8. Lulumiere
Want to visit a place filled with good vibes and positive energy? Lulumiere is exactly where you should visit! They offer candle refill services where you have to bring in your clean empty containers or jars and they will fill it up with the scent of your choice. Check out their refill strategy here.
They charge by the ounce and sell locally. They also have other sustainable zero-waste products like their cube-shaped, natural-scented bath bombs that you can fall in love with!
Store Address: 5200 Roosevelt Way NE Suite A, Seattle, WA 98105, United States
Store Hours: Wednesday to Friday 11 AM – 4 PM; Saturday and Sunday 12 PM – 5 PM
9. Frayed Threads Mending
Ever thought about refashioning your old clothes and mending the torn ones instead of throwing them away for new and trendy fast-fashion? Rachel Weigelt through Frayed Threads Mending promotes cloth conservation by offering mending, refashioning and basic tailoring services so that you can reduce cloth waste and combine art with sustainability. Currently she only takes online orders for which you can contact her here!
Store Address: 7502 24th Ave NE, Seattle, WA 98115, United States
Phone Number: +1 206-327-8291
Conclusion
The main problem with majority of the plastic disposable bags is the disadvantage of being impossible to recycle. So, if recycling is not the answer to sustainability, what's the prudent course of action? Here, reusing and reducing our daily consumption seems to be the right solution.
Remember that your sustainable shopping cart is solely dependent upon a zero waste store near you! Are you a Seattle local and have more suggestions that can fit right into this list? Do let us know by commenting down below!