Disclosure:
Our editors handpick top-rated brands, vetted through our strict ratings. Purchases via our links may earn us a commission.
Learn more
As doting pet parents, we all want to spoil our furbabies with the best life. But while doing so, it's crucial to pay attention to the environmental impact our pet care purchases may have. Pet stores are filled with merchandise made from toxic materials, including plastic. If this has not alarmed you before, it should now, because these toys are something that your cats directly put in their mouth or rub against their body, allowing the toxins to leach in. However, you can easily deal with it by choosing eco friendly cat toys and products.
Sustainable products are made from renewable and natural materials. They are designed to reduce waste and energy consumption, so we can ensure that our kitties stay happy and healthy while being kinder to the planet. In this article, we'll explore how to choose the best eco-friendly cat products and toys, with a list of some of the best options available on the market. Get ready for a paw-some time!
Best Eco Friendly Cat Toys & Products
1. Cat Toy Food Collection
2. Grain-free Chicken Recipe
3. The Ripple Rug
4. Navy Ombre Cave
5. Eco-Kitty Comet
6. Organic Wool Cat Mouse Toys
7. Organic Cat Grass
8. Organic Healthy Poops Supplement
9. Flower Fountain
10. Walnut Shell Cat Litter
11. Easy-Tie Handle Bags
12. Wooden Cat Condo
How We Chose the Best Eco-friendly Products for Your Kitty
Our kitties bring so much joy, love, and stability into our lives that they deserve nothing but the best. However, every time we shop for something, it is important to keep the well-being of Mother Nature in mind, so that no harm is caused to the environment because of the choices we make.
Natural materials – We love natural cat toys and products made from organic and renewable materials such as bamboo, hemp, dried cornhusks, raffia, recycled materials, and so on. Toys made from synthetic materials are toxic for your feline babies and hazardous for the environment as they're not biodegradable.
Nutritional value of food products – Most commercialized cat food brands use by-products of the agriculture and meat industry to produce their product line. However, there are many conscious brands that understand the importance of a nutritional diet in pets. As a result, these companies strive to create nutrient-rich food products for your cat's overall development.
Production methods – Every brand that made it to this list believes in sustainable and environmentally friendly production methods. They use renewable energy sources, reduce waste and emissions, and follow an ethical supply chain, with some of them using eco-friendly certifications.
Packaging – It is important for brands to make note of their packaging process. Eco-friendly packaging is what the world needs now with recycled cardboard or biodegradable materials. Plus, avoiding excessive plastic packaging should be the norm.
Energy-efficient – Eco-friendly cat toys don't require batteries or the need to be charged. So be assured because all these products are energy-efficient.
Reviews – We've handpicked select cat toys and products that have received tons of appreciation from ardent pet parents, so you're good to go with these recommendations.
Our Favorite Picks of 12 Best Sustainable Cat Toys & Products
Help your cats in minimizing their carbon footprint by getting them used to a sustainable lifestyle with access to eco friendly cat toys and products. This switch is not only great for the environment but also for your cat's good health. Our favorite picks include Organic Wool Cat Mouse Toys, Wooden Cat Condo, Cat Toy Food Collection, Grain-free Chicken Recipe, The Ripple Rug, Navy Ombre Cave, Eco-Kitty Comet, Organic Cat Grass, Organic Healthy Poops Supplement, Flower Fountain, Walnut Shell Cat Litter and Easy-Tie Handle Bags.
1. Cat Toy Food Collection
Brand: P.L.A.Y. Pet Lifestyle and You
Material: Recycled plastic bottles and Organic catnip
Price: $10.50
P.L.A.Y.'s Cat toy food collection has a variety of adorable food-shaped, eco-friendly toys that are too irresistible not to get your hands on. So whether your catty is in the mood for some sushi, donuts, farm-fresh fruits or veggies, this handcrafted selection of active cat toys has got it all— including fried chicken! They have amusing crinkles with organic catnip tucked inside for your cat to nibble on. What's remarkable about them is these cute little guys aren't just delicious looking, but they also help clean the planet as they're made from rescued single-use plastic bottles. And P.L.A.Y is associated with multiple animal welfare groups.
What we like: These natural cat toys are easy to wash and made from 100% post-consumer safe recycled plastic bottles with AZO-free dyes.
What we don't like: So cute that even you would love to play with them. (Seriously? :D)
2. Grain-free Chicken Recipe
Brand: The Honest Kitchen
Material: Free-range chicken, Dehydrated sweet potatoes and regular potatoes, Organic flaxseed, Dehydrated eggs, Dehydrated chicken bone broth, etc.
Price: $19.99
The Honest Kitchen believes in the nutritional power of human-grade, whole foods for your pets. That's why all their food products are made to match quality and safety standards in a human food facility. This grain-free chicken cat food recipe is crafted after consultation with a vet nutritionist and made with high-quality, real chicken fit for human consumption. The ingredients are gently dehydrated to maintain the taste and the nutrients. Certified as a B Corporation, The Honest Kitchen prioritizes your pet's health above everything. So, just grab their Grain-free Chicken Recipe, because this homemade food product is going to be a winner with your cat.
What we like: Easy to prepare. All you got to do is just add warm water, and it will be ready in 3 minutes. No added preservatives. Money-back guarantee.
What we don't like: Too delicious that your cat will demand it in every meal. (Seriously? :D)
3. The Ripple Rug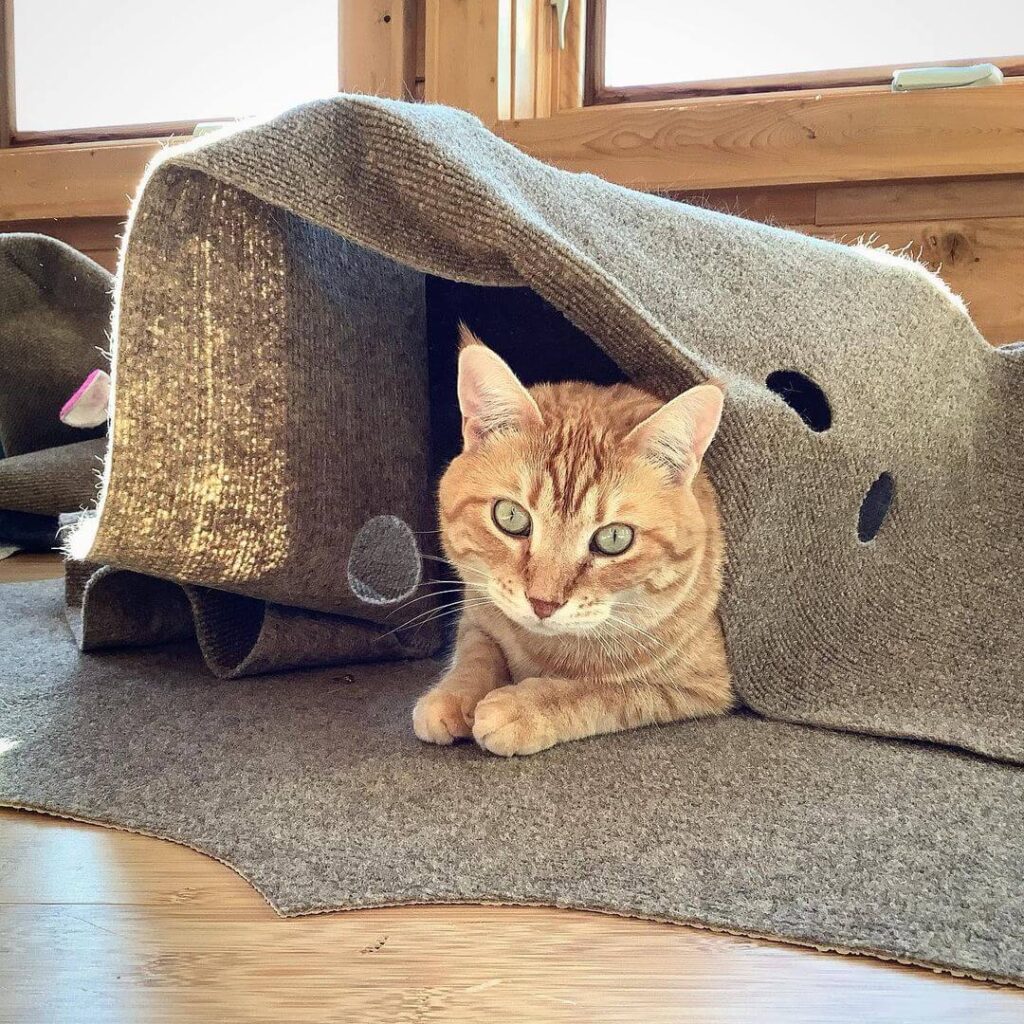 Brand: Snuggly Cat
Material: Recycled plastic bottles
Price: $44
Do you have a hard time creating fun interactive play sessions to reduce your cat's boredom? Or is your cat developing destructive habits because of a lack of entertainment? Then The Ripple Rug is going to save you big time! The versatile activity mat works like a jungle gym that cats love to engage in for hours by scratching, grooming, sleeping, and playing. The plus point is, it is quite large (47" by 35"), and the holes on the top are great for grasping loose hair. Made with recycled plastic bottles, this eco-friendly rug is super easy to clean and is sure to entertain your kitty, and the planet!
What we like: The rug is made with recycled bottles. It's mold, mildew, and stain resistant, and easy to wash.
What we don't like: Regular washes will release microfibers, so better to air dry for freshening up and washing only when necessary.
4. Navy Ombre Cave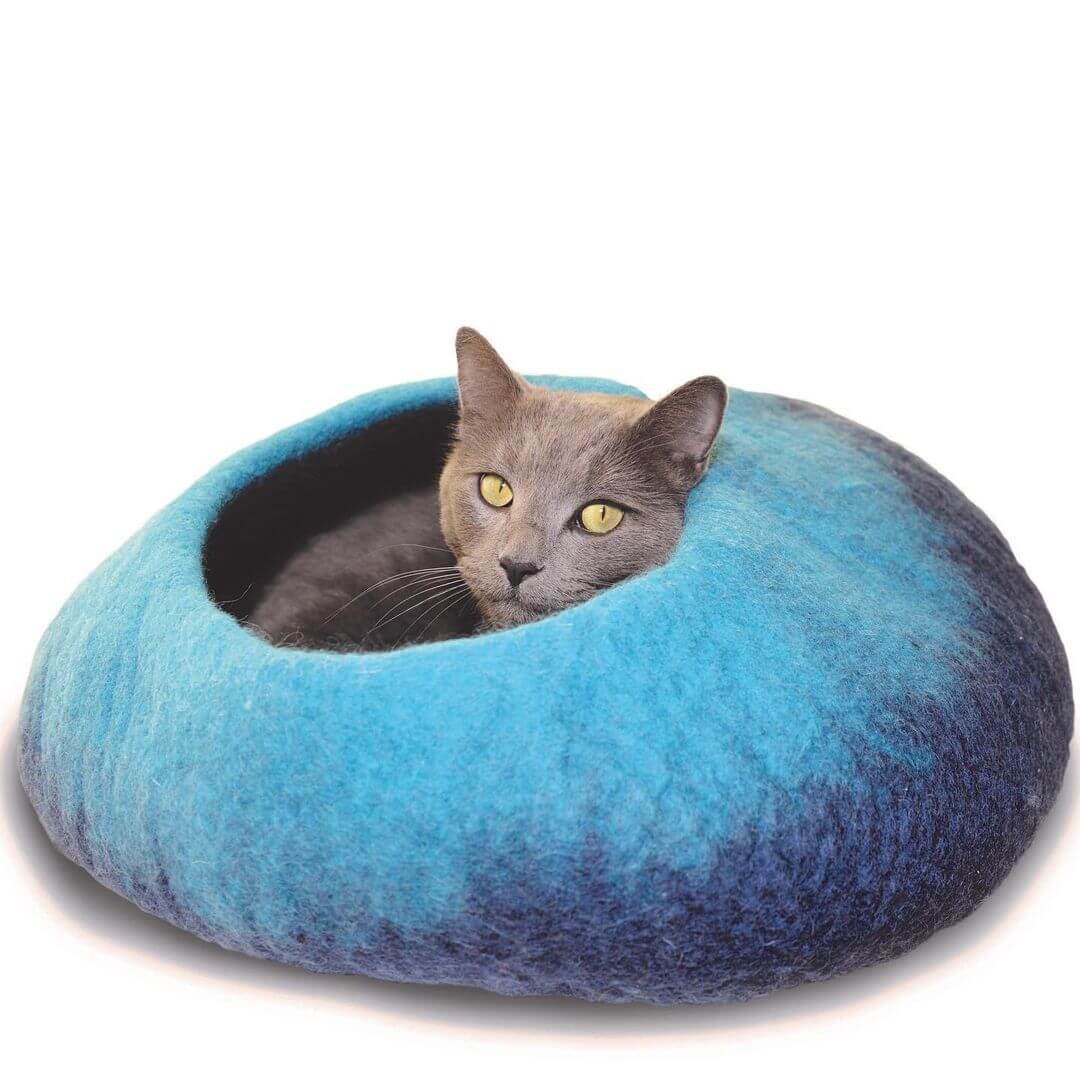 Brand: Dharma Dog Karma Cat
Material: Wool
Price: $69.95
Cats love to sneak into small cozy spaces. So there's every reason they will approve of this all-natural wool cave! This beautiful egg-shaped bed is the perfect spot for cats to sleep, hide and play. The natural presence of lanolin in wool attracts them and conditions their paws and fur every time they rub against it. This sustainable pet cave is made using natural materials that are kind on the planet. As an ethical pet product brand Dharma Dog Karma Cat is really outdoing itself with this gorgeous cave that provides a safe haven for your cat, helping them feel secure.
What we like: The cave is an eco-friendly product, ethically handcrafted by women artisans of Nepal. The brand maintains the highest standards of style and quality in all of its merchandise.
What we don't like: The cave is so good that your cat is going to love tucking in it for good. (Seriously? :D)
5. Eco-Kitty Comet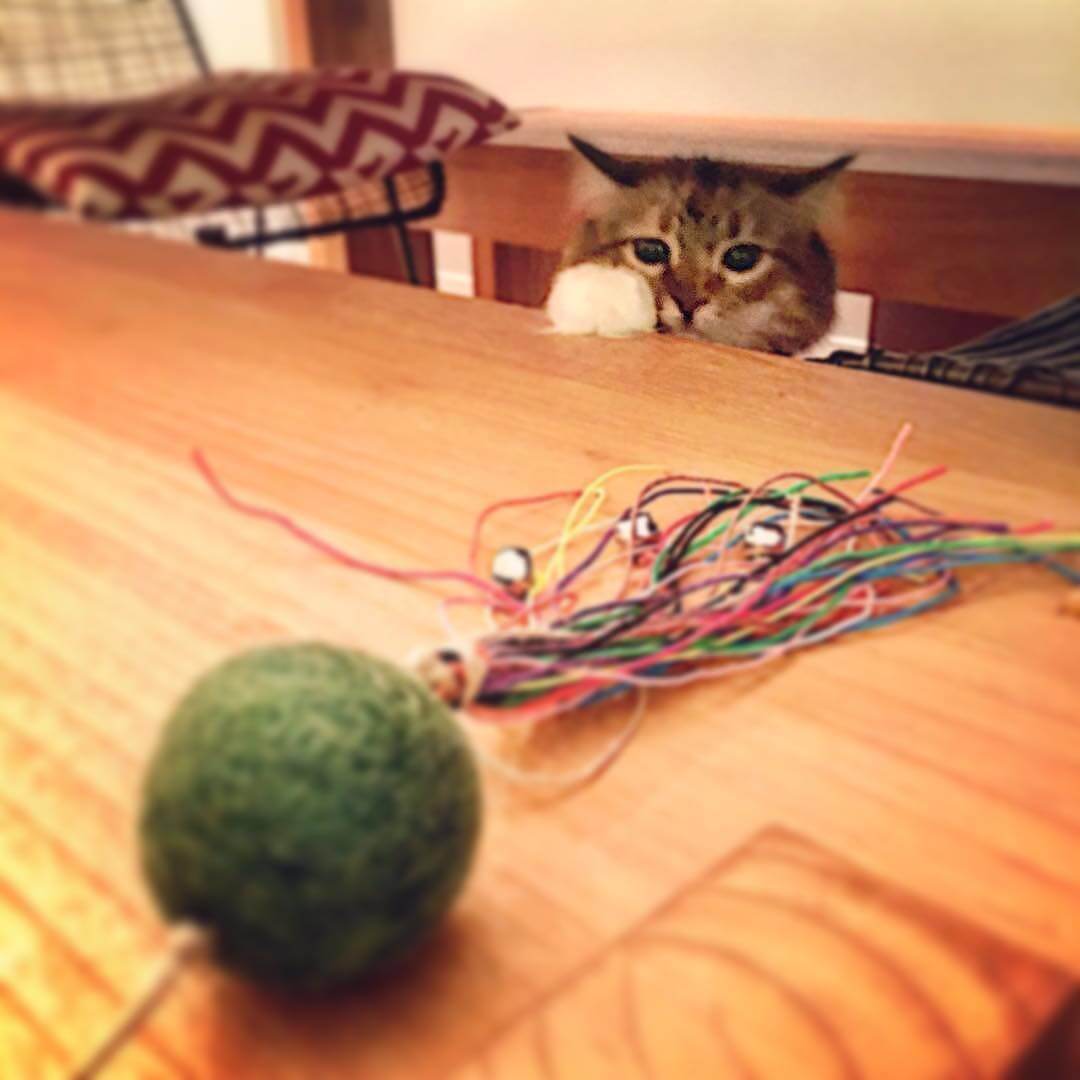 Brand: Honest Pet Products
Material: Hemp, Wool, and Wooden clip
Price: $19.99
This Eco-Kitty Comet is cuteness at its peak that you and your cat will love playing with. It's fun, it's colorful, and made from natural materials with the lowest environmental impact but the highest happy meow effect! The hemp strings are the star of this great green cat toy that are durable enough to keep up with your cat's clawing. In addition, the lanolin smell of the hand-felted wool ball works like a magnet for your kitty, making playtime super enjoyable. You can either swing the Comet for a fun time together with your fur baby or just hang it up using the clip, for independent play sessions. It also has tiny bells attached to the strings that further entice your kitty with the tinkling.
What we like: Honest Pet Products is dedicated to crafting eco-friendly dog and cat products while protecting the interest of the planet, its people and the pets! Most of the woollen parts of their cat toys are hand-made by underprivileged women in Nepal!
What we don't like: The Eco-Kitty Comet is a super engaging toy that your cat might not want to leave it. (Seriously? :D)
6. Organic Wool Cat Mouse Toys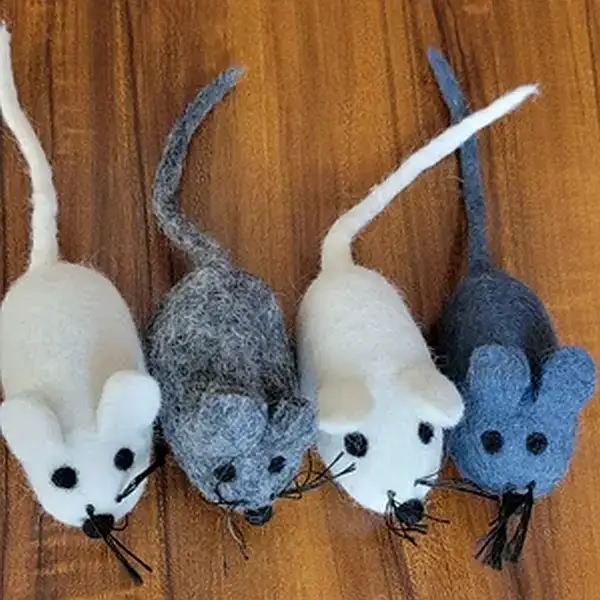 Brand: My Chibi
Material: Ethical Kiwi Wool
Price: $5.99
Cats love to chase mice! Therefore, mice toys are a must for your cat, that they would love kicking and patting around. These cute mouse-shaped natural cat toys are made from natural kiwi wool, ethically sourced and locally made in New Zealand. The texture of this great green cat toy is perfect for your cat to teeth in or sink in its claws. And I bet they would find the natural scent of the felt super comforting. What's best is these little guys are affordable, so you can conveniently shop for them.
What we like: Well-made sizable toys made with easily biodegradable green materials. The wool wards off dirt, smell and stains.
What we don't like: These toys are fragile compared to regular store-bought plastic or fibre-based cat toys. With regular harsh play sessions, they will unravel quickly.
7. Organic Cat Grass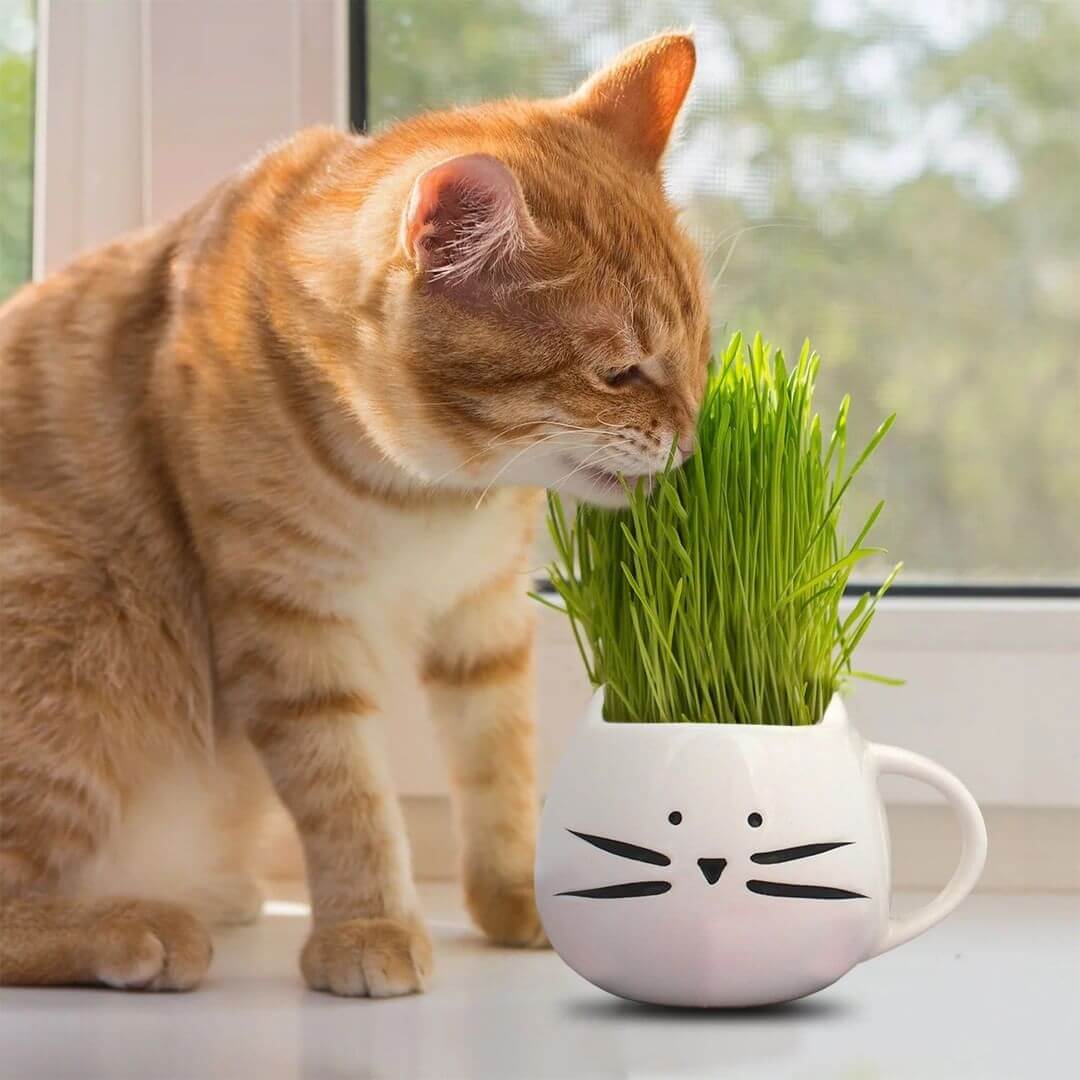 Brand: The Cat Ladies
Material: Blend of organic seeds like wheat, rye, flax, barley and oats
Price: $18.94
Cats are carnivores. But from time to time, they too need small amounts of greens like this organic cat grass which is incredibly beneficial in relieving digestive issues. In addition, the cat grass is packed with multivitamins, calcium and amino acids to help your purr baby develop a shinier coat, strong bones and immunity. Just let it sit around in any accessible corner of your home and let your cat go for it when he needs it.
What we like: The organic cat grass is non-gmo and free of any synthetic fertilizers. The product comes with a planter, soil disk and seeds, so you can easily sow it and add water for sprouts to spring up within 5-7 days.
What we don't like: Some cats may not like the taste. So, you may have to encourage them into eating the cat grass by hiding a treat in the planter.
8. Organic Healthy Poops Supplement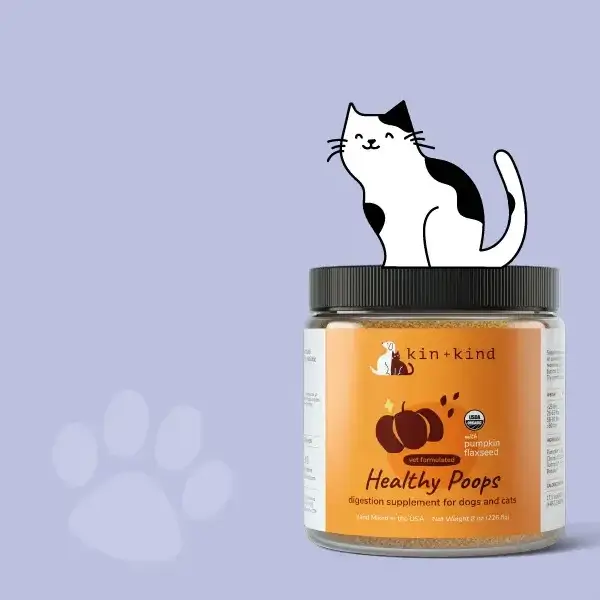 Brand: Kin+Kind
Material: Organic Pumpkin, Flax seeds, Coconut, Ginger, Banana, Turmeric and Chicory Root
Price: $13.99
Does your cat suffer from an upset tummy every once in a while? Then it's your sign to add this Organic Healthy Poops Supplement to support your kitty's digestion. This all-natural vet-formulated supplement has a balanced blend of high-fibre ingredients, including pumpkin and coconut, that helps relieve diarrhoea and constipation issues. It also has ginger which gives extra nutritive support for bowel regularity. Just add it to their cat food as per the daily recommended serving and get your mew mew prancing jolly.
What we like: The digestive supplement is made with clean ingredients that are USDA Certified Organic. Ingredients are non-gmo and free of artificial flavors, soy, grain, corn and dairy.
This supplement is both healthy and tasty and mindfully made with natural materials, so there's nothing not to like about it.
9. Flower Fountain
Brand: Catit
Material: BPA-free materials
Price: $29.99
Keeping your cat hydrated should be a priority. And what could be better than installing a water fountain to give your kitty access to fresh water? This flower fountain is equipped for constant streaming water, which is sure to excite your cat, encouraging them to drink more. It has 3 water flow settings with triple action filter and a small energy-efficient pump for low power usage. Definitely, a must-have for your feline child!
What we like: Fountains work amazingly with cats who are picky drinkers. The constant flow of fresh water saves you from the task of changing your cat's water bowls again and again.
What we don't like: The outer shell is made from plastic. However, the plus side is, it is BPA-free and built to last longer.
10. Walnut Shell Cat Litter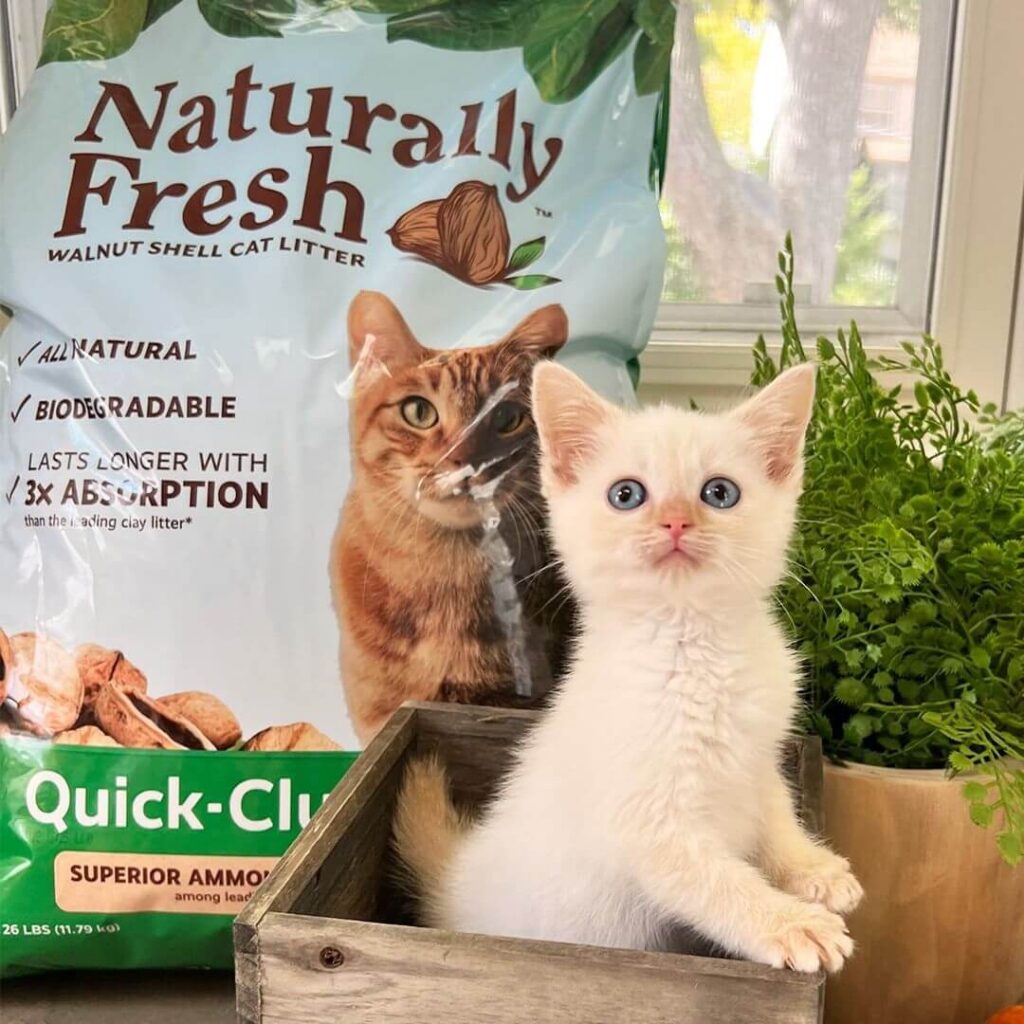 Brand: Naturally Fresh
Material: 100%natural walnut shells
Price: $26.99
Do you want to reduce your cat's carbon footprint by switching from earth-mined clay litter to an alternative litter box? Then this Naturally Fresh Walnut Cat Litter will do the job for you! Made from sustainably sourced fibrous walnut shells, this super-absorbent formula organically neutralizes odors keeping your home fresh. As it is made from non-toxic natural materials, it is easily biodegradable, produces zero-waste and is environmentally friendly. In addition, the walnut litter supports tighter clumping, making scooping up mess-free after your kitty has attended the nature's call.
What we like: The walnut shell litter is non-gmo, plant-based, compostable, solar-produced, and doesn't have harmful silica.
What we don't like: Your cat might not appreciate a sudden swap. So, you may have to try introducing the litter formula in small batches with your existing litter.
11. Easy-Tie Handle Bags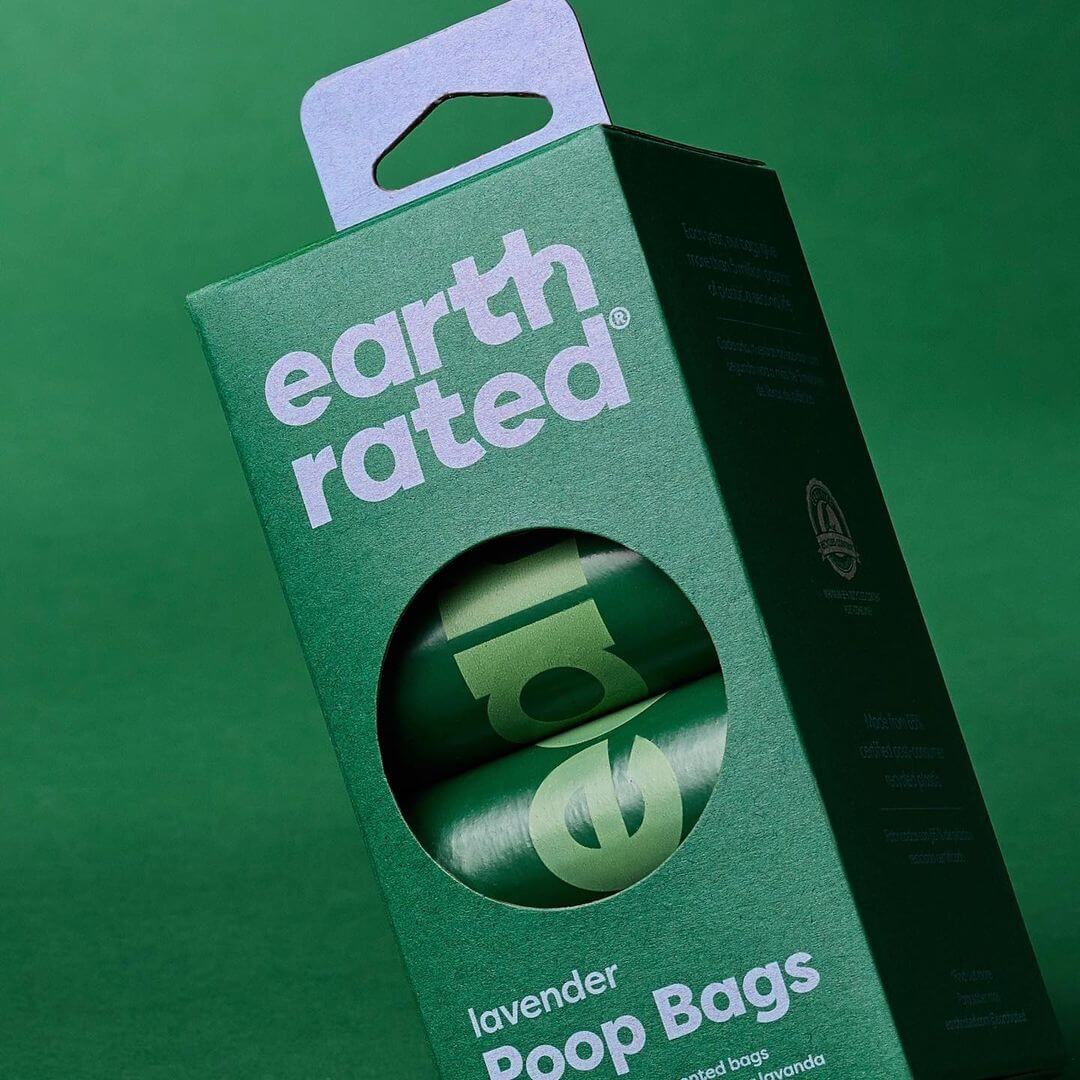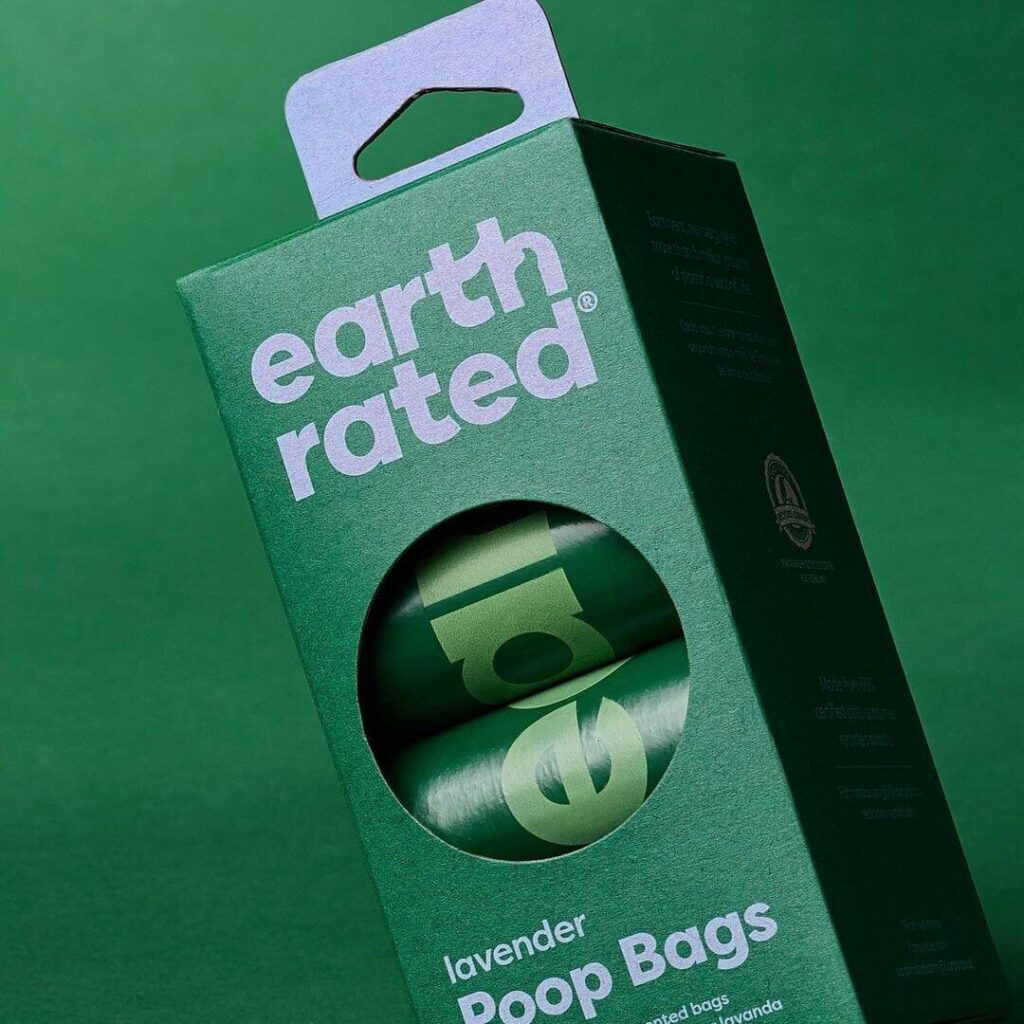 Brand: Earth Rated
Material: Vegetable starches
Price: $7.99
Scoop the poop effortlessly in this biodegradable pet waste bag that has an easy-tie handle which can be quickly opened and tied. These pet waste bags are extra-strong and extra-long, offering maximum protection with a 100% leak-proof guarantee. While the wide mouth is efficient for scooping cat litter scoops, they also work great as biodegradable dog poop bags that are easy to seal in shut after your pet has done its business. Just paws-itivley perfect!
What we like: Earth Rated is a B Corporation with the goal to help your pet litter, without littering the planet. Their Easy-tie handle bags are made using 65% certified post-consumer recycled plastic and are BPI-certified compostable.
It is such a lifesaver for conscious pet parents! But well, picking up poo is a task, and that's the only thing not to like ;).
12. Wooden Cat Condo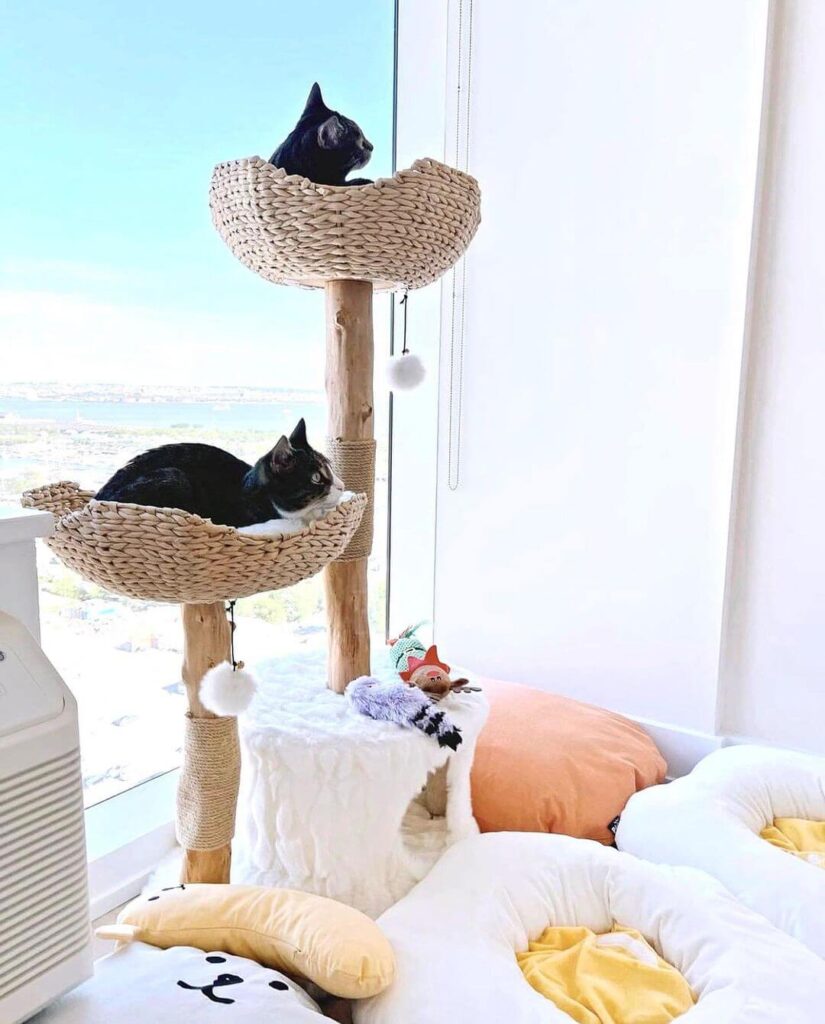 Brand: Mau Pets
Material: Wooden tree branches, Rattan baskets, Rope and Polyester and acrylic pillows
Price: $289
Cats have the urge to climb on things, because of which getting a cat tree or condo makes purrfect sense. But you don't have to compromise with tacky looking cat trees, as TheMauStore creates these super chic, minimalist cat condos, guaranteed to amp up your modern space. Made from real tree branches, this cat condo has natural rattan baskets for your cat's naptimes, with a rope for scratching and cotton pom-poms for playing. In addition, it comes with cozy plush pillows tucked inside the baskets, which you can easily take out and wash to keep them fresh and odorless.
What we like: Each condo is made from actual tree branches, so all of them are going to look like an exclusive piece of art, which is assured to be your cat's hanging spot!
What we don't like: Regular washing of polyester and acrylic pillows is necessary and it caues release of microfibers.
Why Choose Sustainable and Eco-friendly Cat Toys & Products?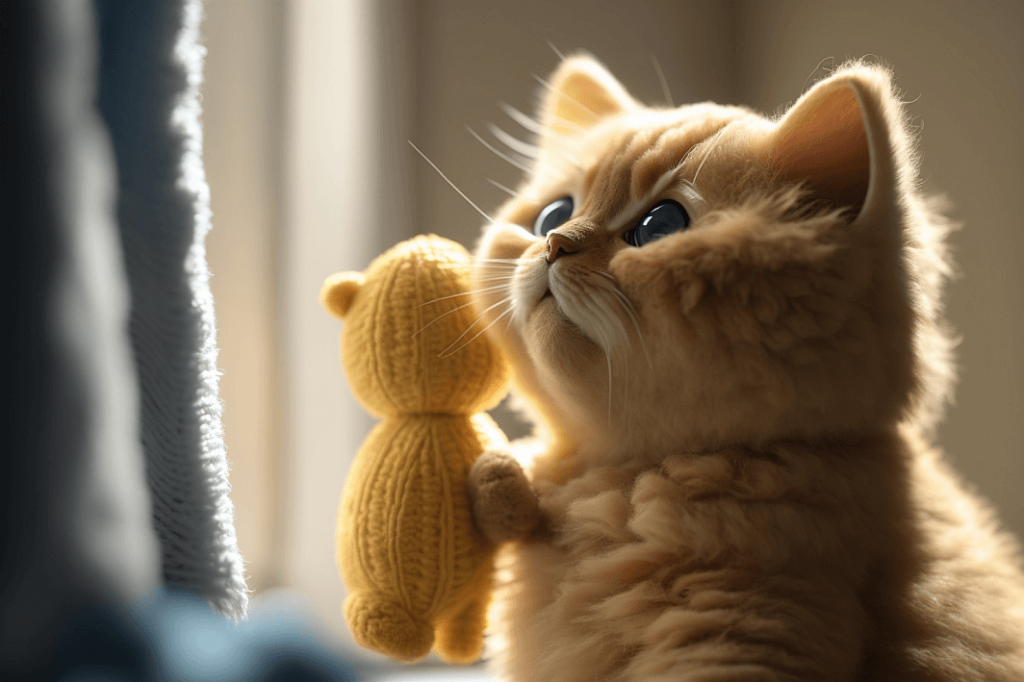 Health Benefits
Cats are naturally attracted to woollen balls, sticks, catnip, paper balls, etc. And eco-friendly cat toys are consciously made with clean natural materials that have texture and don't smell or feel synthetic. Therefore, there is no chance of toxins seeping into their body while they're having a blast with greener toy alternatives.
Environmental Impact
Commercialized cat toys and other products are made with synthetic materials, majorly plastic variants in different forms. And when you discard them after a few months or a year of use, they just clog the landfills, polluting air water soil. On the other hand, sustainable cat toys and products are made from biodegradable natural materials. So when they're no longer in use, you can responsibly dispose them off, without destructing the environment.
Affordability
Eco-friendly cat toys and products are usually budget-friendly. The best thing is you can make them on your own as a DIY project with readily available materials in your home. Whether it's a pair of old socks, a t-shirt, leftover fabric scraps, toilet rolls, or cardboard boxes, you can literally make use of anything. And when they get repairable damages, you can easily stitch or glue them back, extending their life.
Ethical Consideration
Conscious pet care brands partner with small-scale ethical workshops that strive to better the lives of underserved people by providing them with employment opportunities. So every time you buy your cat a sustainable toy, know that you've contributed to a worthy cause, helping someone somewhere lead a decent life. Many of these labels are also part of various animal welfare groups, and as a pet owner, this is something you can definitely relate to.
Final Thoughts…
Choosing eco-friendly and sustainable cat products and toys can help our purr-babies reduce their carbon pawprint. From natural cat litter to biodegradable toys and sustainable furniture, there are plenty of options available that are both good for our cats and the planet. These steps might feel trivial but trust me; every effort counts. By being mindful of our choices and taking small steps towards sustainability, we can ensure that our cats live happy and healthy lives while also protecting the environment for future generations.
FAQs
What materials should I look for in eco-friendly cat products & toys?
Low-impact, natural materials such as bamboo, hemp, dried cornhusks, organic cotton, raffia, ethical wool and safe recycled materials are what you should look for in eco friendly toys and products. For food items, always go for organic, whole-food options.
Are there any eco-friendly cat litter options?
Yes, there are many eco-friendly cat litter options like corn, wheat, walnut shells, wooden scraps, paper, and so on.
How can I make my own eco-friendly cat toys?
You can make your own eco friendly cat toys by DIY-ing with items you already have at home. From fabric scraps and cardboard boxes to paper bags and clean old T-shirts, you can literally use anything to create fun playthings for your kitties. And the internet is filled with such DIY toy-making videos. So, get creative and see how you can make the most from the waste.
Is organic cat food a good choice?
Yes, organic cat food is always a good choice for your feline babies. They are packed with nutritional benefits without traces of harmful chemicals, ultimately contributing to the overall development of your pets.
What are the different ways to practice eco-friendly cat care?
There are numerous ways to practice eco friendly cat care, and it's easier than you thought. Some easy-to-start steps are:
– Ditch the widely popular clay litter and go for a biodegradable option made from wooden scraps, walnut shells, and so on.
– Use homemade natural cleaners to clean up after your cat.
– Always choose sustainable cat toys or best make them yourself with whatever resources you have at home.
– Feed them balanced organic cat food for a healthy gut and longer life.
– Spay or neuter your cat.